Hobbs calls on elected officials to end conspiracy theories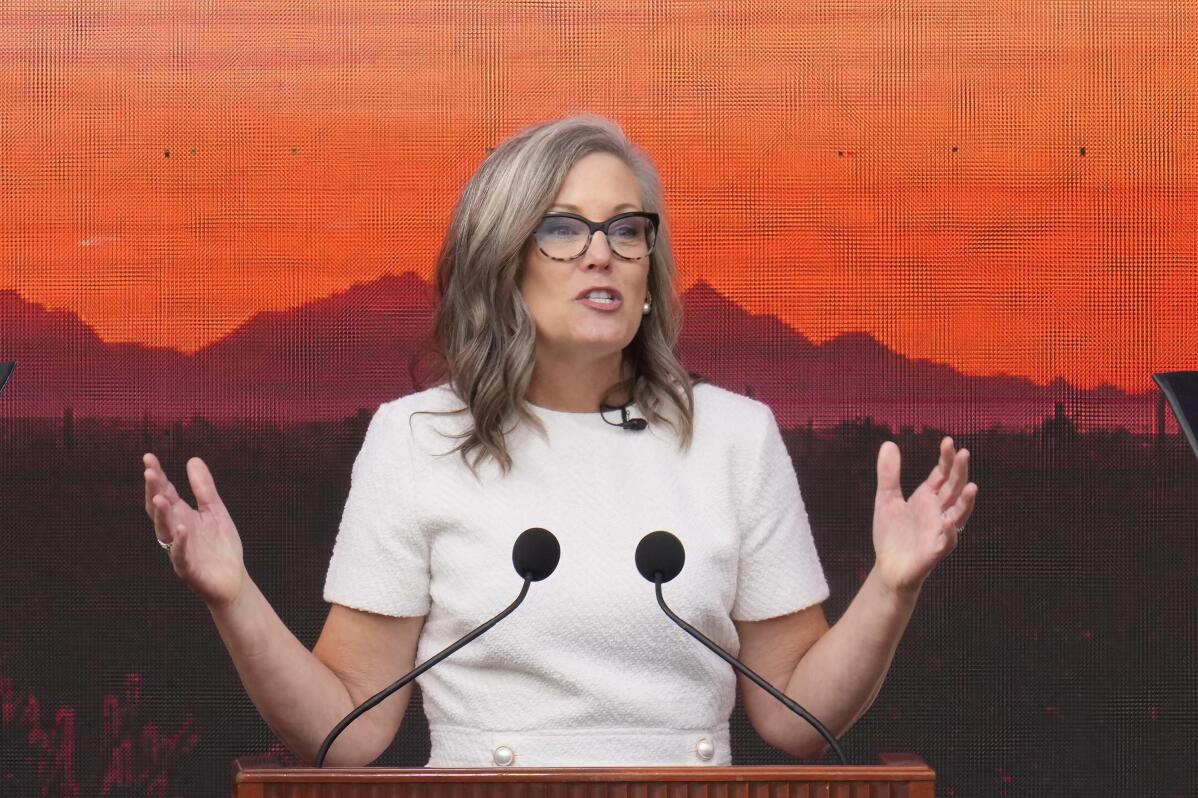 1 of 10

|
Arizona Democratic Gov. Katie Hobbs speaks after taking a ceremonial oath of office during a public inauguration at the state Capitol in Phoenix, Thursday, Jan. 5, 2023. (AP Photo/Ross D. Franklin)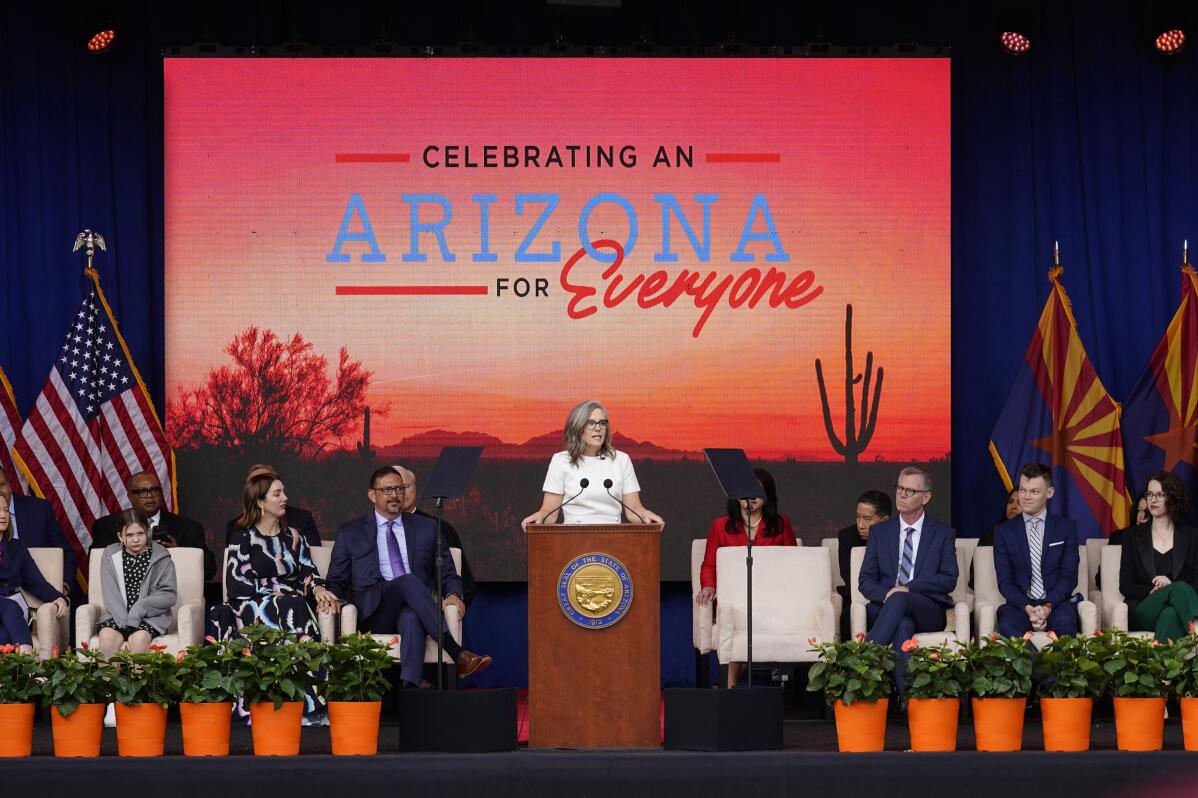 2 of 10

|
Arizona Democratic Gov. Katie Hobbs speaks after taking a ceremonial oath of office during a public inauguration at the state Capitol in Phoenix, Thursday, Jan. 5, 2023. (AP Photo/Ross D. Franklin)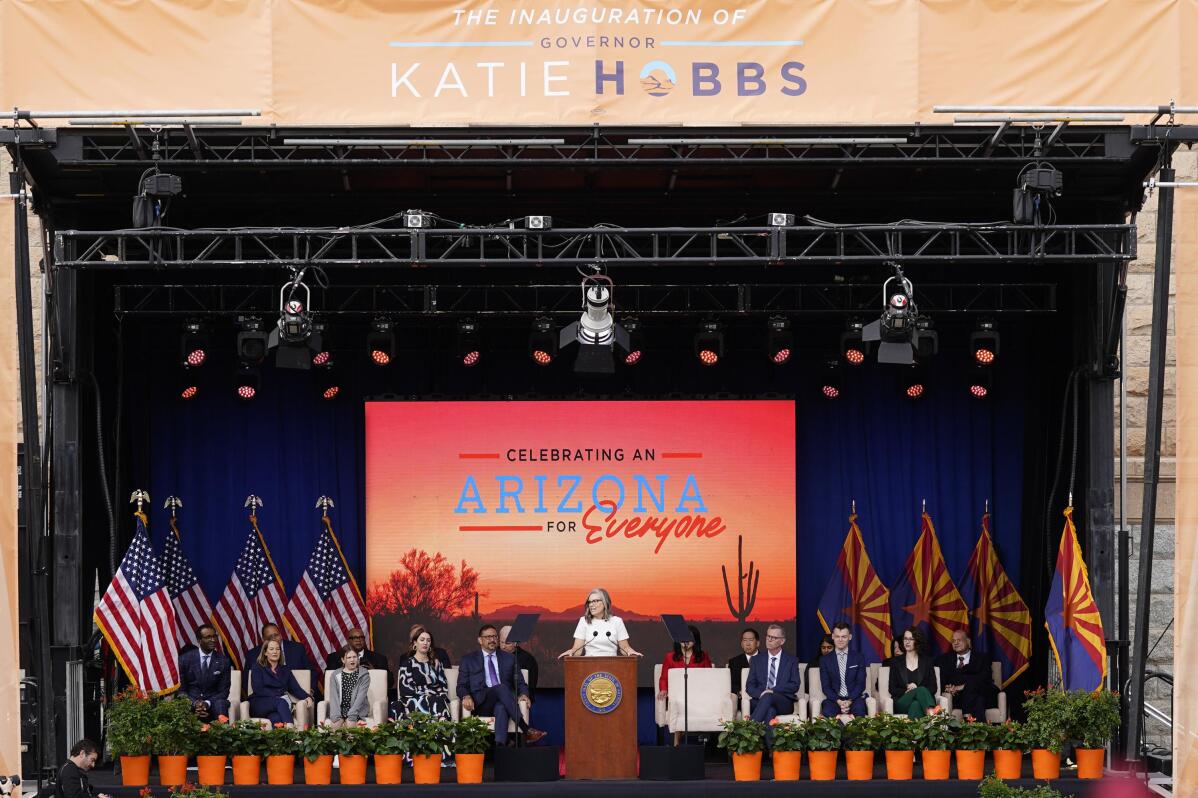 3 of 10

|
Arizona Democratic Gov. Katie Hobbs speaks after taking a ceremonial oath of office during a public inauguration at the state Capitol in Phoenix, Thursday, Jan. 5, 2023. (AP Photo/Ross D. Franklin)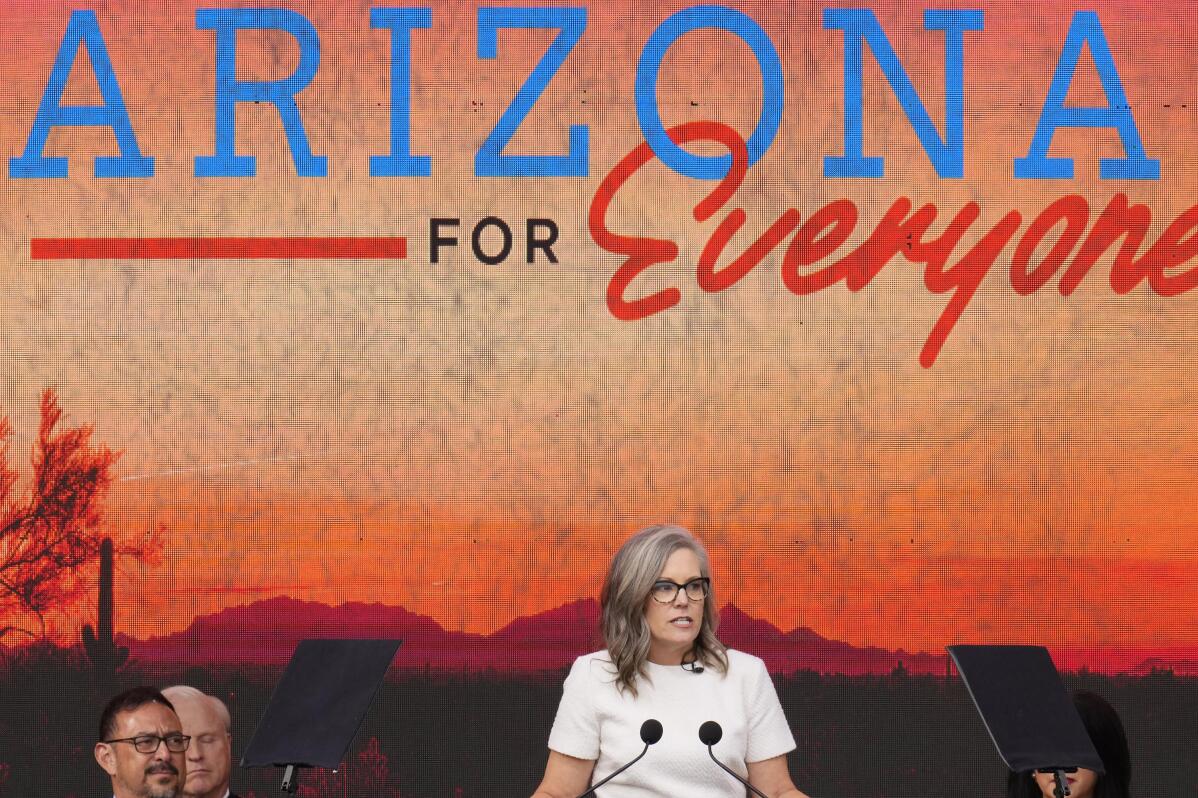 4 of 10

|
Arizona Democratic Gov. Katie Hobbs speaks after taking a ceremonial oath of office during a public inauguration at the state Capitol in Phoenix, Thursday, Jan. 5, 2023. (AP Photo/Ross D. Franklin)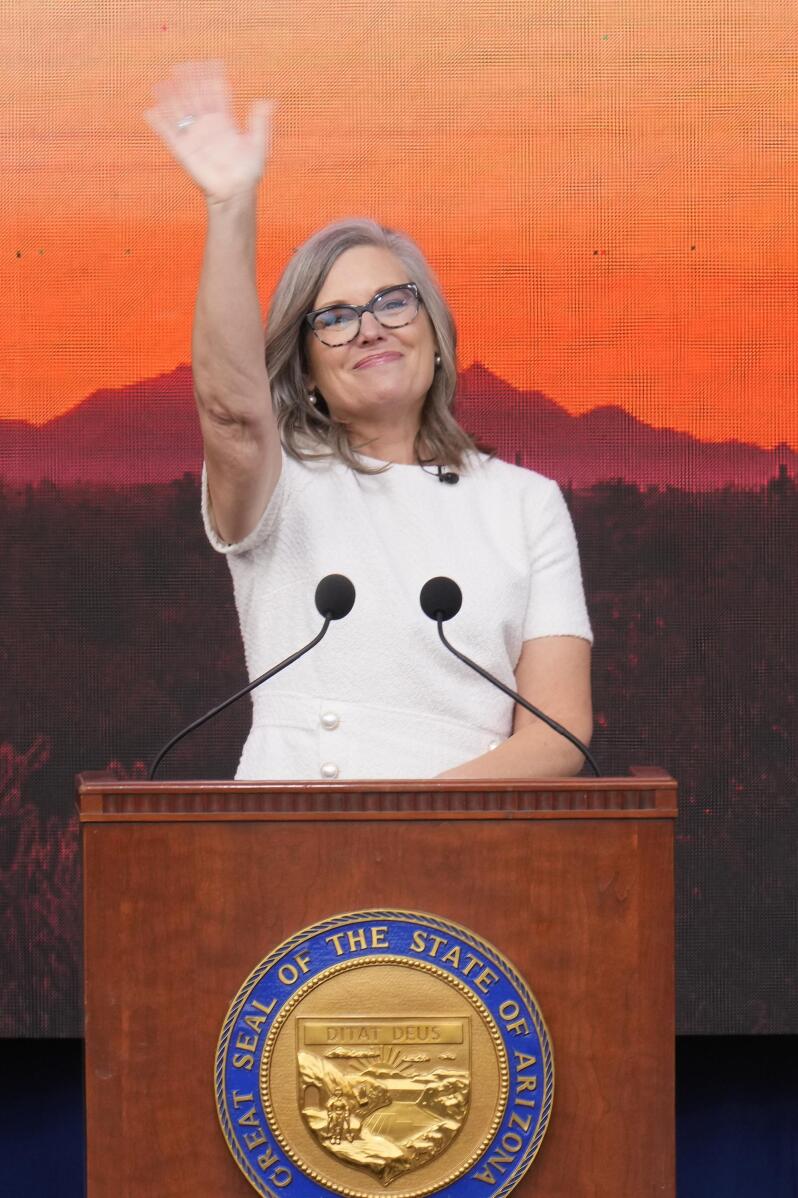 5 of 10

|
Arizona Democratic Gov. Katie Hobbs waves to a cheering crowd after taking a ceremonial oath of office during a public inauguration at the state Capitol in Phoenix, Thursday, Jan. 5, 2023. (AP Photo/Ross D. Franklin)
6 of 10

|
Arizona Democratic Gov. Katie Hobbs waves to cheering supporters after taking the ceremonial oath of office during a public inauguration at the state Capitol in Phoenix, Thursday, Jan. 5, 2023. (AP Photo/Ross D. Franklin)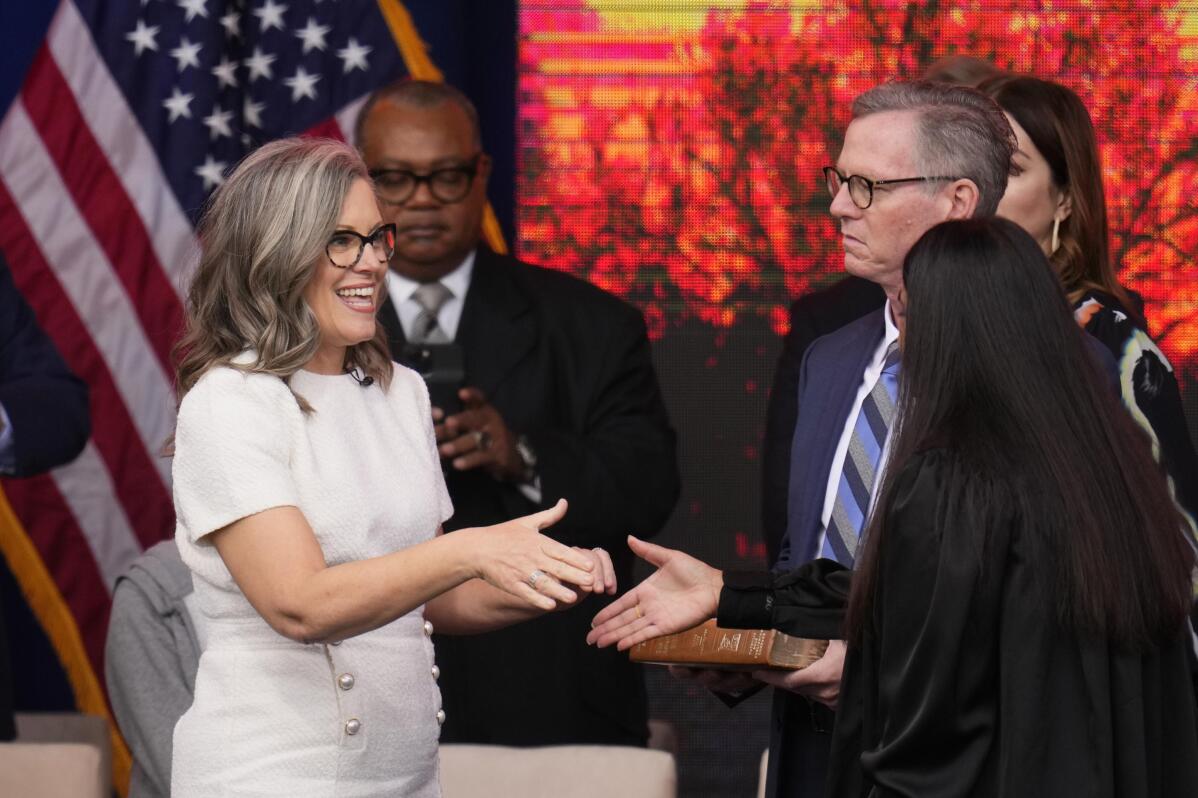 7 of 10

|
Arizona Democratic Gov. Katie Hobbs, left, smiles after taking the ceremonial oath of office during a public inauguration, shaking hands with U.S. Circuit Judge for the Ninth Circuit Court of Appeals Roopali Desai, right, as her husband, Patrick Goodman, second from right, looks on at the state Capitol in Phoenix, Thursday, Jan. 5, 2023. (AP Photo/Ross D. Franklin)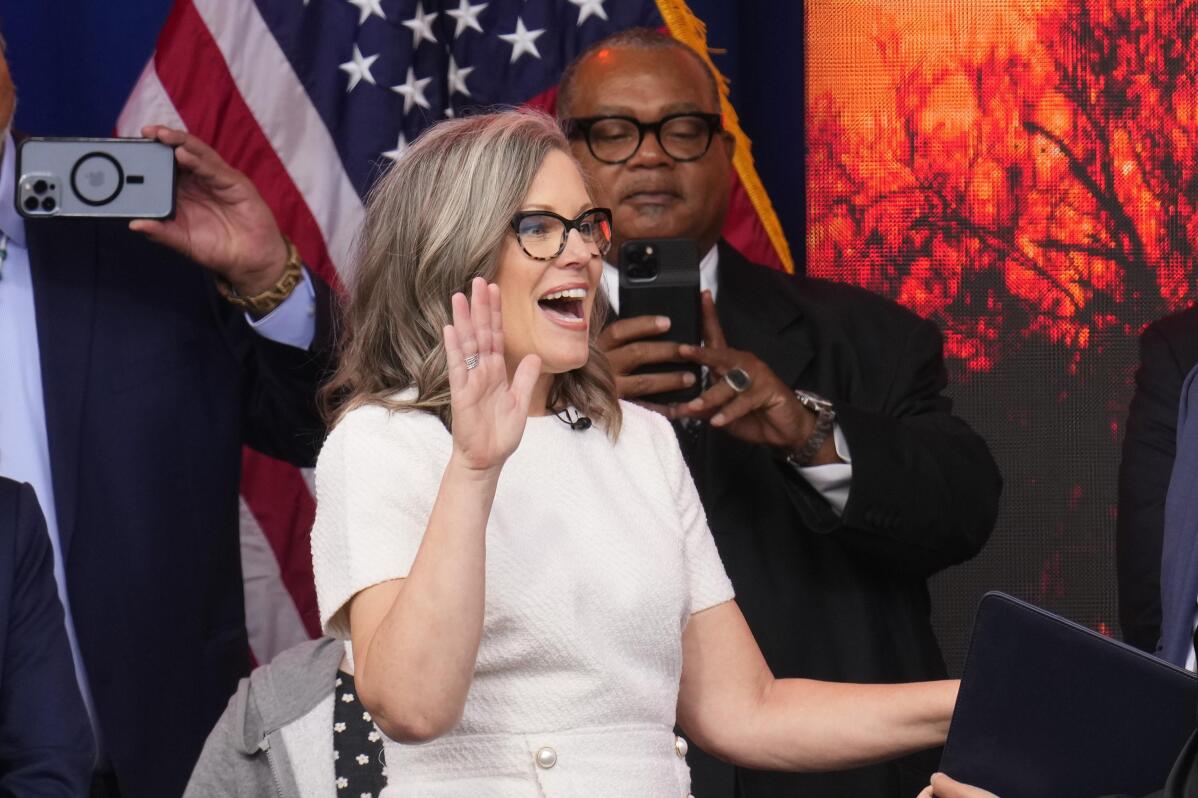 8 of 10

|
Arizona Democratic Gov. Katie Hobbs takes the ceremonial oath of office during a public inauguration at the state Capitol in Phoenix, Thursday, Jan. 5, 2023. (AP Photo/Ross D. Franklin)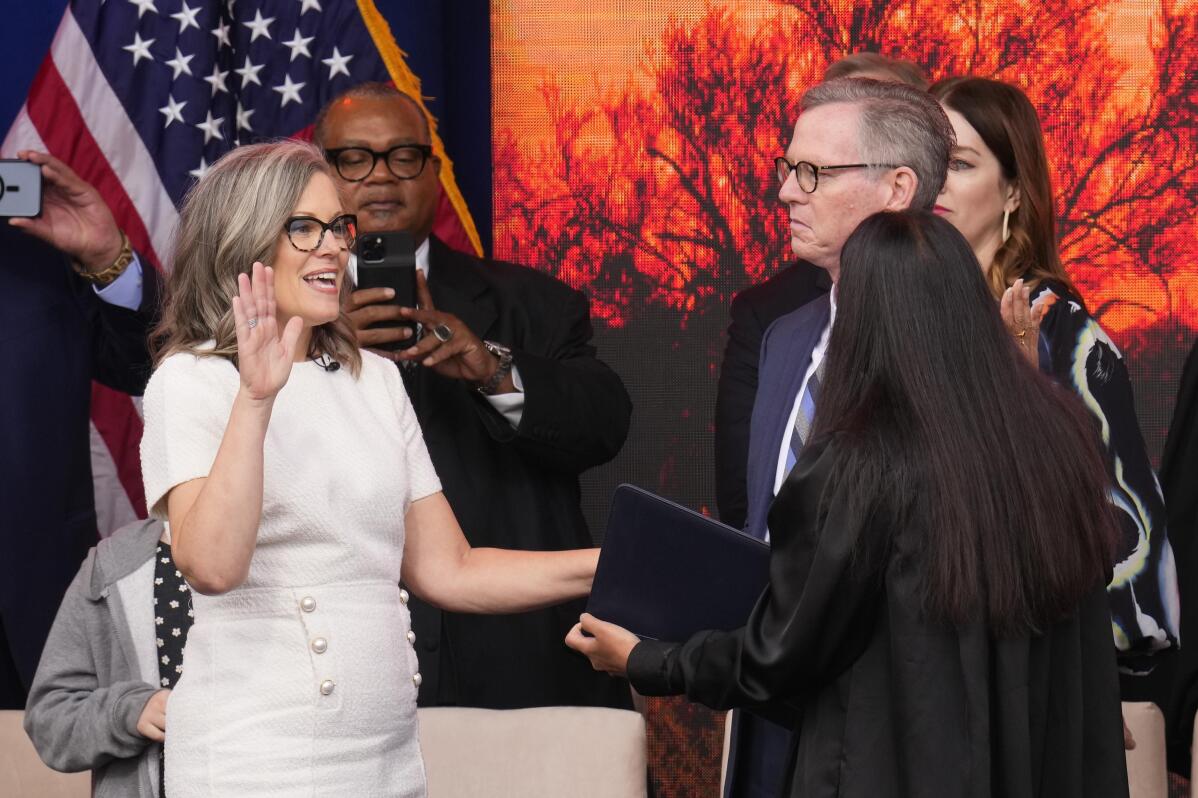 9 of 10

|
Arizona Democratic Gov. Katie Hobbs, left, takes the ceremonial oath of office during a public inauguration as husband Patrick Goodman, second from right, looks on as U.S. Circuit Judge for the Ninth Circuit Court of Appeals Roopali Desai, right, performs the oath at the state Capitol in Phoenix, Thursday, Jan. 5, 2023. (AP Photo/Ross D. Franklin)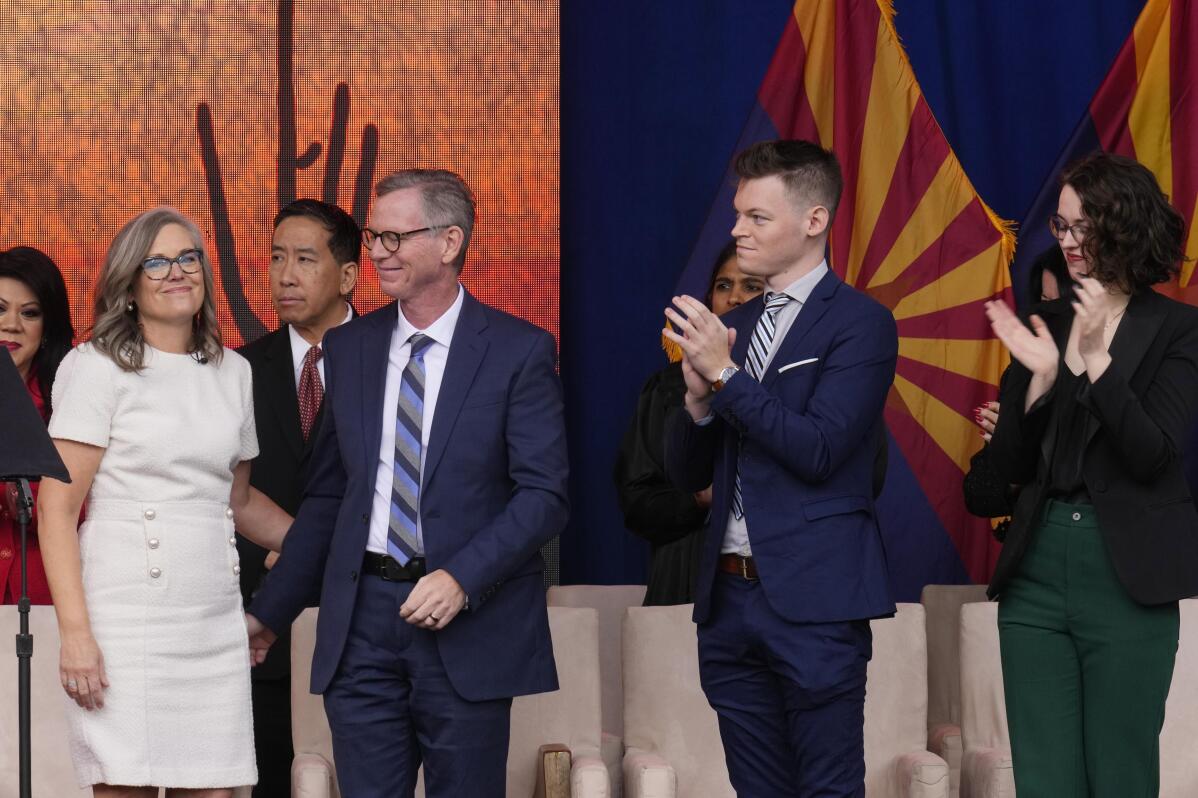 10 of 10

|
Arizona Democratic Gov. Katie Hobbs, left, pauses on stage as she stands next to husband Patrick Goodman, second from left, son Sam and daughter Hannah, right, after giving her inaugural address at the state Capitol in Phoenix, Thursday, Jan. 5, 2023. (AP Photo/Ross D. Franklin)
Hobbs calls on elected officials to end conspiracy theories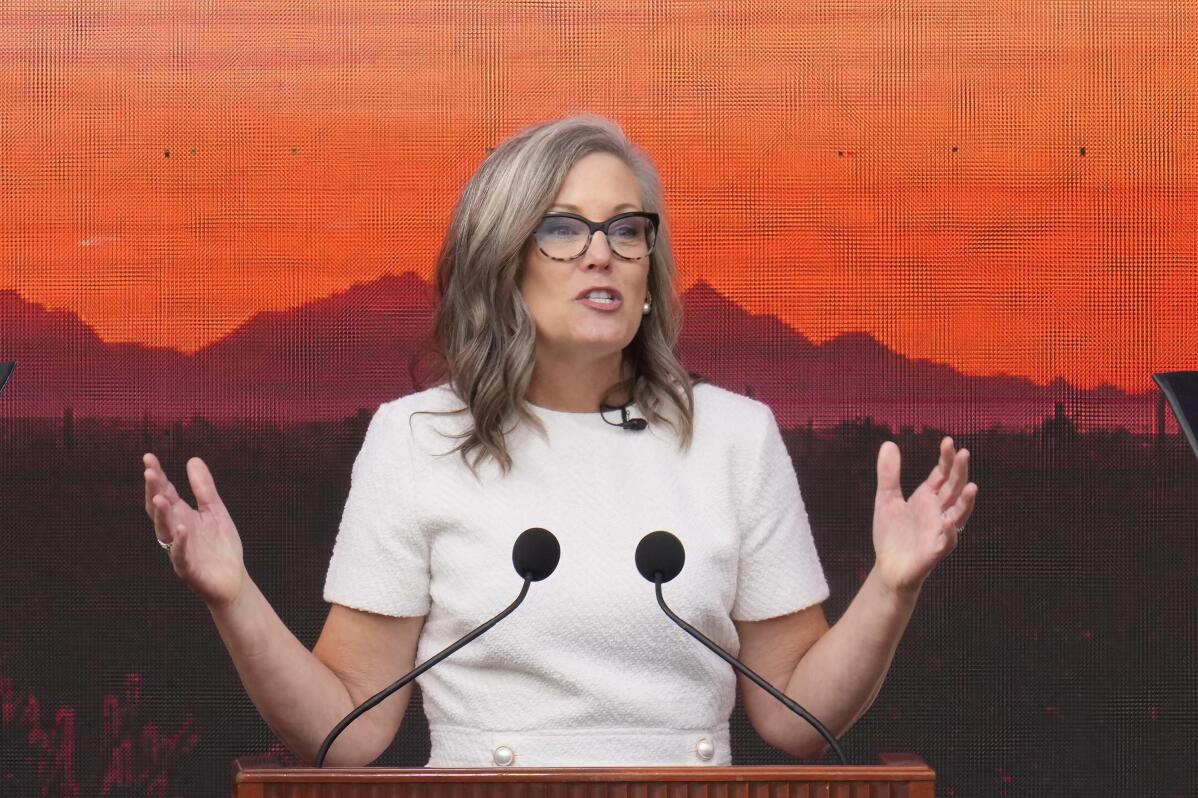 1 of 10

|
Arizona Democratic Gov. Katie Hobbs speaks after taking a ceremonial oath of office during a public inauguration at the state Capitol in Phoenix, Thursday, Jan. 5, 2023. (AP Photo/Ross D. Franklin)
1 of 10
Arizona Democratic Gov. Katie Hobbs speaks after taking a ceremonial oath of office during a public inauguration at the state Capitol in Phoenix, Thursday, Jan. 5, 2023. (AP Photo/Ross D. Franklin)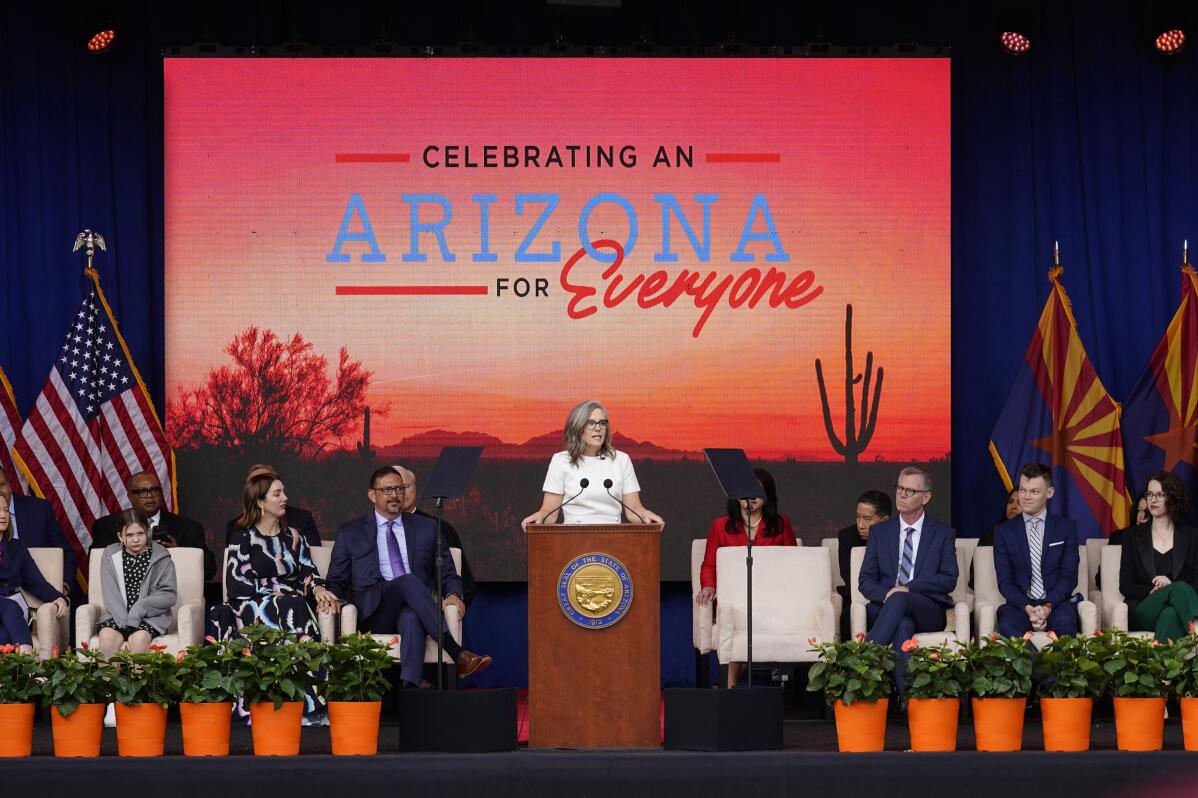 2 of 10

|
Arizona Democratic Gov. Katie Hobbs speaks after taking a ceremonial oath of office during a public inauguration at the state Capitol in Phoenix, Thursday, Jan. 5, 2023. (AP Photo/Ross D. Franklin)
2 of 10
Arizona Democratic Gov. Katie Hobbs speaks after taking a ceremonial oath of office during a public inauguration at the state Capitol in Phoenix, Thursday, Jan. 5, 2023. (AP Photo/Ross D. Franklin)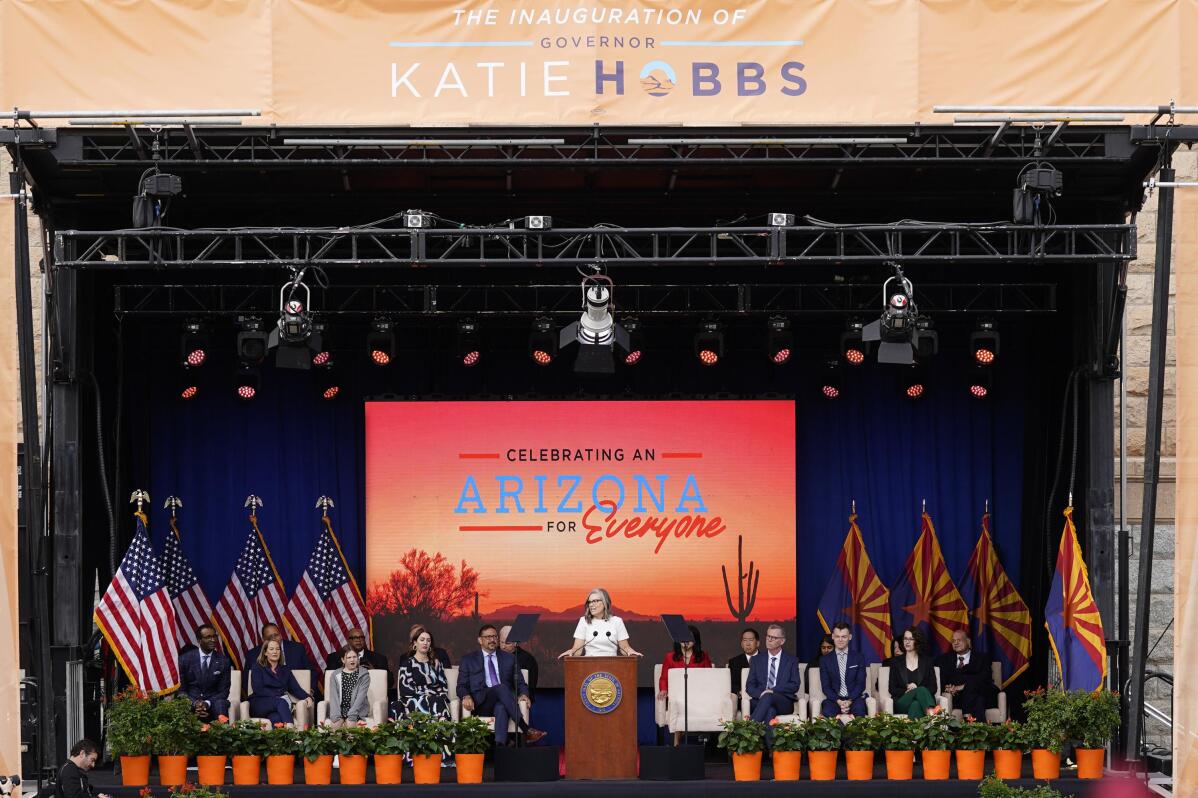 3 of 10

|
Arizona Democratic Gov. Katie Hobbs speaks after taking a ceremonial oath of office during a public inauguration at the state Capitol in Phoenix, Thursday, Jan. 5, 2023. (AP Photo/Ross D. Franklin)
3 of 10
Arizona Democratic Gov. Katie Hobbs speaks after taking a ceremonial oath of office during a public inauguration at the state Capitol in Phoenix, Thursday, Jan. 5, 2023. (AP Photo/Ross D. Franklin)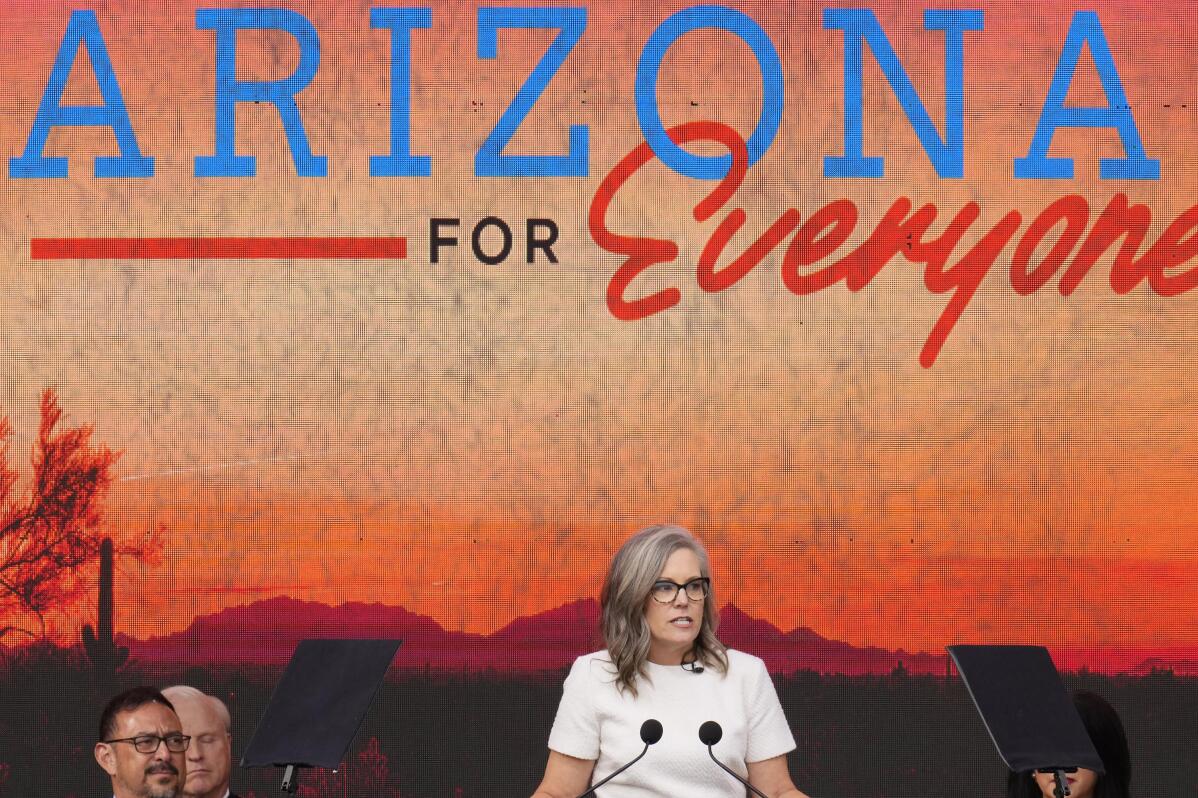 4 of 10

|
Arizona Democratic Gov. Katie Hobbs speaks after taking a ceremonial oath of office during a public inauguration at the state Capitol in Phoenix, Thursday, Jan. 5, 2023. (AP Photo/Ross D. Franklin)
4 of 10
Arizona Democratic Gov. Katie Hobbs speaks after taking a ceremonial oath of office during a public inauguration at the state Capitol in Phoenix, Thursday, Jan. 5, 2023. (AP Photo/Ross D. Franklin)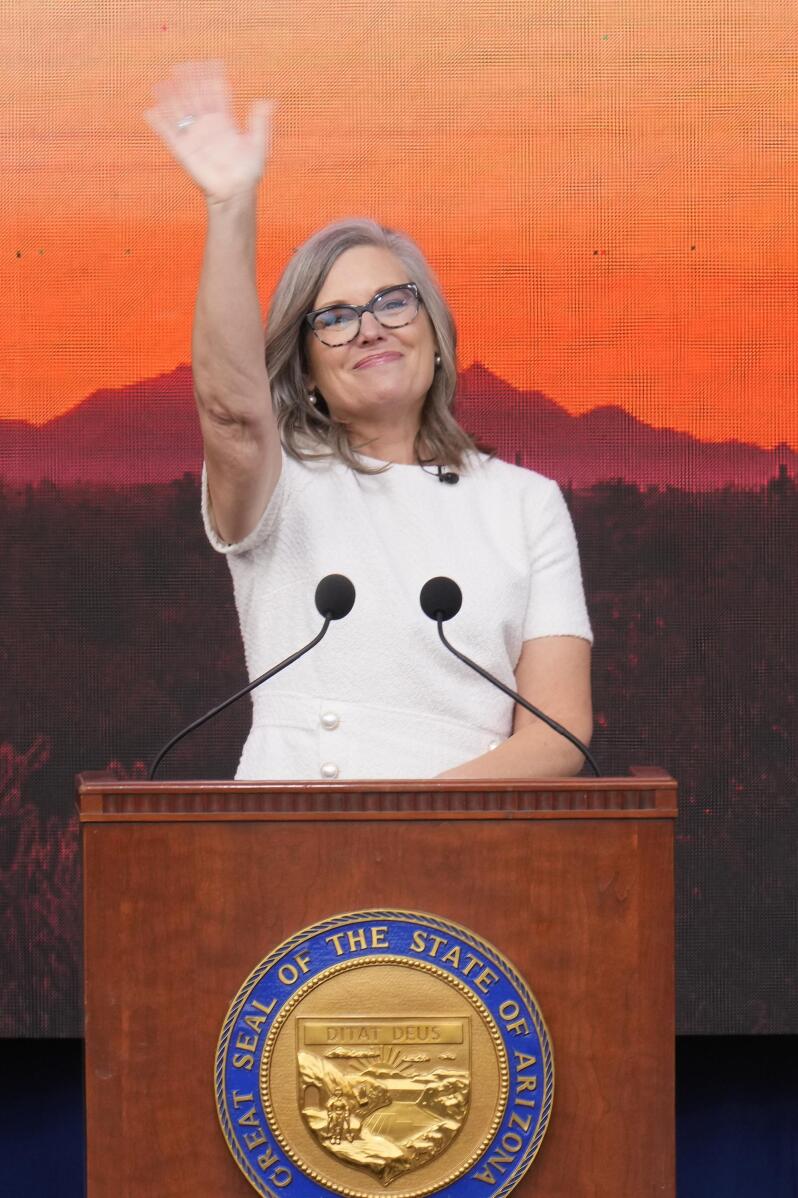 5 of 10

|
Arizona Democratic Gov. Katie Hobbs waves to a cheering crowd after taking a ceremonial oath of office during a public inauguration at the state Capitol in Phoenix, Thursday, Jan. 5, 2023. (AP Photo/Ross D. Franklin)
5 of 10
Arizona Democratic Gov. Katie Hobbs waves to a cheering crowd after taking a ceremonial oath of office during a public inauguration at the state Capitol in Phoenix, Thursday, Jan. 5, 2023. (AP Photo/Ross D. Franklin)
6 of 10

|
Arizona Democratic Gov. Katie Hobbs waves to cheering supporters after taking the ceremonial oath of office during a public inauguration at the state Capitol in Phoenix, Thursday, Jan. 5, 2023. (AP Photo/Ross D. Franklin)
6 of 10
Arizona Democratic Gov. Katie Hobbs waves to cheering supporters after taking the ceremonial oath of office during a public inauguration at the state Capitol in Phoenix, Thursday, Jan. 5, 2023. (AP Photo/Ross D. Franklin)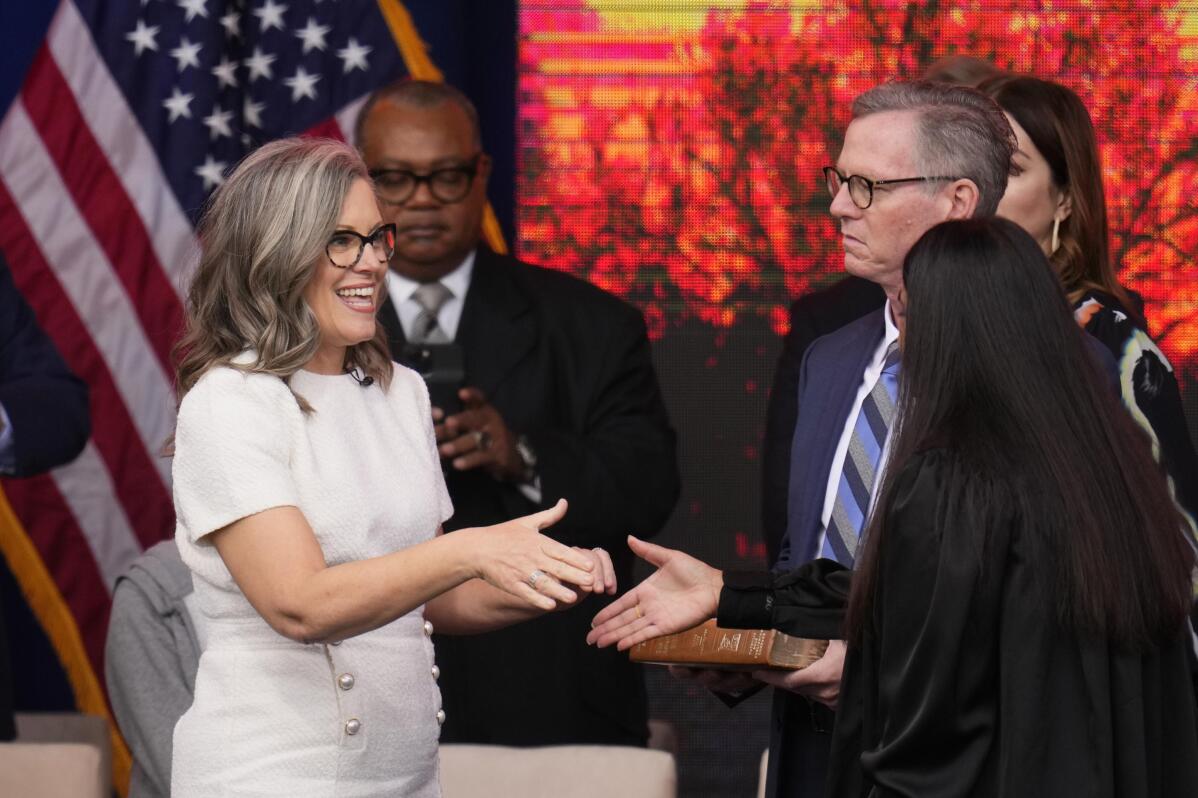 7 of 10

|
Arizona Democratic Gov. Katie Hobbs, left, smiles after taking the ceremonial oath of office during a public inauguration, shaking hands with U.S. Circuit Judge for the Ninth Circuit Court of Appeals Roopali Desai, right, as her husband, Patrick Goodman, second from right, looks on at the state Capitol in Phoenix, Thursday, Jan. 5, 2023. (AP Photo/Ross D. Franklin)
7 of 10
Arizona Democratic Gov. Katie Hobbs, left, smiles after taking the ceremonial oath of office during a public inauguration, shaking hands with U.S. Circuit Judge for the Ninth Circuit Court of Appeals Roopali Desai, right, as her husband, Patrick Goodman, second from right, looks on at the state Capitol in Phoenix, Thursday, Jan. 5, 2023. (AP Photo/Ross D. Franklin)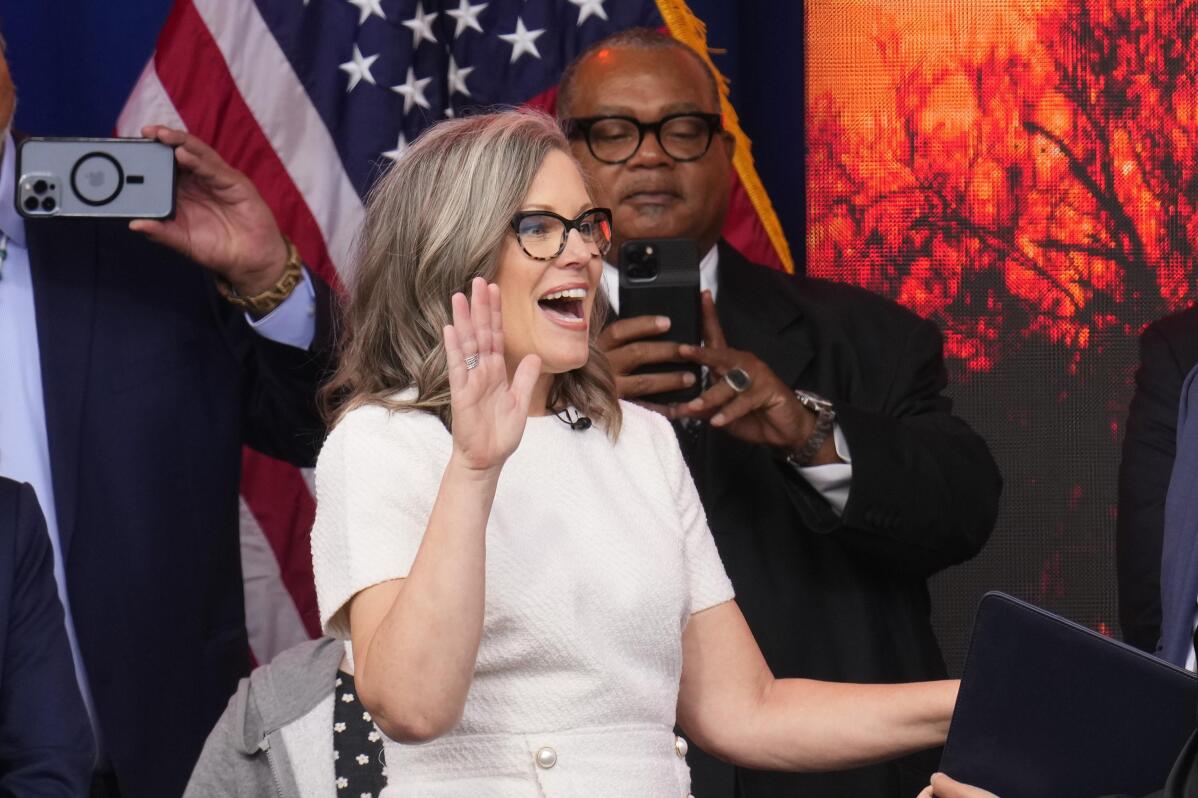 8 of 10

|
Arizona Democratic Gov. Katie Hobbs takes the ceremonial oath of office during a public inauguration at the state Capitol in Phoenix, Thursday, Jan. 5, 2023. (AP Photo/Ross D. Franklin)
8 of 10
Arizona Democratic Gov. Katie Hobbs takes the ceremonial oath of office during a public inauguration at the state Capitol in Phoenix, Thursday, Jan. 5, 2023. (AP Photo/Ross D. Franklin)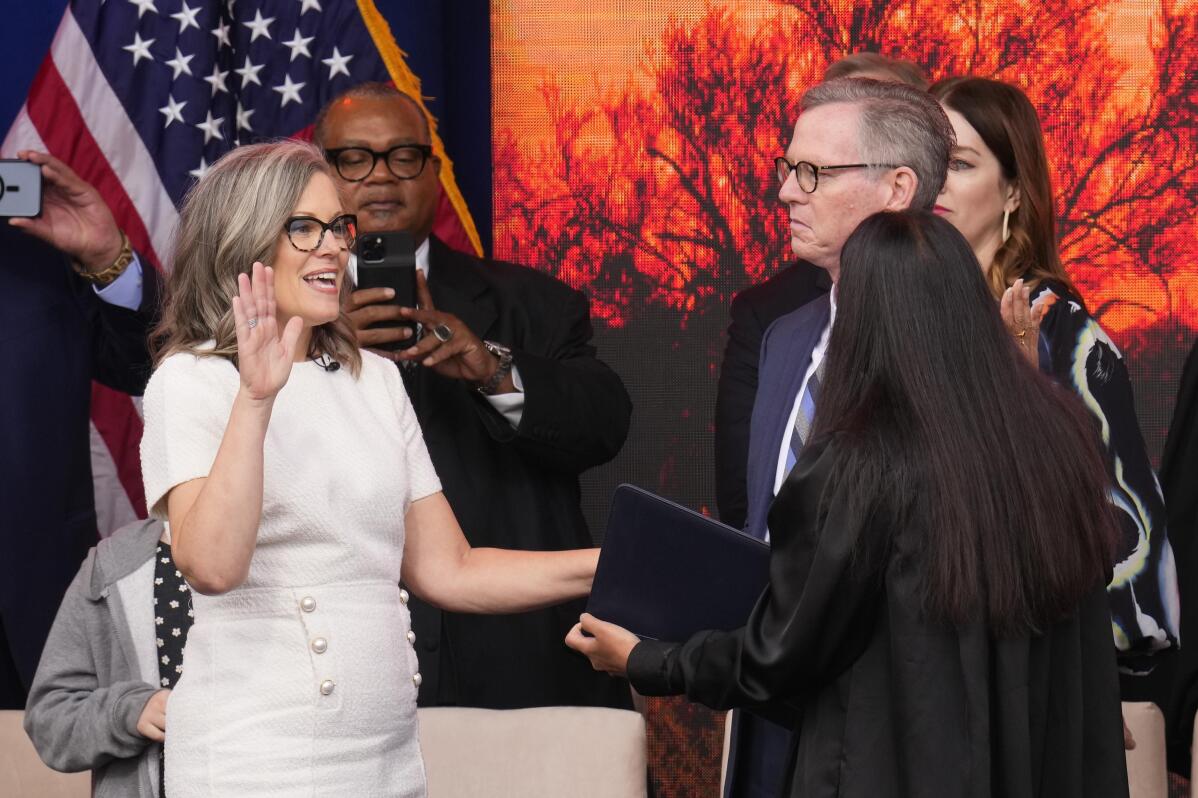 9 of 10

|
Arizona Democratic Gov. Katie Hobbs, left, takes the ceremonial oath of office during a public inauguration as husband Patrick Goodman, second from right, looks on as U.S. Circuit Judge for the Ninth Circuit Court of Appeals Roopali Desai, right, performs the oath at the state Capitol in Phoenix, Thursday, Jan. 5, 2023. (AP Photo/Ross D. Franklin)
9 of 10
Arizona Democratic Gov. Katie Hobbs, left, takes the ceremonial oath of office during a public inauguration as husband Patrick Goodman, second from right, looks on as U.S. Circuit Judge for the Ninth Circuit Court of Appeals Roopali Desai, right, performs the oath at the state Capitol in Phoenix, Thursday, Jan. 5, 2023. (AP Photo/Ross D. Franklin)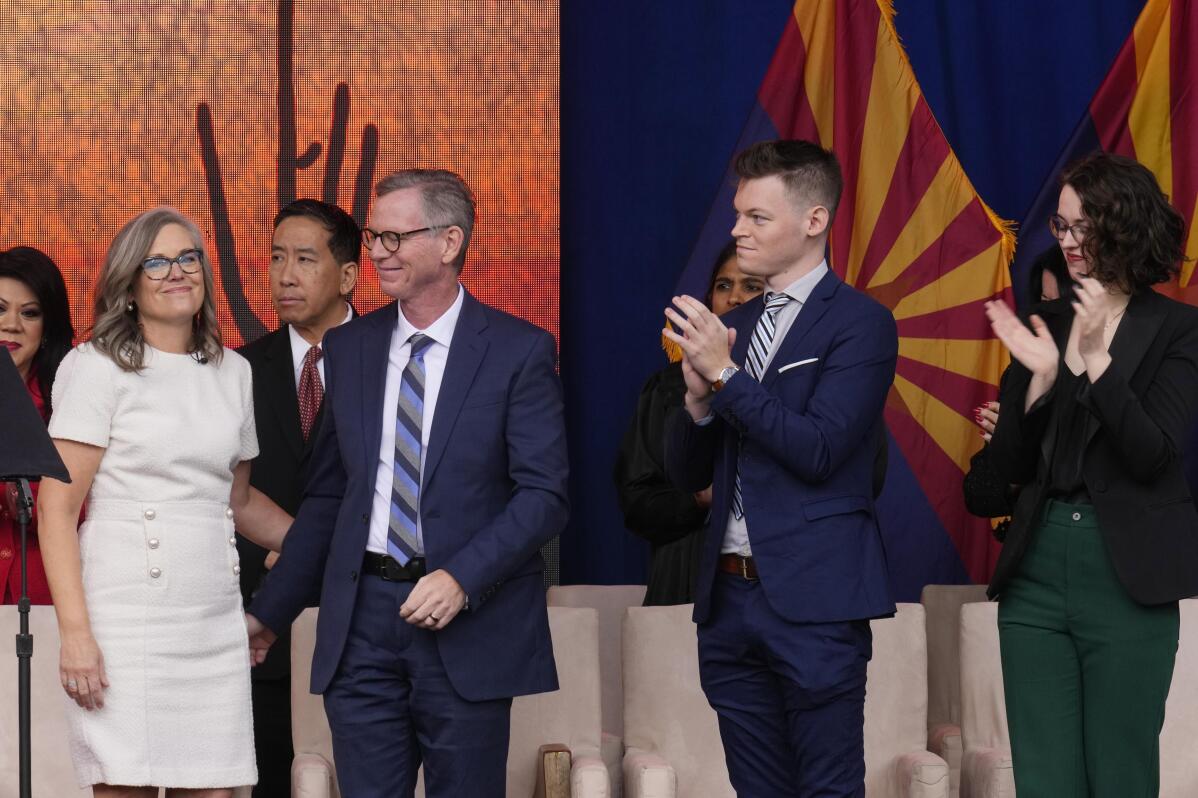 10 of 10

|
Arizona Democratic Gov. Katie Hobbs, left, pauses on stage as she stands next to husband Patrick Goodman, second from left, son Sam and daughter Hannah, right, after giving her inaugural address at the state Capitol in Phoenix, Thursday, Jan. 5, 2023. (AP Photo/Ross D. Franklin)
10 of 10
Arizona Democratic Gov. Katie Hobbs, left, pauses on stage as she stands next to husband Patrick Goodman, second from left, son Sam and daughter Hannah, right, after giving her inaugural address at the state Capitol in Phoenix, Thursday, Jan. 5, 2023. (AP Photo/Ross D. Franklin)
PHOENIX (AP) — Arizona Gov. Katie Hobbs pledged in her inaugural address Thursday to work with her political rivals as she ushers in a period of divided government and Democratic ascendance in a state long dominated by Republicans.
She also called on elected officials to reject conspiracy theories that were promoted by GOP candidates who lost their elections in November, declaring "now is the perfect time to move past division and partisanship."
"Let me say unequivocally to every elected official here today, that if you're ready to make real progress on the issues that matter most to the people of this state, then my door will always be open," Hobbs said. "Let me also say just as clearly, that chasing conspiracy theories, pushing agendas for special interests, attacking the rights of your fellow Arizonans, or seeking to further undermine our democracy will lead nowhere."
Hobbs has been governor since Monday, when power transferred under the state constitution. She repeated the oath of office in public Thursday at the traditional every-four-years inaugural at the state Capitol, where most of the state's top officials — current and former — gathered.
Former Republican Govs. Doug Ducey, Jan Brewer and Fife Symington sat in the front row, along with U.S. Sen. Kyrsten Sinema, a former Democrat who changed to an independent last month. Cindy McCain, the widow of the late Republican Sen. John McCain, and two of her children, Jack and Jimmy McCain, also had prominent front-row seats, a symbol of their growing estrangement from the modern GOP.
Hobbs rose to prominence as the secretary of state, staunchly defending the integrity of the 2020 election as former President Donald Trump and his allies tried to overturn the results or falsely claim there was rampant fraud.
She narrowly won office in November after pitching "sanity over chaos," contrasting herself favorably against Republican Kari Lake, a former television anchor who backed Trump's election lies and drew global media attention.
Hobbs assumes control of a state with a strong economy and a solid financial position, with a large budget surplus forecast for the next fiscal year.
But headwinds are on the horizon. Phoenix has some of the nation's highest inflation levels and housing costs have soared as rapid population growth has outpaced home construction, belying the state's reputation for affordability. Furthermore, the water supply is constrained by drought.
Hobbs outlined an agenda focused on water, border security, health care access, affordability, workforce development and education.
"We must find common ground and do what's right," she said. It's time to invest in public schools, defend abortion rights, safeguard elections and "hold Washington accountable for our broken immigration system and its devastating impact on families and communities."
Hobbs was previously a state legislator who rose through the ranks to become the top Democrat in the Senate. As governor, she'll have to work with a House and Senate narrowly controlled by Republicans. The GOP caucuses will move to the right after several moderate Republicans in both the House and Senate were defeated in primaries or chose not to run for reelection, getting replaced by a new generation of lawmakers spoiling for a fight not just with Democrats but more moderate members of the GOP.
The new Legislature convenes for the first time next Monday.
In a letter left for Hobbs, Ducey said being governor "is the greatest job in politics and an immense responsibility. I know you will serve the people of Arizona well."
Hobbs's election is the latest victory for Democrats who steadily expanded their influence in Arizona since 2018, when Sinema was elected to the U.S. Senate.
Democrats now control the top three state offices — governor, secretary of state and attorney general — for the first time in decades, along with both U.S. Senate seats.
Lake has refused to concede and is continuing her legal fight challenging the election results, claiming on social media that elections are rigged. A Maricopa County judge rejected Lake's claim that the election results were marred by intentional misconduct by election officials in the state's most populous county.
"You embraced the challenge before us and rejected those who seek to divide," Hobbs said to voters. "Instead, you sent a message that it's time your elected officials worked together to find real solutions and to build an Arizona for everyone."
The first two weeks in office are frenetic for a new governor just learning the job. Hobbs will give a second major speech just days after her inaugural address when she delivers the state of the state address on Monday, followed by her first budget proposal next Friday. Meanwhile, she has focused on staffing up her government, appointing several new state agency chiefs in recent weeks and announcing she will retain several officials originally hired by Ducey.
Hobbs signed her first executive order hours after taking office aiming to eliminate discrimination for state employees and contractors. She has outlined priorities that include water, border security, health care access, affordability, workforce development and education.
Democratic Secretary of State Adrian Fontes, who like Hobbs defeated a Republican who ran on lies about the 2020 election, said election officials need support amid threats of violence they face for doing their jobs.
"This domestic terrorism is anathema to the constitutional border and must be prosecuted to the fullest extent of the law," Fontes said.
Kris Mayes, a Democrat elected attorney general by just 280 votes, said she "will go to work every single day with the intention of making Arizona a better and safer place to live for all of us."
State Treasurer Kimberly Yee and schools chief Tom Horne, both Republicans, also repeated their oaths of office in public on Thursday.