Nate Thayer, reporter who interviewed Pol Pot, dies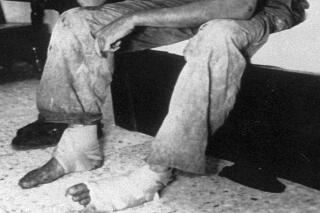 Nate Thayer, a fearless reporter who survived several brushes with death over decades covering conflict in Southeast Asia and was the last western journalist to interview Pol Pot, the leader of the murderous Khmer Rouge regime in Cambodia, has died.
Thayer was found dead at his Falmouth, Massachusetts home on Tuesday by a friend, his brother, Rob Thayer, said Thursday. He was 62.
He had been suffering with multiple ailments for several months, and the cause of death was listed as natural causes, Rob Thayer said, adding that he had last spent time with his brother on Sunday.
Thayer at various times worked for The Associated Press, Jane's Defence Weekly, the Phnom Penh Post, The Washington Post, Agence France Presse and Soldier of Fortune Magazine, but it was while working as a correspondent for the Hong Kong-based Far Eastern Economic Review that he scored the Pol Pot interview published in October 1997. It was the reclusive leader's first interview in nearly 20 years.
By then, the movement had turned on him.
"After a series of furtive rendezvous, using coded messages over mobile phones, I slipped into one of the most impenetrable, malarial-ridden and landmine-strewn jungles of the world: Khmer Rouge-controlled northern Cambodia," Thayer wrote.
Pol Pot, "an anguished old man, frail and struggling to maintain his dignity, was watching his life vision crumble in utter, final defeat," he wrote.
The leader of the Communist Khmer Rouge, under whose regime some 2 million Cambodians died, shocked the world by saying said his "conscience is clear." He blamed piles of human skulls in the nation's "killing fields" on his country's historic enemy Vietnam, and asked for international sympathy for this own poor health and personal suffering.
Thayer "had spent years developing contacts within the Khmer Rouge, Thai intelligence, and elsewhere to gain this access, and seized an opening when the movement turned in upon itself," his editor at the Review, Andrew Sherry wrote in 2005. "By no means a Khmer Rouge apologist, he presented a straight, unvarnished picture of the past and present, and confronted Pol Pot with the evidence that he was a mass murderer."
Pol Pot died in April 1998.
Thayer was also involved in a public feud with ABC's "Nightline" and Ted Koppel over a Pol Pot story, which ended with him rejecting a prestigious Peabody Award.
Thayer sold the story to ABC understanding it would be a one-week exclusive with North American television rights only. But he said ABC distributed the story worldwide and put photos on its website, scooping Thayer's own print account for the Far Eastern Economic Review.
"Ted Koppel and 'Nightline' literally stole my work, took credit for it, trivialized it, refused to pay me and then attempted to bully and extort me when I complained," he wrote in a letter rejecting the Peabody.
ABC said the pre-broadcast publicity is common practice for such an exclusive story and Koppel praised Thayer. The sides later settled.
Thayer dug out stories from Asia where most Western journalists feared to go, and almost paid with his life.
In an online blog he maintained, he described the terrifying moment in October 1989 when the truck he was riding in with several Cambodian guerillas drove over two anti-tank mines. Many of the guerillas died.
"My eardrums were blown out," he wrote. "The concussion of the explosion was so great my brain shut down. I remember the liquid in my body became so heated I could feel it simmering near boiling. I could hear my blood boiling, gurgling from what seemed like heat. I felt my brain being tossed around like a rag doll bouncing off the insides of the wall of my boned skull."
He had shrapnel in his head, torso, and legs, several broken bones, and a dislocated kidney.
The 2 1/2-ton truck, he wrote, "looked like a shredded child's toy Tonka truck."
Later in his career, he reported from Iraq, the former Yugoslavia, Cuba, Albania, North Korea, and Mongolia.
He had also been working on a memoir, tentatively titled "Sympathy for the Devil," when he died.
Thayer, the scion of a prominent Boston family and the son of a diplomat, practically grew up in Asia, as his father was posted to Hong Kong, Taiwan, Beijing and Singapore, Rob Thayer said.
He attended the University of Massachusetts Boston but did not graduate.
"He had dreamed of being a journalist and in 1984 he went to the Thai-Cambodia border and began to freelance, and started to make a name for himself," his brother said.
He spent his last years on Cape Cod, writing against U.S. far right activists and white nationalists and sharing stories of his adventures with his beloved dog, Lamont.
In addition to his brother, Nate Thayer is survived by his mother, Joan Leclerc, and his sisters Marian Vito and Meg Thayer. He did not have children.
Arrangements are pending.