France's debate on contested pension bill to head to Senate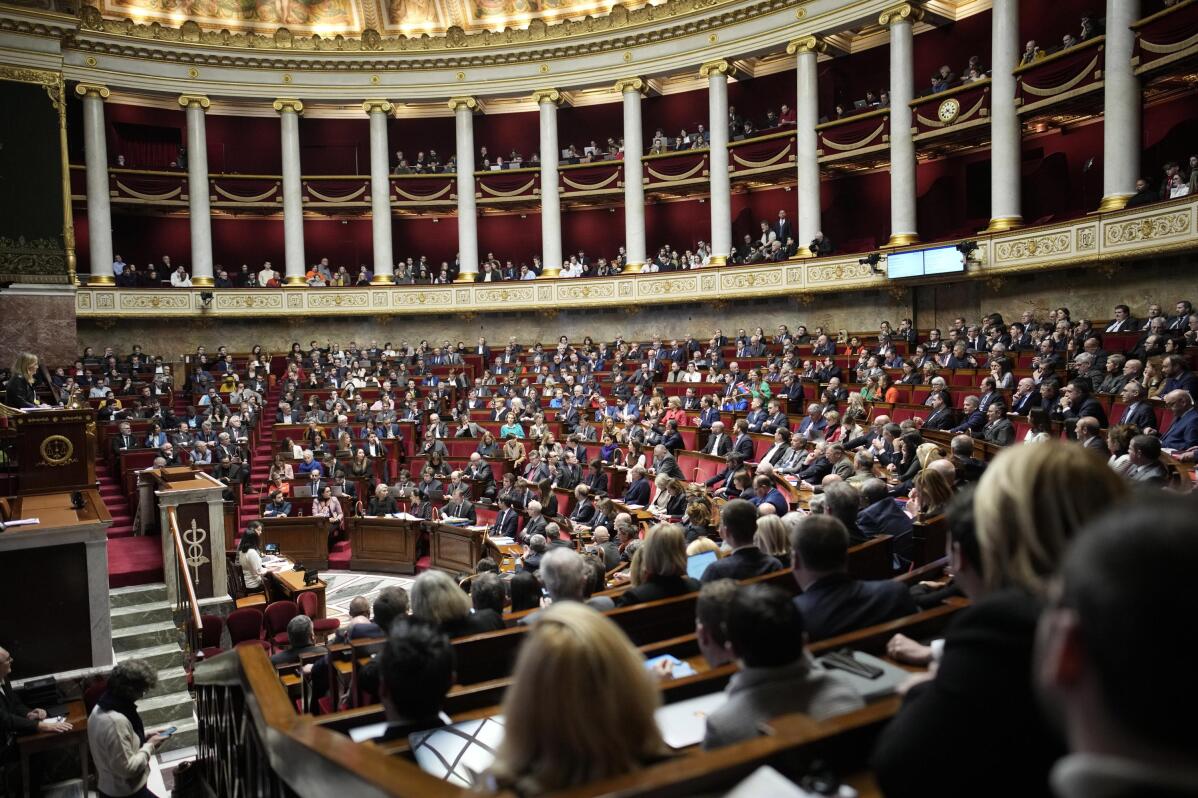 1 of 2

|
FILE - Lawmakers gather at the National Assembly, on Feb. 6, 2023 in Paris. French lawmakers were debating one last day Friday, Feb. 17, 2023, the contested pension bill aimed at raising the retirement age from 62 to 64 at the lower house of parliament, before the text was to head to the Senate. (AP Photo/Christophe Ena, File)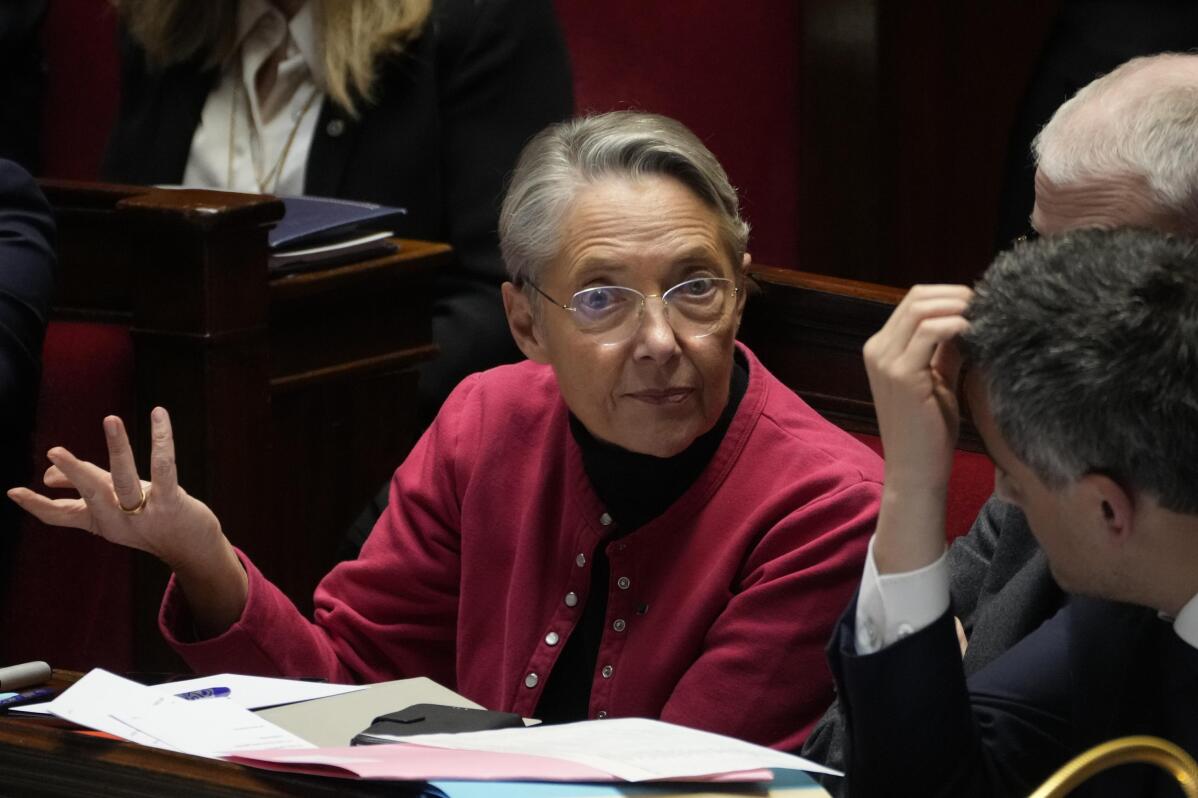 2 of 2

|
FILE - French Prime Minister Elisabeth Borne speaks during the Questions to the Government session at the National Assembly, on Feb. 14, 2023 in Paris.French lawmakers were debating one last day Friday, Feb. 17, 2023, the contested pension bill aimed at raising the retirement age from 62 to 64 at the lower house of parliament, before the text heads to the Senate. (AP Photo/Thibault Camus, File)
France's debate on contested pension bill to head to Senate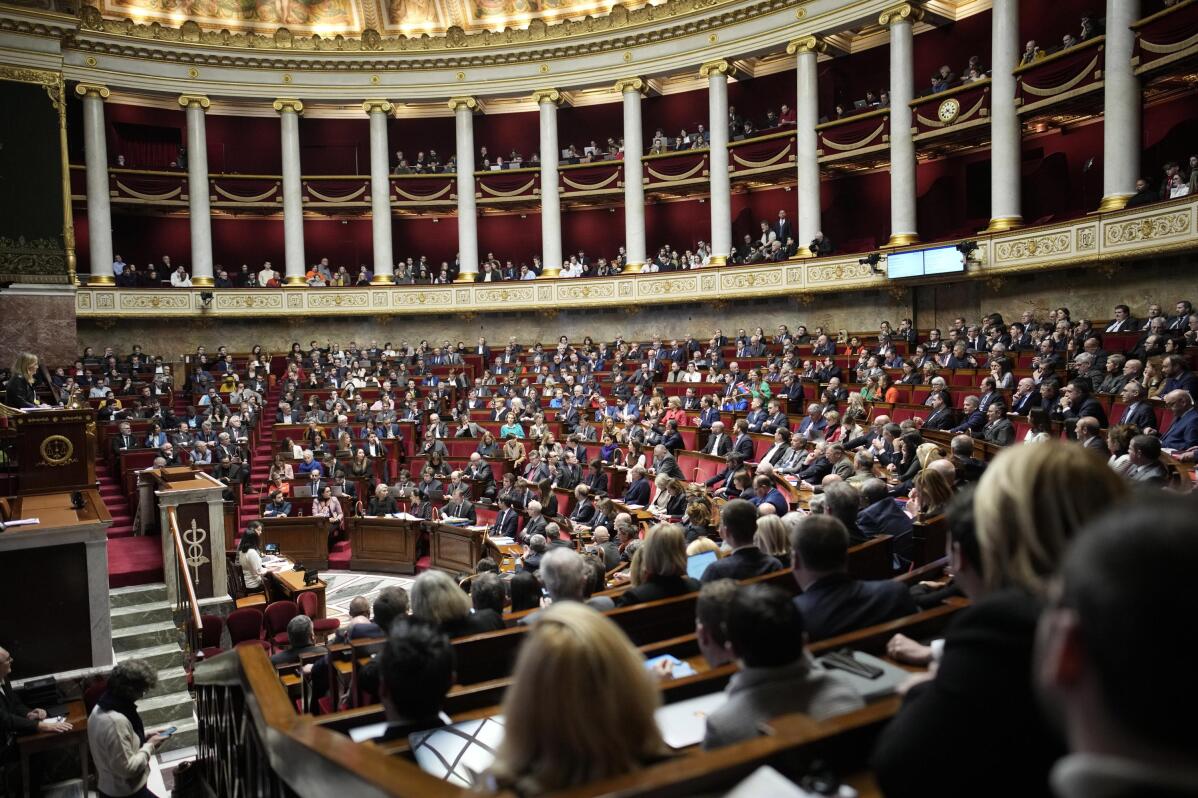 1 of 2

|
FILE - Lawmakers gather at the National Assembly, on Feb. 6, 2023 in Paris. French lawmakers were debating one last day Friday, Feb. 17, 2023, the contested pension bill aimed at raising the retirement age from 62 to 64 at the lower house of parliament, before the text was to head to the Senate. (AP Photo/Christophe Ena, File)
1 of 2
FILE - Lawmakers gather at the National Assembly, on Feb. 6, 2023 in Paris. French lawmakers were debating one last day Friday, Feb. 17, 2023, the contested pension bill aimed at raising the retirement age from 62 to 64 at the lower house of parliament, before the text was to head to the Senate. (AP Photo/Christophe Ena, File)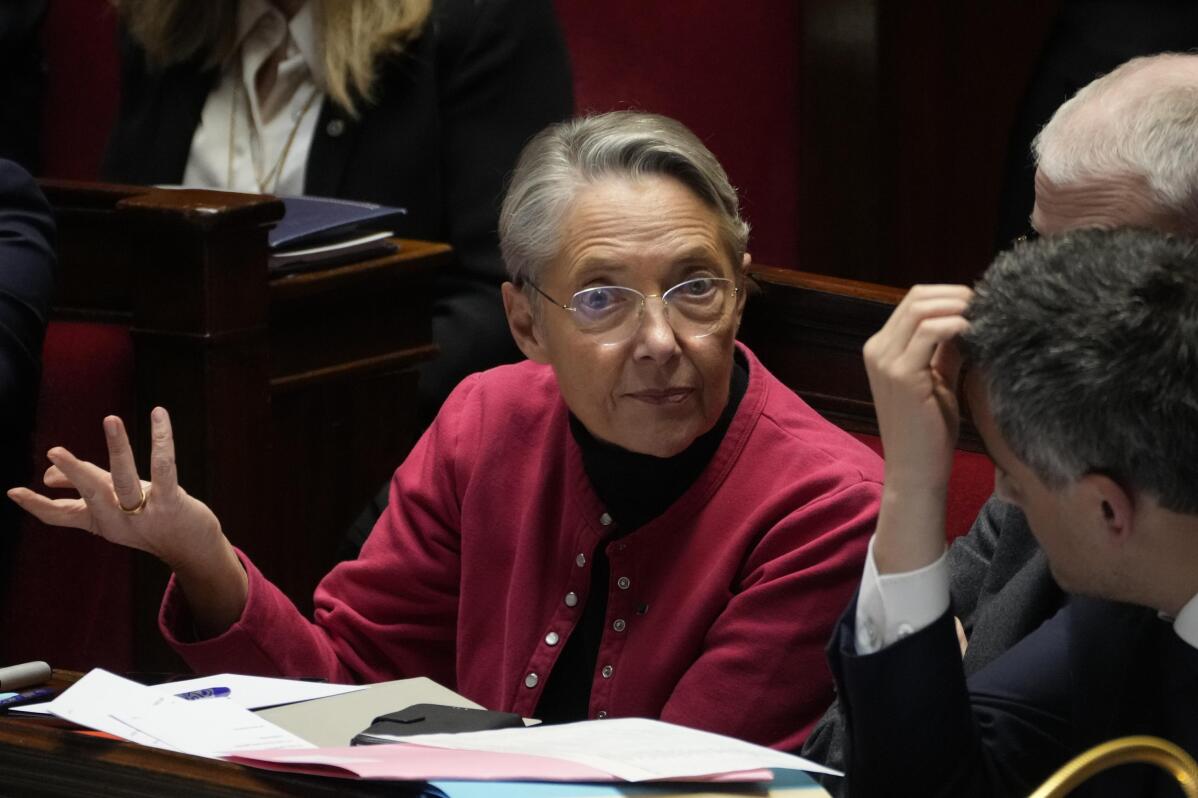 2 of 2

|
FILE - French Prime Minister Elisabeth Borne speaks during the Questions to the Government session at the National Assembly, on Feb. 14, 2023 in Paris.French lawmakers were debating one last day Friday, Feb. 17, 2023, the contested pension bill aimed at raising the retirement age from 62 to 64 at the lower house of parliament, before the text heads to the Senate. (AP Photo/Thibault Camus, File)
2 of 2
FILE - French Prime Minister Elisabeth Borne speaks during the Questions to the Government session at the National Assembly, on Feb. 14, 2023 in Paris.French lawmakers were debating one last day Friday, Feb. 17, 2023, the contested pension bill aimed at raising the retirement age from 62 to 64 at the lower house of parliament, before the text heads to the Senate. (AP Photo/Thibault Camus, File)
PARIS (AP) — The lower house of France's parliament debated a contested pension bill aimed at raising the country's retirement age from 62 to 64 during what was expected to be lawmakers' last discussion on the proposal before sending the legislation to the Senate.
President Emmanuel Macron's government has vowed to go ahead with the reform despite nationwide protests and strikes and opinion polls consistently showing a majority of French people oppose the change.
The National Assembly's two-week discussion has featured flaring tempers and thousands of amendments proposed mostly by the left-wing opposition, making it impossible for lawmakers to debate the full bill before a Friday deadline.
On Friday morning, lawmakers discussed amendments related to the second of 20 articles.
Both the government and the opposition accused each other of hurting the democratic debate with political tactics.
Macron's allies denounced a strategy of "obstruction" from the left that it said prevented lawmakers from doing their jobs.
Opposition lawmakers criticized the government for invoking parliamentary rules on budget bills to set a tight deadline at the National Assembly, arguing it did not leave enough time to debate such an important issue.
The Senate is scheduled to considering the bill on March 2. The complex legislative process is expected to continue for several weeks.
Workers unions and youth organization pledged to "bring France to a standstill" during next protest day scheduled on March 7.
The government hopes the text will ultimately be voted by both houses of parliament with the support of The Republicans' party, which has been for years pushed for raising the retirement age.
Macron's centrist alliance has the most seats at the National Assembly but lost its majority in legislative elections last year.
The Senate is dominated by The Republicans.
To mark its opposition, the far-right National Rally requested a no-confidence vote against the government, to be examined in the early hours of Saturday after the end of the debate on the pension bill itself.
The move is mostly symbolic, since other political groups have said they won't vote the motion, which needs half the seats at the Assembly, or 289 seats, to be approved. The National Rally's group counts 88 lawmakers.