Most H-1B workers are paid less, but it depends on the type of job
An AP analysis finds that most foreign workers with H-1B visas are paid less than their American counterparts. But for most non-computer science occupations, foreigners are paid more.
U.S. Citizenship and Immigration Services announced Monday that 199,000 applications for high-skilled workers' visas – known as H-1B visas – were filed this year to bring foreign workers to the U.S.
But as applicants wait to learn if they will obtain one of the 85,000 spots in the visa program, an Associated Press analysis has found that some H-1B workers – particularly in high-tech jobs such as computer science – are often paid less than their American counterparts.
The AP found computer science hires – which make up three-quarters of the H-1B program – receive about 9 percent less, on average, than U.S. workers with similar positions, while foreign workers in non-computer science occupations receive an average of 58 percent more.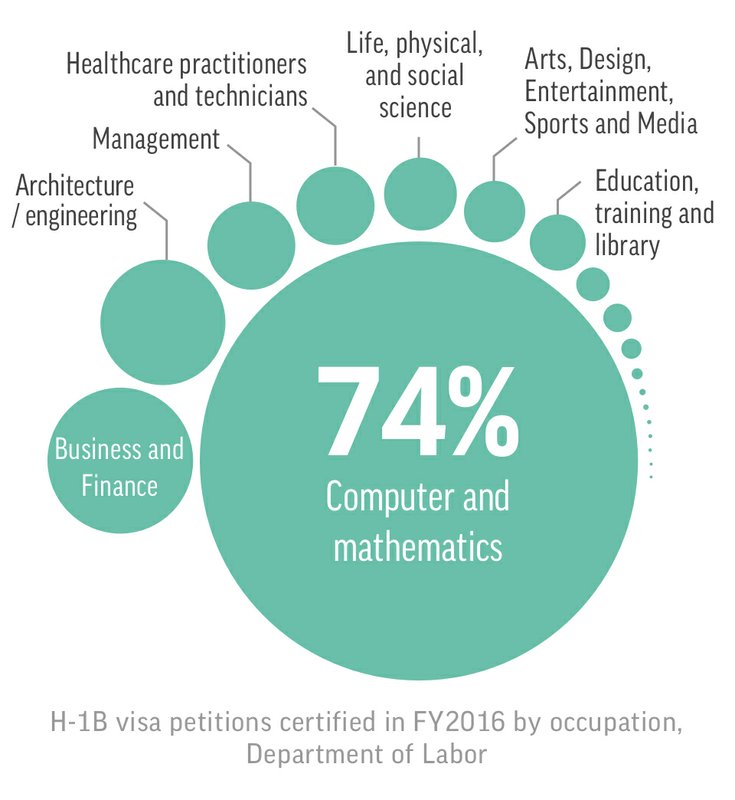 The Trump administration has signaled it may make changes to the visa program, in part to combat what it sees as an attempt to bring in foreign workers for lower pay.
President Donald Trump signed an executive order Tuesday afternoon, directing U.S. agencies to propose rules to prevent immigration fraud and make changes so that H-1B visas are awarded to the "most-skilled or highest-paid applicants."
"With this action, we are sending a powerful signal to the world," said Trump. "We are going to defend our workers, protect our jobs and finally put America first."
The H-1B visa program allows U.S. employers to temporarily hire foreign workers in specialty occupations. It requires employers to pay workers no less than "the prevailing wage" -- an amount set by the government based on experience level, location and occupation -- as a way to prove that the hiring of foreign workers will not adversely affect the working conditions of similarly employed U.S. workers.
In practice, employers find ways to get around the requirements, said Ron Hira, an associate professor of Howard University and longtime critic of the program.
"Employers tend to define the positions as low as they can, in terms of experience levels," Hira said. "Lots of employers are doing that. If not, they are stupid."
The Department of Justice released a memo in March, disqualifying an entry-level computer programmer as a specialty occupation. Chris Mussilo, a Cincinnati-based immigration lawyer, has since advised his clients stay away from the lowest experience level when filing applications in computer science fields.
Mussilo argued that the program was used to fill the shortage of skilled workers, rather than cut costs. During the 2009-2012 economic recession, the annual allotment of H-1B visas was not filled right away each year, and no lottery was needed.
"If [hiring] H-1B tech workers was about cutting labor and saving employers' costs, doesn't it stand to reason that employers in the recession were actually more cost-conscious and would have had more pressure to hire foreign labor? But they didn't do that." Mussilo said.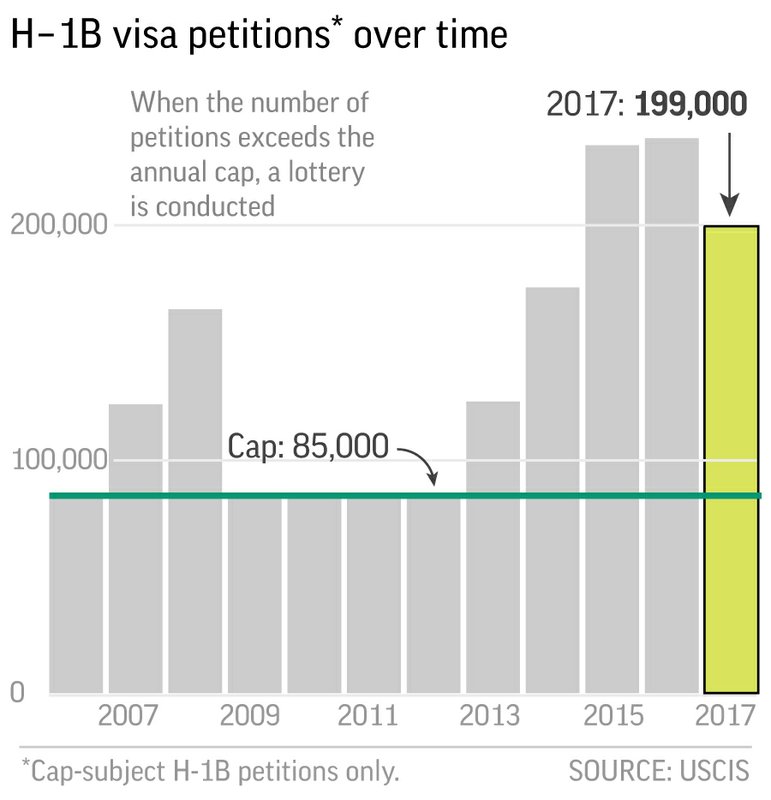 To get a complete picture of the wage disparity between American workers and foreign workers with H-1B visas, The AP examined the wages of about 982,000 H-1B applicants in fiscal year 2016 and compared them to the wages of American workers surveyed by the Bureau of Labor Statistics in the same occupations and locations. The analysis takes into account only occupation groups for which more than 50 applications were submitted in fiscal year 2016.
Compared with American workers, foreign workers in computer-related occupations are generally paid less. They are also less likely to get extremely high or low salaries.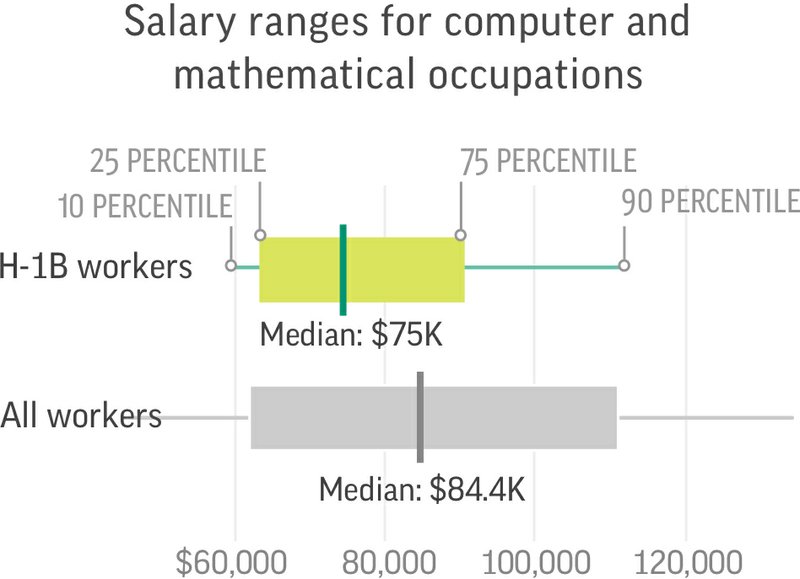 The same pattern holds true for a few other occupations.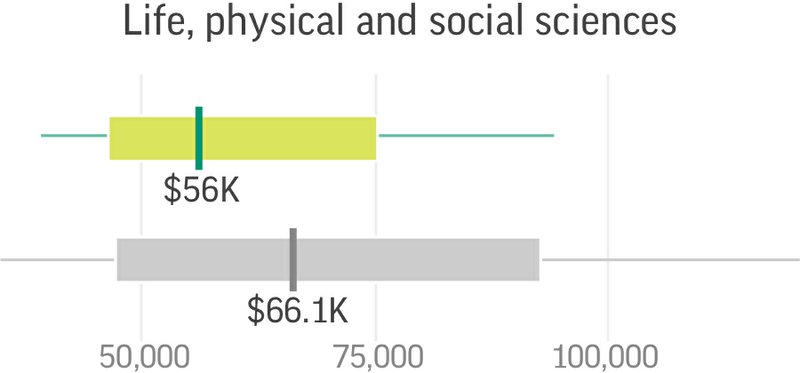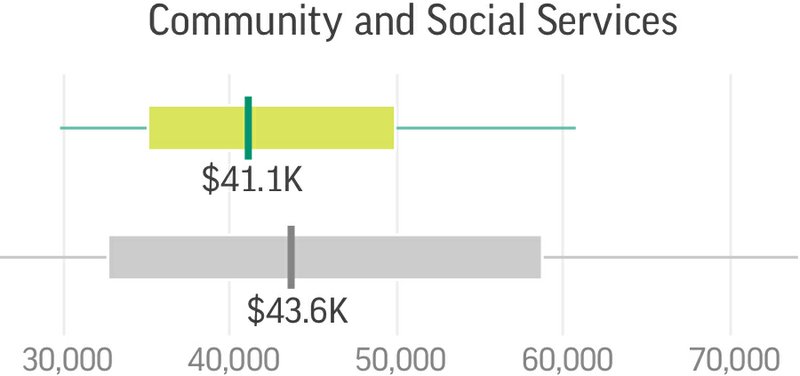 Mussilo attributed the wage disparity largely to the low experience level of H-1B visa applicants. Most H-1B visa applicants are either foreign graduates fresh out of the school or young professionals getting hired directly overseas. Both groups are relatively early in their careers.
"It's not likely that a 46-year-old Chinese engineer leaves Shanghai and comes to America. The profile is much more likely a 26-year-old computer engineer who's been in the field for two or three years comes to the U.S." Mussilo said.
The trend doesn't hold true for other high-skilled occupations.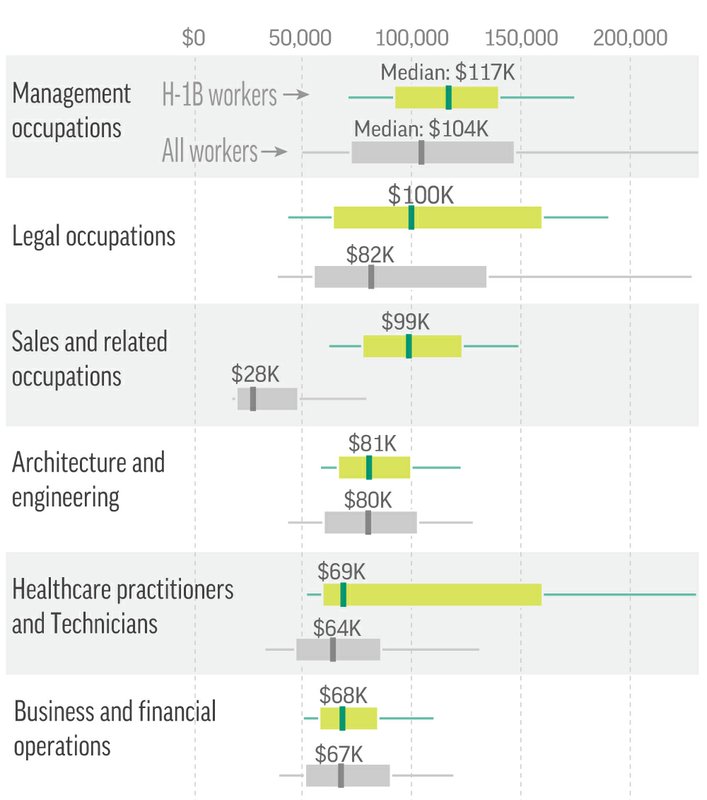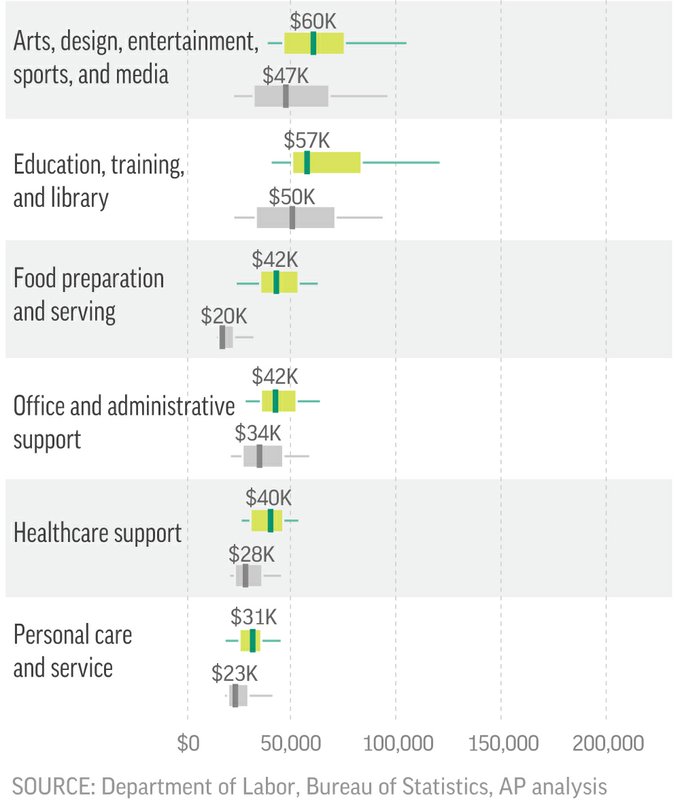 On average, foreign workers in non-computer and mathematical occupations get paid 58 percent more than the average workers in similar occupation groups. This is not surprising to Hira. H-1B visas are given to workers in specialty positions. Take the striking $71,000 annual median salary difference in sales-related occupations as an example. The top three job titles H-1B workers applied for in that field are "sales engineer", "senior sales engineer" and "product manager."
The H-1B program may even benefit Americans working outside the field of computer science. In a recent research paper, economics professor John Bound of University of Michigan found that while H-1B workers in computer science occupations crowded out American computer science workers and lowered their wages between 1994 and 2001, they expanded the employment pool and raised the wages of American workers in other occupations.