Israeli forces kill 2 Palestinians during new violence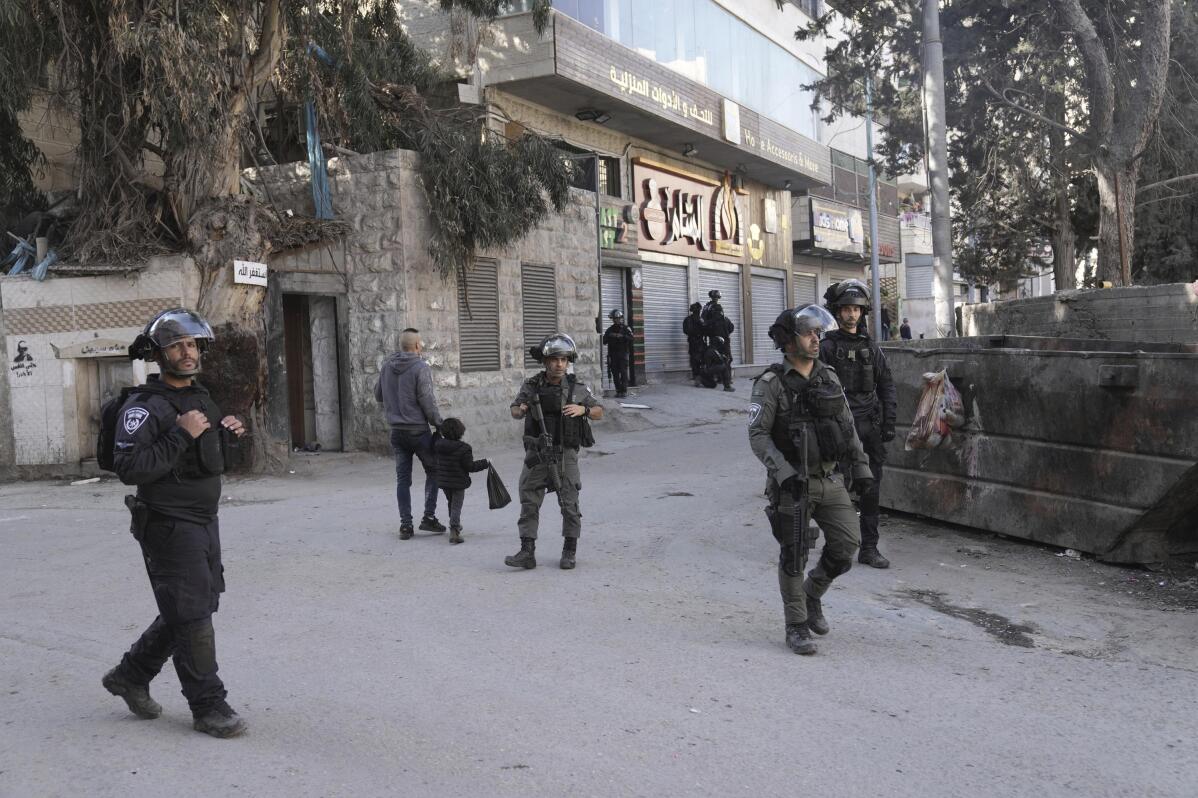 1 of 4

|
Israeli security forces are deployed in the the village of Anata in east Jerusalem, the hometown of Palestinian gunman Uday Tamimi, Wednesday, Jan. 25, 2023. Israeli forces on Wednesday demolished the home of Tamimi who allegedly killed a female Israeli soldier in an attack last year that sparked a manhunt and clampdown on the east Jerusalem neighborhood where he lived. (AP Photo/ Mahmoud Illean)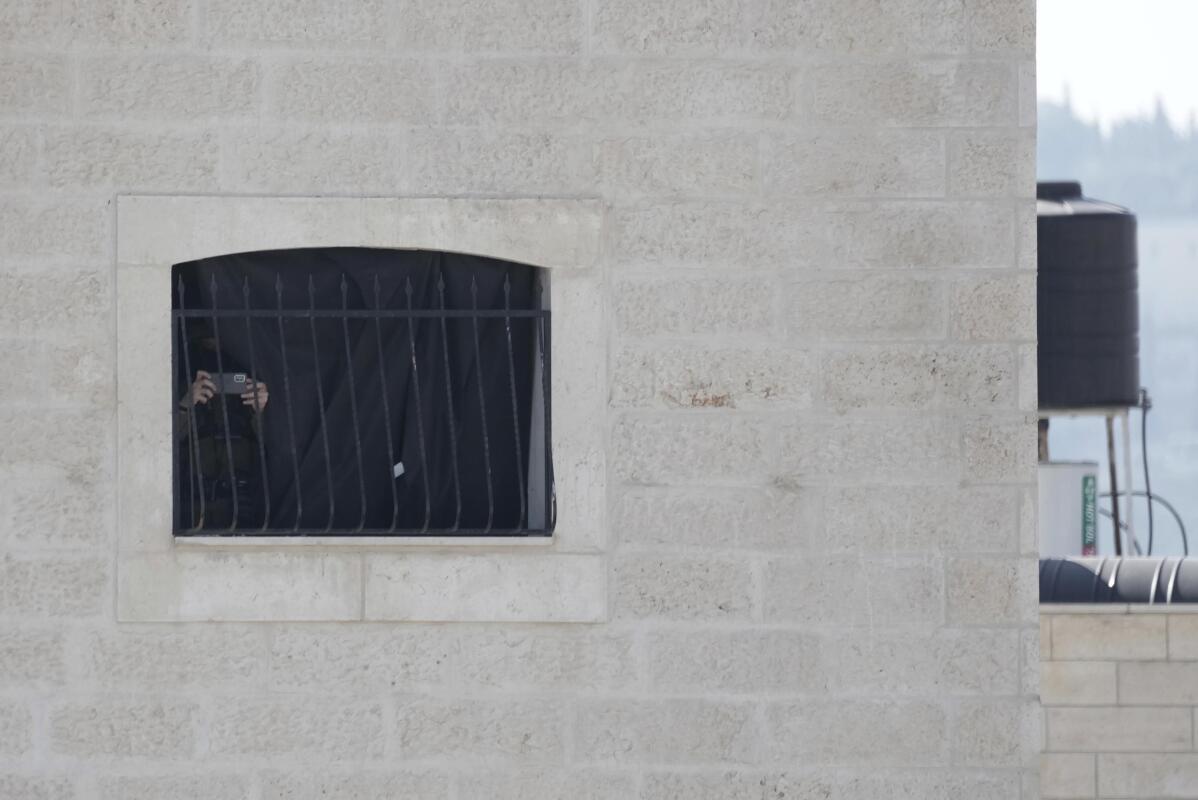 2 of 4

|
A person films with his mobile phone through a window as Israeli security forces are deployed on the roof of the apartment building of the family of slain Palestinian gunman Uday Tamimi, the village of Anata in east Jerusalem ,Wednesday, Jan. 25, 2023. Israeli forces on Wednesday demolished the home of Tamimi who allegedly killed a female Israeli soldier in an attack last year that sparked a manhunt and clampdown on the east Jerusalem neighborhood where he lived. (AP Photo/ Mahmoud Illean)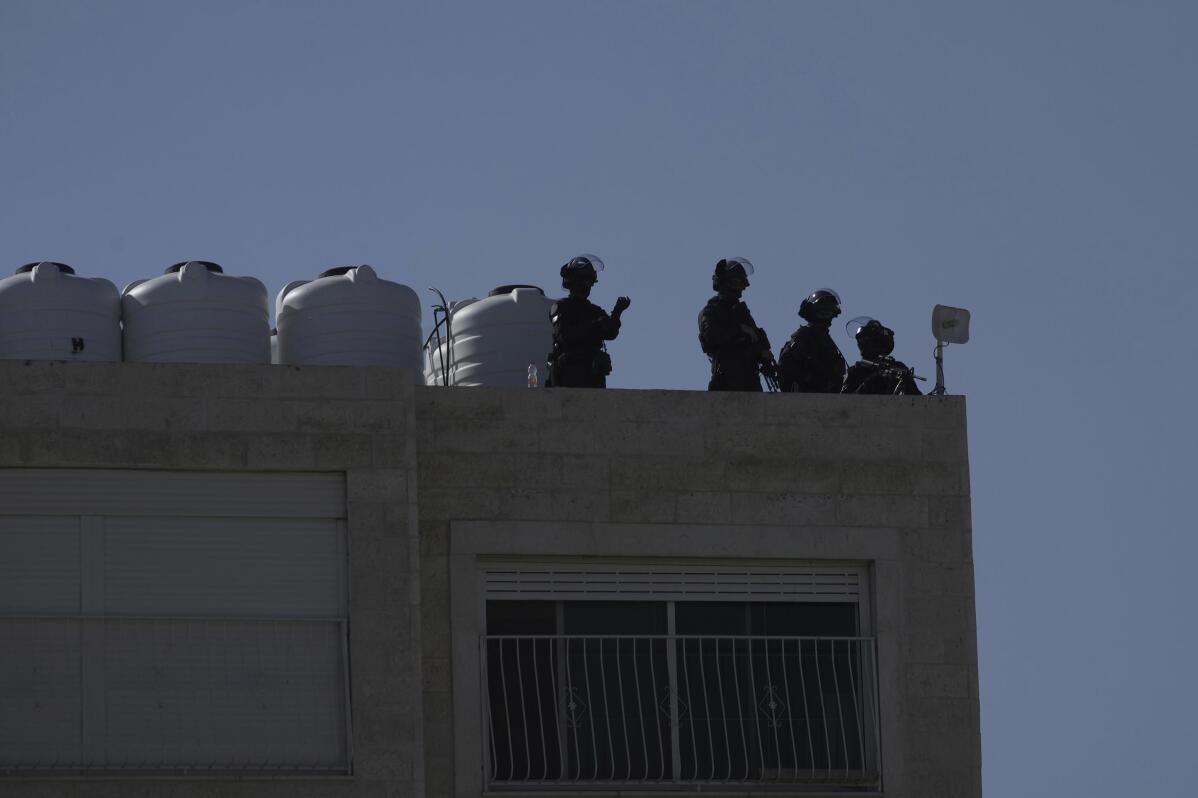 3 of 4

|
Israeli security forces are deployed on the roof of the apartment building of the family of slain Palestinian gunman Uday Tamimi, in the village of Anata in east Jerusalem Wednesday, Jan. 25, 2023. Israeli forces on Wednesday demolished the home of Tamimi who allegedly killed a female Israeli soldier in an attack last year that sparked a manhunt and clampdown on the east Jerusalem neighborhood where he lived. (AP Photo/ Mahmoud Illean)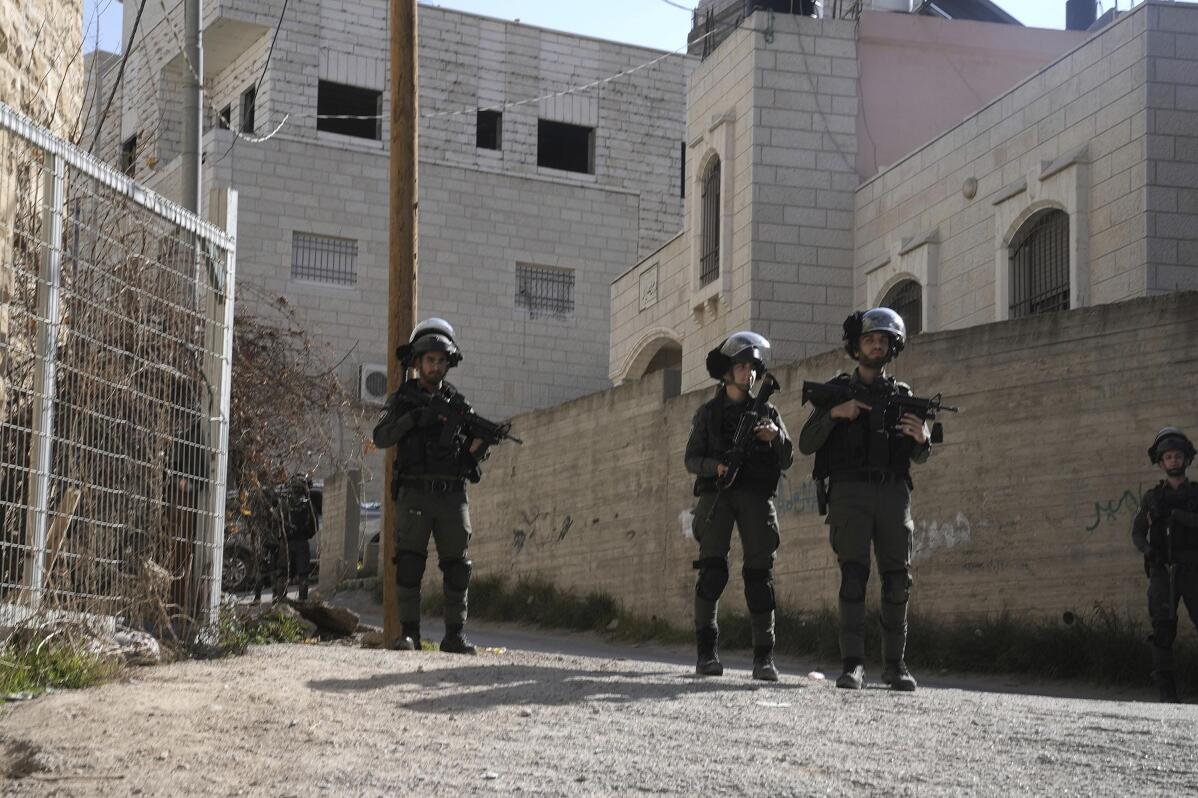 4 of 4

|
Israeli security forces are deployed in the village of Anata in east Jerusalem, the hometown of Palestinian gunman Uday Tamimi, Wednesday, Jan. 25, 2023. Israeli forces on Wednesday demolished the home of Tamimi who allegedly killed a female Israeli soldier in an attack last year that sparked a manhunt and clampdown on the east Jerusalem neighborhood where he lived. (AP Photo/ Mahmoud Illean)
Israeli forces kill 2 Palestinians during new violence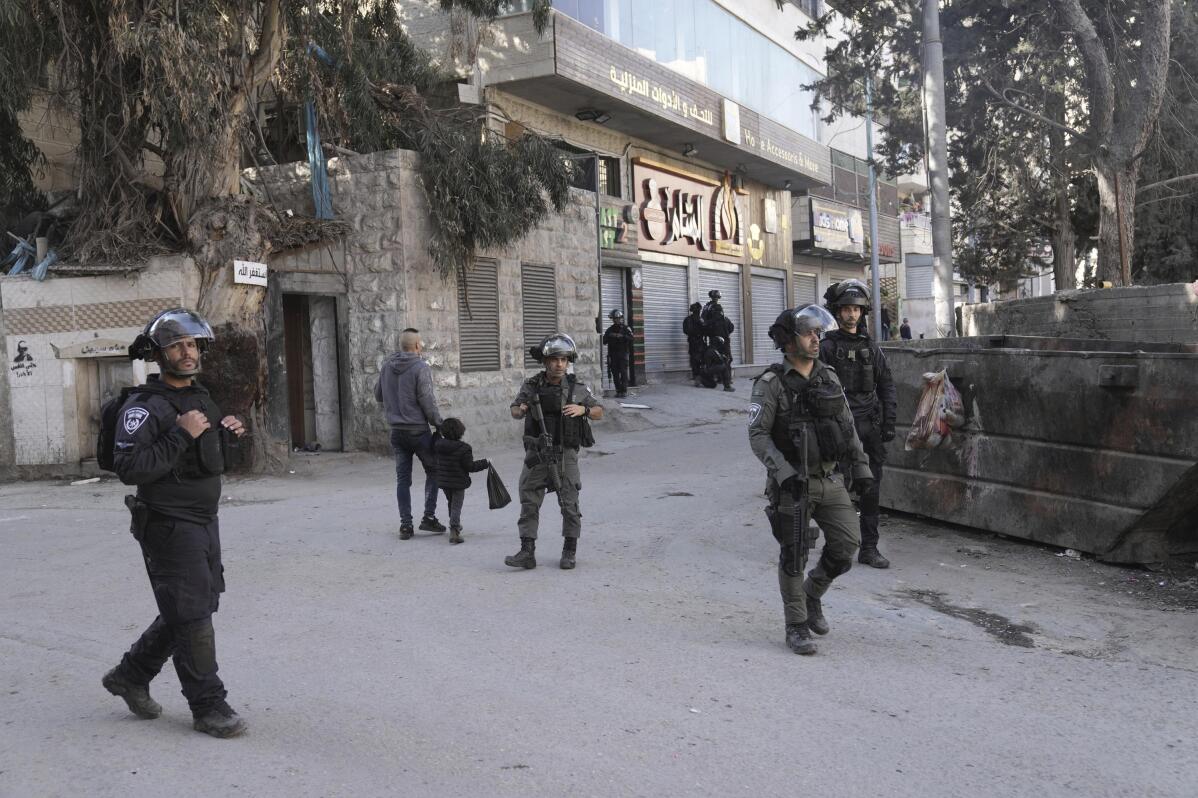 1 of 4

|
Israeli security forces are deployed in the the village of Anata in east Jerusalem, the hometown of Palestinian gunman Uday Tamimi, Wednesday, Jan. 25, 2023. Israeli forces on Wednesday demolished the home of Tamimi who allegedly killed a female Israeli soldier in an attack last year that sparked a manhunt and clampdown on the east Jerusalem neighborhood where he lived. (AP Photo/ Mahmoud Illean)
1 of 4
Israeli security forces are deployed in the the village of Anata in east Jerusalem, the hometown of Palestinian gunman Uday Tamimi, Wednesday, Jan. 25, 2023. Israeli forces on Wednesday demolished the home of Tamimi who allegedly killed a female Israeli soldier in an attack last year that sparked a manhunt and clampdown on the east Jerusalem neighborhood where he lived. (AP Photo/ Mahmoud Illean)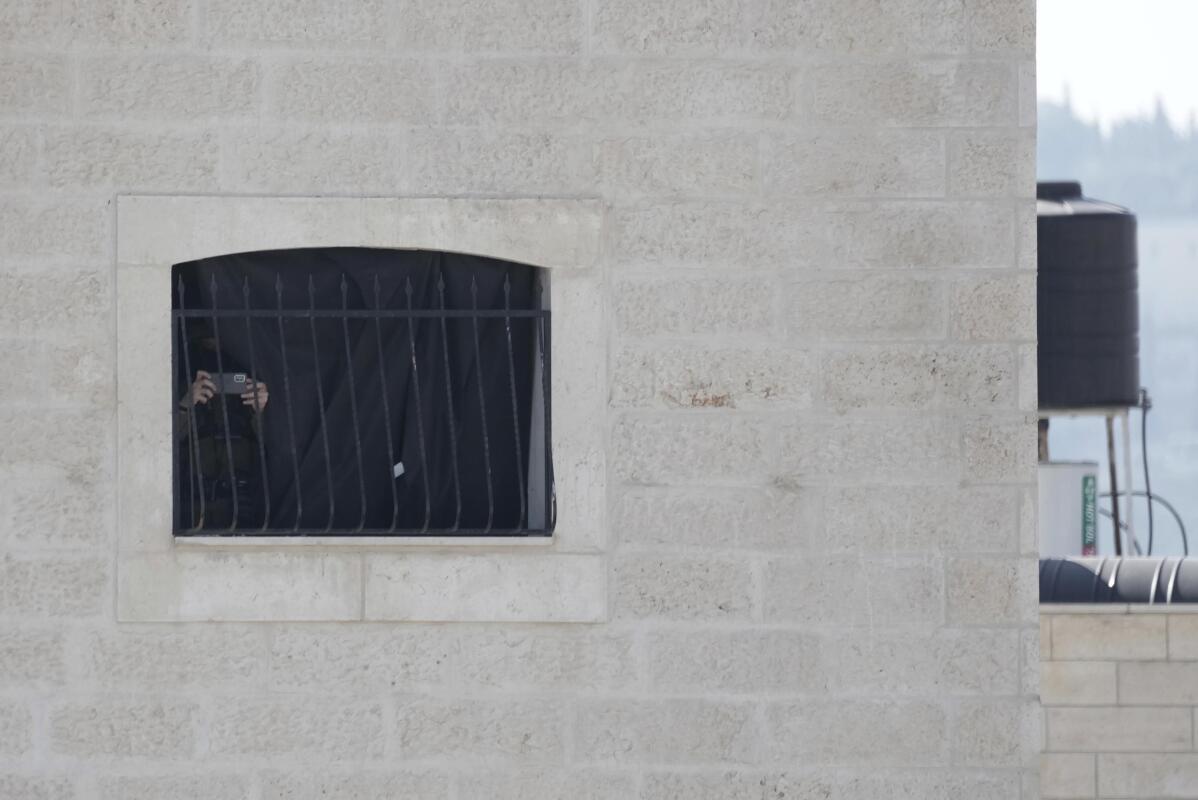 2 of 4

|
A person films with his mobile phone through a window as Israeli security forces are deployed on the roof of the apartment building of the family of slain Palestinian gunman Uday Tamimi, the village of Anata in east Jerusalem ,Wednesday, Jan. 25, 2023. Israeli forces on Wednesday demolished the home of Tamimi who allegedly killed a female Israeli soldier in an attack last year that sparked a manhunt and clampdown on the east Jerusalem neighborhood where he lived. (AP Photo/ Mahmoud Illean)
2 of 4
A person films with his mobile phone through a window as Israeli security forces are deployed on the roof of the apartment building of the family of slain Palestinian gunman Uday Tamimi, the village of Anata in east Jerusalem ,Wednesday, Jan. 25, 2023. Israeli forces on Wednesday demolished the home of Tamimi who allegedly killed a female Israeli soldier in an attack last year that sparked a manhunt and clampdown on the east Jerusalem neighborhood where he lived. (AP Photo/ Mahmoud Illean)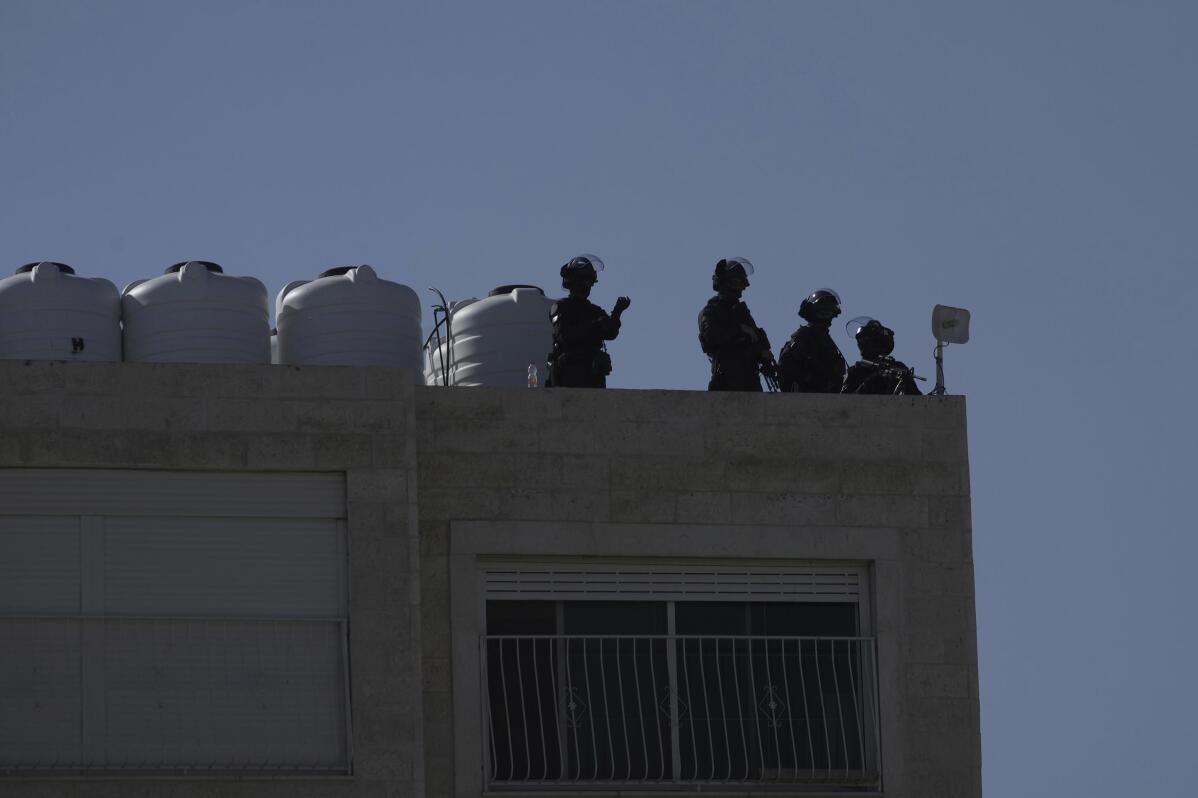 3 of 4

|
Israeli security forces are deployed on the roof of the apartment building of the family of slain Palestinian gunman Uday Tamimi, in the village of Anata in east Jerusalem Wednesday, Jan. 25, 2023. Israeli forces on Wednesday demolished the home of Tamimi who allegedly killed a female Israeli soldier in an attack last year that sparked a manhunt and clampdown on the east Jerusalem neighborhood where he lived. (AP Photo/ Mahmoud Illean)
3 of 4
Israeli security forces are deployed on the roof of the apartment building of the family of slain Palestinian gunman Uday Tamimi, in the village of Anata in east Jerusalem Wednesday, Jan. 25, 2023. Israeli forces on Wednesday demolished the home of Tamimi who allegedly killed a female Israeli soldier in an attack last year that sparked a manhunt and clampdown on the east Jerusalem neighborhood where he lived. (AP Photo/ Mahmoud Illean)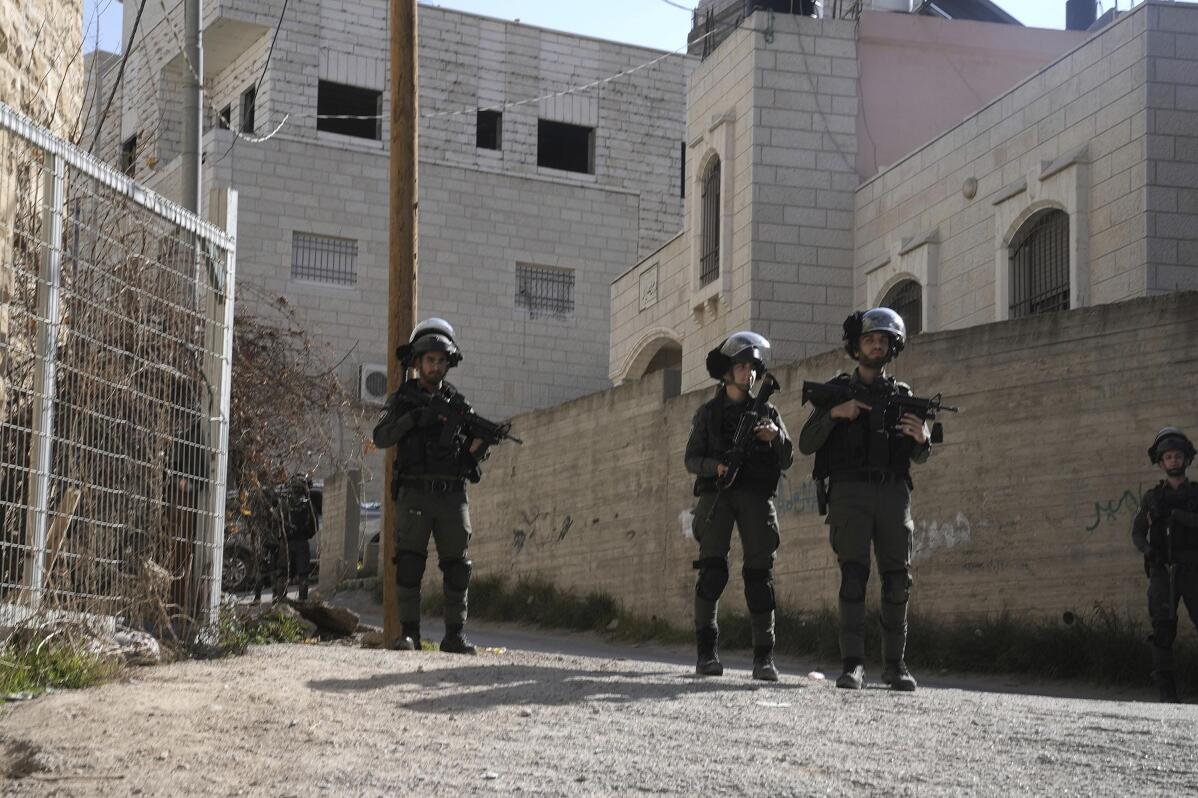 4 of 4

|
Israeli security forces are deployed in the village of Anata in east Jerusalem, the hometown of Palestinian gunman Uday Tamimi, Wednesday, Jan. 25, 2023. Israeli forces on Wednesday demolished the home of Tamimi who allegedly killed a female Israeli soldier in an attack last year that sparked a manhunt and clampdown on the east Jerusalem neighborhood where he lived. (AP Photo/ Mahmoud Illean)
4 of 4
Israeli security forces are deployed in the village of Anata in east Jerusalem, the hometown of Palestinian gunman Uday Tamimi, Wednesday, Jan. 25, 2023. Israeli forces on Wednesday demolished the home of Tamimi who allegedly killed a female Israeli soldier in an attack last year that sparked a manhunt and clampdown on the east Jerusalem neighborhood where he lived. (AP Photo/ Mahmoud Illean)
JERUSALEM (AP) — Israeli troops shot and killed a Palestinian who allegedly tried to stab a soldier in the occupied West Bank on Wednesday, while a Palestinian teenager was shot dead after brandishing what Israeli police said was a fake pistol during an operation in east Jerusalem, according to Palestinian officials.
They were the latest deaths in a surge of violence that shows no signs of slowing. The violence comes at a time of tensions over Israel's new government, the most right wing in Israel's history.
On Wednesday, ultranationalist Cabinet minister Itamar Ben-Gvir promised to continue visits to a flashpoint Jerusalem holy site, despite pleas from neighboring Jordan that Israel maintain a delicate status quo at the site.
The Palestinian Health Ministry identified the man killed as Aref Abdel Nasser Lahlouh, 20. The Israeli military said the man was carrying a knife and was shot after he attempted to attack a soldier at a military post.
Video on social media showed a man getting out of a car, running toward soldiers while holding an object in his right hand, and then falling to the ground.
Earlier Wednesday, Israeli forces demolished the home of a Palestinian gunman who allegedly killed a female Israeli soldier at an east Jerusalem checkpoint last year. Israel says such demolitions deter future attacks, while Palestinians and rights groups say they unfairly punish people who were not involved in violence.
Police said some 300 officers and troops entered the Shuafat refugee camp to demolish the home of Uday Tamimi. Police said they opened fire on a Palestinian who they suspected was armed and aiming at forces, but the weapon turned out to be fake.
The Palestinian Health Ministry said 17-year-old Mohammed Ali was killed.
Footage released by police showed the teen, his face covered and wearing a hood, among a crowd of masked youths and aiming what appears to be a pistol. The video shows him running off, dropping the weapon and then falling to the ground.
Wednesday's deaths brought to 20 the number of Palestinians killed by Israeli fire this year. Nearly 150 Palestinians were killed last year in the West Bank and east Jerusalem, making it the deadliest in those areas since 2004, according to figures by the Israeli rights group B'Tselem.
Tensions have been high for months as Israel has been conducting nightly arrest raids in the West Bank, which were prompted by a spate of Palestinian attacks against Israelis last spring. Some 30 people were killed in Israel by Palestinians in 2022.
Israel says most of the Palestinians killed have been militants. But others including stone-throwing youths protesting the incursions or people not involved in the violence have also been killed.
After the shooting attack last year that killed the 19-year-old soldier, the attacker fled, sparking a weeklong manhunt and tight restrictions around Shuafat. As part of the search, Israeli security forces choked off the camp's entry and exit points, bringing life to a standstill for its estimated 60,000 residents.
Tamimi was eventually killed after opening fire at security guards at the entrance to a West Bank settlement near Jerusalem.
Ben-Gvir, an ultranationalist who oversees the police as Israel's new national security minister, welcomed Wednesday's demolition.
"This step is very important, but not enough at all. We must destroy all terrorists' homes and deport the terrorists themselves from the country," he said.
He also said Wednesday he would continue visits to a sensitive sacred compound a day after Prime Minister Benjamin Netanyahu and Jordanian King Abdullah II met and discussed the political sensitivities at the site, which Muslims call the Noble Sanctuary and Jews call the Temple Mount.
"I manage my own policy concerning the Temple Mount, not that of the Jordanian government," Ben-Gvir told Israeli public broadcaster Kan. "I went up to the Temple Mount, I will continue to go up to the Temple Mount."
Days after taking office, Ben-Gvir made a visit to the site, drawing condemnations from Jordan and across the Arab world. The visit was seen as a provocation, due to Ben-Gvir's past calls to change longstanding arrangements at the site.
Under an arrangement that has prevailed for decades under Jordan's custodianship, Jews are permitted visits during certain hours but may not pray there. But Jewish religious nationalists, including Ben-Gvir, have increasingly visited the site and demanded equal prayer rights for Jews there. The Palestinians fear this is a step toward taking over the site.
The site, the emotional heart of the Israeli-Palestinian conflict, has frequently been the scene of clashes between Palestinians and Israeli police. It is home to the Al-Aqsa Mosque, the third-holiest site in Islam. Jews call it the Temple Mount, the holiest site in Judaism.
Israel captured the West Bank and east Jerusalem, along with the Gaza Strip, in the 1967 Mideast war. The Palestinians seek those territories for their hoped-for independent state.
___
This story was first published on January 25, 2023. It was updated on February 1, 2023 to make clear that Nearly 150 Palestinians were killed in Israeli -Palestinian fighting last year in the West Bank and east Jerusalem, making it the deadliest in those areas since 2004, according to figures by the Israeli rights group B'Tselem.