49 Ivory Coast soldiers pardoned by Mali's junta leader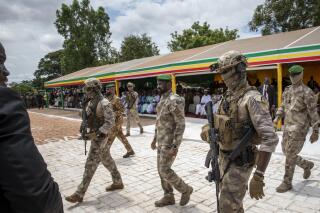 BAMAKO, Mali (AP) — Mali's military junta leader on Friday pardoned 49 soldiers from neighboring Ivory Coast who were convicted of undermining Mali's state security and conspiracy against the government, authorities announced.
Col. Assimi Goita granted the pardon and "demonstrates once again his commitment to peace, dialogue, pan-Africanism and the preservation of fraternal and secular relations with regional countries, in particular those between Mali and Ivory Coast," said a statement from Col. Abdoulaye Maiga, the government spokesman.
The pardon comes one week after 46 of the soldiers were sentenced to 20 years in prison. The three other defendants, all women who had been released in September, were tried in absentia and sentenced to death.
The 49 soldiers were detained in July when they went to work for Sahelian Aviation Services, a private company contracted to work in Mali by the United Nations. A Jan. 1 deadline set by West African leaders for Mali to release the soldiers was missed.
The decision to pardon the soldiers symbolizes Goita's concern for good governance and respect for independent justice, the government statement said.
Goita seized power in two coups, first in 2020 and then the following year, when he took control after firing the president and prime minister of the transitional government.
Mali has been embroiled in jihadi violence linked to al-Qaida and the Islamic State group for a decade. The release of the Ivorian soldiers is meant to both send a good faith signal to Ivory Coast and show that the junta is in full control, while distracting the public from the security crisis engulfing the nation, analysts said.
"Additionally it is a loud message to other foreign governments and (aid groups) to stay behind the figurative red line the junta is drawing," said Laith Alkhouri, CEO of Intelonyx Intelligence Advisory, which provides intelligence analysis.
"Do not interfere in the issues of the state, despite the fact that large parts of Mali are now the playground of international terrorist groups and warring factions that are spilling over to Burkina Faso and other Sahelian nations," he said.
___
N'Gotta reported from Abidjan, Ivory Coast.