Peru withdraws ambassador from Mexico amid dispute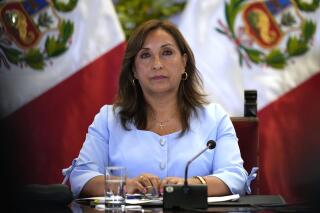 LIMA, Peru (AP) — Peruvian President Dina Boluarte announced on Friday the withdrawal of her country's ambassador to Mexico in response to criticism from Mexican President Andrés Manuel Lopez Obrador, whom she reproached for hurting ties in order to "privilege ideological affinities."
In his regular morning press conference, Mexico's president said he had seen polls "where the spurious president (Boluarte) has 15% acceptance and 85% disapprove of her."
He also said that members of Peru's Parliament have even less approval. "They have 90% of the rejection and even so they rule with bayonets and with repression, force."
Later Friday, Boluarte rejected López Obrador's comments "on the internal affairs of Peru and the unacceptable questions that he repeatedly formulates about the constitutional and democratic origin of my government."
With the ambassador's withdrawal, diplomatic relations between Peru and Mexico "formally remain at the level of charge d'affaires," the president said in a statement at the presidential palace in Lima.
Dina Boluarte took office on Dec. 7 after then-president Pedro Castillo was ousted by Parliament and jailed after trying to dissolve Congress to avoid a vote on his removal from office.
Since then, there have been almost three months of protests that have left 60 dead, 48 of them due to direct clashes with the police. One policeman was burned to death in a patrol car.
López Obrador has frequently expressed his support for Castillo.