Democrat voted Pennsylvania speaker, foiling GOP hopes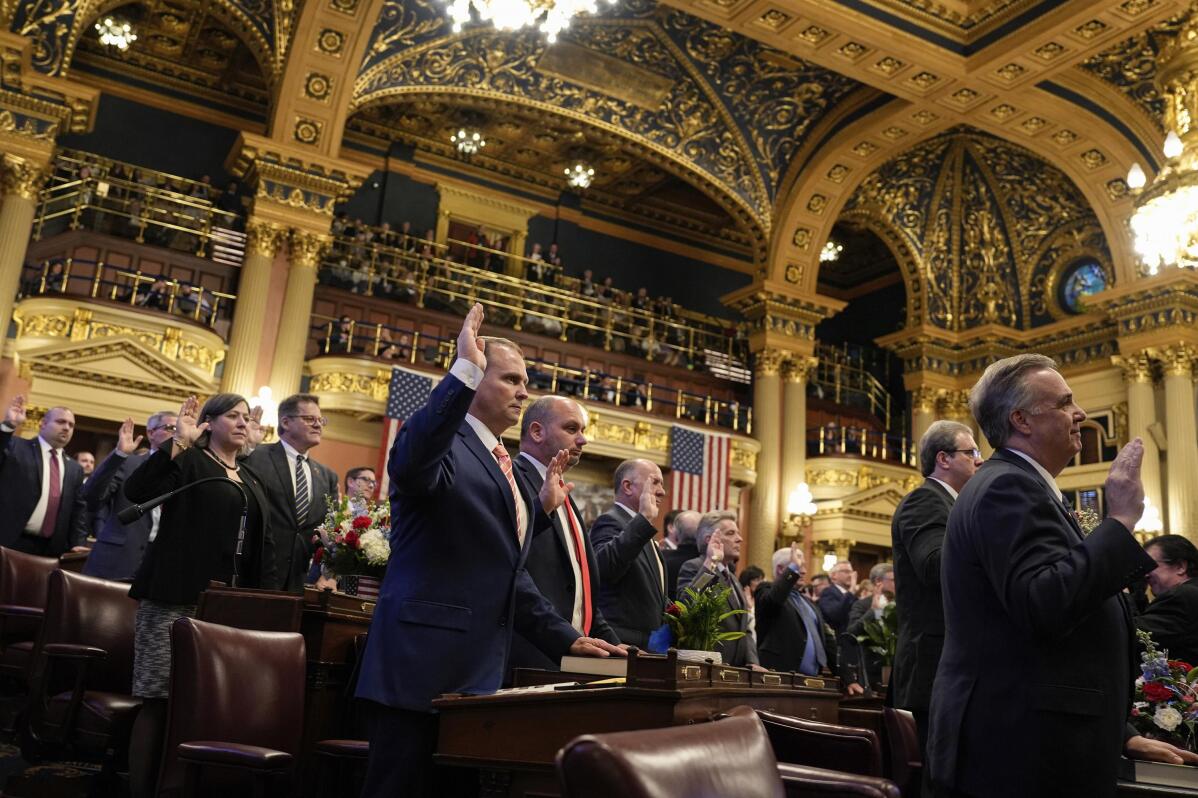 1 of 23

|
Legislators of the Pennsylvania House of Representatives are sworn-in, Tuesday, Jan. 3, 2023, at the state Capitol in Harrisburg, Pa. The ceremony marks the convening of the 2023-2024 legislative session of the General Assembly of Pennsylvania. (AP Photo/Matt Smith)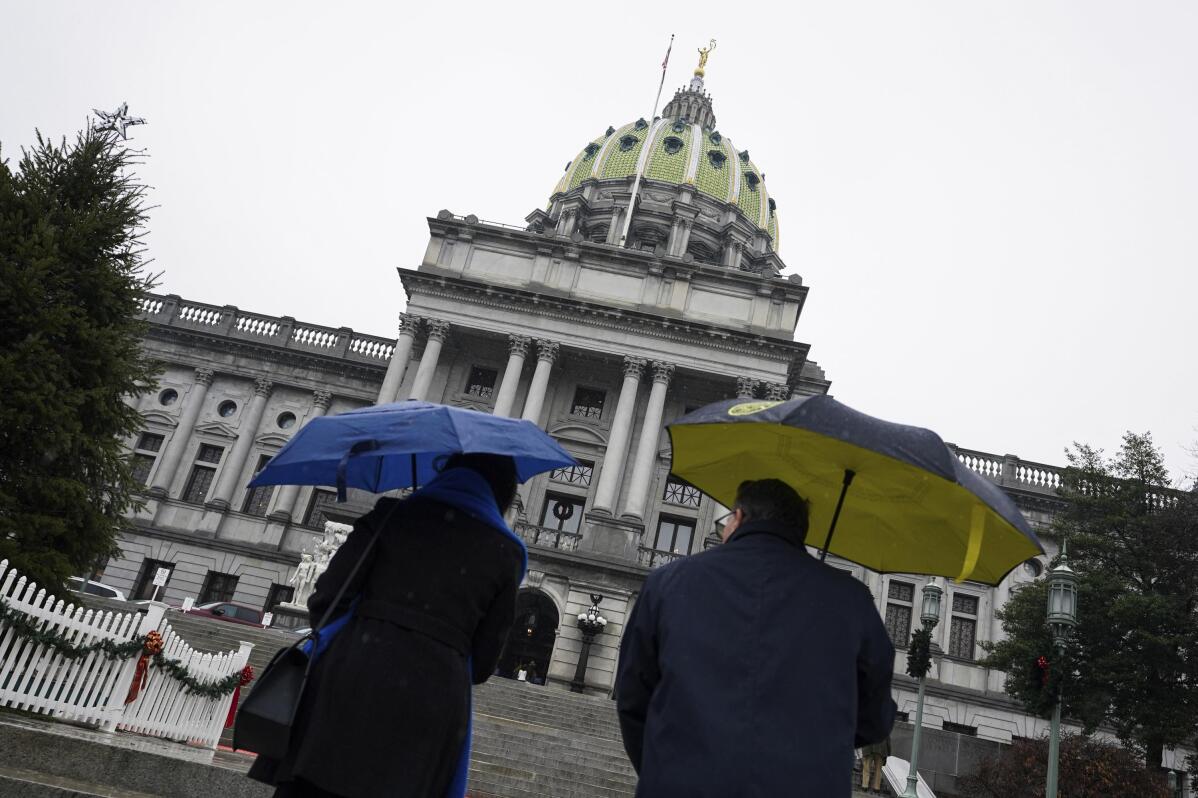 2 of 23

|
Visitors enter the Capital as legislators of the Pennsylvania House of Representatives are to be sworn-in, Tuesday, Jan. 3, 2023, at the state Capitol in Harrisburg, Pa. The ceremony marks the convening of the 2023-2024 legislative session of the General Assembly of Pennsylvania. (AP Photo/Matt Smith)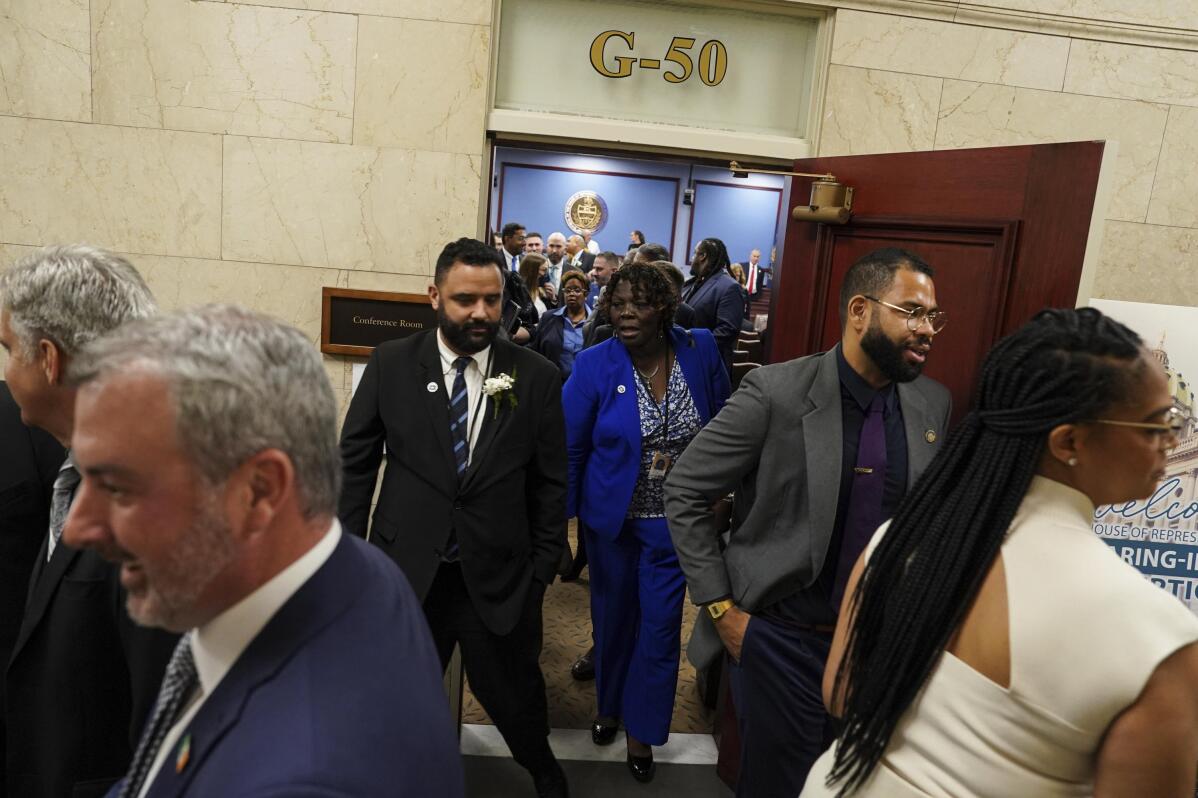 3 of 23

|
Democratic representatives leave after caucusing, Tuesday, Jan. 3, 2023, at the state Capitol in Harrisburg, Pa. The ceremony marks the convening of the 2023-2024 legislative session of the General Assembly of Pennsylvania. (AP Photo/Matt Smith)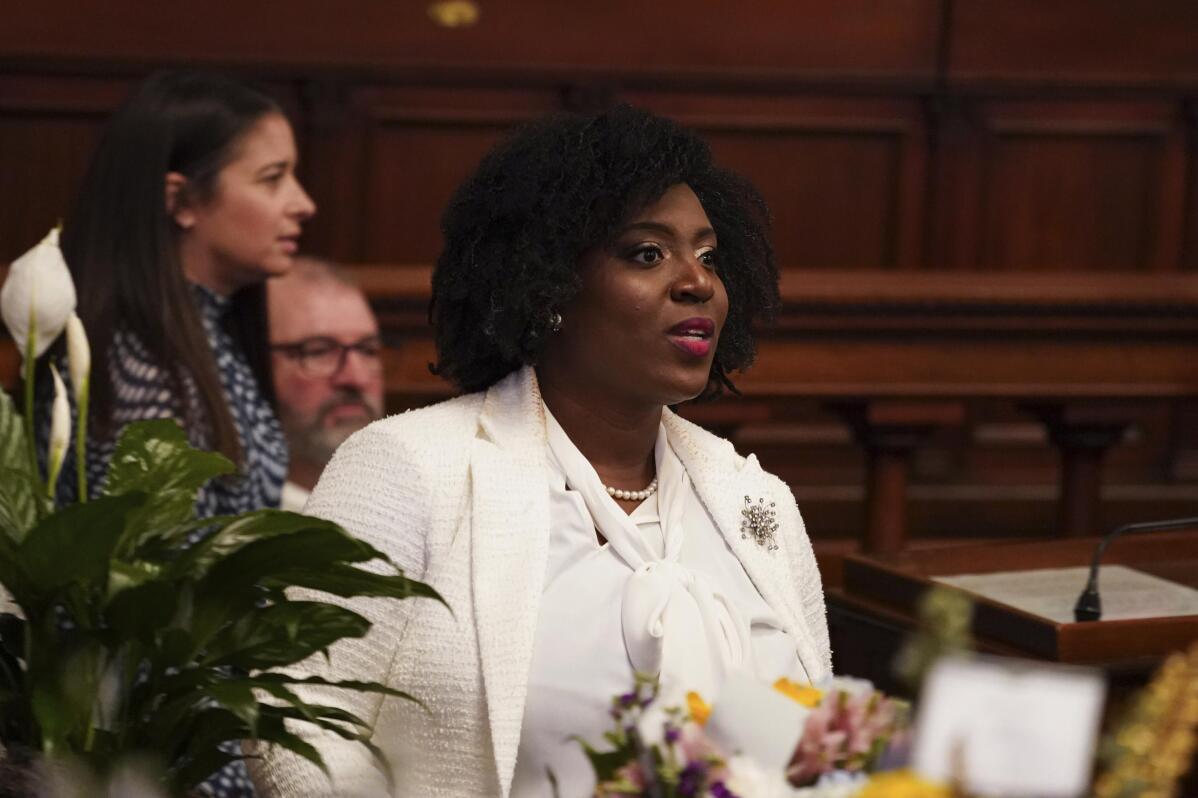 4 of 23

|
Democratic floor leader Rep. Joanna McClinton stands on the floor as legislators of the Pennsylvania House of Representatives are sworn-in, Tuesday, Jan. 3, 2023, at the state Capitol in Harrisburg, Pa. The ceremony marks the convening of the 2023-2024 legislative session of the General Assembly of Pennsylvania. (AP Photo/Matt Smith)
5 of 23

|
Democratic floor leader Rep. Joanna McClinton stands on the floor as legislators of the Pennsylvania House of Representatives are sworn-in, Tuesday, Jan. 3, 2023, at the state Capitol in Harrisburg, Pa. The ceremony marks the convening of the 2023-2024 legislative session of the General Assembly of Pennsylvania. (AP Photo/Matt Smith)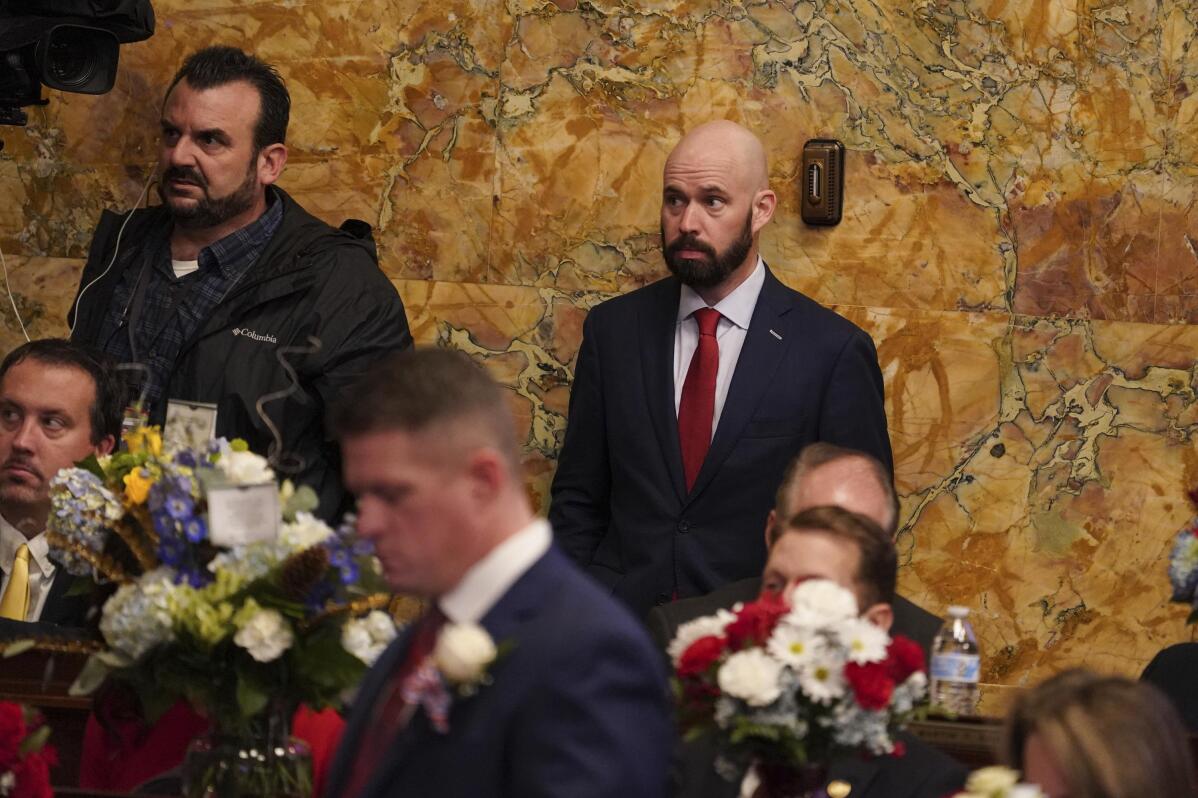 6 of 23

|
Republican Rep. Carl Walker Metzgar stands on the floor as legislators of the Pennsylvania House of Representatives are sworn-in, Tuesday, Jan. 3, 2023, at the state Capitol in Harrisburg, Pa. The ceremony marks the convening of the 2023-2024 legislative session of the General Assembly of Pennsylvania. (AP Photo/Matt Smith)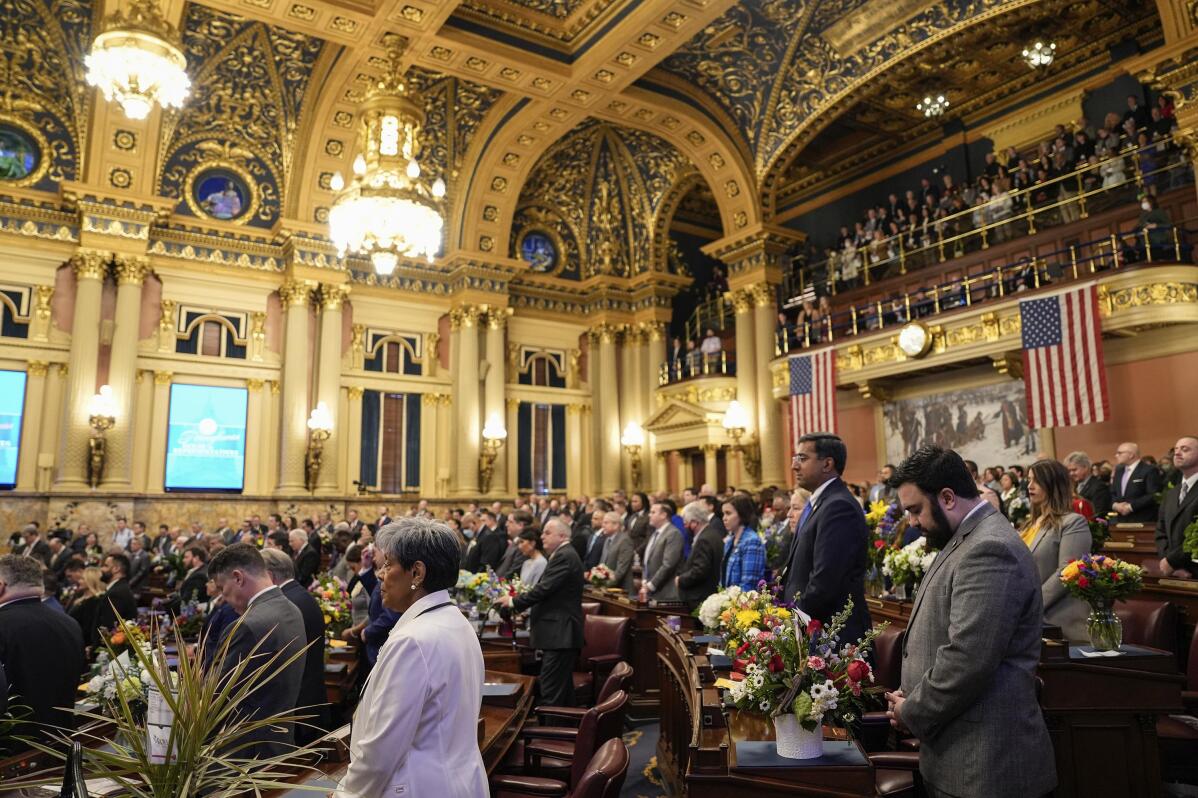 7 of 23

|
Legislators of the Pennsylvania House of Representatives stand before they are sworn-in, Tuesday, Jan. 3, 2023, at the state Capitol in Harrisburg, Pa. The ceremony marks the convening of the 2023-2024 legislative session of the General Assembly of Pennsylvania. (AP Photo/Matt Smith)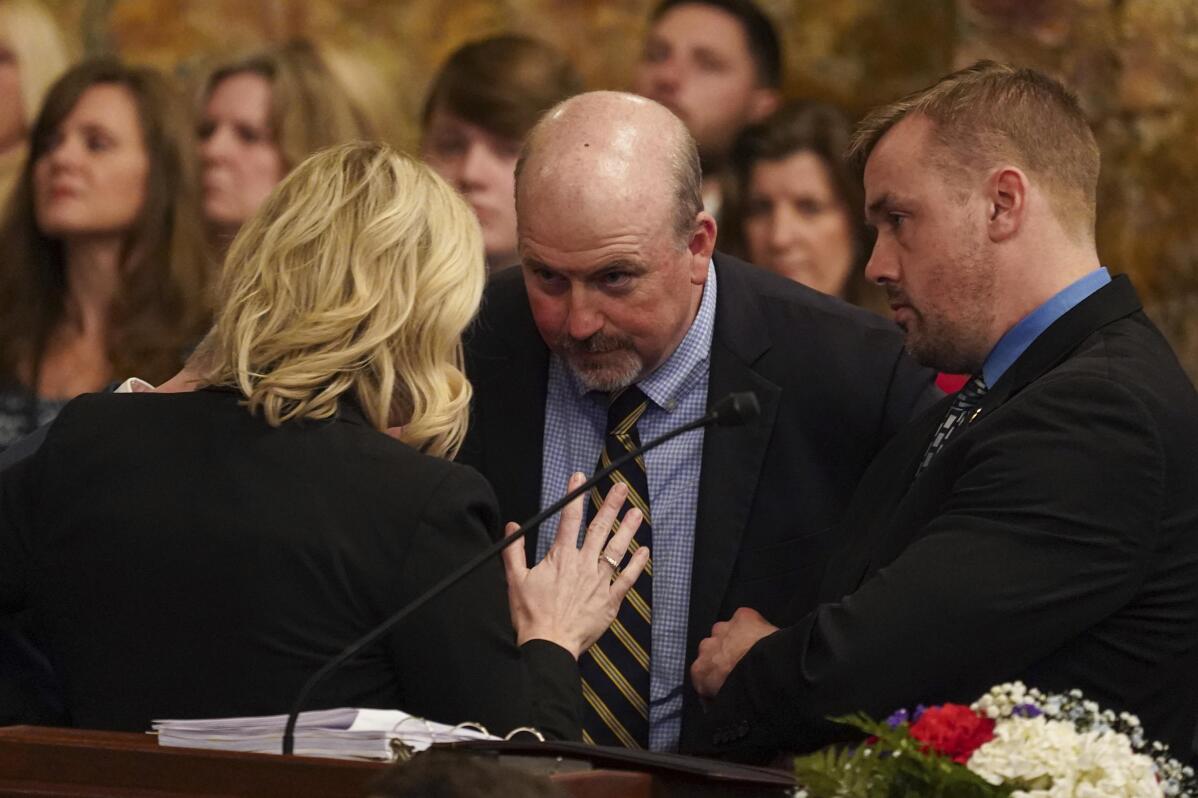 8 of 23

|
Rep. Matt Bradford, D-Montgomery, center, and Republican Rep. Bryan Cutler, right, talk to aides as legislators of the Pennsylvania House of Representatives are sworn-in, Tuesday, Jan. 3, 2023, at the state Capitol in Harrisburg, Pa. The ceremony marks the convening of the 2023-2024 legislative session of the General Assembly of Pennsylvania. (AP Photo/Matt Smith)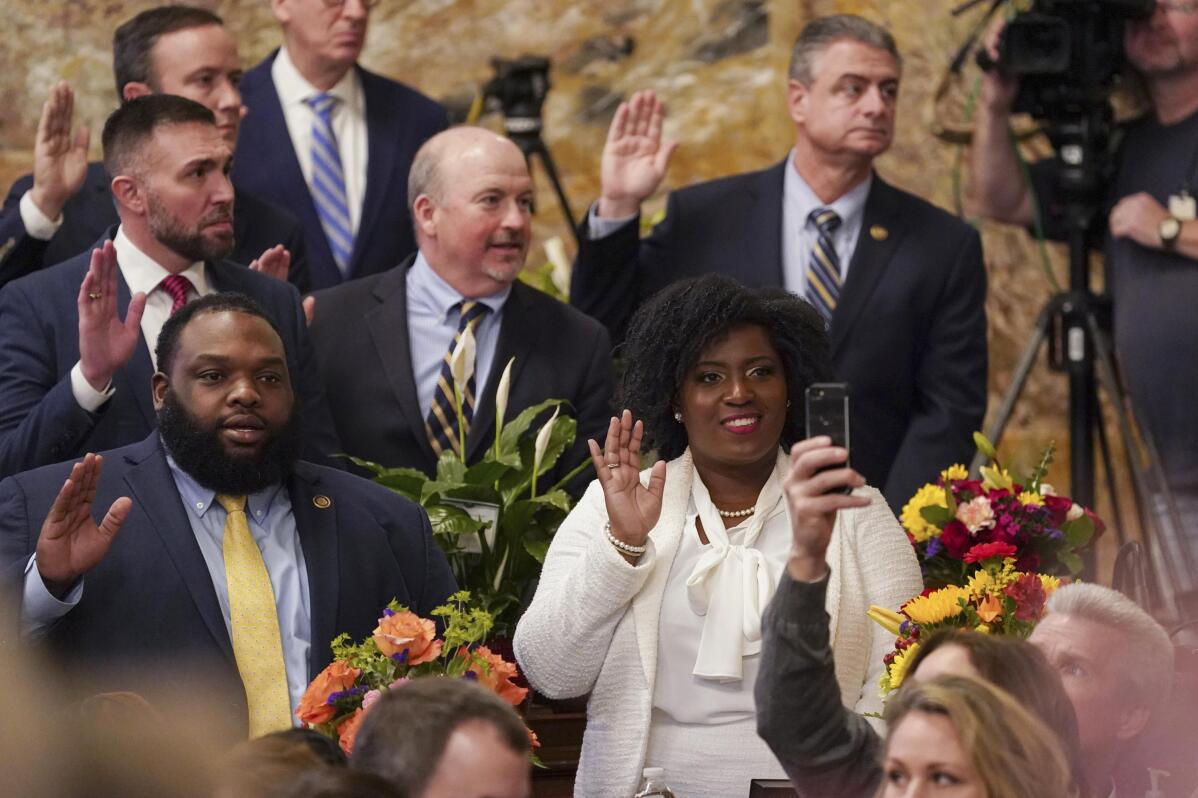 9 of 23

|
Democratic floor leader Rep. Joanna McClinton, right, stands alongside fellow house members as legislators of the Pennsylvania House of Representatives are sworn-in, Tuesday, Jan. 3, 2023, at the state Capitol in Harrisburg, Pa. The ceremony marks the convening of the 2023-2024 legislative session of the General Assembly of Pennsylvania. (AP Photo/Matt Smith)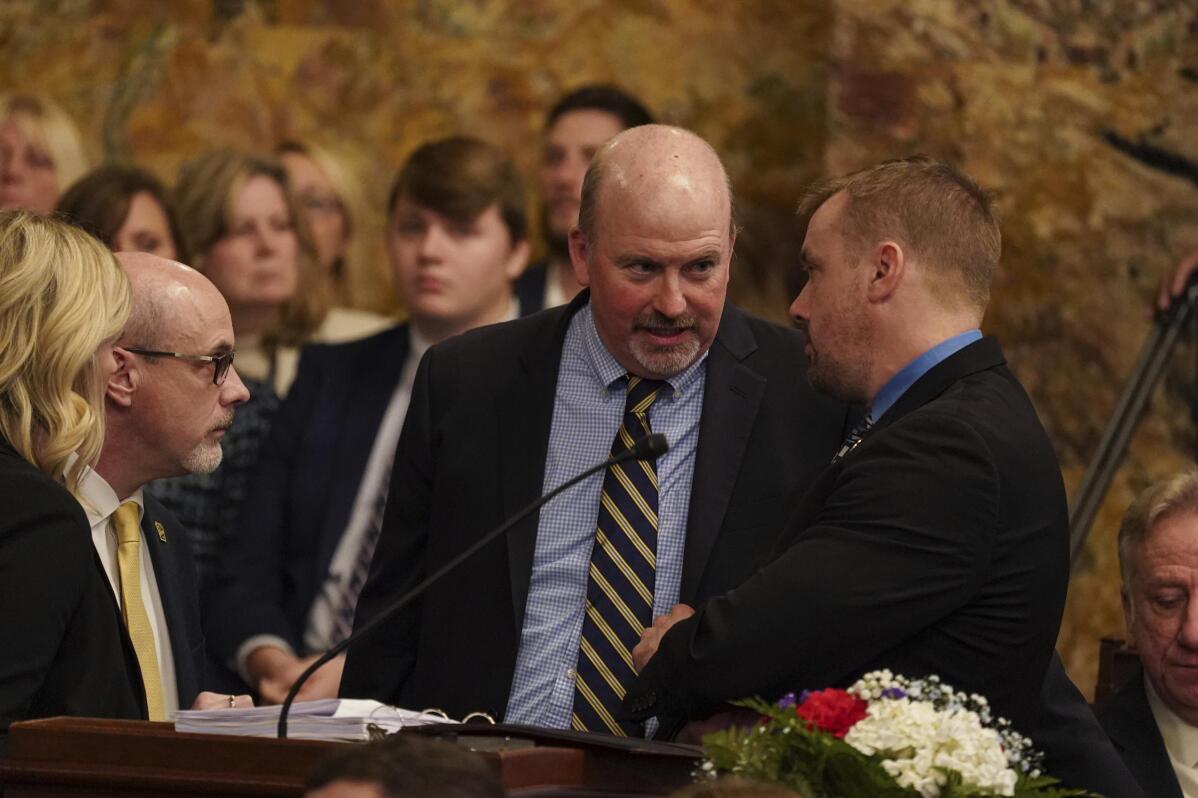 10 of 23

|
Rep. Matt Bradford, D-Montgomery, center, talks to Republican Rep. Bryan Cutler, right, as legislators of the Pennsylvania House of Representatives are sworn-in, Tuesday, Jan. 3, 2023, at the state Capitol in Harrisburg, Pa. The ceremony marks the convening of the 2023-2024 legislative session of the General Assembly of Pennsylvania. (AP Photo/Matt Smith)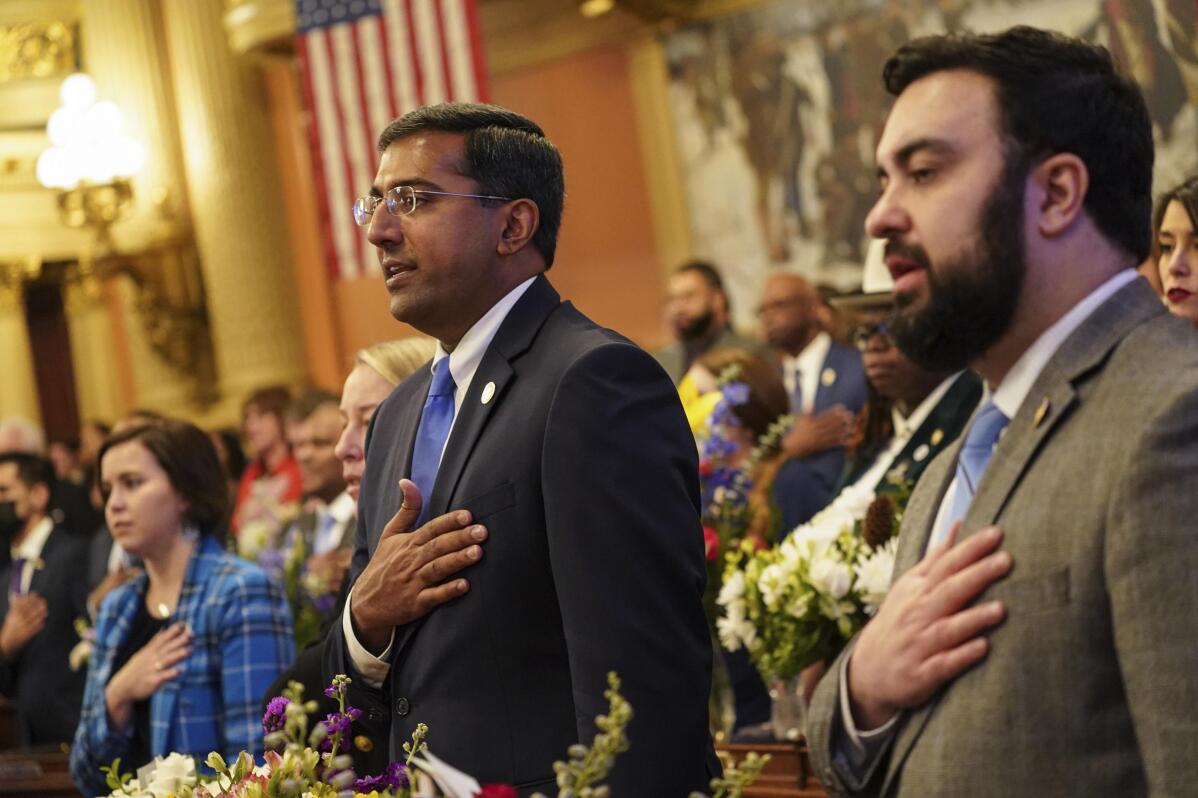 11 of 23

|
Legislators of the Pennsylvania House of Representatives stand for the Pledge of Allegiance as members are sworn in, Tuesday, Jan. 3, 2023, at the state Capitol in Harrisburg, Pa. The ceremony marks the convening of the 2023-2024 legislative session of the General Assembly of Pennsylvania. (AP Photo/Matt Smith)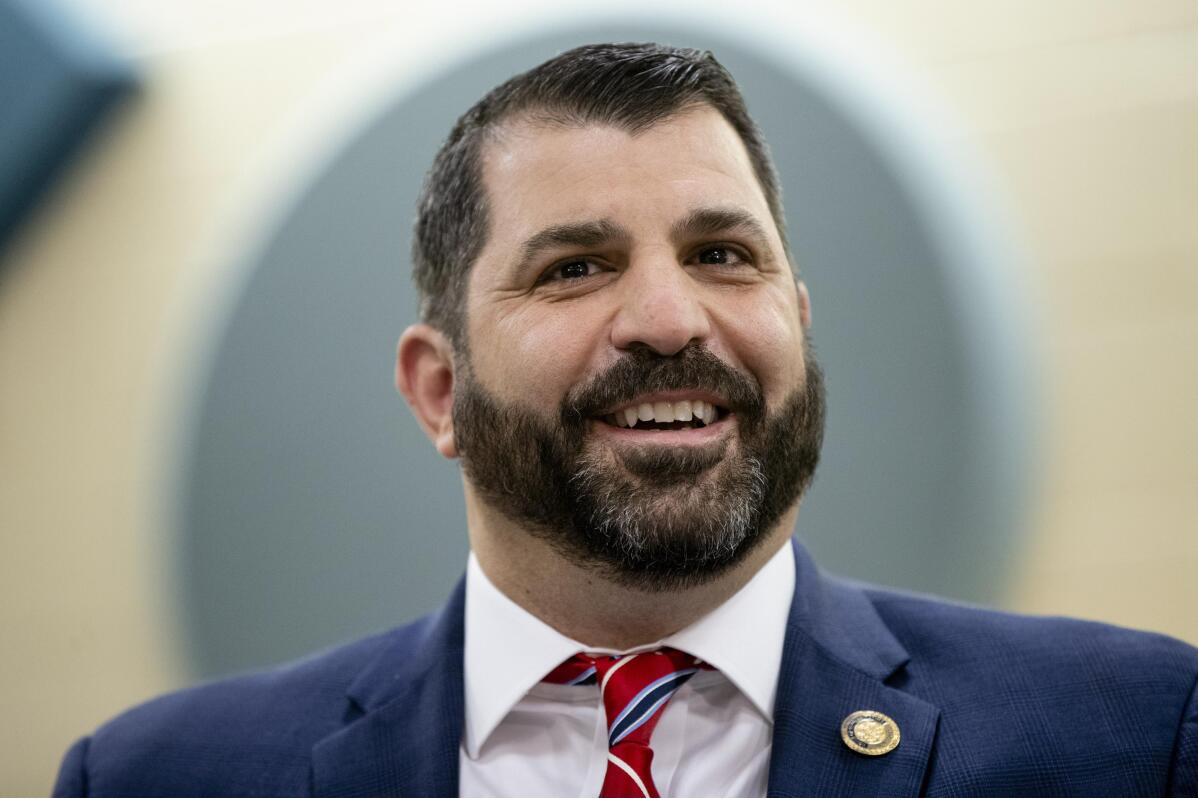 12 of 23

|
FILE - Pennsylvania state Rep. Mark Rozzi, D-Berks, speaks before Gov. Tom Wolf signs legislation into law at Muhlenberg High School in Reading, Pa., on Nov. 26, 2019. The narrowly divided state House of Representatives elected Rozzi as the new speaker Tuesday, Jan. 3, 2023. (AP Photo/Matt Rourke, File)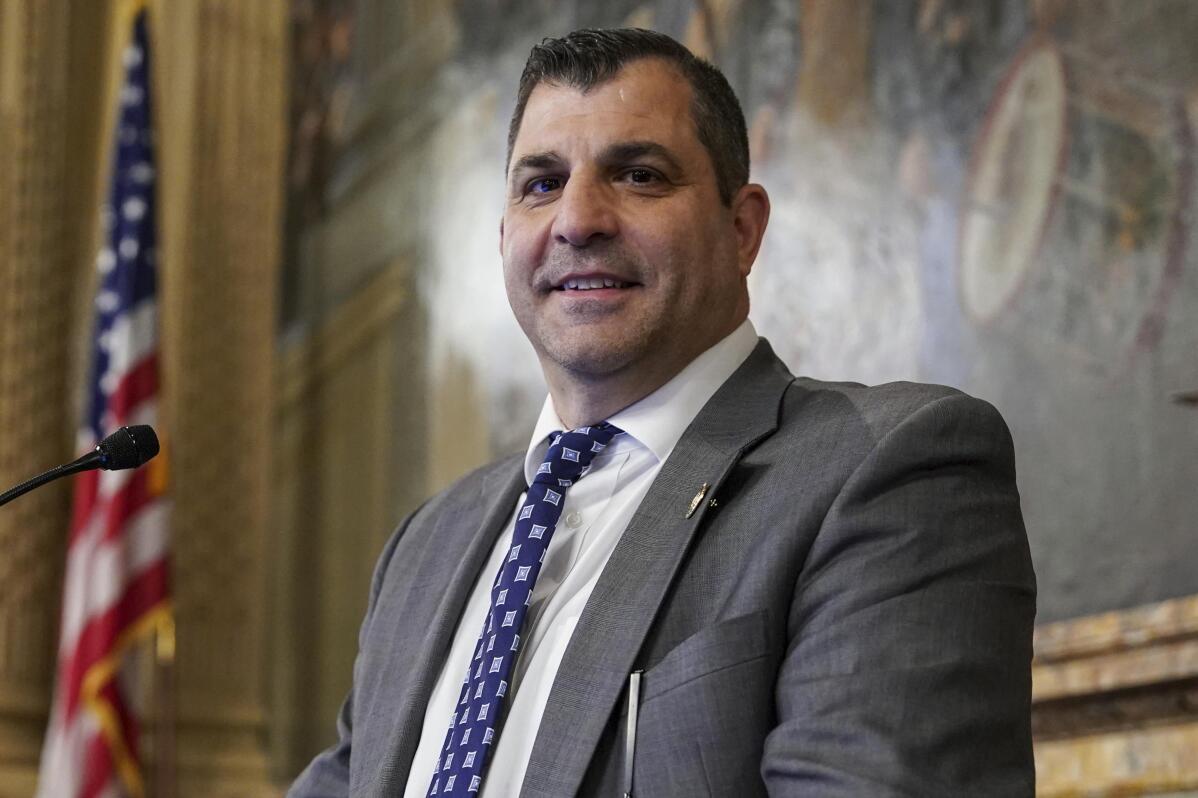 13 of 23

|
Pennsylvania Speaker of the House Mark Rozzi is photographed at the speaker's podium, Tuesday, Jan. 3, 2023, at the state Capitol in Harrisburg, Pa. (AP Photo/Matt Smith)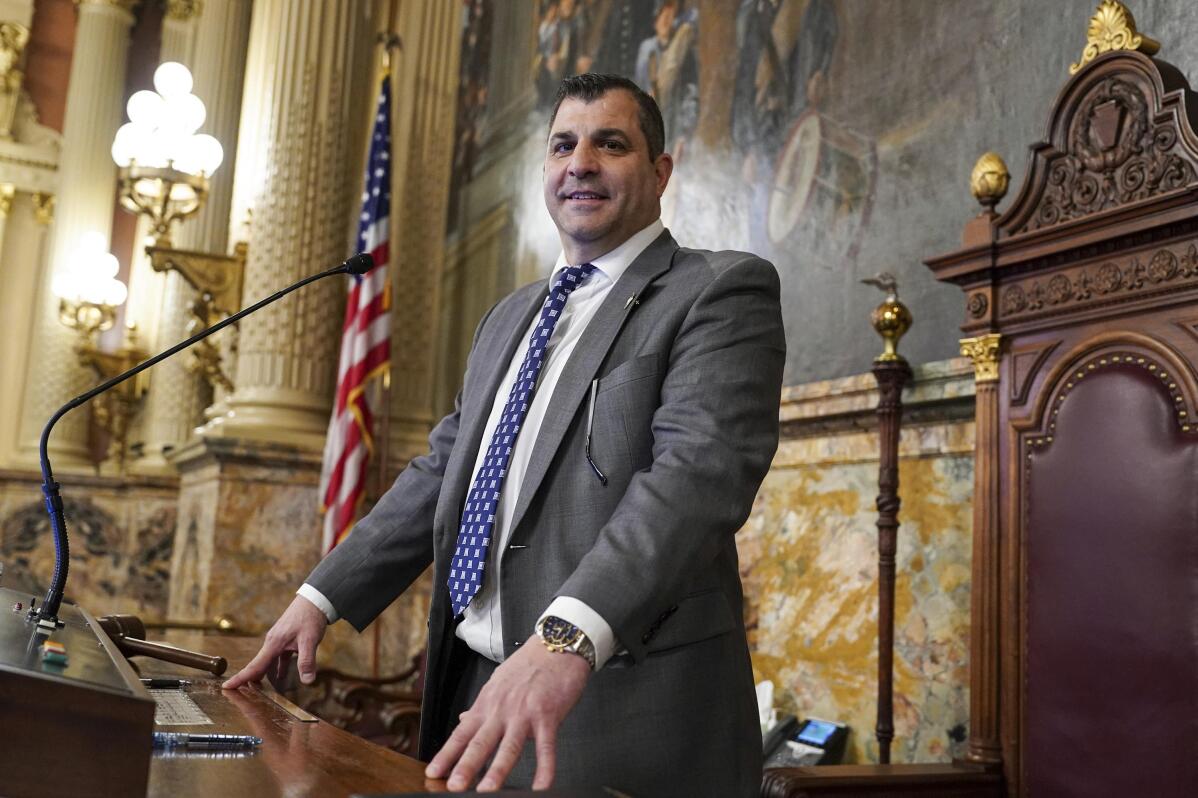 14 of 23

|
Pennsylvania Speaker of the House Mark Rozzi is photographed at the speaker's podium, Tuesday, Jan. 3, 2023, at the state Capitol in Harrisburg, Pa. (AP Photo/Matt Smith)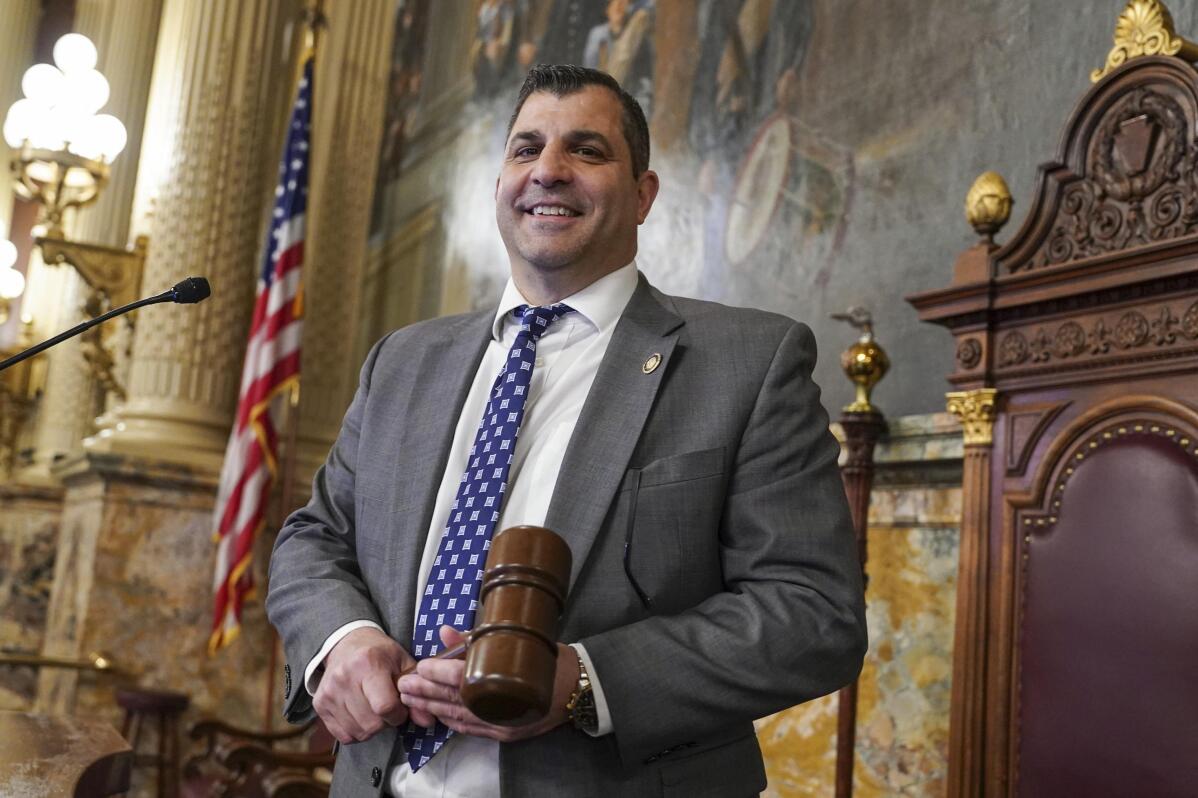 15 of 23

|
Pennsylvania Speaker of the House Mark Rozzi is photographed at the speaker's podium, Tuesday, Jan. 3, 2023, at the state Capitol in Harrisburg, Pa. (AP Photo/Matt Smith)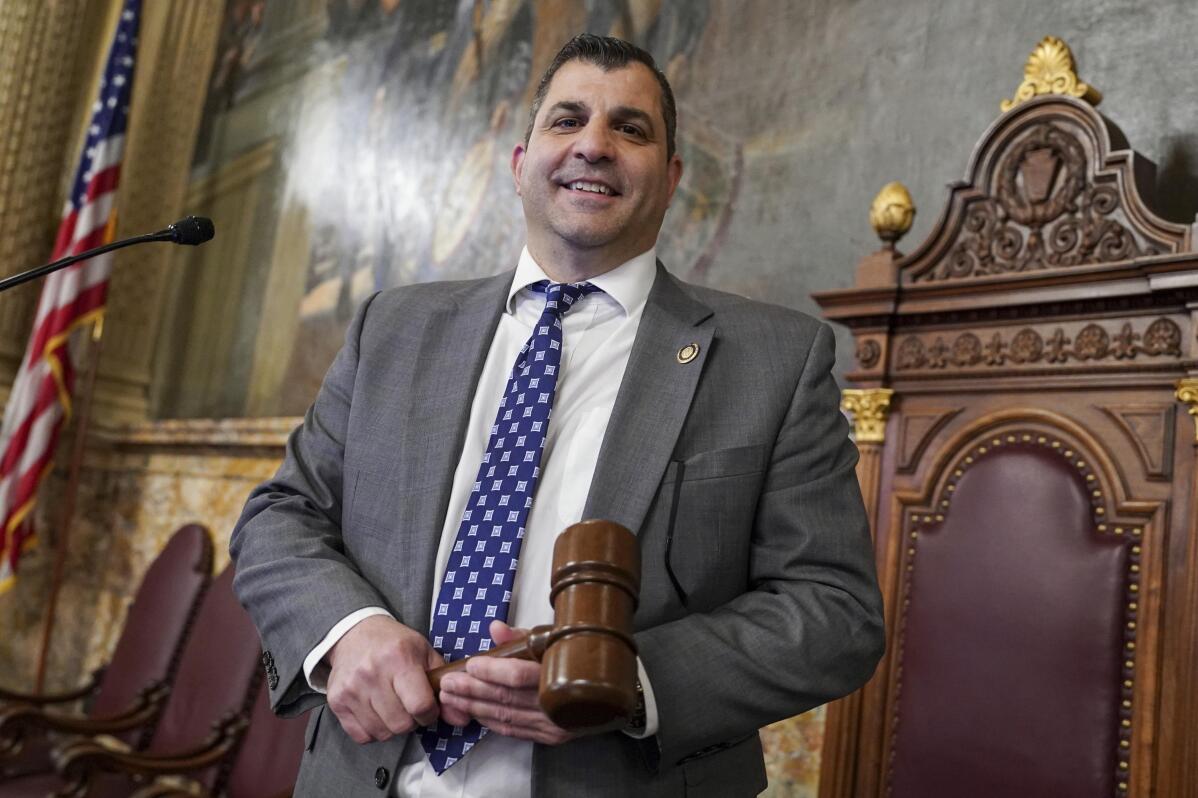 16 of 23

|
Pennsylvania Speaker of the House Mark Rozzi is photographed at the speaker's podium, Tuesday, Jan. 3, 2023, at the state Capitol in Harrisburg, Pa. (AP Photo/Matt Smith)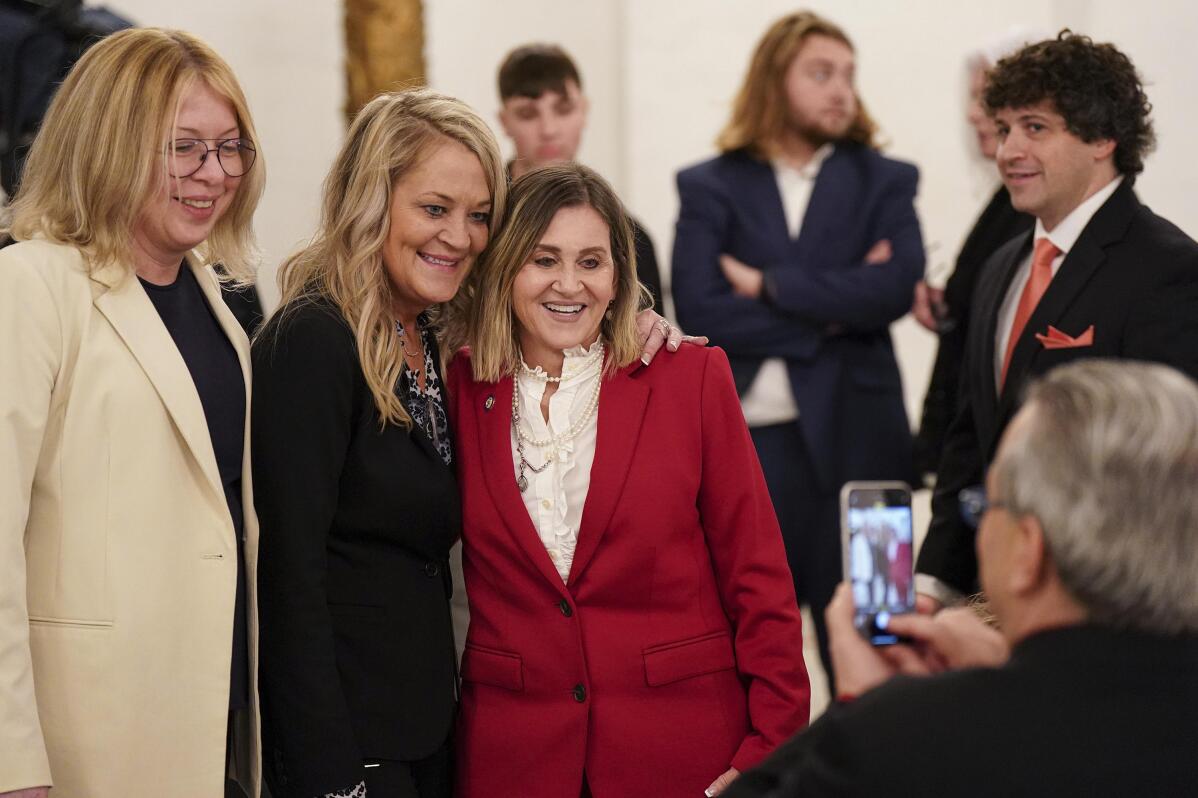 17 of 23

|
Pennsylvania Senate president pro tempore Kim Ward, center right, poses for a photo with family and friends on swearing-in day, Tuesday, Jan. 3, 2023, at the state Capitol in Harrisburg, Pa. (AP Photo/Matt Smith)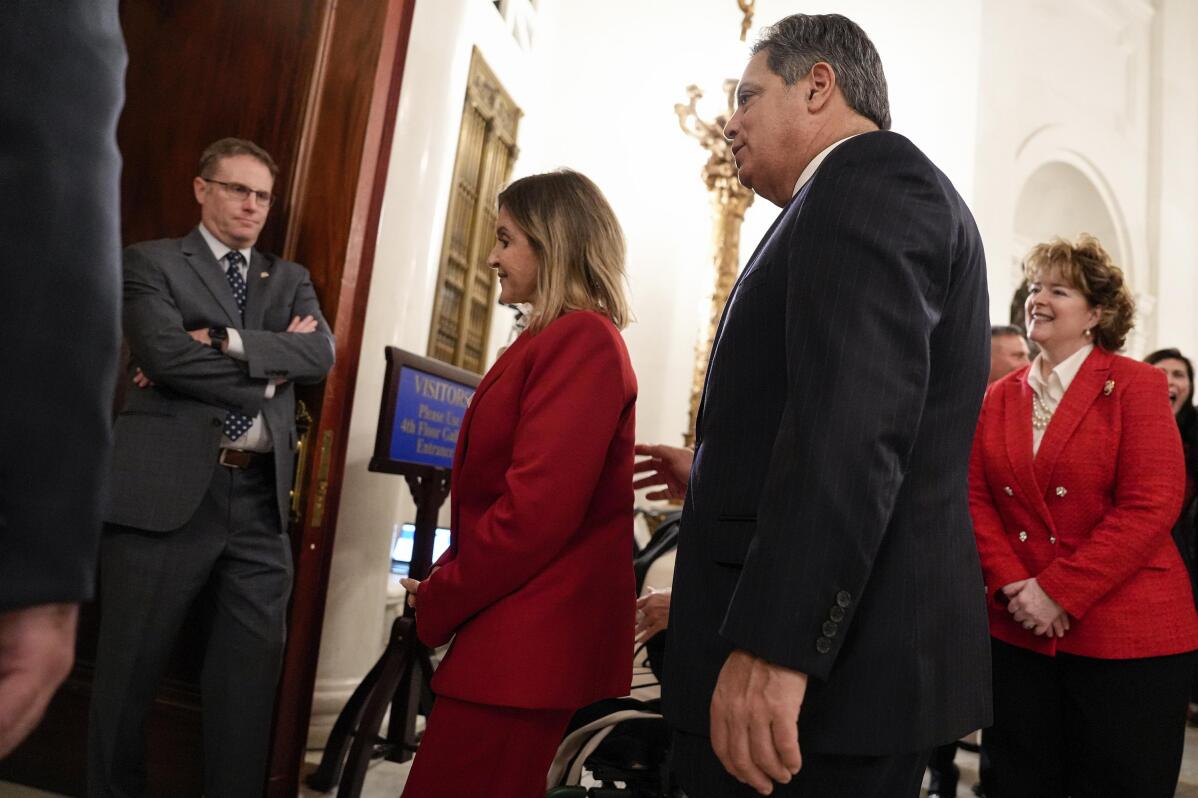 18 of 23

|
Pennsylvania Senate president pro tempore Kim Ward, left, and Senate Democratic Leader Jay Costa, right, enter the house chambers on swearing-in day, Tuesday, Jan. 3, 2023, at the state Capitol in Harrisburg, Pa. (AP Photo/Matt Smith)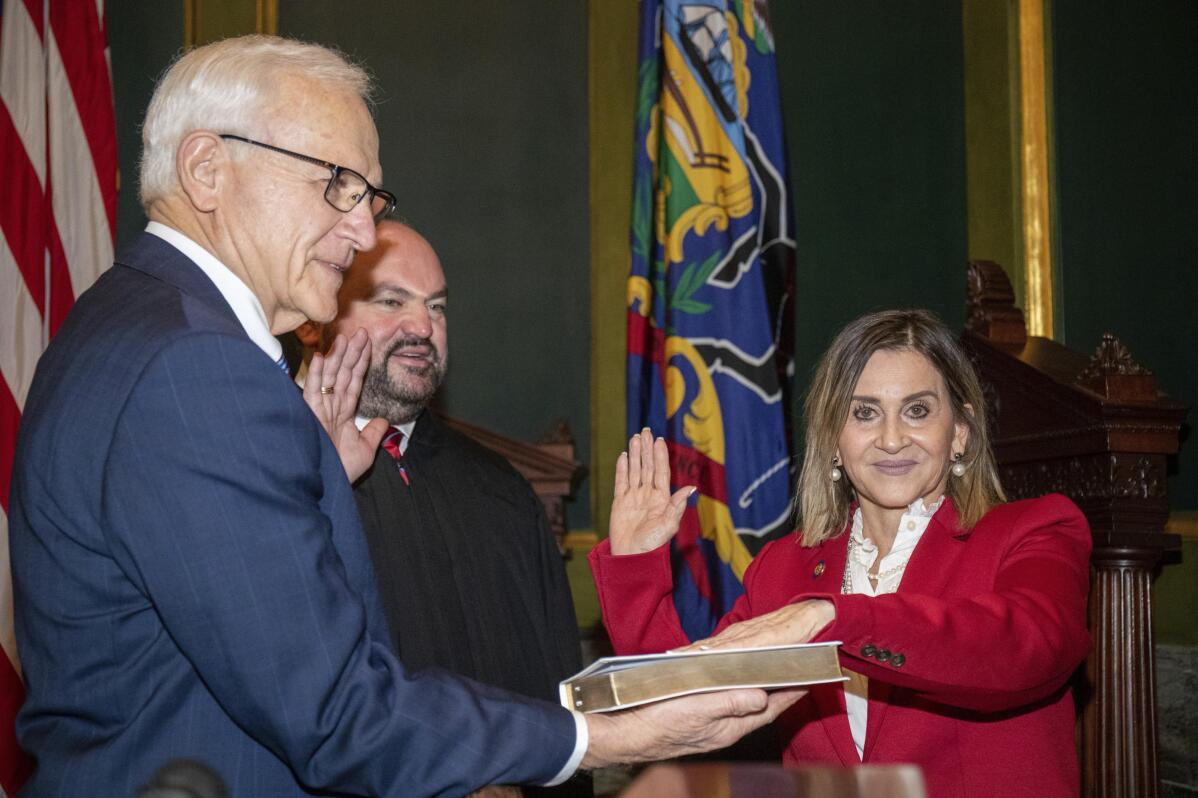 19 of 23

|
Newly-elected Pennsylvania President Pro Tempore, state Sen. Kim Ward poses for photos with Sen. Gene Yaw and Judge Harry Smail, Jr. after being sworn-in as interim lieutenant governor until Lt. Gov.-Elect Austin Davis takes the oath later this month, Tuesday, Jan. 3, 2023, in Harrisburg, Pa. (Mark Pynes/The Patriot-News via AP)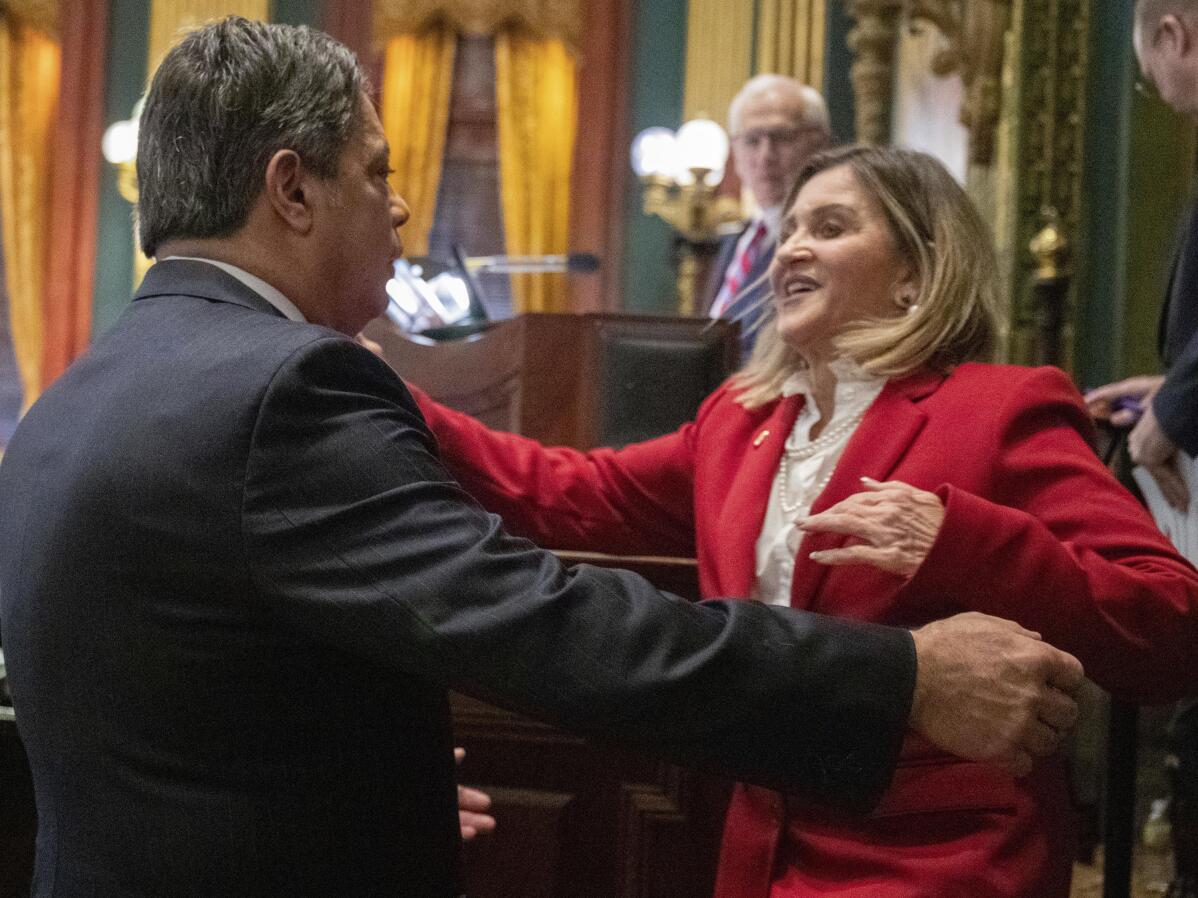 20 of 23

|
Newly-elected Pennsylvania President Pro Tempore, state, Sen. Kim Ward is congratulated by Senate Democratic Leader Jay Costa, Tuesday, Jan. 3, 2023, in Harrisburg, Pa. (Mark Pynes/The Patriot-News via AP)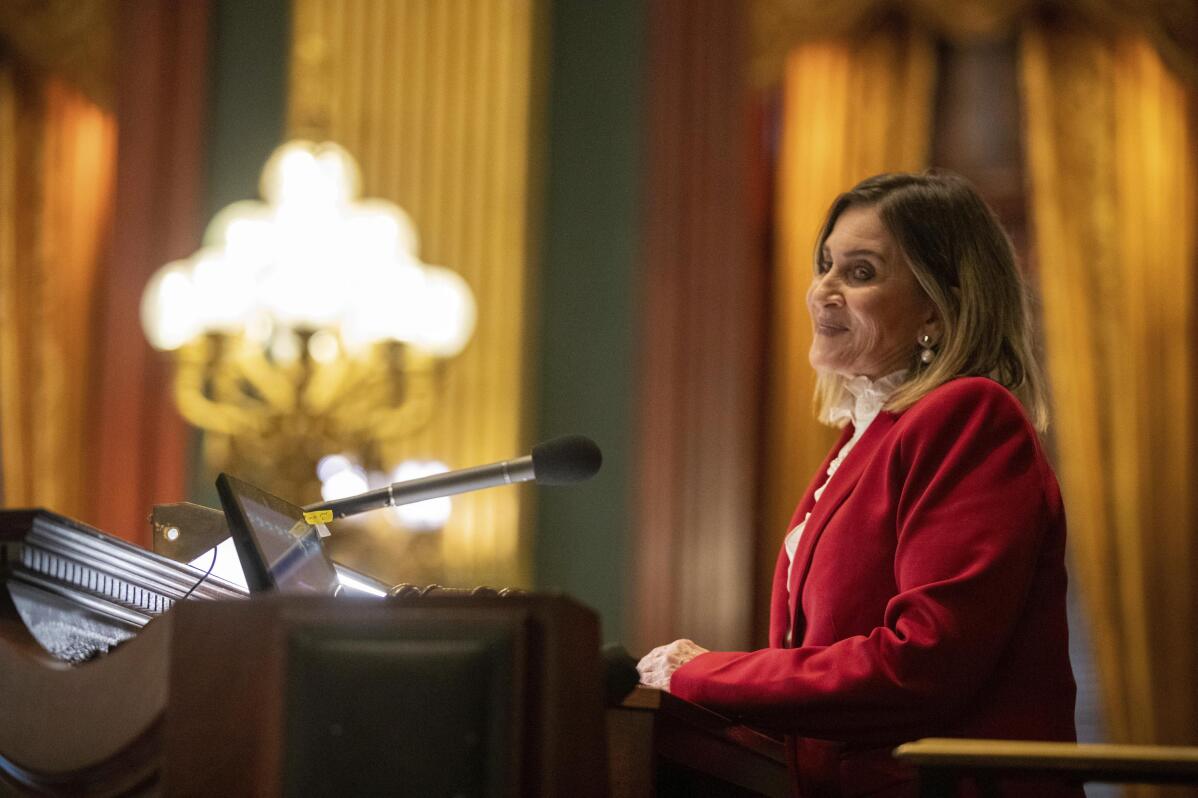 21 of 23

|
Sen. Kim Ward leads the Pennsylvania State Senate after taking the oath of office as new President Pro Tempore, in Harrisburg, Pa., Jan. 3, 2023. (Mark Pynes/The Patriot-News via AP)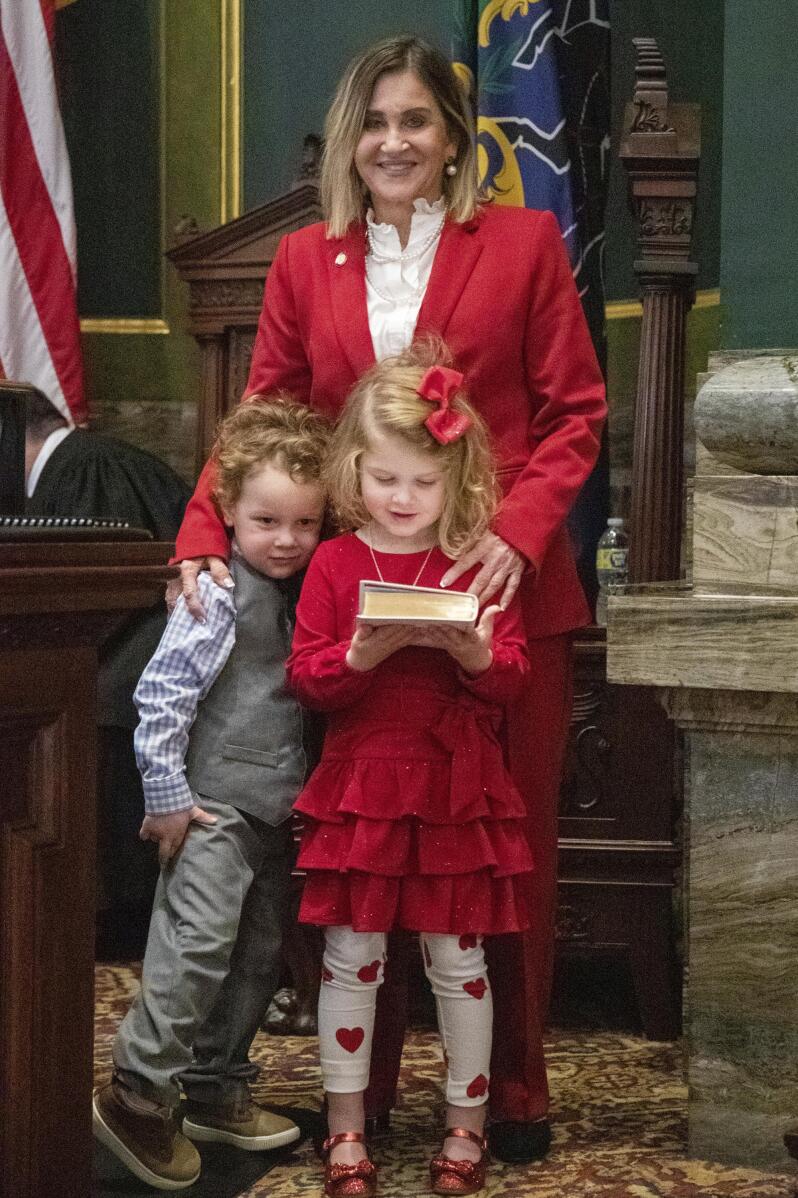 22 of 23

|
Sen. Kim Ward, poses with her grandchildren Thomas Daniel Ward, 3, and his sister Josie Jane Ward, 4, holding the bible as she took the oath of office as President Pro Tempore of the Pennsylvania Senate, Tuesday, Jan. 3, 2023, in Harrisburg, Pa. (Mark Pynes/The Patriot-News via AP)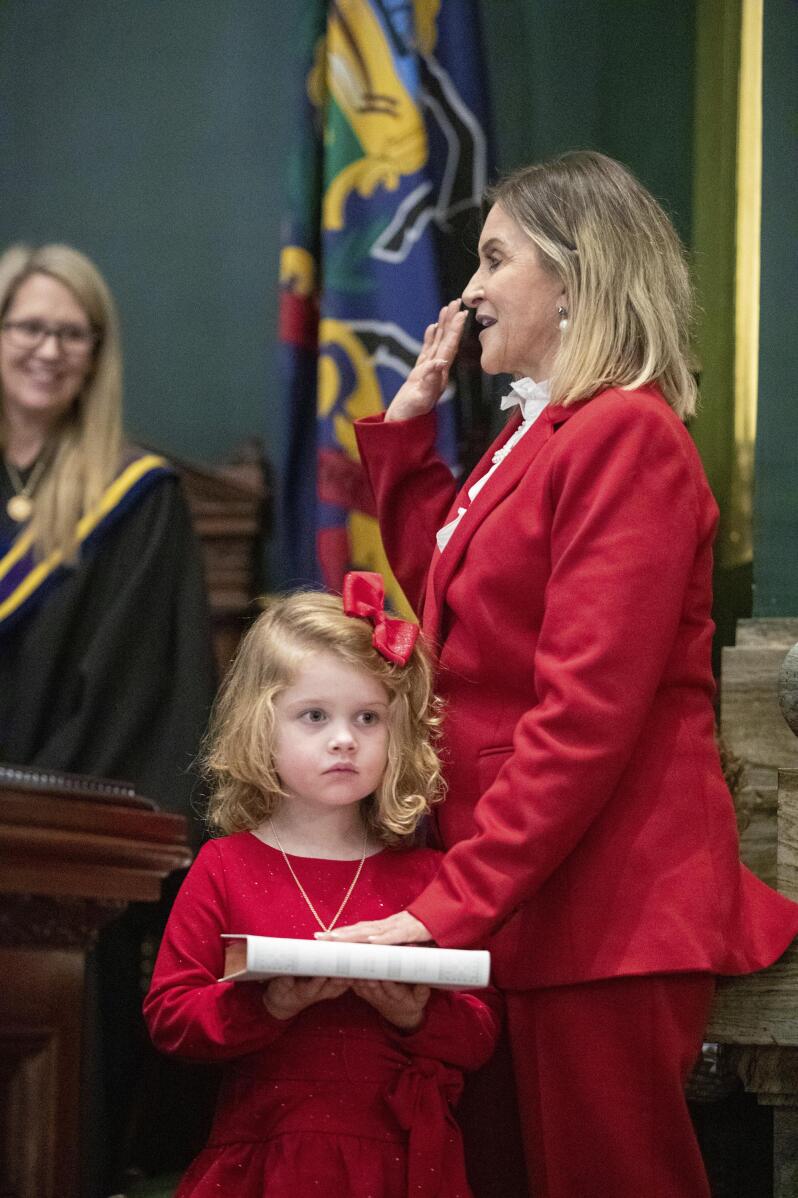 23 of 23

|
Sen. Kim Ward takes the oath of office as President Pro Tempore of the Pennsylvania Senate accompanied by her granddaughter, Josie Jane Ward, holding the bible, in Harrisburg, Pa., Jan. 3, 2023. (Mark Pynes/The Patriot-News via AP)
Democrat voted Pennsylvania speaker, foiling GOP hopes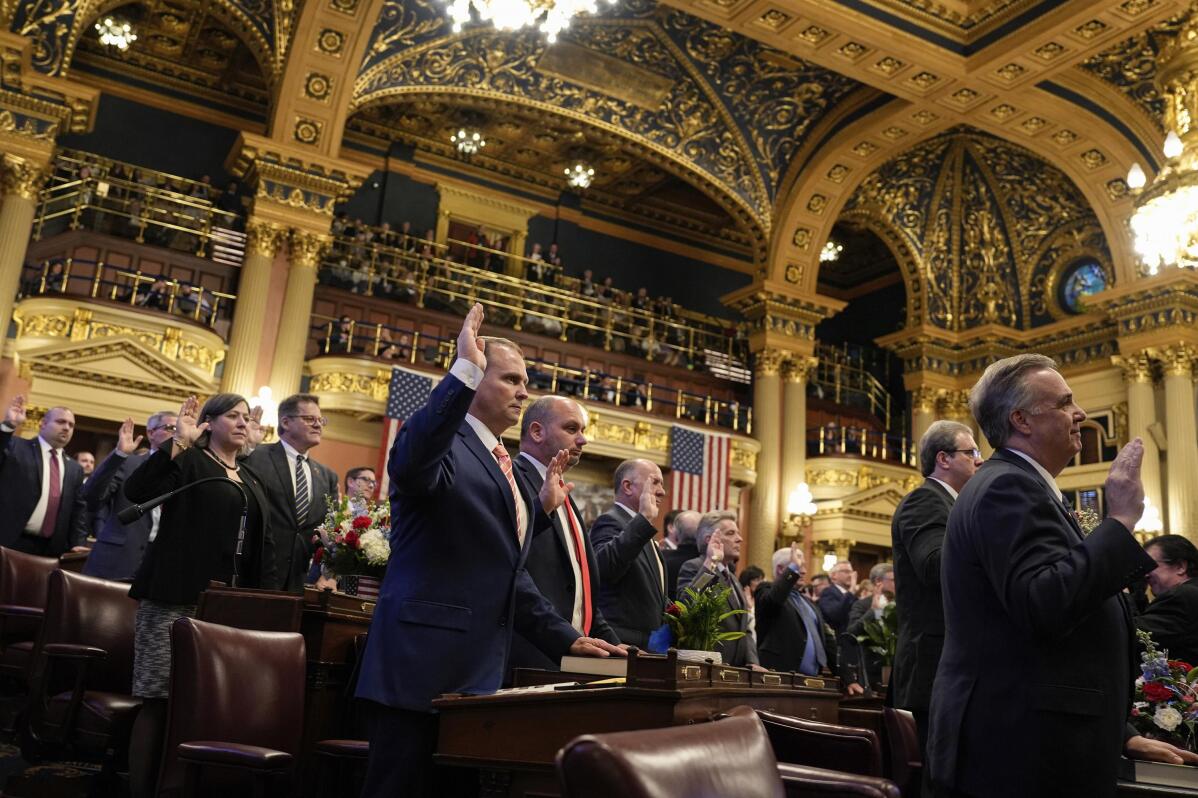 1 of 23

|
Legislators of the Pennsylvania House of Representatives are sworn-in, Tuesday, Jan. 3, 2023, at the state Capitol in Harrisburg, Pa. The ceremony marks the convening of the 2023-2024 legislative session of the General Assembly of Pennsylvania. (AP Photo/Matt Smith)
1 of 23
Legislators of the Pennsylvania House of Representatives are sworn-in, Tuesday, Jan. 3, 2023, at the state Capitol in Harrisburg, Pa. The ceremony marks the convening of the 2023-2024 legislative session of the General Assembly of Pennsylvania. (AP Photo/Matt Smith)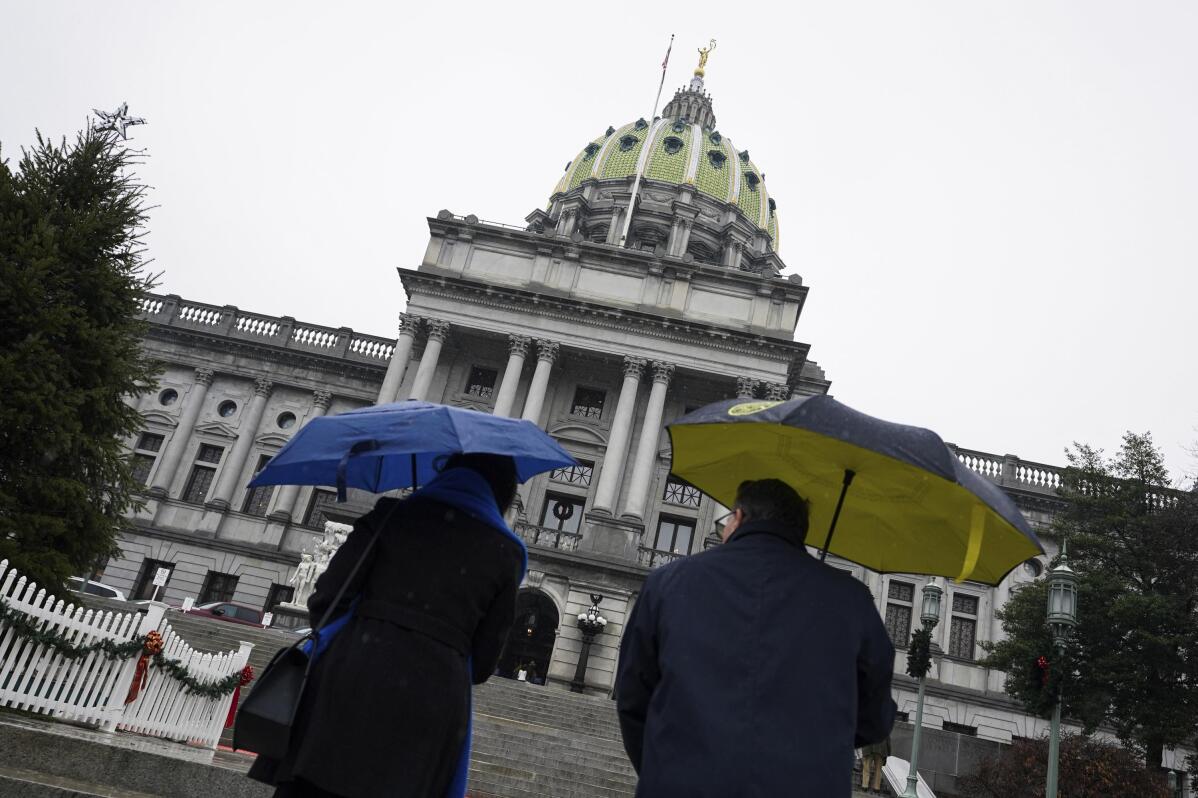 2 of 23

|
Visitors enter the Capital as legislators of the Pennsylvania House of Representatives are to be sworn-in, Tuesday, Jan. 3, 2023, at the state Capitol in Harrisburg, Pa. The ceremony marks the convening of the 2023-2024 legislative session of the General Assembly of Pennsylvania. (AP Photo/Matt Smith)
2 of 23
Visitors enter the Capital as legislators of the Pennsylvania House of Representatives are to be sworn-in, Tuesday, Jan. 3, 2023, at the state Capitol in Harrisburg, Pa. The ceremony marks the convening of the 2023-2024 legislative session of the General Assembly of Pennsylvania. (AP Photo/Matt Smith)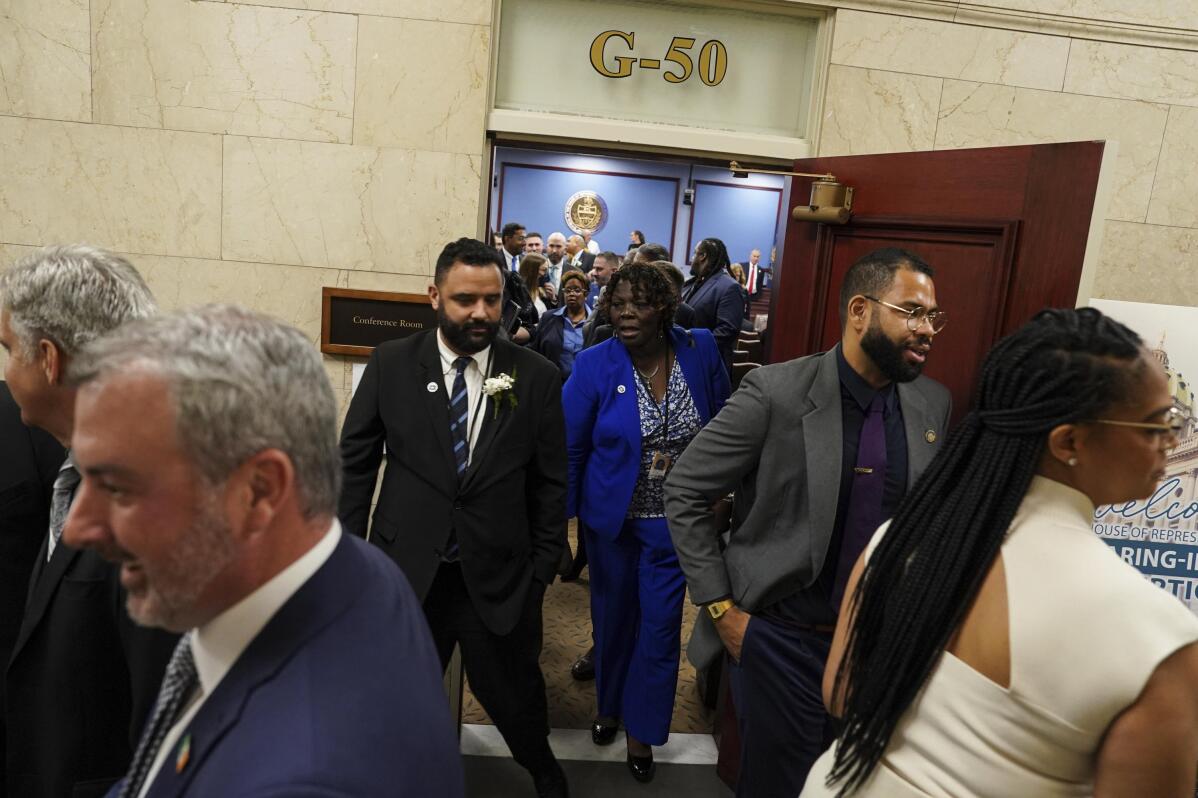 3 of 23

|
Democratic representatives leave after caucusing, Tuesday, Jan. 3, 2023, at the state Capitol in Harrisburg, Pa. The ceremony marks the convening of the 2023-2024 legislative session of the General Assembly of Pennsylvania. (AP Photo/Matt Smith)
3 of 23
Democratic representatives leave after caucusing, Tuesday, Jan. 3, 2023, at the state Capitol in Harrisburg, Pa. The ceremony marks the convening of the 2023-2024 legislative session of the General Assembly of Pennsylvania. (AP Photo/Matt Smith)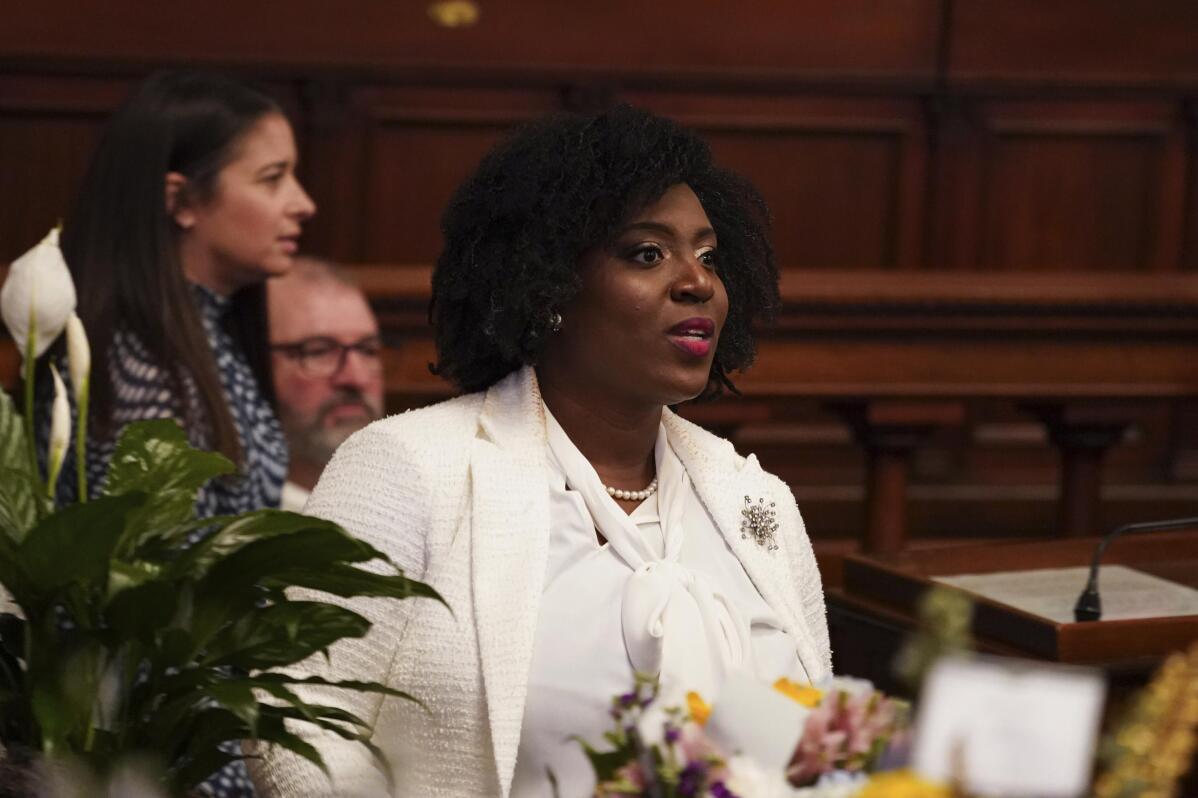 4 of 23

|
Democratic floor leader Rep. Joanna McClinton stands on the floor as legislators of the Pennsylvania House of Representatives are sworn-in, Tuesday, Jan. 3, 2023, at the state Capitol in Harrisburg, Pa. The ceremony marks the convening of the 2023-2024 legislative session of the General Assembly of Pennsylvania. (AP Photo/Matt Smith)
4 of 23
Democratic floor leader Rep. Joanna McClinton stands on the floor as legislators of the Pennsylvania House of Representatives are sworn-in, Tuesday, Jan. 3, 2023, at the state Capitol in Harrisburg, Pa. The ceremony marks the convening of the 2023-2024 legislative session of the General Assembly of Pennsylvania. (AP Photo/Matt Smith)
5 of 23

|
Democratic floor leader Rep. Joanna McClinton stands on the floor as legislators of the Pennsylvania House of Representatives are sworn-in, Tuesday, Jan. 3, 2023, at the state Capitol in Harrisburg, Pa. The ceremony marks the convening of the 2023-2024 legislative session of the General Assembly of Pennsylvania. (AP Photo/Matt Smith)
5 of 23
Democratic floor leader Rep. Joanna McClinton stands on the floor as legislators of the Pennsylvania House of Representatives are sworn-in, Tuesday, Jan. 3, 2023, at the state Capitol in Harrisburg, Pa. The ceremony marks the convening of the 2023-2024 legislative session of the General Assembly of Pennsylvania. (AP Photo/Matt Smith)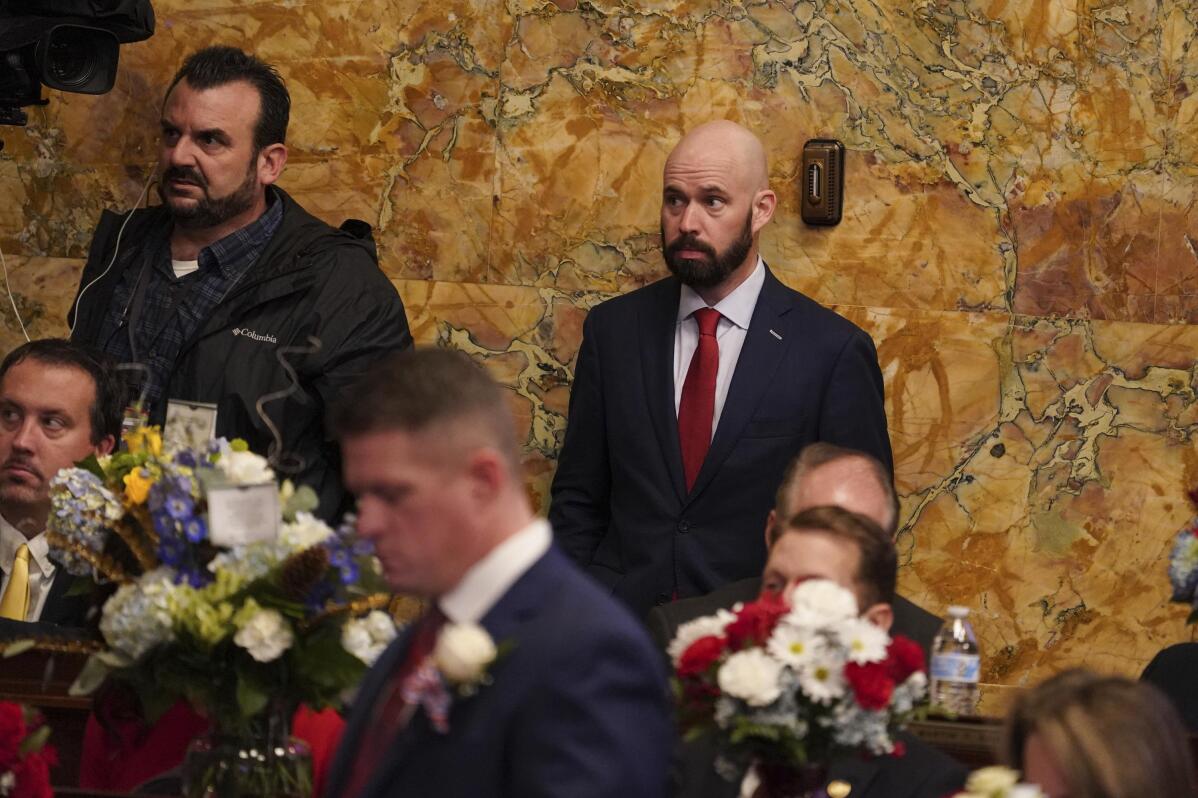 6 of 23

|
Republican Rep. Carl Walker Metzgar stands on the floor as legislators of the Pennsylvania House of Representatives are sworn-in, Tuesday, Jan. 3, 2023, at the state Capitol in Harrisburg, Pa. The ceremony marks the convening of the 2023-2024 legislative session of the General Assembly of Pennsylvania. (AP Photo/Matt Smith)
6 of 23
Republican Rep. Carl Walker Metzgar stands on the floor as legislators of the Pennsylvania House of Representatives are sworn-in, Tuesday, Jan. 3, 2023, at the state Capitol in Harrisburg, Pa. The ceremony marks the convening of the 2023-2024 legislative session of the General Assembly of Pennsylvania. (AP Photo/Matt Smith)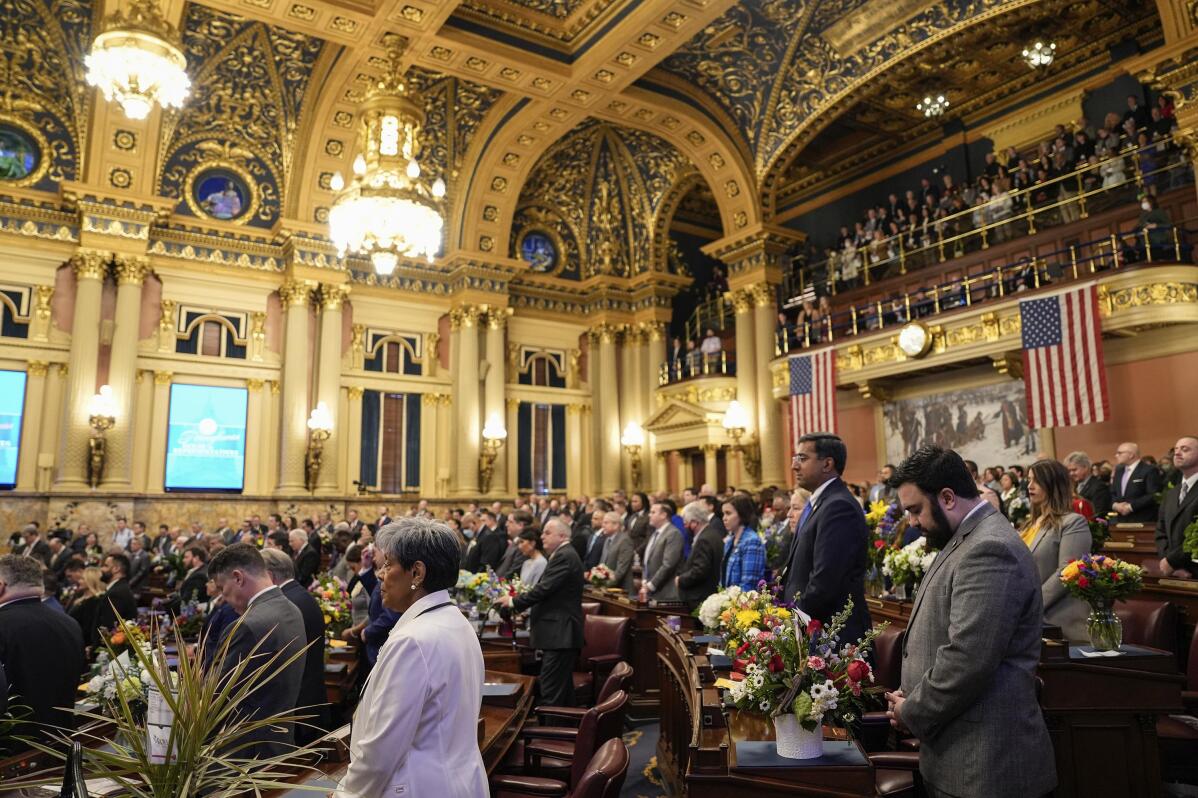 7 of 23

|
Legislators of the Pennsylvania House of Representatives stand before they are sworn-in, Tuesday, Jan. 3, 2023, at the state Capitol in Harrisburg, Pa. The ceremony marks the convening of the 2023-2024 legislative session of the General Assembly of Pennsylvania. (AP Photo/Matt Smith)
7 of 23
Legislators of the Pennsylvania House of Representatives stand before they are sworn-in, Tuesday, Jan. 3, 2023, at the state Capitol in Harrisburg, Pa. The ceremony marks the convening of the 2023-2024 legislative session of the General Assembly of Pennsylvania. (AP Photo/Matt Smith)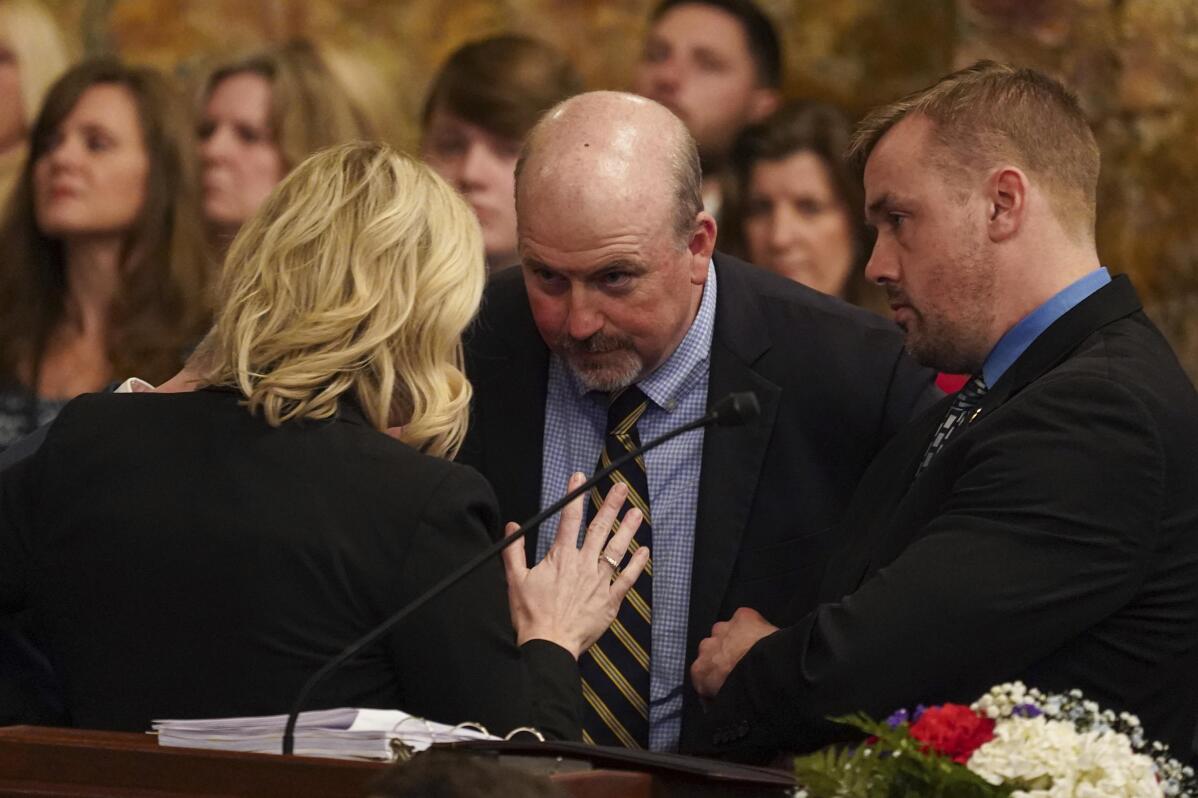 8 of 23

|
Rep. Matt Bradford, D-Montgomery, center, and Republican Rep. Bryan Cutler, right, talk to aides as legislators of the Pennsylvania House of Representatives are sworn-in, Tuesday, Jan. 3, 2023, at the state Capitol in Harrisburg, Pa. The ceremony marks the convening of the 2023-2024 legislative session of the General Assembly of Pennsylvania. (AP Photo/Matt Smith)
8 of 23
Rep. Matt Bradford, D-Montgomery, center, and Republican Rep. Bryan Cutler, right, talk to aides as legislators of the Pennsylvania House of Representatives are sworn-in, Tuesday, Jan. 3, 2023, at the state Capitol in Harrisburg, Pa. The ceremony marks the convening of the 2023-2024 legislative session of the General Assembly of Pennsylvania. (AP Photo/Matt Smith)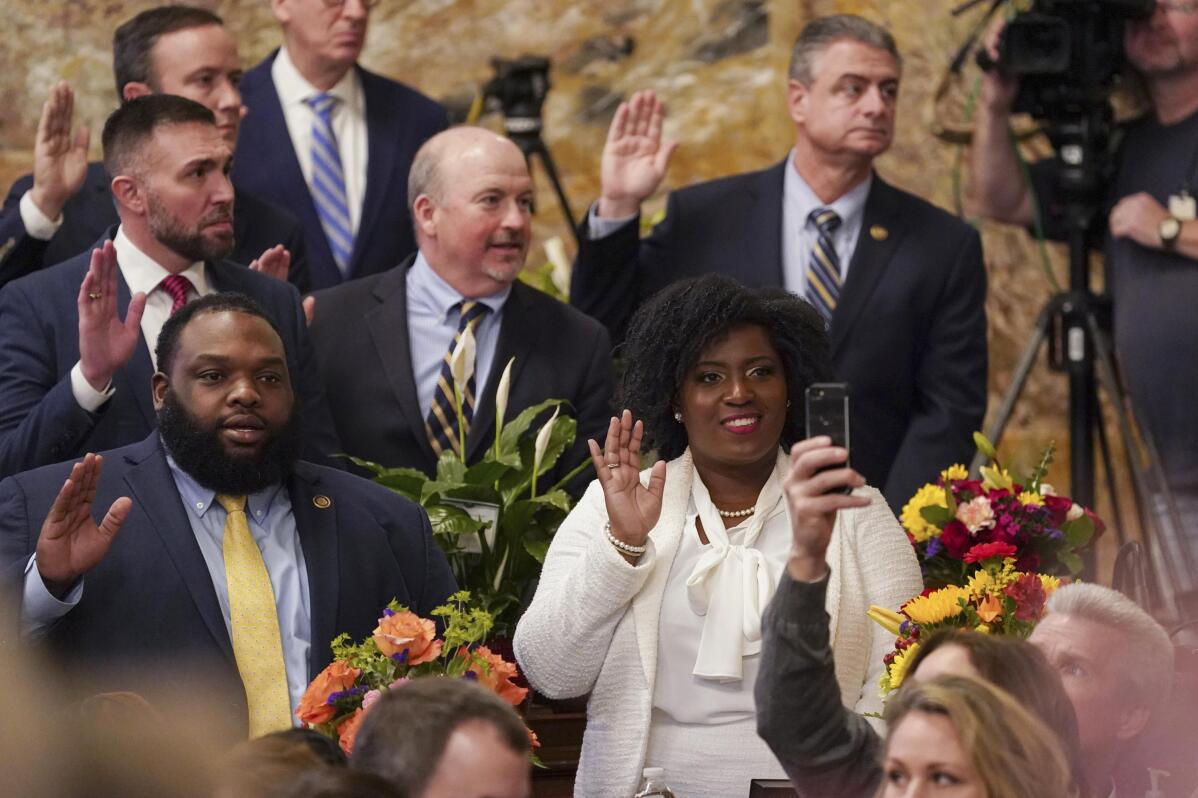 9 of 23

|
Democratic floor leader Rep. Joanna McClinton, right, stands alongside fellow house members as legislators of the Pennsylvania House of Representatives are sworn-in, Tuesday, Jan. 3, 2023, at the state Capitol in Harrisburg, Pa. The ceremony marks the convening of the 2023-2024 legislative session of the General Assembly of Pennsylvania. (AP Photo/Matt Smith)
9 of 23
Democratic floor leader Rep. Joanna McClinton, right, stands alongside fellow house members as legislators of the Pennsylvania House of Representatives are sworn-in, Tuesday, Jan. 3, 2023, at the state Capitol in Harrisburg, Pa. The ceremony marks the convening of the 2023-2024 legislative session of the General Assembly of Pennsylvania. (AP Photo/Matt Smith)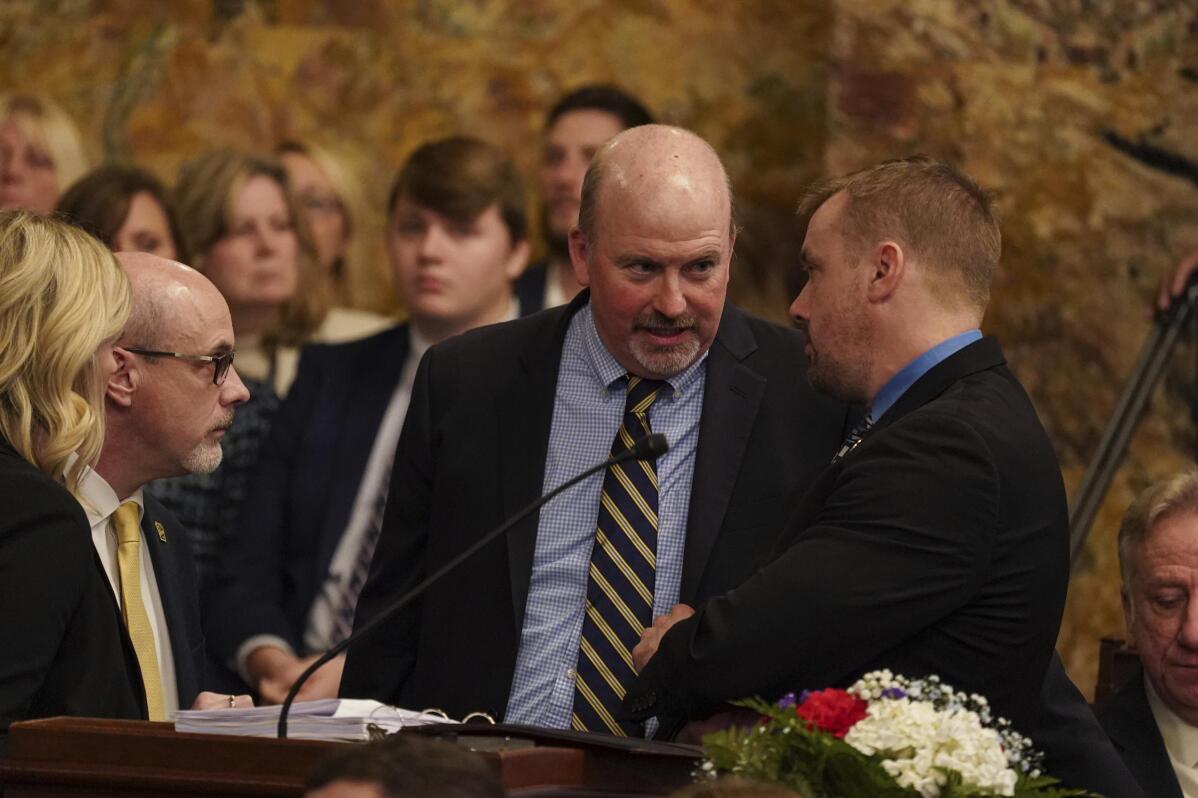 10 of 23

|
Rep. Matt Bradford, D-Montgomery, center, talks to Republican Rep. Bryan Cutler, right, as legislators of the Pennsylvania House of Representatives are sworn-in, Tuesday, Jan. 3, 2023, at the state Capitol in Harrisburg, Pa. The ceremony marks the convening of the 2023-2024 legislative session of the General Assembly of Pennsylvania. (AP Photo/Matt Smith)
10 of 23
Rep. Matt Bradford, D-Montgomery, center, talks to Republican Rep. Bryan Cutler, right, as legislators of the Pennsylvania House of Representatives are sworn-in, Tuesday, Jan. 3, 2023, at the state Capitol in Harrisburg, Pa. The ceremony marks the convening of the 2023-2024 legislative session of the General Assembly of Pennsylvania. (AP Photo/Matt Smith)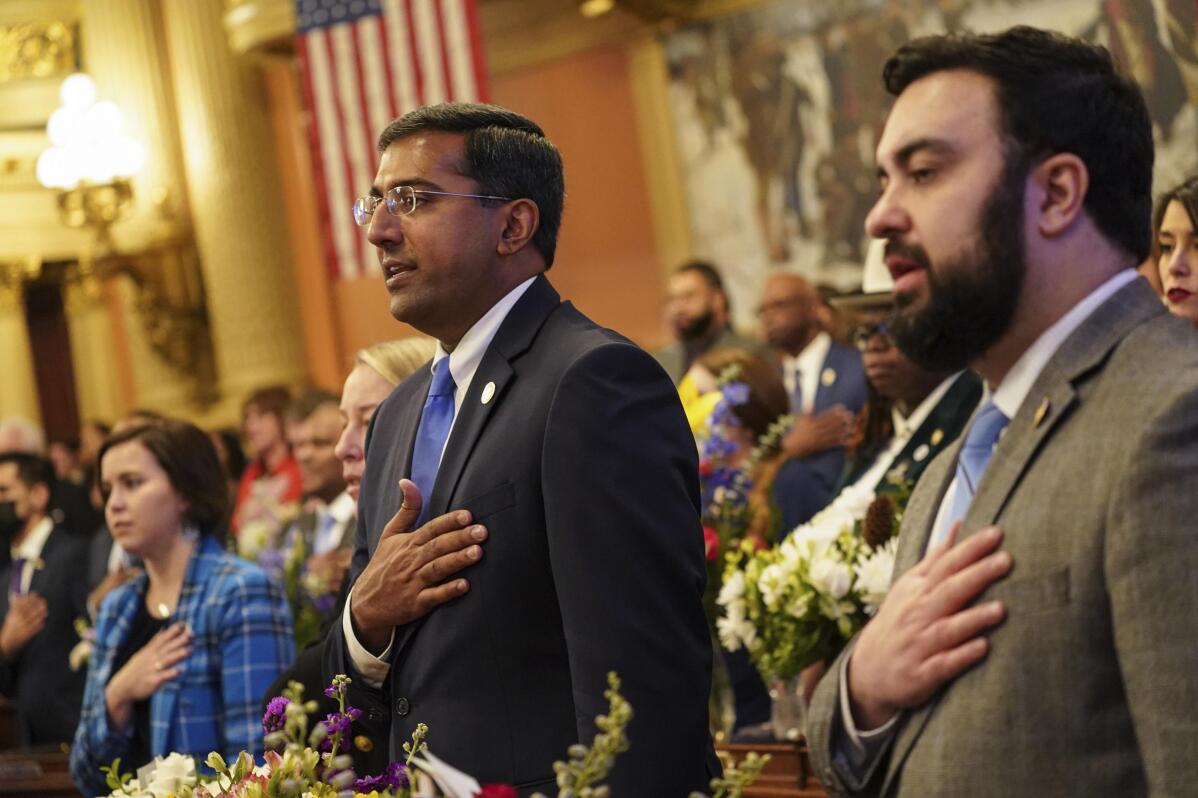 11 of 23

|
Legislators of the Pennsylvania House of Representatives stand for the Pledge of Allegiance as members are sworn in, Tuesday, Jan. 3, 2023, at the state Capitol in Harrisburg, Pa. The ceremony marks the convening of the 2023-2024 legislative session of the General Assembly of Pennsylvania. (AP Photo/Matt Smith)
11 of 23
Legislators of the Pennsylvania House of Representatives stand for the Pledge of Allegiance as members are sworn in, Tuesday, Jan. 3, 2023, at the state Capitol in Harrisburg, Pa. The ceremony marks the convening of the 2023-2024 legislative session of the General Assembly of Pennsylvania. (AP Photo/Matt Smith)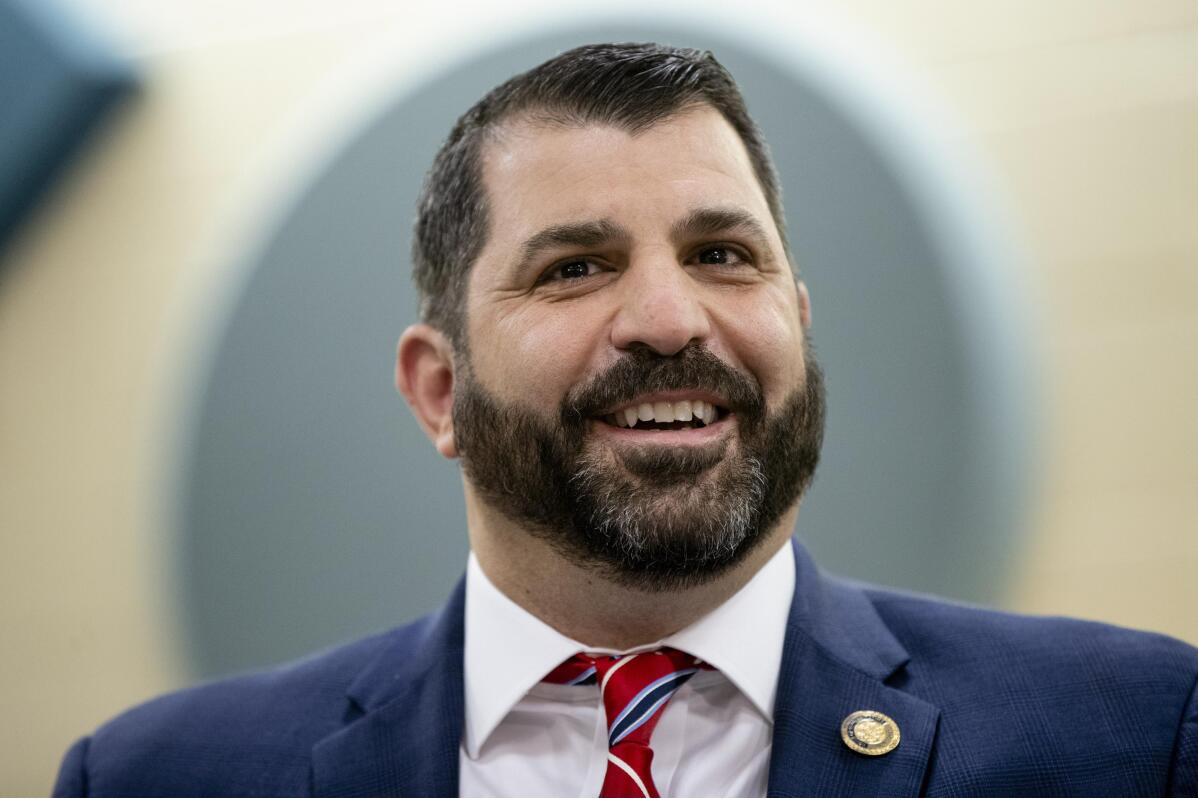 12 of 23

|
FILE - Pennsylvania state Rep. Mark Rozzi, D-Berks, speaks before Gov. Tom Wolf signs legislation into law at Muhlenberg High School in Reading, Pa., on Nov. 26, 2019. The narrowly divided state House of Representatives elected Rozzi as the new speaker Tuesday, Jan. 3, 2023. (AP Photo/Matt Rourke, File)
12 of 23
FILE - Pennsylvania state Rep. Mark Rozzi, D-Berks, speaks before Gov. Tom Wolf signs legislation into law at Muhlenberg High School in Reading, Pa., on Nov. 26, 2019. The narrowly divided state House of Representatives elected Rozzi as the new speaker Tuesday, Jan. 3, 2023. (AP Photo/Matt Rourke, File)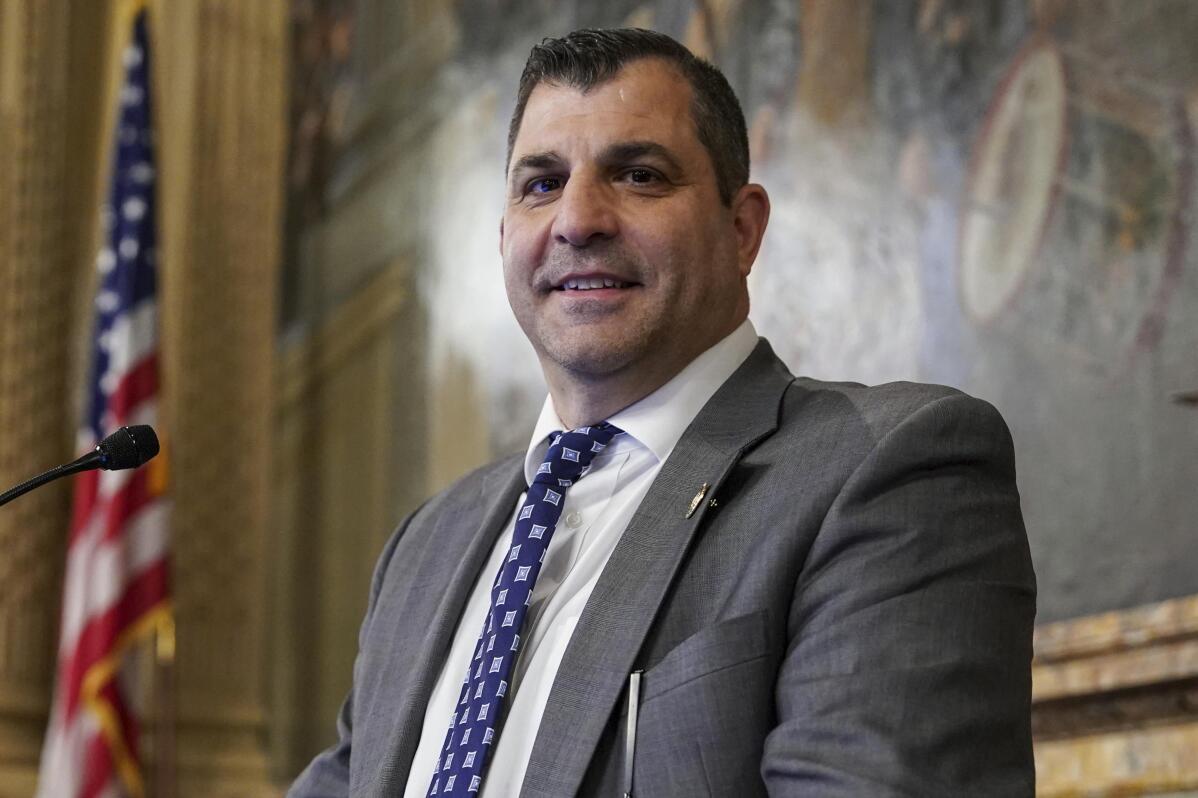 13 of 23

|
Pennsylvania Speaker of the House Mark Rozzi is photographed at the speaker's podium, Tuesday, Jan. 3, 2023, at the state Capitol in Harrisburg, Pa. (AP Photo/Matt Smith)
13 of 23
Pennsylvania Speaker of the House Mark Rozzi is photographed at the speaker's podium, Tuesday, Jan. 3, 2023, at the state Capitol in Harrisburg, Pa. (AP Photo/Matt Smith)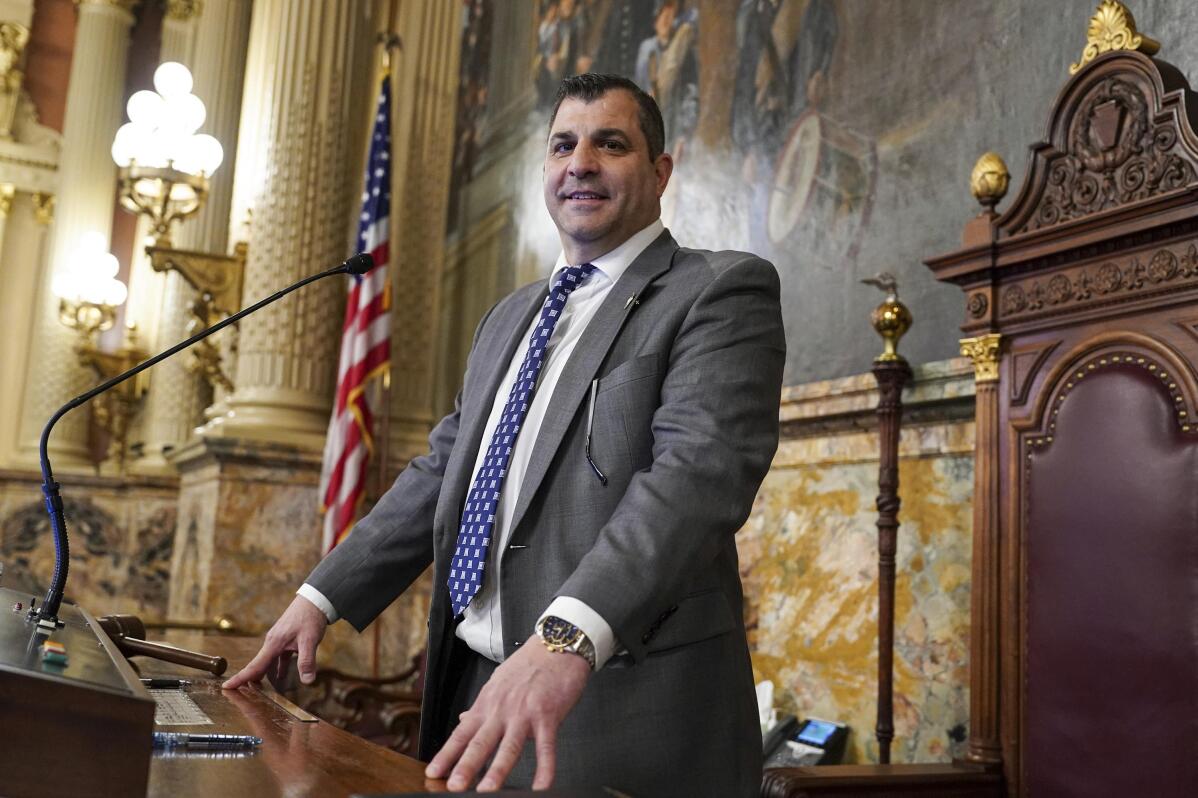 14 of 23

|
Pennsylvania Speaker of the House Mark Rozzi is photographed at the speaker's podium, Tuesday, Jan. 3, 2023, at the state Capitol in Harrisburg, Pa. (AP Photo/Matt Smith)
14 of 23
Pennsylvania Speaker of the House Mark Rozzi is photographed at the speaker's podium, Tuesday, Jan. 3, 2023, at the state Capitol in Harrisburg, Pa. (AP Photo/Matt Smith)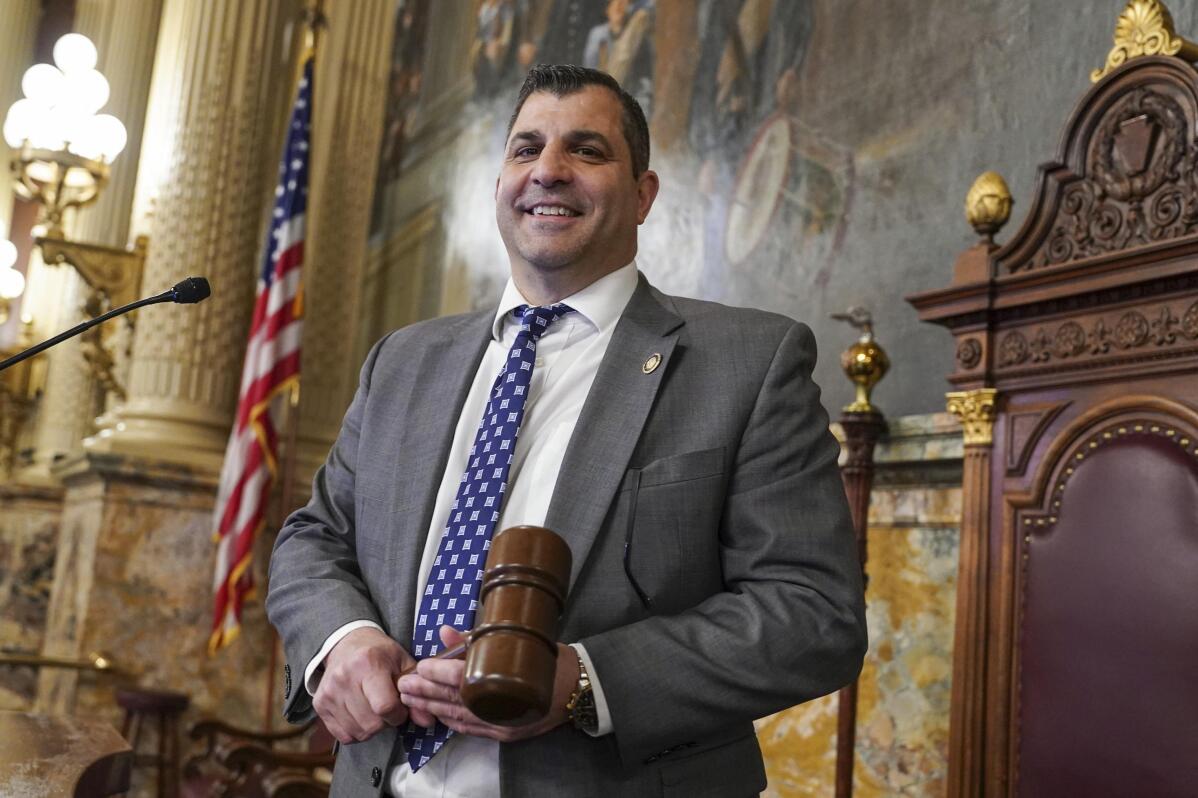 15 of 23

|
Pennsylvania Speaker of the House Mark Rozzi is photographed at the speaker's podium, Tuesday, Jan. 3, 2023, at the state Capitol in Harrisburg, Pa. (AP Photo/Matt Smith)
15 of 23
Pennsylvania Speaker of the House Mark Rozzi is photographed at the speaker's podium, Tuesday, Jan. 3, 2023, at the state Capitol in Harrisburg, Pa. (AP Photo/Matt Smith)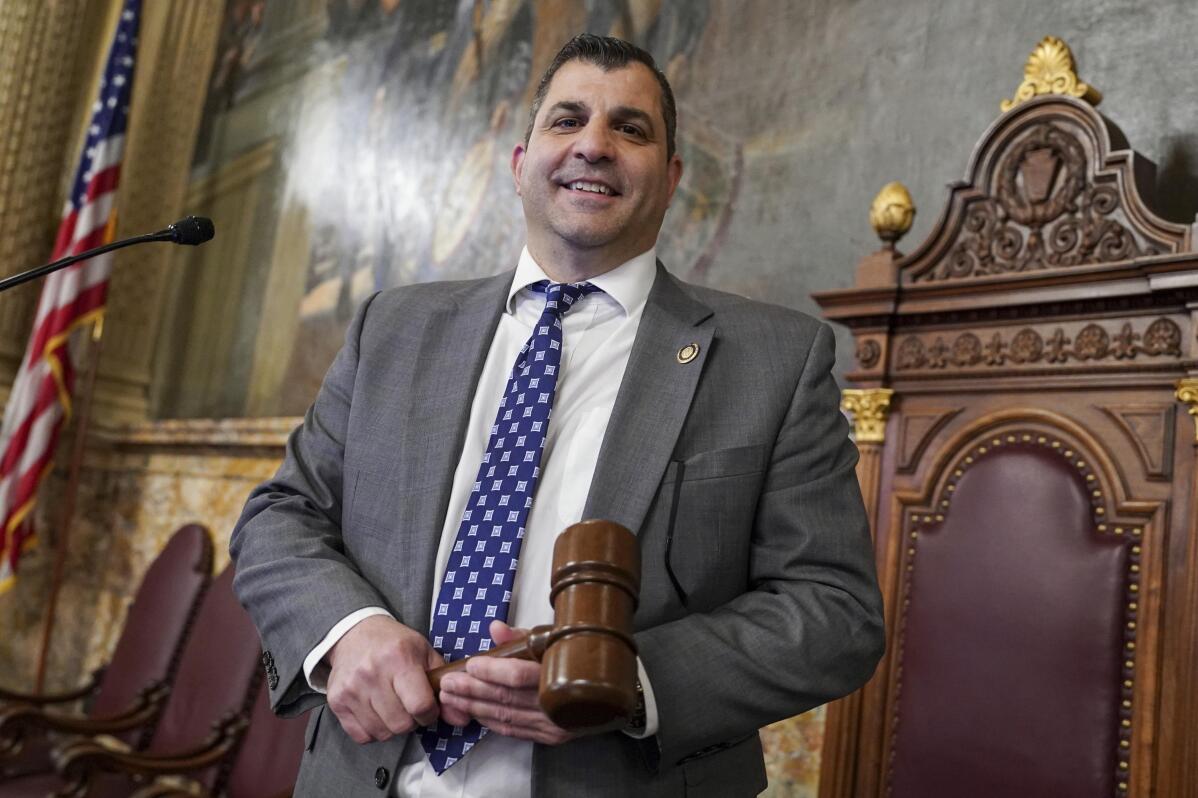 16 of 23

|
Pennsylvania Speaker of the House Mark Rozzi is photographed at the speaker's podium, Tuesday, Jan. 3, 2023, at the state Capitol in Harrisburg, Pa. (AP Photo/Matt Smith)
16 of 23
Pennsylvania Speaker of the House Mark Rozzi is photographed at the speaker's podium, Tuesday, Jan. 3, 2023, at the state Capitol in Harrisburg, Pa. (AP Photo/Matt Smith)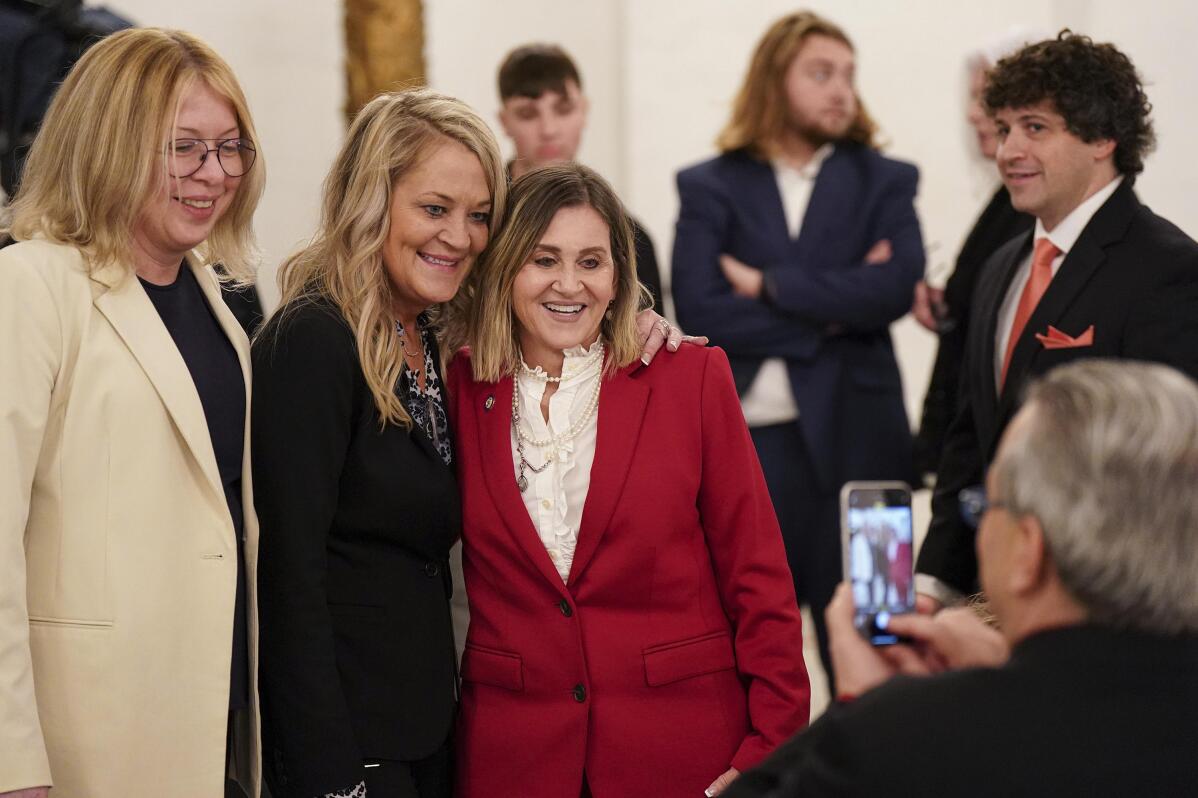 17 of 23

|
Pennsylvania Senate president pro tempore Kim Ward, center right, poses for a photo with family and friends on swearing-in day, Tuesday, Jan. 3, 2023, at the state Capitol in Harrisburg, Pa. (AP Photo/Matt Smith)
17 of 23
Pennsylvania Senate president pro tempore Kim Ward, center right, poses for a photo with family and friends on swearing-in day, Tuesday, Jan. 3, 2023, at the state Capitol in Harrisburg, Pa. (AP Photo/Matt Smith)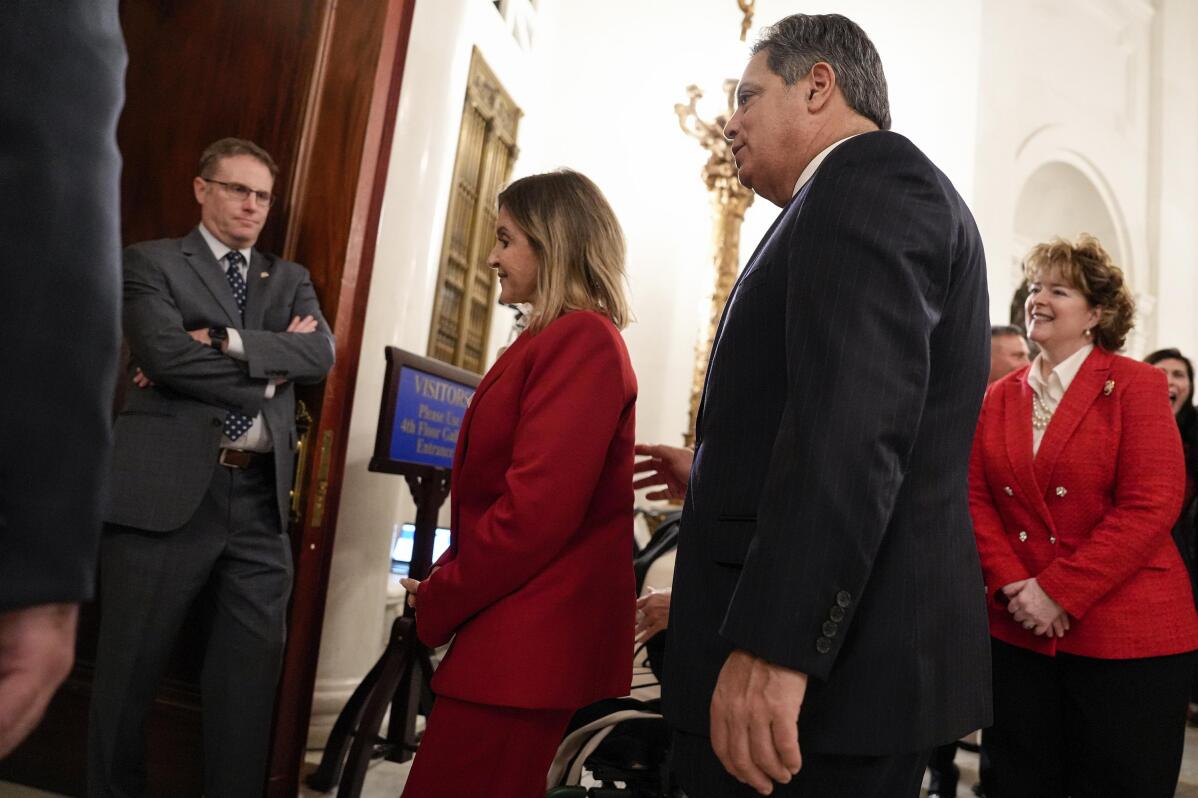 18 of 23

|
Pennsylvania Senate president pro tempore Kim Ward, left, and Senate Democratic Leader Jay Costa, right, enter the house chambers on swearing-in day, Tuesday, Jan. 3, 2023, at the state Capitol in Harrisburg, Pa. (AP Photo/Matt Smith)
18 of 23
Pennsylvania Senate president pro tempore Kim Ward, left, and Senate Democratic Leader Jay Costa, right, enter the house chambers on swearing-in day, Tuesday, Jan. 3, 2023, at the state Capitol in Harrisburg, Pa. (AP Photo/Matt Smith)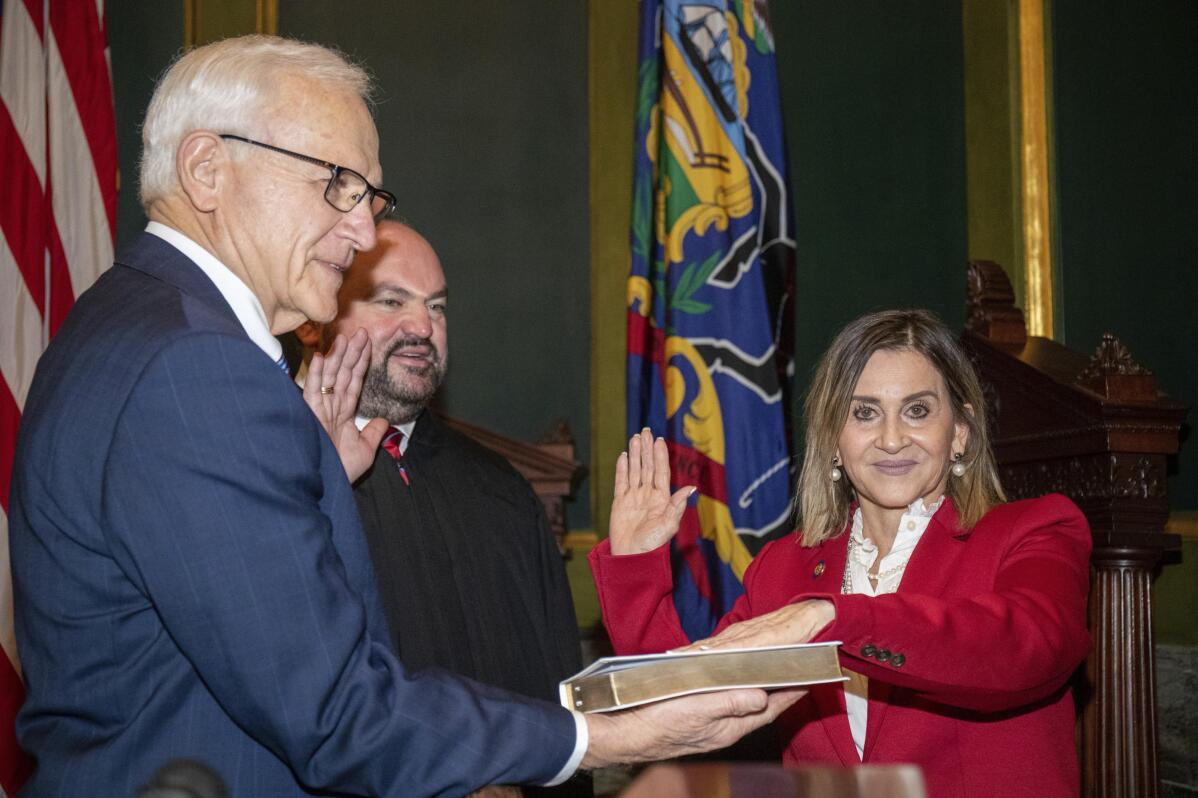 19 of 23

|
Newly-elected Pennsylvania President Pro Tempore, state Sen. Kim Ward poses for photos with Sen. Gene Yaw and Judge Harry Smail, Jr. after being sworn-in as interim lieutenant governor until Lt. Gov.-Elect Austin Davis takes the oath later this month, Tuesday, Jan. 3, 2023, in Harrisburg, Pa. (Mark Pynes/The Patriot-News via AP)
19 of 23
Newly-elected Pennsylvania President Pro Tempore, state Sen. Kim Ward poses for photos with Sen. Gene Yaw and Judge Harry Smail, Jr. after being sworn-in as interim lieutenant governor until Lt. Gov.-Elect Austin Davis takes the oath later this month, Tuesday, Jan. 3, 2023, in Harrisburg, Pa. (Mark Pynes/The Patriot-News via AP)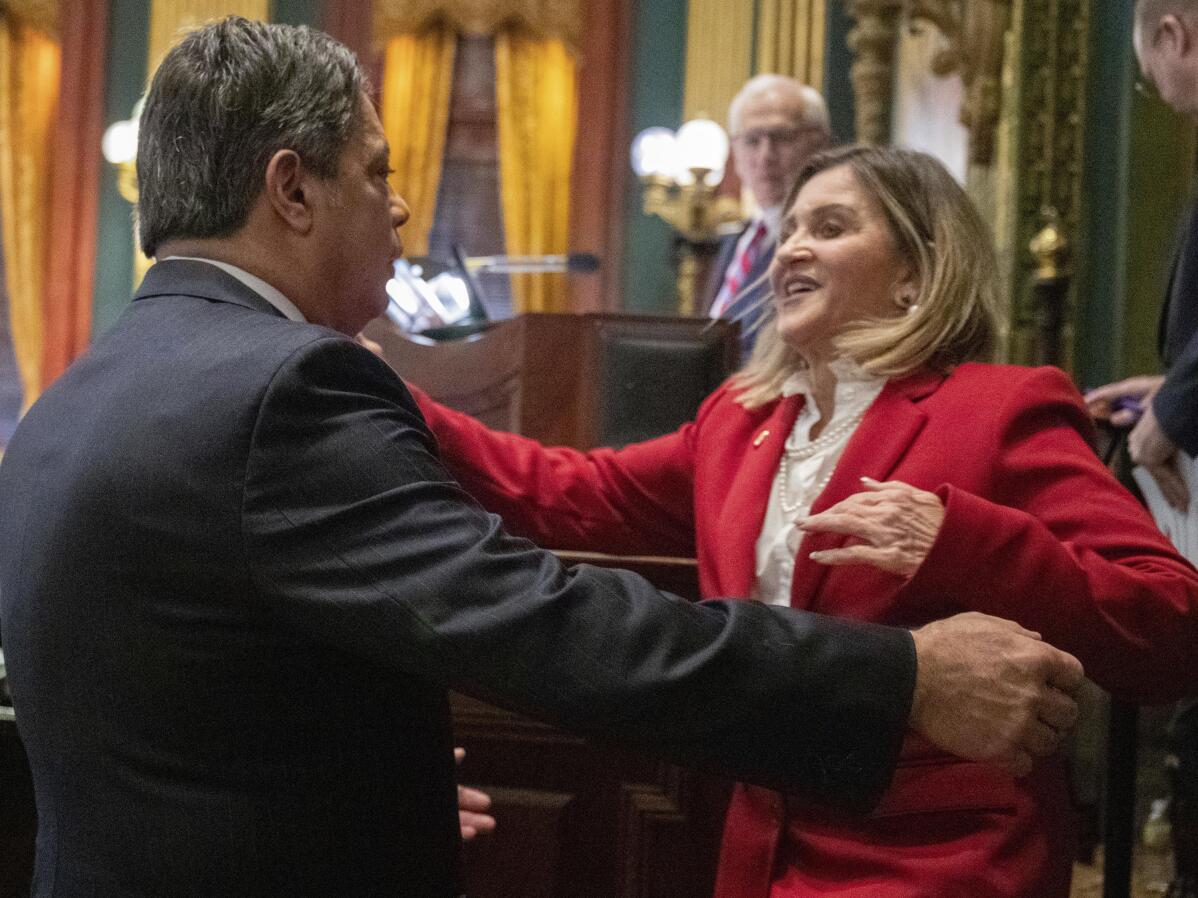 20 of 23

|
Newly-elected Pennsylvania President Pro Tempore, state, Sen. Kim Ward is congratulated by Senate Democratic Leader Jay Costa, Tuesday, Jan. 3, 2023, in Harrisburg, Pa. (Mark Pynes/The Patriot-News via AP)
20 of 23
Newly-elected Pennsylvania President Pro Tempore, state, Sen. Kim Ward is congratulated by Senate Democratic Leader Jay Costa, Tuesday, Jan. 3, 2023, in Harrisburg, Pa. (Mark Pynes/The Patriot-News via AP)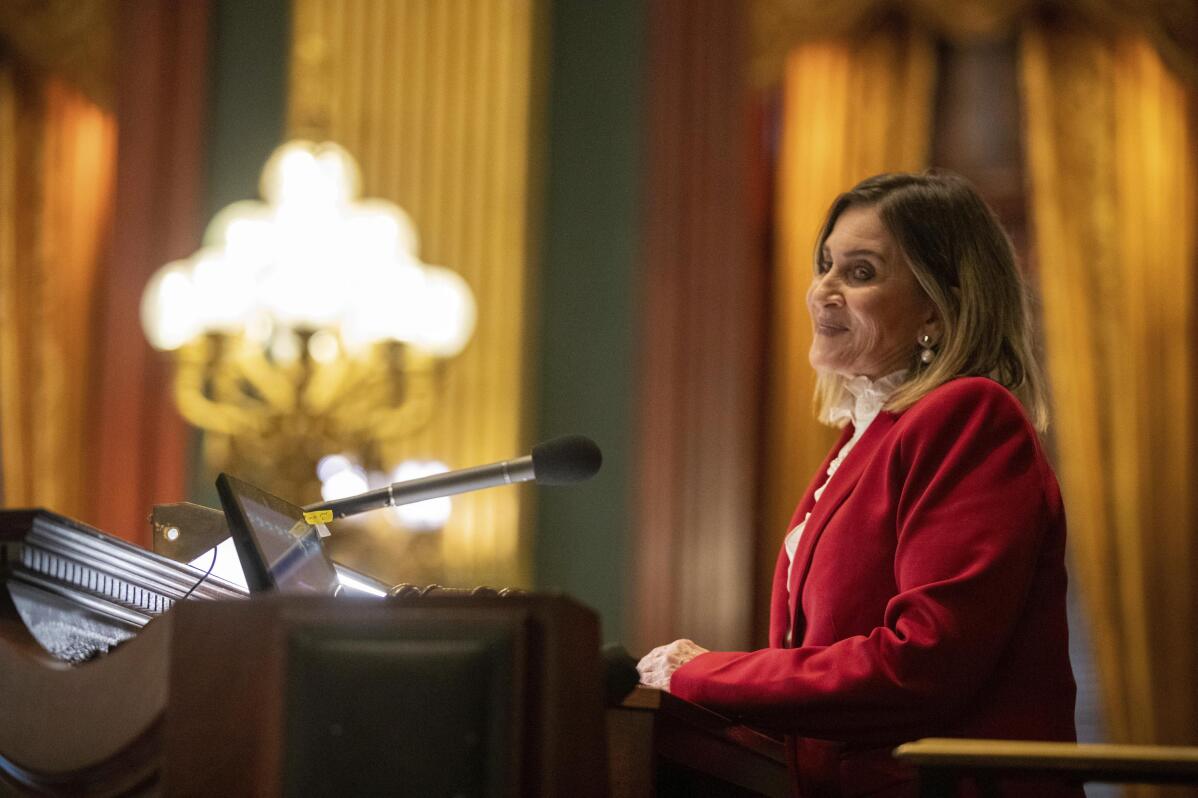 21 of 23

|
Sen. Kim Ward leads the Pennsylvania State Senate after taking the oath of office as new President Pro Tempore, in Harrisburg, Pa., Jan. 3, 2023. (Mark Pynes/The Patriot-News via AP)
21 of 23
Sen. Kim Ward leads the Pennsylvania State Senate after taking the oath of office as new President Pro Tempore, in Harrisburg, Pa., Jan. 3, 2023. (Mark Pynes/The Patriot-News via AP)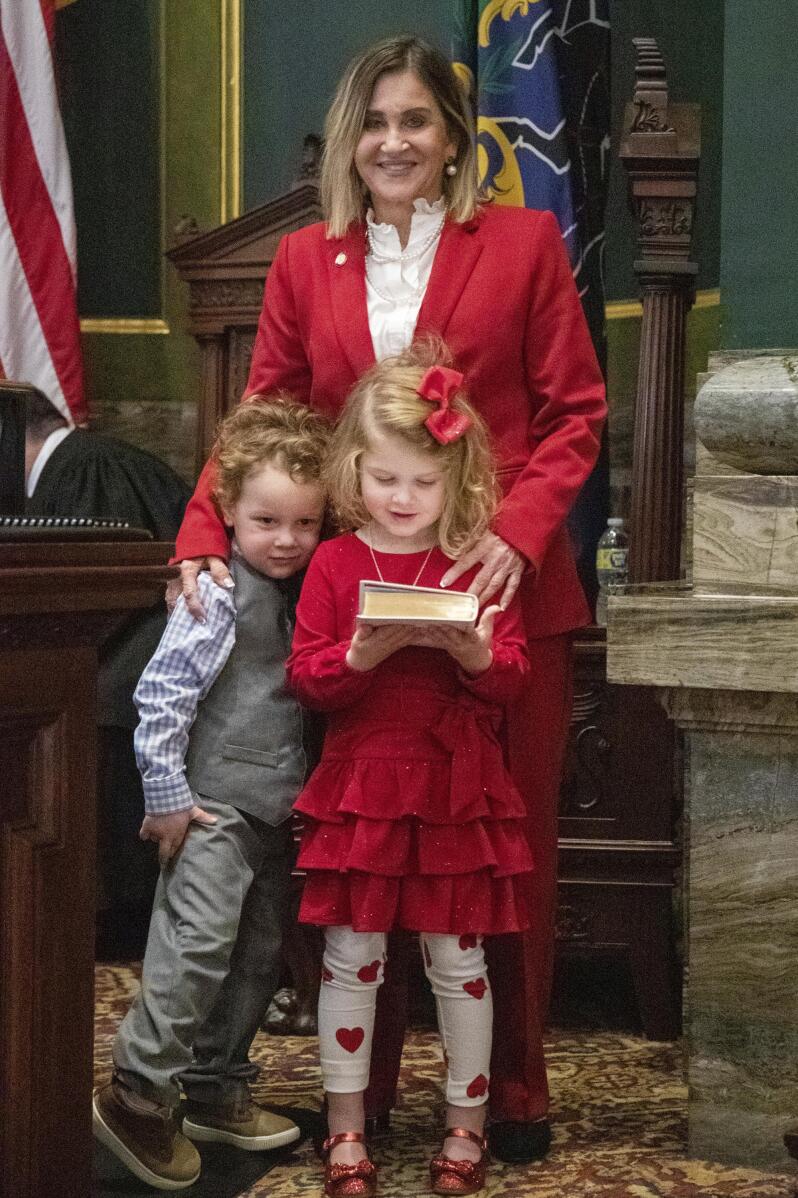 22 of 23

|
Sen. Kim Ward, poses with her grandchildren Thomas Daniel Ward, 3, and his sister Josie Jane Ward, 4, holding the bible as she took the oath of office as President Pro Tempore of the Pennsylvania Senate, Tuesday, Jan. 3, 2023, in Harrisburg, Pa. (Mark Pynes/The Patriot-News via AP)
22 of 23
Sen. Kim Ward, poses with her grandchildren Thomas Daniel Ward, 3, and his sister Josie Jane Ward, 4, holding the bible as she took the oath of office as President Pro Tempore of the Pennsylvania Senate, Tuesday, Jan. 3, 2023, in Harrisburg, Pa. (Mark Pynes/The Patriot-News via AP)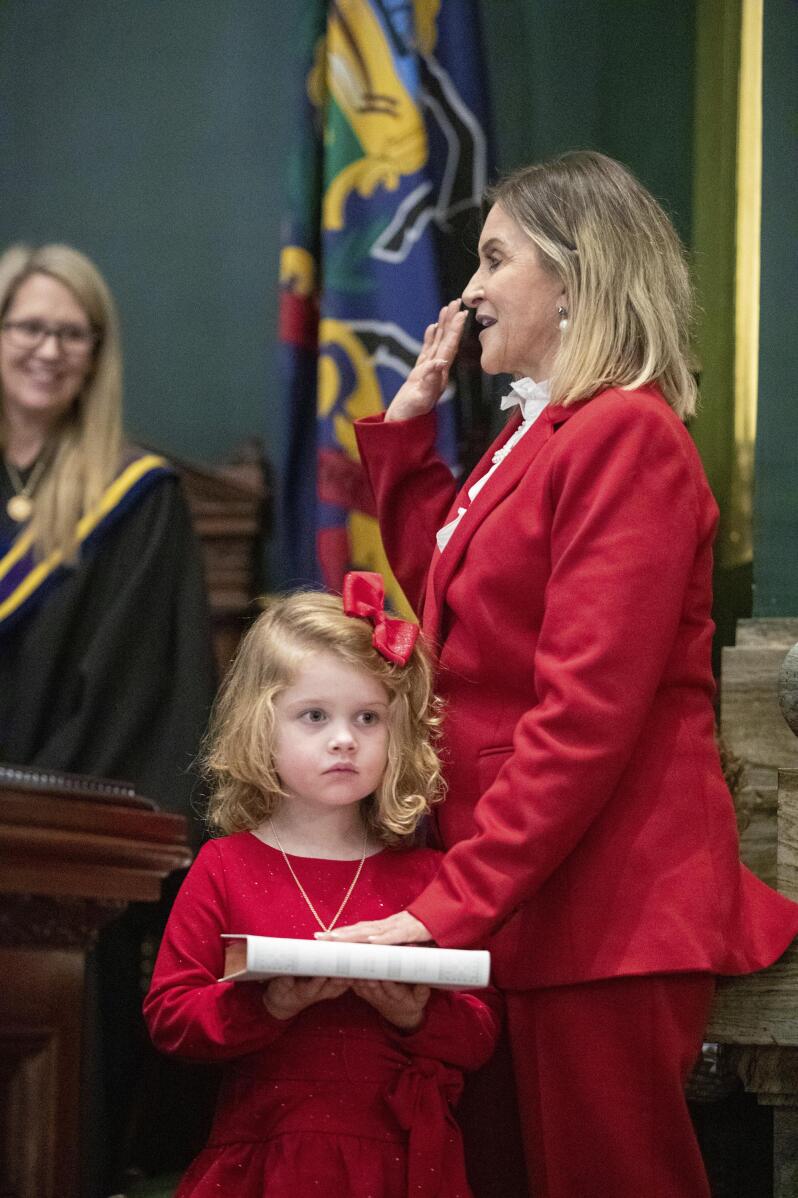 23 of 23

|
Sen. Kim Ward takes the oath of office as President Pro Tempore of the Pennsylvania Senate accompanied by her granddaughter, Josie Jane Ward, holding the bible, in Harrisburg, Pa., Jan. 3, 2023. (Mark Pynes/The Patriot-News via AP)
23 of 23
Sen. Kim Ward takes the oath of office as President Pro Tempore of the Pennsylvania Senate accompanied by her granddaughter, Josie Jane Ward, holding the bible, in Harrisburg, Pa., Jan. 3, 2023. (Mark Pynes/The Patriot-News via AP)
HARRISBURG, Pa. (AP) — A Democrat who promised to govern as an independent was elected speaker of the narrowly divided Pennsylvania House of Representatives in a surprising move Tuesday on the strength of every Democrat and more than a dozen GOP votes.
Rep. Mark Rozzi was elected speaker by a vote of 115-85 after Republicans were unable to convert a temporary two-seat majority into a vote to retain the post. The move to nominate and elect Rozzi only began hours before the vote, but his election also leaves questions about how the chamber will operate in the short term and whether he will remain a Democrat.
Rozzi, who began his sixth two-year term from a Reading-area district this week, is best known as a champion of the effort to give victims of child sexual abuse another chance to sue perpetrators or institutions that covered it up over claims that are barred by time limits in current law.
The November election was so close — and complicated by the death of one Democrat and the departures of two others who were elected to higher offices — that what is normally a highly scripted event instead became an afternoon of drama and uncertainty.
Democrats flipped a net of 12 seats in November, the minimum amount needed to take over the chamber, 102-101, after more than a decade in the minority.
But that margin is now 101-99 with the three vacancies that will remain open until at least February. Rozzi left questions unanswered Tuesday night about how the chamber will operate in the meantime and who will function as the majority.
In brief remarks on the House floor, Rozzi said he would be independent and pledged not to caucus with either Republicans or Democrats and to staff his office with members of both parties. He decried dysfunction and obstruction in the chamber's politics and said "never has this House been so divided."
"I pledge allegiance and loyalty to no interest in this building, to no interest in our politics, I pledge my loyalty to the people of the commonwealth," Rozzi said in his remarks.
Democrats said Rozzi will remain a Democrat and not switch his registration to independent. But Republicans insisted otherwise Tuesday night, saying that Rozzi will become an independent. Assuming Democrats retain the three open seats, Rozzi as an independent would tie the House at 101-101, when every seat is filled.
Appearing with top Democrats several hours after the vote, Rozzi told reporters in the Capitol that his move to the dais was "totally unexpected."
But Rozzi said he would not make any "grand announcement." He refused to take questions from reporters there, including whether he will change his registration to independent.
"The speakership is a nonpartisan — and I want to repeat that — nonpartisan officer of the House, entrusted with maintaining the integrity of the House," he told reporters. "That will be my focus as speaker."
Even so, the speakership is not necessarily a nonpartisan office, with the House coming off of a dozen years of Republican speakers who caucused with Republicans and helped lead the Republican majorities.
Rozzi had worked alongside Democratic Gov.-elect Josh Shapiro — and closely with Rep. Jim Gregory, a conservative Republican who nominated him — in pushing for the lawsuit window after Shapiro, as attorney general, unveiled a landmark grand jury report on his office's investigation into the state's Roman Catholic dioceses.
Gregory, from Blair County, said he and Rozzi had talked about such a possibility for months but did not bring it up until Gregory contacted House Republican leaders at midafternoon Tuesday and encouraged them to reach out to Rozzi.
Every Democrat backed Rozzi, as did 16 Republicans, including their floor leader, Bryan Cutler of Lancaster County.
In a statement, House Republican leaders lauded Rozzi as "Pennsylvania's first Independent Speaker of the House."
"Reflecting the realities of an evenly divided chamber, it is imperative we have a truly independent voice to conduct House business and manage the House floor," they said.
Democrats had initially hoped to elevate their floor leader, Joanna McClinton of Philadelphia, to become the state's first woman speaker, although it was not clear that Republicans would support her candidacy for speaker.
Instead, Democrats went along with Rozzi, who drew Republican support and overcame the rival candidacy of Rep. Carl Walker Metzgar, R-Somerset, who received 85 votes.
In the meantime, Cutler has a pending lawsuit designed to delay the special elections to fill two of the three vacant Democratic seats until May.
McClinton has moved to schedule those elections for Feb. 7, with the third special election.
___
Associated Press writer Marc Levy in Harrisburg contributed to this report.