Nepal PM faces crisis over choice of presidential candidate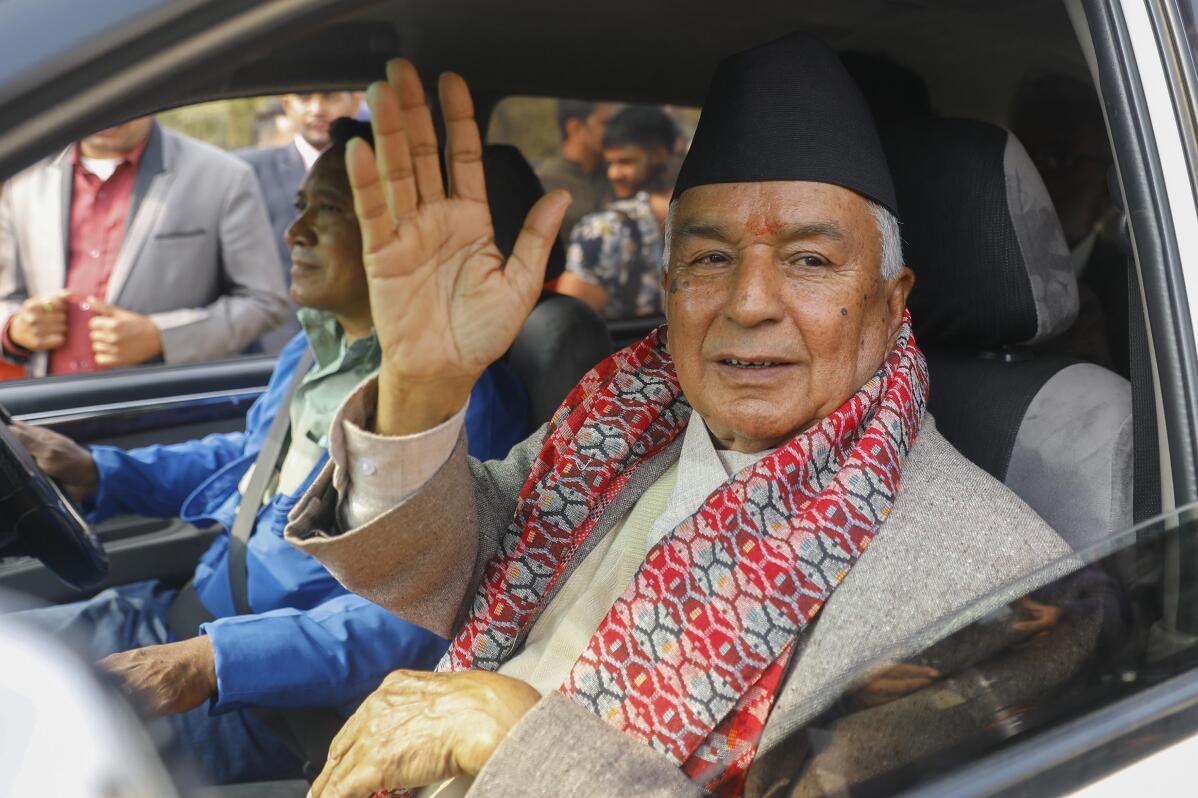 1 of 3

|
Ram Chandra Poudel of the Nepali Congress party waves after filling his nomination to become Nepal's next president as in Kathmandu, Nepal, Saturday, February 25, 2023. (AP Photo/Bikram Rai)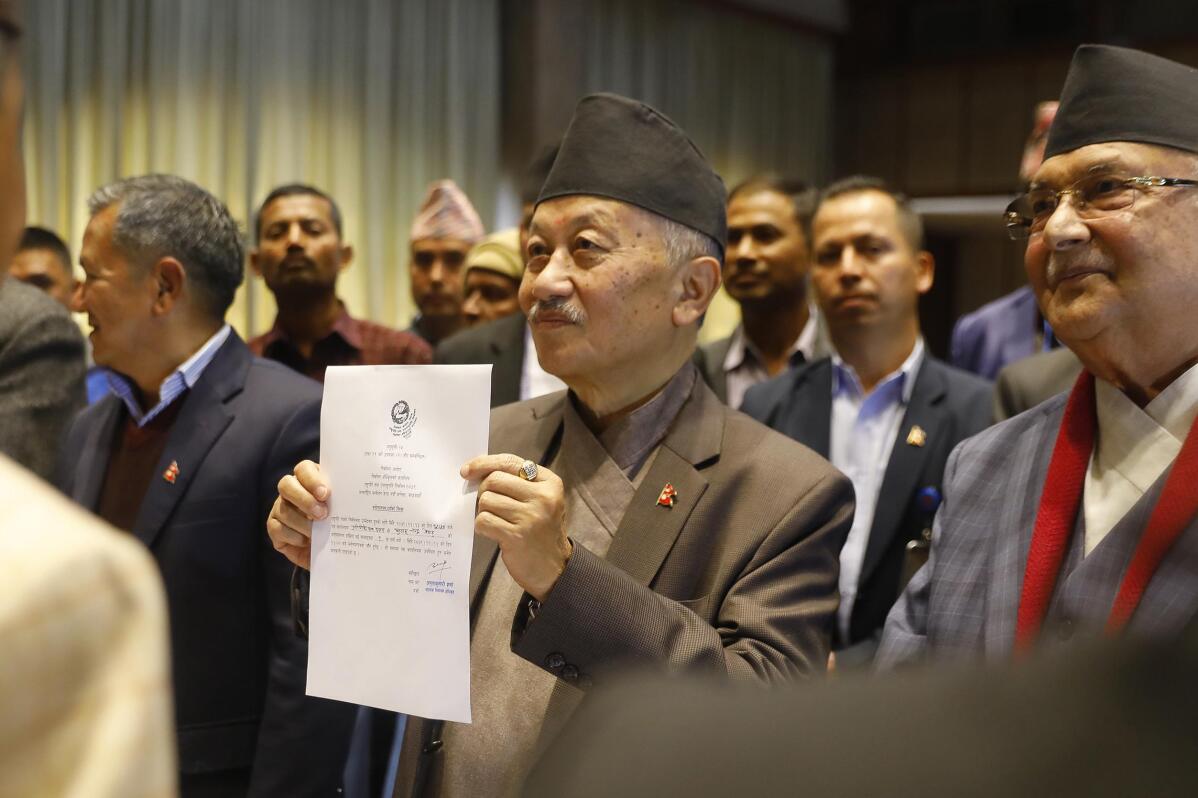 2 of 3

|
Subhas Nembang, center, of the Communist Party of Nepal (Unified Marxist-Leninist) shows his candidacy papers after filling his nomination to become Nepal's next president as in Kathmandu, Nepal, Saturday, February 25, 2023. (AP Photo/Bikram Rai)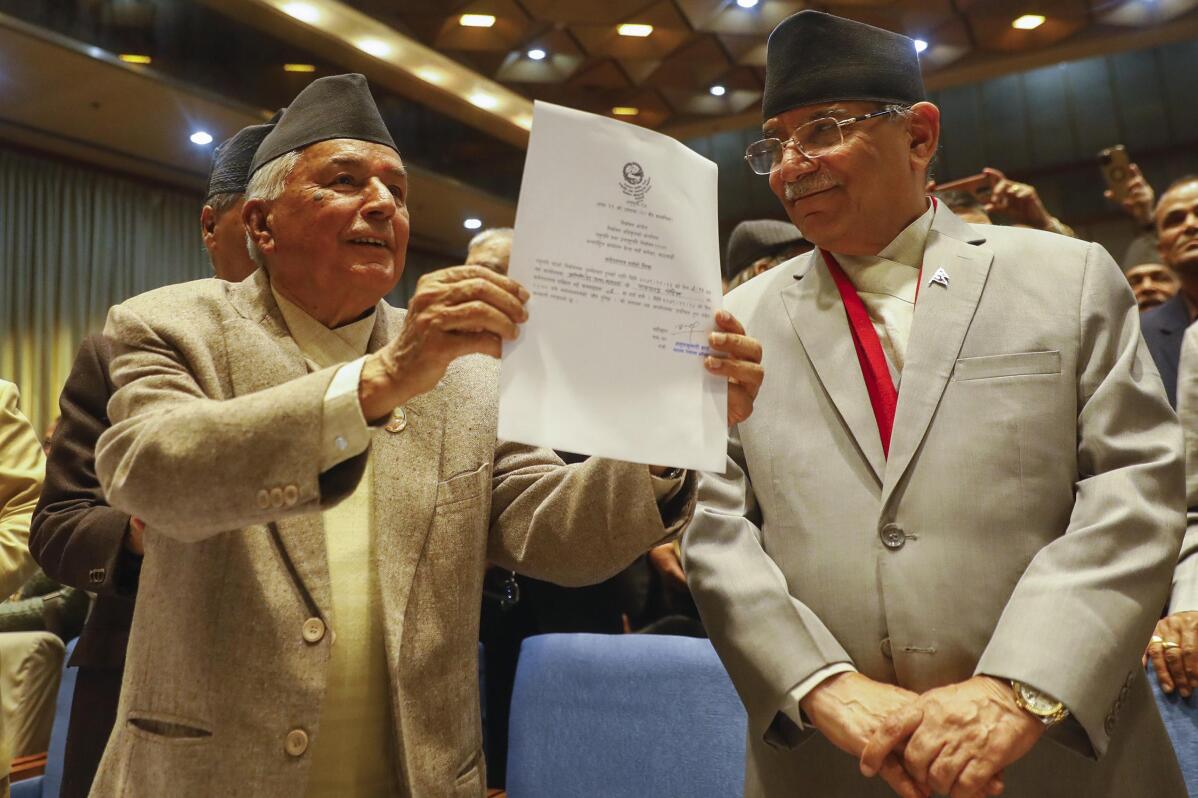 3 of 3

|
Nepalese Prime Minister Pushpa Kamal Dahal, right, looks on as Ram Chandra Poudel of the Nepali Congress party, left, shows his candidacy papers after filling his nomination to become Nepal's next president as in Kathmandu, Nepal, Saturday, February 25, 2023. (AP Photo/Bikram Rai)
Nepal PM faces crisis over choice of presidential candidate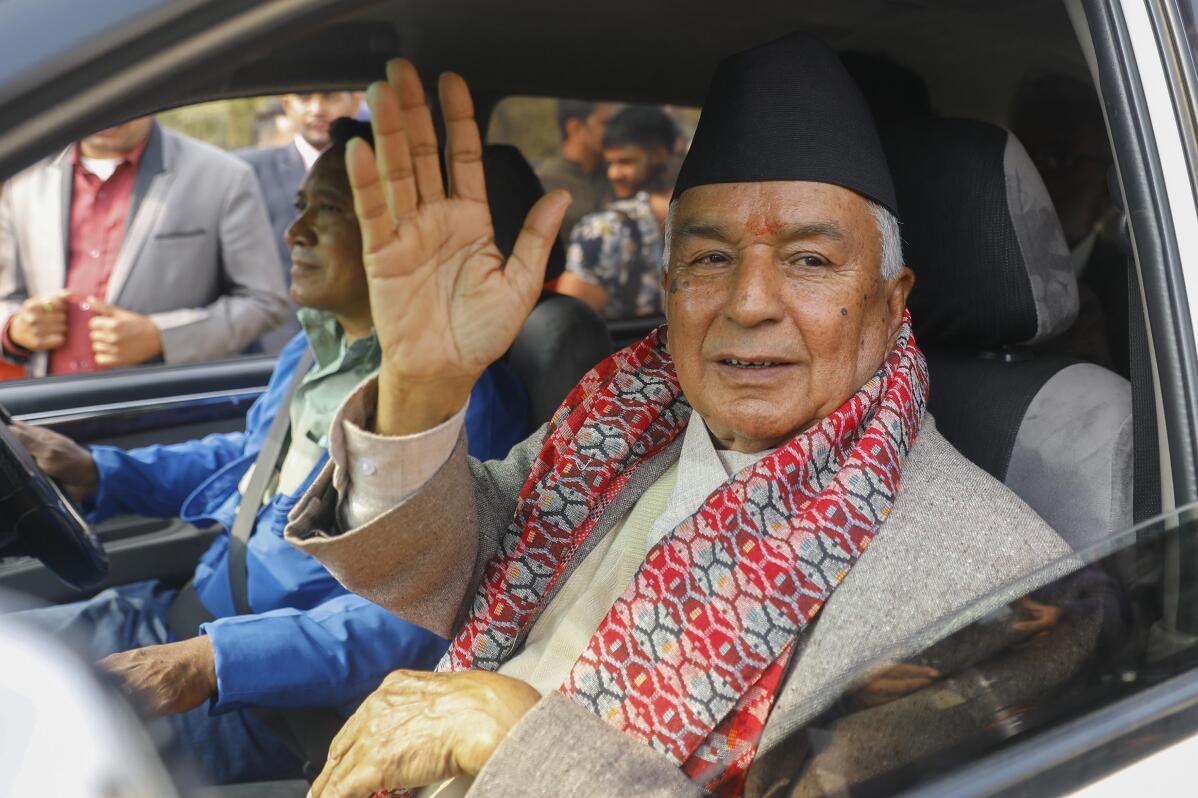 1 of 3

|
Ram Chandra Poudel of the Nepali Congress party waves after filling his nomination to become Nepal's next president as in Kathmandu, Nepal, Saturday, February 25, 2023. (AP Photo/Bikram Rai)
1 of 3
Ram Chandra Poudel of the Nepali Congress party waves after filling his nomination to become Nepal's next president as in Kathmandu, Nepal, Saturday, February 25, 2023. (AP Photo/Bikram Rai)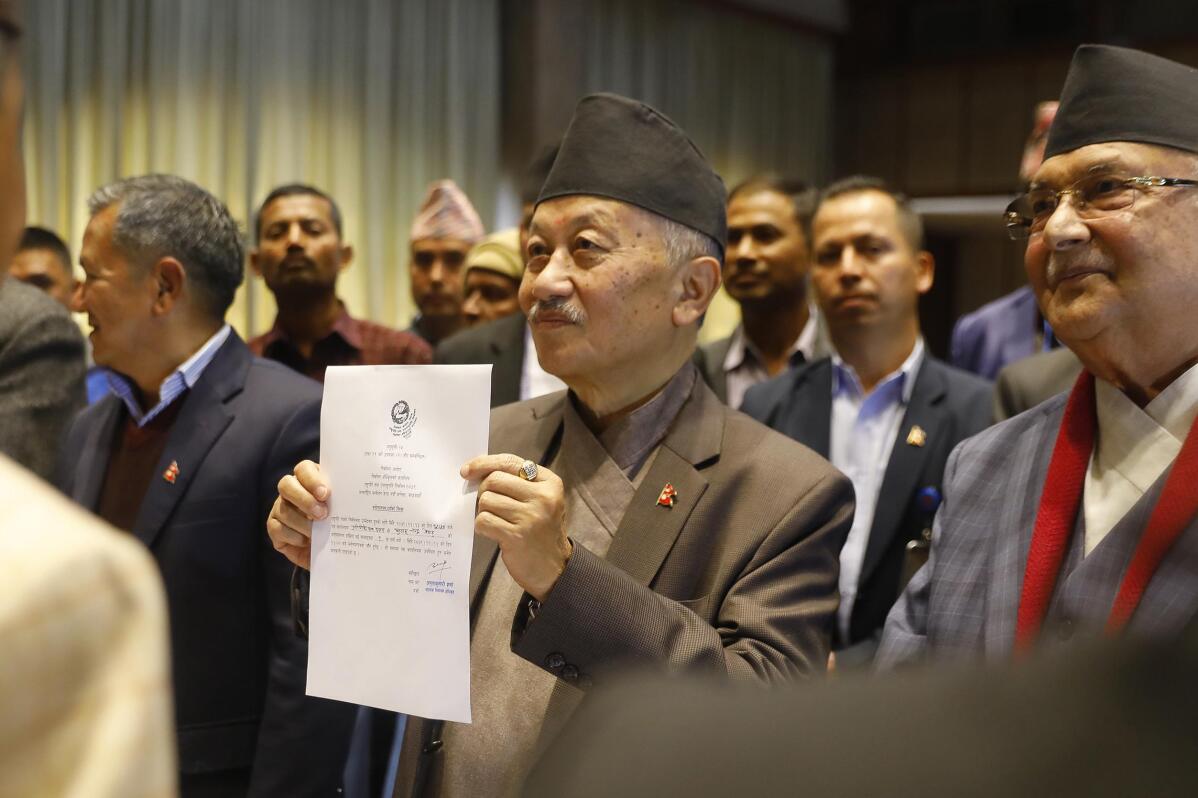 2 of 3

|
Subhas Nembang, center, of the Communist Party of Nepal (Unified Marxist-Leninist) shows his candidacy papers after filling his nomination to become Nepal's next president as in Kathmandu, Nepal, Saturday, February 25, 2023. (AP Photo/Bikram Rai)
2 of 3
Subhas Nembang, center, of the Communist Party of Nepal (Unified Marxist-Leninist) shows his candidacy papers after filling his nomination to become Nepal's next president as in Kathmandu, Nepal, Saturday, February 25, 2023. (AP Photo/Bikram Rai)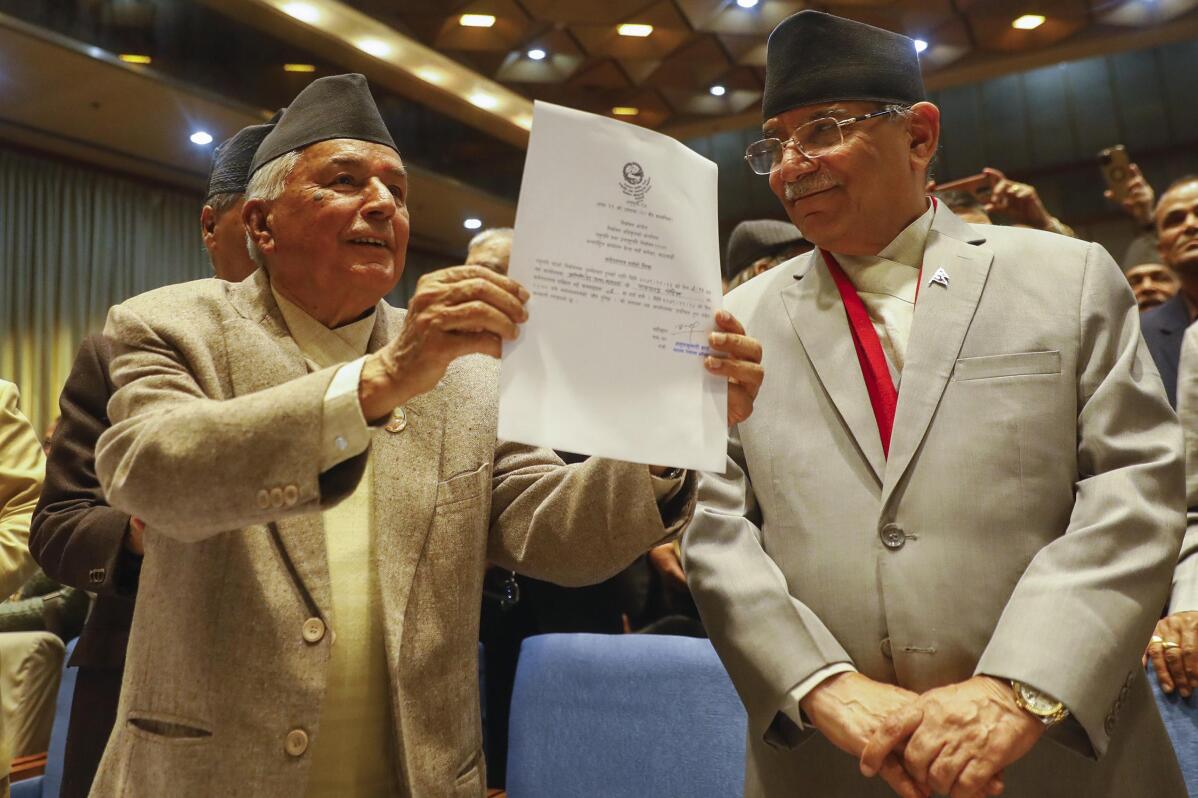 3 of 3

|
Nepalese Prime Minister Pushpa Kamal Dahal, right, looks on as Ram Chandra Poudel of the Nepali Congress party, left, shows his candidacy papers after filling his nomination to become Nepal's next president as in Kathmandu, Nepal, Saturday, February 25, 2023. (AP Photo/Bikram Rai)
3 of 3
Nepalese Prime Minister Pushpa Kamal Dahal, right, looks on as Ram Chandra Poudel of the Nepali Congress party, left, shows his candidacy papers after filling his nomination to become Nepal's next president as in Kathmandu, Nepal, Saturday, February 25, 2023. (AP Photo/Bikram Rai)
KATHMANDU, Nepal (AP) — A member of Nepal's largest political party filed his candidacy for next month's presidential election in a decision backed by the prime minister that now threatens to bring down his fragile coalition government.
Ram Chandra Poudel of the opposition Nepali Congress party is supported by Prime Minister Pushpa Kamal Dahal, but he is not a coalition partner.
The move angered the biggest party in the ruling coalition, Communist Party of Nepal (Unified Marxist Leninist), which retaliated by nominating its own member to contest the presidential election scheduled for March 9.
Dahal was in danger of losing another coalition partner, after the National Democratic Party announced on Saturday it would withdraw from the government because of Dahal's support for Poudel.
The two parties are yet to officially announce their withdrawal of support for Dahal in Parliament. If they do, Dahal will have to seek a vote of confidence in the House of Representative, the lower house of Parliament.
Poudel told reporters that he will try to win support of all the parties and work for political unity.
Parliamentary elections were held in November but no party won a majority, leading to the formation of a coalition government headed by Dahal.
It was his third time in power since his Maoist group abandoned a decade-long armed revolt in which more than 17,000 people were killed and joined a U.N.-assisted peace process and mainstream politics in 2006.
The Maoists secured most parliamentary seats in 2008 elections and Dahal, also known as Prachanda, or the "fierce one," became prime minister but quit a year later over differences with the president.