Israeli missile strikes put Damascus airport out of service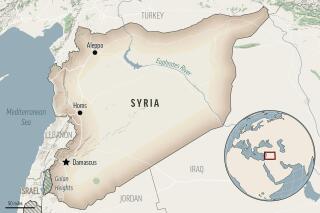 BEIRUT (AP) — Israel's military fired missiles toward the international airport of Syria's capital early Monday, putting it out of service and killing two soldiers and wounding two others, the Syrian army said.
The attack, which occurred shortly after midnight Sunday, was the second in seven months to put the Damascus International Airport out of commission. It caused material damage in a nearby area, the army said, without giving further details.
Syria's Ministry of Transport said work to repair the damage began immediately and later Monday, some flights resumed while work in other parts of the airport continued.
Israel has targeted airports and ports in government-held parts of Syria in an apparent attempt to prevent arms shipments from Iran to militant groups backed by Tehran, including Lebanon's Hezbollah.
An opposition war monitor reported the Israeli strikes hit the airport as well as an arms depot close to the facility south of Damascus. The Britain-based Syrian Observatory for Human Rights said four people were killed in the strike.
The conflicting reports could not immediately be reconciled.
The Observatory said the runway used for civilian flights was fixed while another, used for cargo transport, remains out of service. That runway is also used by Iran-backed backed groups, the Observatory added.
Later on Monday, Syria's Foreign Ministry said the strikes are "part of a series of Israeli crimes" targeting Syria. The ministry, in a statement, called on the U.N. Security Council to condemn the "Israeli crimes and aggressions" adding that those responsible should be held accountable and such attacks should not be repeated.
There was no comment from Israel.
Syrian state TV reported that the private Cham Wings resumed flights while the flight-tracking website Flightradar24 showed a flight by Iraq's private Fly Baghdad coming from the Iraqi city of Najaf was about to land shortly around 9 a.m. in Damascus.
On June 10, Israeli airstrikes that struck Damascus International Airport caused significant damage to infrastructure and runways. It reopened two weeks later after repairs.
In September, Israeli airstrikes hit the international airport of the northern city of Aleppo, Syria's largest and once commercial center, also putting it out of service for days.
In late 2021, Israeli warplanes fired missiles that struck the port of Latakia hitting containers and igniting a huge fire.
Israel has carried out hundreds of strikes on targets inside government-controlled parts of Syria in recent years, but rarely acknowledges or discusses such operations.
Israel has acknowledged, however, that it targets bases of Iran-allied militant groups, such as Lebanon's Hezbollah, which has sent thousands of fighters to support Syrian President Bashar Assad's forces.
Thousands of Iran-backed fighters have joined Syria's 11-year civil war and helped tip the balance of power in Assad's favor.
Israel says an Iranian presence on its northern frontier is a red line that justifies its strikes on facilities and weapons inside Syria.