Amid crackdown on dissent, Tunisian leader turns on migrants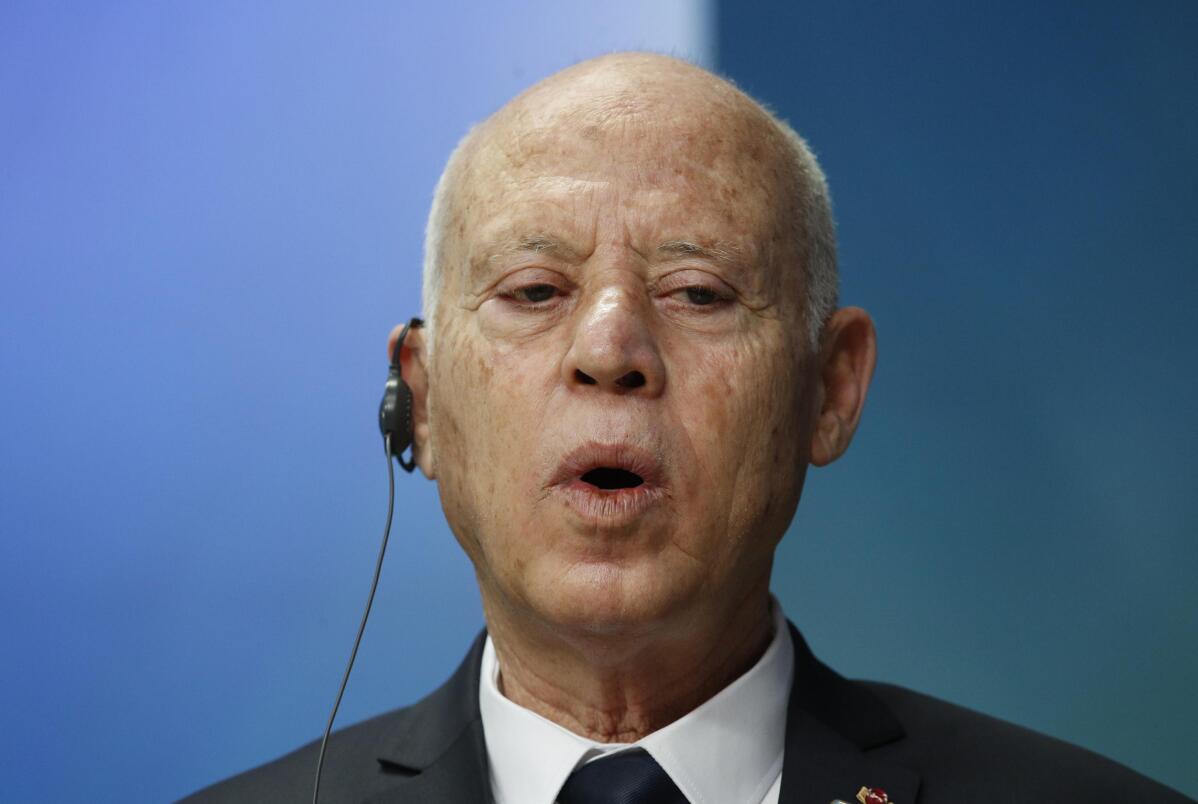 1 of 2

|
FILE - Tunisia's President Kais Saied speaks during a media conference at an EU Africa summit in Brussels, Friday, Feb. 18, 2022. The Tunisian government is trying to tamp down criticism, and denunciations of racism, after President Kais Saied shocked many citizens _ and frightened some Africans here _ by saying that the presence of sub-Saharan migrants was part of a plot to transform the country into a "purely African" state, erasing its Arab and Islamic identity. (Johanna Geron, Pool Photo via AP, File)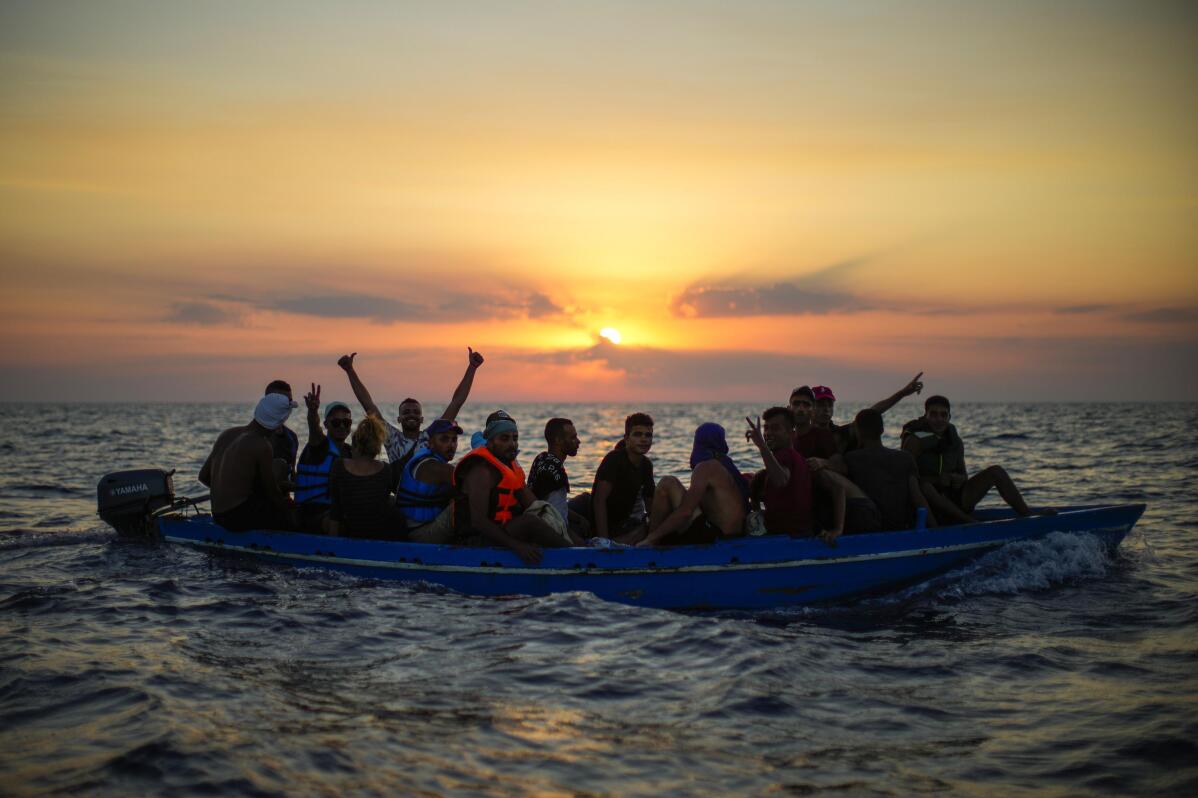 2 of 2

|
FILE - Migrants from Tunisia gesture as they sail in a wooden boat as they are assisted by crew members of the Spanish NGO Open Arms, sixteen miles west of the Italian island of Pantelleria in the Mediterranean sea, on Friday, Aug. 5, 2022. The Tunisian government is trying to tamp down criticism, and denunciations of racism, after President Kais Saied shocked many citizens _ and frightened some Africans here _ by saying that the presence of sub-Saharan migrants was part of a plot to transform the country into a "purely African" state, erasing its Arab and Islamic identity. (AP Photo/Francisco Seco, File)
Amid crackdown on dissent, Tunisian leader turns on migrants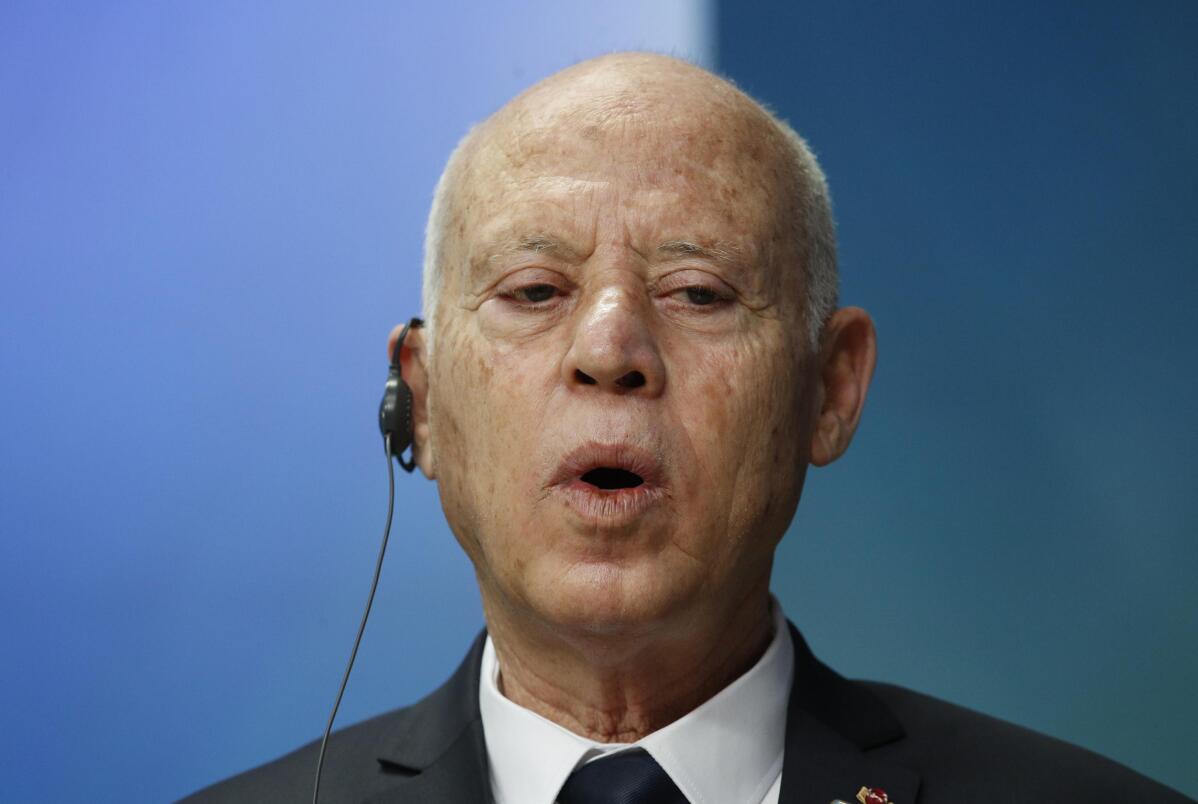 1 of 2

|
FILE - Tunisia's President Kais Saied speaks during a media conference at an EU Africa summit in Brussels, Friday, Feb. 18, 2022. The Tunisian government is trying to tamp down criticism, and denunciations of racism, after President Kais Saied shocked many citizens _ and frightened some Africans here _ by saying that the presence of sub-Saharan migrants was part of a plot to transform the country into a "purely African" state, erasing its Arab and Islamic identity. (Johanna Geron, Pool Photo via AP, File)
1 of 2
FILE - Tunisia's President Kais Saied speaks during a media conference at an EU Africa summit in Brussels, Friday, Feb. 18, 2022. The Tunisian government is trying to tamp down criticism, and denunciations of racism, after President Kais Saied shocked many citizens _ and frightened some Africans here _ by saying that the presence of sub-Saharan migrants was part of a plot to transform the country into a "purely African" state, erasing its Arab and Islamic identity. (Johanna Geron, Pool Photo via AP, File)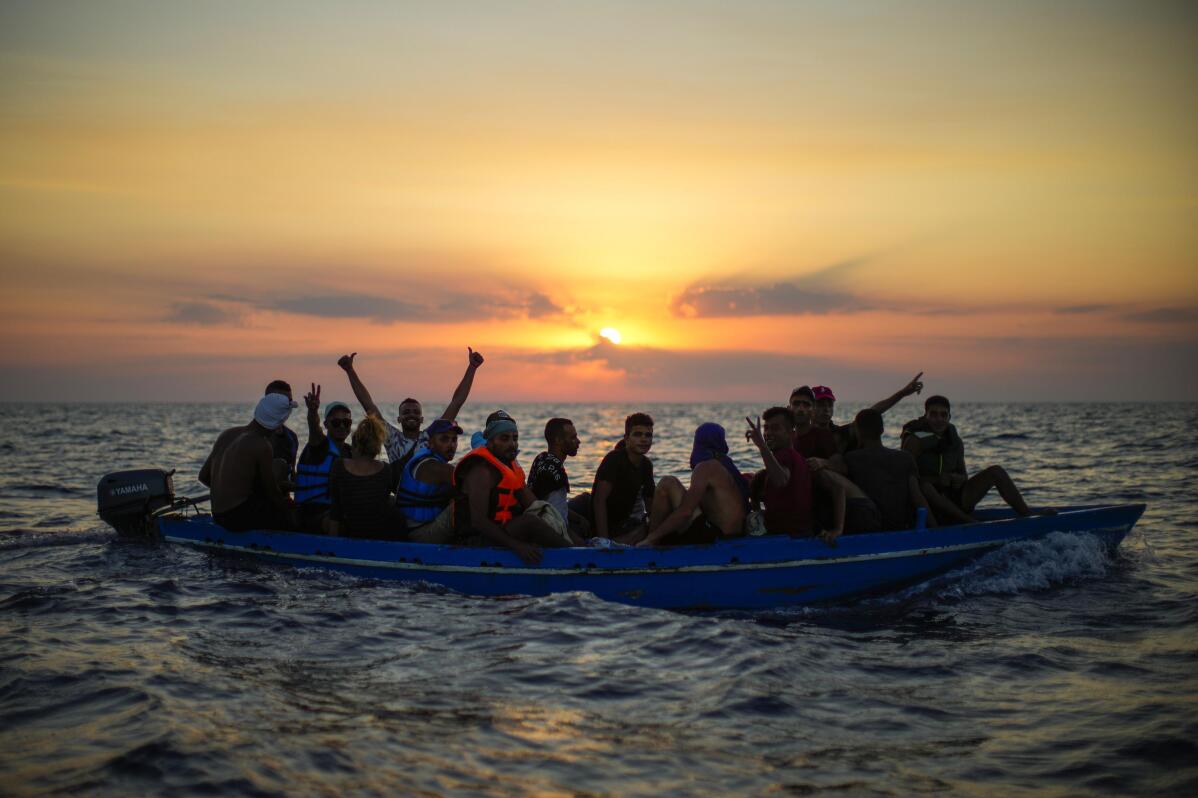 2 of 2

|
FILE - Migrants from Tunisia gesture as they sail in a wooden boat as they are assisted by crew members of the Spanish NGO Open Arms, sixteen miles west of the Italian island of Pantelleria in the Mediterranean sea, on Friday, Aug. 5, 2022. The Tunisian government is trying to tamp down criticism, and denunciations of racism, after President Kais Saied shocked many citizens _ and frightened some Africans here _ by saying that the presence of sub-Saharan migrants was part of a plot to transform the country into a "purely African" state, erasing its Arab and Islamic identity. (AP Photo/Francisco Seco, File)
2 of 2
FILE - Migrants from Tunisia gesture as they sail in a wooden boat as they are assisted by crew members of the Spanish NGO Open Arms, sixteen miles west of the Italian island of Pantelleria in the Mediterranean sea, on Friday, Aug. 5, 2022. The Tunisian government is trying to tamp down criticism, and denunciations of racism, after President Kais Saied shocked many citizens _ and frightened some Africans here _ by saying that the presence of sub-Saharan migrants was part of a plot to transform the country into a "purely African" state, erasing its Arab and Islamic identity. (AP Photo/Francisco Seco, File)
TUNIS, Tunisia (AP) — Tunisian authorities on Thursday said they have arrested dozens of migrants near the Algerian border, two days after Tunisia's increasingly authoritarian leader claimed there's a plot to erase his country's identity by bringing in sub-Saharan Africans.
President Kais Saied said Tuesday that "urgent measures" were needed to address the entry of irregular immigrants from sub-Saharan countries, "with their lot of violence, crimes and unacceptable practices."
He ordered a rapid response via "diplomatic, security, military fronts" and strict application of the law on foreigners.
Saied's comments at a National Security Council meeting raised a storm on social media and condemnations from nongovernmental organizations. Tunisia, once lauded as the only budding democracy in the Arab world, has recently also seen a crackdown on opposition politicians and activists.
In a statement Thursday, the Tunisia-Africa Business Council denounced "racist practices ... spreading panic among sub-Saharan students in Tunisian universities." It said a "strong message" should be sent to reassure African students, and "clear instructions given to security forces to ensure security ... including the rights of foreigners."
Also Thursday, authorities in Kasserine, near Tunisia's western border with Algeria, said security forces have arrested 69 migrants of various nationalities in the past 48 hours for illegal entry.
There are no official data on the number of sub-Saharan migrants in Tunisia, but a 2021 count estimated them at 21,000. Migrants mainly enter from Algeria and Libya, and usually want to continue their journey to Europe.
Presidential aide Walid Hajjem said Wednesday that planned measures for sub-Saharan migrants will not breach their human rights or hurt relations with African countries.
"Tunisia is not against the presence ... of foreigners of sub-Saharan nationalities," he told Attessia TV, adding that students, tourists and others "are welcome" but must respect the law.
Even before Saied's comments on immigration, he had provoked concern with a crackdown on dissent.
People arrested included the head of Radio Mosaique FM, Noureddine Bouttar, earlier this month, followed last weekend by the expulsion of Esther Lynch, head of the European Trade Union Confederation, who was accused of interfering "with Tunisian internal affairs" after addressing a protest rally against the president.
On Wednesday, police arrested the head of the Republican Party, Issam Chebbi, and activist Chaima Issa.
___
Elaine Ganley in Paris contributed.
___
Follow AP's global migration coverage at https://apnews.com/hub/migration