UN court calls for end to Nagorno-Karabakh roadblock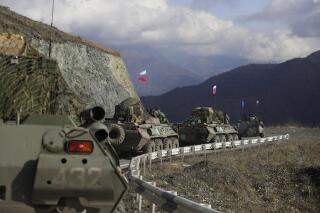 THE HAGUE, Netherlands (AP) — The United Nations' highest court ordered Azerbaijan on Wednesday to "take all steps at its disposal" to allow free movement of traffic along the only road between Armenia and the ethnic Armenian Nagorno-Karabakh region in Azerbaijan that has been blocked by protesters in a move that has further fueled tensions between the two countries.
The legally binding 13-2 ruling by the International Court of Justice results from the latest legal skirmishes in a long-running feud between Armenia and Azerbaijan over Nagorno-Karabakh. Each country filed a case with the court accusing the other of breaching a convention aimed at stamping out racial discrimination.
Wednesday's ruling on the blocked road known as the Lachin Corridor came just over two years after the neighboring nations ended a war in Nagorno-Karabakh that killed about 6,800 soldiers and displaced around 90,000 civilians.
The remote and rugged region is within Azerbaijan but had been under the control of ethnic Armenian forces backed by Armenia since the end of a separatist war in 1994.
A cease-fire brokered by Russia ended the 2020 war and granted Azerbaijan control over parts of Nagorno-Karabakh as well as adjacent land occupied by Armenians. Russia sent a peacekeeping force of 2,000 troops to maintain order, including controlling the Lachin Corridor.
Armenia's lawyers said during court hearings last month that the roadblock set up late last year by protesters claiming to be environmental activists was part of an Azerbaijani campaign the Armenians labeled "ethnic cleansing."
International Court of Justice President Joan E. Donoghue said the evidence presented by Armenia established that the blockade "has impeded the transfer of persons of Armenian national and ethnic origin hospitalized in Nagorno-Karabakh to medical facilities in Armenia for urgent medical care."
It also interrupted supplies to Nagorno-Karabakh of "essential goods causing shortages of food, medicine and other lifesaving medical supplies," Donoghue said.
In their majority decision, the court's judges ordered Azerbaijan to "take all measures at its disposal to ensure unimpeded movement of persons, vehicles and cargo along the Lachin Corridor in both directions."
In a statement, Azerbaijan's Ministry of Foreign Affairs said the court's ruling "took note of Azerbaijan's representation that Azerbaijan has and undertakes to continue to take all steps within its power and at its disposal to guarantee safe movement along the Lachin road."
The statement said Azerbaijan "will continue to uphold the rights of all people under international law and to hold Armenia to account for its ongoing and historic grave violations of human rights."
The court, in its ruling, said that Armenia's request for judges to order Azerbaijan to "cease its orchestration and support" of the protests on the Lachin Corridor was "not warranted."
The judges rejected Armenia's request for an order for Azerbaijan not to block gas supplies to Nagorno-Karabakh, saying that Armenian lawyers did not provide enough evidence to back their claim that Azerbaijan was disrupting the supply.
The judges also declined a request by Azerbaijan for an order to stop or prevent Armenia from laying landmines and booby traps in areas of the region to which Azerbaijani citizens are to return.
The world court ordered both nations a little over a year ago to prevent discrimination against one another's citizens in the aftermath of the war and to not further aggravate the conflict.
____
Aida Sultanova in London contributed.