Venezuela orders arrest of exiled lawmakers fighting Maduro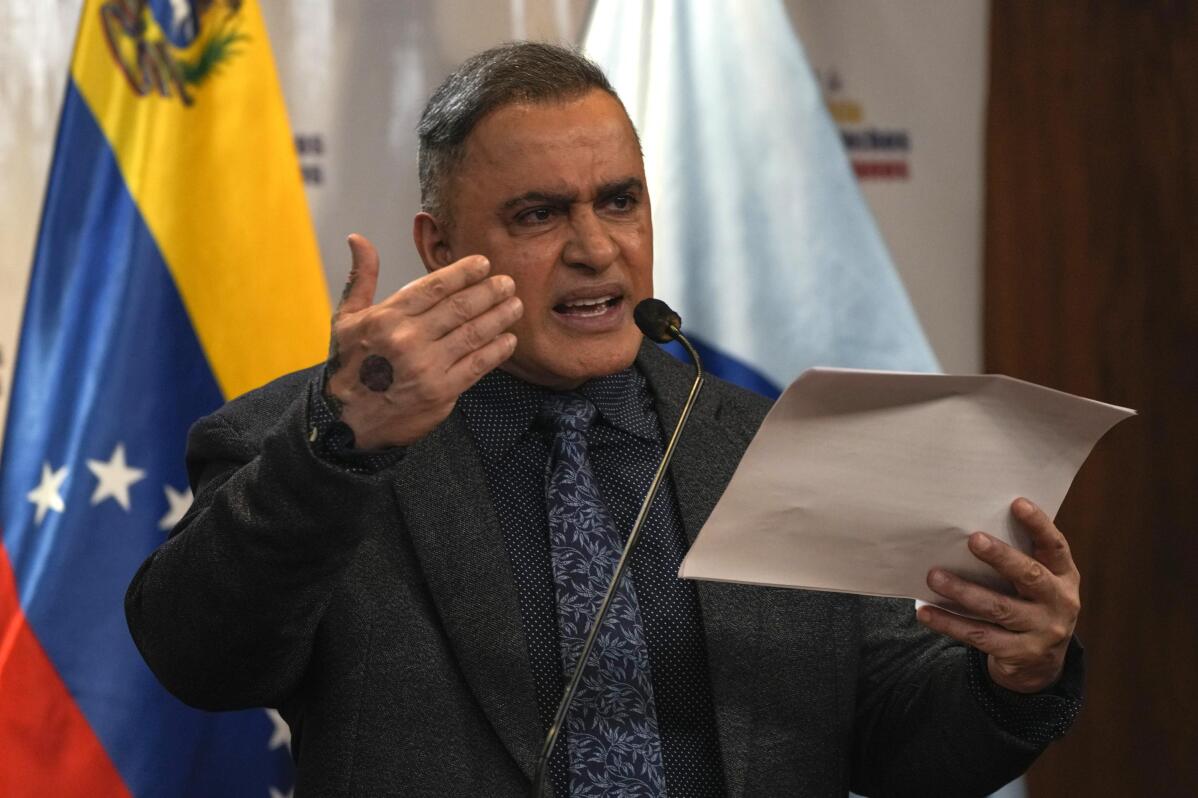 1 of 2

|
Venezuelan Attorney General Tarek William Saab announces the arrest order for three exiled former lawmakers in Caracas, Venezuela, Monday, Jan. 9, 2023. Saab announced that prosecutors had ordered the arrest of Dinorah Figuera and her two deputies on charges of treason, money laundering and impersonating public officials. Figuera lead an all-female team that was selected last week by fellow opposition politicians to lead the National Assembly voted into office in 2015. (AP Photo/Ariana Cubillos)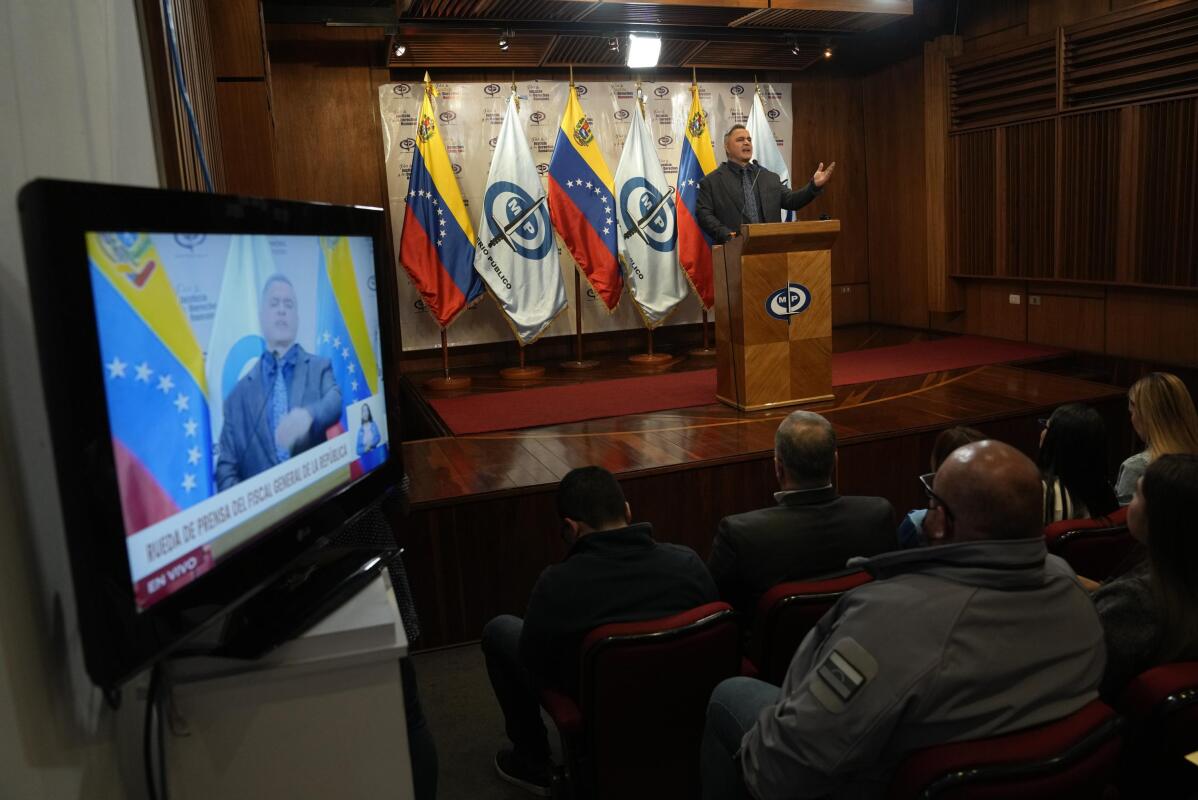 2 of 2

|
Venezuelan Attorney General Tarek William Saab announces the arrest order for three exiled former lawmakers in Caracas, Venezuela, Monday, Jan. 9, 2023. Saab announced that prosecutors had ordered the arrest of Dinorah Figuera and her two deputies on charges of treason, money laundering and impersonating public officials. Figuera lead an all-female team that was selected last week by fellow opposition politicians to lead the National Assembly voted into office in 2015. (AP Photo/Ariana Cubillos)
Venezuela orders arrest of exiled lawmakers fighting Maduro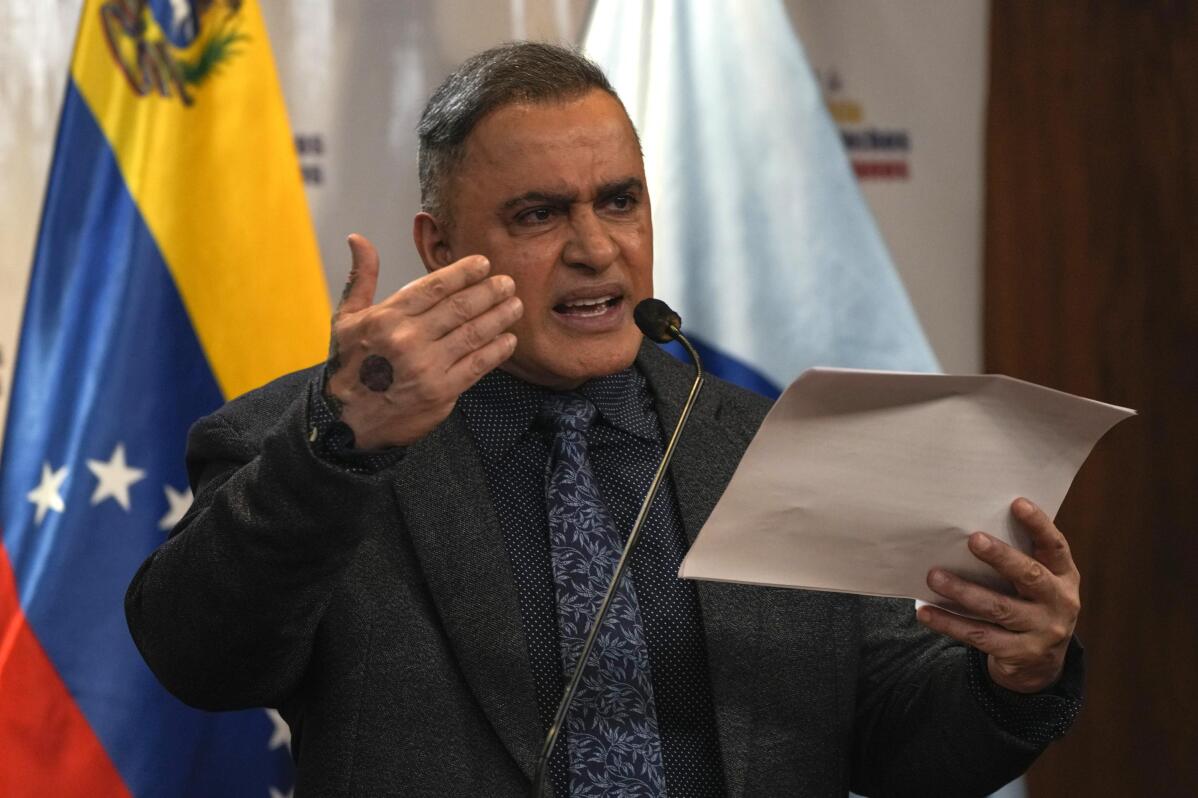 1 of 2

|
Venezuelan Attorney General Tarek William Saab announces the arrest order for three exiled former lawmakers in Caracas, Venezuela, Monday, Jan. 9, 2023. Saab announced that prosecutors had ordered the arrest of Dinorah Figuera and her two deputies on charges of treason, money laundering and impersonating public officials. Figuera lead an all-female team that was selected last week by fellow opposition politicians to lead the National Assembly voted into office in 2015. (AP Photo/Ariana Cubillos)
1 of 2
Venezuelan Attorney General Tarek William Saab announces the arrest order for three exiled former lawmakers in Caracas, Venezuela, Monday, Jan. 9, 2023. Saab announced that prosecutors had ordered the arrest of Dinorah Figuera and her two deputies on charges of treason, money laundering and impersonating public officials. Figuera lead an all-female team that was selected last week by fellow opposition politicians to lead the National Assembly voted into office in 2015. (AP Photo/Ariana Cubillos)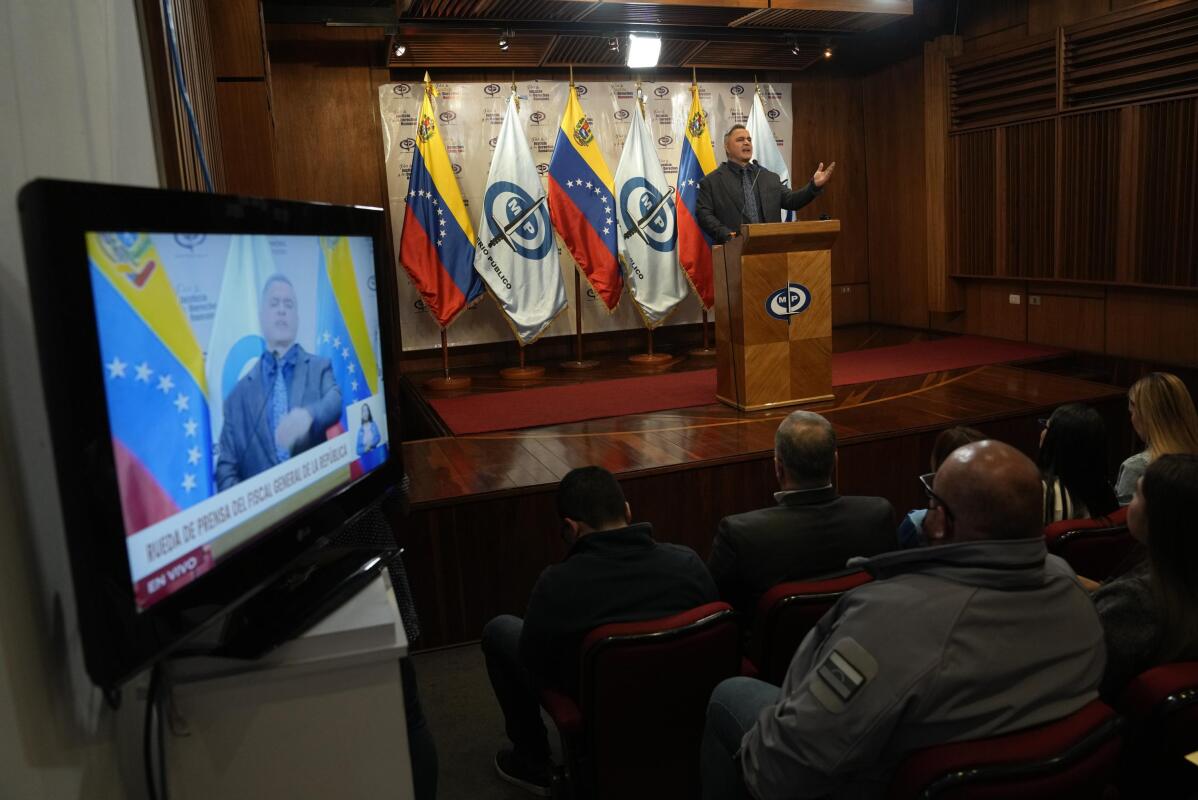 2 of 2

|
Venezuelan Attorney General Tarek William Saab announces the arrest order for three exiled former lawmakers in Caracas, Venezuela, Monday, Jan. 9, 2023. Saab announced that prosecutors had ordered the arrest of Dinorah Figuera and her two deputies on charges of treason, money laundering and impersonating public officials. Figuera lead an all-female team that was selected last week by fellow opposition politicians to lead the National Assembly voted into office in 2015. (AP Photo/Ariana Cubillos)
2 of 2
Venezuelan Attorney General Tarek William Saab announces the arrest order for three exiled former lawmakers in Caracas, Venezuela, Monday, Jan. 9, 2023. Saab announced that prosecutors had ordered the arrest of Dinorah Figuera and her two deputies on charges of treason, money laundering and impersonating public officials. Figuera lead an all-female team that was selected last week by fellow opposition politicians to lead the National Assembly voted into office in 2015. (AP Photo/Ariana Cubillos)
CARACAS, Venezuela (AP) — Venezuela's socialist government has ordered the arrest of three exiled former lawmakers at the forefront of renewed efforts to unseat President Nicolas Maduro.
Dinorah Figuera leads an all-female team selected last week by fellow opposition politicians to lead the National Assembly that was voted into office in 2015. The opposition-controlled body is widely considered Venezuela's last democratically elected institution, and although its five-year mandate ended in late 2020, it continues to function as a symbolic shadow to Maduro's rubber-stamping National Assembly.
On Monday, Maduro's Attorney General Tarek William Saab announced that prosecutors had ordered the arrest of Figuera and her two deputies on charges of treason, money laundering and impersonating public officials.
However, the arrest order is unlikely to be carried out. All three women, like many of Maduro's opponents, have fled Venezuela in recent years, fearing retaliation. Figuera, a surgeon by training, lives in Spain.
In January 2019, the National Assembly voted to stop recognizing Maduro as president after several top opponents were barred from running against him. It then appointed Juan Guaidó to be the nation's "interim president," in accordance with the order of succession outlined in Venezuela's constitution. More than 60 countries quickly recognized him as Venezuela's legitimate leader.
The opposition then boycotted the 2020 legislative elections, leaving the successor National Assembly firmly under Maduro's control.
Figuera had been an unknown backbench lawmaker elected alongside Guaidó. She surged to the front of the opposition's efforts to unseat Maduro as part of an internal putsch against the beleaguered Guaidó, whose failure to shake Maduro's grip on power has frustrated many Venezuelans.
Maduro ally Jorge Rodriguez, the head of the pro-government National Assembly, celebrated the announcement of the arrest orders, calling the 2015 National Assembly a "band of thieves" for their attempts to win control of Venezuela's extensive overseas oil assets, including Houston-based refinery Citgo.
Figuera said the arrest order won't intimidate her and others from carrying out their role of protecting Venezuela's overseas assets.
"We'll continue with even greater strength," she said Monday during an online press conference, her first since emerging as an opposition leader.
Meanwhile, a senior U.S. State Department official said the Biden administration stands with those "courageously defending Venezuelan democracy."
"Further attacks on the opposition ... impede democratic solutions," Brian Nichols, the Assistant Secretary of State for the western hemisphere, said in a statement on Twitter. "All efforts must be focused on charting a path to free and fair elections in 2024."