A look at how the largest US counties gained or lost people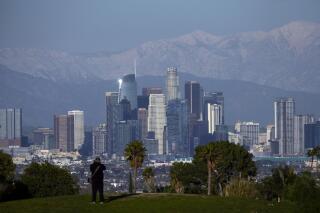 Several large, urban counties across the United States gained residents or stemmed population declines in the year ending last July after losing residents in the previous 12-month period amid the COVID-19 pandemic, according to the U.S. Census Bureau's population estimates released Thursday.
Population change is driven by migration, both within the U.S. as people move around inside the country, and from international trends as people arrive from abroad. It also depends on whether births outpace deaths, or vice versa.
Here's a look at what drove population change in the 10 largest U.S. counties from July 1, 2021 to July 1, 2022.
LOS ANGELES COUNTY, CALIFORNIA — The most populous county in the nation lost more than 90,000 residents last year and now has a population of 9.7 million people. Los Angeles County gained almost 34,000 residents from abroad and another 18,000 people from births outpacing deaths. But it wasn't enough to offset the almost 143,000 residents who left for another county. The loss from Angelenos moving elsewhere was 20% smaller than a year earlier.
COOK COUNTY, ILLINOIS — Home to Chicago, the nation's second-largest county lost more than 68,000 residents last year. Residents of the Windy City and neighboring communities moved away to the tune of 94,000 residents. Unlike other major urban counties, Cook County's population loss from people moving away wasn't much smaller than the previous year. It was the fifth-most popular destination for people arriving from other countries. The county had 5.1 million residents last July.
HARRIS COUNTY, TEXAS — The county of 4.7 million residents which encompasses Houston had the nation's second-largest population gain at 45,000 new residents, although 20,000 residents left for elsewhere. The gain was powered by one of the nation's highest levels of migration from abroad and natural increases.
MARICOPA COUNTY, ARIZONA — The biggest domestic migration boom was in the county that's home to Phoenix. Coupled with strong international migration and natural increase, Maricopa County grew by almost 57,000 new residents and now has a population of 4.5 million people.
SAN DIEGO COUNTY, CALIFORNIA — Even though San Diego County gained only 1,254 new residents, it was a reversal from the 11,000-person decline a year earlier. The drop in the number of residents leaving, combined with robust international migration as well as births outpacing deaths, brought the county to around 3.2 million residents.
ORANGE COUNTY, CALIFORNIA — The coastal county south of Los Angeles that's home to Anaheim and Disneyland lost almost 10,000 residents, but it was a smaller decline than the previous 12-month period due to a jump in international migration. It had a population of 3.1 million residents.
MIAMI-DADE COUNTY, FLORIDA — The county gained only 3,416 new residents last year, but it was an about-face from the nearly 30,000-person drop a year earlier. Miami-Dade continued to hemorrhage residents but that loss was overcome by the nation's biggest influx of international migration. It had almost 2.7 million residents.
DALLAS COUNTY, TEXAS — The county of 2.6 million people gained almost 13,000 new residents after losing almost twice that amount in the previous period. Robust international migration and births outpacing deaths helped it overcome the departure of 20,000 residents.
KINGS COUNTY, NEW YORK — The county which encompasses Brooklyn lost almost 47,000 people but the decline was almost half the size of the previous period. The county of 2.5 million residents had robust natural increase and a respectable amount of international migration, but more than 77,000 residents left.
RIVERSIDE COUNTY, CALIFORNIA — The Southern California county that's part of the Inland Empire gained more than 20,000 residents last year and now has 2.4 million people. Most of the growth came from domestic migration.
___
Follow Mike Schneider on Twitter at @MikeSchneiderAP