Portuguese minister resigns over 106 wildfire deaths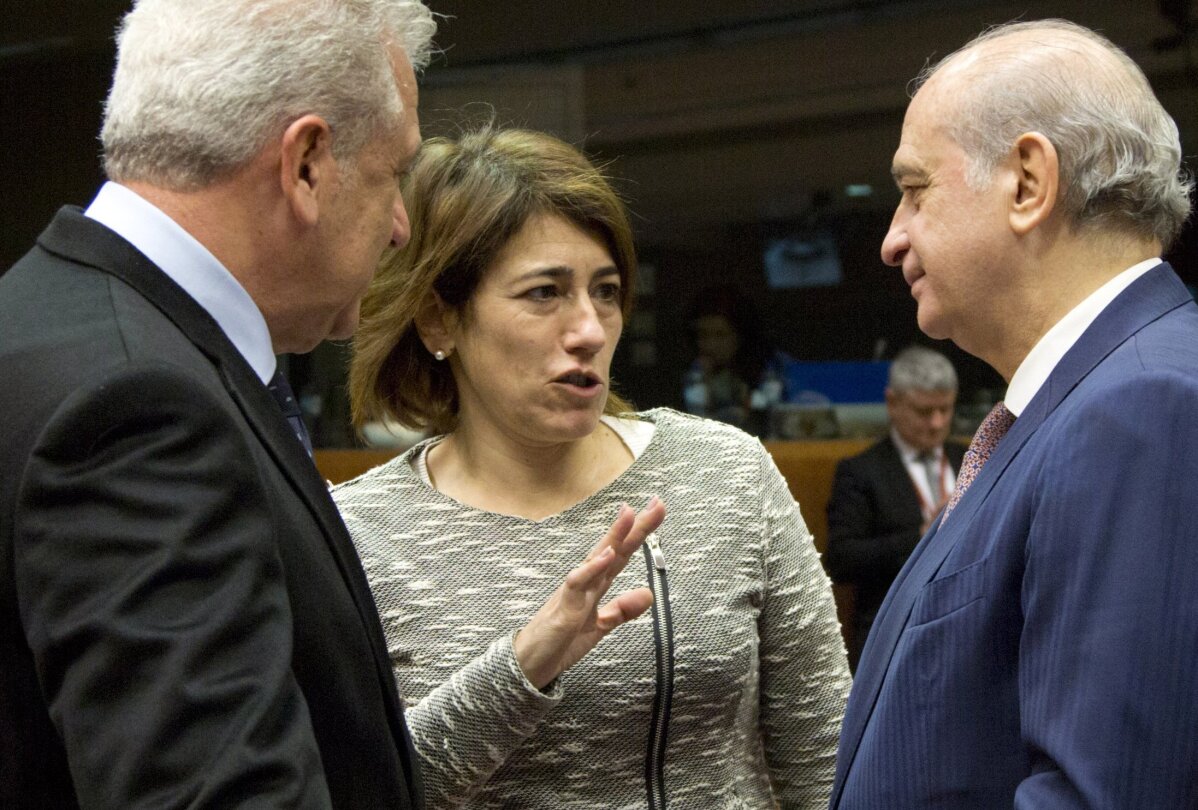 1 of 4

|
FILE - In this March 10, 2016 file photo, Portuguese Interior Minister Constanca Urbano de Sousa, center, talks with Spanish Interior Minister Jorge Fernandez Diaz, right, and European Commissioner for Migration and Home Affairs Dimitris Avramopoulos, left, during a meeting of EU justice and interior ministers at the EU Council building in Brussels. The Portuguese government minister in charge of emergency services has resigned after 106 people were killed in wildfires this year. The government said on its website on Wednesday Oct. 18, 2017, that Interior Minister Constanca Urbano de Sousa has tendered her resignation and that Prime Minister Antonio Costa has accepted it. (AP Photo/Virginia Mayo)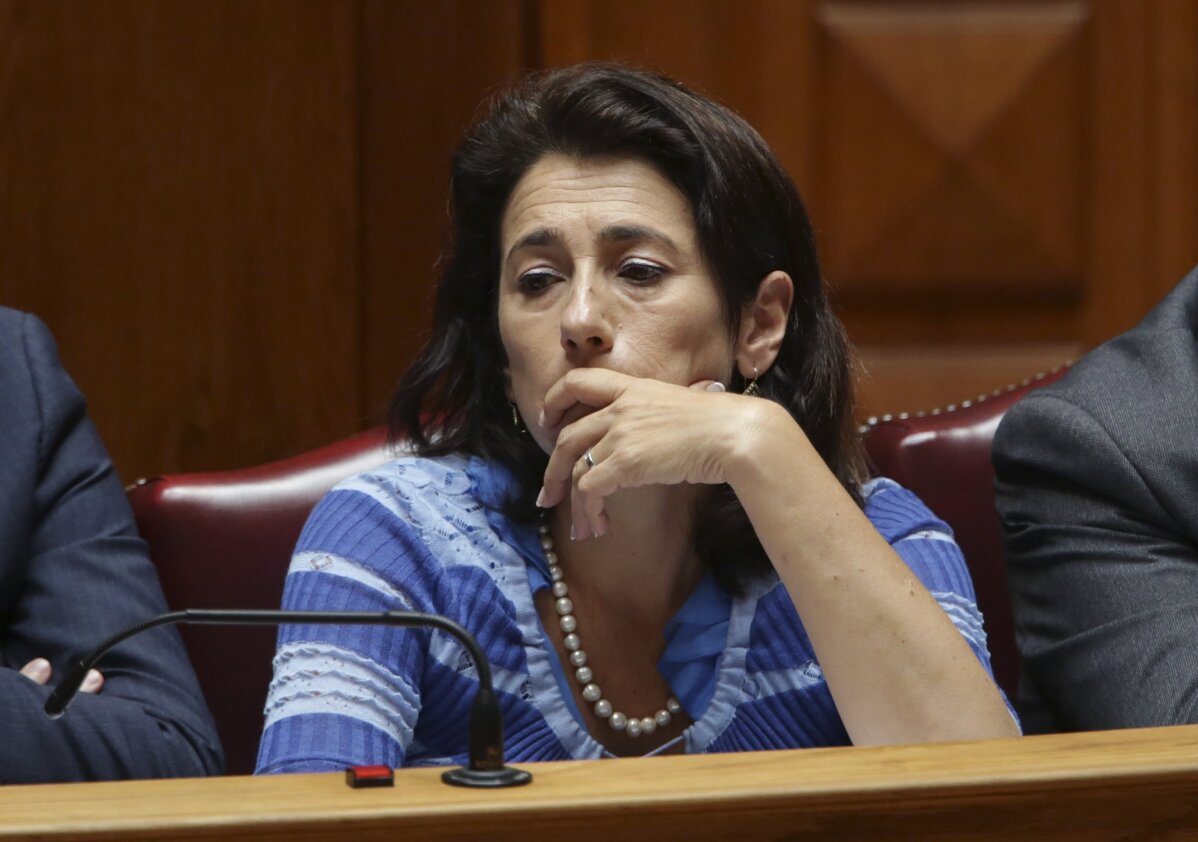 2 of 4

|
In this picture taken July 12 2017, Portuguese Interior Minister Constanca Urbano de Sousa attends a parliament debate in Lisbon. De Sousa the Portuguese government minister in charge of emergency services has resigned after 106 people were killed in wildfires this year. The government said on its website on Wednesday Oct. 18, 2017, that Interior Minister Constanca Urbano de Sousa has tendered her resignation and that Prime Minister Antonio Costa has accepted it. . (AP Photo/Armando Franca)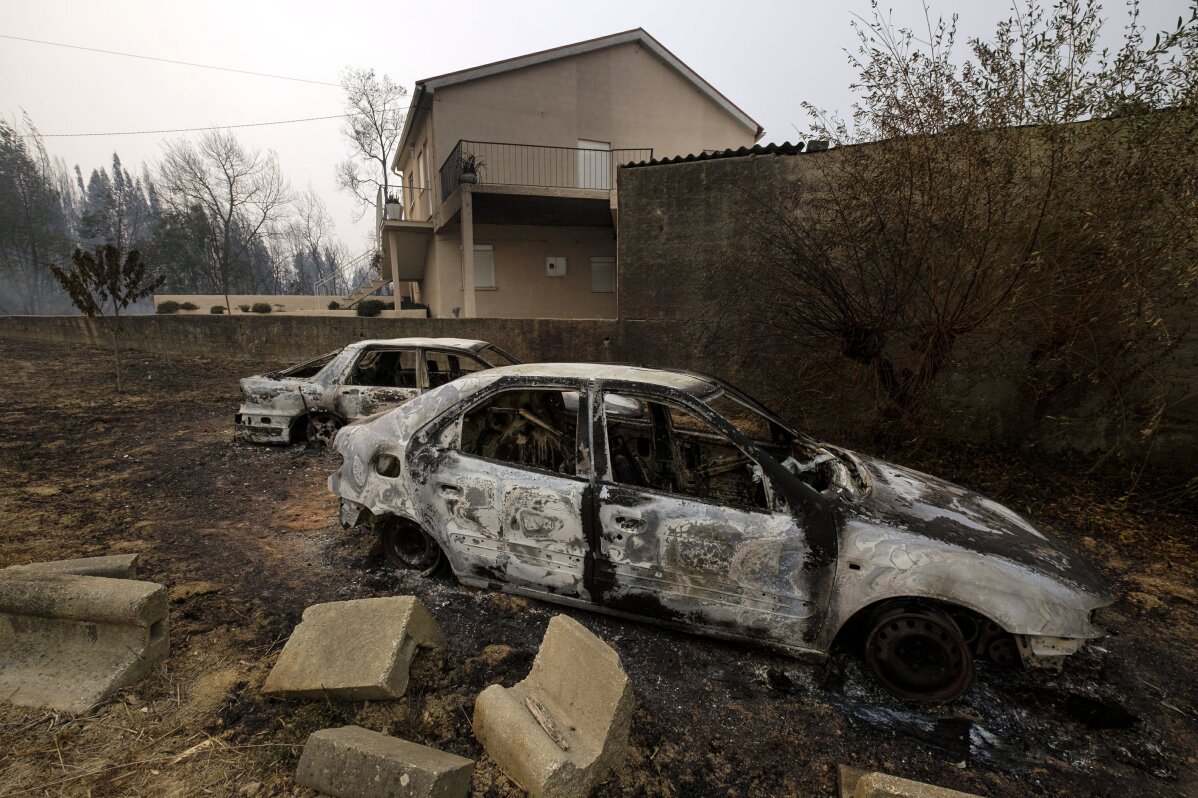 3 of 4

|
Burnt cars sit next to a house near Penacova, northern Portugal, Monday, Oct. 16 2017. Wildfires in Portugal killed at least 27 people, injured dozens more and left an unconfirmed number of missing in the country's second such tragedy in four months, officials said Monday. (AP Photo/Sergio Azenha)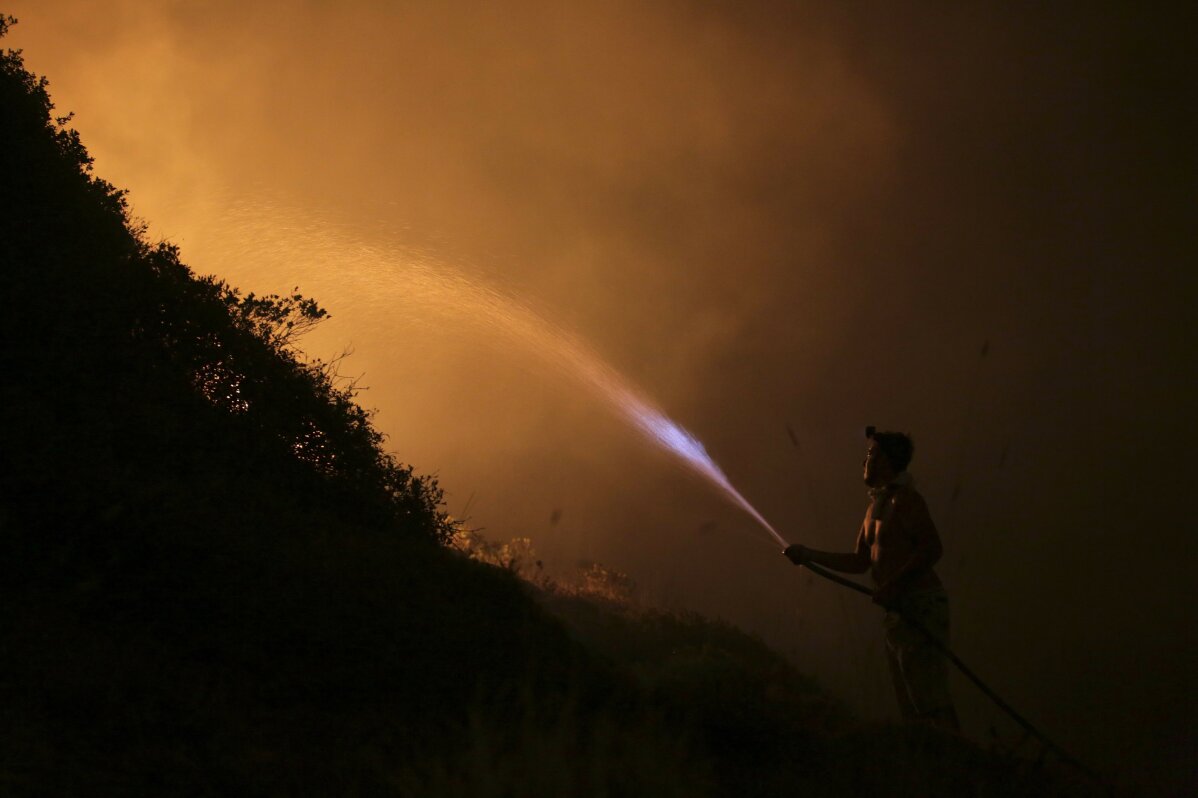 4 of 4

|
A volunteers uses a water hose to fight a wild fire raging near houses in the outskirts of Obidos, Portugal, in the early hours of Monday, Oct. 16 2017. Wildfires in Portugal killed at least 27 people, injured dozens more and left an unconfirmed number of missing in the country's second such tragedy in four months, officials said Monday. (AP Photo/Armando Franca)
Portuguese minister resigns over 106 wildfire deaths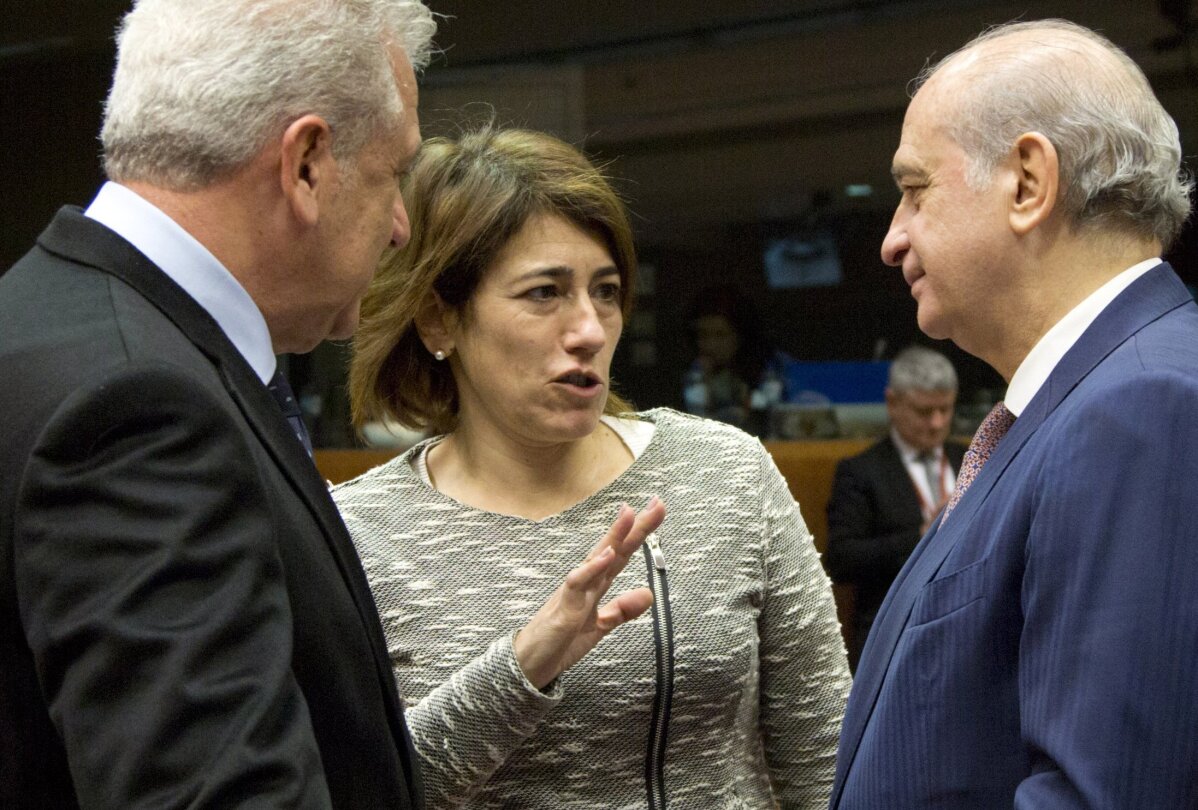 1 of 4

|
FILE - In this March 10, 2016 file photo, Portuguese Interior Minister Constanca Urbano de Sousa, center, talks with Spanish Interior Minister Jorge Fernandez Diaz, right, and European Commissioner for Migration and Home Affairs Dimitris Avramopoulos, left, during a meeting of EU justice and interior ministers at the EU Council building in Brussels. The Portuguese government minister in charge of emergency services has resigned after 106 people were killed in wildfires this year. The government said on its website on Wednesday Oct. 18, 2017, that Interior Minister Constanca Urbano de Sousa has tendered her resignation and that Prime Minister Antonio Costa has accepted it. (AP Photo/Virginia Mayo)
1 of 4
FILE - In this March 10, 2016 file photo, Portuguese Interior Minister Constanca Urbano de Sousa, center, talks with Spanish Interior Minister Jorge Fernandez Diaz, right, and European Commissioner for Migration and Home Affairs Dimitris Avramopoulos, left, during a meeting of EU justice and interior ministers at the EU Council building in Brussels. The Portuguese government minister in charge of emergency services has resigned after 106 people were killed in wildfires this year. The government said on its website on Wednesday Oct. 18, 2017, that Interior Minister Constanca Urbano de Sousa has tendered her resignation and that Prime Minister Antonio Costa has accepted it. (AP Photo/Virginia Mayo)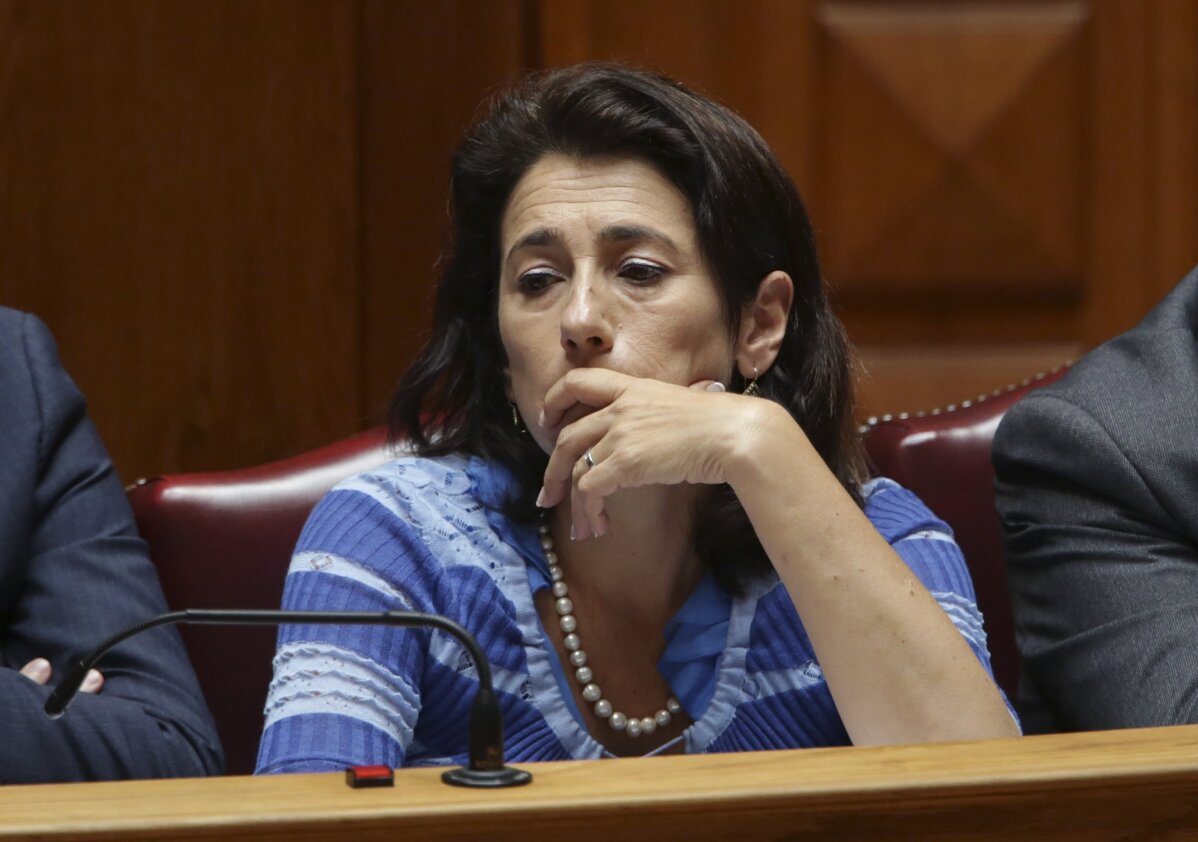 2 of 4

|
In this picture taken July 12 2017, Portuguese Interior Minister Constanca Urbano de Sousa attends a parliament debate in Lisbon. De Sousa the Portuguese government minister in charge of emergency services has resigned after 106 people were killed in wildfires this year. The government said on its website on Wednesday Oct. 18, 2017, that Interior Minister Constanca Urbano de Sousa has tendered her resignation and that Prime Minister Antonio Costa has accepted it. . (AP Photo/Armando Franca)
2 of 4
In this picture taken July 12 2017, Portuguese Interior Minister Constanca Urbano de Sousa attends a parliament debate in Lisbon. De Sousa the Portuguese government minister in charge of emergency services has resigned after 106 people were killed in wildfires this year. The government said on its website on Wednesday Oct. 18, 2017, that Interior Minister Constanca Urbano de Sousa has tendered her resignation and that Prime Minister Antonio Costa has accepted it. . (AP Photo/Armando Franca)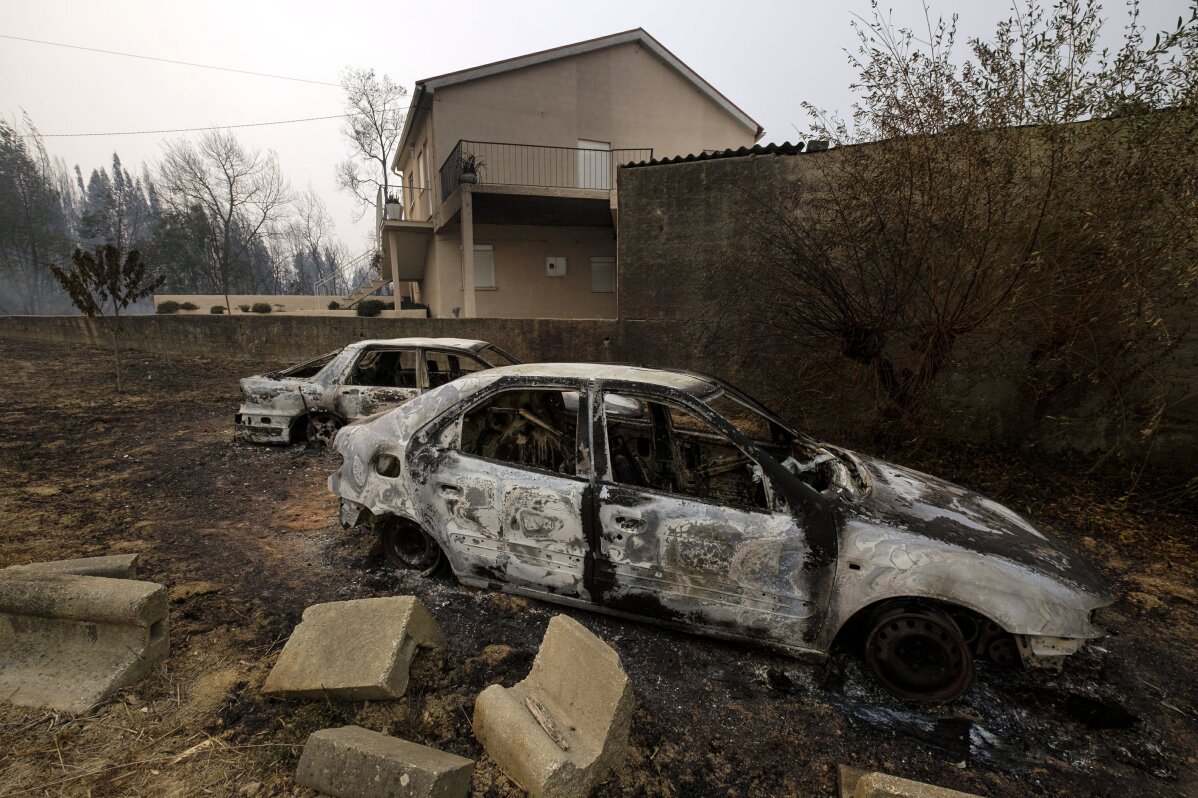 3 of 4

|
Burnt cars sit next to a house near Penacova, northern Portugal, Monday, Oct. 16 2017. Wildfires in Portugal killed at least 27 people, injured dozens more and left an unconfirmed number of missing in the country's second such tragedy in four months, officials said Monday. (AP Photo/Sergio Azenha)
3 of 4
Burnt cars sit next to a house near Penacova, northern Portugal, Monday, Oct. 16 2017. Wildfires in Portugal killed at least 27 people, injured dozens more and left an unconfirmed number of missing in the country's second such tragedy in four months, officials said Monday. (AP Photo/Sergio Azenha)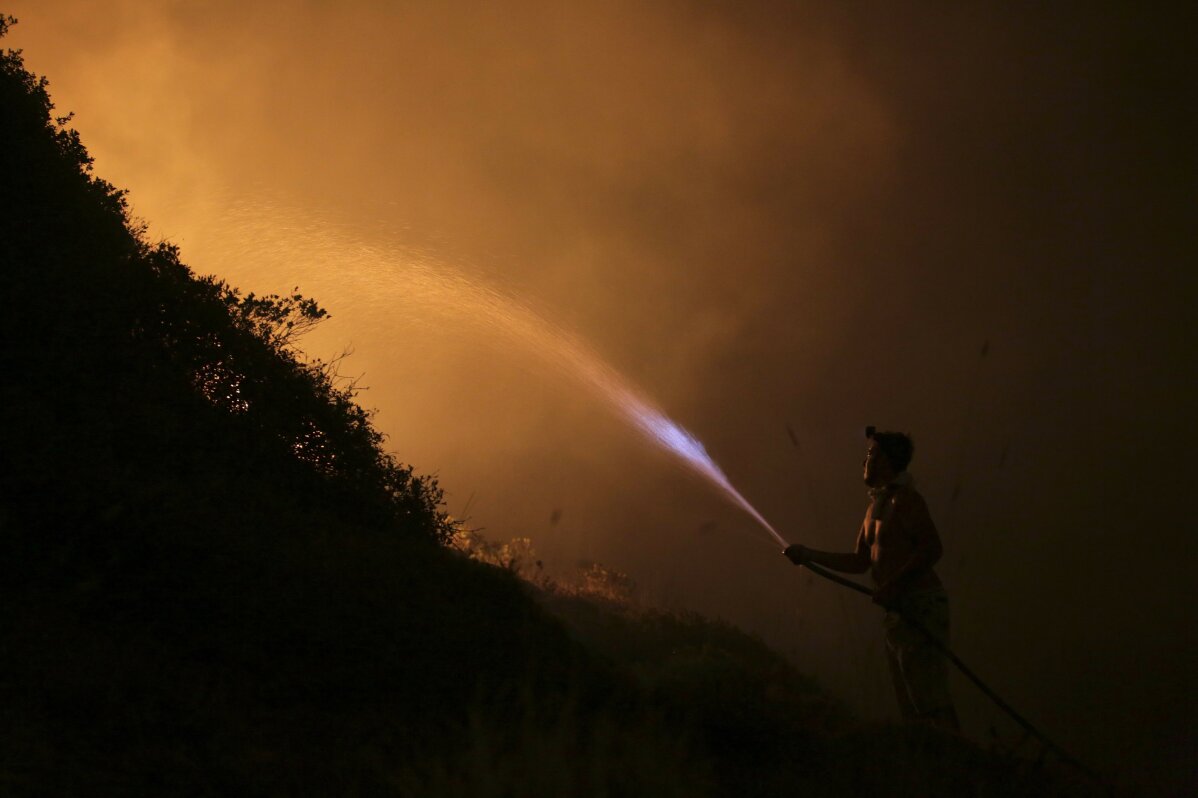 4 of 4

|
A volunteers uses a water hose to fight a wild fire raging near houses in the outskirts of Obidos, Portugal, in the early hours of Monday, Oct. 16 2017. Wildfires in Portugal killed at least 27 people, injured dozens more and left an unconfirmed number of missing in the country's second such tragedy in four months, officials said Monday. (AP Photo/Armando Franca)
4 of 4
A volunteers uses a water hose to fight a wild fire raging near houses in the outskirts of Obidos, Portugal, in the early hours of Monday, Oct. 16 2017. Wildfires in Portugal killed at least 27 people, injured dozens more and left an unconfirmed number of missing in the country's second such tragedy in four months, officials said Monday. (AP Photo/Armando Franca)
LISBON, Portugal (AP) — The Portuguese minister in charge of emergency services resigned Wednesday after 106 people were killed in unprecedented wildfires this year in the Iberian nation.
The European Union's Emergency Management Service, meanwhile, says the area burned by wildfires this year in Portugal is the largest on record for the nation, more than six times the annual average for the last eight years.
Interior Minister Constanca Urbano de Sousa tendered her resignation and Prime Minister Antonio Costa accepted it, the government announced.
In a resignation letter published on the government website, Urbano de Sousa said she wanted to quit after 64 people were killed in a June wildfire, but Costa asked her to stay. She repeated her request after 42 people died last weekend in another spate of wildfires.
"Although the tragedy (last weekend) was caused by multiple factors, I came to the conclusion that I could not continue for political and personal reasons," she wrote.
The wildfire deaths are by far Portugal's highest annual toll ever and have stunned the country. Silent protests are slated for next weekend in an effort to press the Portuguese government into taking more decisive action against wildfires.
Authorities say arsonists are to blame for starting most wildfires in the country.
Urbano de Sousa had been under severe political pressure to quit. Investigations into the June wildfire deaths, which occurred in one night, found numerous shortcomings in the official response.
Urbano de Sousa wrote that she has prepared policy changes on fighting fires expected to be adopted by the government on Saturday.
The EU's Emergency Management Service, which compiles wildfire data in the 28-nation bloc, says forest blazes have charred almost 520,000 hectares (1.3 million acres) this year in Portugal. That compares with an annual average of just over 83,000 hectares (205,000 acres) between 2008 and 2016.
Italy is second on the list of most-scorched woodlands in the EU this year, with 133,000 hectares (329,000 acres) burned.