Ronaldo nets 121st, 122nd goals as Portugal routs Luxembourg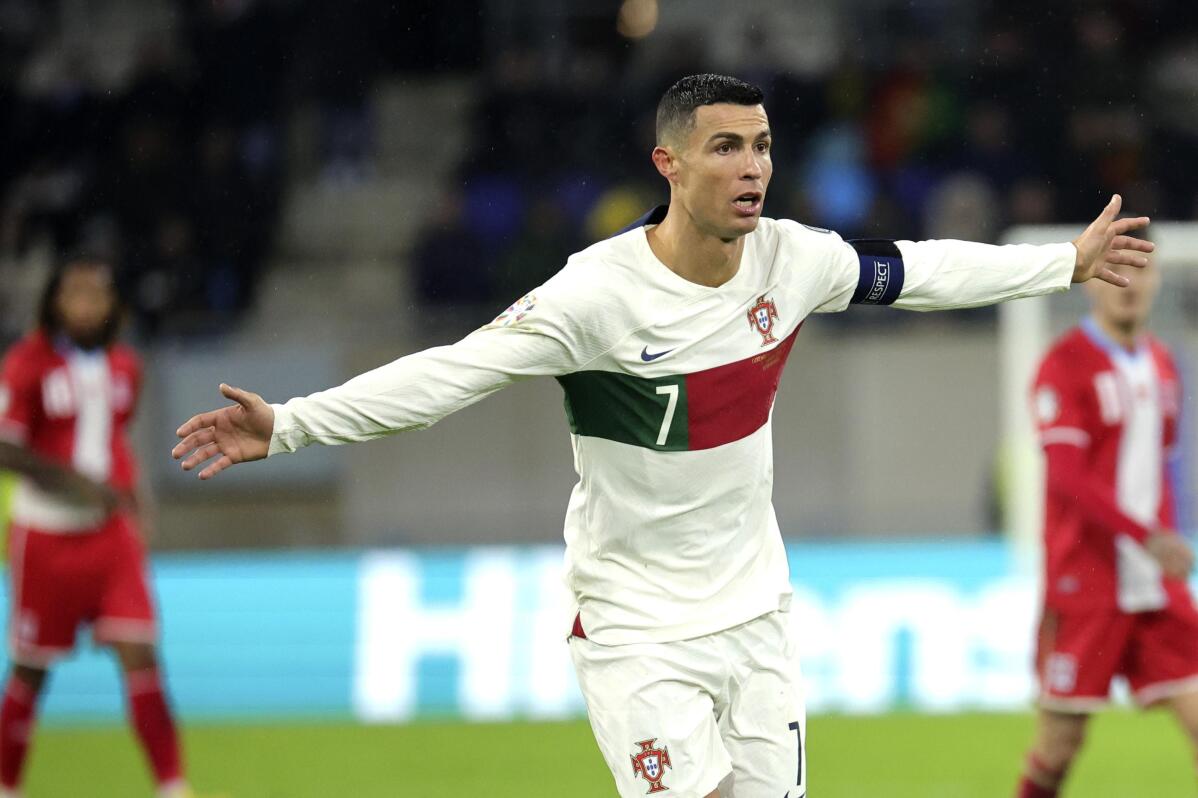 1 of 10

|
Portugal's Cristiano Ronaldo, center, in action during the Euro 2024 group J qualifying soccer match between Luxembourg and Portugal at the Stade de Luxembourg in Luxembourg, Sunday, March 26, 2023. (AP Photo/Olivier Matthys)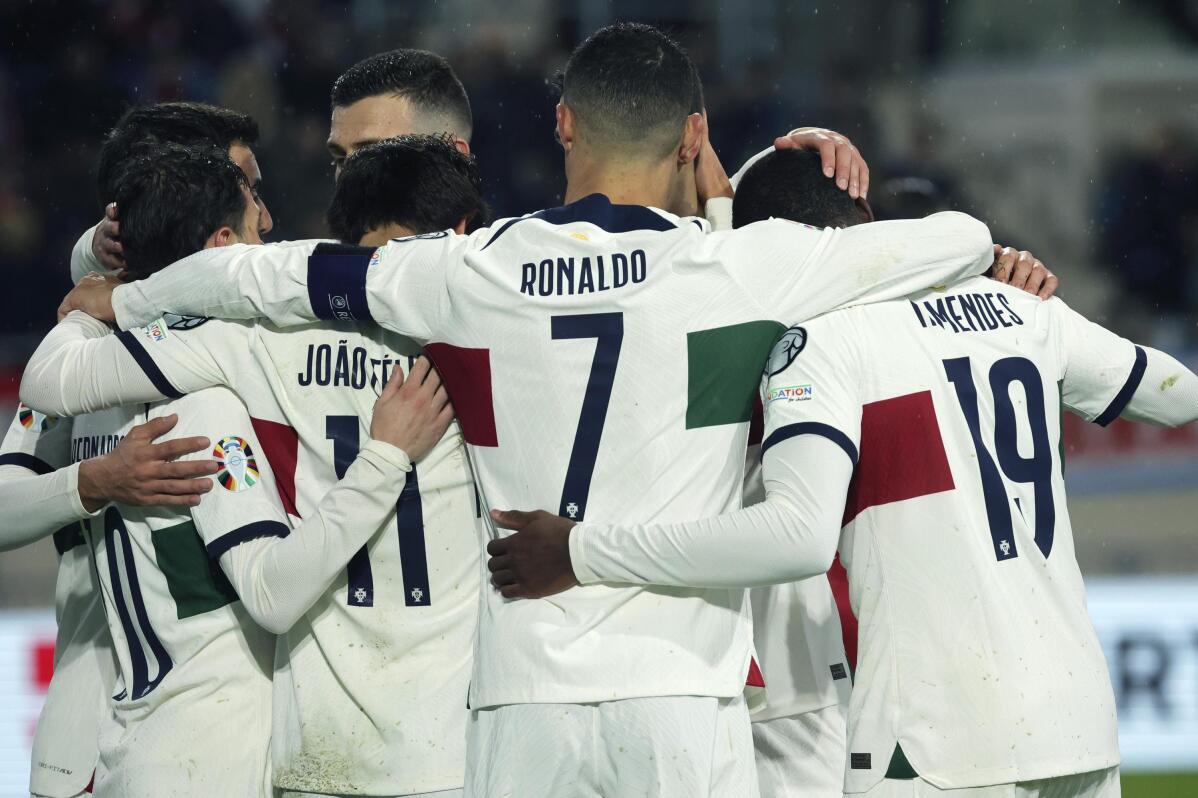 2 of 10

|
Teammates celebrate after Portugal's Joao Felix scored their sides second goal during the Euro 2024 group J qualifying soccer match between Luxembourg and Portugal at the Stade de Luxembourg in Luxembourg, Sunday, March 26, 2023. (AP Photo/Olivier Matthys)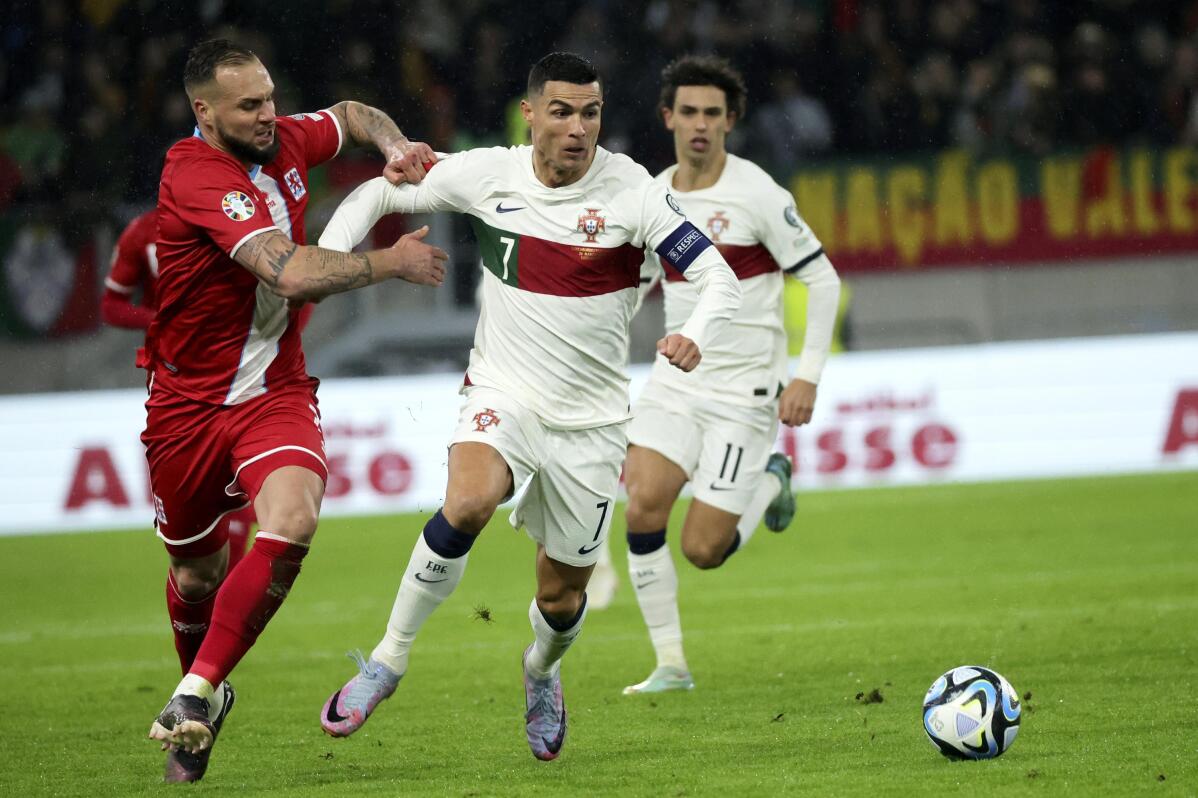 3 of 10

|
Portugal's Cristiano Ronaldo, center, fights for the ball against Luxembourg's Maxime Chanot during the Euro 2024 group J qualifying soccer match between Luxembourg and Portugal at the Stade de Luxembourg in Luxembourg, Sunday, March 26, 2023. (AP Photo/Olivier Matthys)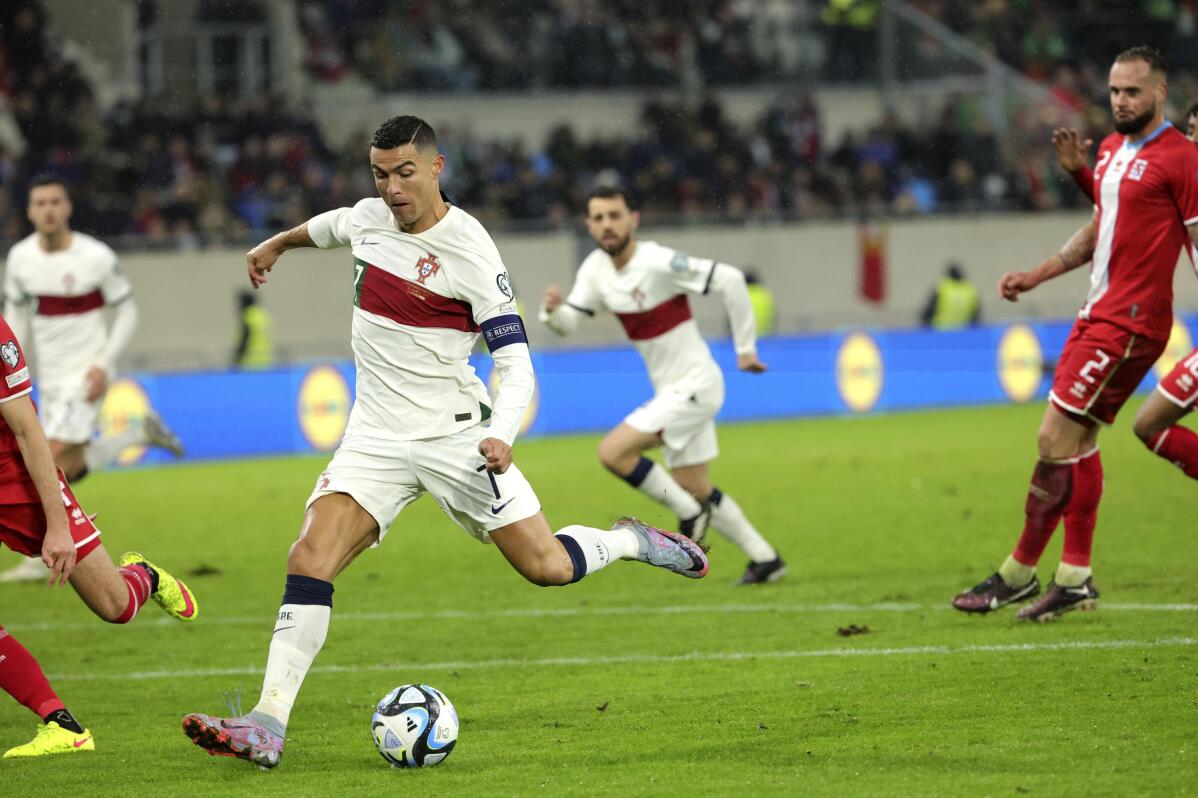 4 of 10

|
Portugal's Cristiano Ronaldo, center, scores his sides fourth goal during the Euro 2024 group J qualifying soccer match between Luxembourg and Portugal at the Stade de Luxembourg in Luxembourg, Sunday, March 26, 2023. (AP Photo/Olivier Matthys)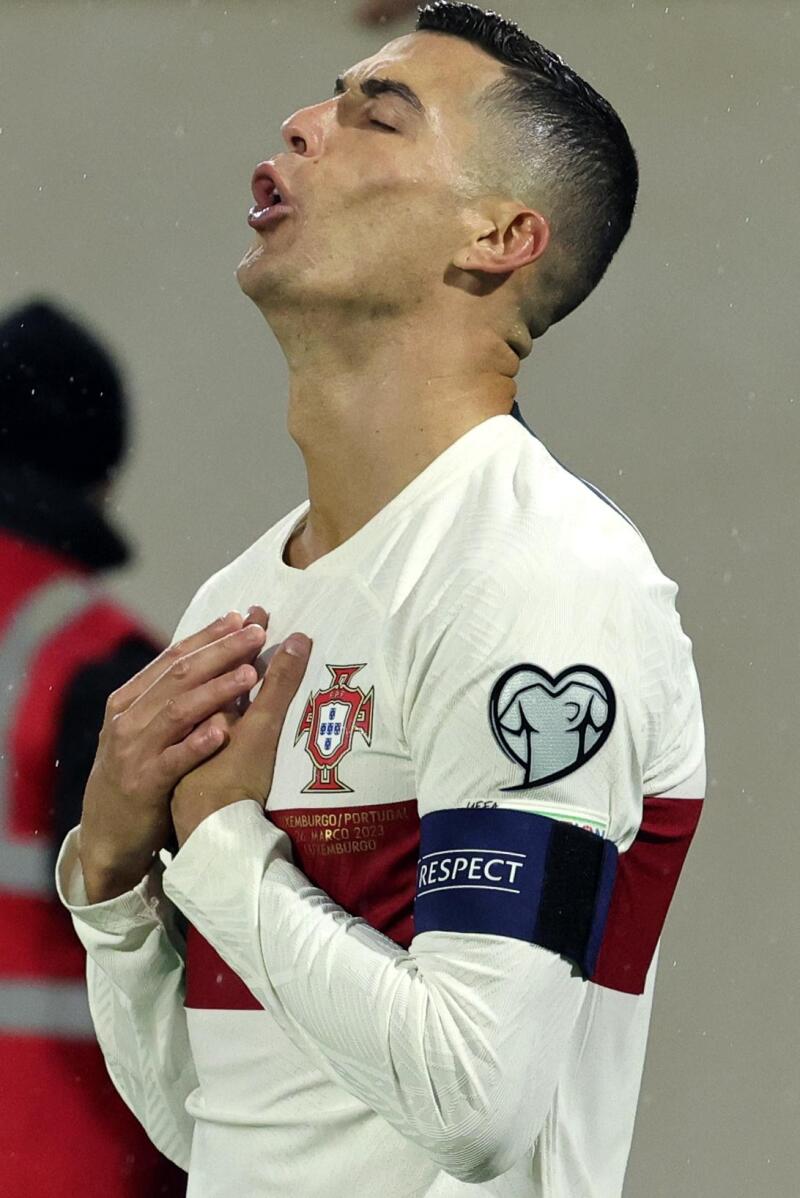 5 of 10

|
Portugal's Cristiano Ronaldo reacts after scoring the opening goal during the Euro 2024 group J qualifying soccer match between Luxembourg and Portugal at the Stade de Luxembourg in Luxembourg, Sunday, March 26, 2023. (AP Photo/Olivier Matthys)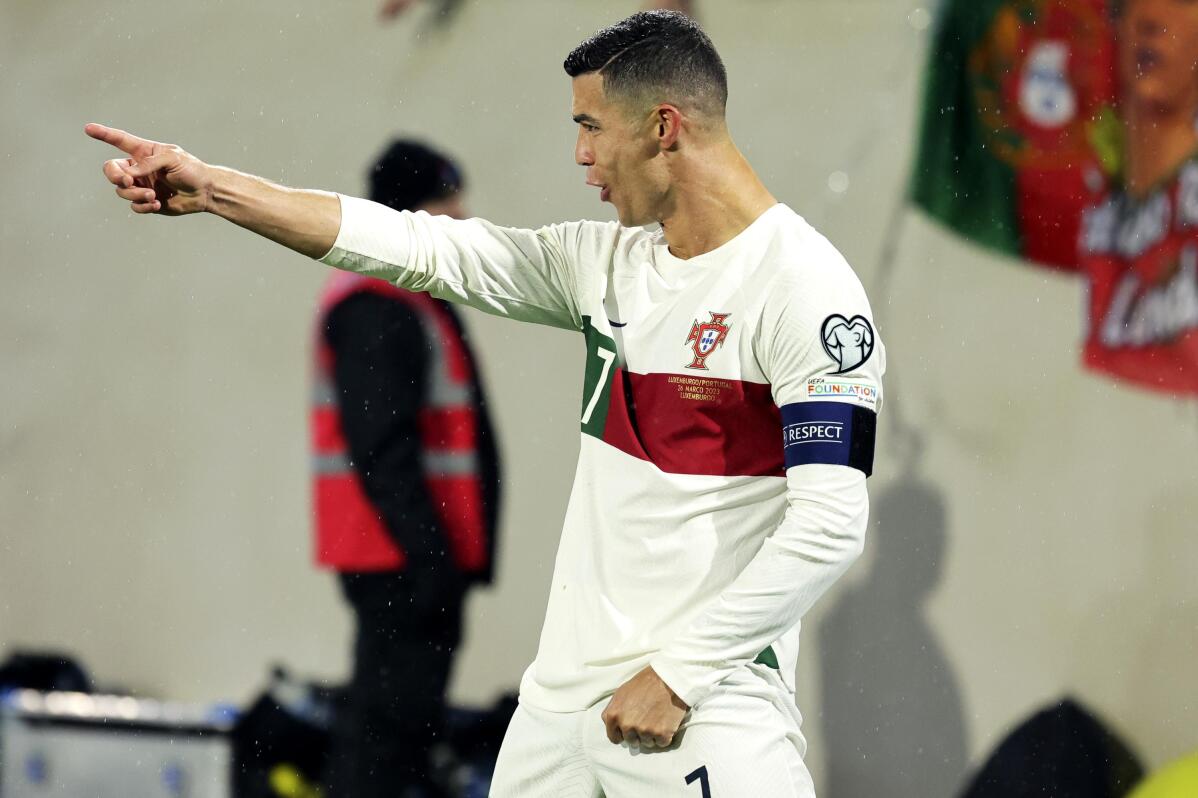 6 of 10

|
Portugal's Cristiano Ronaldo celebrates after scoring his sides fourth goal during the Euro 2024 group J qualifying soccer match between Luxembourg and Portugal at the Stade de Luxembourg in Luxembourg, Sunday, March 26, 2023. (AP Photo/Olivier Matthys)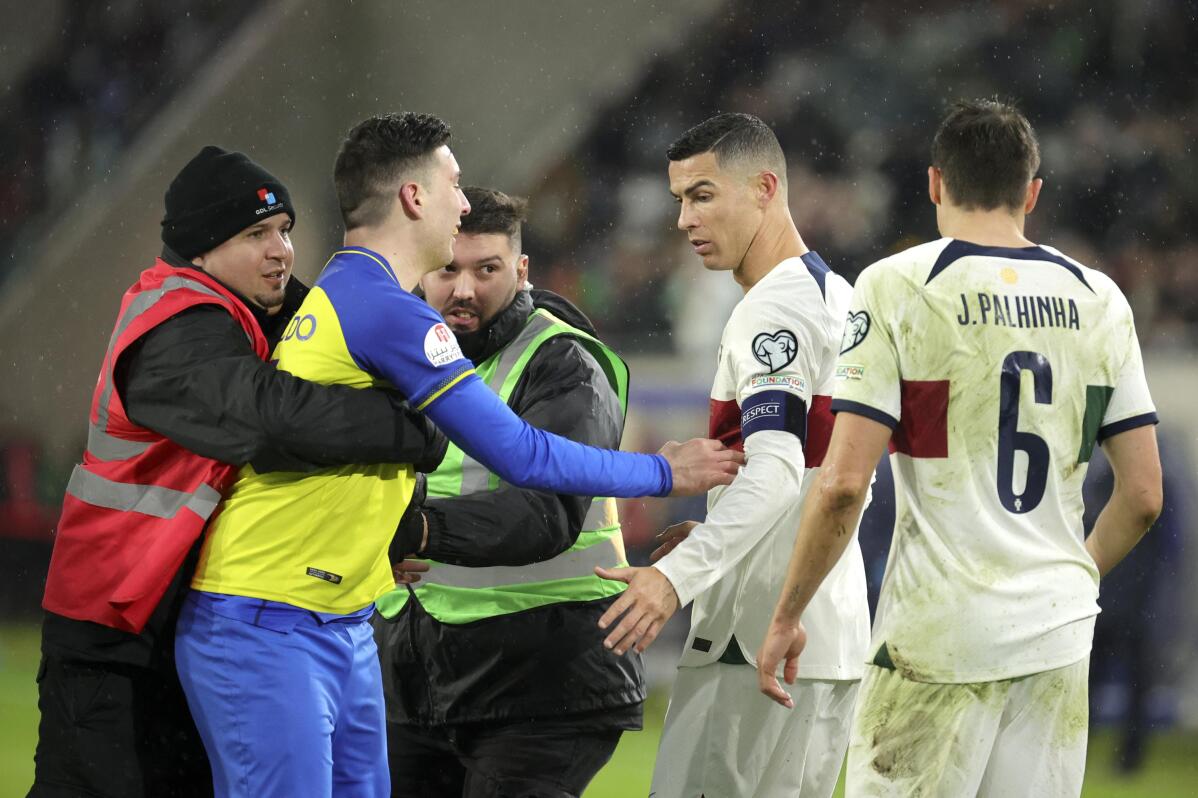 7 of 10

|
Portugal's Cristiano Ronaldo, second right, looks on as stewards remove a pitch invader during the Euro 2024 group J qualifying soccer match between Luxembourg and Portugal at the Stade de Luxembourg in Luxembourg, Sunday, March 26, 2023. (AP Photo/Olivier Matthys)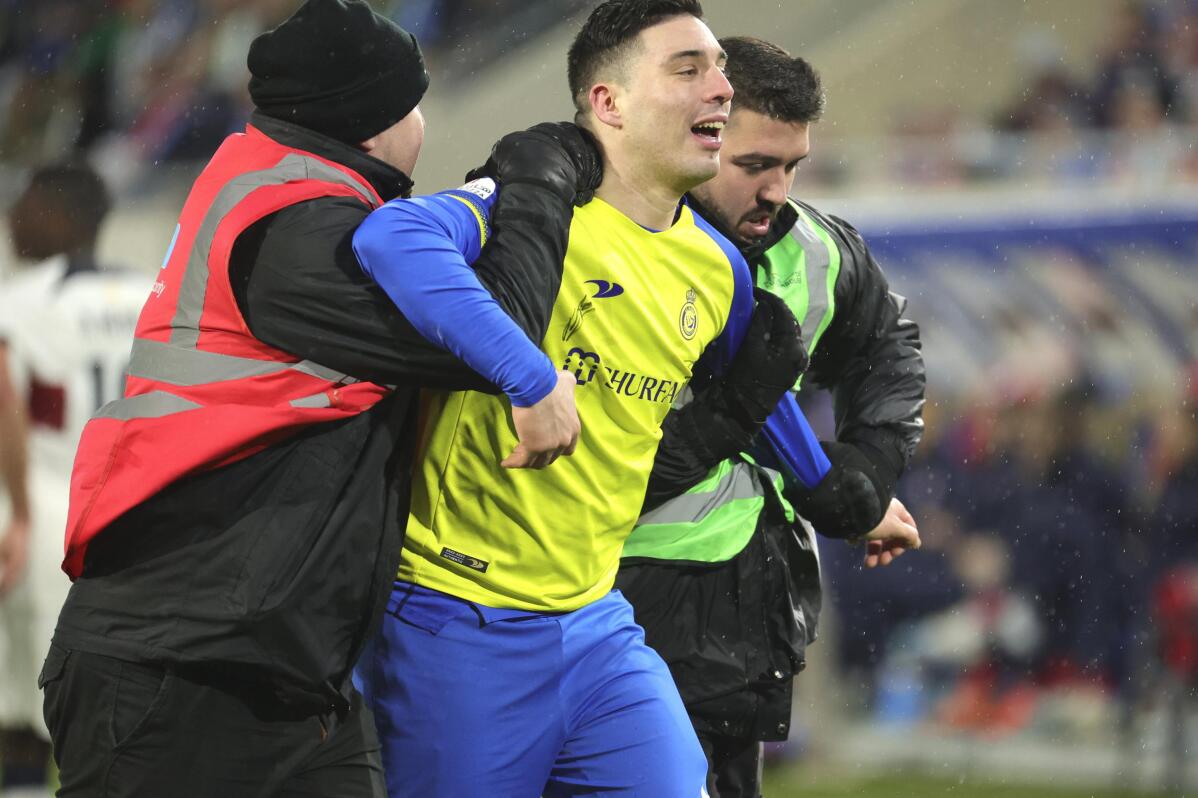 8 of 10

|
Stewards remove a pitch invader during the Euro 2024 group J qualifying soccer match between Luxembourg and Portugal at the Stade de Luxembourg in Luxembourg, Sunday, March 26, 2023. (AP Photo/Olivier Matthys)
9 of 10

|
Luxembourg's Maxime Chanot, center, vies for the ball against Portugal's Cristiano Ronaldo, left, during the Euro 2024 group J qualifying soccer match between Luxembourg and Portugal at the Stade de Luxembourg in Luxembourg, Sunday, March 26, 2023. (AP Photo/Olivier Matthys)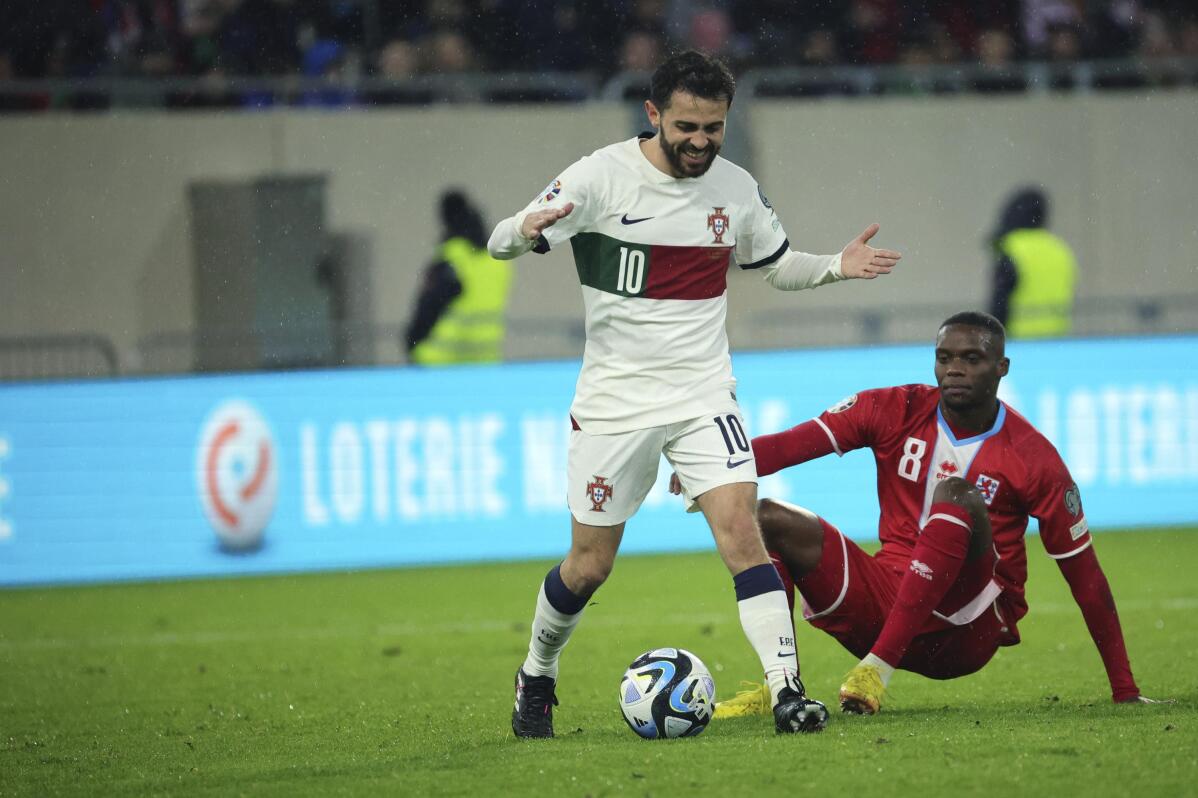 10 of 10

|
Portugal's Bernardo Silva, left, fights for the ball against Luxembourg's Christopher Martins during the Euro 2024 group J qualifying soccer match between Luxembourg and Portugal at the Stade de Luxembourg in Luxembourg, Sunday, March 26, 2023. (AP Photo/Olivier Matthys)
Ronaldo nets 121st, 122nd goals as Portugal routs Luxembourg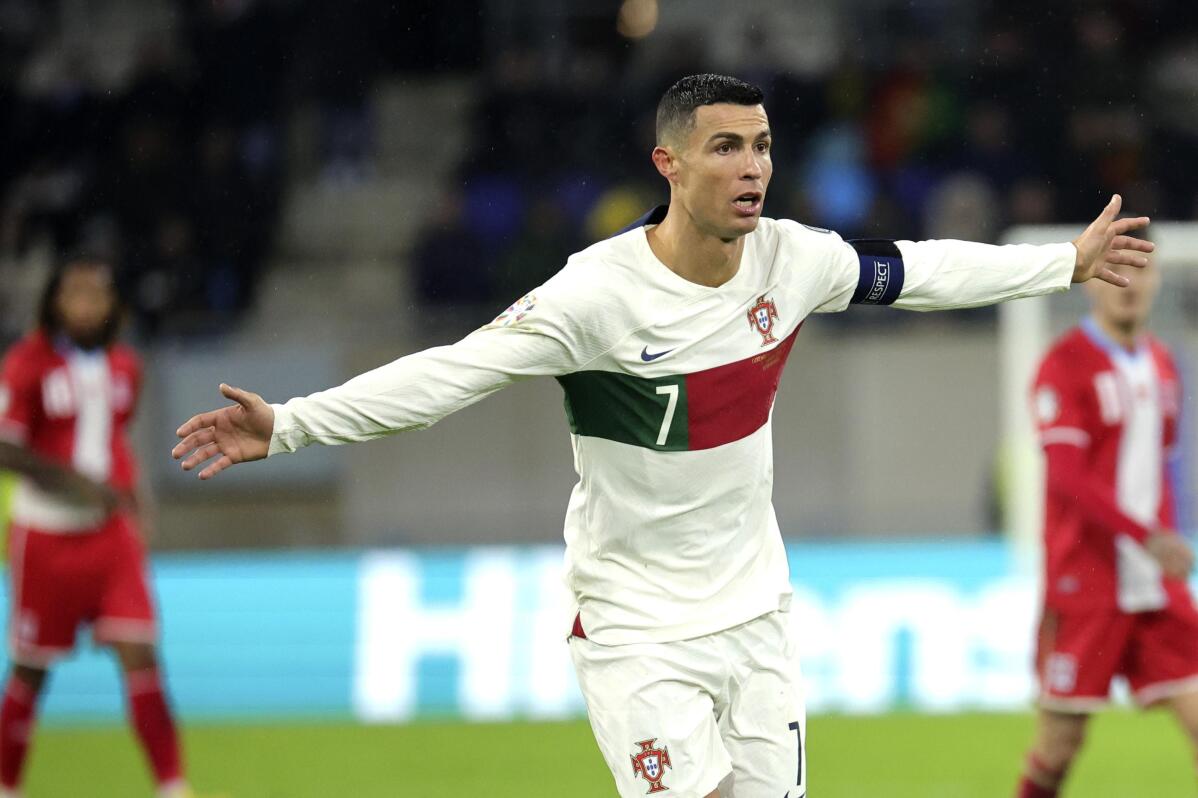 1 of 10

|
Portugal's Cristiano Ronaldo, center, in action during the Euro 2024 group J qualifying soccer match between Luxembourg and Portugal at the Stade de Luxembourg in Luxembourg, Sunday, March 26, 2023. (AP Photo/Olivier Matthys)
1 of 10
Portugal's Cristiano Ronaldo, center, in action during the Euro 2024 group J qualifying soccer match between Luxembourg and Portugal at the Stade de Luxembourg in Luxembourg, Sunday, March 26, 2023. (AP Photo/Olivier Matthys)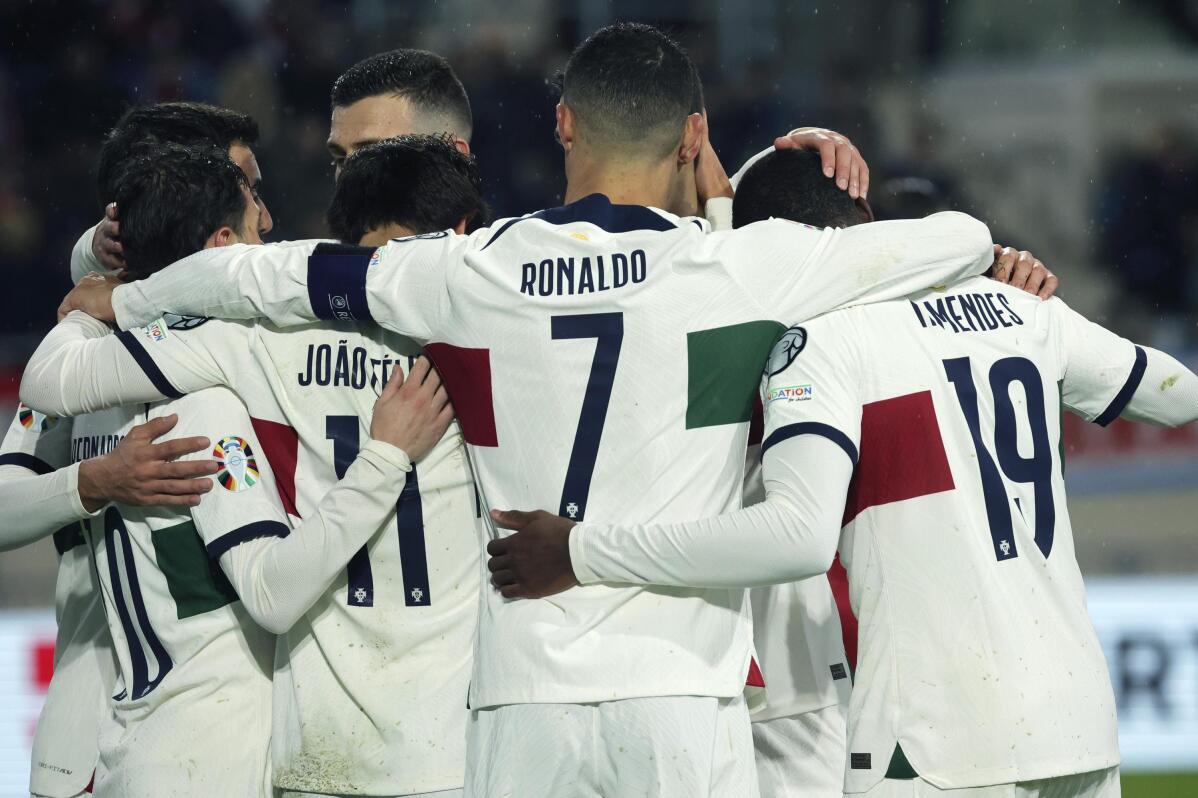 2 of 10

|
Teammates celebrate after Portugal's Joao Felix scored their sides second goal during the Euro 2024 group J qualifying soccer match between Luxembourg and Portugal at the Stade de Luxembourg in Luxembourg, Sunday, March 26, 2023. (AP Photo/Olivier Matthys)
2 of 10
Teammates celebrate after Portugal's Joao Felix scored their sides second goal during the Euro 2024 group J qualifying soccer match between Luxembourg and Portugal at the Stade de Luxembourg in Luxembourg, Sunday, March 26, 2023. (AP Photo/Olivier Matthys)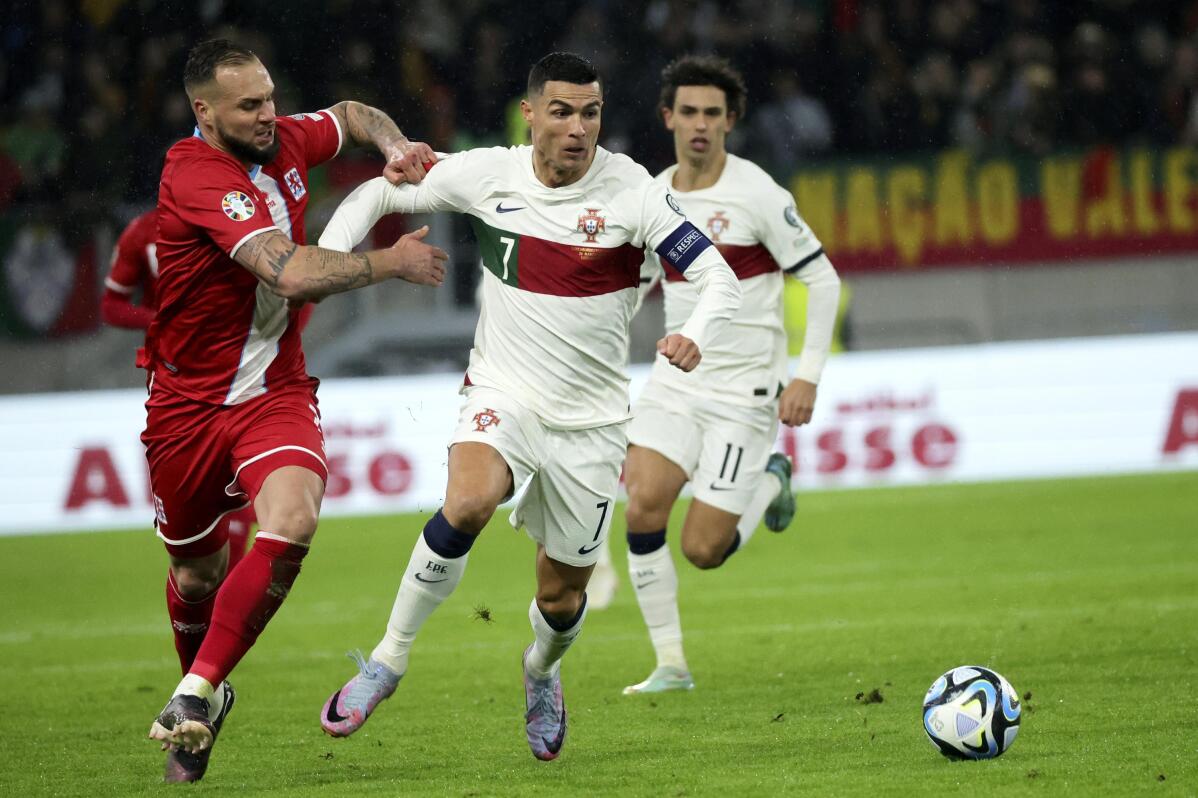 3 of 10

|
Portugal's Cristiano Ronaldo, center, fights for the ball against Luxembourg's Maxime Chanot during the Euro 2024 group J qualifying soccer match between Luxembourg and Portugal at the Stade de Luxembourg in Luxembourg, Sunday, March 26, 2023. (AP Photo/Olivier Matthys)
3 of 10
Portugal's Cristiano Ronaldo, center, fights for the ball against Luxembourg's Maxime Chanot during the Euro 2024 group J qualifying soccer match between Luxembourg and Portugal at the Stade de Luxembourg in Luxembourg, Sunday, March 26, 2023. (AP Photo/Olivier Matthys)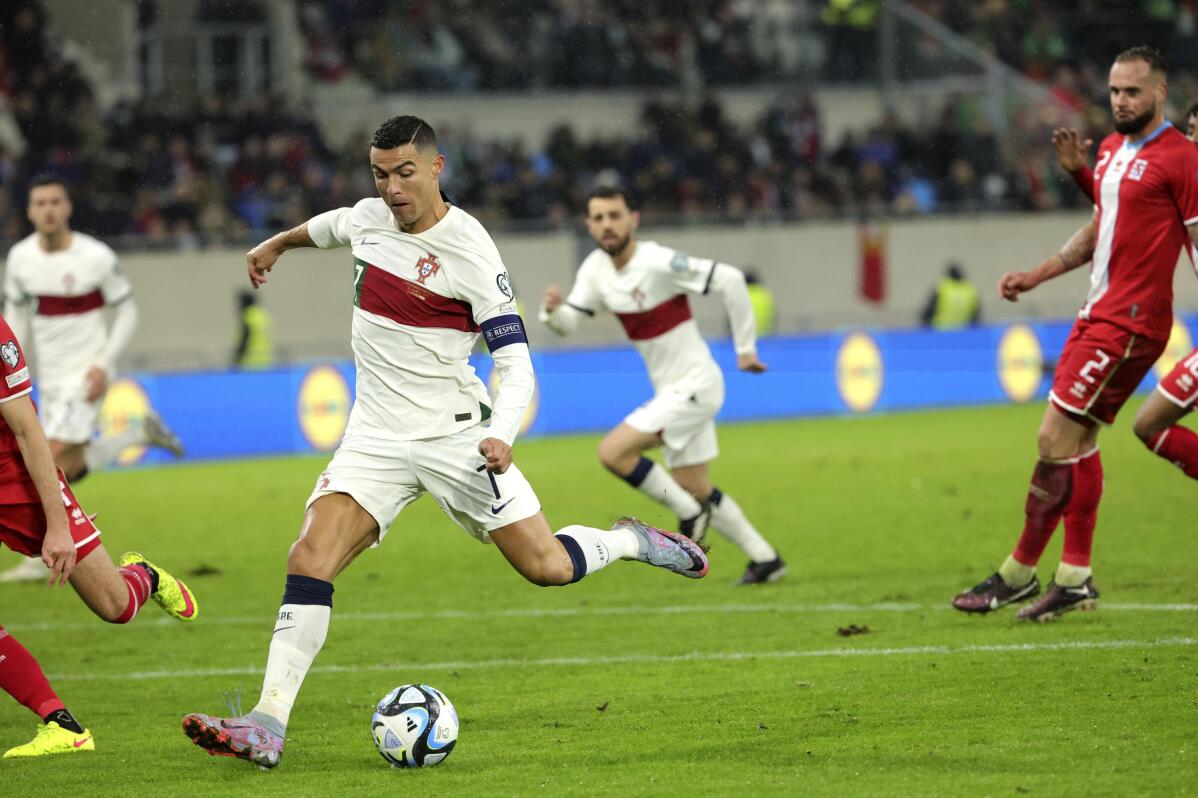 4 of 10

|
Portugal's Cristiano Ronaldo, center, scores his sides fourth goal during the Euro 2024 group J qualifying soccer match between Luxembourg and Portugal at the Stade de Luxembourg in Luxembourg, Sunday, March 26, 2023. (AP Photo/Olivier Matthys)
4 of 10
Portugal's Cristiano Ronaldo, center, scores his sides fourth goal during the Euro 2024 group J qualifying soccer match between Luxembourg and Portugal at the Stade de Luxembourg in Luxembourg, Sunday, March 26, 2023. (AP Photo/Olivier Matthys)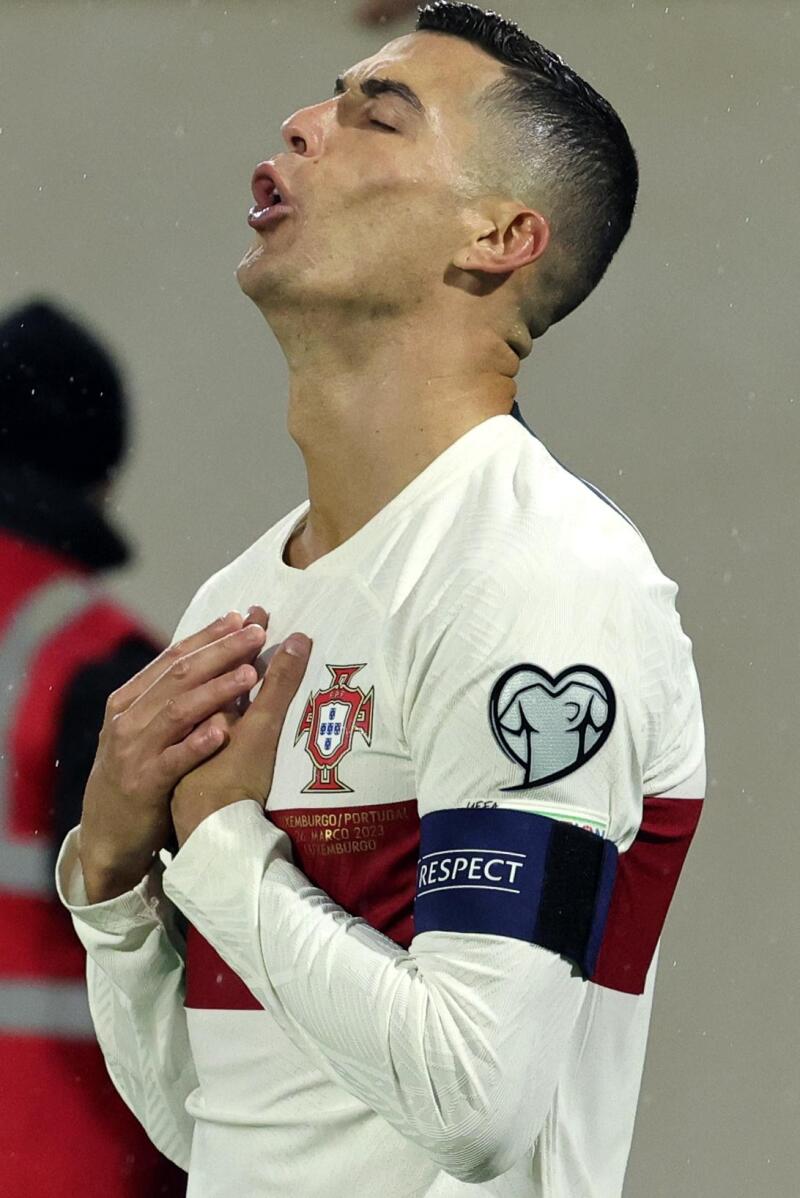 5 of 10

|
Portugal's Cristiano Ronaldo reacts after scoring the opening goal during the Euro 2024 group J qualifying soccer match between Luxembourg and Portugal at the Stade de Luxembourg in Luxembourg, Sunday, March 26, 2023. (AP Photo/Olivier Matthys)
5 of 10
Portugal's Cristiano Ronaldo reacts after scoring the opening goal during the Euro 2024 group J qualifying soccer match between Luxembourg and Portugal at the Stade de Luxembourg in Luxembourg, Sunday, March 26, 2023. (AP Photo/Olivier Matthys)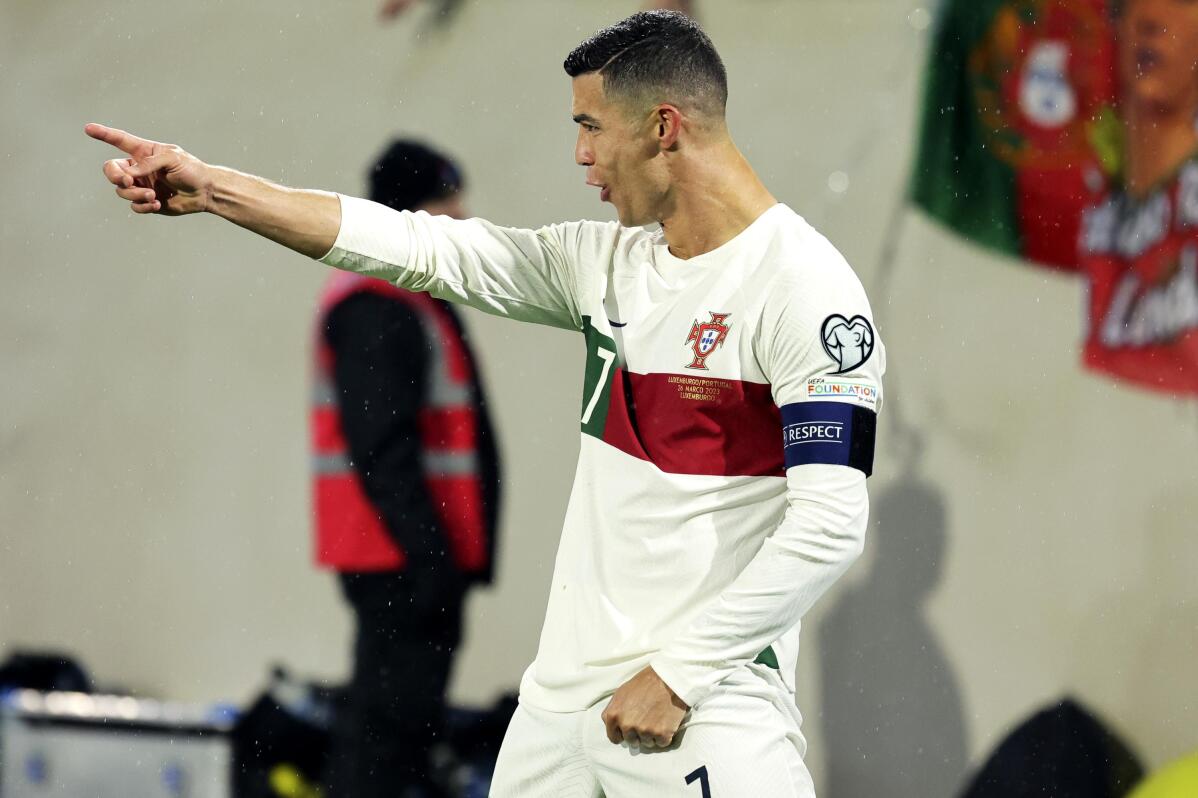 6 of 10

|
Portugal's Cristiano Ronaldo celebrates after scoring his sides fourth goal during the Euro 2024 group J qualifying soccer match between Luxembourg and Portugal at the Stade de Luxembourg in Luxembourg, Sunday, March 26, 2023. (AP Photo/Olivier Matthys)
6 of 10
Portugal's Cristiano Ronaldo celebrates after scoring his sides fourth goal during the Euro 2024 group J qualifying soccer match between Luxembourg and Portugal at the Stade de Luxembourg in Luxembourg, Sunday, March 26, 2023. (AP Photo/Olivier Matthys)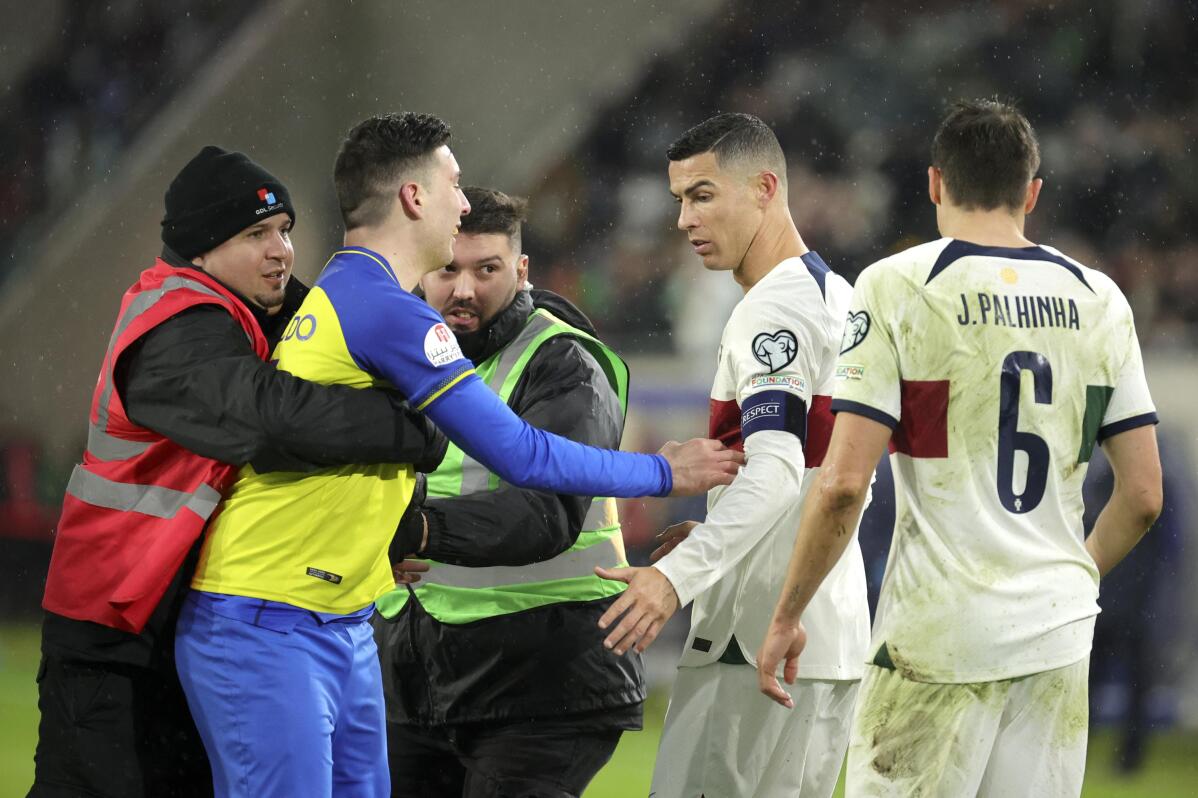 7 of 10

|
Portugal's Cristiano Ronaldo, second right, looks on as stewards remove a pitch invader during the Euro 2024 group J qualifying soccer match between Luxembourg and Portugal at the Stade de Luxembourg in Luxembourg, Sunday, March 26, 2023. (AP Photo/Olivier Matthys)
7 of 10
Portugal's Cristiano Ronaldo, second right, looks on as stewards remove a pitch invader during the Euro 2024 group J qualifying soccer match between Luxembourg and Portugal at the Stade de Luxembourg in Luxembourg, Sunday, March 26, 2023. (AP Photo/Olivier Matthys)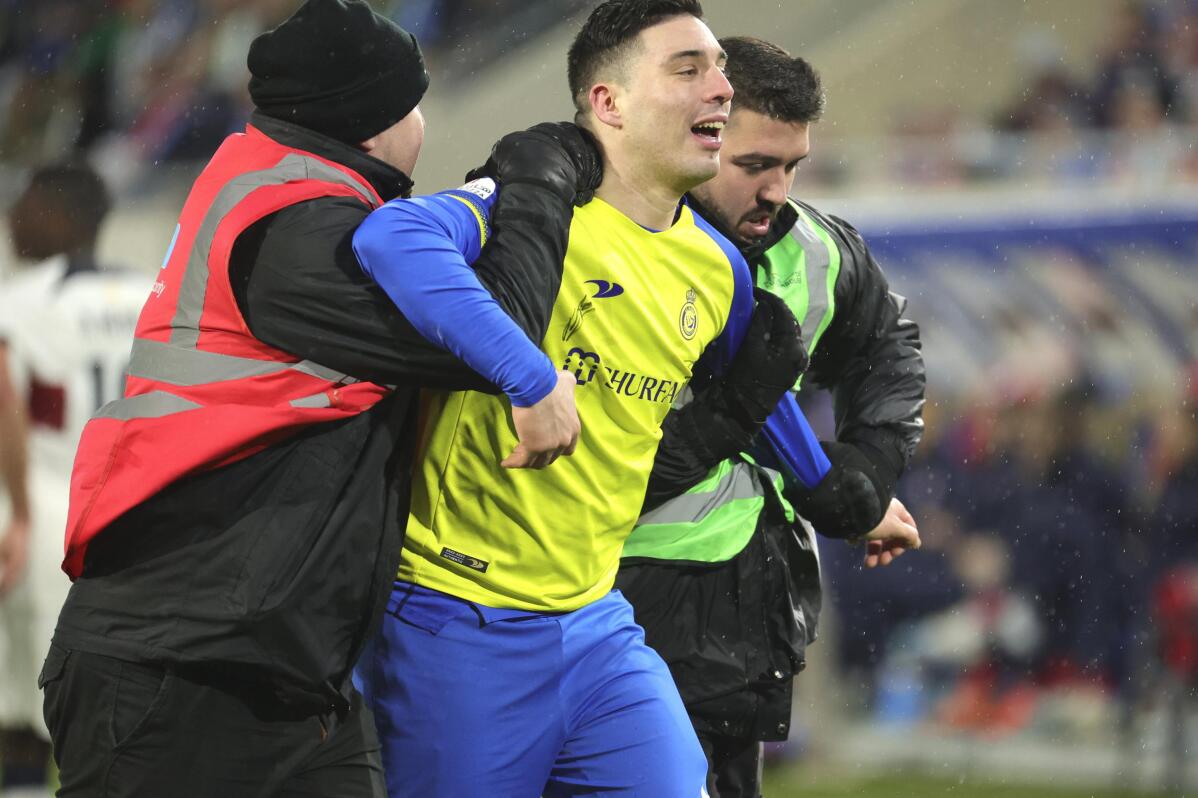 8 of 10

|
Stewards remove a pitch invader during the Euro 2024 group J qualifying soccer match between Luxembourg and Portugal at the Stade de Luxembourg in Luxembourg, Sunday, March 26, 2023. (AP Photo/Olivier Matthys)
8 of 10
Stewards remove a pitch invader during the Euro 2024 group J qualifying soccer match between Luxembourg and Portugal at the Stade de Luxembourg in Luxembourg, Sunday, March 26, 2023. (AP Photo/Olivier Matthys)
9 of 10

|
Luxembourg's Maxime Chanot, center, vies for the ball against Portugal's Cristiano Ronaldo, left, during the Euro 2024 group J qualifying soccer match between Luxembourg and Portugal at the Stade de Luxembourg in Luxembourg, Sunday, March 26, 2023. (AP Photo/Olivier Matthys)
9 of 10
Luxembourg's Maxime Chanot, center, vies for the ball against Portugal's Cristiano Ronaldo, left, during the Euro 2024 group J qualifying soccer match between Luxembourg and Portugal at the Stade de Luxembourg in Luxembourg, Sunday, March 26, 2023. (AP Photo/Olivier Matthys)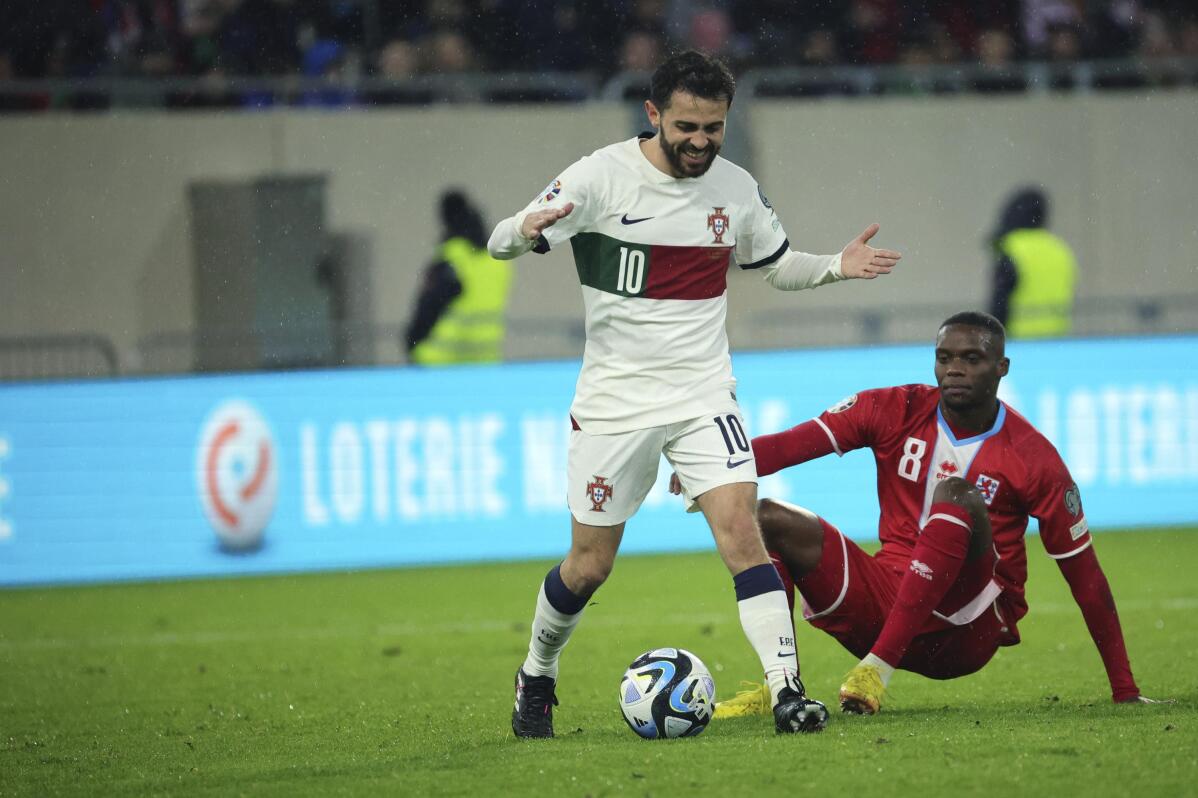 10 of 10

|
Portugal's Bernardo Silva, left, fights for the ball against Luxembourg's Christopher Martins during the Euro 2024 group J qualifying soccer match between Luxembourg and Portugal at the Stade de Luxembourg in Luxembourg, Sunday, March 26, 2023. (AP Photo/Olivier Matthys)
10 of 10
Portugal's Bernardo Silva, left, fights for the ball against Luxembourg's Christopher Martins during the Euro 2024 group J qualifying soccer match between Luxembourg and Portugal at the Stade de Luxembourg in Luxembourg, Sunday, March 26, 2023. (AP Photo/Olivier Matthys)
LUXEMBOURG (AP) — Cristiano Ronaldo scored twice to lead a 6-0 rout of Luxembourg in European Championship qualifying as the Portugal star added to his records for international goals and appearances on Sunday.
The double from Ronaldo, the all-time scoring leader in men's soccer, took his career tally for Portugal to 122 goals in 198 games.
The 38-year-old Ronaldo opened the scoring and netted his team's fourth goal just after the half-hour mark as the 2016 champions easily beat the outplayed hosts.
João Félix and Bernardo Silva scored inbetween Ronaldo's goals, while substitutes Otavio and Rafael Leão added goals in the second half.
The comfortable win comes three days after Ronaldo became the most-capped player in men's international soccer when he scored twice in his 197th appearance to help beat Liechtenstein 4-0 in the debut of coach Roberto Martínez.
Ronaldo's place as Portugal's unquestioned leader has been restored under the Spanish coach, who joined Portugal after finishing his long stint in charge of Belgium following the World Cup.
Ronaldo hit the low point of his spectacular career in Qatar when former coach Fernando Santos benched him for Portugal's knockout games, including a quarterfinals loss to Morocco. His falling out with Santos came amid his break with Manchester United, before he made his surprising move to the Saudi Arabian league.
He has now scored braces in back-to-back starts, albeit against European minnows.
Portugal leads Group J with six points. Slovakia is next with four points after its 2-0 win over Bosnia and Herzegovina, which has three.
Iceland also has three points after it crushed Liechtenstein 7-0. Aaron Gunnarsson scored three times for Iceland.
The top two finishers of the group advance to the tournament to be played in Germany next year.
Ronaldo found goal No. 121 just nine minutes into a rainy first half at Stade de Luxembourg.
The Al-Nassr striker was all alone to push in a headed pass from Nuno Mendes after the Paris Saint-Germain defender squared a cross from Bruno Fernandes.
Félix headed in a well-placed cross by Silva to double the lead in the 15th. Silva headed in a third goal just three minutes later when he steered in a long ball forward by João Palhinha.
Ronaldo made it goal No. 122 when he took a through ball from Fernandes and fired just inside the near post in the 31st.
Martínez substituted Ronaldo, who had picked up a yellow card for simulating a foul, with just over a half-hour left.
Otavio added another header in the 77th before Luxembourg fans finally had reason to cheer when goalkeeper Anthony Moris saved a penalty taken by Leão.
But that was just a prelude to Leão's goal with two minutes remaining.
___
More AP soccer: https://apnews.com/hub/soccer and https://twitter.com/AP_Sports