Mbappé sets league goals record for PSG in 3-1 win vs Lens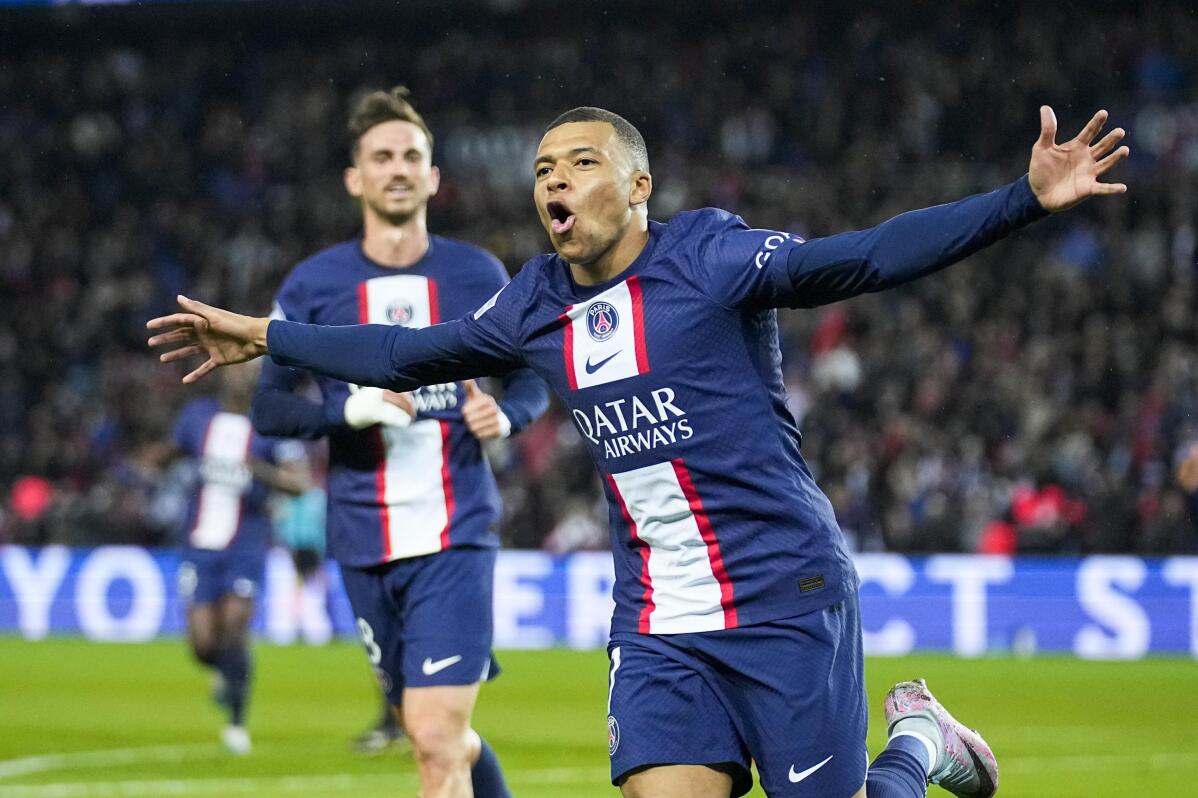 1 of 7

|
PSG's Kylian Mbappe celebrates scoring his side's opening goal during the French League One soccer match between Paris Saint Germain and Lens at Parc des Princes stadium in Paris, France, Saturday, April 15, 2023. (AP Photo/Michel Euler)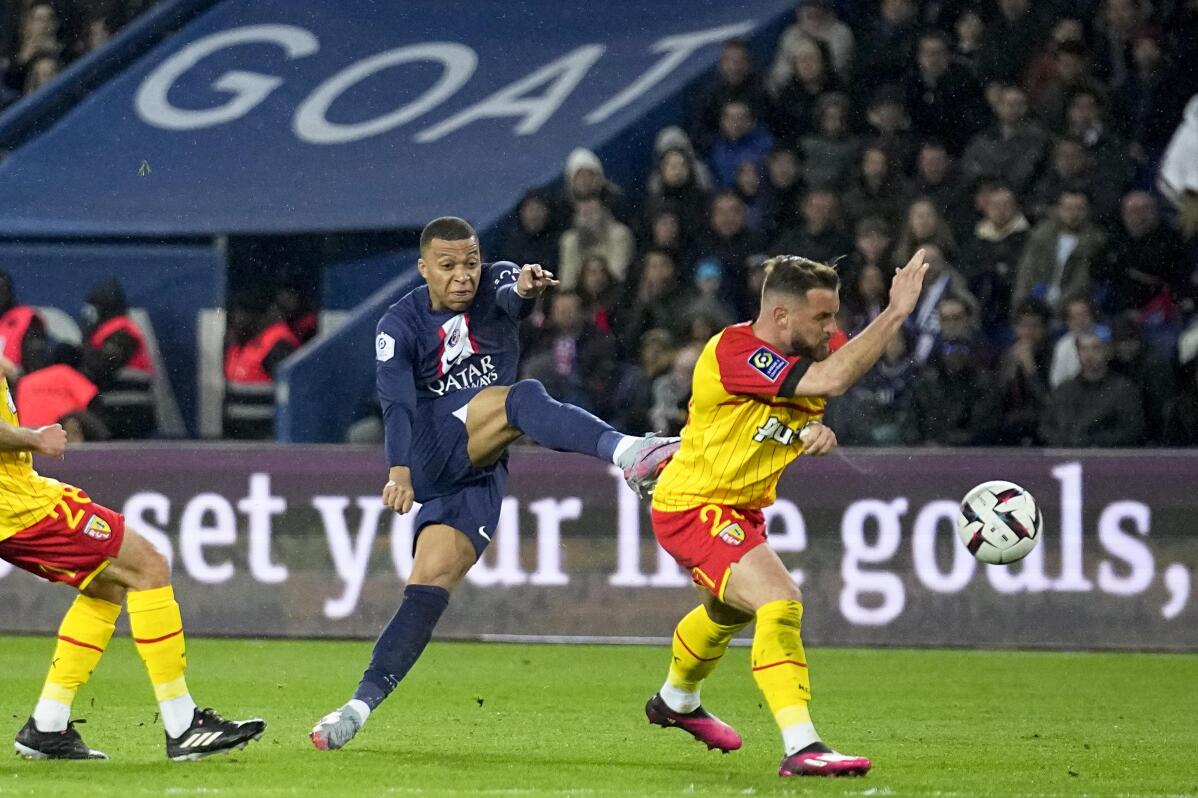 2 of 7

|
PSG's Kylian Mbappe, center, makes an attempt to score during the French League One soccer match between Paris Saint Germain and Lens at Parc des Princes stadium in Paris, France, Saturday, April 15, 2023. (AP Photo/Michel Euler)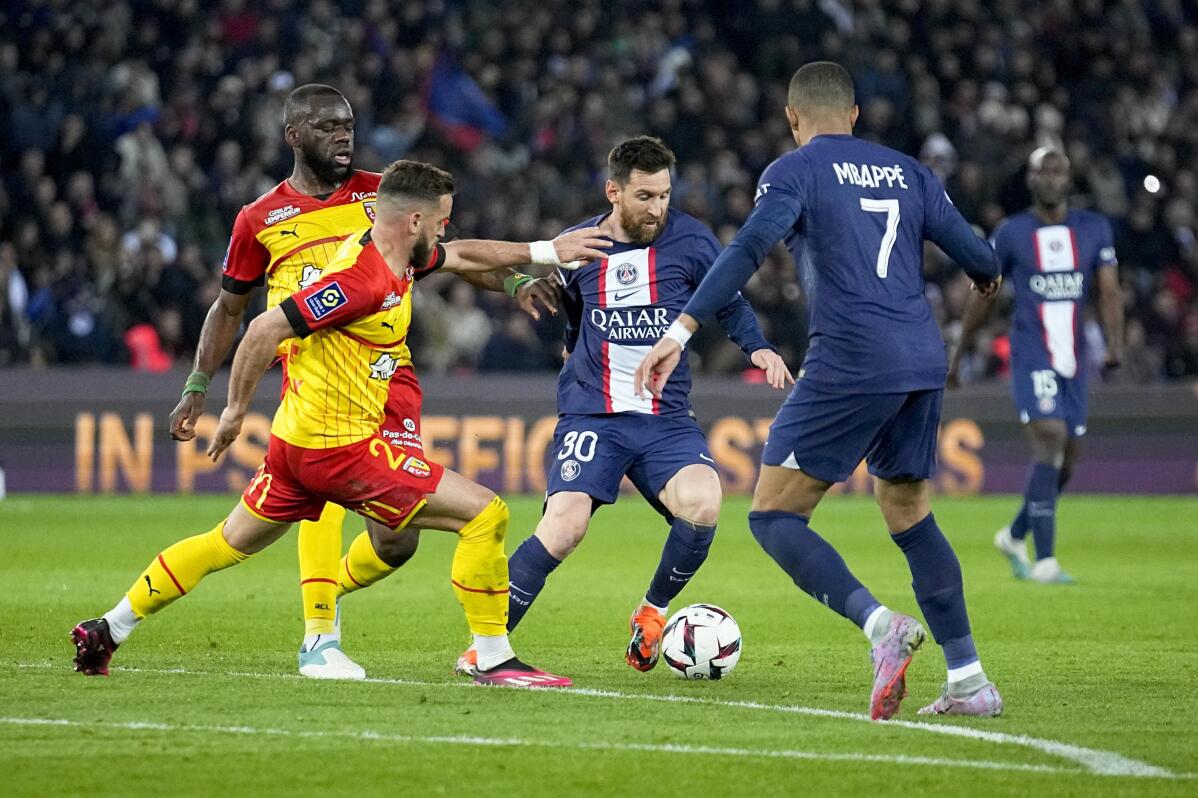 3 of 7

|
PSG's Lionel Messi, center, dribbles the ball challenged by Lens' Jonathan Gradit during the French League One soccer match between Paris Saint Germain and Lens at Parc des Princes stadium in Paris, France, Saturday, April 15, 2023. (AP Photo/Michel Euler)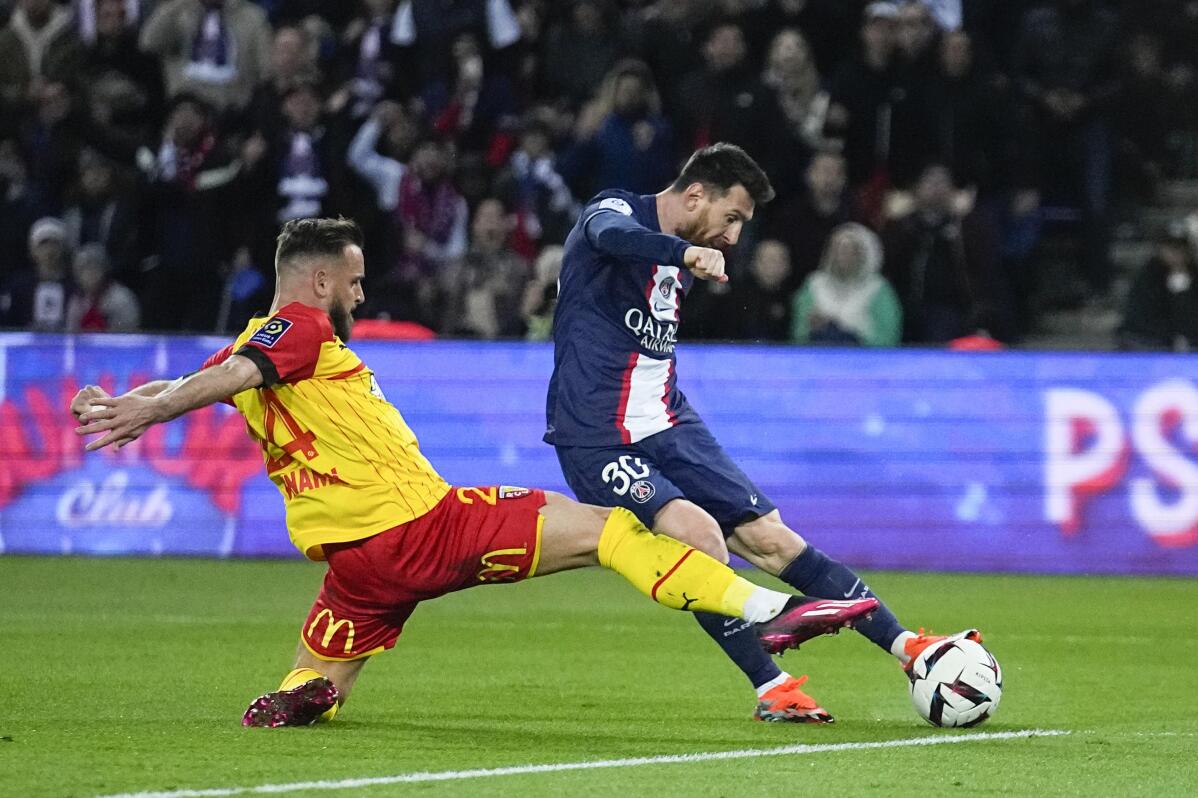 4 of 7

|
PSG's Lionel Messi scores his side's 3rd goal, challenged by Lens' Jonathan Gradit during the French League One soccer match between Paris Saint Germain and Lens at Parc des Princes stadium in Paris, France, Saturday, April 15, 2023. (AP Photo/Michel Euler)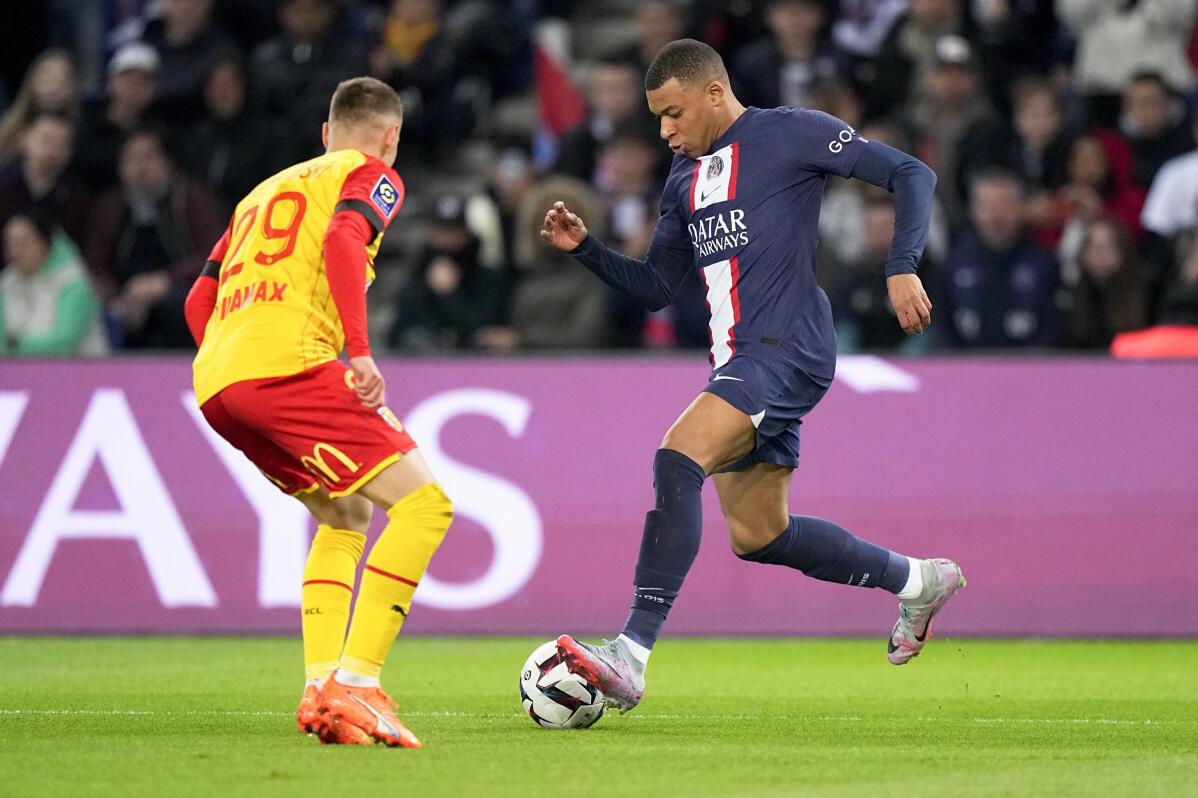 5 of 7

|
PSG's Kylian Mbappe, right, dribbles the ball in front of Lens' Przemyslaw Frankowski during the French League One soccer match between Paris Saint Germain and Lens at Parc des Princes stadium in Paris, France, Saturday, April 15, 2023. (AP Photo/Michel Euler)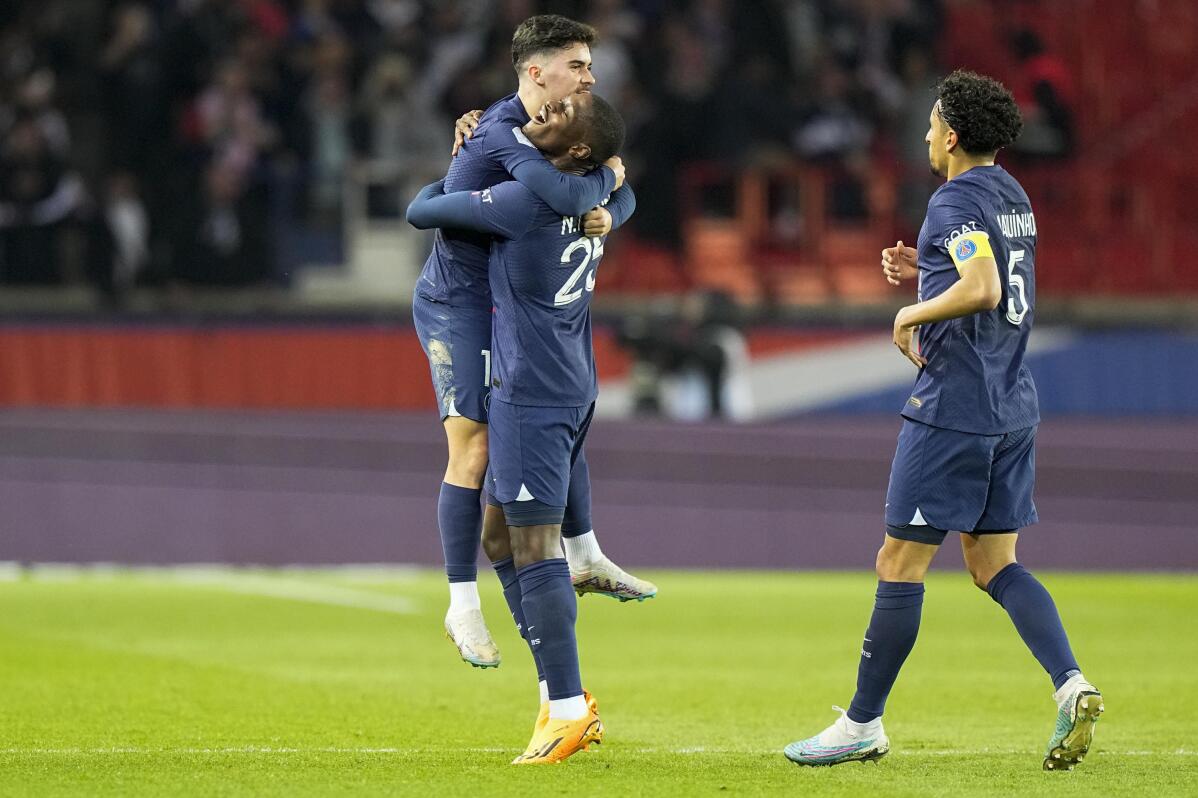 6 of 7

|
PSG's Vitinha, left, is congratulated after scoring his side's 2nd goal during the French League One soccer match between Paris Saint Germain and Lens at Parc des Princes stadium in Paris, France, Saturday, April 15, 2023. (AP Photo/Michel Euler)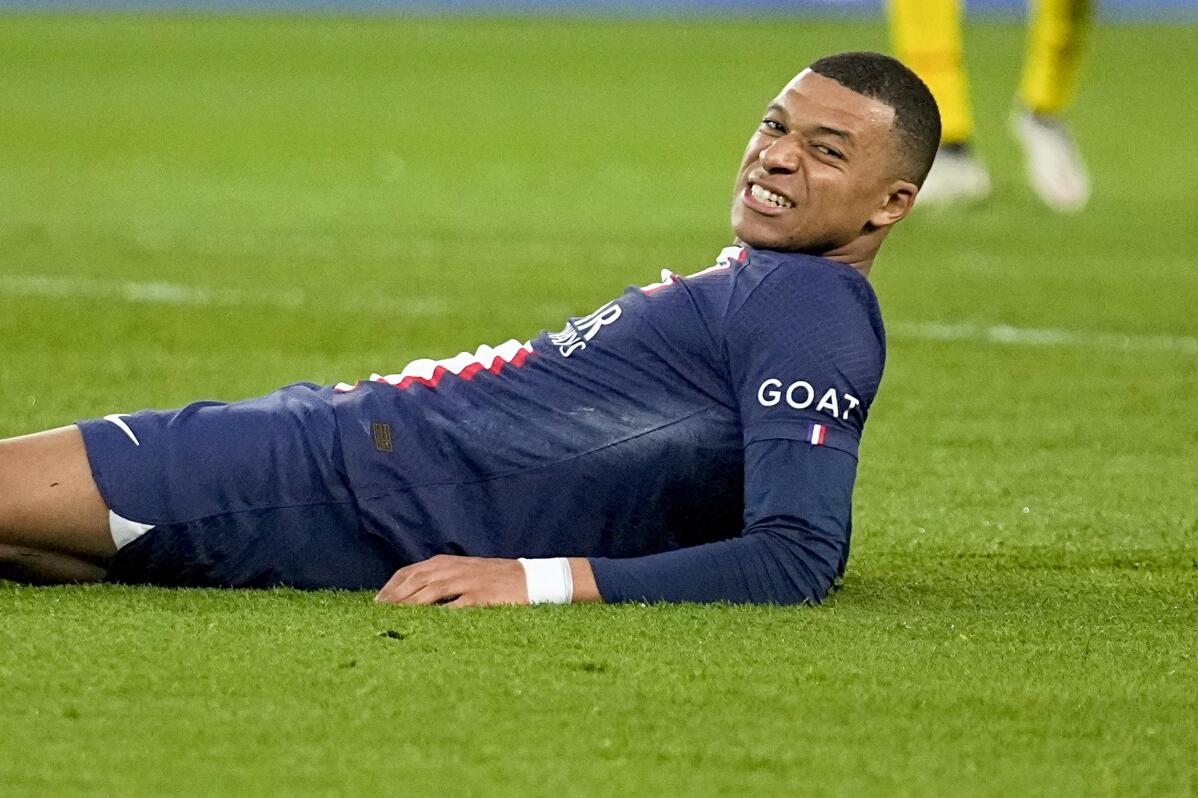 7 of 7

|
PSG's Kylian Mbappe reacts during the French League One soccer match between Paris Saint Germain and Lens at Parc des Princes stadium in Paris, France, Saturday, April 15, 2023. (AP Photo/Michel Euler)
Mbappé sets league goals record for PSG in 3-1 win vs Lens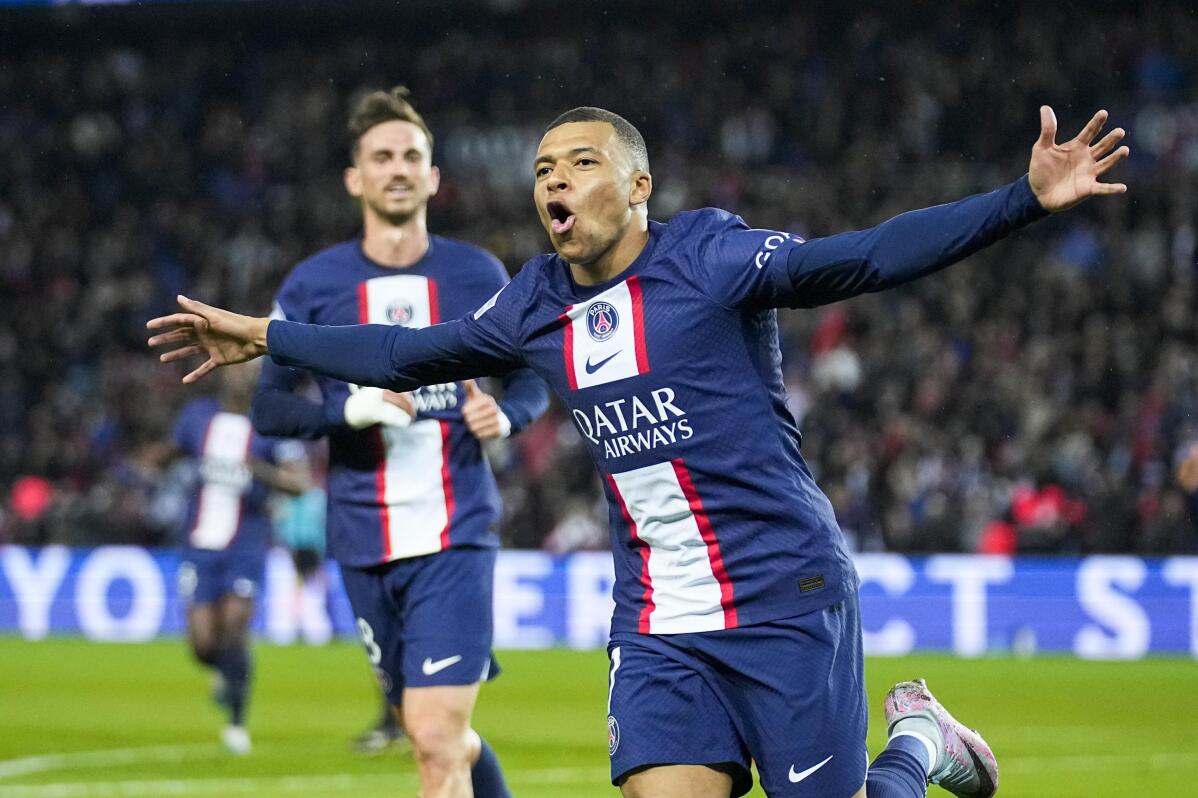 1 of 7

|
PSG's Kylian Mbappe celebrates scoring his side's opening goal during the French League One soccer match between Paris Saint Germain and Lens at Parc des Princes stadium in Paris, France, Saturday, April 15, 2023. (AP Photo/Michel Euler)
1 of 7
PSG's Kylian Mbappe celebrates scoring his side's opening goal during the French League One soccer match between Paris Saint Germain and Lens at Parc des Princes stadium in Paris, France, Saturday, April 15, 2023. (AP Photo/Michel Euler)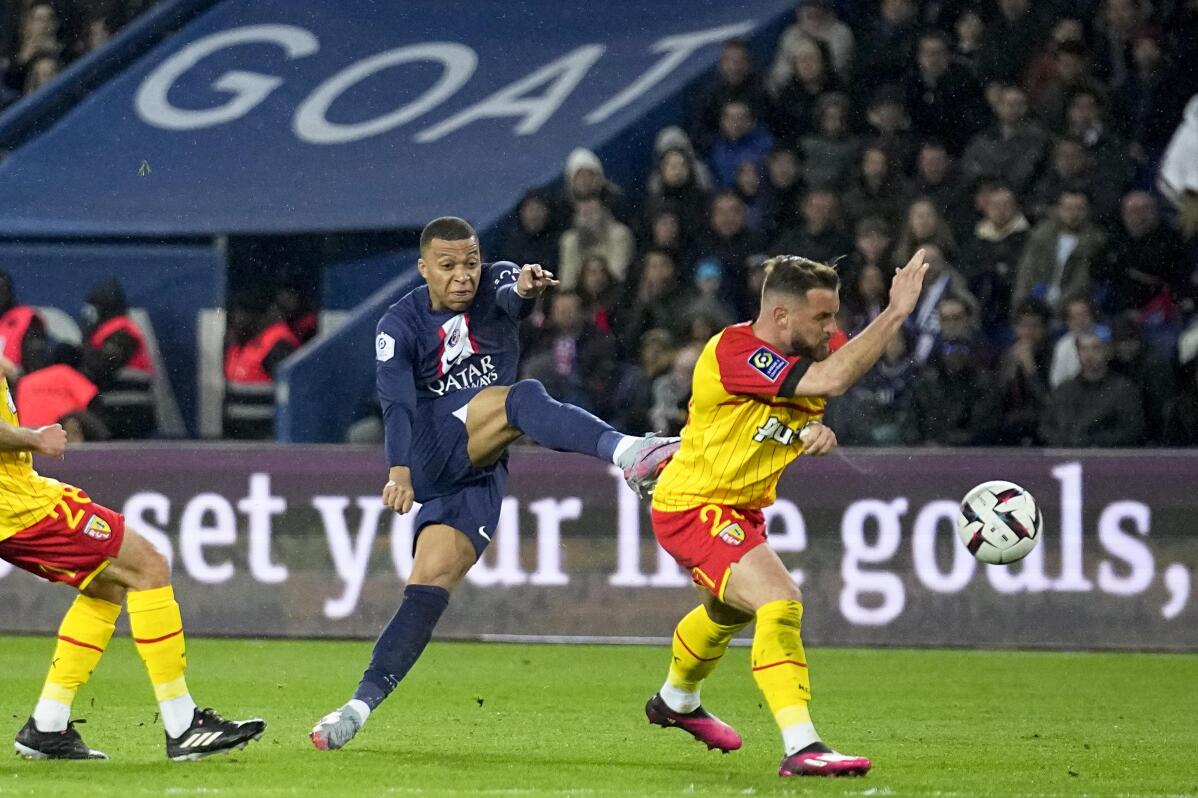 2 of 7

|
PSG's Kylian Mbappe, center, makes an attempt to score during the French League One soccer match between Paris Saint Germain and Lens at Parc des Princes stadium in Paris, France, Saturday, April 15, 2023. (AP Photo/Michel Euler)
2 of 7
PSG's Kylian Mbappe, center, makes an attempt to score during the French League One soccer match between Paris Saint Germain and Lens at Parc des Princes stadium in Paris, France, Saturday, April 15, 2023. (AP Photo/Michel Euler)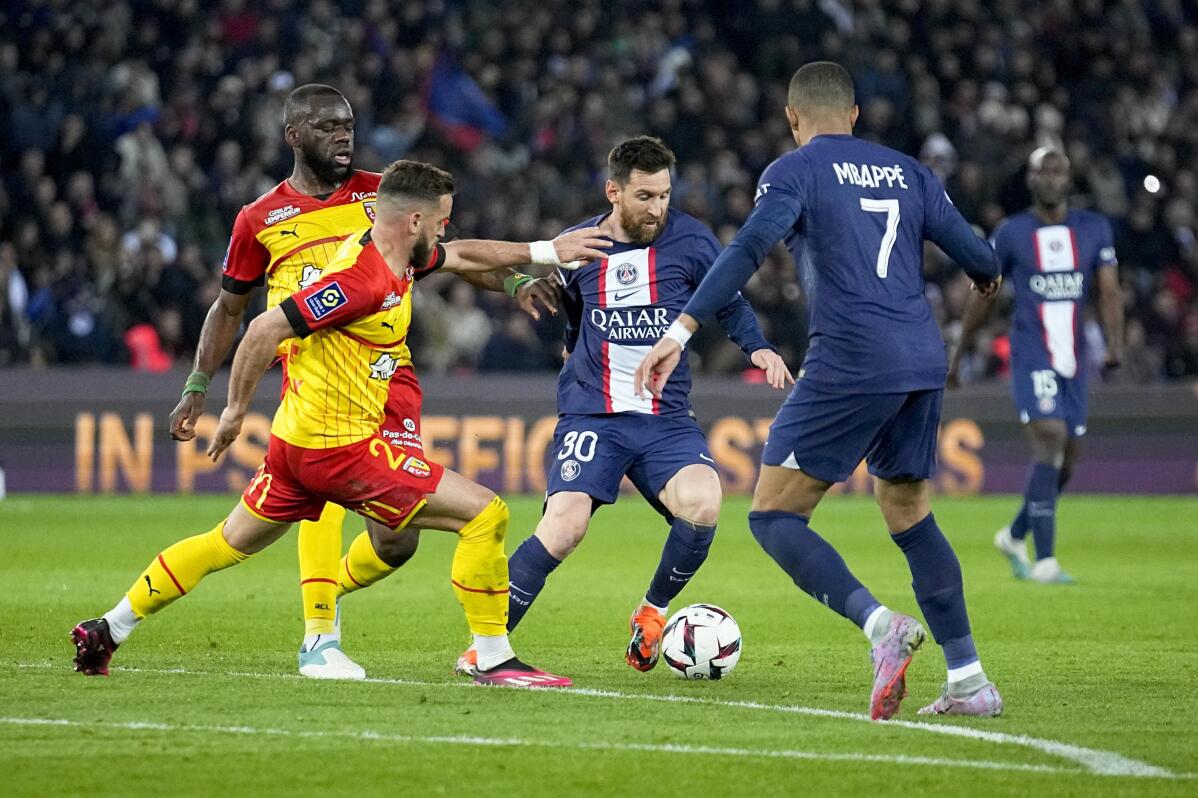 3 of 7

|
PSG's Lionel Messi, center, dribbles the ball challenged by Lens' Jonathan Gradit during the French League One soccer match between Paris Saint Germain and Lens at Parc des Princes stadium in Paris, France, Saturday, April 15, 2023. (AP Photo/Michel Euler)
3 of 7
PSG's Lionel Messi, center, dribbles the ball challenged by Lens' Jonathan Gradit during the French League One soccer match between Paris Saint Germain and Lens at Parc des Princes stadium in Paris, France, Saturday, April 15, 2023. (AP Photo/Michel Euler)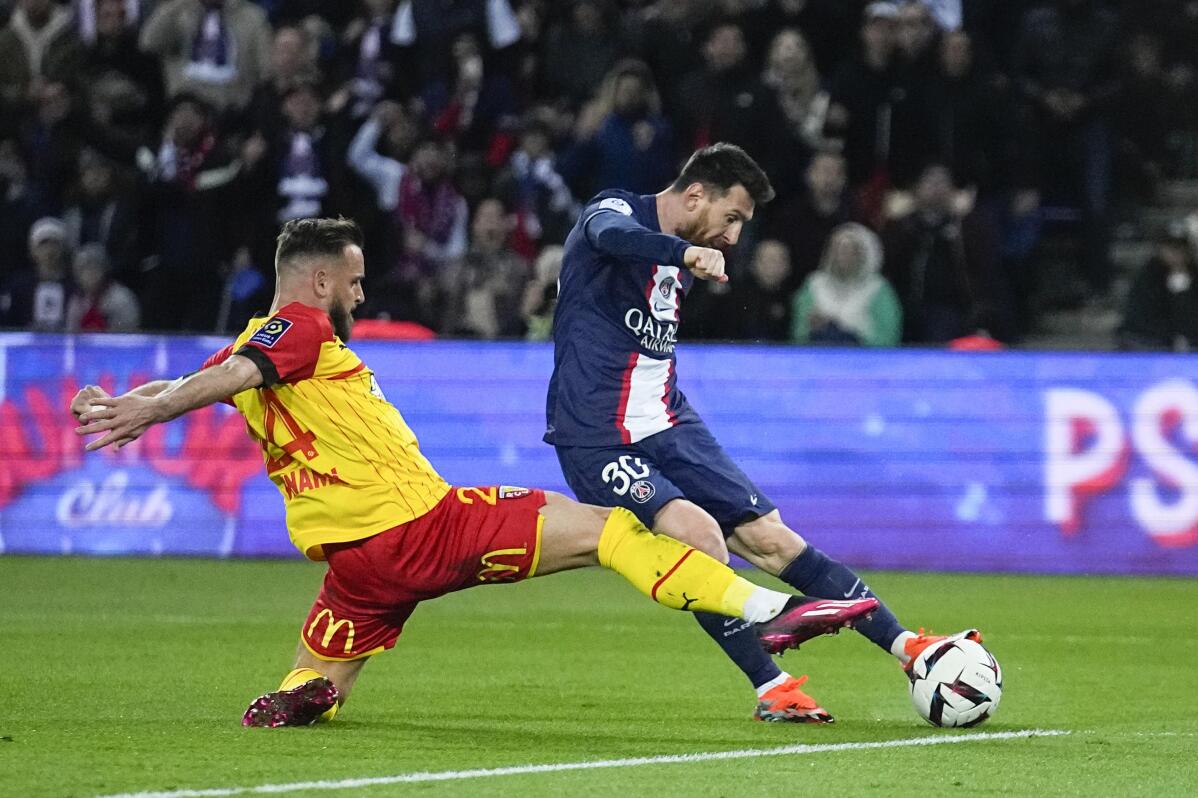 4 of 7

|
PSG's Lionel Messi scores his side's 3rd goal, challenged by Lens' Jonathan Gradit during the French League One soccer match between Paris Saint Germain and Lens at Parc des Princes stadium in Paris, France, Saturday, April 15, 2023. (AP Photo/Michel Euler)
4 of 7
PSG's Lionel Messi scores his side's 3rd goal, challenged by Lens' Jonathan Gradit during the French League One soccer match between Paris Saint Germain and Lens at Parc des Princes stadium in Paris, France, Saturday, April 15, 2023. (AP Photo/Michel Euler)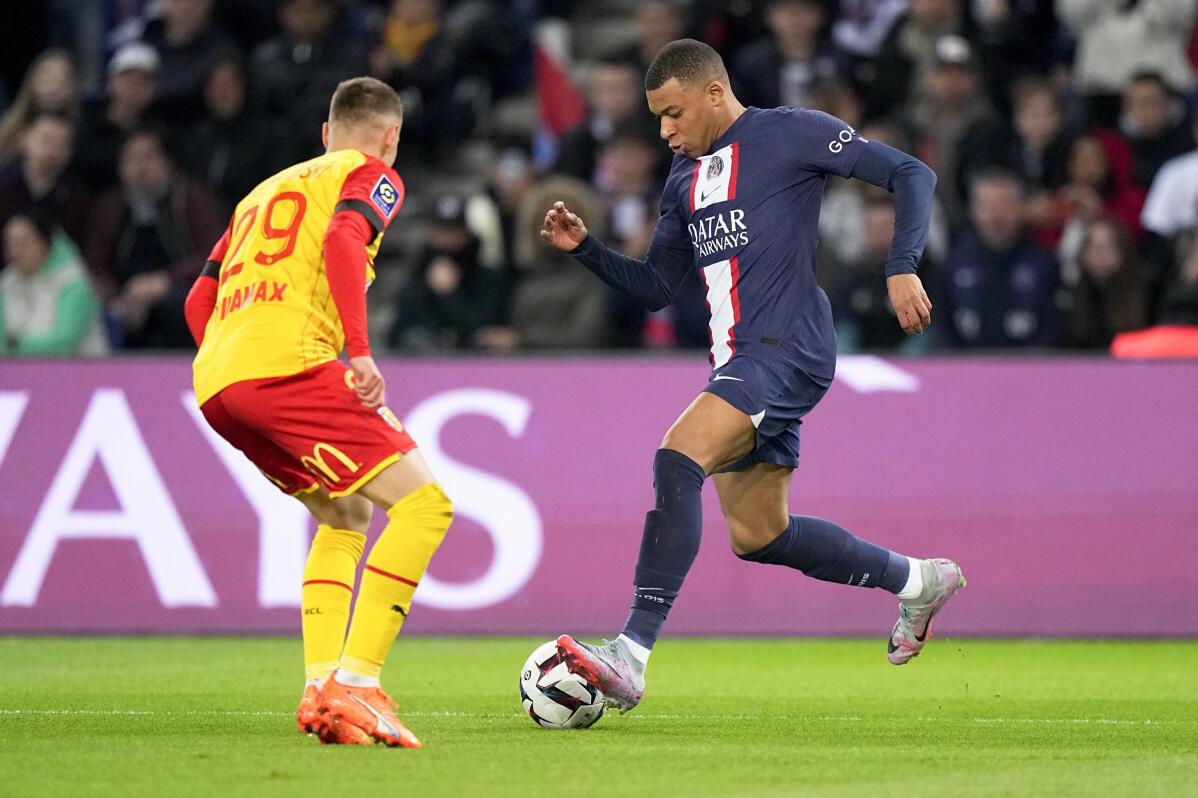 5 of 7

|
PSG's Kylian Mbappe, right, dribbles the ball in front of Lens' Przemyslaw Frankowski during the French League One soccer match between Paris Saint Germain and Lens at Parc des Princes stadium in Paris, France, Saturday, April 15, 2023. (AP Photo/Michel Euler)
5 of 7
PSG's Kylian Mbappe, right, dribbles the ball in front of Lens' Przemyslaw Frankowski during the French League One soccer match between Paris Saint Germain and Lens at Parc des Princes stadium in Paris, France, Saturday, April 15, 2023. (AP Photo/Michel Euler)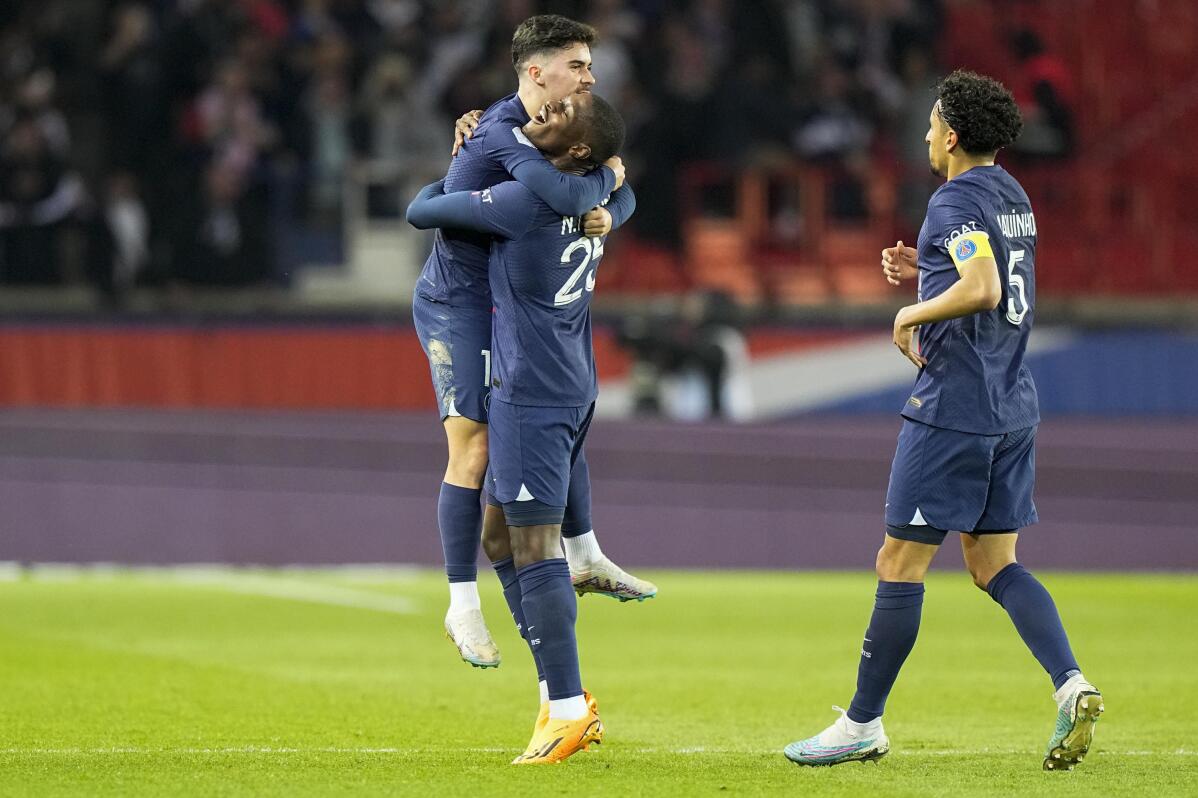 6 of 7

|
PSG's Vitinha, left, is congratulated after scoring his side's 2nd goal during the French League One soccer match between Paris Saint Germain and Lens at Parc des Princes stadium in Paris, France, Saturday, April 15, 2023. (AP Photo/Michel Euler)
6 of 7
PSG's Vitinha, left, is congratulated after scoring his side's 2nd goal during the French League One soccer match between Paris Saint Germain and Lens at Parc des Princes stadium in Paris, France, Saturday, April 15, 2023. (AP Photo/Michel Euler)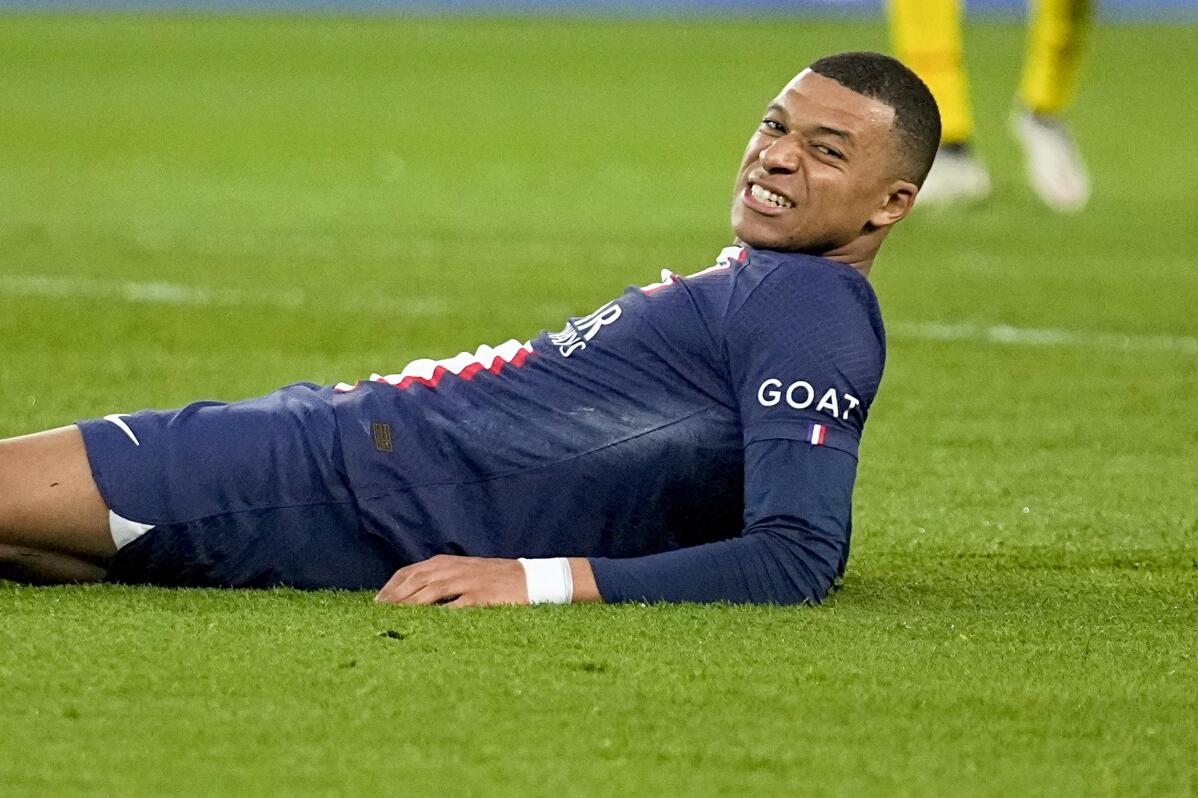 7 of 7

|
PSG's Kylian Mbappe reacts during the French League One soccer match between Paris Saint Germain and Lens at Parc des Princes stadium in Paris, France, Saturday, April 15, 2023. (AP Photo/Michel Euler)
7 of 7
PSG's Kylian Mbappe reacts during the French League One soccer match between Paris Saint Germain and Lens at Parc des Princes stadium in Paris, France, Saturday, April 15, 2023. (AP Photo/Michel Euler)
PARIS (AP) — Kylian Mbappé and Lionel Messi scored a goal each as French league leader Paris Saint-Germain profited from a red card to beat second-place Lens 3-1 and move nine points clear of its rival.
It was an extra special goal for Mbappé. Earlier this season he became PSG's all-time leading scorer when he beat Edinson Cavani's 200-goal mark. Mbappé's strike on Saturday against Lens made the 24-year-old France striker the outright all-time top scorer for PSG in the league with 139 goals. Cavani netted 138.
Overall, Mbappé now counts 203 for PSG.
Marseille can go above Lens with a home win against struggling Troyes on Sunday, with seven games left after this weekend's round.
Lens was in complete control until midfielder Salis Abdul Samed was sent off for a reckless challenge on right back Achraf Hakimi in the 19th minute.
Mbappé scored his league-leading 20th goal when he took a pass from midfielder Vitinha and turned quickly before hitting a first-time shot into the bottom right corner in the 31st. Vitinha doubled the lead six minutes later with a 25-meter strike into the same corner.
Messi then combined in the 40th with Mbappé, who backheeled the ball to the Argentine for a low strike. It was Messi's 15th league goal.
Lens played better than PSG in the second half, despite being a player down. A handball from PSG midfielder Fabian Ruiz following a corner gave Lens a penalty and Poland winger Przemysław Frankowski sent goalkeeper Gianluigi Donnarumma the wrong way in the 60th.
Lens' 15-goal top scorer Loïs Openda had a shot saved in the 64th and then forced a corner as the visitors kept up the pressure.
PSG coach Christophe Galtier has been under pressure after eight defeats this year across all competitions, and this week vehemently denied allegations he had made racist and anti-Muslim comments when he was in charge of Nice last season.
The Parc des Princes crowd fell silent as Lens dominated early on, with Samed's header smartly saved by Donnarumma after just two minutes.
PSG defender Danilo almost scored an embarrassing own-goal when his looping back pass from near halfway surprised Donnarumma in the 10th and bounced just wide.
The match turned in PSG's favor when midfielder Samed lunged at Hakimi and caught his left ankle in a dangerous tackle.
Also Saturday, Rennes beat Reims 3-0 to move one point above Lille and into fifth place. Belgium winger Jérémy Doku scored twice for Rennes inside the first 20 minutes. Defender Arthur Theate made it 3-0 in the 69th.
___
More AP soccer: https://apnews.com/hub/soccer and https://twitter.com/AP_Sports