Mud, rain hamper landslide rescue in India
MALIN, India (AP) — Rescuers searching for dozens of people still missing after a landslide in western India said Friday that sniffer dogs and machines to detect signs of life were all but useless in 15 feet (4.5 meters) of heavy mud and debris.
The landslide engulfed Malin village, in Pune district of Maharashtra state, on Wednesday, killing at least 63 people, including nine children.
Dozens of people are still missing. Chances of finding anyone alive were increasingly slim.
"Rescuers are finding it very difficult to use life-detectors or trained dogs because of conditions on the ground," said Shekhar Shinde, a district official.
One of the few people pulled alive from the rubble in the hours after the landslide were Pramila Lende and her 3-month-old son. Lende said she was feeding her son when she heard the roar of earth and mud ripping down the hillside.
"I started running with my child but a heap of mud landed on my body," Lende said. She and the baby cowered in an area with breathing space until the baby's cries caught the attention of rescue workers.
Rescuers have not pulled anyone out alive since Wednesday night.
Landslides are common in the area during the monsoon season, which runs from June through September.
The area around the village has been deforested extensively, increasing its vulnerability to landslides. Similar deforestation and environmental damage have caused floods and landslides in other parts of India.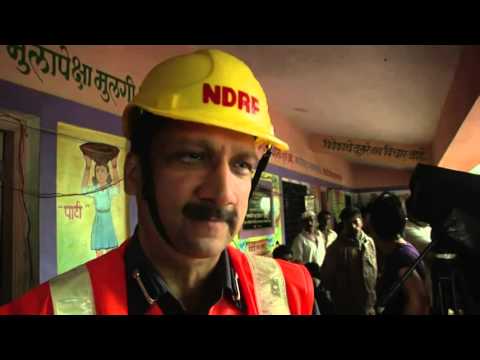 Pune district is about 150 kilometers (95 miles) southeast of Mumbai, India's commercial capital.