India police seek Sikh leader, arrest separatist supporters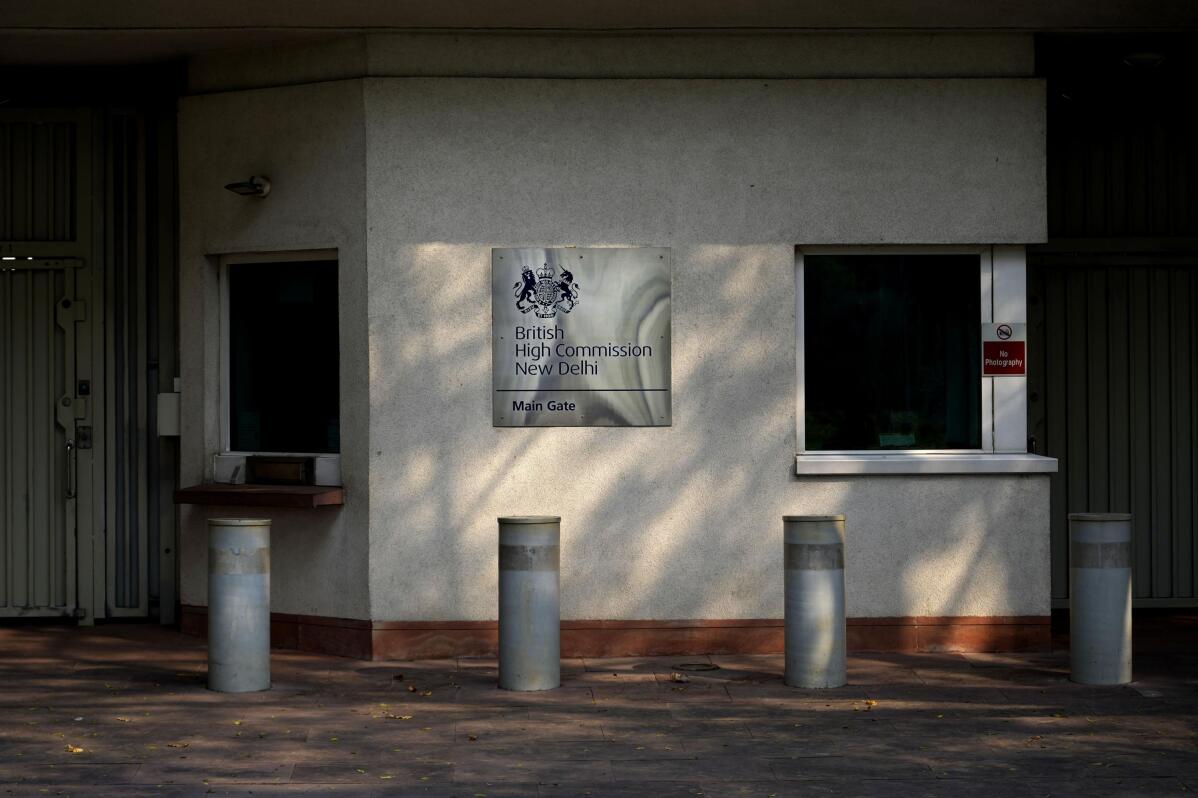 1 of 6

|
A deserted entrance to the British High Commission after temporary security barricades were removed in New Delhi, Wednesday, March 22, 2023. Supporters of the Khalistan movement for an independent Sikh state pulled down the Indian flag at the country's high commission in London and smashed the building's window in protest against the move to arrest separatist leader Amritpal Singh. India's foreign ministry summoned the U.K.'s deputy high commissioner to protest what it called the breach of security. There was no immediate comment whether the removal of security barricades was in retaliation to the incident in London. (AP Photo/Manish Swarup)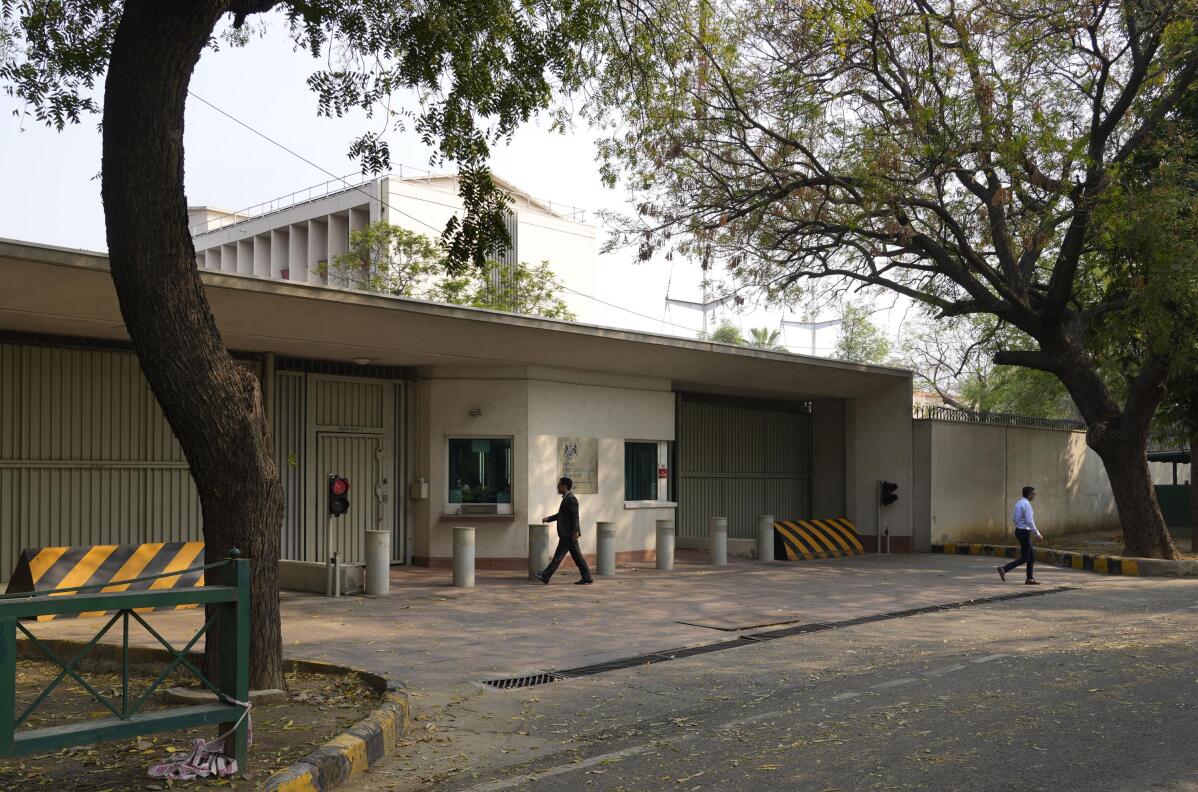 2 of 6

|
People walk outside the British High Commission after temporary security barricades were removed in New Delhi, Wednesday, March 22, 2023. Supporters of the Khalistan movement for an independent Sikh state pulled down the Indian flag at the country's high commission in London and smashed the building's window in protest against the move to arrest separatist leader Amritpal Singh. India's foreign ministry summoned the U.K.'s deputy high commissioner to protest what it called the breach of security. There was no immediate comment whether the removal of security barricades was in retaliation to the incident in London. (AP Photo/Manish Swarup)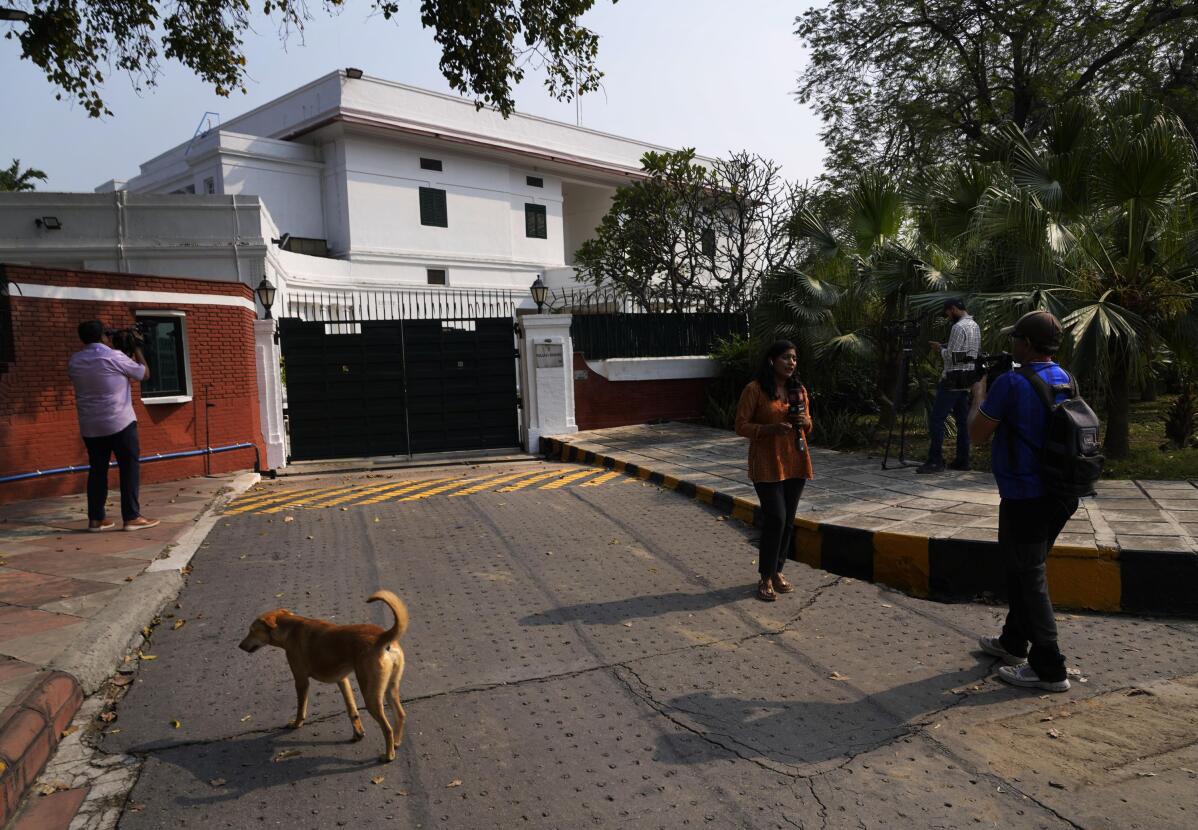 3 of 6

|
Journalists report outside the residence of the British Ambassador after temporary security barricades were removed in New Delhi, Wednesday, March 22, 2023. Supporters of the Khalistan movement for an independent Sikh state pulled down the Indian flag at the country's high commission in London and smashed the building's window in protest against the move to arrest separatist leader Amritpal Singh. India's foreign ministry summoned the U.K.'s deputy high commissioner to protest what it called the breach of security. There was no immediate comment whether the removal of security barricades was in retaliation to the incident in London. (AP Photo/Manish Swarup)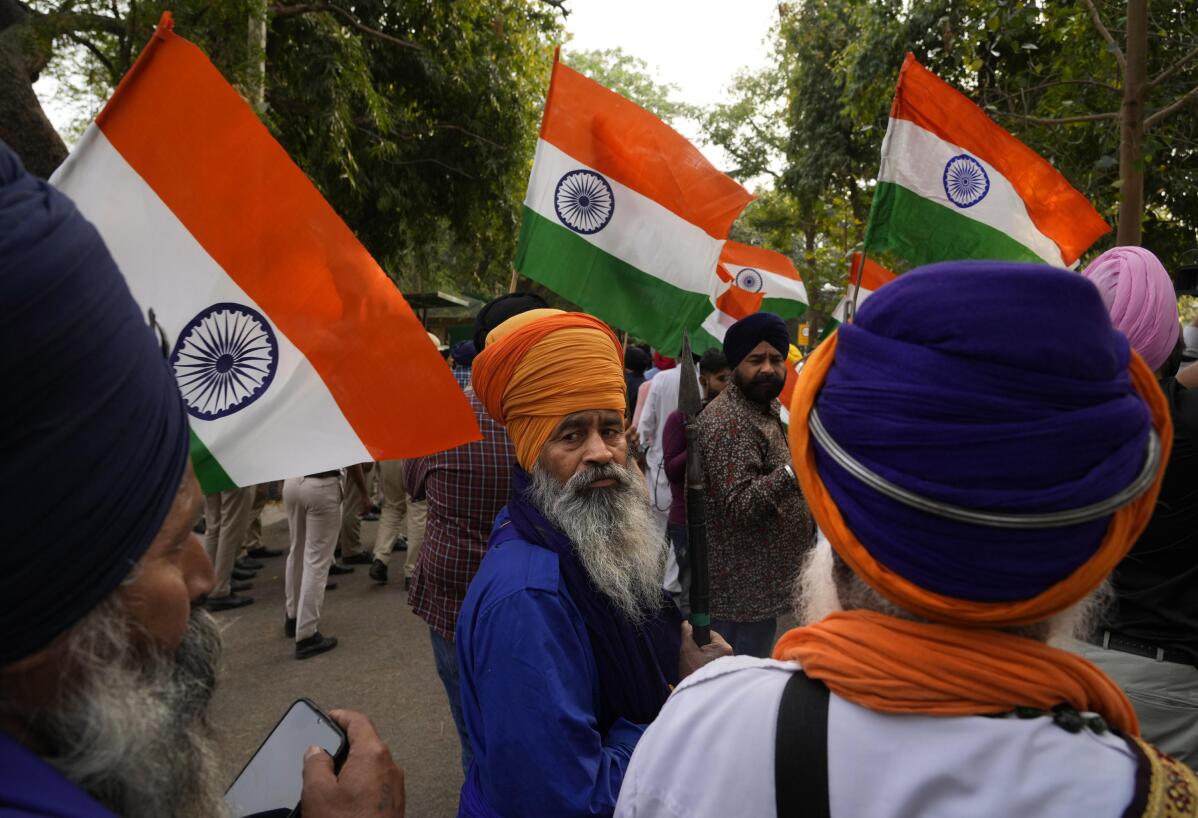 4 of 6

|
FILE- Indian Sikhs protesting against the pulling down of Indian flag from the Indian High Commission building in London gather with Indian flags outside the British High Commission in New Delhi, India, Monday, March 20, 2023. Footage posted on social media showed a man detach the Indian flag from a balcony of the building while a crowd of people below waving bright yellow "Khalistan" banners appeared to encourage him. Indian police have launched a manhunt for a Sikh separatist leader who has revived calls for an independent Sikh homeland, stirring fears of violence in northwestern Punjab state that has a history of bloody separatist insurgency. (AP Photo/Manish Swarup)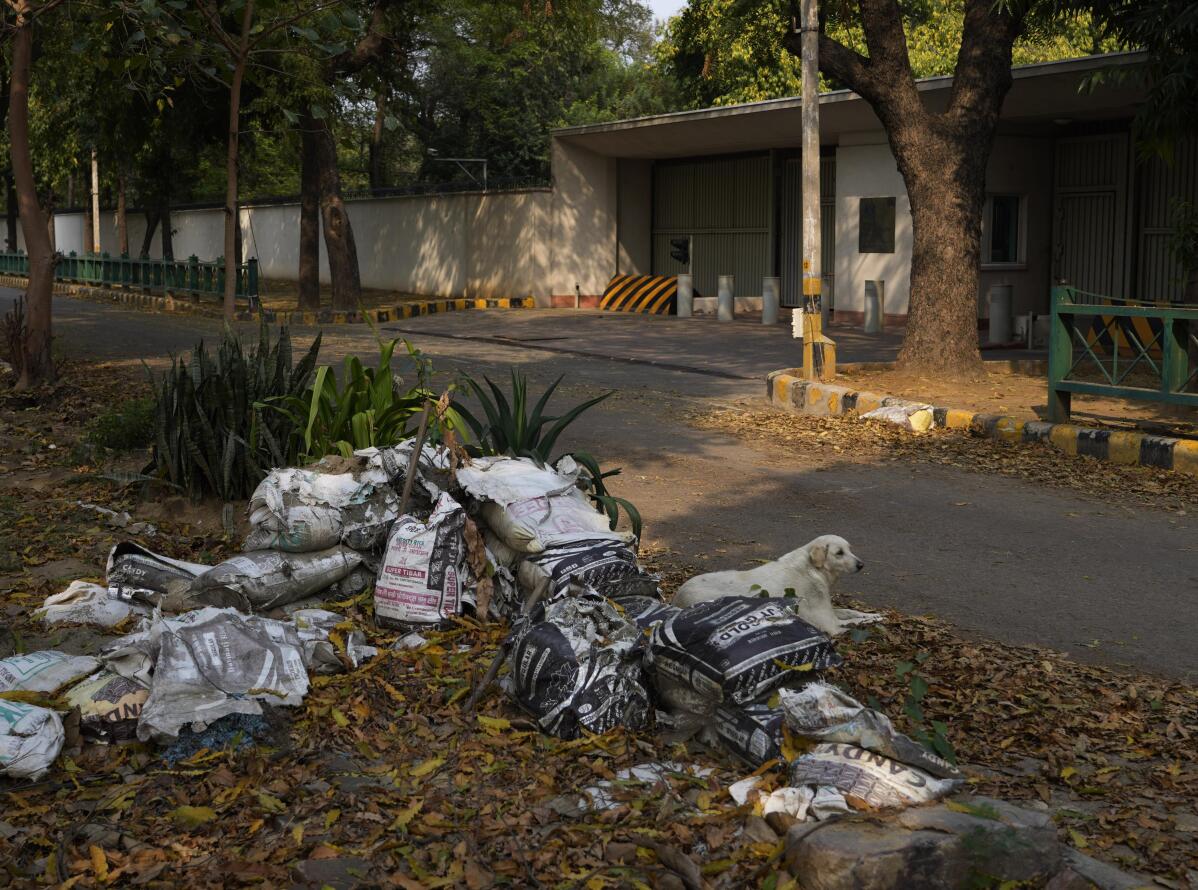 5 of 6

|
A stray dog sits outside the British High Commission after temporary security barricades were removed in New Delhi, Wednesday, March 22, 2023. Supporters of the Khalistan movement for an independent Sikh state pulled down the Indian flag at the country's high commission in London and smashed the building's window in protest against the move to arrest separatist leader Amritpal Singh. India's foreign ministry summoned the U.K.'s deputy high commissioner to protest what it called the breach of security. There was no immediate comment whether the removal of security barricades was in retaliation to the incident in London. (AP Photo/Manish Swarup)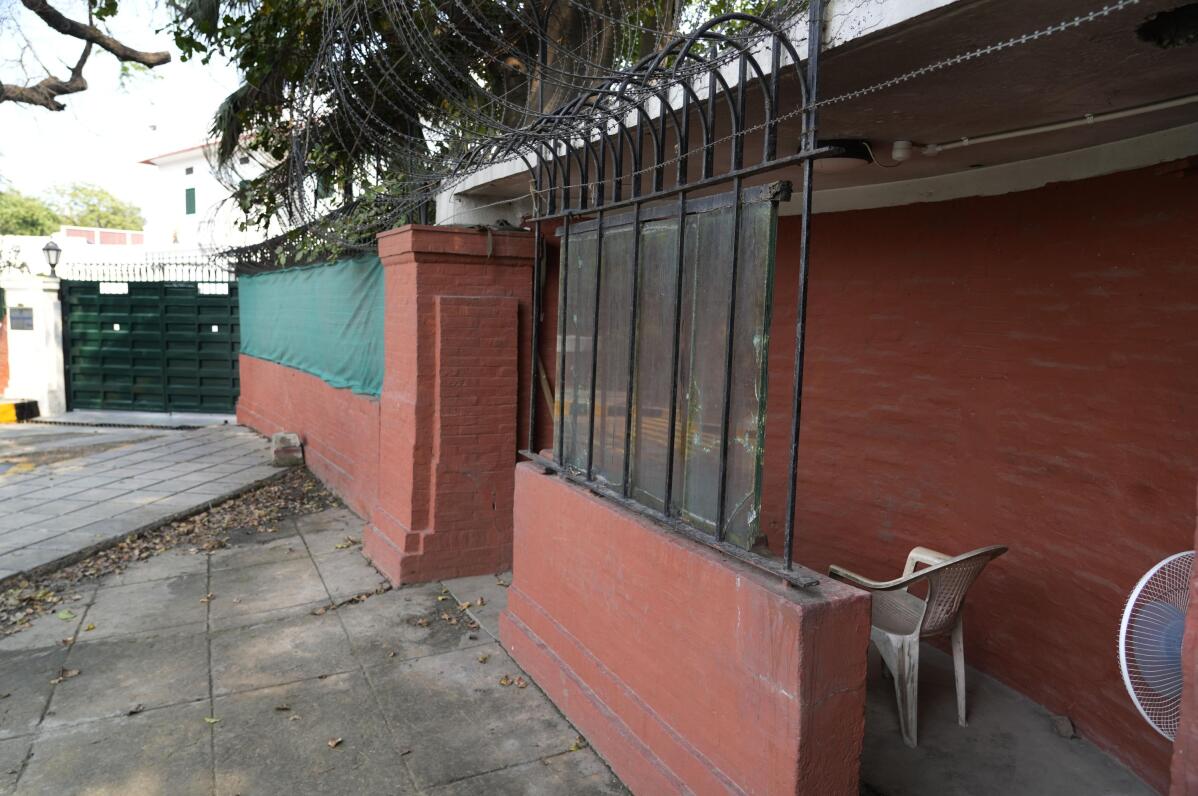 6 of 6

|
An abandoned security post outside the residence of the British Ambassador after temporary security barricades were removed in New Delhi, Wednesday, March 22, 2023. Supporters of the Khalistan movement for an independent Sikh state pulled down the Indian flag at the country's high commission in London and smashed the building's window in protest against the move to arrest separatist leader Amritpal Singh. India's foreign ministry summoned the U.K.'s deputy high commissioner to protest what it called breach of security.There was no immediate comment whether the removal of security barricades was in retaliation to the incident in London. (AP Photo/Manish Swarup)
India police seek Sikh leader, arrest separatist supporters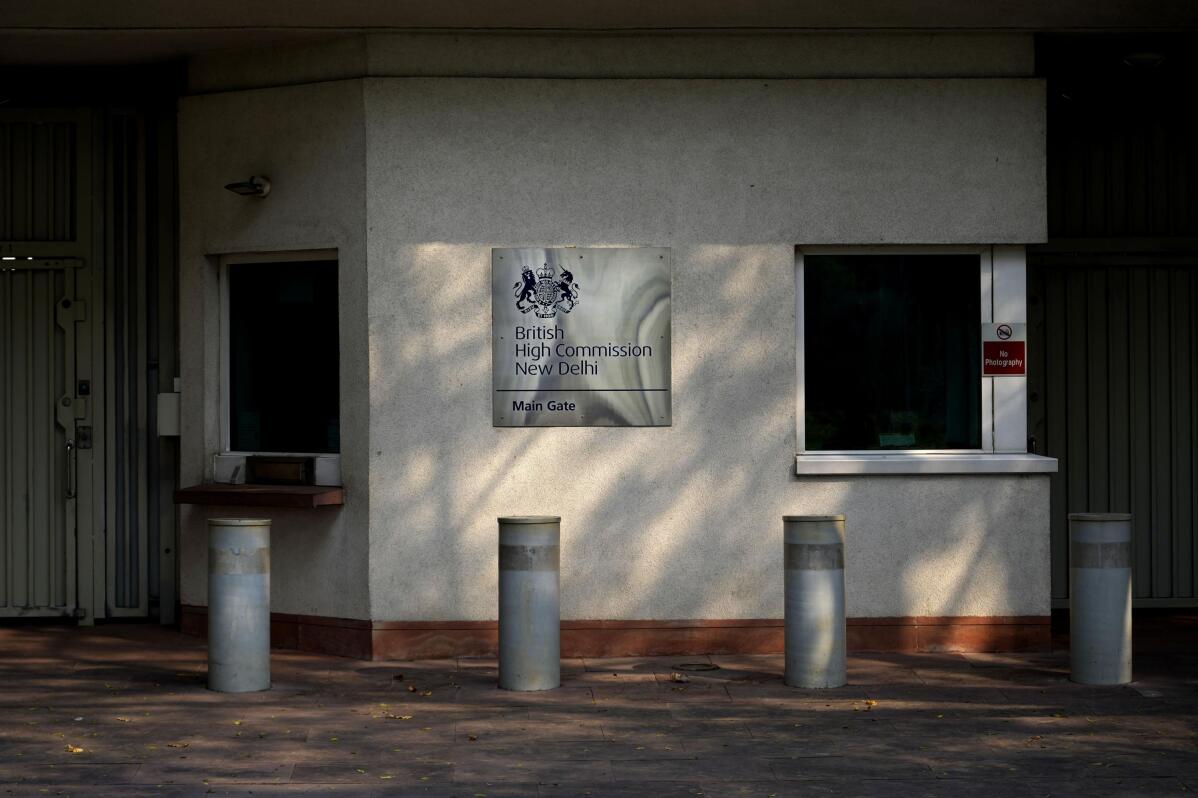 1 of 6

|
A deserted entrance to the British High Commission after temporary security barricades were removed in New Delhi, Wednesday, March 22, 2023. Supporters of the Khalistan movement for an independent Sikh state pulled down the Indian flag at the country's high commission in London and smashed the building's window in protest against the move to arrest separatist leader Amritpal Singh. India's foreign ministry summoned the U.K.'s deputy high commissioner to protest what it called the breach of security. There was no immediate comment whether the removal of security barricades was in retaliation to the incident in London. (AP Photo/Manish Swarup)
1 of 6
A deserted entrance to the British High Commission after temporary security barricades were removed in New Delhi, Wednesday, March 22, 2023. Supporters of the Khalistan movement for an independent Sikh state pulled down the Indian flag at the country's high commission in London and smashed the building's window in protest against the move to arrest separatist leader Amritpal Singh. India's foreign ministry summoned the U.K.'s deputy high commissioner to protest what it called the breach of security. There was no immediate comment whether the removal of security barricades was in retaliation to the incident in London. (AP Photo/Manish Swarup)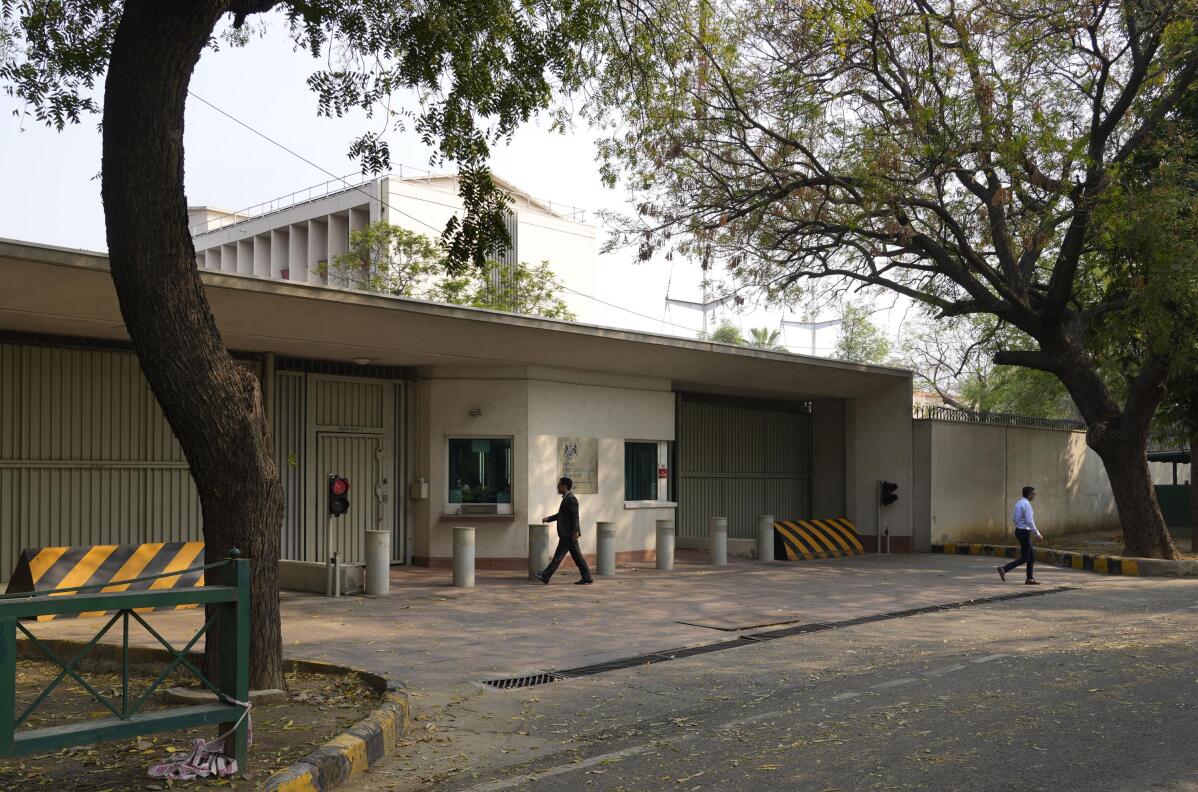 2 of 6

|
People walk outside the British High Commission after temporary security barricades were removed in New Delhi, Wednesday, March 22, 2023. Supporters of the Khalistan movement for an independent Sikh state pulled down the Indian flag at the country's high commission in London and smashed the building's window in protest against the move to arrest separatist leader Amritpal Singh. India's foreign ministry summoned the U.K.'s deputy high commissioner to protest what it called the breach of security. There was no immediate comment whether the removal of security barricades was in retaliation to the incident in London. (AP Photo/Manish Swarup)
2 of 6
People walk outside the British High Commission after temporary security barricades were removed in New Delhi, Wednesday, March 22, 2023. Supporters of the Khalistan movement for an independent Sikh state pulled down the Indian flag at the country's high commission in London and smashed the building's window in protest against the move to arrest separatist leader Amritpal Singh. India's foreign ministry summoned the U.K.'s deputy high commissioner to protest what it called the breach of security. There was no immediate comment whether the removal of security barricades was in retaliation to the incident in London. (AP Photo/Manish Swarup)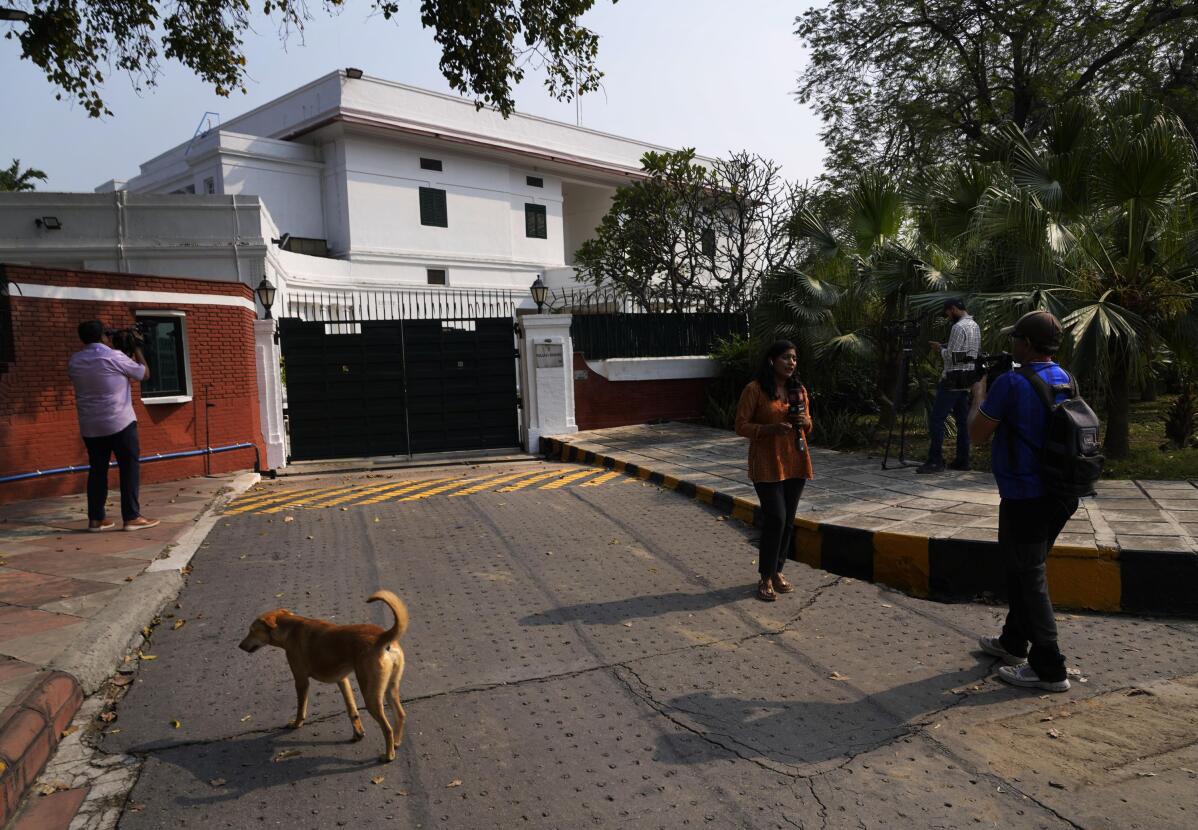 3 of 6

|
Journalists report outside the residence of the British Ambassador after temporary security barricades were removed in New Delhi, Wednesday, March 22, 2023. Supporters of the Khalistan movement for an independent Sikh state pulled down the Indian flag at the country's high commission in London and smashed the building's window in protest against the move to arrest separatist leader Amritpal Singh. India's foreign ministry summoned the U.K.'s deputy high commissioner to protest what it called the breach of security. There was no immediate comment whether the removal of security barricades was in retaliation to the incident in London. (AP Photo/Manish Swarup)
3 of 6
Journalists report outside the residence of the British Ambassador after temporary security barricades were removed in New Delhi, Wednesday, March 22, 2023. Supporters of the Khalistan movement for an independent Sikh state pulled down the Indian flag at the country's high commission in London and smashed the building's window in protest against the move to arrest separatist leader Amritpal Singh. India's foreign ministry summoned the U.K.'s deputy high commissioner to protest what it called the breach of security. There was no immediate comment whether the removal of security barricades was in retaliation to the incident in London. (AP Photo/Manish Swarup)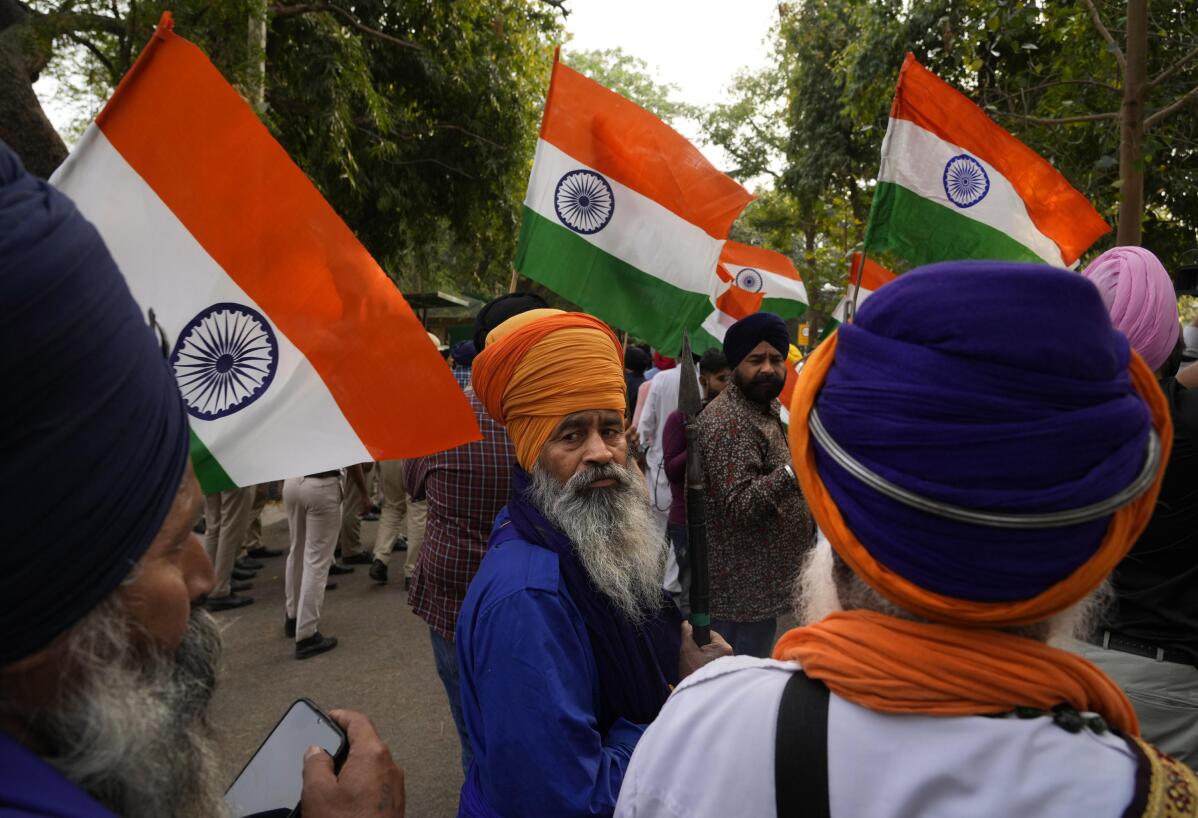 4 of 6

|
FILE- Indian Sikhs protesting against the pulling down of Indian flag from the Indian High Commission building in London gather with Indian flags outside the British High Commission in New Delhi, India, Monday, March 20, 2023. Footage posted on social media showed a man detach the Indian flag from a balcony of the building while a crowd of people below waving bright yellow "Khalistan" banners appeared to encourage him. Indian police have launched a manhunt for a Sikh separatist leader who has revived calls for an independent Sikh homeland, stirring fears of violence in northwestern Punjab state that has a history of bloody separatist insurgency. (AP Photo/Manish Swarup)
4 of 6
FILE- Indian Sikhs protesting against the pulling down of Indian flag from the Indian High Commission building in London gather with Indian flags outside the British High Commission in New Delhi, India, Monday, March 20, 2023. Footage posted on social media showed a man detach the Indian flag from a balcony of the building while a crowd of people below waving bright yellow "Khalistan" banners appeared to encourage him. Indian police have launched a manhunt for a Sikh separatist leader who has revived calls for an independent Sikh homeland, stirring fears of violence in northwestern Punjab state that has a history of bloody separatist insurgency. (AP Photo/Manish Swarup)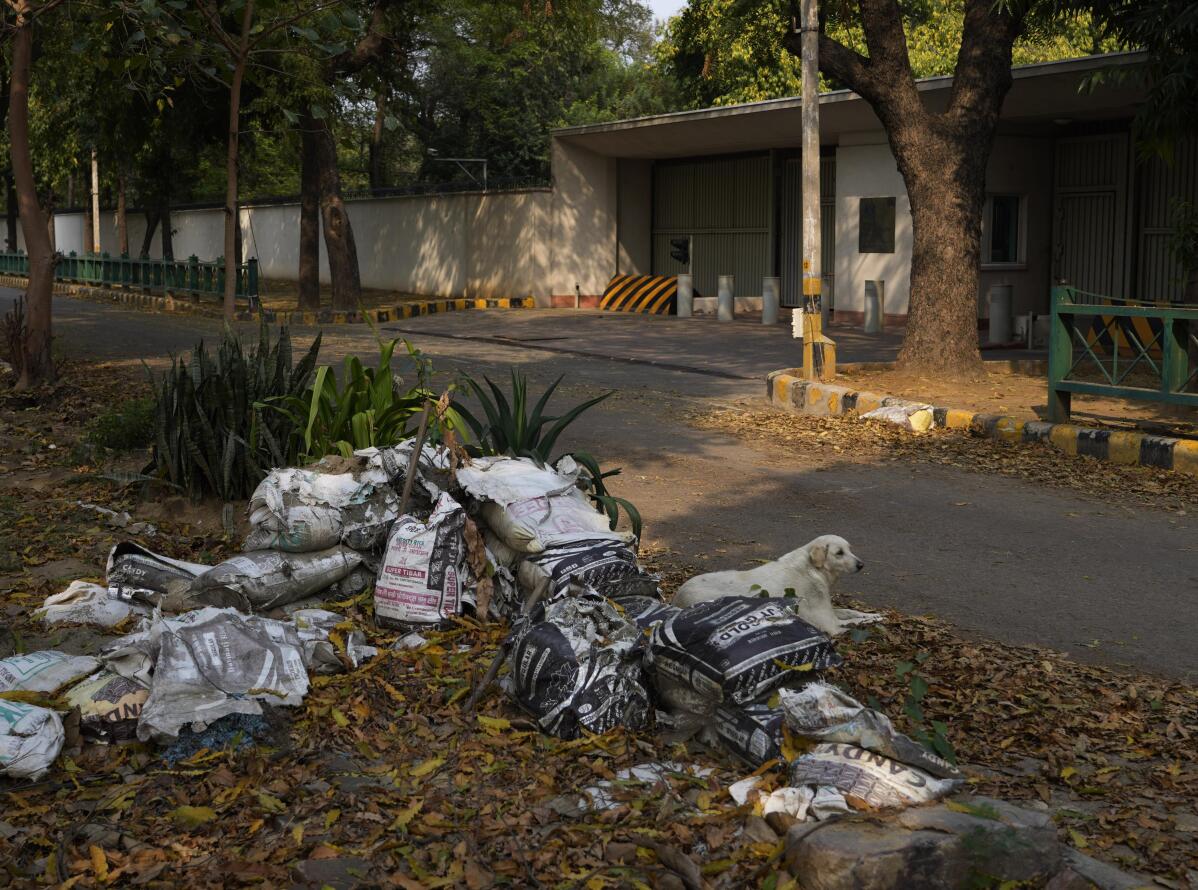 5 of 6

|
A stray dog sits outside the British High Commission after temporary security barricades were removed in New Delhi, Wednesday, March 22, 2023. Supporters of the Khalistan movement for an independent Sikh state pulled down the Indian flag at the country's high commission in London and smashed the building's window in protest against the move to arrest separatist leader Amritpal Singh. India's foreign ministry summoned the U.K.'s deputy high commissioner to protest what it called the breach of security. There was no immediate comment whether the removal of security barricades was in retaliation to the incident in London. (AP Photo/Manish Swarup)
5 of 6
A stray dog sits outside the British High Commission after temporary security barricades were removed in New Delhi, Wednesday, March 22, 2023. Supporters of the Khalistan movement for an independent Sikh state pulled down the Indian flag at the country's high commission in London and smashed the building's window in protest against the move to arrest separatist leader Amritpal Singh. India's foreign ministry summoned the U.K.'s deputy high commissioner to protest what it called the breach of security. There was no immediate comment whether the removal of security barricades was in retaliation to the incident in London. (AP Photo/Manish Swarup)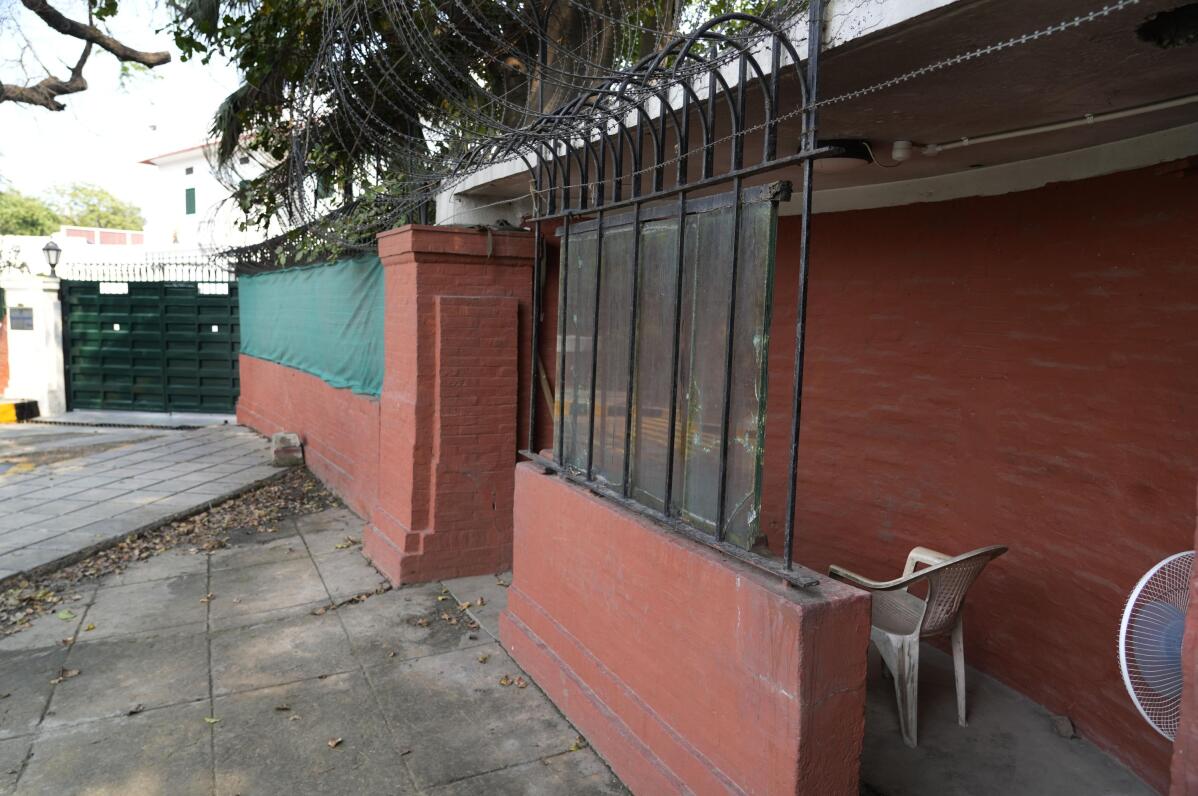 6 of 6

|
An abandoned security post outside the residence of the British Ambassador after temporary security barricades were removed in New Delhi, Wednesday, March 22, 2023. Supporters of the Khalistan movement for an independent Sikh state pulled down the Indian flag at the country's high commission in London and smashed the building's window in protest against the move to arrest separatist leader Amritpal Singh. India's foreign ministry summoned the U.K.'s deputy high commissioner to protest what it called breach of security.There was no immediate comment whether the removal of security barricades was in retaliation to the incident in London. (AP Photo/Manish Swarup)
6 of 6
An abandoned security post outside the residence of the British Ambassador after temporary security barricades were removed in New Delhi, Wednesday, March 22, 2023. Supporters of the Khalistan movement for an independent Sikh state pulled down the Indian flag at the country's high commission in London and smashed the building's window in protest against the move to arrest separatist leader Amritpal Singh. India's foreign ministry summoned the U.K.'s deputy high commissioner to protest what it called breach of security.There was no immediate comment whether the removal of security barricades was in retaliation to the incident in London. (AP Photo/Manish Swarup)
NEW DELHI (AP) — Indian police are searching for a separatist leader who has revived calls for an independent Sikh homeland, stirring fears of violence in northwestern Punjab state where there's a history of bloody insurgency.
Police have accused Amritpal Singh, a 30-year-old preacher, and his aides of creating discord in the state, which is haunted by the memories of an armed insurgency in the 1980s for an independent Sikh state called Khalistan. The insurgency had prompted a controversial military operation by the Indian government that killed thousands of people, according to official estimates.
Authorities have deployed thousands of paramilitary soldiers to the state and suspended mobile internet services in some areas to prevent unrest, Sukhchain Singh Gill, the inspector general of police for Punjab, said Wednesday. He said police have so far arrested 154 supporters of Singh and seized 10 guns and ammunition.
Singh has been on the run since the search for him began on Saturday.
Singh, who has said he supports the Khalistan movement, captured national attention in February when hundreds of his supporters stormed a police station in Punjab with swords and guns to demand the release of a jailed aide.
Very little is known about Singh, who for years drove a truck in Dubai in the United Arab Emirates. He emerged in 2022 in Punjab and began leading marches calling for protecting rights of Sikhs who account for about 1.7% of India's population.
His speeches have become increasingly popular among supporters of the Khalistan movement, which is banned in India. Officials see it and affiliated groups as a national security threat. Even though the movement has waned over the years, it still has some support in Punjab and beyond — including in countries like Canada and the United Kingdom, which are home to a sizable Sikh diaspora.
On Sunday, supporters of the movement pulled down the Indian flag at the country's high commission in London and smashed the building's window in a show of anger against the move to arrest Singh. India's foreign ministry denounced the incident and summoned the U.K.'s deputy high commissioner in New Delhi to protest what it called the breach of security at the embassy in London.
On Wednesday, police removed temporary security barricades outside the British High Commission in New Delhi, news agency Press Trust of India reported. There was no immediate comment from the police or the government whether it was in retaliation to the incident in London.
The supporters of the Khalistan movement also vandalized the Indian Consulate in San Francisco on Monday.
Singh claims to draw inspiration from Jarnail Singh Bhindranwale, a Sikh militant leader accused by the Indian government of leading an armed insurgency for Khalistan. Bhindranwale and his supporters were killed in 1984 when the Indian army stormed the Golden Temple, the holiest shrine in the Sikh religion.
Singh also heads Waris Punjab De, or Punjab's Heirs, an organization that was part of a massive campaign to mobilize farmers against controversial agriculture reforms being pushed by Prime Minister Narendra Modi's government. The legislation triggered a year of protests that began in 2020, as farmers — most of them Sikhs from Punjab state — camped on the outskirts of New Delhi through a harsh winter and devastating coronavirus surge. The protests ended after Modi's government withdrew the legislation in November 2021.
Waris Punjab De was founded by Deep Sidhu, an Indian actor who died in 2022 in a traffic accident.