Kremlin image-maker turned critic Gleb Pavlovsky dies at 71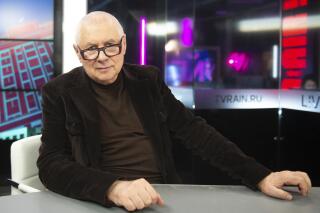 MOSCOW (AP) — Gleb Pavlovsky, a Soviet-era dissident who served as a Kremlin political consultant helping burnish President Vladimir Putin's image, has died, his family said Monday. He was 71.
Pavlovsky worked as a top adviser for the Kremlin for 15 years and was widely seen as one of the key architects of Russia's post-Soviet political system.
Pavlovsky's death was reported by his family on his messaging app channel. The announcement said he died Sunday at a Moscow hospice following a grave illness. Funeral arrangements weren't immediately announced.
Pavlovsky was born in the Black Sea port of Odesa and became engaged in dissident activities as a university student.
He was arrested in 1982 and later that year was sentenced to three years of internal exile. During his trial, Pavlovsky pleaded guilty to the charges and testified against some of his colleagues, a move that some members of the dissident movement have never forgiven.
After serving his sentence, Pavlovsky returned to Moscow in 1985 and became an active member of the pro-democracy camp spawned by Soviet leader Mikhail Gorbachev's reforms.
After the 1991 Soviet collapse, he began working as a political consultant and in 1996 he helped stage a successful re-election campaign for Russia's first president, Boris Yeltsin.
When Yeltsin stepped down to anoint Putin as his preferred successor, Pavlovsky was involved in securing Putin's first election in March 2000. He continued to consult the Kremlin until falling out of favor and losing the job of an adviser to the presidential office in 2011.
Following his dismissal, Pavlovsky became sharply critical of the Kremlin, denouncing the authorities' efforts to tighten control over Russia's political scene, including a relentless crackdown on the opposition and independent media. He strongly condemned Putin's decision to send troops into Ukraine.