Trayvon Martin's parents go to Capitol Hill
1 of 7

|
Trayvon Martin's parents, father, Tracy Martin, left, and mother Sybrina Fulton, attend a House Judiciary Committee briefing on racial profiling and hate crimes, Tuesday, March 27, 2012, on Capitol Hill in Washington. (AP Photo/Jacquelyn Martin)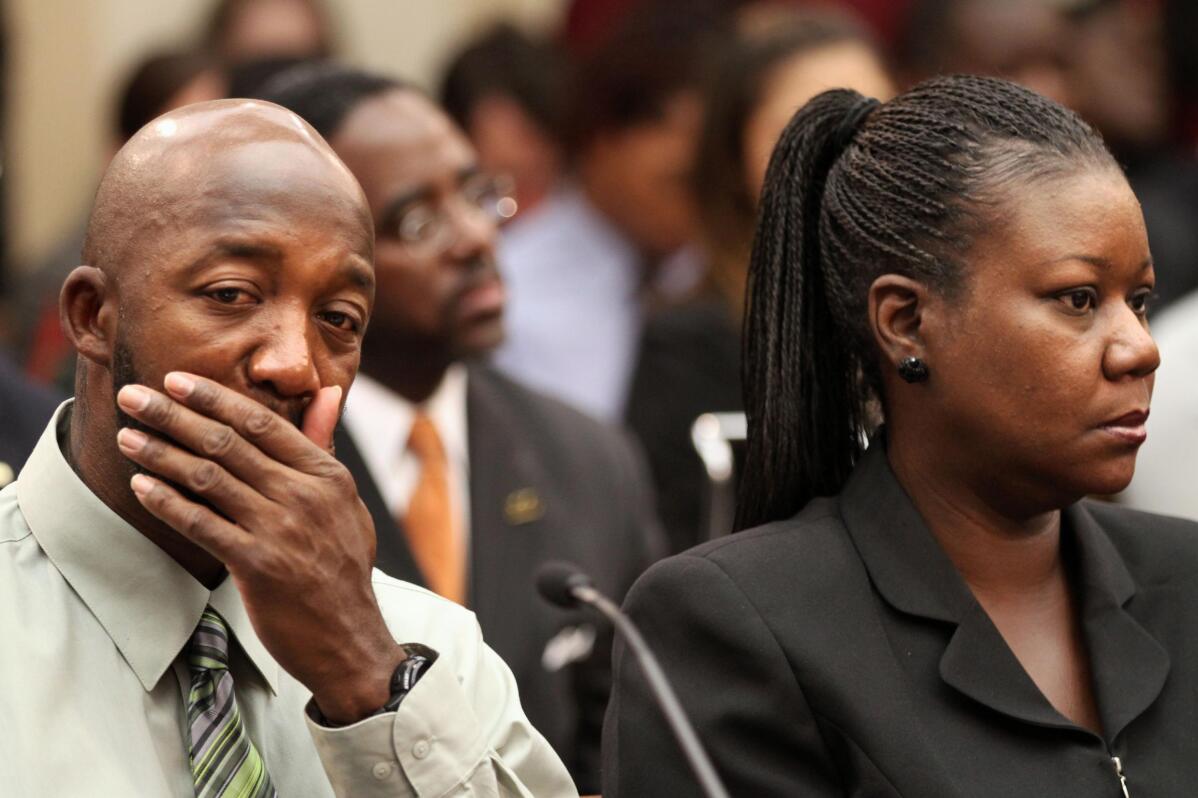 2 of 7

|
Trayvon Martin's parents, father, Tracy Martin, left, and mother Sybrina Fulton attend a House Judiciary Committee briefing on racial profiling and hate crimes, Tuesday, March 27, 2012, on Capitol Hill in Washington. (AP Photo/Jacquelyn Martin)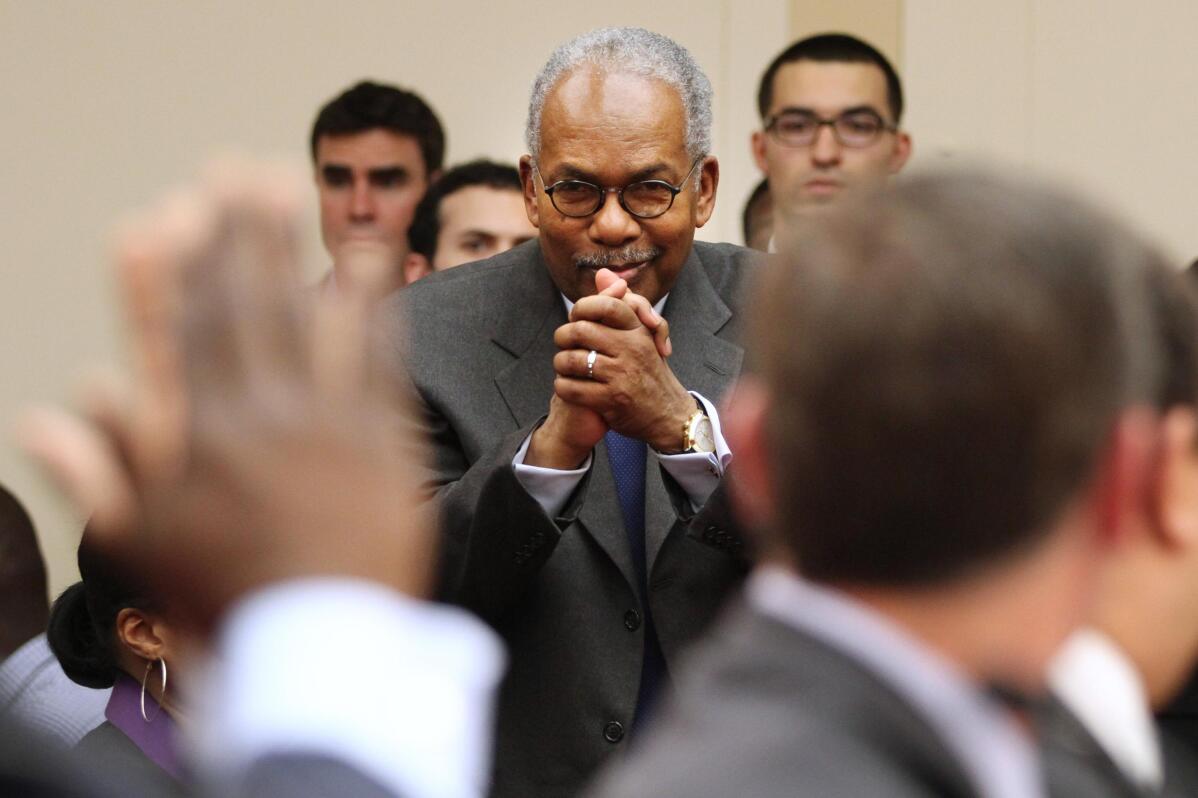 3 of 7

|
Ernie Green, an original member of the Little Rock Nine, stands to be recognized on Capitol Hill in Washington, Tuesday, March 27, 2012, during a House Judiciary Committee briefing on racial profiling and hate crimes , that was attended by Trayvon Martin's parents. (AP Photo/Jacquelyn Martin)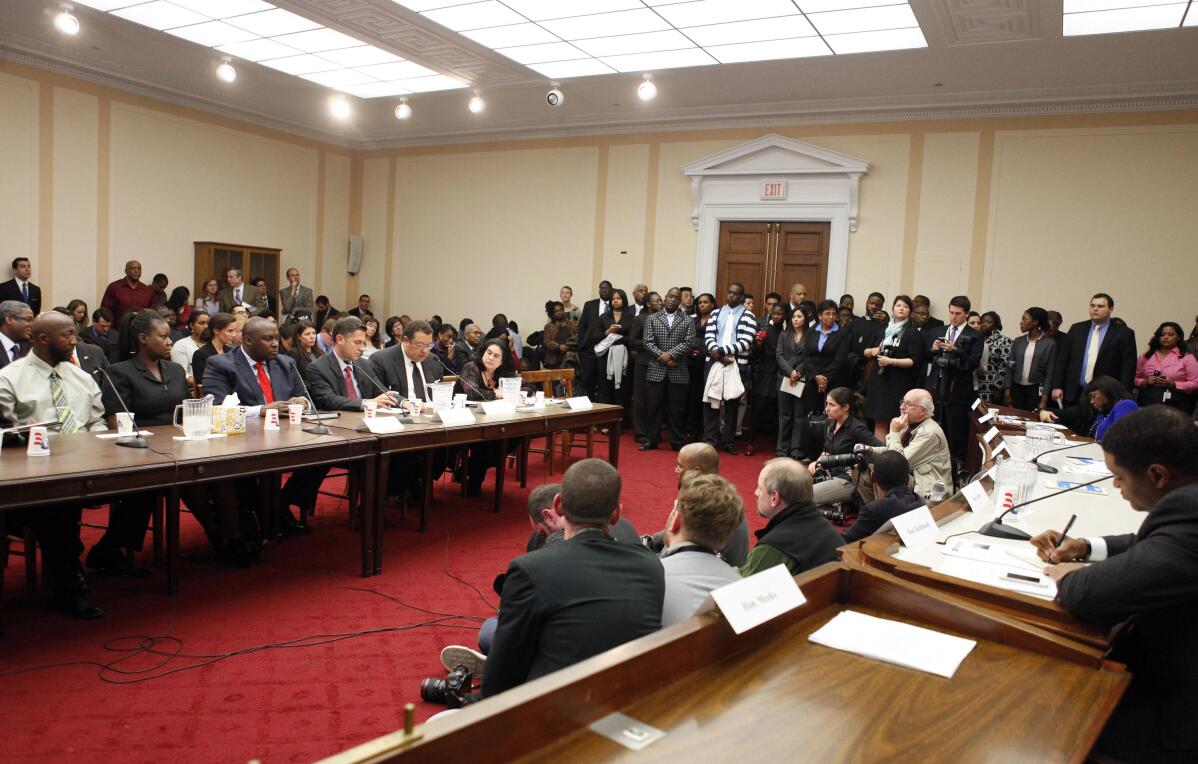 4 of 7

|
Trayvon Martin's parents Tracy Martin, far left, and Sybrina Fulton, attend a packed House Judiciary Committee Democrats' briefing on racial profiling and hate crimes on Capitol Hill, in Washington, on Tuesday, March 27, 2012. (AP Photo/Jacquelyn Martin)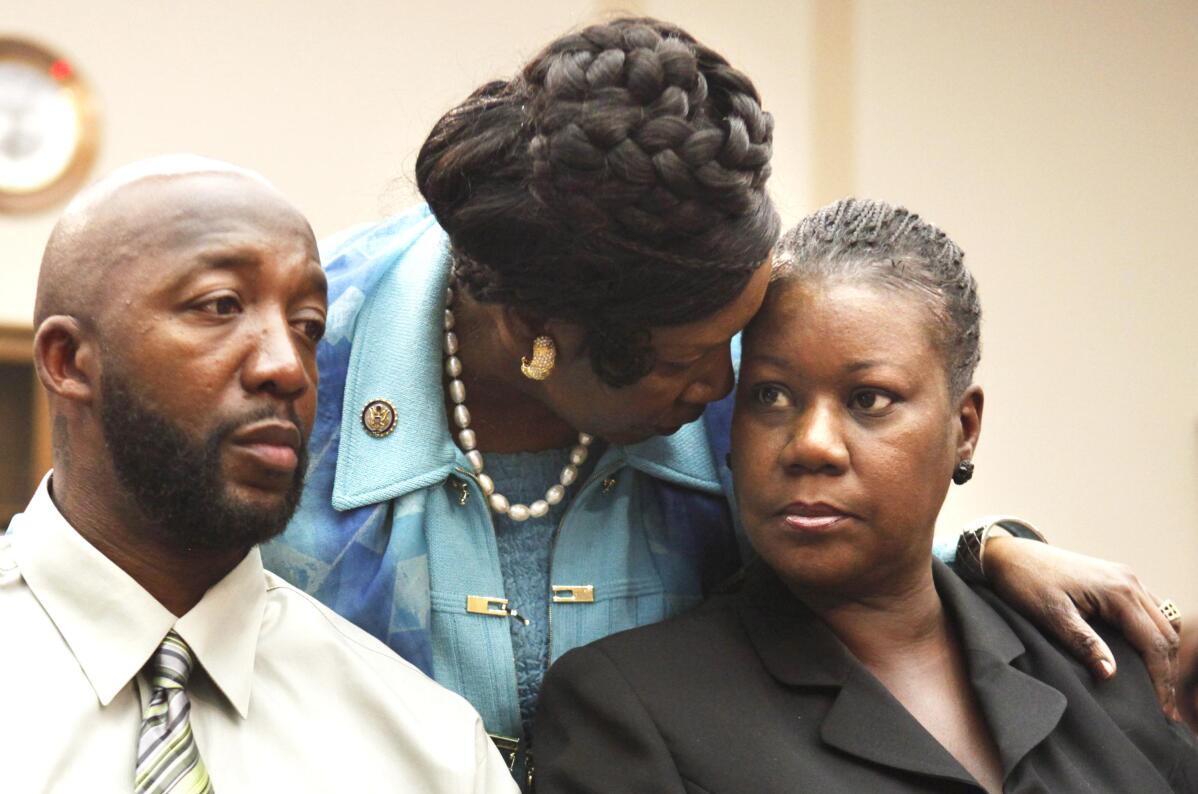 5 of 7

|
Rep. Sheila Jackson Lee, D-Texas, center, greets Trayvon Martin's parents, Tracy Martin, left, and Sybrina Fulton on Capitol Hill in Washington, Tuesday, March 27, 2012, during a House Judiciary Committee briefing on racial profiling and hate crimes. (AP Photo/Jacquelyn Martin)
6 of 7

|
Trayvon Martin's parents, father, Tracy Martin, left, and mother Sybrina Fulton, attend a House Judiciary Committee briefing on racial profiling and hate crimes, Tuesday, March 27, 2012, on Capitol Hill, in Washington. (AP Photo/Jacquelyn Martin)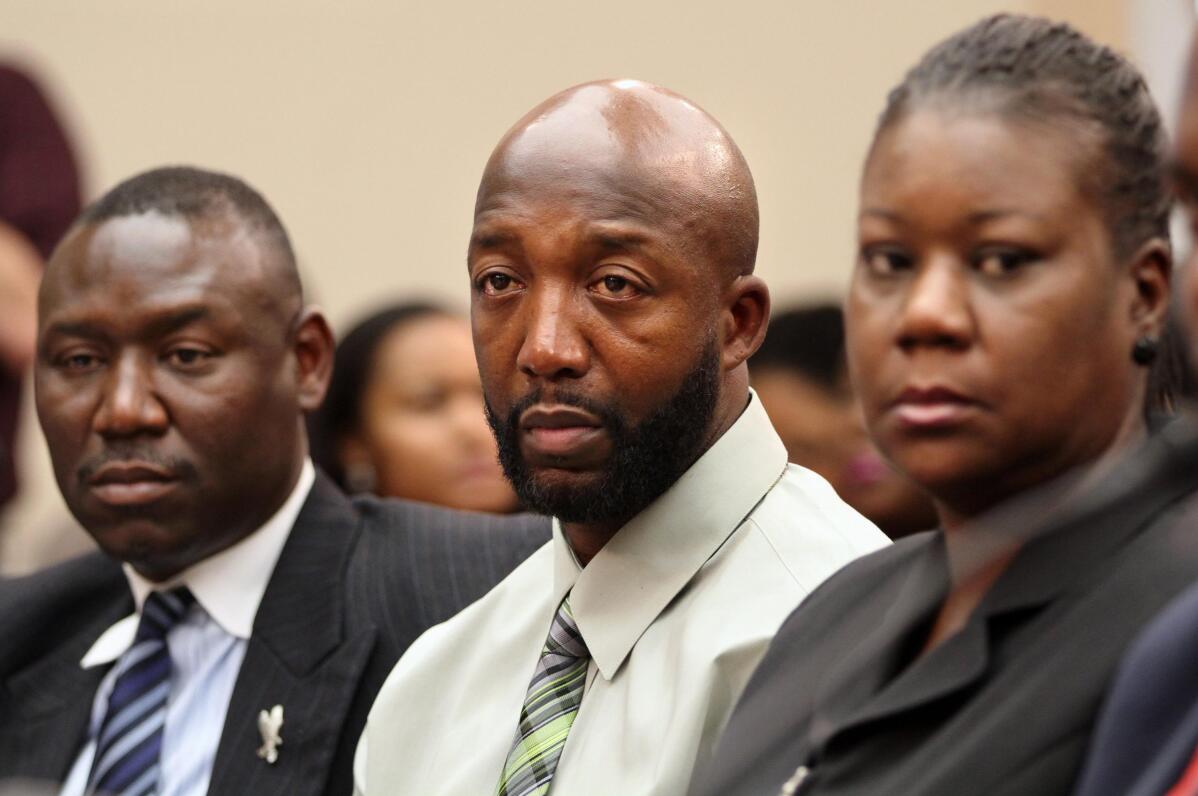 7 of 7

|
The Martin family lawyer, Benjamin Crump, left, sits with Trayvon Martin's parents, father, Tracy Martin, and Sybrina Fulton, on Capitol Hill, in Washington, Tuesday, March 27, 2012, during a House Judiciary Committee briefing on racial profiling and hate crimes. (AP Photo/Jacquelyn Martin)
Trayvon Martin's parents go to Capitol Hill
1 of 7

|
Trayvon Martin's parents, father, Tracy Martin, left, and mother Sybrina Fulton, attend a House Judiciary Committee briefing on racial profiling and hate crimes, Tuesday, March 27, 2012, on Capitol Hill in Washington. (AP Photo/Jacquelyn Martin)
1 of 7
Trayvon Martin's parents, father, Tracy Martin, left, and mother Sybrina Fulton, attend a House Judiciary Committee briefing on racial profiling and hate crimes, Tuesday, March 27, 2012, on Capitol Hill in Washington. (AP Photo/Jacquelyn Martin)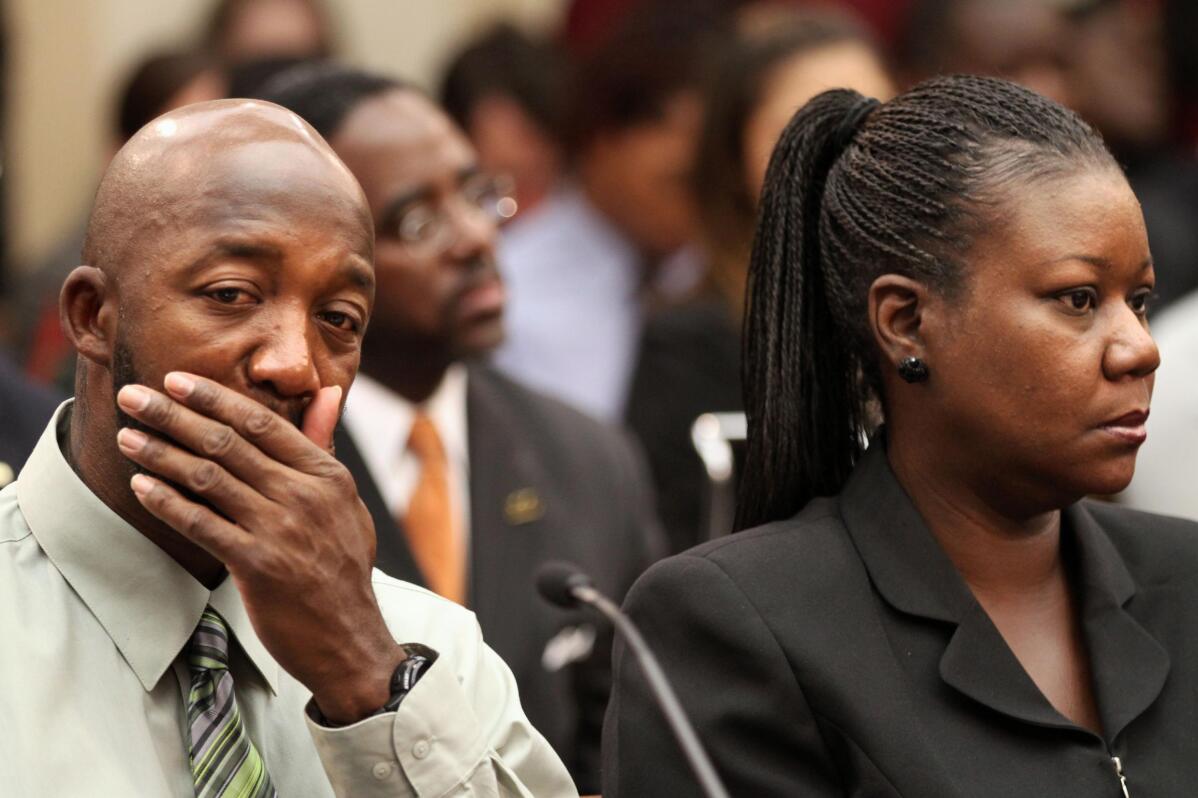 2 of 7

|
Trayvon Martin's parents, father, Tracy Martin, left, and mother Sybrina Fulton attend a House Judiciary Committee briefing on racial profiling and hate crimes, Tuesday, March 27, 2012, on Capitol Hill in Washington. (AP Photo/Jacquelyn Martin)
2 of 7
Trayvon Martin's parents, father, Tracy Martin, left, and mother Sybrina Fulton attend a House Judiciary Committee briefing on racial profiling and hate crimes, Tuesday, March 27, 2012, on Capitol Hill in Washington. (AP Photo/Jacquelyn Martin)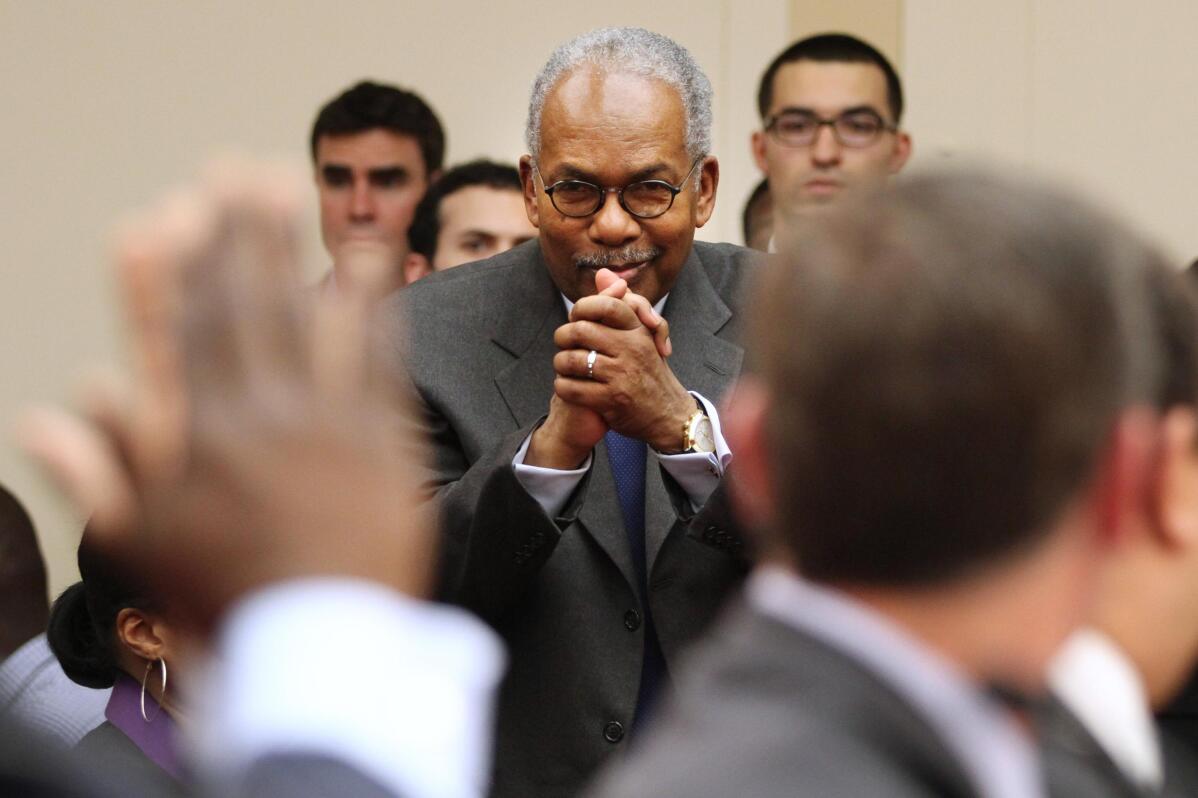 3 of 7

|
Ernie Green, an original member of the Little Rock Nine, stands to be recognized on Capitol Hill in Washington, Tuesday, March 27, 2012, during a House Judiciary Committee briefing on racial profiling and hate crimes , that was attended by Trayvon Martin's parents. (AP Photo/Jacquelyn Martin)
3 of 7
Ernie Green, an original member of the Little Rock Nine, stands to be recognized on Capitol Hill in Washington, Tuesday, March 27, 2012, during a House Judiciary Committee briefing on racial profiling and hate crimes , that was attended by Trayvon Martin's parents. (AP Photo/Jacquelyn Martin)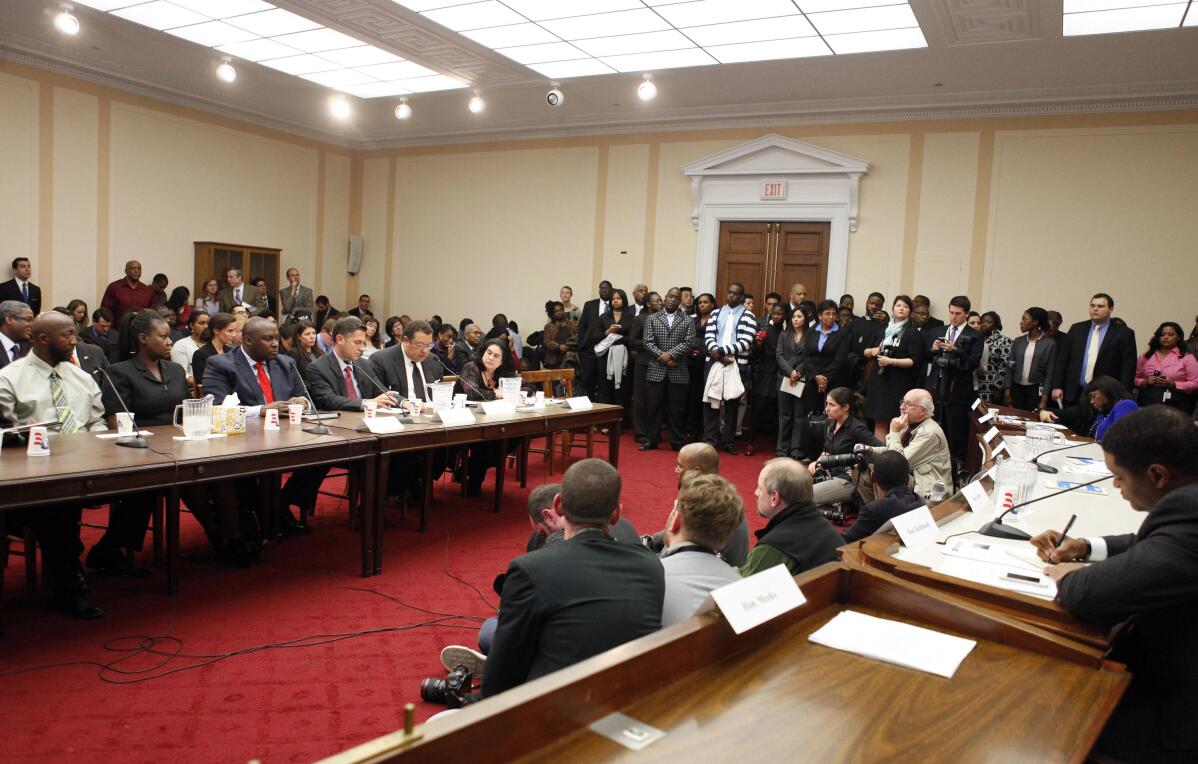 4 of 7

|
Trayvon Martin's parents Tracy Martin, far left, and Sybrina Fulton, attend a packed House Judiciary Committee Democrats' briefing on racial profiling and hate crimes on Capitol Hill, in Washington, on Tuesday, March 27, 2012. (AP Photo/Jacquelyn Martin)
4 of 7
Trayvon Martin's parents Tracy Martin, far left, and Sybrina Fulton, attend a packed House Judiciary Committee Democrats' briefing on racial profiling and hate crimes on Capitol Hill, in Washington, on Tuesday, March 27, 2012. (AP Photo/Jacquelyn Martin)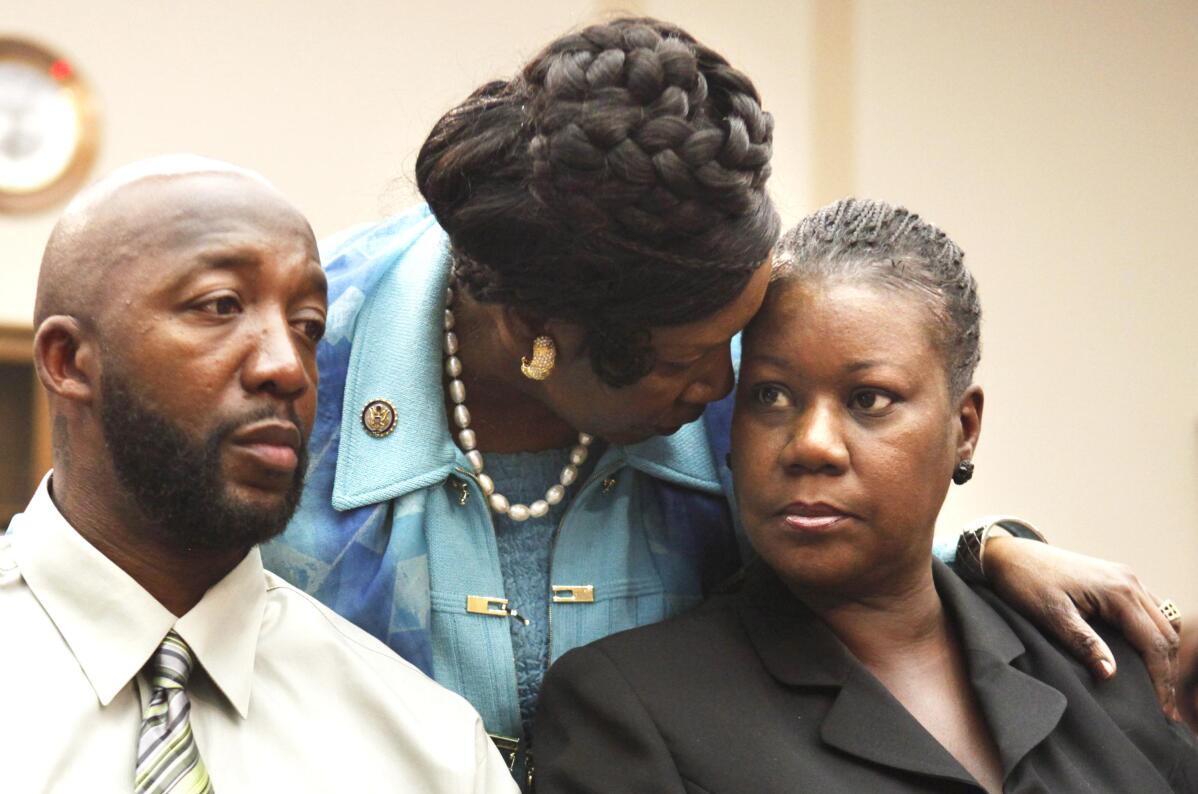 5 of 7

|
Rep. Sheila Jackson Lee, D-Texas, center, greets Trayvon Martin's parents, Tracy Martin, left, and Sybrina Fulton on Capitol Hill in Washington, Tuesday, March 27, 2012, during a House Judiciary Committee briefing on racial profiling and hate crimes. (AP Photo/Jacquelyn Martin)
5 of 7
Rep. Sheila Jackson Lee, D-Texas, center, greets Trayvon Martin's parents, Tracy Martin, left, and Sybrina Fulton on Capitol Hill in Washington, Tuesday, March 27, 2012, during a House Judiciary Committee briefing on racial profiling and hate crimes. (AP Photo/Jacquelyn Martin)
6 of 7

|
Trayvon Martin's parents, father, Tracy Martin, left, and mother Sybrina Fulton, attend a House Judiciary Committee briefing on racial profiling and hate crimes, Tuesday, March 27, 2012, on Capitol Hill, in Washington. (AP Photo/Jacquelyn Martin)
6 of 7
Trayvon Martin's parents, father, Tracy Martin, left, and mother Sybrina Fulton, attend a House Judiciary Committee briefing on racial profiling and hate crimes, Tuesday, March 27, 2012, on Capitol Hill, in Washington. (AP Photo/Jacquelyn Martin)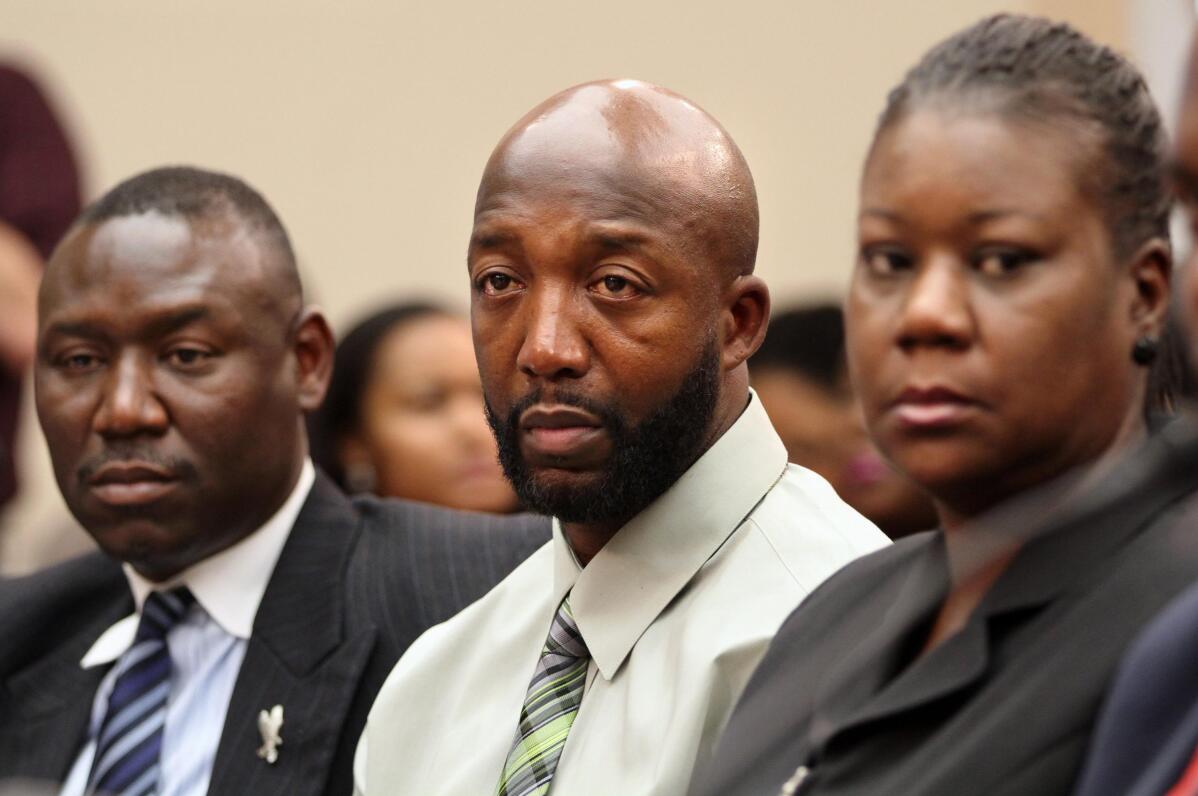 7 of 7

|
The Martin family lawyer, Benjamin Crump, left, sits with Trayvon Martin's parents, father, Tracy Martin, and Sybrina Fulton, on Capitol Hill, in Washington, Tuesday, March 27, 2012, during a House Judiciary Committee briefing on racial profiling and hate crimes. (AP Photo/Jacquelyn Martin)
7 of 7
The Martin family lawyer, Benjamin Crump, left, sits with Trayvon Martin's parents, father, Tracy Martin, and Sybrina Fulton, on Capitol Hill, in Washington, Tuesday, March 27, 2012, during a House Judiciary Committee briefing on racial profiling and hate crimes. (AP Photo/Jacquelyn Martin)
WASHINGTON (AP) — In a packed forum on Capitol Hill on Tuesday, the parents of Trayvon Martin found support among members of Congress who turned the death of their 17-year-old's son into a rallying cry against racial profiling.
Martin's parents spoke briefly before a Democrats-only congressional panel as cameras clicked noisily in front of them. Many in the crowd, which filled the seats and lined the walls, strained to catch a glimpse of the parents whose son was shot and killed Feb. 26 in a Sanford, Fla. gated community.
"Trayvon was our son, but Trayvon is your son," Sybrina Fulton, Martin's mother, told the panel. "A lot of people can relate to our situation and it breaks their heart like it breaks our heart."
Martin's father, Tracy Martin, thanked "everyone who is holding the legacy of Trayvon."
"Trayvon is sadly missed and we will continue to fight for justice for him," said Tracy Martin, who wore a weary look.
During the two-hour forum, the lawmakers and witnesses openly criticized the police investigation of the shooting and the failure of police to arrest the admitted shooter, George Zimmerman. Those attending the hearing applauded the couple when Deborah Ramirez, a law professor at Northeastern University School of Law in Boston, praised the parents' "dignity and grace in the face of this tragedy" and said they were an "inspiration to all."
Zimmerman, 28, has said he acted in self-defense. Federal and state officials are investigating.
"It is very important that we have independent eyes on this situation," said Rep. Corrine Brown, a Democrat whose district includes Sanford. "I am hoping we take this as a teachable moment. I am looking forward to how the Justice Department handles their independent investigation."
At a news conference after the forum, Martin and Fulton renewed their calls for justice in their son's death. When asked whether he thought his son's death was a hate crime, Martin said: "Yes, I believe he was racially profiled." The family's attorney, Benjamin Crump, said racial profiling also was a factor in the way the police conducted their investigation.
Several members of Congress have called for the case to be investigated as a hate crime. Another attorney for the Martin family, Daryl D. Parks, has said that statements from Department of Justice officials in a meeting with Martin's parents make clear that getting hate crime charges is going to be a challenge.
Martin was black. Zimmerman's father is white and his mother is Hispanic.
Tuesday's session was not an official House Judiciary hearing, so no votes or formal action could occur. The committee's ranking Democrat, Rep. John Conyers of Michigan, said the meeting was intended to be a discussion of racial profiling, hate crime laws and Florida's Stand Your Ground law, which eliminated a person's duty to retreat when threatened with serious bodily harm or death.
But much of the discussion revolved around criticism of the police investigation, the failure to arrest Zimmerman, Zimmerman's actions, and reassurances to Martin's parents that "we got your back," as Rep. Andre Carson, D-Indiana, put it.
"We see so clearly a case of racial profiling," said Rep. Jerrold Nadler, D-New York, who mentioned he is also dealing with the New York City police force's stop-and-frisk policies.
The parents drew many onlookers who lined a wall and waited for the meeting's end for a chance at a glimpse of the parents.
At a news conference following the forum, Fulton had to pause and fight back emotions before telling reporters she was looking to the congressional members for help. Asked about a a bounty issued by the Black Panthers for Zimmerman, Fulton said "we want this done peaceful. We want you to protest. We want you to rally. We want this done peaceful."
The Orlando Sentinel has reported that Zimmerman told police that he and Martin exchanged words before the teen punched him in the nose and began banging his head on the ground. He says he cried out for help. Martin's parents said their son made the pleas for help.
Witness accounts differ, and 911 recordings in which the voices are heard are not clear.
The parents' attorney, Ben Crump, said the negative reports that are being leaked about Martin are making Zimmerman look like the victim and Trayvon as the suspect.
Martin's parents initiated the campaign to draw national attention to their son's death with an online petition calling for Zimmerman's arrest. Their son's death quickly caught fire through social media and then drew national media focus. His parents have since attended rallies in Florida and appeared on national television shows.
Earlier Tuesday, House Speaker John Boehner said "clearly what happened is in fact a tragedy," but he steered clear of calling for Zimmerman's arrest as some lawmakers have done. "It's being investigated by state and federal officials, which I think is appropriate," said Boehner, R-Ohio.
_____
Associated Press writer Stacy A. Anderson contributed to this report
_____
Follow Suzanne Gamboa at http://www.twitter.com/APsgamboa