Norfolk Southern won't push for one-person train crews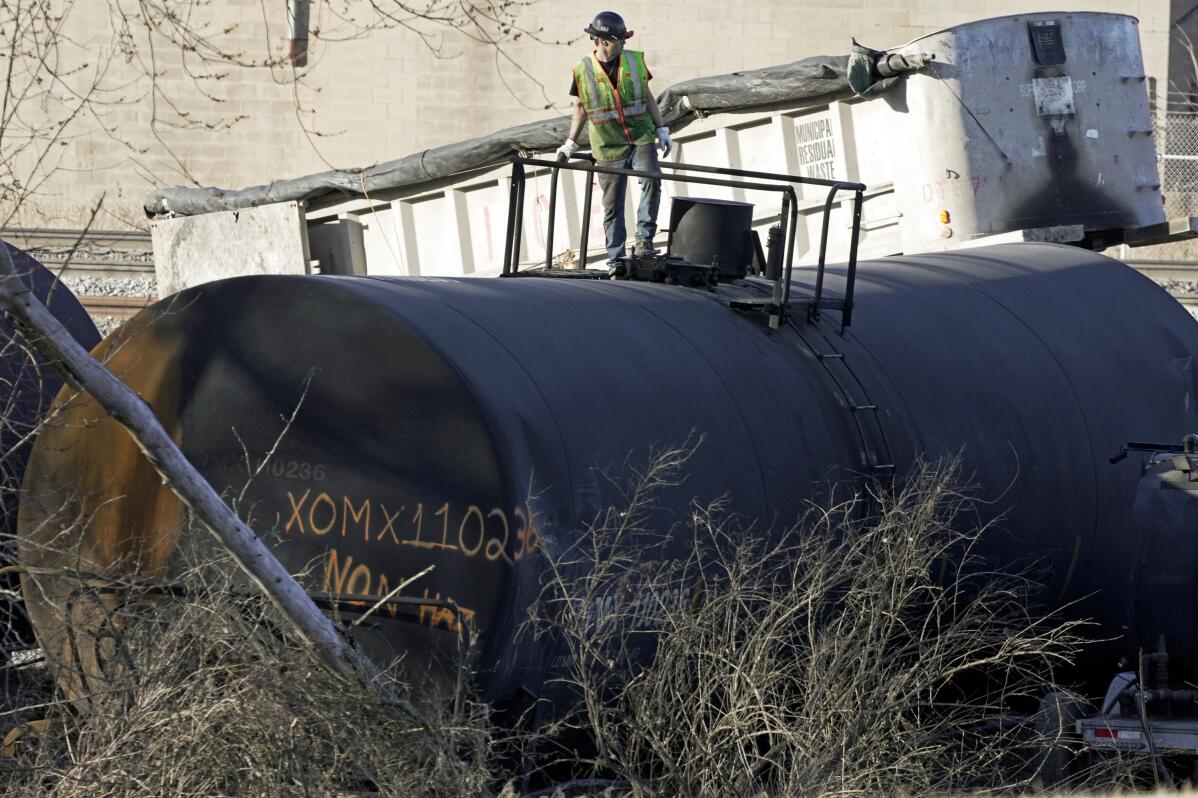 1 of 2

|
FILE - A cleanup worker stands on a derailed tank car of a Norfolk Southern freight train in East Palestine, Ohio, continues, Feb. 15, 2023. Norfolk Southern is backing away from its push to reduce its train crews down to one person, the company said, Thursday, March 23, 2023, in a joint announcement with the nation's largest rail union. (AP Photo/Gene J. Puskar, File)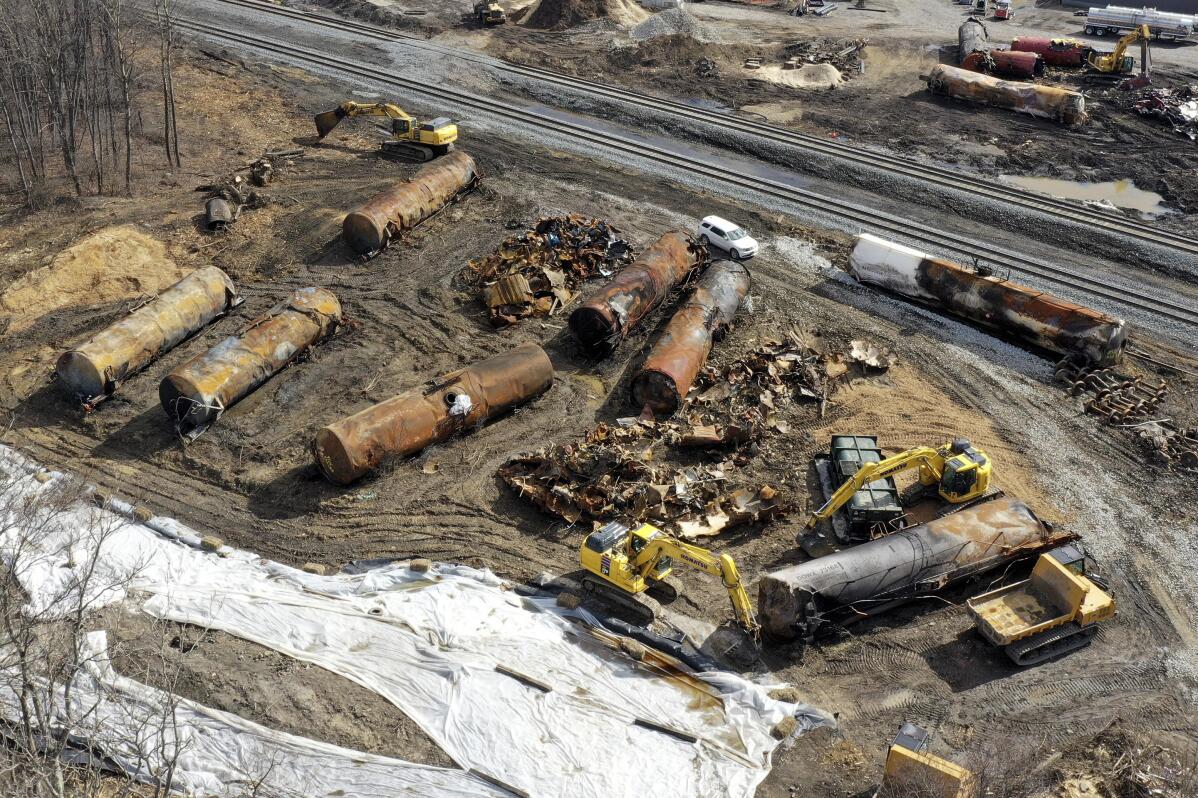 2 of 2

|
FILE - Cleanup continues on Feb. 24, 2023, at the site of a Norfolk Southern freight train derailment that happened on Feb. 3 in East Palestine, Ohio. Norfolk Southern is backing away from its push to reduce its train crews down to one person, the company said, Thursday, March 23, 2023, in a joint announcement with the nation's largest rail union. (AP Photo/Matt Freed, File)
Norfolk Southern won't push for one-person train crews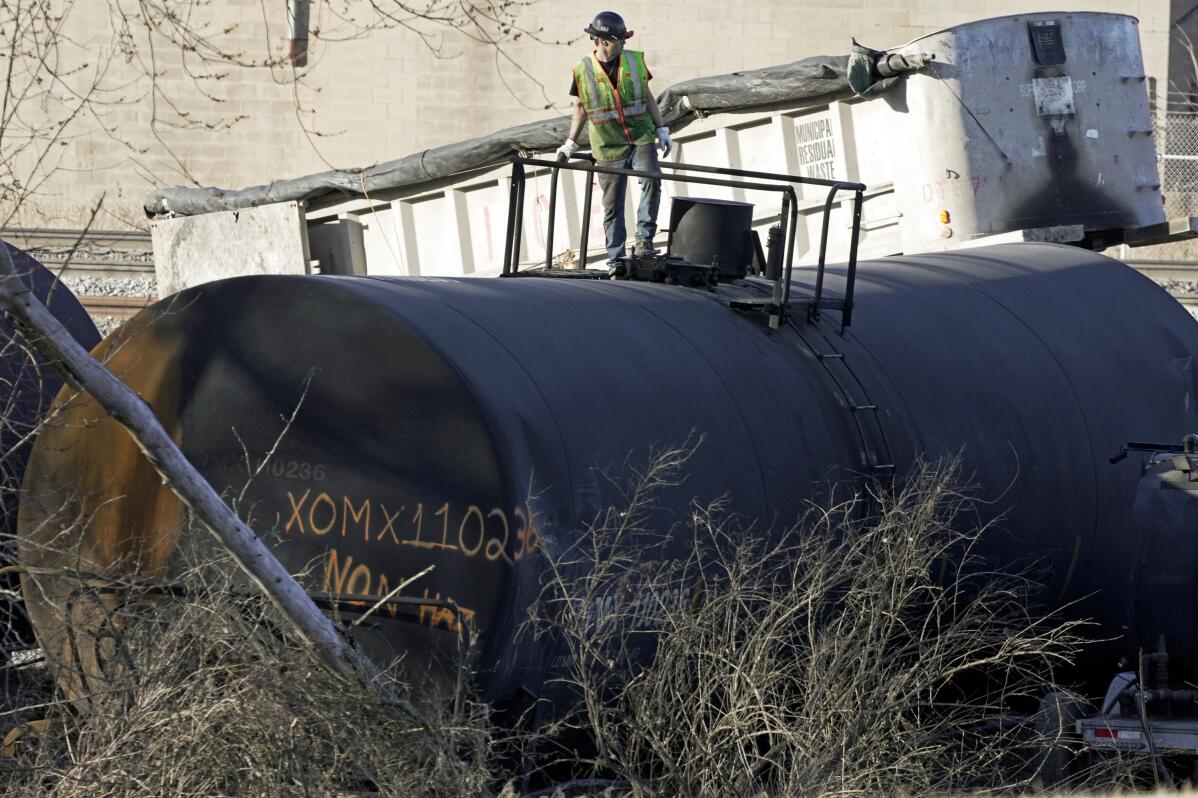 1 of 2

|
FILE - A cleanup worker stands on a derailed tank car of a Norfolk Southern freight train in East Palestine, Ohio, continues, Feb. 15, 2023. Norfolk Southern is backing away from its push to reduce its train crews down to one person, the company said, Thursday, March 23, 2023, in a joint announcement with the nation's largest rail union. (AP Photo/Gene J. Puskar, File)
1 of 2
FILE - A cleanup worker stands on a derailed tank car of a Norfolk Southern freight train in East Palestine, Ohio, continues, Feb. 15, 2023. Norfolk Southern is backing away from its push to reduce its train crews down to one person, the company said, Thursday, March 23, 2023, in a joint announcement with the nation's largest rail union. (AP Photo/Gene J. Puskar, File)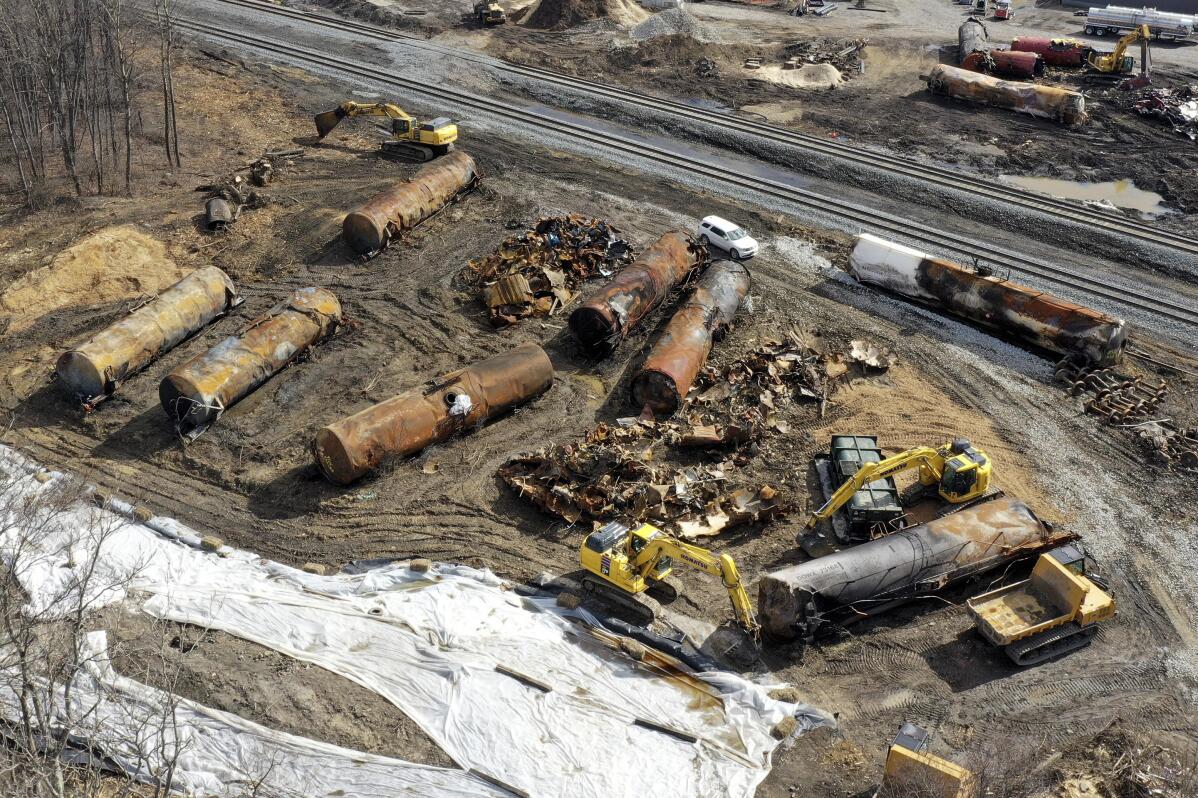 2 of 2

|
FILE - Cleanup continues on Feb. 24, 2023, at the site of a Norfolk Southern freight train derailment that happened on Feb. 3 in East Palestine, Ohio. Norfolk Southern is backing away from its push to reduce its train crews down to one person, the company said, Thursday, March 23, 2023, in a joint announcement with the nation's largest rail union. (AP Photo/Matt Freed, File)
2 of 2
FILE - Cleanup continues on Feb. 24, 2023, at the site of a Norfolk Southern freight train derailment that happened on Feb. 3 in East Palestine, Ohio. Norfolk Southern is backing away from its push to reduce its train crews down to one person, the company said, Thursday, March 23, 2023, in a joint announcement with the nation's largest rail union. (AP Photo/Matt Freed, File)
Railroad Norfolk Southern is backing away from its push to reduce its train crews down to one person, the company said Thursday in a joint announcement with the nation's largest rail union.
The two sides said they will instead focus on quality of life issues for employees, such as scheduling and days off, during their ongoing contract talks.
Railroad safety, including staffing levels, has come under scrutiny since a fiery freight train derailment involving cars carrying toxic chemicals in early February led to evacuations in East Palestine, Ohio.
No one was immediately injured in the Feb. 3 derailment, but state and local officials decided to release and burn toxic vinyl chloride from five tanker cars, prompting the evacuation of half of the roughly 5,000 residents. Billowing smoke above the village and reports from residents that they still suffer from illnesses, turned high-level attention to railroad safety and how dangerous materials are transported.
Bipartisan legislation introduced in Congress following the derailment would require train crews to continue to have two people, although the train that derailed in East Palestine had a three-person crew.
Railroad worker unions argue that operational changes and widespread job cuts across the industry in the past six years have made railroads riskier. They say employees are spread thin after nearly one-third of all rail jobs were eliminated and train crews, in particular, deal with fatigue because they are on call 24/7
The Federal Railroad Administration also is considering a rule that would require two-person crews in most instances.
Earlier this week, Norfolk Southern CEO Alan Shaw offered support for some parts of the railroad safety bill while testifying before the Senate Commerce Committee, but he declined when pressed to support a two-person requirement for crews.
Instead, he said, "We are a data-driven organization and I'm not aware of any data that links crew size with safety."
The International Association of Sheet Metal, Air, Rail and Transportation Workers union has long opposed attempts by the nation's railroads to cut down crew sizes, citing safety concerns.