Madrid beats Celta to pressure Barça before Atletico visit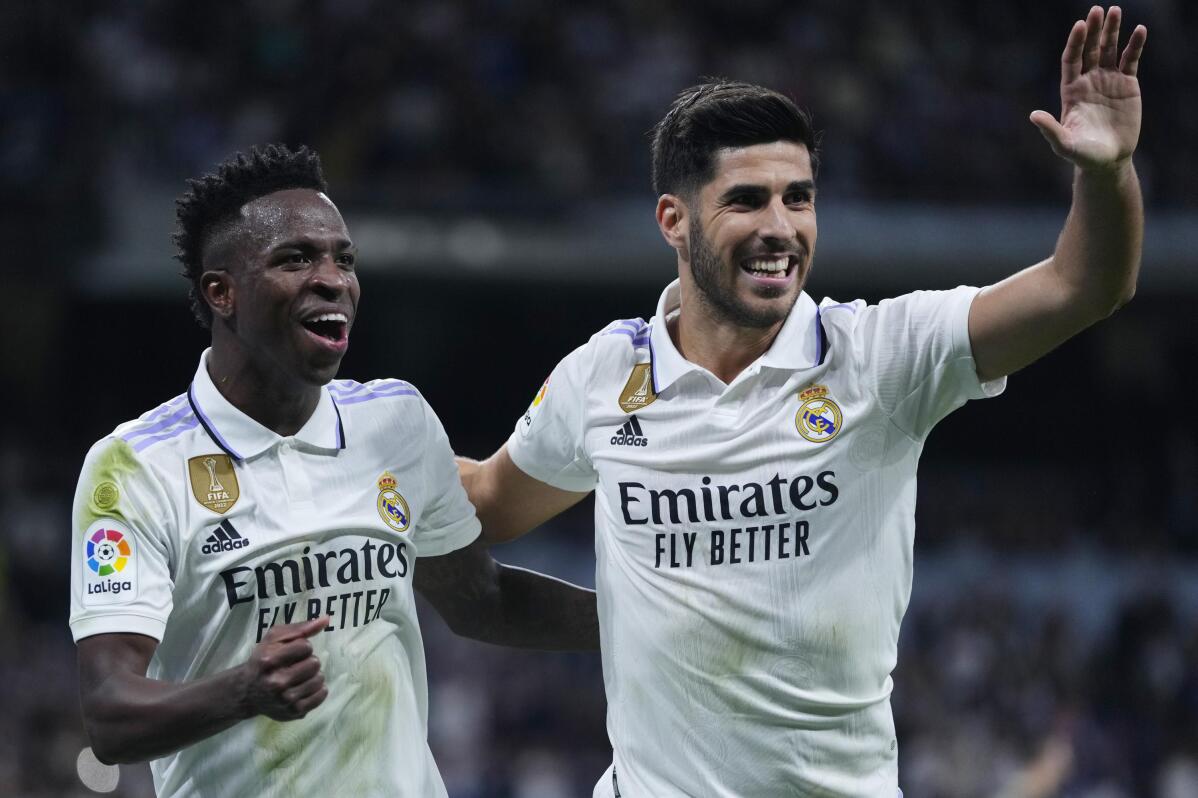 1 of 8

|
Real Madrid's Marco Asensio, right, celebrates with Vinicius Junior after scoring the opening goal during the Spanish La Liga soccer match between Real Madrid and Celta Vigo at the Santiago Bernabeu stadium in Madrid, Spain, Saturday, April 22, 2023. (AP Photo/Manu Fernandez)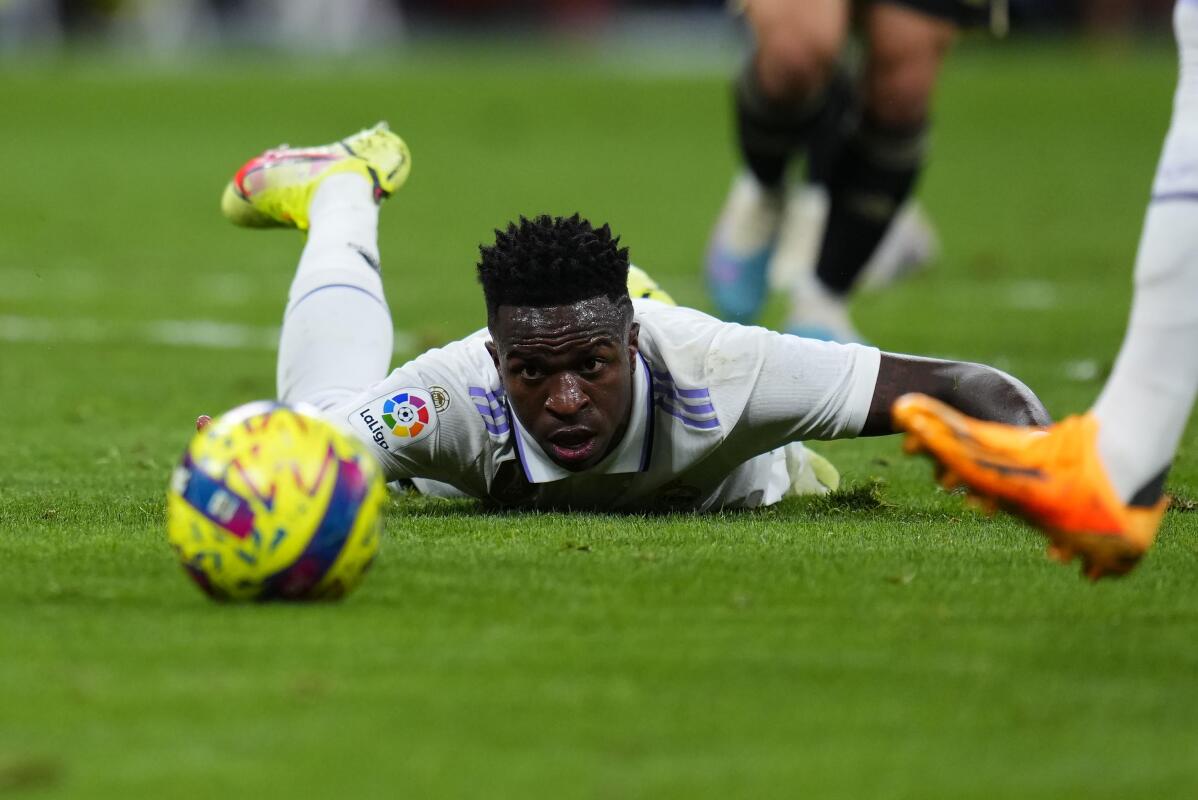 2 of 8

|
Real Madrid's Vinicius Junior lays on the pitch after a challenge during the Spanish La Liga soccer match between Real Madrid and Celta Vigo at the Santiago Bernabeu stadium in Madrid, Spain, Saturday, April 22, 2023. (AP Photo/Manu Fernandez)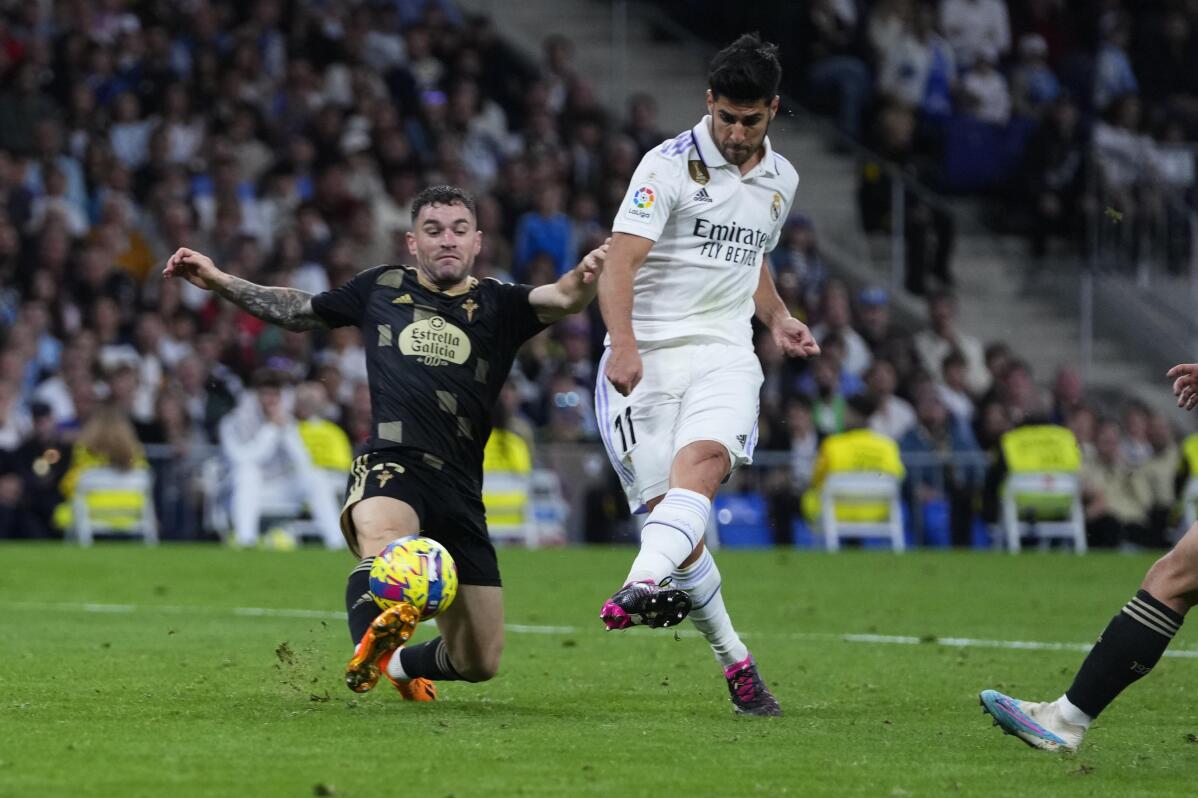 3 of 8

|
Real Madrid's Marco Asensio, centre, scores the opening goal during the Spanish La Liga soccer match between Real Madrid and Celta Vigo at the Santiago Bernabeu stadium in Madrid, Spain, Saturday, April 22, 2023. (AP Photo/Manu Fernandez)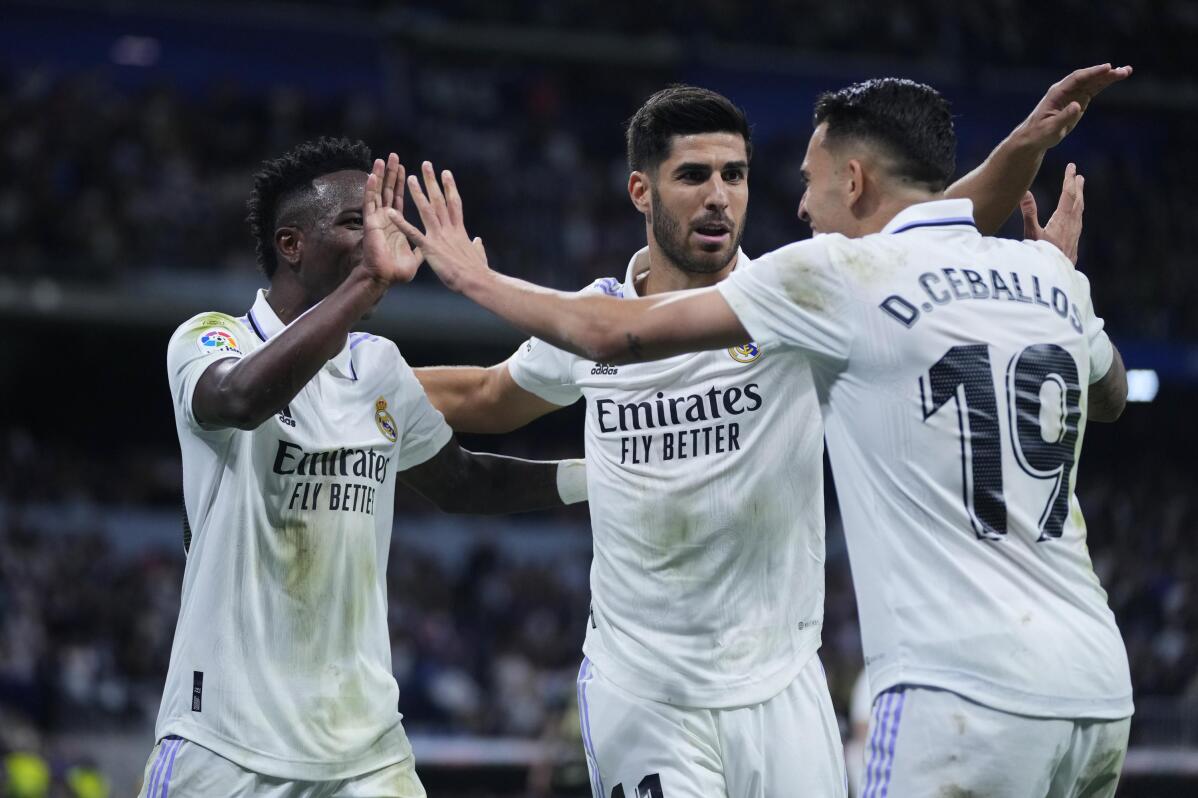 4 of 8

|
Real Madrid's Marco Asensio, centre, celebrates with Vinicius Junior, left, and Dani Ceballos after scoring the opening goal during the Spanish La Liga soccer match between Real Madrid and Celta Vigo at the Santiago Bernabeu stadium in Madrid, Spain, Saturday, April 22, 2023. (AP Photo/Manu Fernandez)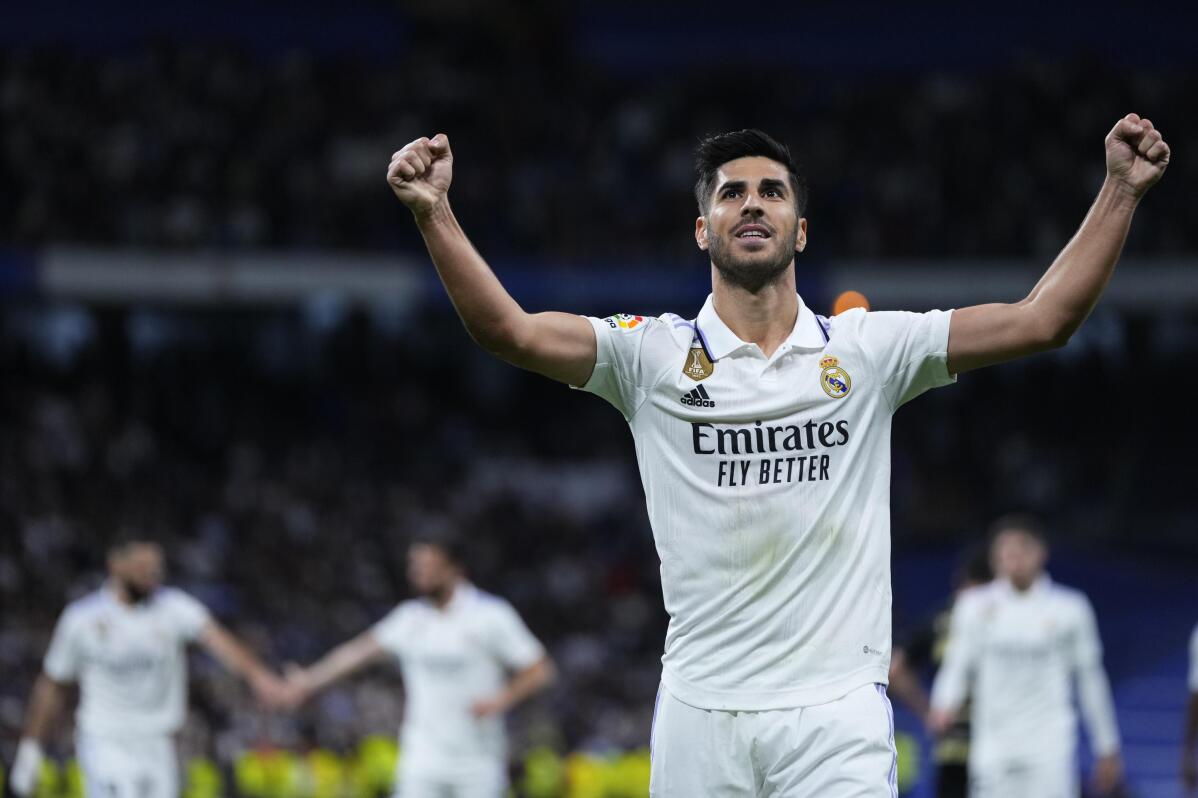 5 of 8

|
Real Madrid's Marco Asensio celebrates after scoring the opening goal during the Spanish La Liga soccer match between Real Madrid and Celta Vigo at the Santiago Bernabeu stadium in Madrid, Spain, Saturday, April 22, 2023. (AP Photo/Manu Fernandez)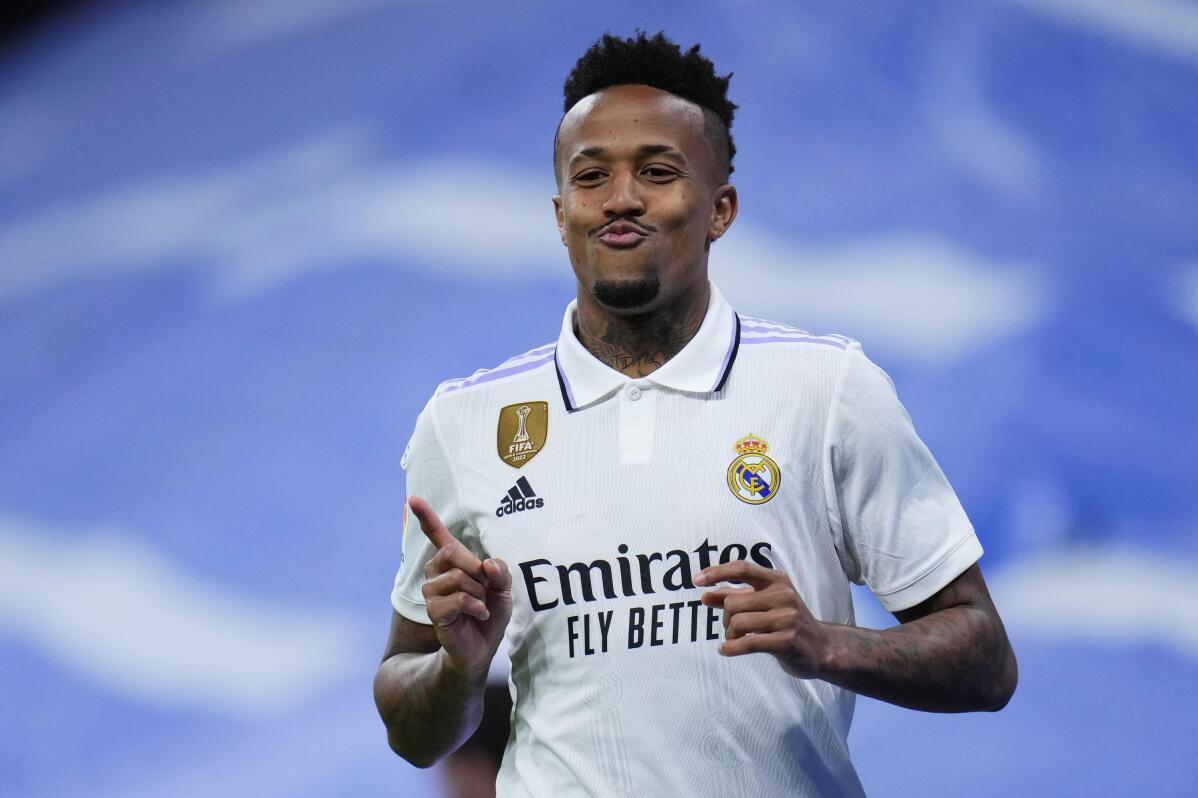 6 of 8

|
Real Madrid's Eder Militao celebrates after scoring his side's second goal during the Spanish La Liga soccer match between Real Madrid and Celta Vigo at the Santiago Bernabeu stadium in Madrid, Spain, Saturday, April 22, 2023. (AP Photo/Manu Fernandez)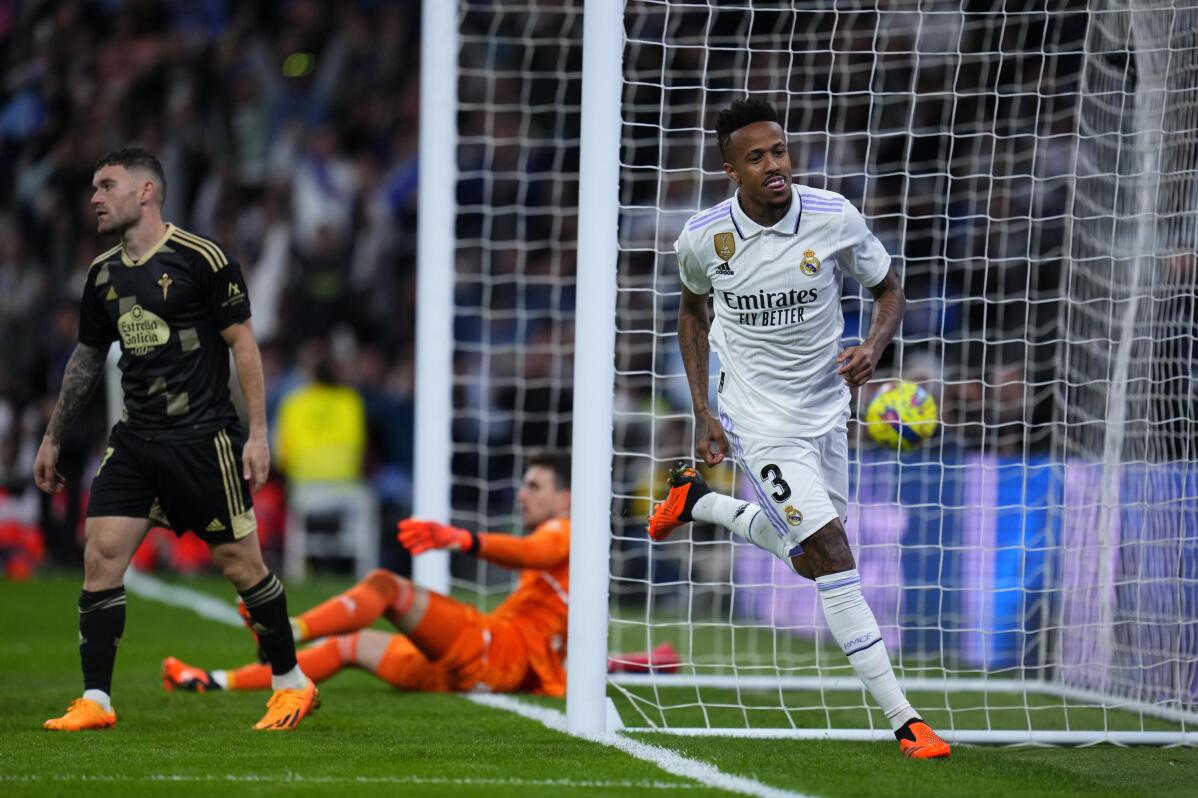 7 of 8

|
Real Madrid's Eder Militao, right, celebrates after scoring his side's second goal during the Spanish La Liga soccer match between Real Madrid and Celta Vigo at the Santiago Bernabeu stadium in Madrid, Spain, Saturday, April 22, 2023. (AP Photo/Manu Fernandez)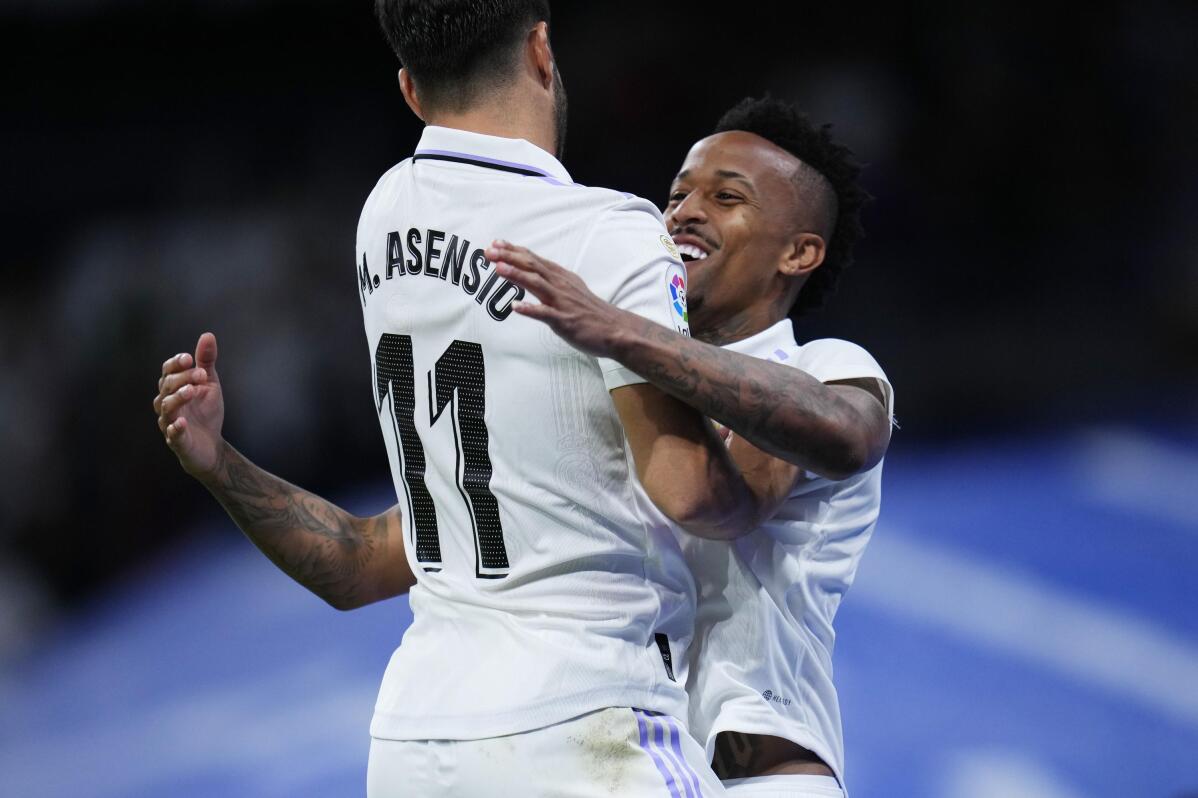 8 of 8

|
Real Madrid's Eder Militao, right, celebrates with Marco Asensio after scoring his side's second goal during the Spanish La Liga soccer match between Real Madrid and Celta Vigo at the Santiago Bernabeu stadium in Madrid, Spain, Saturday, April 22, 2023. (AP Photo/Manu Fernandez)
Madrid beats Celta to pressure Barça before Atletico visit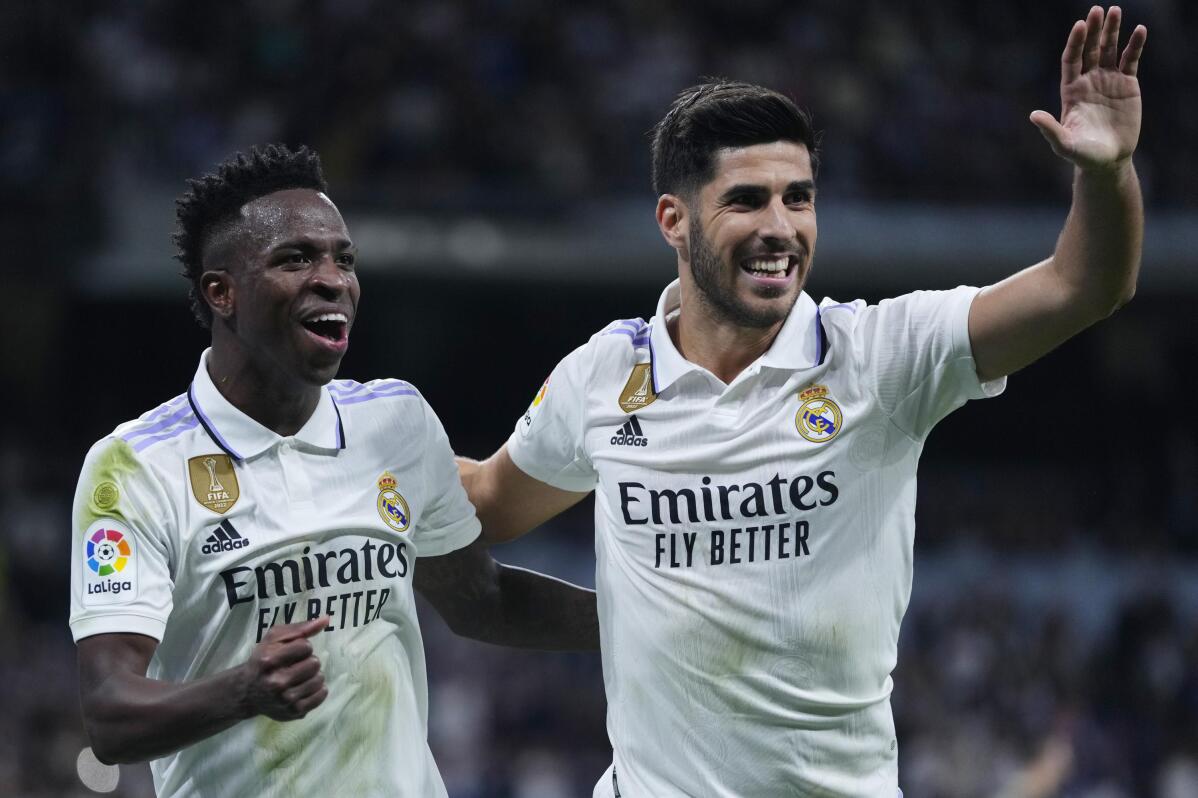 1 of 8

|
Real Madrid's Marco Asensio, right, celebrates with Vinicius Junior after scoring the opening goal during the Spanish La Liga soccer match between Real Madrid and Celta Vigo at the Santiago Bernabeu stadium in Madrid, Spain, Saturday, April 22, 2023. (AP Photo/Manu Fernandez)
1 of 8
Real Madrid's Marco Asensio, right, celebrates with Vinicius Junior after scoring the opening goal during the Spanish La Liga soccer match between Real Madrid and Celta Vigo at the Santiago Bernabeu stadium in Madrid, Spain, Saturday, April 22, 2023. (AP Photo/Manu Fernandez)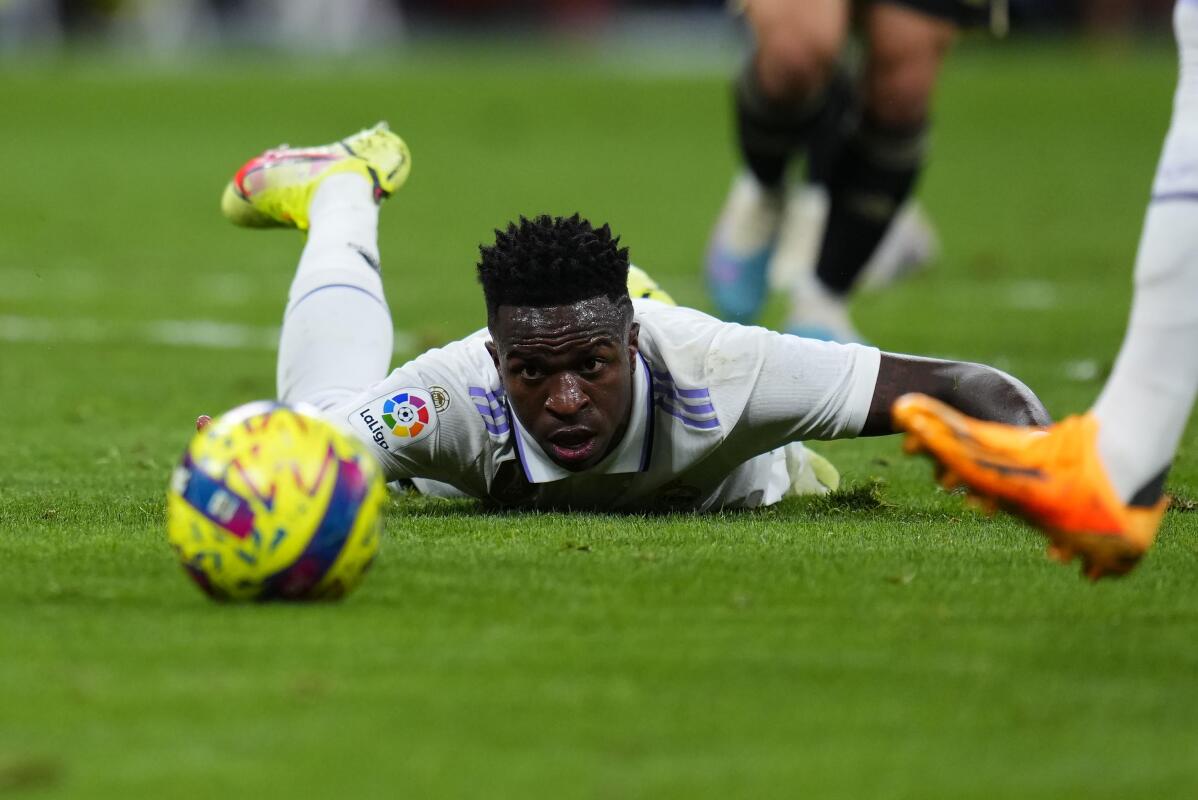 2 of 8

|
Real Madrid's Vinicius Junior lays on the pitch after a challenge during the Spanish La Liga soccer match between Real Madrid and Celta Vigo at the Santiago Bernabeu stadium in Madrid, Spain, Saturday, April 22, 2023. (AP Photo/Manu Fernandez)
2 of 8
Real Madrid's Vinicius Junior lays on the pitch after a challenge during the Spanish La Liga soccer match between Real Madrid and Celta Vigo at the Santiago Bernabeu stadium in Madrid, Spain, Saturday, April 22, 2023. (AP Photo/Manu Fernandez)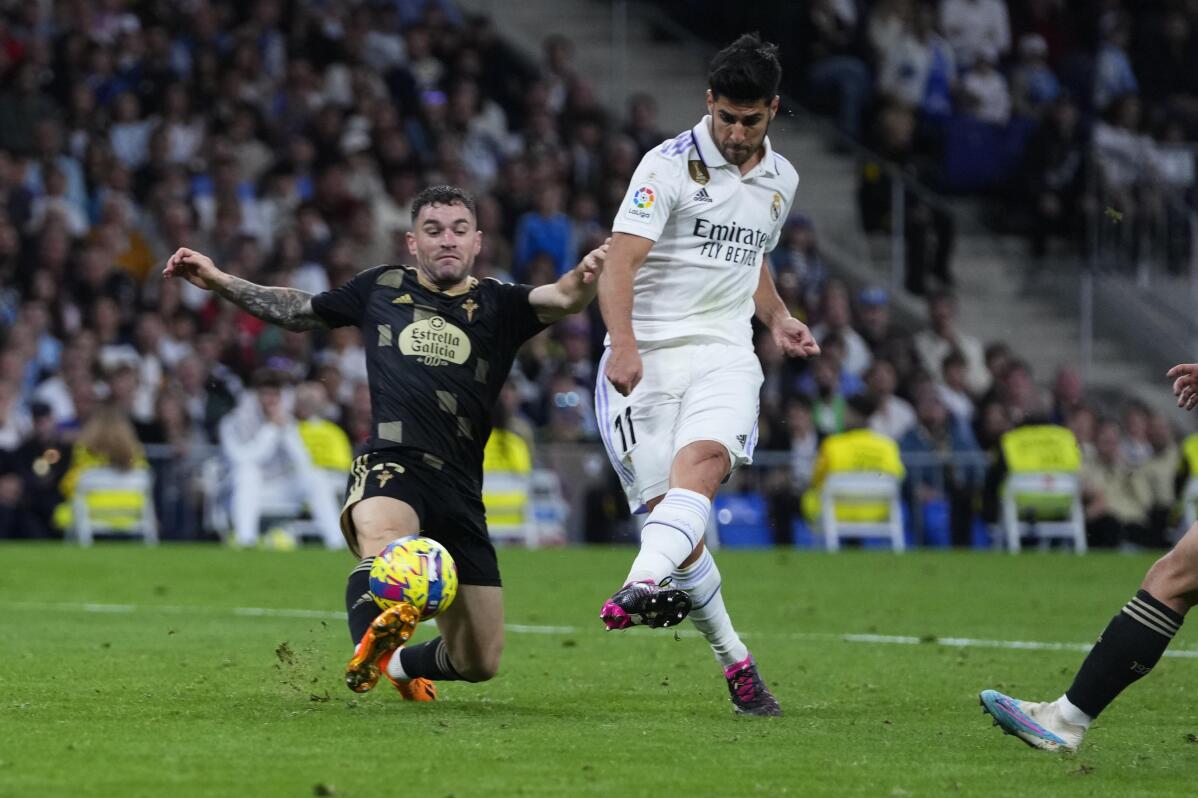 3 of 8

|
Real Madrid's Marco Asensio, centre, scores the opening goal during the Spanish La Liga soccer match between Real Madrid and Celta Vigo at the Santiago Bernabeu stadium in Madrid, Spain, Saturday, April 22, 2023. (AP Photo/Manu Fernandez)
3 of 8
Real Madrid's Marco Asensio, centre, scores the opening goal during the Spanish La Liga soccer match between Real Madrid and Celta Vigo at the Santiago Bernabeu stadium in Madrid, Spain, Saturday, April 22, 2023. (AP Photo/Manu Fernandez)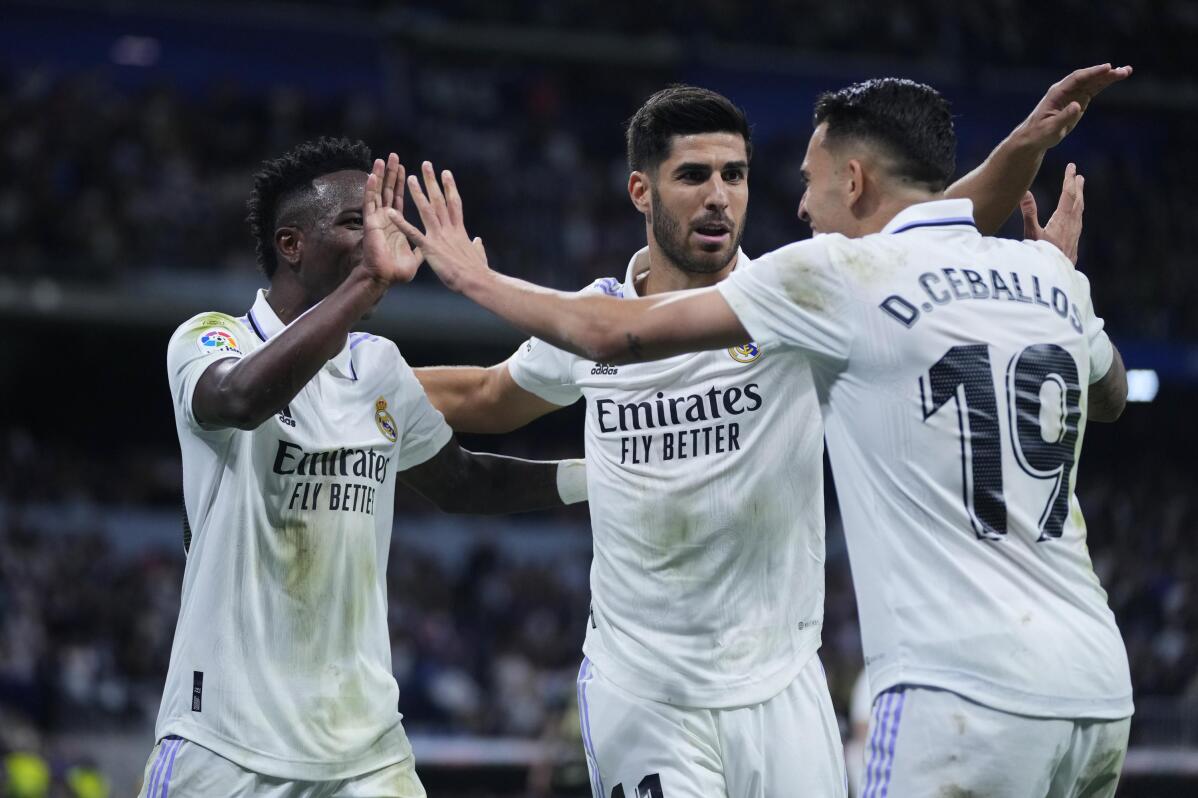 4 of 8

|
Real Madrid's Marco Asensio, centre, celebrates with Vinicius Junior, left, and Dani Ceballos after scoring the opening goal during the Spanish La Liga soccer match between Real Madrid and Celta Vigo at the Santiago Bernabeu stadium in Madrid, Spain, Saturday, April 22, 2023. (AP Photo/Manu Fernandez)
4 of 8
Real Madrid's Marco Asensio, centre, celebrates with Vinicius Junior, left, and Dani Ceballos after scoring the opening goal during the Spanish La Liga soccer match between Real Madrid and Celta Vigo at the Santiago Bernabeu stadium in Madrid, Spain, Saturday, April 22, 2023. (AP Photo/Manu Fernandez)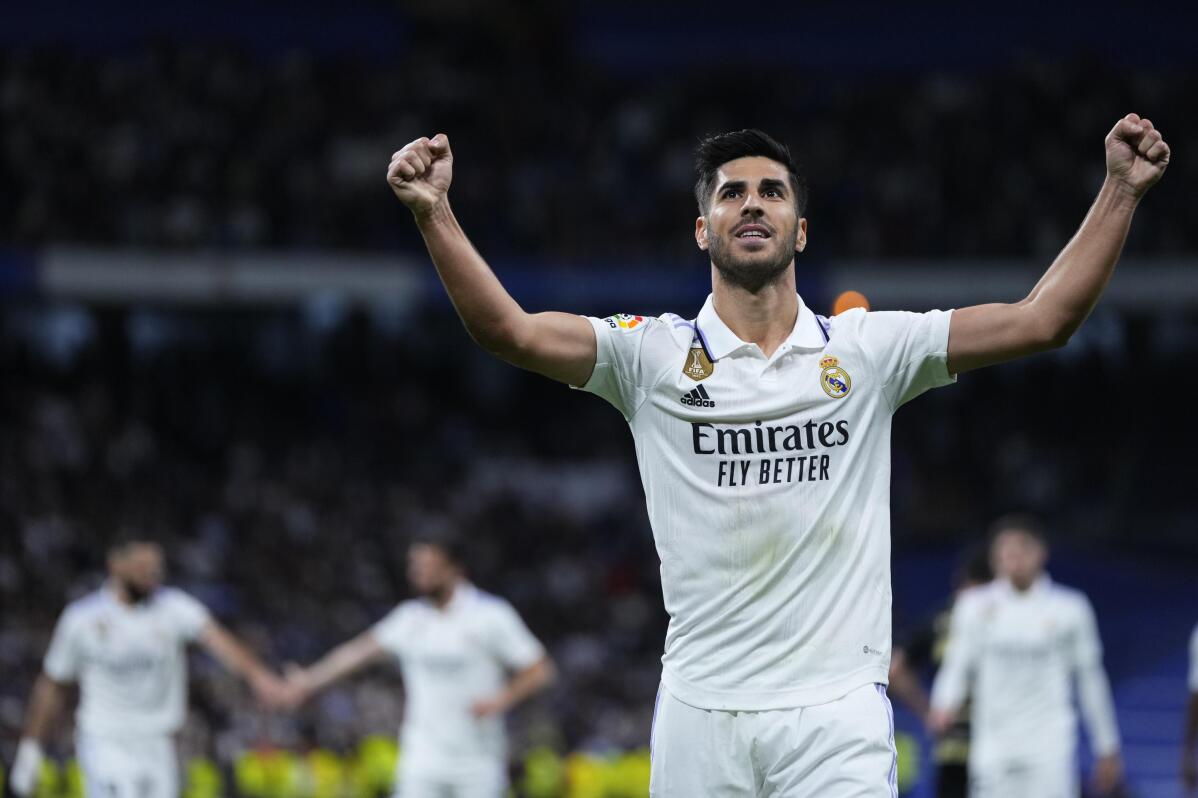 5 of 8

|
Real Madrid's Marco Asensio celebrates after scoring the opening goal during the Spanish La Liga soccer match between Real Madrid and Celta Vigo at the Santiago Bernabeu stadium in Madrid, Spain, Saturday, April 22, 2023. (AP Photo/Manu Fernandez)
5 of 8
Real Madrid's Marco Asensio celebrates after scoring the opening goal during the Spanish La Liga soccer match between Real Madrid and Celta Vigo at the Santiago Bernabeu stadium in Madrid, Spain, Saturday, April 22, 2023. (AP Photo/Manu Fernandez)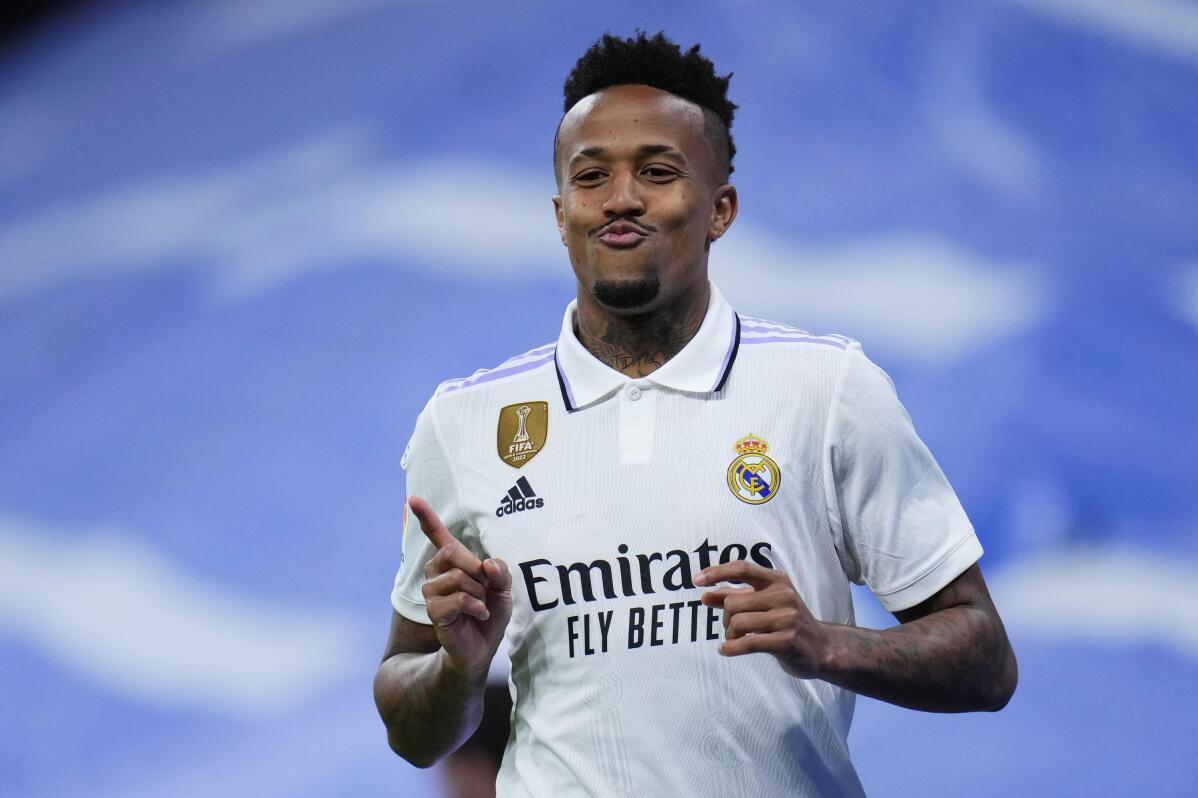 6 of 8

|
Real Madrid's Eder Militao celebrates after scoring his side's second goal during the Spanish La Liga soccer match between Real Madrid and Celta Vigo at the Santiago Bernabeu stadium in Madrid, Spain, Saturday, April 22, 2023. (AP Photo/Manu Fernandez)
6 of 8
Real Madrid's Eder Militao celebrates after scoring his side's second goal during the Spanish La Liga soccer match between Real Madrid and Celta Vigo at the Santiago Bernabeu stadium in Madrid, Spain, Saturday, April 22, 2023. (AP Photo/Manu Fernandez)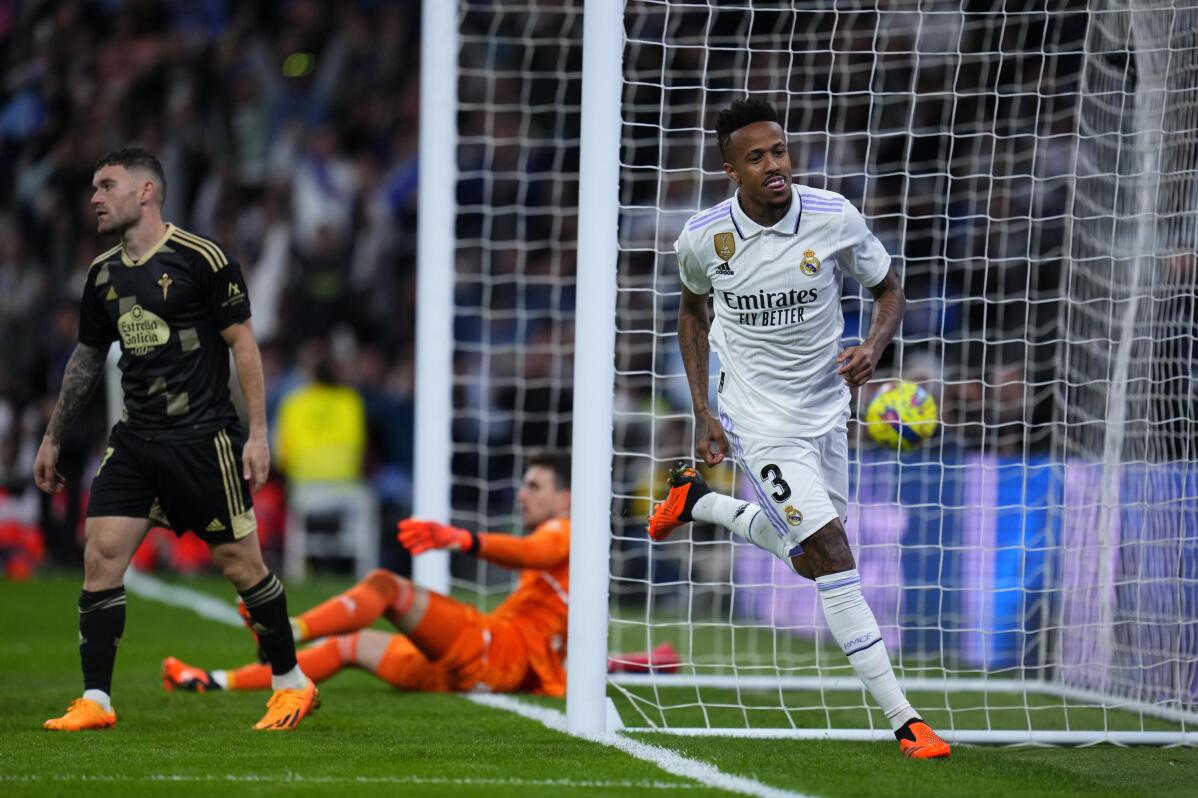 7 of 8

|
Real Madrid's Eder Militao, right, celebrates after scoring his side's second goal during the Spanish La Liga soccer match between Real Madrid and Celta Vigo at the Santiago Bernabeu stadium in Madrid, Spain, Saturday, April 22, 2023. (AP Photo/Manu Fernandez)
7 of 8
Real Madrid's Eder Militao, right, celebrates after scoring his side's second goal during the Spanish La Liga soccer match between Real Madrid and Celta Vigo at the Santiago Bernabeu stadium in Madrid, Spain, Saturday, April 22, 2023. (AP Photo/Manu Fernandez)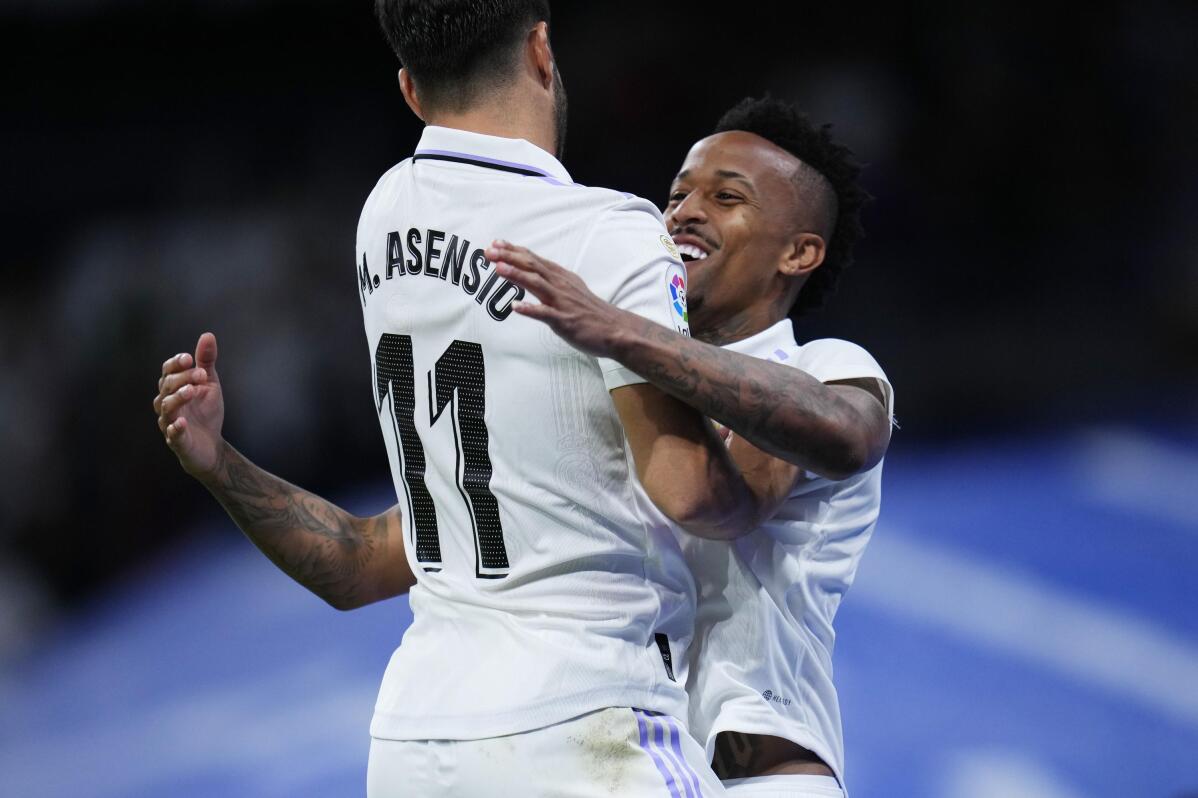 8 of 8

|
Real Madrid's Eder Militao, right, celebrates with Marco Asensio after scoring his side's second goal during the Spanish La Liga soccer match between Real Madrid and Celta Vigo at the Santiago Bernabeu stadium in Madrid, Spain, Saturday, April 22, 2023. (AP Photo/Manu Fernandez)
8 of 8
Real Madrid's Eder Militao, right, celebrates with Marco Asensio after scoring his side's second goal during the Spanish La Liga soccer match between Real Madrid and Celta Vigo at the Santiago Bernabeu stadium in Madrid, Spain, Saturday, April 22, 2023. (AP Photo/Manu Fernandez)
BARCELONA, Spain (AP) — Real Madrid beat Celta Vigo 2-0 on Saturday to pressure Barcelona before the Spanish leader hosts Atletico Madrid needing a win to quash any fears of a late season slump.
Marco Asensio put Madrid ahead three minutes before halftime from a pass by Vinícius Júnior after the winger sped clear on the flank.
Center back Éder Militão again showed his punch in attack by using a powerful header to turn in a corner kick by Asensio in the 48th.
Madrid's win trimmed Barcelona's still-healthy lead to eight points with one more game played.
Two rounds ago, Barcelona could have gone ahead by as many as 15 before it was held to two consecutive draws that allowed Madrid to breathe a little bit of life into its nearly hopeless title defense.
A loss by Barcelona to third-placed Atletico at Camp Nou on Sunday could embolden Madrid with eight games to play.
Either way, Madrid has prioritized a possible cup double, not a still unlikely comeback in the domestic league.
After three more league games, Madrid will play Osasuna on May 6 in the Copa del Rey final. Just three days later, the Champions League holder hosts Manchester City in the semifinals.
For goalkeeper Thibaut Courtois, who made a late stop to deny Celta's Iago Aspas one-on-one, Madrid can have it both ways.
"We are going to keep fighting until the last game," Courtois said. "We have to try to win these next three games, and then after the Copa del Rey final we will see what the difference is. And, in any case, our task is to keep winning so we have good momentum going into the Champions League (semifinals)."
Coach Carlo Ancelotti left first-choice players Luka Modrid, Toni Kroos, Rodrygo, and Dani Carvajal, who all started in its 2-0 win at Chelsea last week, on his bench at the start of the match with Celta.
In their place, Aurélien Tchouaméni and Dani Ceballos played in the midfield, while Nacho Fernández was in defense and Marco Asensio in attack.
Ancelotti's B team did just fine.
The vision of Ceballos combined with the speed of Vinícius was enough to break down Celta's resistance.
Ceballos slotted a finely weighted throughball behind the defense to meet Vinícius' run down the left flank, before he cut back and found Asensio arriving to score from his pass.
Militão put the result beyond doubt when he charged in and rose high above Celta's defense to thump home Asensio's corner kick.
Down by two goals, 12th-placed Celta finally started to click in attack. But Gabri Veiga, a 20-year-old midfielder linked to a move to Madrid, and Aspas failed to get off on-target shots after they were set up by left back Javi Galán.
And when Aspas did break past Fernández and had time and space in his favor, Courtois closed him down and swatted the ball away.
The 35-year-old Aspas made his 450th career appearance for Celta.
LAST CHAMPIONS SPOT
Real Sociedad fought back to beat Rayo Vallecano 2-1 and strengthen its hold on fourth place and the last Champions League spot after Real Betis stumbled in a loss at Osasuna.
Fifth-placed Betis fell six points behind Sociedad after Ante Budimir led Osasuna to a 3-2 win over the Seville-based side as it builds momentum for the Copa del Rey final in two weeks.
OTHER RESULTS
Athletic Bilbao won at Almeria 2-1 and boosted the Basque club's chances for fighting for a European competition berth. Valladolid's 1-0 win over Girona lifted it seven points clear of the relegation zone.
___
More AP soccer: https://apnews.com/hub/Soccer and https://twitter.com/AP_Sports