Cora says he wasn't accusing Orioles of anything nefarious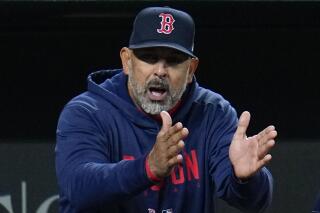 BALTIMORE (AP) — Boston Red Sox manager Alex Cora says he was not accusing Baltimore of anything nefarious when he pointed out how few swings and misses the Orioles had against Chris Sale on Monday night.
Orioles manager Brandon Hyde said Tuesday he felt Cora was "disrespectful" to the Baltimore hitters. When that comment was relayed to Cora, he sounded surprised and ready to try and smooth things over with his AL East rival.
Cora said his comments were about possible pitch tipping by Sale and not about sign stealing or anything shady on Baltimore's part.
"It wasn't about pointing the finger at them. If he took it that way, I'll talk to him right now, but that's not the case," Cora said Tuesday. "I was the guy suspended for what happened in 2017, so I'm the last guy that can accuse somebody of doing something wrong if that's what he thought I was saying."
Cora, who managed Boston to a World Series title in 2018, was suspended for the 2020 season for his role in the Houston Astros' sign-stealing scandal from 2017. He was the bench coach for that Houston team.
The Orioles made contact on 40 of their 42 swings against Sale in their 5-4 win Monday.
"Sliders down and in and they hit it. Fastballs up and away, they hit it. Changeups — at one point there, there was no swing and misses. Tough pitches," Cora said after the game. "You've got to give credit to them, I guess."
"We've got to take a look at it and see if we find something," Cora added, "I'm not saying — got to give credit to them, but command was off today."
When asked about Cora at his pregame news conference Tuesday, Hyde said: "I'm not sure what he was getting at. Honestly pretty disappointed in hearing that. I thought it was disrespectful to our hitters, to be honest with you. I thought we had a great game plan. I thought we had major league hitters take really good at-bats."
Cora said Tuesday there might be a mechanical adjustment Sale can make.
"We've got to get him to be more athletic on the mound," Cora said. "It's something we noticed. He's a little bit too stiff."
Before Tuesday night's game, the Red Sox put infielder Yu Chang on the 10-day injured list because of a left hand fracture. He left Monday's game after swinging at a pitch. Cora said Chang was expected to see a hand specialist Wednesday in Boston and likely will have surgery Thursday. He could miss six weeks.
Boston recalled utilityman Enmanuel Valdez from Triple-A Worcester.
___
Follow Noah Trister at https://twitter.com/noahtrister
___
AP MLB: https://apnews.com/hub/mlb and https://twitter.com/AP_Sports