Rhode Island House backs bill to expand abortion access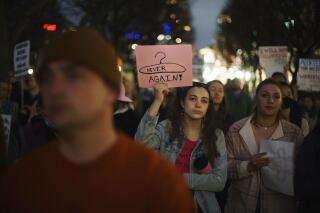 PROVIDENCE, R.I. (AP) — State funds could be used to pay for health plans that cover state workers and Medicaid recipients seeking abortions under a bill approved Thursday by the Democrat-controlled Rhode Island House of Representatives.
House lawmakers approved the measure on a 49-24 vote after debating the bill for about an hour.
The bill was sponsored by Democratic House Majority Whip Katherine Kazarian.
Kazarian said the bill will help guarantee that everyone in Rhode Island who needs reproductive health services will have access.
She said the bill wasn't about reopening the abortion debate. Rhode Island has already codified Roe v. Wade into state law.
Opponents, including Democratic House Labor Committee Chairman Arthur Corvese, said it's one thing to end a pregnancy because of rape, incest or the health of the mother, and another to do so because it was unplanned.
"Termination of pregnancy as a method of after-the-fact birth control is an abomination and unconscionable in a civilized society," he added.
The bill would repeal a current section of state law banning Rhode Island from including in any health insurance contracts with state employees any provision which provides coverage for induced abortions — except where the life of the mother would be endangered if the fetus were carried to term, or where the pregnancy resulted from rape or incest.
The bill now heads to the state Senate.
Gov. Daniel McKee, a Democrat, has said he would sign the bill into law if it reaches his desk.