Derby-winning trainer Rick Dutrow back from 10-year exile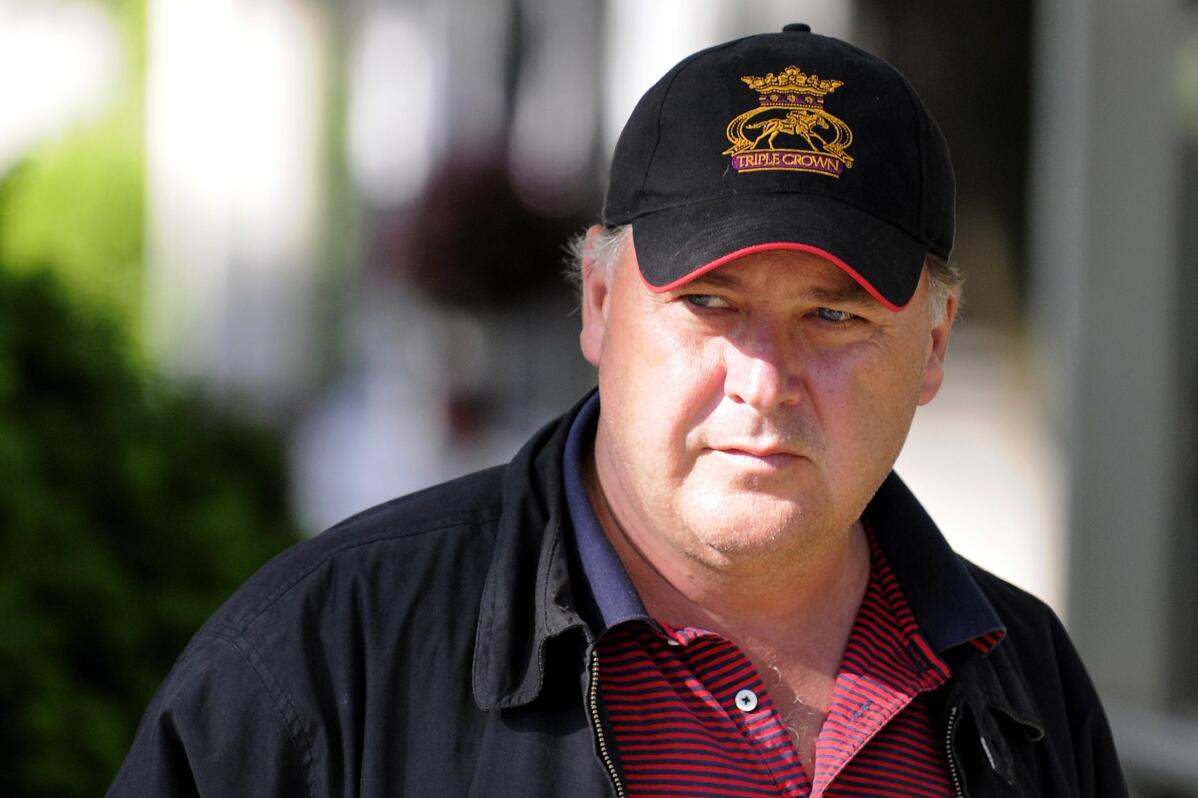 1 of 2

|
FILE - Rick Dutrow, trainer of Kentucky Derby and Preakness winner Big Brown arrives at Belmont Park on June 2, 2008, in Elmont, N.Y. Dutrow, who trained 2008 Kentucky Derby and Preakness winner Big Brown, saddled his first starter on Saturday, May 6, 2023, in his return from a 10-year suspension by New York racing officials. (AP Photo/Jeff Zelevansky, File)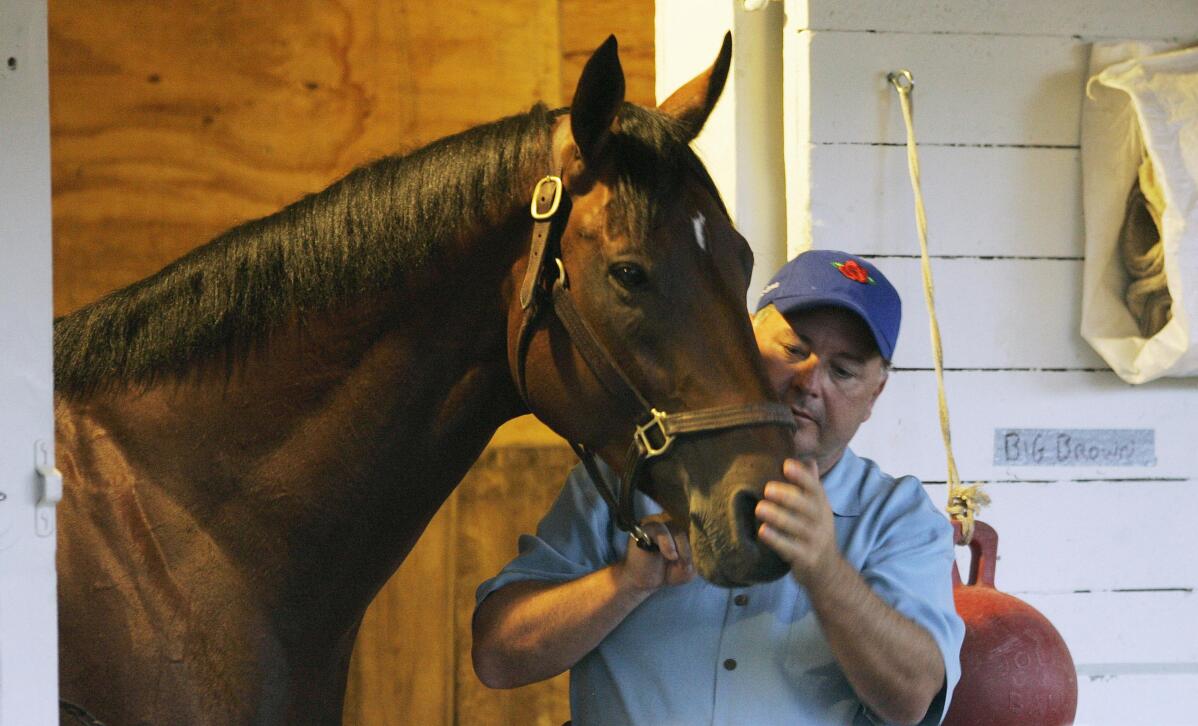 2 of 2

|
FILE - Big Brown's trainer Rick Dutrow rubs the horse's nose at Churchill Downs on May 2, 2008, in Louisville, Ky. Dutrow, who trained 2008 Kentucky Derby and Preakness winner Big Brown, saddled his first starter on Saturday, May 6, 2023, in his return from a 10-year suspension by New York racing officials. (AP Photo/Ed Reinke, File)
Derby-winning trainer Rick Dutrow back from 10-year exile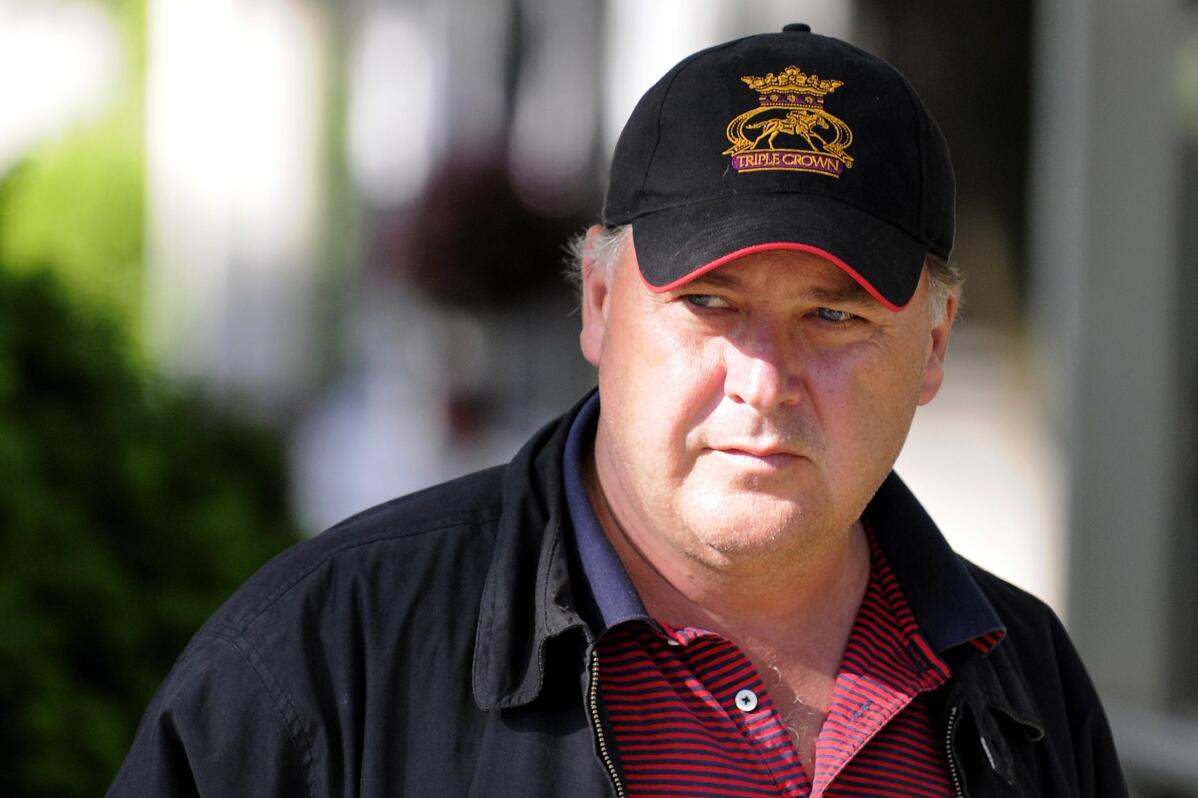 1 of 2

|
FILE - Rick Dutrow, trainer of Kentucky Derby and Preakness winner Big Brown arrives at Belmont Park on June 2, 2008, in Elmont, N.Y. Dutrow, who trained 2008 Kentucky Derby and Preakness winner Big Brown, saddled his first starter on Saturday, May 6, 2023, in his return from a 10-year suspension by New York racing officials. (AP Photo/Jeff Zelevansky, File)
1 of 2
FILE - Rick Dutrow, trainer of Kentucky Derby and Preakness winner Big Brown arrives at Belmont Park on June 2, 2008, in Elmont, N.Y. Dutrow, who trained 2008 Kentucky Derby and Preakness winner Big Brown, saddled his first starter on Saturday, May 6, 2023, in his return from a 10-year suspension by New York racing officials. (AP Photo/Jeff Zelevansky, File)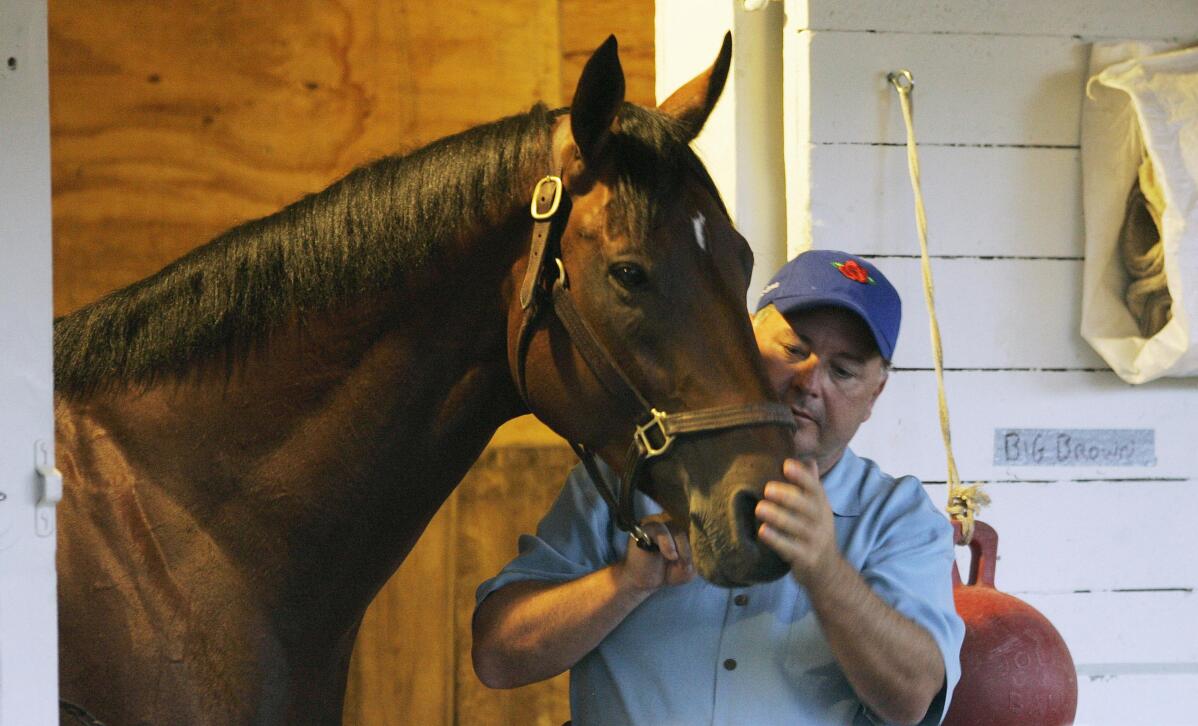 2 of 2

|
FILE - Big Brown's trainer Rick Dutrow rubs the horse's nose at Churchill Downs on May 2, 2008, in Louisville, Ky. Dutrow, who trained 2008 Kentucky Derby and Preakness winner Big Brown, saddled his first starter on Saturday, May 6, 2023, in his return from a 10-year suspension by New York racing officials. (AP Photo/Ed Reinke, File)
2 of 2
FILE - Big Brown's trainer Rick Dutrow rubs the horse's nose at Churchill Downs on May 2, 2008, in Louisville, Ky. Dutrow, who trained 2008 Kentucky Derby and Preakness winner Big Brown, saddled his first starter on Saturday, May 6, 2023, in his return from a 10-year suspension by New York racing officials. (AP Photo/Ed Reinke, File)
NEW YORK (AP) — Rick Dutrow, who trained 2008 Kentucky Derby and Preakness winner Big Brown, won his first race Saturday in his return from a 10-year suspension by New York racing officials.
Prince of Pharoahs, sired by 2015 Triple Crown winner American Pharoah, won the sixth race at Belmont Park in New York. It was Dutrow's first race since January 2013.
The 63-year-old Dutrow regained his trainer's license in February, returned to work in early April and is in the process of re-assembling a string of horses.
In 2011, he had his license revoked for 10 years and was fined $50,000 after being charged with numerous medication and administrative violations that included the finding of syringes filled with unauthorized medication in his barn. He fought the suspension until exhausting all of his legal appeals in 2013.
Big Brown was denied a Triple Crown sweep when he finished last in the Belmont Stakes. During the horse's bid, Dutrow had openly discussed using an anabolic steroid that was legal at the time in Kentucky, Maryland and New York, which host the Triple Crown races.
His older brother, Anthony, earned the 2,000th victory of his training career on Friday at Belmont. Their father, Richard Sr., was a successful trainer, too.
___
AP sports: https://apnews.com/hub/sports and https://twitter.com/AP_Sports