Rockies RHP Antonio Senzatela out at least 2 months with sprained UCL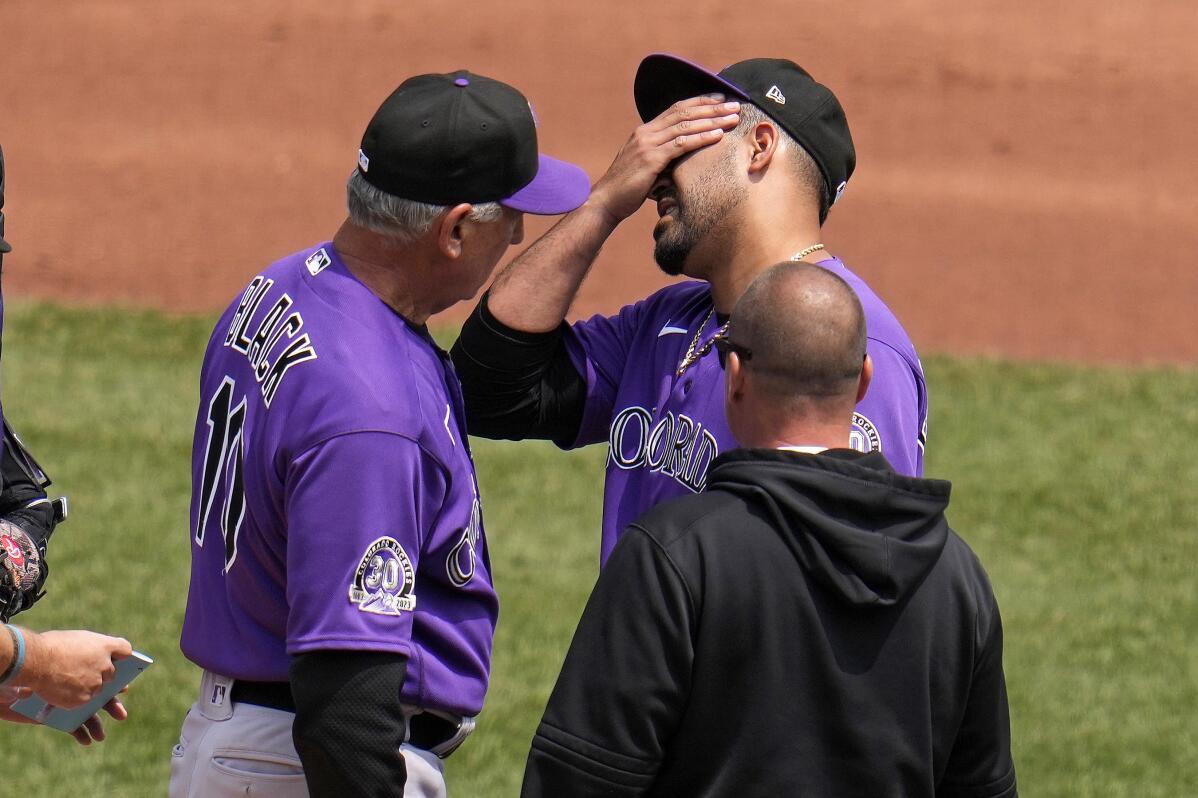 1 of 3

|
Colorado Rockies starting pitcher Antonio Senzatela, right rear, is visited on the mound by manager Bud Black (10) and a team trainer after giving up a two-run home run to Pittsburgh Pirates' Andrew McCutchen during the third inning of a baseball game in Pittsburgh, Wednesday, May 10, 2023. Black made a call to the bullpen and Senzatela left the game with the trainer. (AP Photo/Gene J. Puskar)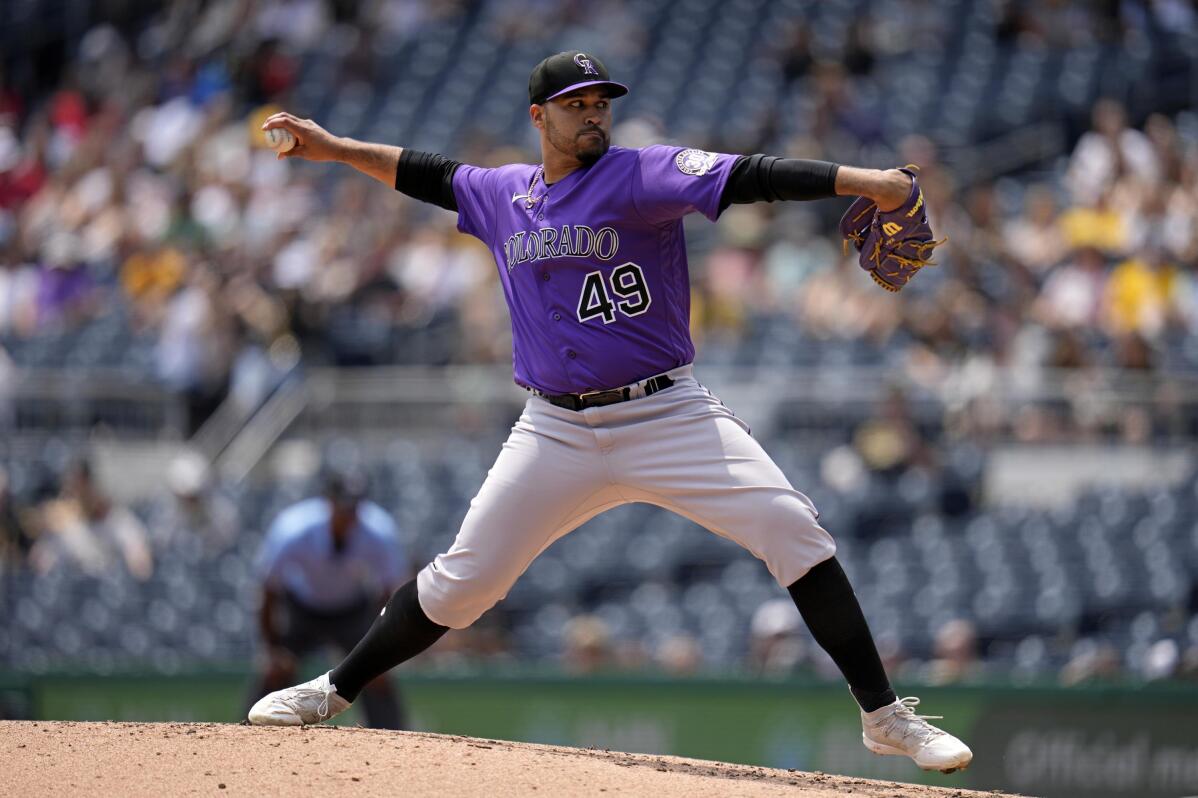 2 of 3

|
Colorado Rockies starting pitcher Antonio Senzatela delivers during the second inning of a baseball game against the Pittsburgh Pirates in Pittsburgh, Wednesday, May 10, 2023. (AP Photo/Gene J. Puskar)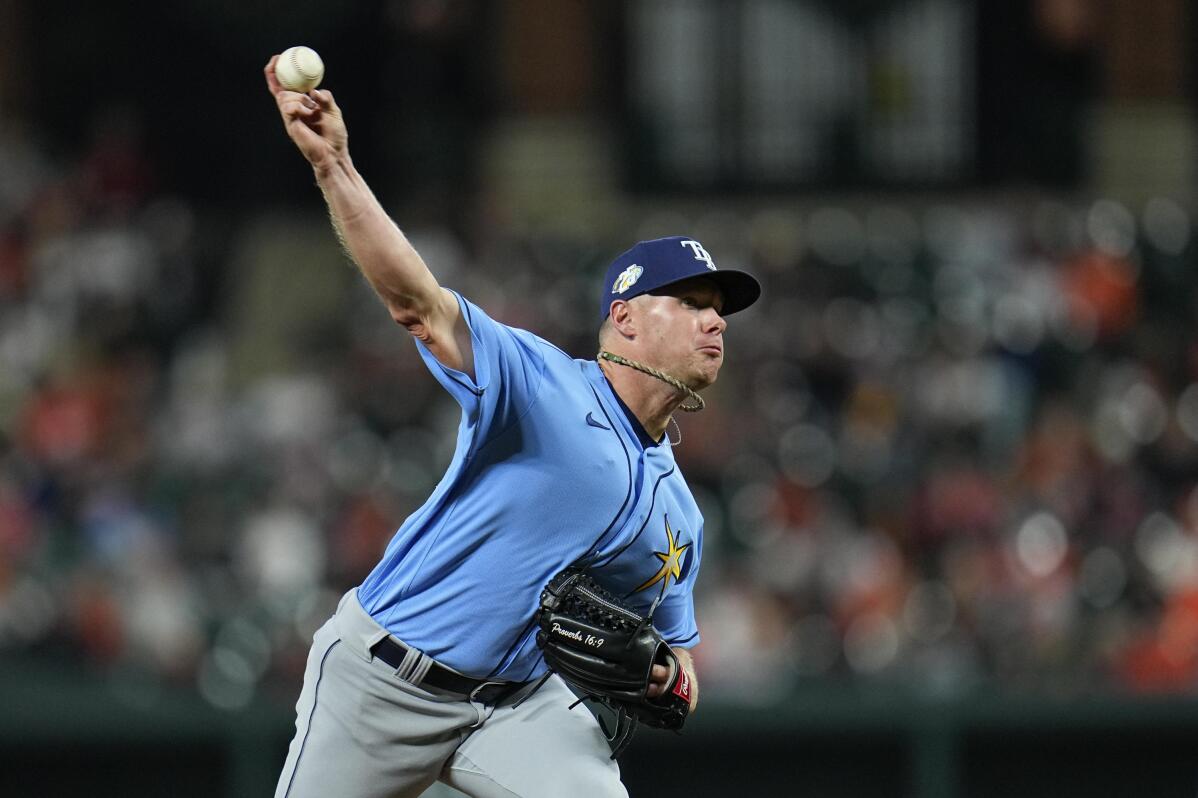 3 of 3

|
Tampa Bay Rays starting pitcher Chase Anderson throws a pitch to the Baltimore Orioles during the seventh inning of a baseball game, Tuesday, May 9, 2023, in Baltimore. The Orioles won 4-2. (AP Photo/Julio Cortez)
Rockies RHP Antonio Senzatela out at least 2 months with sprained UCL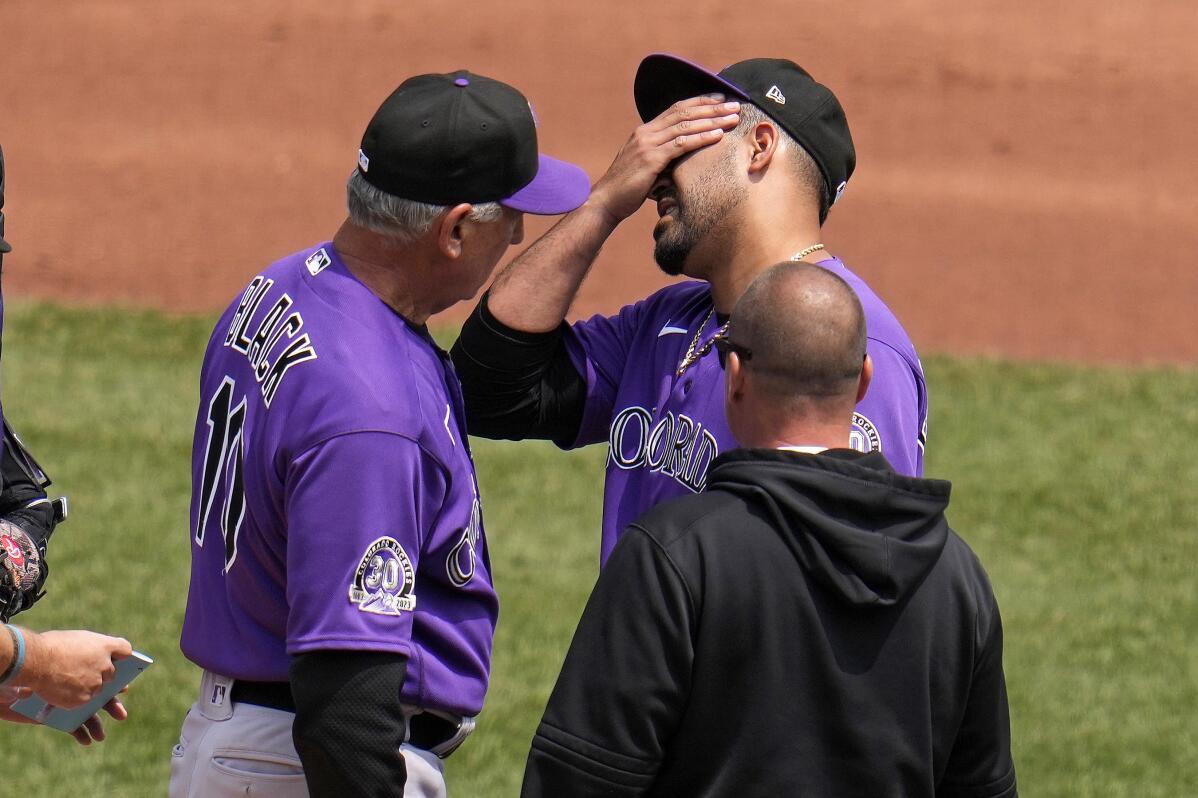 1 of 3

|
Colorado Rockies starting pitcher Antonio Senzatela, right rear, is visited on the mound by manager Bud Black (10) and a team trainer after giving up a two-run home run to Pittsburgh Pirates' Andrew McCutchen during the third inning of a baseball game in Pittsburgh, Wednesday, May 10, 2023. Black made a call to the bullpen and Senzatela left the game with the trainer. (AP Photo/Gene J. Puskar)
1 of 3
Colorado Rockies starting pitcher Antonio Senzatela, right rear, is visited on the mound by manager Bud Black (10) and a team trainer after giving up a two-run home run to Pittsburgh Pirates' Andrew McCutchen during the third inning of a baseball game in Pittsburgh, Wednesday, May 10, 2023. Black made a call to the bullpen and Senzatela left the game with the trainer. (AP Photo/Gene J. Puskar)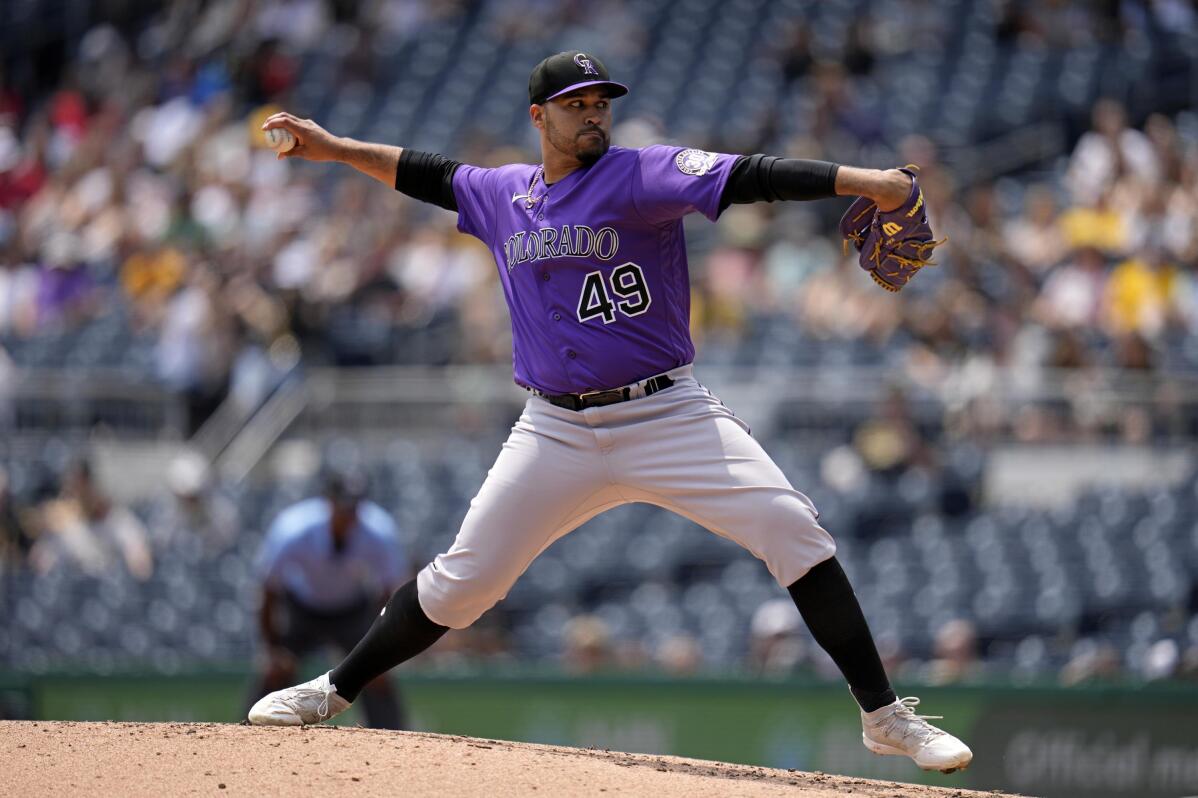 2 of 3

|
Colorado Rockies starting pitcher Antonio Senzatela delivers during the second inning of a baseball game against the Pittsburgh Pirates in Pittsburgh, Wednesday, May 10, 2023. (AP Photo/Gene J. Puskar)
2 of 3
Colorado Rockies starting pitcher Antonio Senzatela delivers during the second inning of a baseball game against the Pittsburgh Pirates in Pittsburgh, Wednesday, May 10, 2023. (AP Photo/Gene J. Puskar)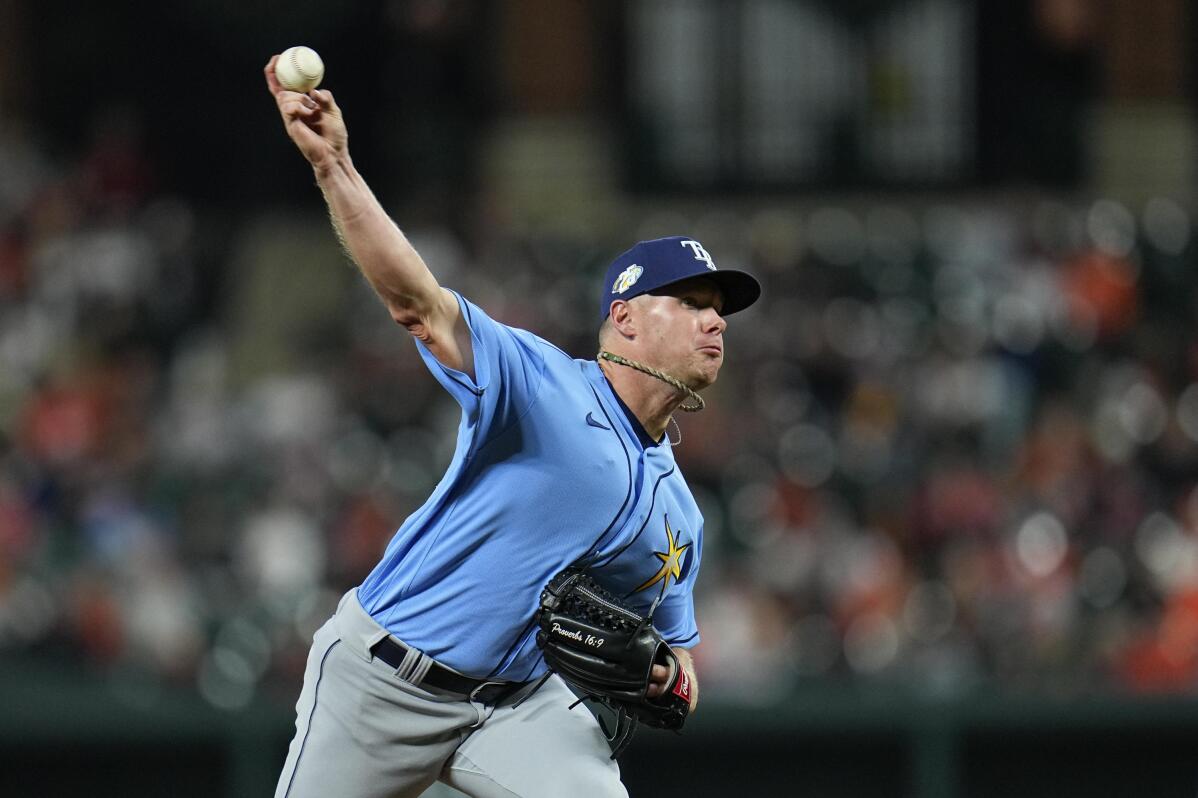 3 of 3

|
Tampa Bay Rays starting pitcher Chase Anderson throws a pitch to the Baltimore Orioles during the seventh inning of a baseball game, Tuesday, May 9, 2023, in Baltimore. The Orioles won 4-2. (AP Photo/Julio Cortez)
3 of 3
Tampa Bay Rays starting pitcher Chase Anderson throws a pitch to the Baltimore Orioles during the seventh inning of a baseball game, Tuesday, May 9, 2023, in Baltimore. The Orioles won 4-2. (AP Photo/Julio Cortez)
DENVER (AP) — Colorado Rockies right-hander Antonio Senzatela will miss at least two months with a sprained ulnar collateral ligament.
Senzatela, however, avoided the same fate as fellow starter Germán Márquez, who had season-ending Tommy John surgery on Friday.
"The news is favorable, considering," Rockies manager Bud Black said Friday before Colorado faced Philadelphia. "In these cases you always sort of expect the worst. But this is actually OK."
Senzatela was pulled with two outs in the third inning Wednesday at Pittsburgh after experiencing forearm tightness. His velocity had dipped in only his second start since returning after tearing the ACL in his left knee on Aug. 18 at St. Louis.
"During the game I couldn't get loose," Senzatela said. "It was painful every time (I threw)."
Senzatela said he was relieved an MRI showed no tear. Earlier this month, Colorado lost Márquez to a torn UCL.
Black said Senzatela wouldn't pick up a ball for at least three weeks but "should be able to pitch again this year." Senzatela said he and the team haven't decided whether to try a platelet-rich plasma injection.
The Rockies moved to address Senzatela's absence by claiming right-hander Chase Anderson off waivers from Tampa Bay on Friday. Black said the 35-year-old will likely start on Tuesday against Cincinnati.
Anderson made two relief appearances for Tampa Bay, allowing no runs and two hits over five innings. But he's made 183 career starts and Black said he's built up enough to throw about 75 pitches.
Anderson is 58-50 with a 4.23 ERA in 201 appearances over 10 seasons with Arizona, Milwaukee, Toronto, Philadelphia, Cincinnati and the Rays.
After going a franchise-worst 7-20 in April, the Rockies had won eight of 10 despite the recent rash of rotation injuries. Rookie right-hander Noah Davis is on the 15-day injured list with right elbow inflammation.
Black said Márquez was undergoing elbow reconstruction surgery Friday in Denver.
___
AP MLB: https://apnews.com/hub/MLB and https://twitter.com/AP_Sports