Farmers in Romania, Bulgaria protest Ukrainian grain influx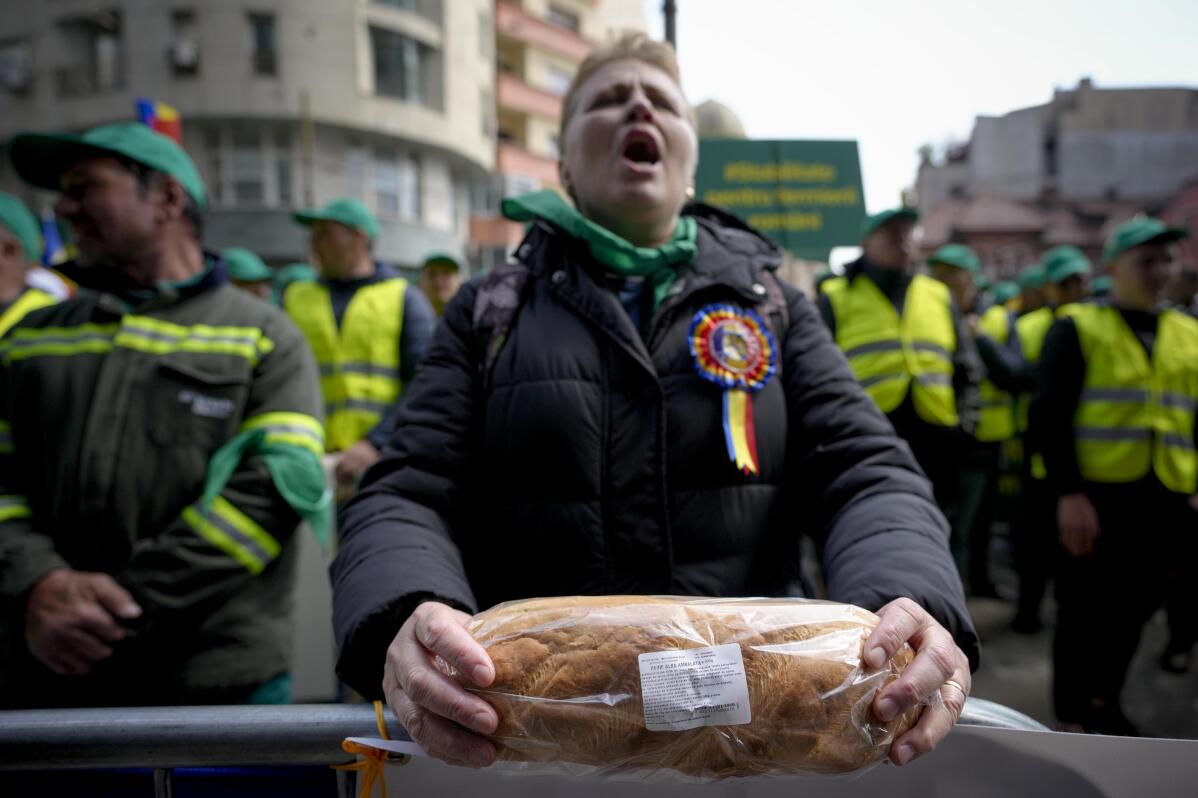 1 of 8

|
A woman holds a loaf of bread during a farmers' protest in front of the Representative Office of the European Commission in Bucharest, Romania, Friday, April 7, 2023. The leaders of five European Union members helping the transit of Ukrainian farm produce to third countries called for EU action over a glut that resulted from the goods not leaving for their destinations, bringing down prices in their own markets and angering farmers.(AP Photo/Andreea Alexandru)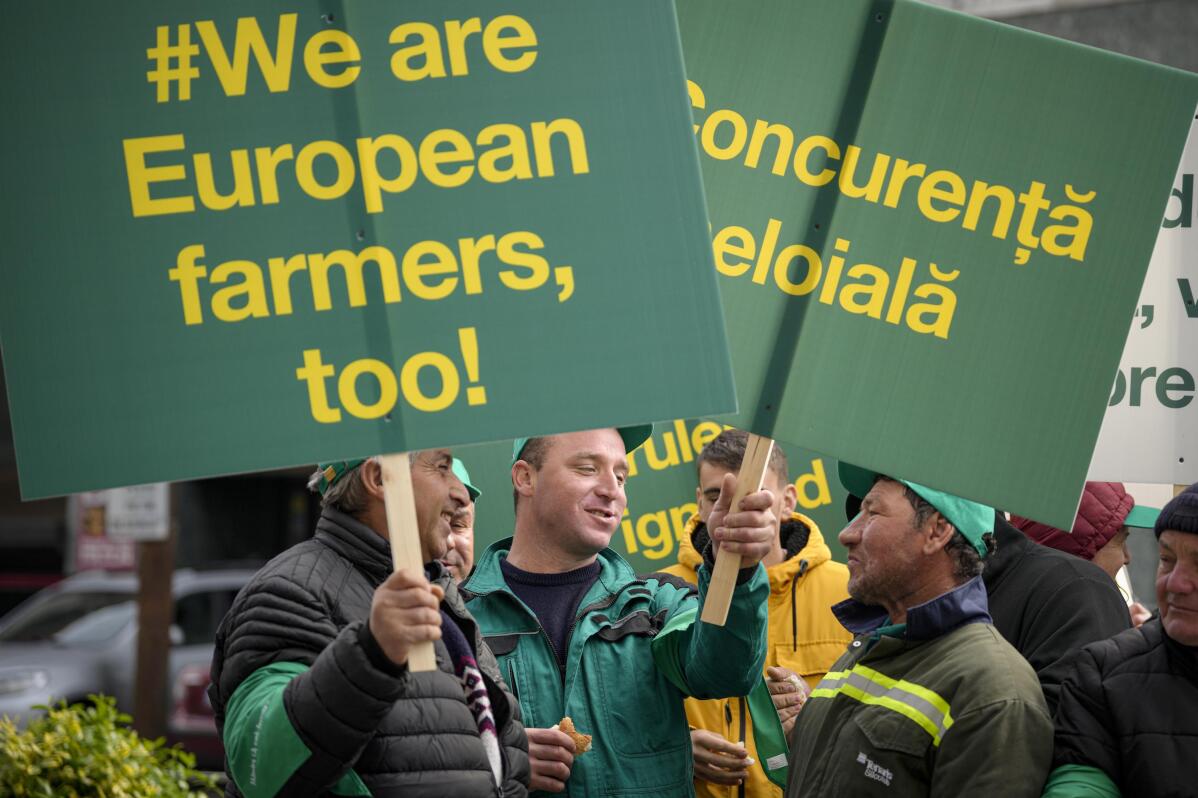 2 of 8

|
Men talk as they hold banners during a farmers' protest in front of the Representative Office of the European Commission in Bucharest, Romania, Friday, April 7, 2023. The leaders of five European Union members helping the transit of Ukrainian farm produce to third countries called for EU action over a glut that resulted from the goods not leaving for their destinations, bringing down prices in their own markets and angering farmers.(AP Photo/Andreea Alexandru)
3 of 8

|
Loaves of bread are propped in front of the EU flag during a farmers' protest in front of the Representative Office of the European Commission in Bucharest, Romania, Friday, April 7, 2023. The leaders of five European Union members helping the transit of Ukrainian farm produce to third countries called for EU action over a glut that resulted from the goods not leaving for their destinations, bringing down prices in their own markets and angering farmers.(AP Photo/Andreea Alexandru)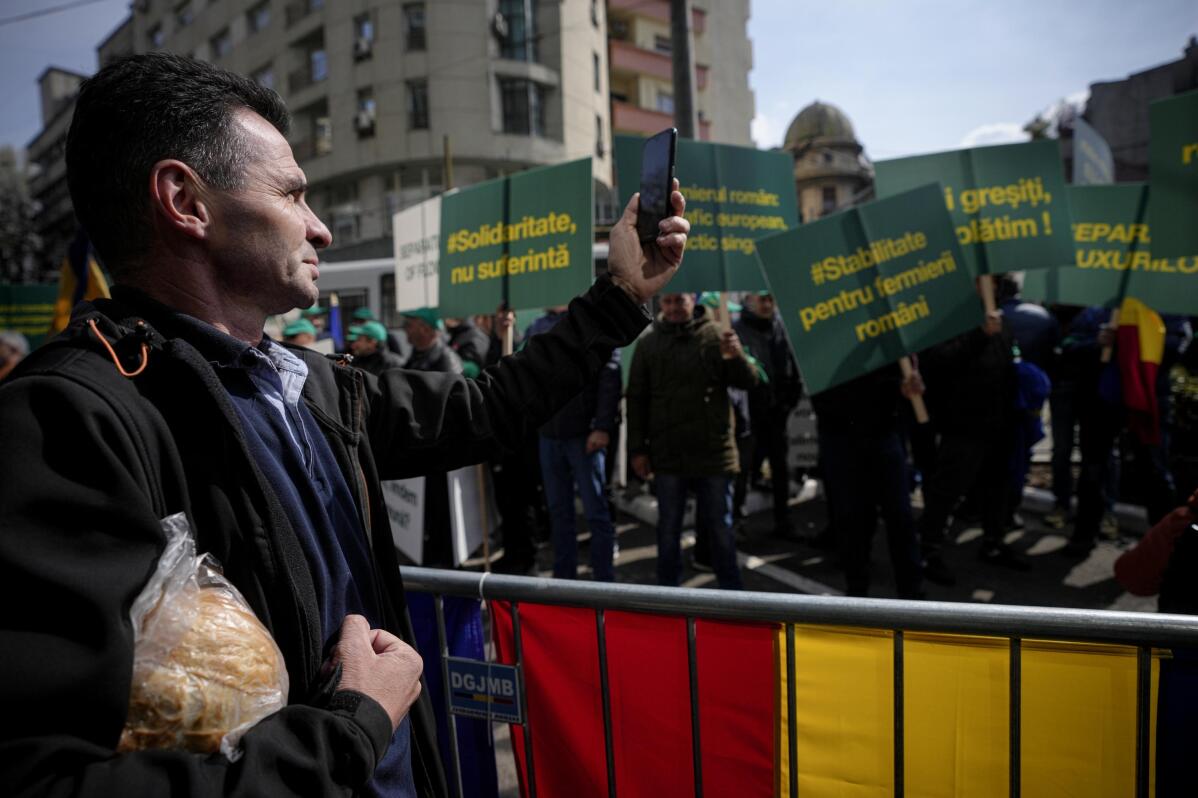 4 of 8

|
A man holding a loaf of bread takes a picture with his mobile phone during a farmers' protest in front of the Representative Office of the European Commission in Bucharest, Romania, Friday, April 7, 2023. The leaders of five European Union members helping the transit of Ukrainian farm produce to third countries called for EU action over a glut that resulted from the goods not leaving for their destinations, bringing down prices in their own markets and angering farmers.(AP Photo/Andreea Alexandru)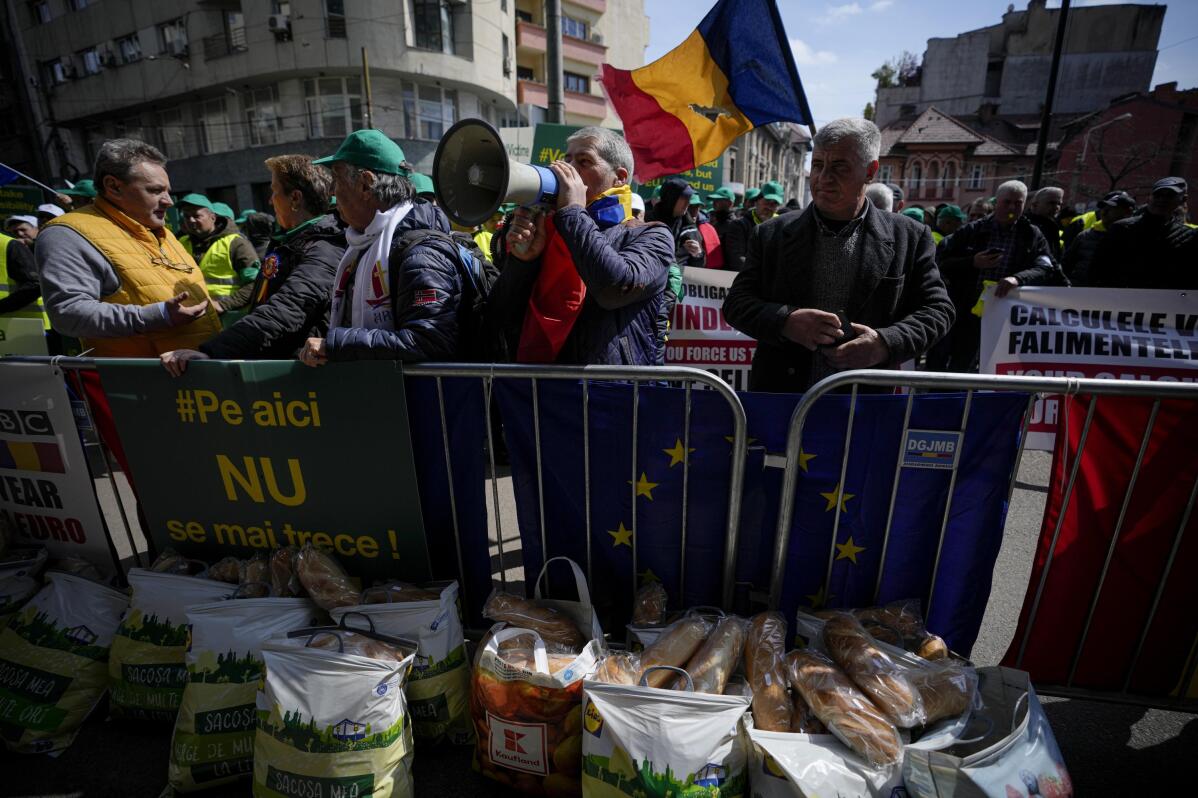 5 of 8

|
A man shouts on a megaphone during a farmers' protest in front of the Representative Office of the European Commission in Bucharest, Romania, Friday, April 7, 2023. The leaders of five European Union members helping the transit of Ukrainian farm produce to third countries called for EU action over a glut that resulted from the goods not leaving for their destinations, bringing down prices in their own markets and angering farmers.(AP Photo/Andreea Alexandru)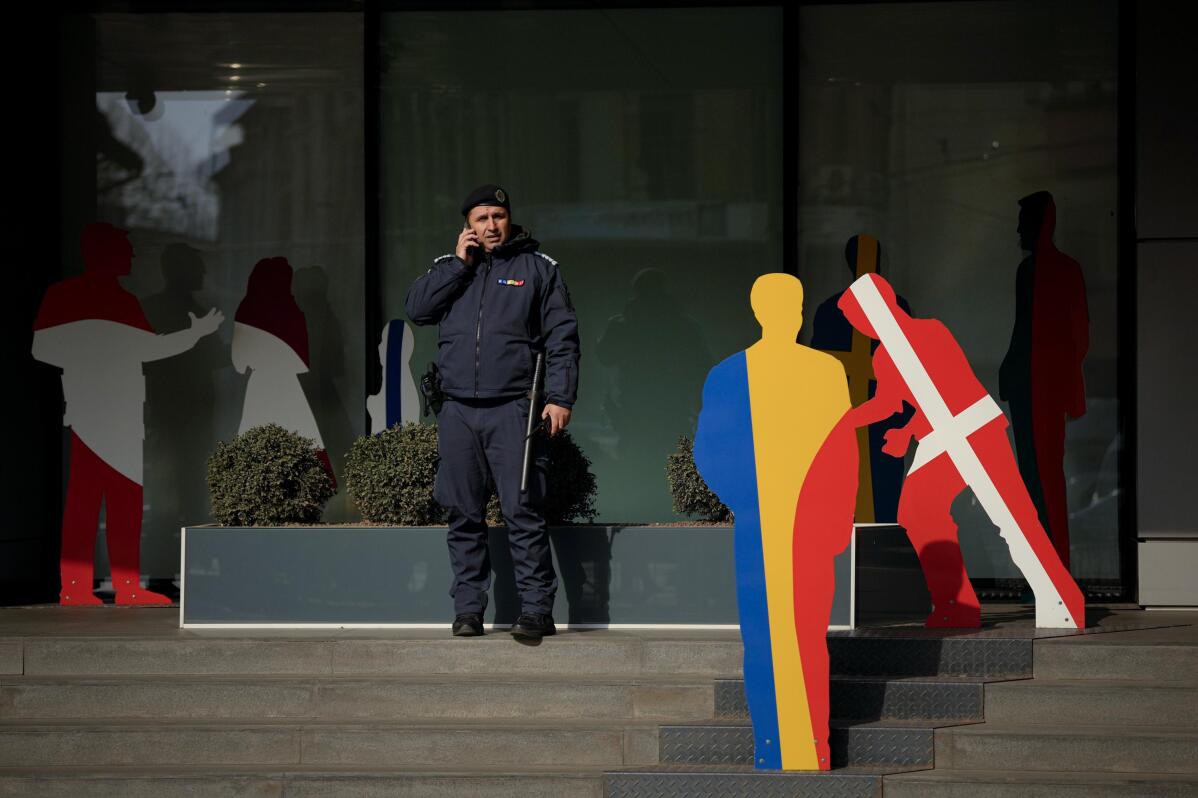 6 of 8

|
A Romanian gendarme talks on the phone next to cutouts decorated with EU member states flags during a farmers' protest in front of the Representative Office of the European Commission in Bucharest, Romania, Friday, April 7, 2023. The leaders of five European Union members helping the transit of Ukrainian farm produce to third countries called for EU action over a glut that resulted from the goods not leaving for their destinations, bringing down prices in their own markets and angering farmers.(AP Photo/Andreea Alexandru)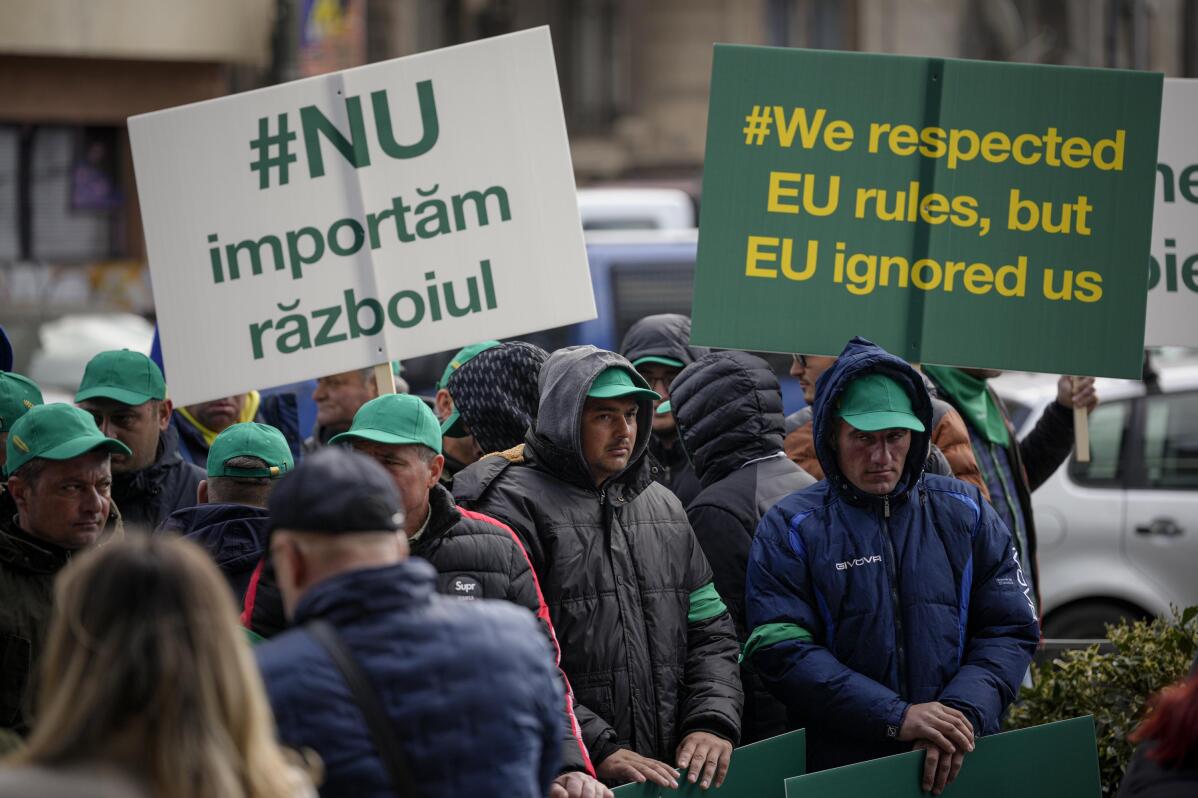 7 of 8

|
Men hold banners that read "We don't import war" during a farmers' protest in front of the Representative Office of the European Commission in Bucharest, Romania, Friday, April 7, 2023. The leaders of five European Union members helping the transit of Ukrainian farm produce to third countries called for EU action over a glut that resulted from the goods not leaving for their destinations, bringing down prices in their own markets and angering farmers.(AP Photo/Andreea Alexandru)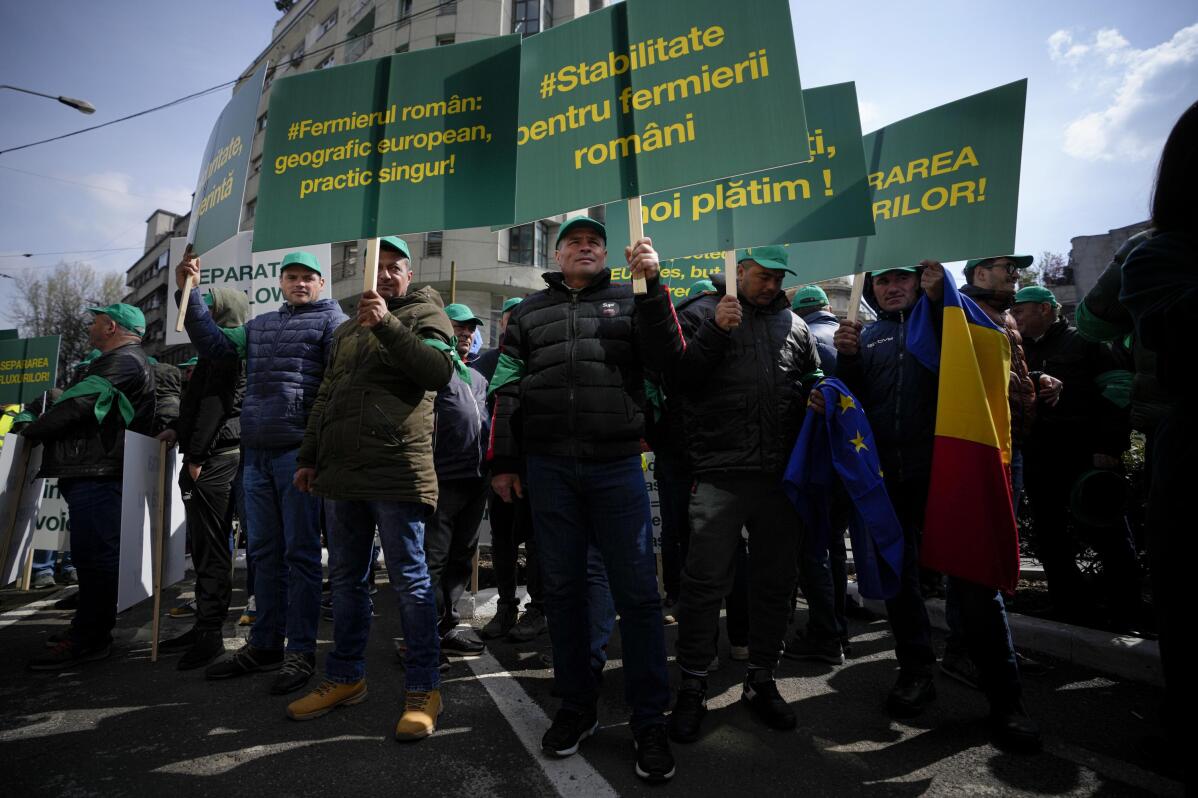 8 of 8

|
Men hold banners that read "The Romanian farmer, geographically european, practically alone" during a farmers' protest in front of the Representative Office of the European Commission in Bucharest, Romania, Friday, April 7, 2023. The leaders of five European Union members helping the transit of Ukrainian farm produce to third countries called for EU action over a glut that resulted from the goods not leaving for their destinations, bringing down prices in their own markets and angering farmers.(AP Photo/Andreea Alexandru)
Farmers in Romania, Bulgaria protest Ukrainian grain influx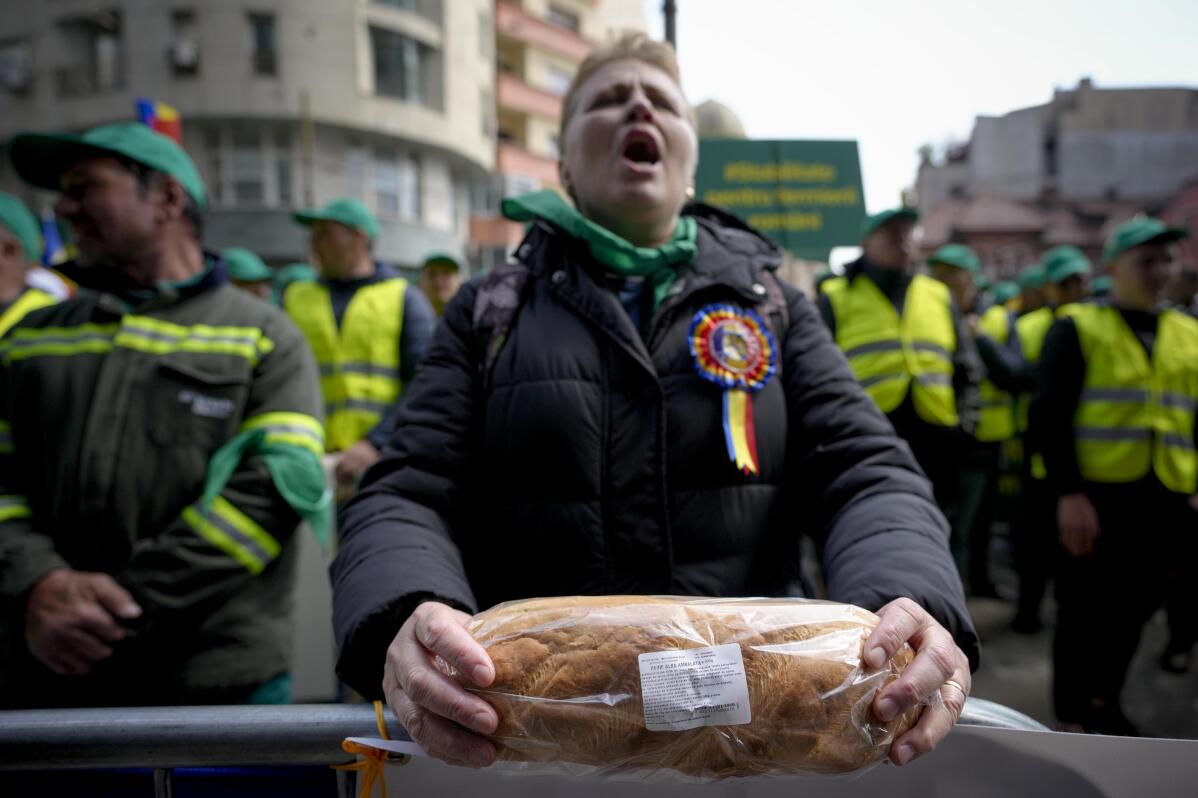 1 of 8

|
A woman holds a loaf of bread during a farmers' protest in front of the Representative Office of the European Commission in Bucharest, Romania, Friday, April 7, 2023. The leaders of five European Union members helping the transit of Ukrainian farm produce to third countries called for EU action over a glut that resulted from the goods not leaving for their destinations, bringing down prices in their own markets and angering farmers.(AP Photo/Andreea Alexandru)
1 of 8
A woman holds a loaf of bread during a farmers' protest in front of the Representative Office of the European Commission in Bucharest, Romania, Friday, April 7, 2023. The leaders of five European Union members helping the transit of Ukrainian farm produce to third countries called for EU action over a glut that resulted from the goods not leaving for their destinations, bringing down prices in their own markets and angering farmers.(AP Photo/Andreea Alexandru)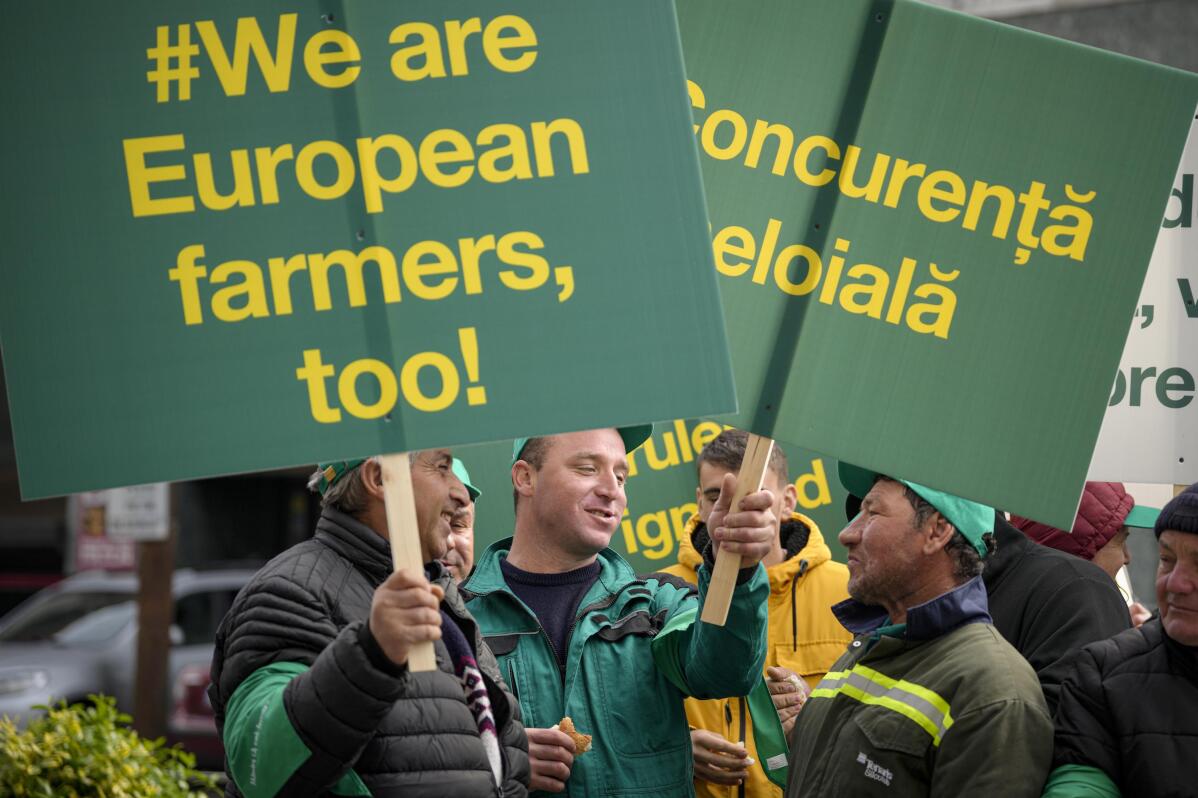 2 of 8

|
Men talk as they hold banners during a farmers' protest in front of the Representative Office of the European Commission in Bucharest, Romania, Friday, April 7, 2023. The leaders of five European Union members helping the transit of Ukrainian farm produce to third countries called for EU action over a glut that resulted from the goods not leaving for their destinations, bringing down prices in their own markets and angering farmers.(AP Photo/Andreea Alexandru)
2 of 8
Men talk as they hold banners during a farmers' protest in front of the Representative Office of the European Commission in Bucharest, Romania, Friday, April 7, 2023. The leaders of five European Union members helping the transit of Ukrainian farm produce to third countries called for EU action over a glut that resulted from the goods not leaving for their destinations, bringing down prices in their own markets and angering farmers.(AP Photo/Andreea Alexandru)
3 of 8

|
Loaves of bread are propped in front of the EU flag during a farmers' protest in front of the Representative Office of the European Commission in Bucharest, Romania, Friday, April 7, 2023. The leaders of five European Union members helping the transit of Ukrainian farm produce to third countries called for EU action over a glut that resulted from the goods not leaving for their destinations, bringing down prices in their own markets and angering farmers.(AP Photo/Andreea Alexandru)
3 of 8
Loaves of bread are propped in front of the EU flag during a farmers' protest in front of the Representative Office of the European Commission in Bucharest, Romania, Friday, April 7, 2023. The leaders of five European Union members helping the transit of Ukrainian farm produce to third countries called for EU action over a glut that resulted from the goods not leaving for their destinations, bringing down prices in their own markets and angering farmers.(AP Photo/Andreea Alexandru)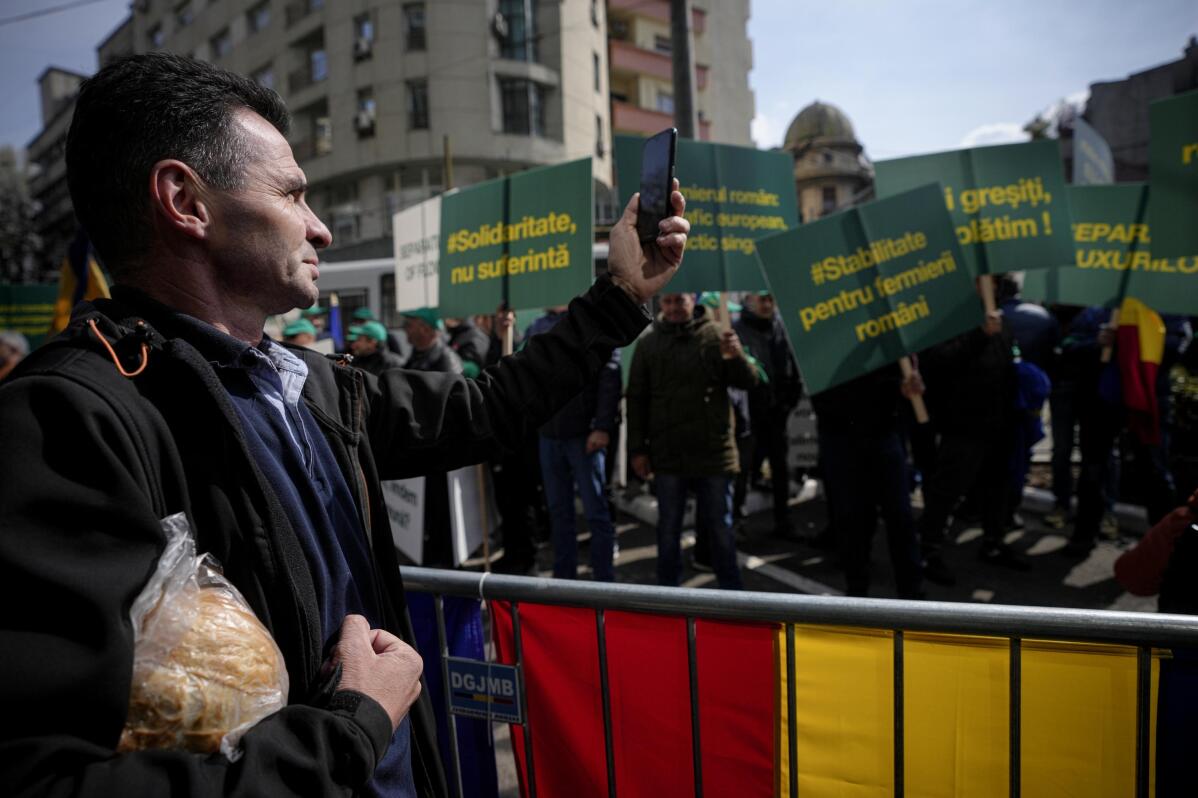 4 of 8

|
A man holding a loaf of bread takes a picture with his mobile phone during a farmers' protest in front of the Representative Office of the European Commission in Bucharest, Romania, Friday, April 7, 2023. The leaders of five European Union members helping the transit of Ukrainian farm produce to third countries called for EU action over a glut that resulted from the goods not leaving for their destinations, bringing down prices in their own markets and angering farmers.(AP Photo/Andreea Alexandru)
4 of 8
A man holding a loaf of bread takes a picture with his mobile phone during a farmers' protest in front of the Representative Office of the European Commission in Bucharest, Romania, Friday, April 7, 2023. The leaders of five European Union members helping the transit of Ukrainian farm produce to third countries called for EU action over a glut that resulted from the goods not leaving for their destinations, bringing down prices in their own markets and angering farmers.(AP Photo/Andreea Alexandru)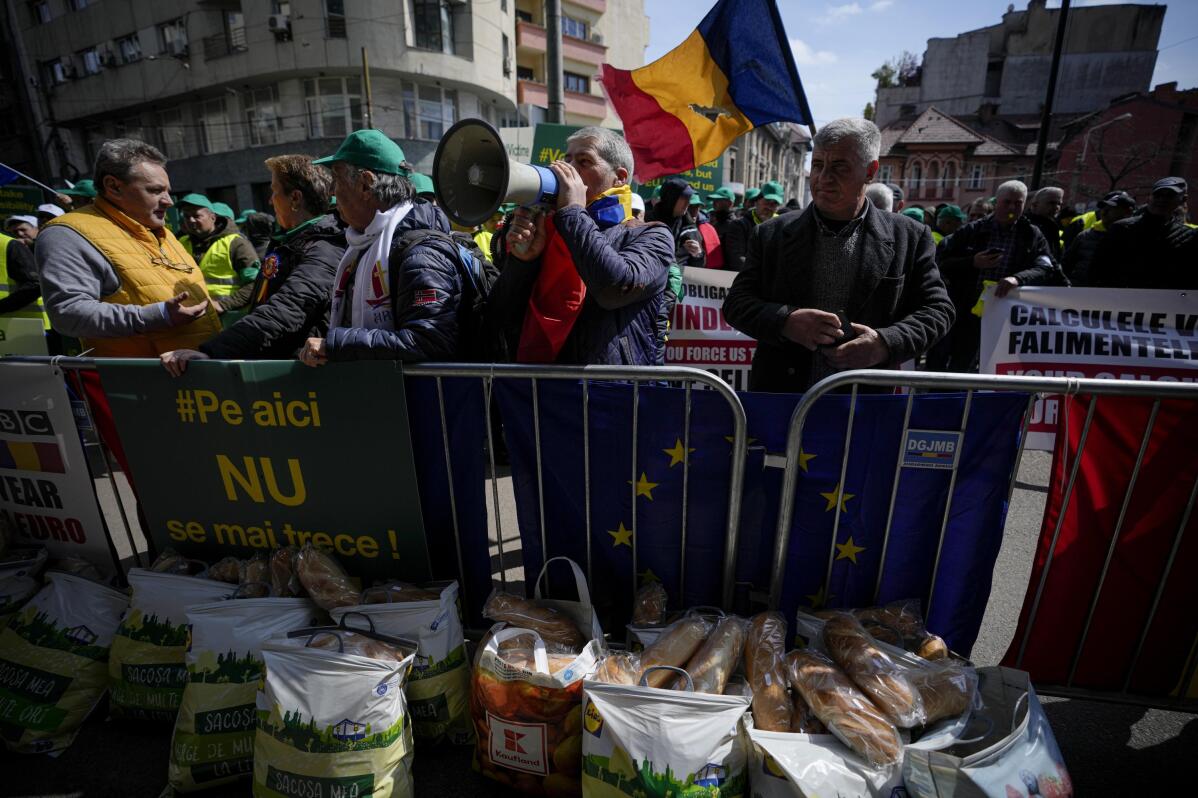 5 of 8

|
A man shouts on a megaphone during a farmers' protest in front of the Representative Office of the European Commission in Bucharest, Romania, Friday, April 7, 2023. The leaders of five European Union members helping the transit of Ukrainian farm produce to third countries called for EU action over a glut that resulted from the goods not leaving for their destinations, bringing down prices in their own markets and angering farmers.(AP Photo/Andreea Alexandru)
5 of 8
A man shouts on a megaphone during a farmers' protest in front of the Representative Office of the European Commission in Bucharest, Romania, Friday, April 7, 2023. The leaders of five European Union members helping the transit of Ukrainian farm produce to third countries called for EU action over a glut that resulted from the goods not leaving for their destinations, bringing down prices in their own markets and angering farmers.(AP Photo/Andreea Alexandru)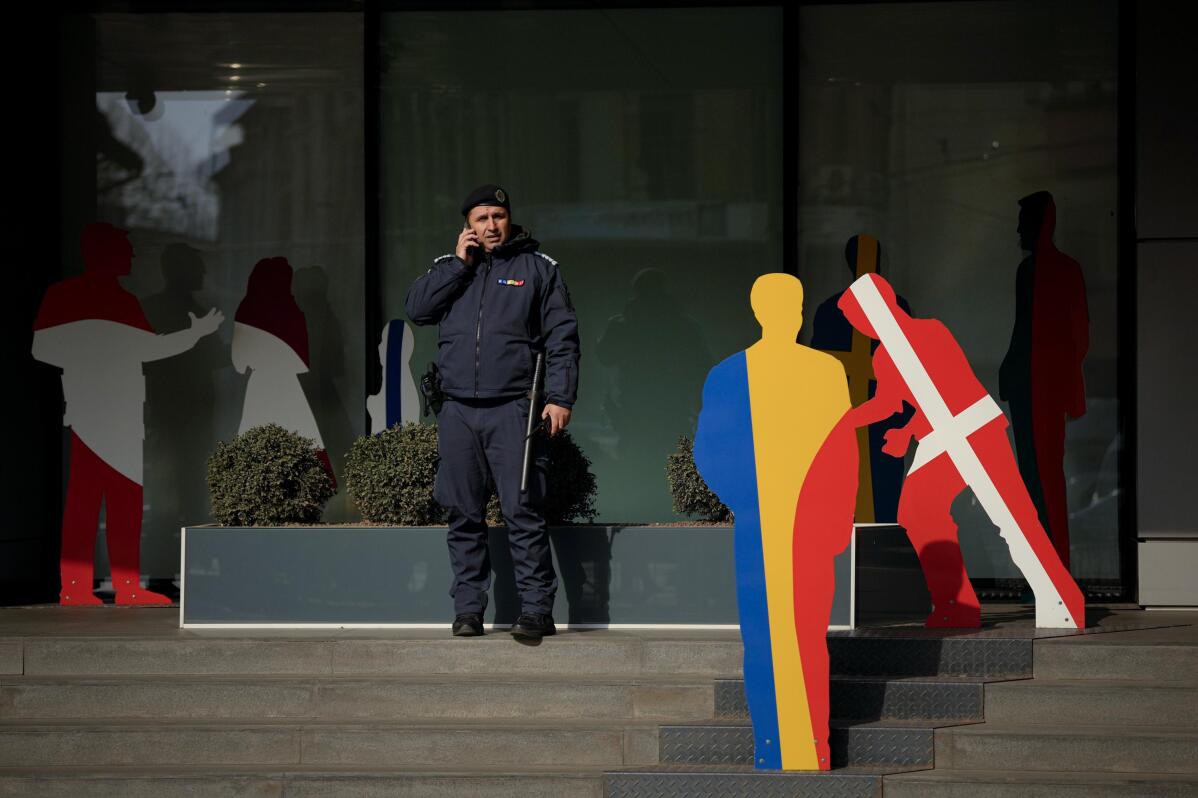 6 of 8

|
A Romanian gendarme talks on the phone next to cutouts decorated with EU member states flags during a farmers' protest in front of the Representative Office of the European Commission in Bucharest, Romania, Friday, April 7, 2023. The leaders of five European Union members helping the transit of Ukrainian farm produce to third countries called for EU action over a glut that resulted from the goods not leaving for their destinations, bringing down prices in their own markets and angering farmers.(AP Photo/Andreea Alexandru)
6 of 8
A Romanian gendarme talks on the phone next to cutouts decorated with EU member states flags during a farmers' protest in front of the Representative Office of the European Commission in Bucharest, Romania, Friday, April 7, 2023. The leaders of five European Union members helping the transit of Ukrainian farm produce to third countries called for EU action over a glut that resulted from the goods not leaving for their destinations, bringing down prices in their own markets and angering farmers.(AP Photo/Andreea Alexandru)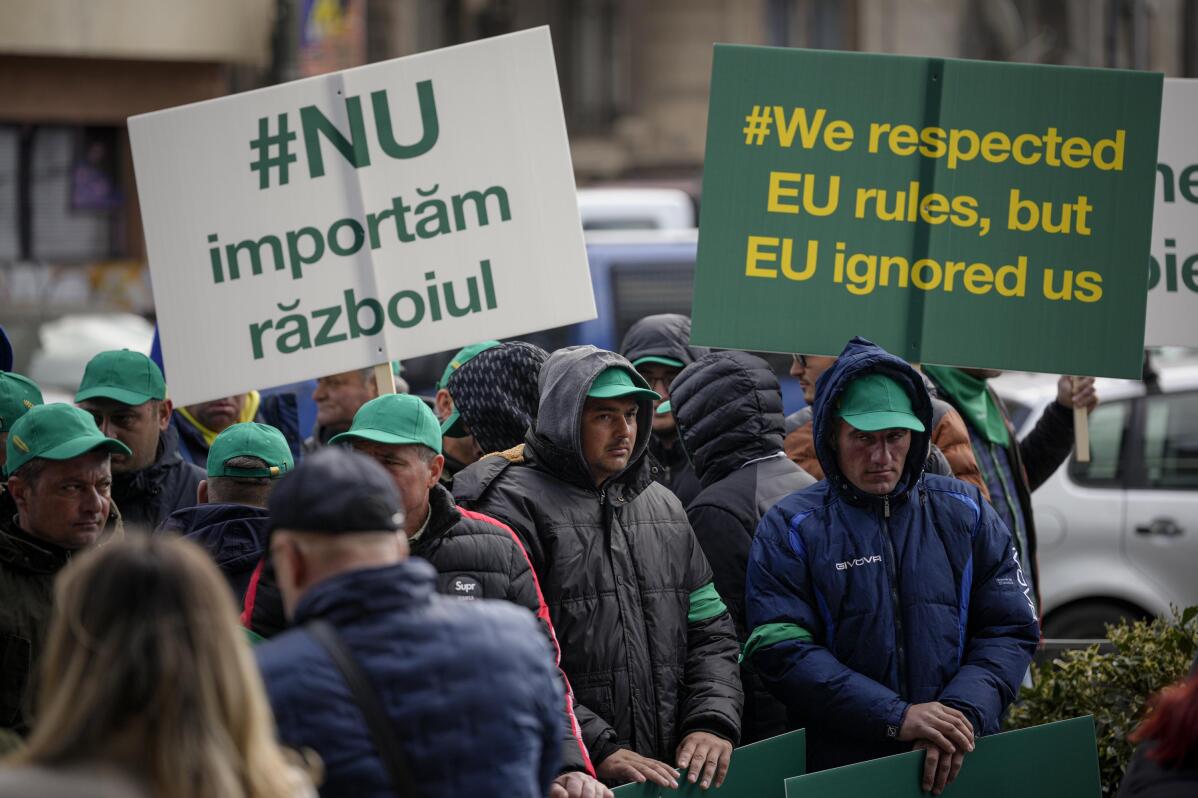 7 of 8

|
Men hold banners that read "We don't import war" during a farmers' protest in front of the Representative Office of the European Commission in Bucharest, Romania, Friday, April 7, 2023. The leaders of five European Union members helping the transit of Ukrainian farm produce to third countries called for EU action over a glut that resulted from the goods not leaving for their destinations, bringing down prices in their own markets and angering farmers.(AP Photo/Andreea Alexandru)
7 of 8
Men hold banners that read "We don't import war" during a farmers' protest in front of the Representative Office of the European Commission in Bucharest, Romania, Friday, April 7, 2023. The leaders of five European Union members helping the transit of Ukrainian farm produce to third countries called for EU action over a glut that resulted from the goods not leaving for their destinations, bringing down prices in their own markets and angering farmers.(AP Photo/Andreea Alexandru)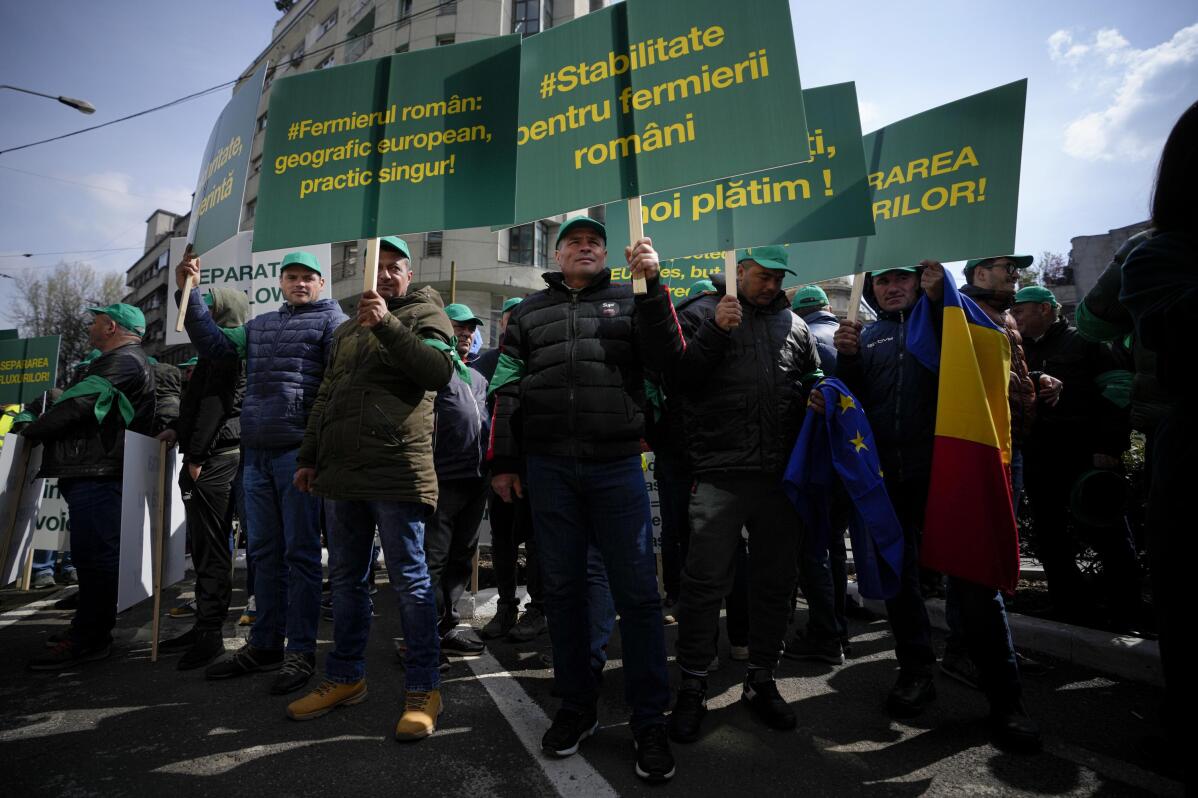 8 of 8

|
Men hold banners that read "The Romanian farmer, geographically european, practically alone" during a farmers' protest in front of the Representative Office of the European Commission in Bucharest, Romania, Friday, April 7, 2023. The leaders of five European Union members helping the transit of Ukrainian farm produce to third countries called for EU action over a glut that resulted from the goods not leaving for their destinations, bringing down prices in their own markets and angering farmers.(AP Photo/Andreea Alexandru)
8 of 8
Men hold banners that read "The Romanian farmer, geographically european, practically alone" during a farmers' protest in front of the Representative Office of the European Commission in Bucharest, Romania, Friday, April 7, 2023. The leaders of five European Union members helping the transit of Ukrainian farm produce to third countries called for EU action over a glut that resulted from the goods not leaving for their destinations, bringing down prices in their own markets and angering farmers.(AP Photo/Andreea Alexandru)
BUCHAREST, Romania (AP) — Farmers in Romania and Bulgaria staged protests Friday to express their anger over the European Union's response to a glut of agricultural products from Ukraine that they say are flooding local markets and undercutting prices.
About 100 farmers converged in Romania's capital, Bucharest, while hundreds more protested across the country in long convoys of tractors. In neighboring Bulgaria, grain producers blocked some border crossings with farm vehicles.
Some farmers outside the European Commission's representative office in Bucharest brandished placards that read: "Do not punish our solidarity," while others urged bloc officials to "take responsibility, take action, take care."
Last year, the EU waived customs duties and import quotas on Ukrainian agricultural products as a way of facilitating transport to third-country markets. Ukraine is one of the biggest producers in the world of grain and sunflower oil, but its exports were restricted by Russia's blockade of its Black Sea ports, threatening global food security. Russia has warned it may pull out of a deal which has unblocked the ports since last July.
However, farmers in Romania, Bulgaria, Poland, and other EU countries have been disproportionately hard-hit by an influx of cheap Ukrainian produce — namely grain — which stays on local markets and undercuts prices.
Polish farmers have also held protests in recent weeks. Poland's agriculture minister, Henryk Kowalczyk, resigned on Wednesday after he became the focus of farmers' anger.
Liliana Piron, executive director of the League of Romanian Agriculture Producers' Associations, said at the Bucharest protest that Romanian farmers have "reached a point where they feel they can no longer face the costs" of the "unfair competition" from Ukraine.
"We are less than three months away from the new harvest and the danger is real, that the goods we will have ready this season will not be able to be sold at prices above production costs," she said. "We will witness a chain of bankruptcies of Romanian farmers.''
Brussels last month had pledged to help grain and cereal farmers in Romania, Bulgaria, and Poland with a total compensation package of 56.3 million euros ($61 million) — 16.7 million for Bulgaria; nearly 30 million for Poland, and 10 million for Romania. Farmers and national governments said the money wasn't enough.
"If today's protest is not heard in Brussels, we will consider larger actions with the participation of other countries that share the same view," said Iliya Prodanov, head of the grain producers' association in Bulgaria. He added that there are currently 3.5 million tons of Bulgarian wheat and 1 million tons of Bulgarian sunflowers stored in local warehouses.
Marian Popa, a Romanian farmer from southern Teleorman County who attended the protest in the capital, estimates he has so far lost about 500,000 euros ($545,000). "I still have 1,000 tons of sunflower seeds but the price has gone down and it's still going down," he said.
___
Stephen McGrath reported from Sighisoara, Romania; Veselin Toshkov reported from Sofia, Bulgaria.