Scott Robertson to succeed Ian Foster as All Blacks coach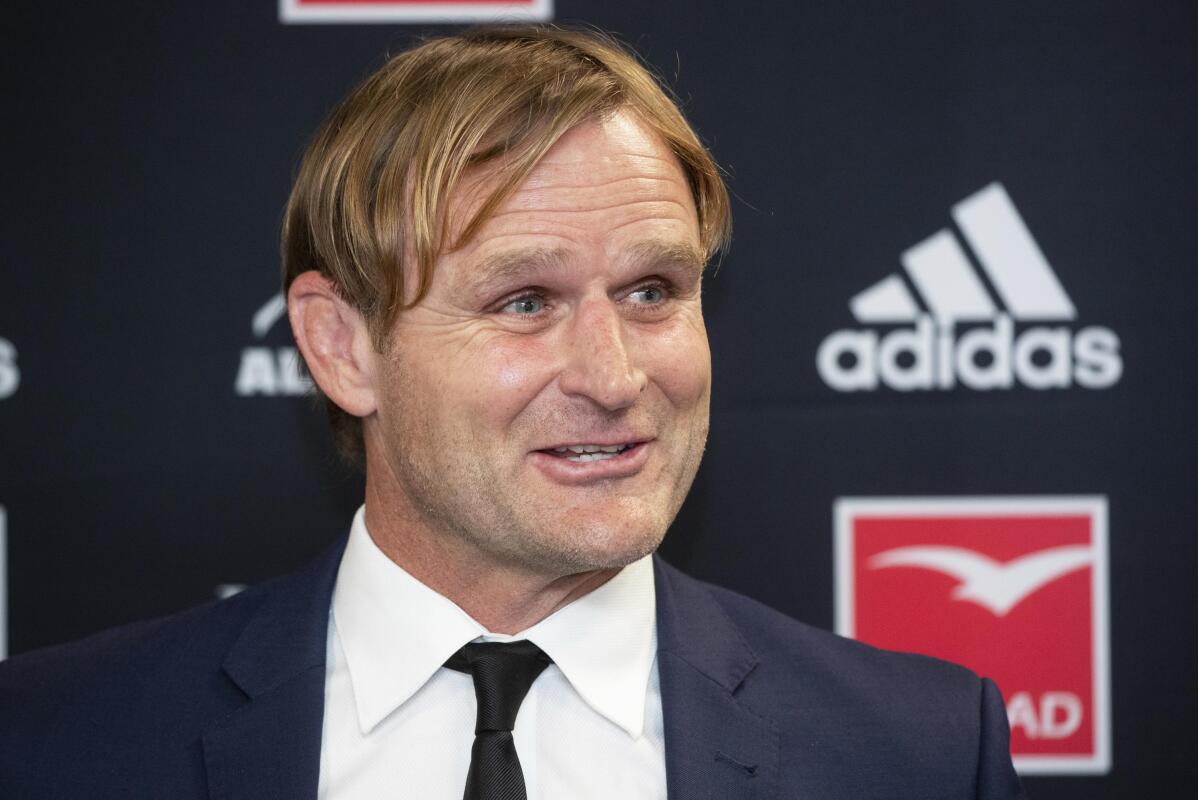 1 of 6

|
Scott Robertson reacts at a news conference following his appointment as the next All Blacks coach in Wellington, New Zealand, Tuesday, March 21, 2023. Robertson has been appointed as the next All Blacks coach for four years from 2024 through to the end of the 2027 Rugby World Cup and will succeed current All Blacks Head Coach Ian Foster. (Mark Mitchell/NZ Herald via AP)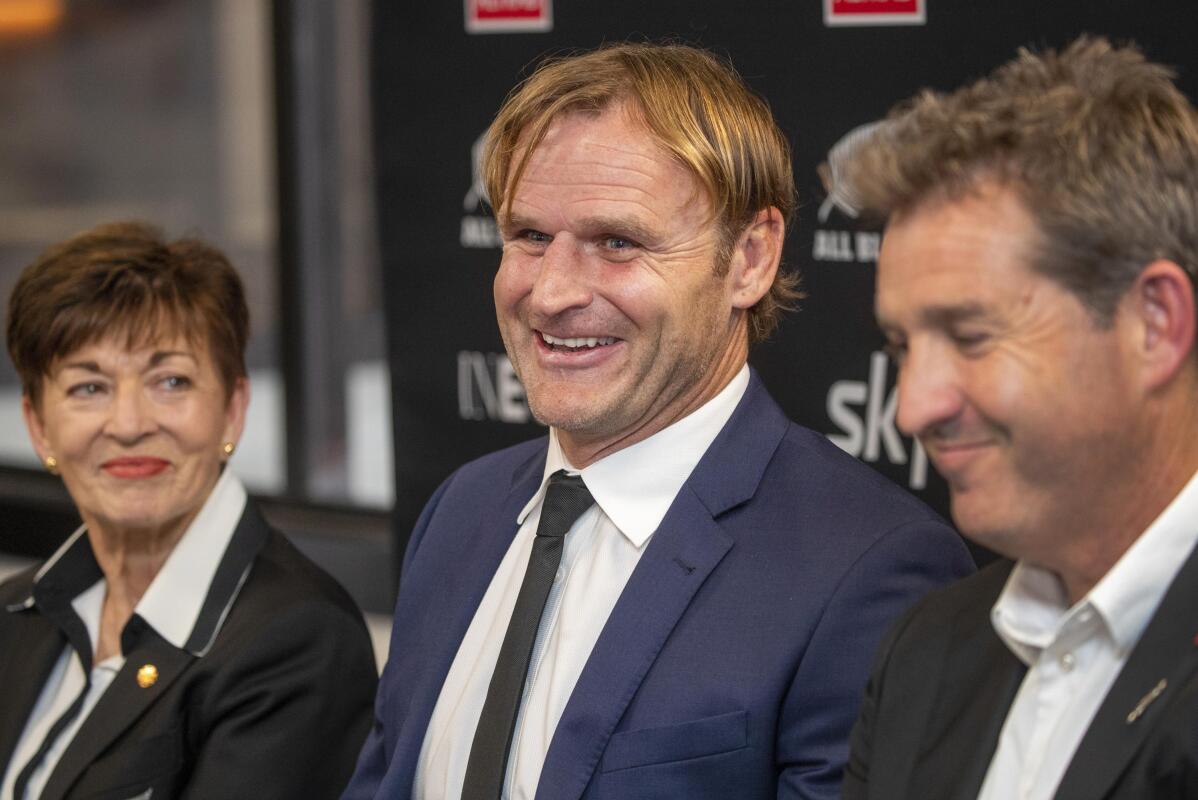 2 of 6

|
Scott Robertson, center, reacts at a news conference with New Zealand Rugby Chair, Dame Patsy Reddy, left, and chief executive Mark Robinson, following his appointment as the next All Blacks coach in Wellington, New Zealand, Tuesday, March 21, 2023. Robertson has been appointed as the next All Blacks coach for four years from 2024 through to the end of the 2027 Rugby World Cup and will succeed current All Blacks Head Coach Ian Foster. (Mark Mitchell/NZ Herald via AP)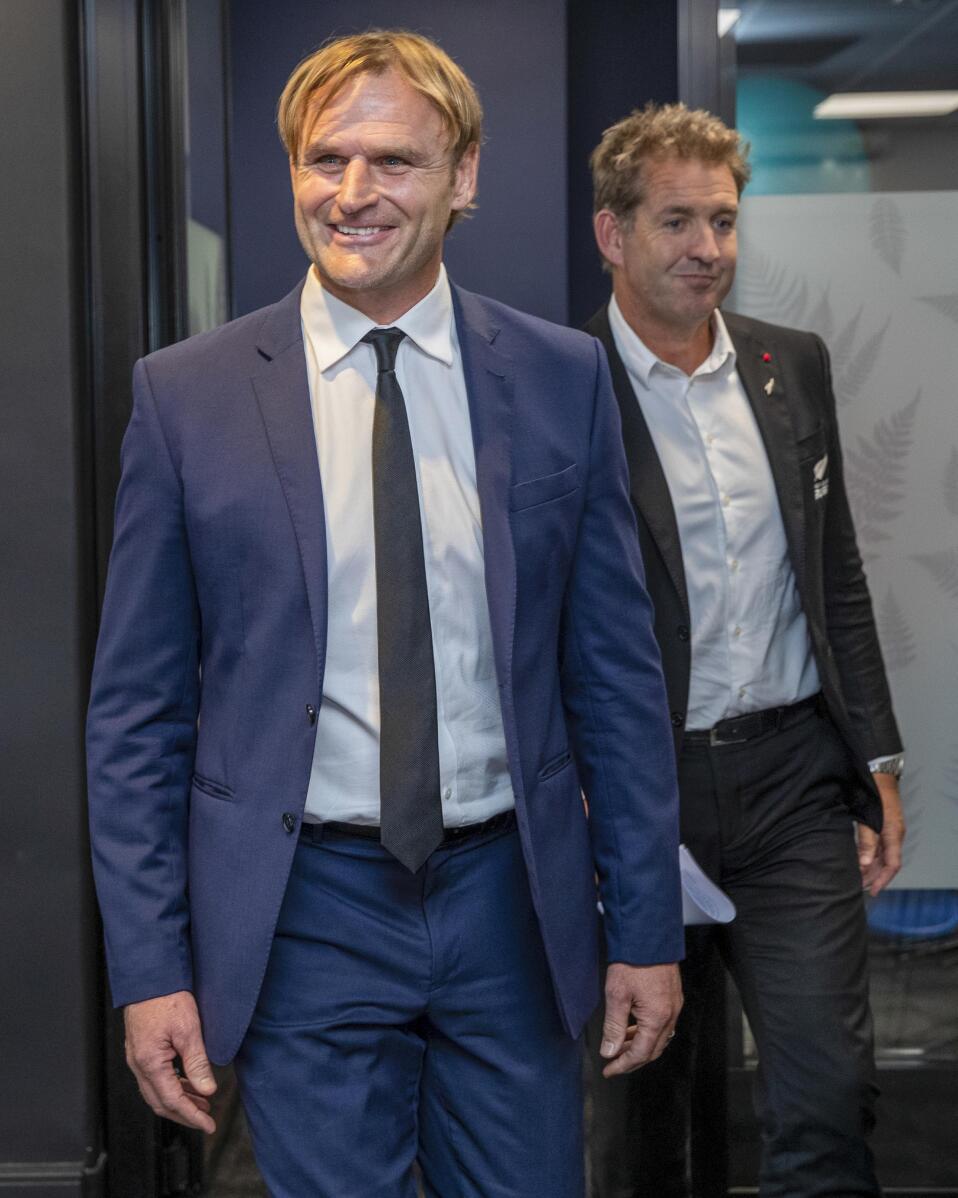 3 of 6

|
Scott Robertson, left, walks into a news conference with New Zealand Rugby chief executive Mark Robinson, following his appointment as the next All Blacks coach in Wellington, New Zealand, Tuesday, March 21, 2023. Robertson has been appointed as the next All Blacks coach for four years from 2024 through to the end of the 2027 Rugby World Cup and will succeed current All Blacks Head Coach Ian Foster. (Mark Mitchell/NZ Herald via AP)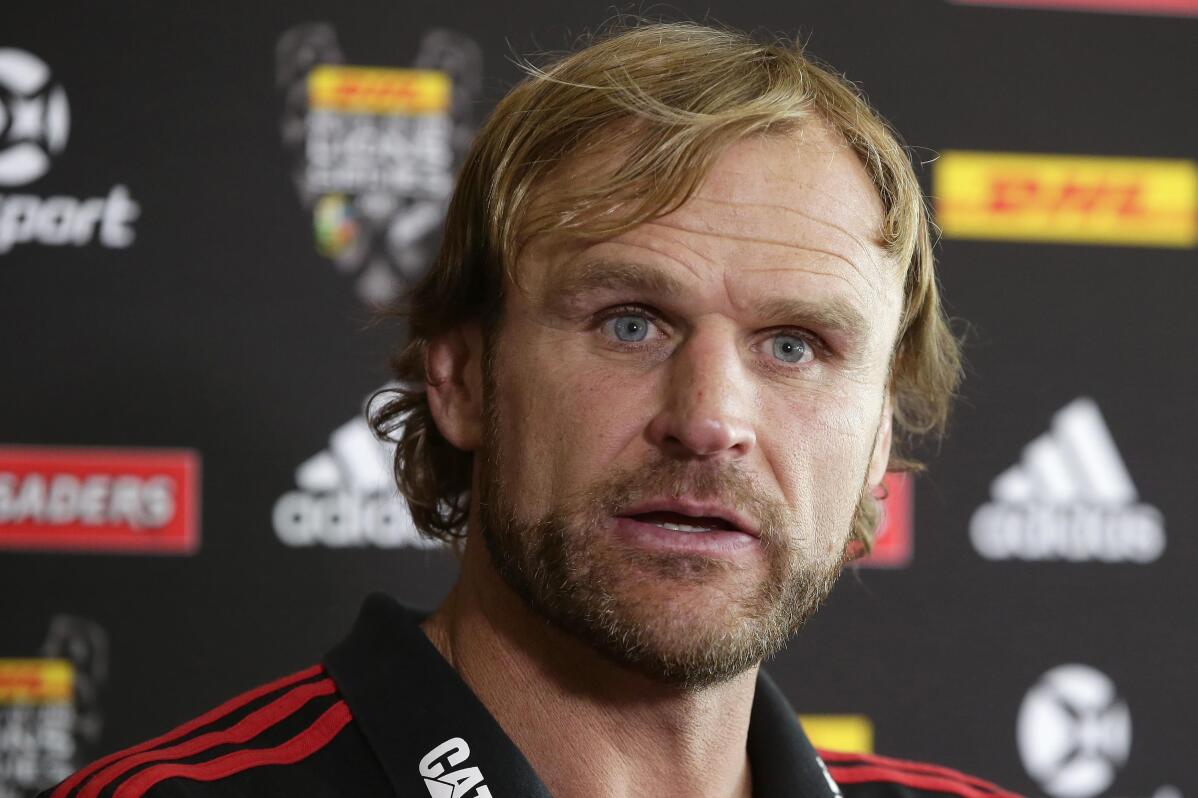 4 of 6

|
FILE - Canterbury Crusaders coach Scott Robertson announces his team to play the British and Irish Lions at a press conference in Christchurch, New Zealand, June 8, 2017. Robertson has been appointed as the next All Blacks coach for four years from 2024 through to the end of the 2027 Rugby World Cup and will succeed current All Blacks Head Coach Ian Foster. (AP Photo/Mark Baker, File)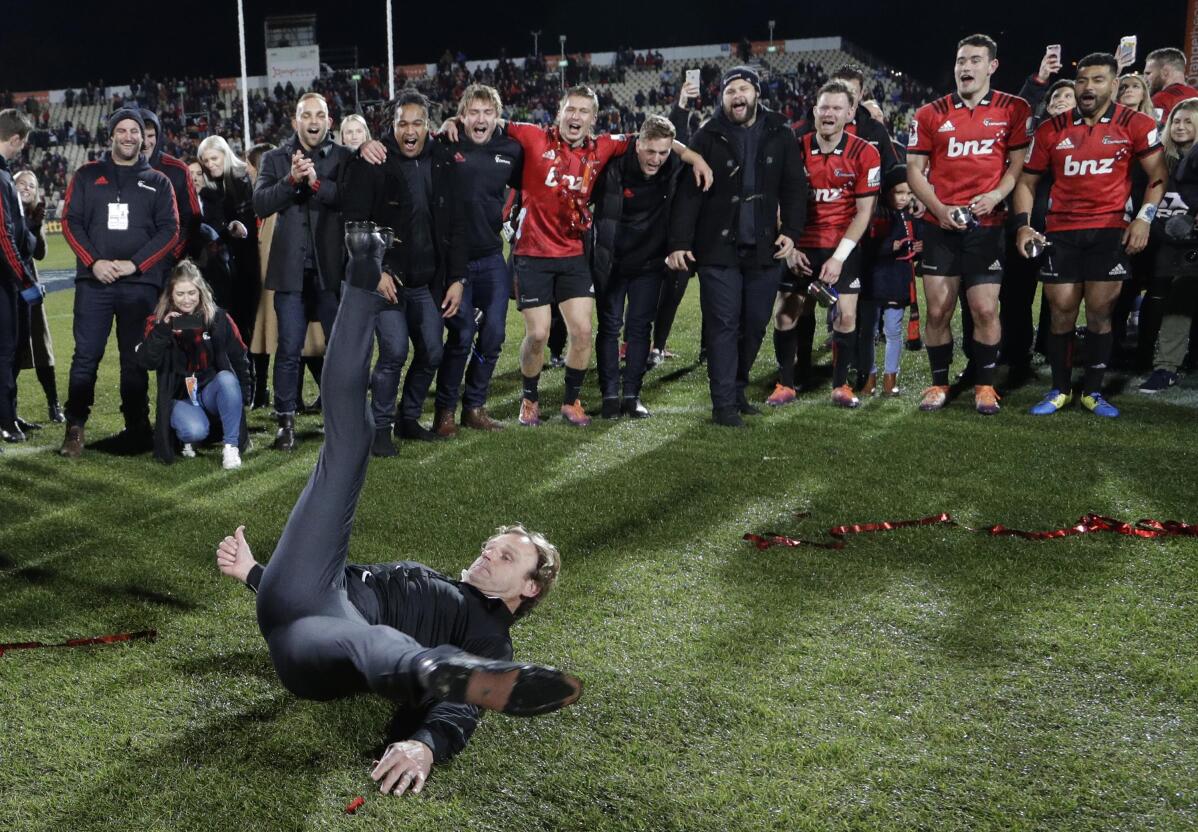 5 of 6

|
FILE - Crusaders coach Scott Robertson performs a break-dance as celebrates his team's 19-3 win in the Super Rugby final over the Jaguares in Christchurch, New Zealand, on July 6, 2019. Robertson has been appointed as the next All Blacks coach for four years from 2024 through to the end of the 2027 Rugby World Cup and will succeed current All Blacks Head Coach Ian Foster. (AP Photo/Mark Baker, File)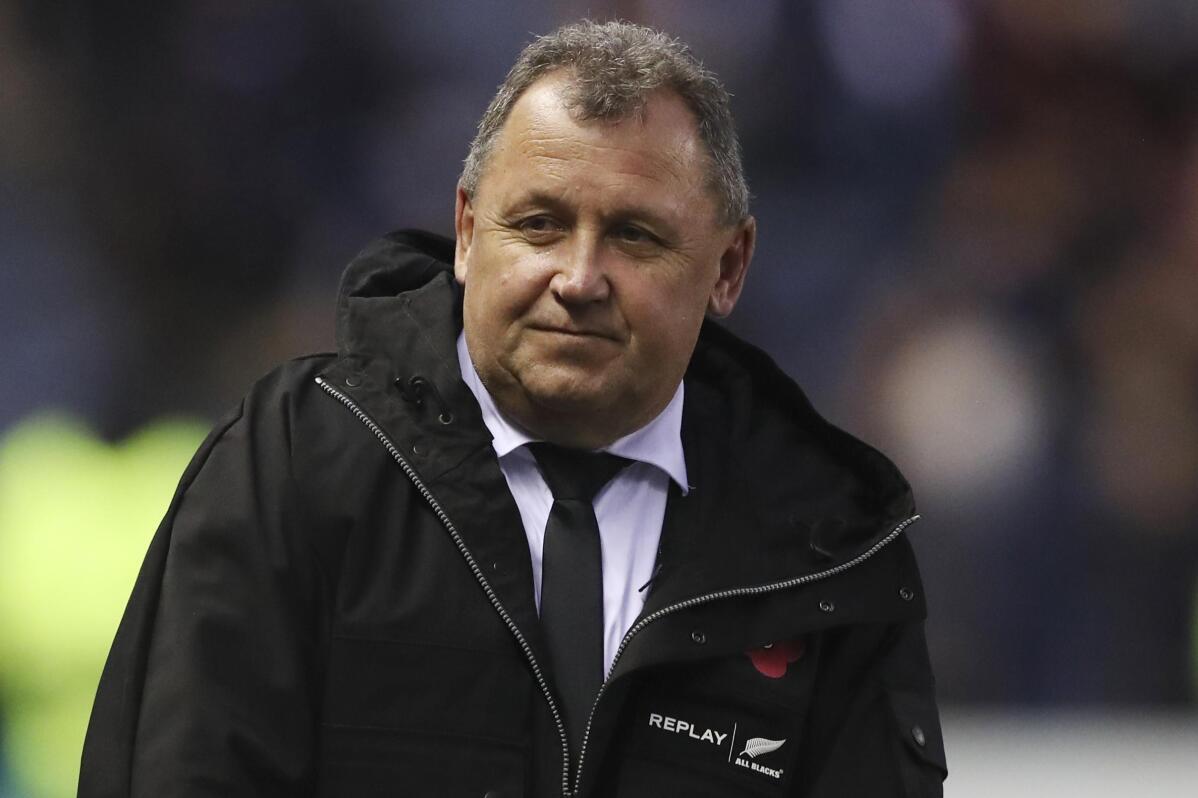 6 of 6

|
FILE - New Zealand's head coach Ian Foster leaves at the end of the rugby union international match between Scotland and New Zealand at the Murrayfield Stadium in Edinburgh, Nov. 13, 2022. New Zealand Rugby will appoint the next All Blacks head coach "within four to six weeks," dealing a blow to Ian Foster who will lead the national team to the World Cup in France later this year. (AP Photo/Scott Heppell, File)
Scott Robertson to succeed Ian Foster as All Blacks coach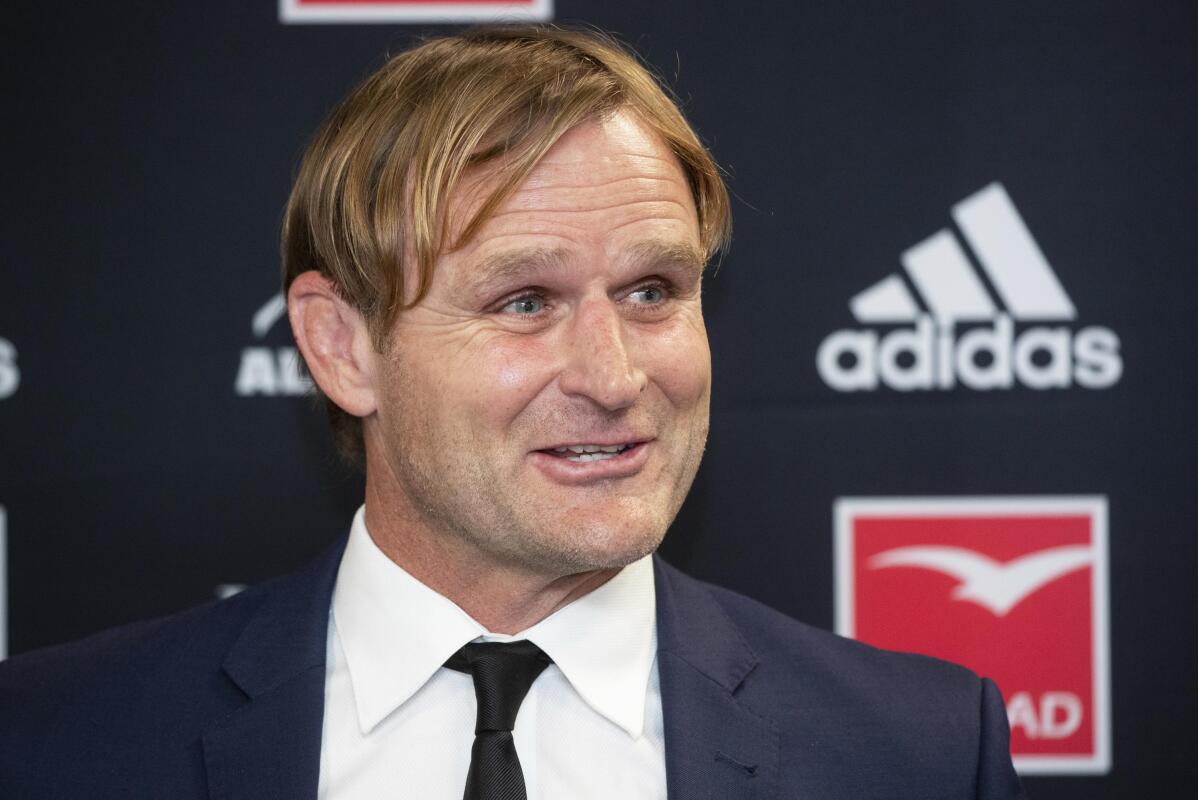 1 of 6

|
Scott Robertson reacts at a news conference following his appointment as the next All Blacks coach in Wellington, New Zealand, Tuesday, March 21, 2023. Robertson has been appointed as the next All Blacks coach for four years from 2024 through to the end of the 2027 Rugby World Cup and will succeed current All Blacks Head Coach Ian Foster. (Mark Mitchell/NZ Herald via AP)
1 of 6
Scott Robertson reacts at a news conference following his appointment as the next All Blacks coach in Wellington, New Zealand, Tuesday, March 21, 2023. Robertson has been appointed as the next All Blacks coach for four years from 2024 through to the end of the 2027 Rugby World Cup and will succeed current All Blacks Head Coach Ian Foster. (Mark Mitchell/NZ Herald via AP)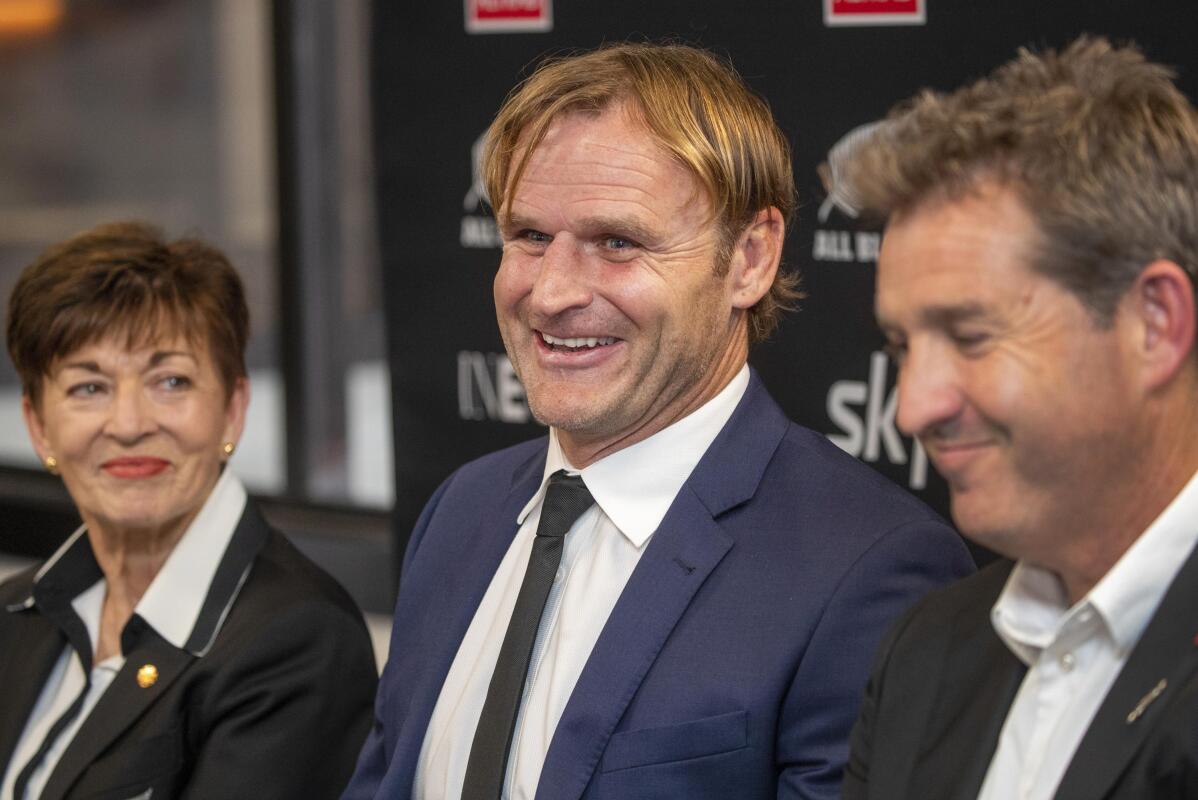 2 of 6

|
Scott Robertson, center, reacts at a news conference with New Zealand Rugby Chair, Dame Patsy Reddy, left, and chief executive Mark Robinson, following his appointment as the next All Blacks coach in Wellington, New Zealand, Tuesday, March 21, 2023. Robertson has been appointed as the next All Blacks coach for four years from 2024 through to the end of the 2027 Rugby World Cup and will succeed current All Blacks Head Coach Ian Foster. (Mark Mitchell/NZ Herald via AP)
2 of 6
Scott Robertson, center, reacts at a news conference with New Zealand Rugby Chair, Dame Patsy Reddy, left, and chief executive Mark Robinson, following his appointment as the next All Blacks coach in Wellington, New Zealand, Tuesday, March 21, 2023. Robertson has been appointed as the next All Blacks coach for four years from 2024 through to the end of the 2027 Rugby World Cup and will succeed current All Blacks Head Coach Ian Foster. (Mark Mitchell/NZ Herald via AP)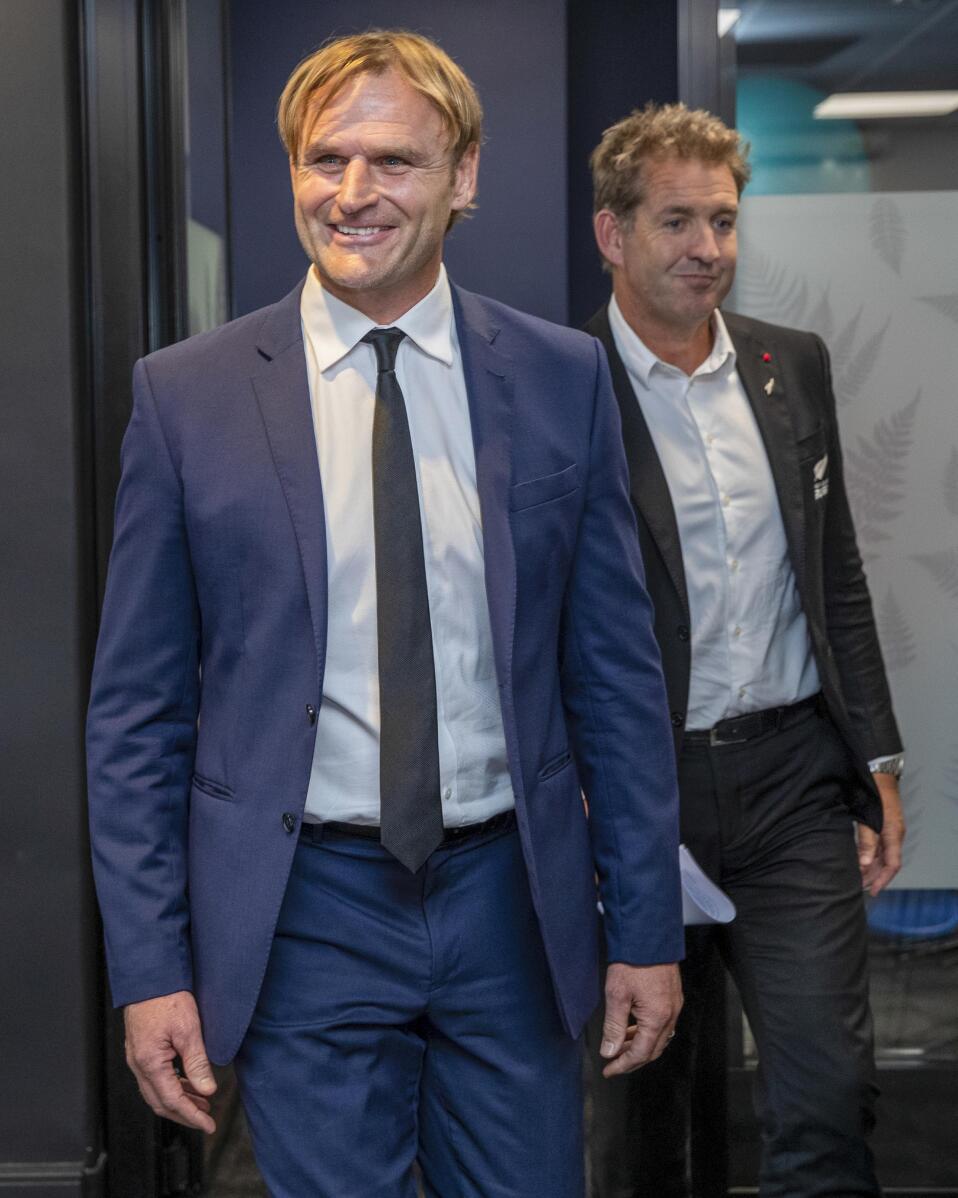 3 of 6

|
Scott Robertson, left, walks into a news conference with New Zealand Rugby chief executive Mark Robinson, following his appointment as the next All Blacks coach in Wellington, New Zealand, Tuesday, March 21, 2023. Robertson has been appointed as the next All Blacks coach for four years from 2024 through to the end of the 2027 Rugby World Cup and will succeed current All Blacks Head Coach Ian Foster. (Mark Mitchell/NZ Herald via AP)
3 of 6
Scott Robertson, left, walks into a news conference with New Zealand Rugby chief executive Mark Robinson, following his appointment as the next All Blacks coach in Wellington, New Zealand, Tuesday, March 21, 2023. Robertson has been appointed as the next All Blacks coach for four years from 2024 through to the end of the 2027 Rugby World Cup and will succeed current All Blacks Head Coach Ian Foster. (Mark Mitchell/NZ Herald via AP)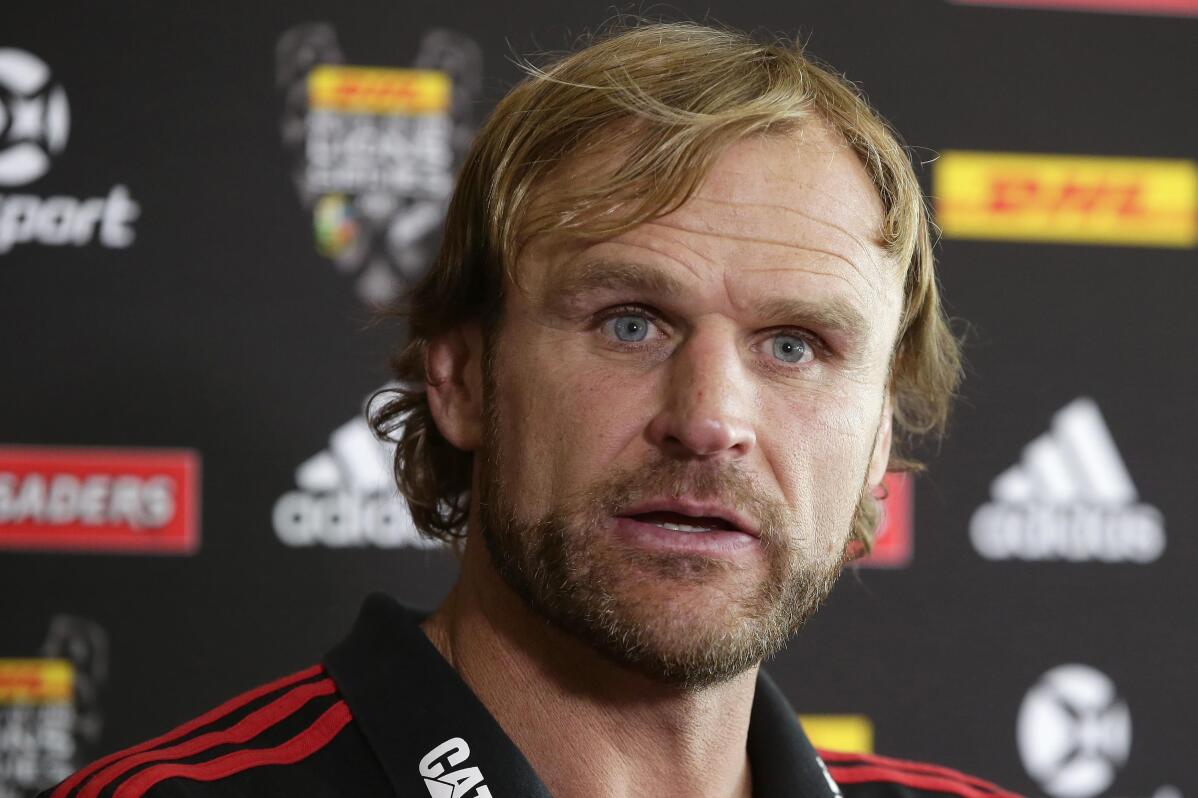 4 of 6

|
FILE - Canterbury Crusaders coach Scott Robertson announces his team to play the British and Irish Lions at a press conference in Christchurch, New Zealand, June 8, 2017. Robertson has been appointed as the next All Blacks coach for four years from 2024 through to the end of the 2027 Rugby World Cup and will succeed current All Blacks Head Coach Ian Foster. (AP Photo/Mark Baker, File)
4 of 6
FILE - Canterbury Crusaders coach Scott Robertson announces his team to play the British and Irish Lions at a press conference in Christchurch, New Zealand, June 8, 2017. Robertson has been appointed as the next All Blacks coach for four years from 2024 through to the end of the 2027 Rugby World Cup and will succeed current All Blacks Head Coach Ian Foster. (AP Photo/Mark Baker, File)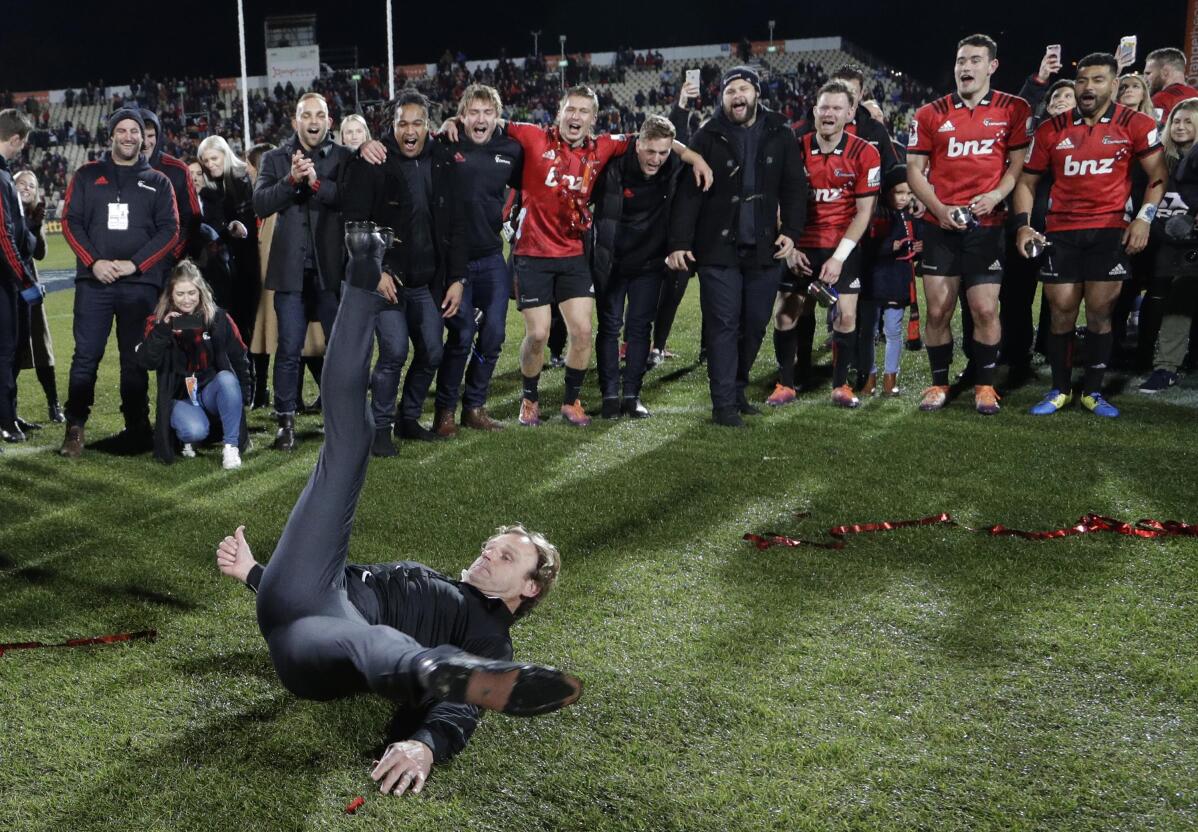 5 of 6

|
FILE - Crusaders coach Scott Robertson performs a break-dance as celebrates his team's 19-3 win in the Super Rugby final over the Jaguares in Christchurch, New Zealand, on July 6, 2019. Robertson has been appointed as the next All Blacks coach for four years from 2024 through to the end of the 2027 Rugby World Cup and will succeed current All Blacks Head Coach Ian Foster. (AP Photo/Mark Baker, File)
5 of 6
FILE - Crusaders coach Scott Robertson performs a break-dance as celebrates his team's 19-3 win in the Super Rugby final over the Jaguares in Christchurch, New Zealand, on July 6, 2019. Robertson has been appointed as the next All Blacks coach for four years from 2024 through to the end of the 2027 Rugby World Cup and will succeed current All Blacks Head Coach Ian Foster. (AP Photo/Mark Baker, File)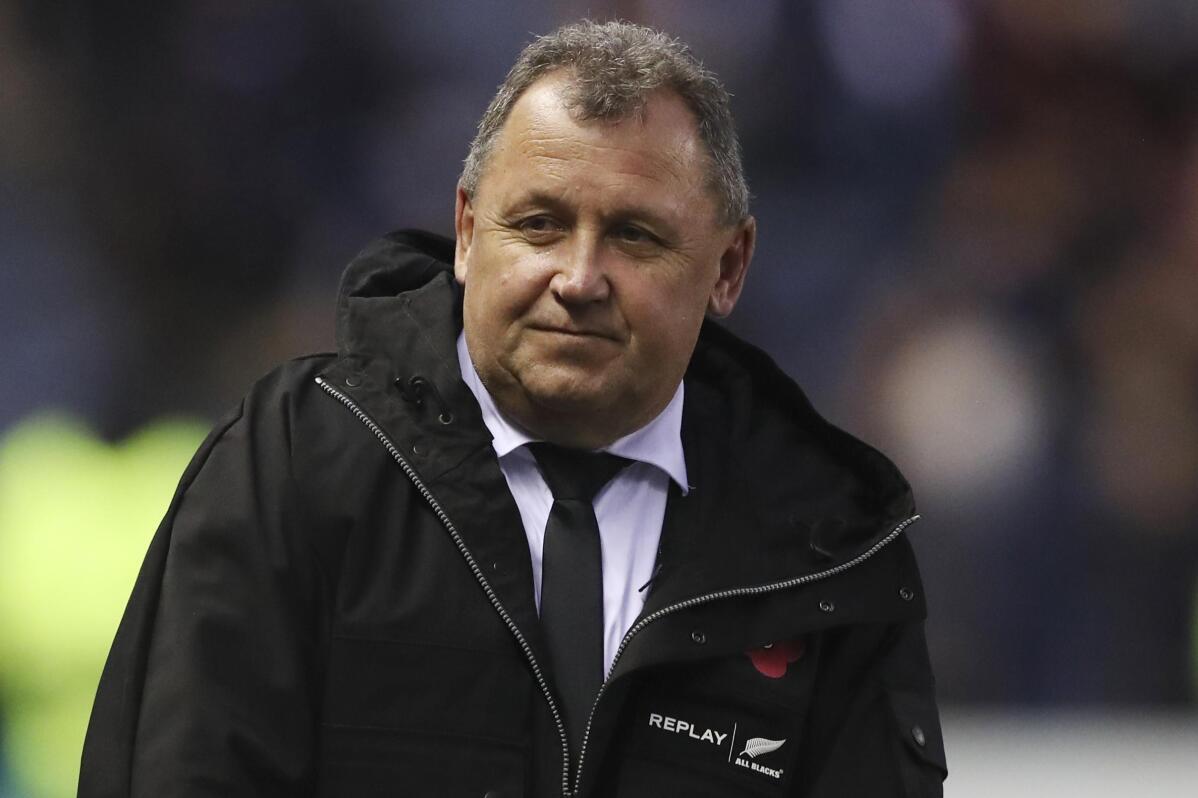 6 of 6

|
FILE - New Zealand's head coach Ian Foster leaves at the end of the rugby union international match between Scotland and New Zealand at the Murrayfield Stadium in Edinburgh, Nov. 13, 2022. New Zealand Rugby will appoint the next All Blacks head coach "within four to six weeks," dealing a blow to Ian Foster who will lead the national team to the World Cup in France later this year. (AP Photo/Scott Heppell, File)
6 of 6
FILE - New Zealand's head coach Ian Foster leaves at the end of the rugby union international match between Scotland and New Zealand at the Murrayfield Stadium in Edinburgh, Nov. 13, 2022. New Zealand Rugby will appoint the next All Blacks head coach "within four to six weeks," dealing a blow to Ian Foster who will lead the national team to the World Cup in France later this year. (AP Photo/Scott Heppell, File)
WELLINGTON, New Zealand (AP) — Scott Robertson, coach of the successful Crusaders Super Rugby team, will take over as All Blacks head coach after the Rugby World Cup in France in October, regardless of how the New Zealand team performs.
New Zealand Rugby confirmed Robertson's appointment at a news conference Tuesday, ending a contentious selection process which has been criticized by incumbent head coach Ian Foster.
Foster will lead the All Blacks to the world tournament in France, knowing he will lose his job even in New Zealand wins the world title for the fourth time.
Robertson was one of only two candidates or combinations seeking the coaching role. The other was Jamie Joseph, the former Highlanders and current Japan head coach, who sought the job as a team with his assistant Tony Brown. Robertson, Joseph and Brown all are former All Blacks.
Robertson had pushed for an early decision on the coaching job and NZR moved early out of concern Robertson would be targeted by overseas teams.
"It's an honor to be named as the next All Blacks head coach," Robertson said. "It's a job that comes with a huge amount of responsibility but I'm excited by the opportunity to make a contribution to the legacy of the black jersey."
Robertson said the early announcement of his appointment would allow him to immediately begin to prepare to take over the team later this year. He has been appointed through the 2027 World Cup.
"Having significant time to plan for 2024 and beyond is crucial to setting the All Blacks up for success during the next World Cup cycle," he said. "I have a job to do with the Crusaders and that will be my main focus through to the completion of Super Rugby.
"But I will now have the opportunity to work with NZR to get some key appointments in my coaching and management team finalized so we can hit the ground running next year."
Robertson said he has spoken to Foster about their respective roles through the World Cup.
"Look we're very professional in that regard," Robertson said. "The coaching profession is really brutal . . . my first thing is to pick up the phone and be a man first before anything else."
Foster already has made clear his bitterness at the way in which the appointment has been handled.
A poor 2022 season in which New Zealand lost at home to Ireland and Argentina increased pressure on NZR to consider replacing Foster.
He came close to being dismissed and Robertson was on the verge of appointment. But the All Blacks' Rugby Championship win over South Africa on Johannesburg caused NZR to publicly endorse him as head coach through the World Cup.
In a statement earlier this month, Foster said "I felt the best thing for our team and for our entire management group was to have this process done after the Rugby World Cup. That hasn't happened but we will accept the decision and move on."
Foster said he intended to seek reappointment but changed his mind when NZR announced it would choose his successor before the World Cup, a clear indication he would not be supported for another term.
He was first appointed after the 2019 World Cup when he replaced Steve Hansen, to whom he was a long-time assistant. Robertson also was a candidate to succeed Hansen in 2019 but was not even granted an interview.
Crusaders teams coached by Robertson since have dominated Super Rugby in its various formats before, during and after the pandemic. He was a popular in 2019 and remains so.
Robertson's critics say he always has coached teams which were successful before he took charge and has not been tested by coaching an under-performing side. There are also concerns that he might favor Crusaders players as has happened in the past when coaches had an affiliation to the Christchurch-based team.
"We congratulate Scott on his appointment and look forward to working together in 2024," New Zealand Rugby said in a statement. "But have also been clear that New Zealand Rugby's full support this year will be focused on the current All Blacks coaching team as we look toward the 2023 Rugby World Cup in France.
——- More AP rugby: https://apnews.com/hub/rugby and https://twitter.com/AP_Sports