Marinos to quit after 2 years as Rugby Australia CEO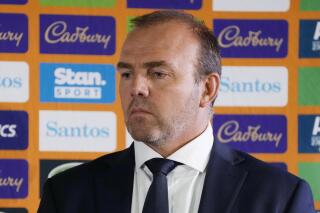 Rugby Australia chief executive Andy Marinos will leave his position in the next few weeks to pursue other opportunities.
The 50-year-old Zimbabwe-born Marinos joined Rugby Australia in February, 2021 after previously heading the southern hemisphere rugby body Sanzaar. His brief was to guide Australian rugby through the difficult period during and after the COVID pandemic.
During his tenure, RA's finances have improved significantly: after posting a A$27.1 million loss in 2020, the national body reported an A$8.2 million profit in 2022.
"We asked Andy to draw upon his impressive career experience and extensive global relationships to re-establish rugby as a leading code in Australia," RA chairman Hamish McLennan said in a statement. "He has delivered on this and been fundamental in the turnaround of the business.
"Andy will leave RA having delivered several key projects, including the finalization of the 2027 and 2029 Rugby World Cups, locking in the 2025 British and Irish Lions Tour, planning for a new contracting model for the professional game, implementation of strategy to professionalize Women's XVs rugby and a new four-year Collective Bargaining Agreement for our professional men's and women's players.
"On behalf of the Board, I would like to thank Andy for his contribution to RA. We wish him well with his future endeavors."
Marinos said he had enjoyed his time at Rugby Australia and was proud of what he and his team had accomplished.
"I cannot overstate the commitment and incredible work ethic of the people around me at RA and the roles they have played in helping drive some critical structural changes for rugby in this country," he said.
"The foundations have been established and the business is now well-prepared to test the market for private equity investment, making it the right time for me to move on."
___
More AP rugby: https://apnews.com/hub/rugby and https://twitter.com/AP_Sports