12 dead, including 2-year-old, in Siberian apartment blast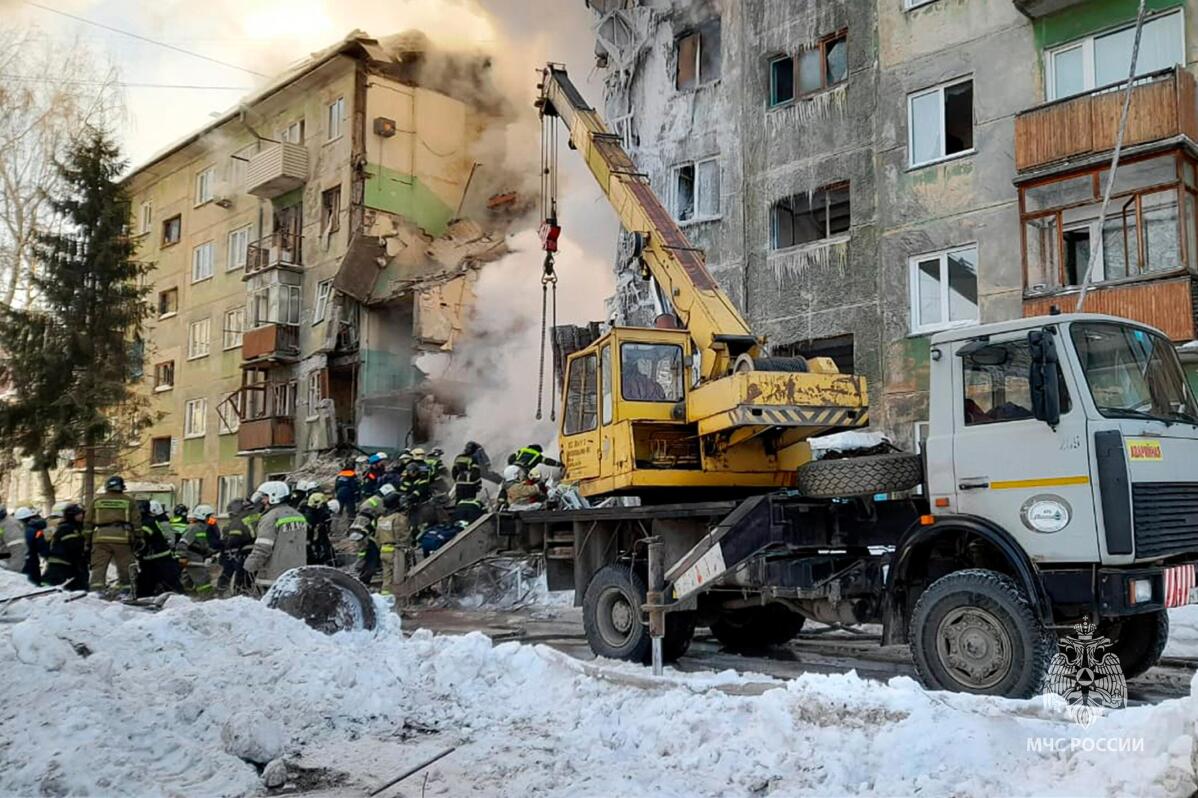 1 of 3

|
In this photo released by the Russian Emergency Ministry Press Service, Emergency service employees work at a site of a five-story residential building collapsed after the gas explosion in the Siberian city of Novosibirsk, Russia, Thursday, Feb. 9, 2023. Authorities say a gas explosion in an apartment building in the Siberian city of Novosibirsk has killed at least five people including a 2-year-old child. The explosion at 7:43 a.m. on Thursday caused two entrances of the five-story building to collapse, with 30 apartments destroyed by the ensuing fire. (Russian Emergency Ministry Press Service via AP)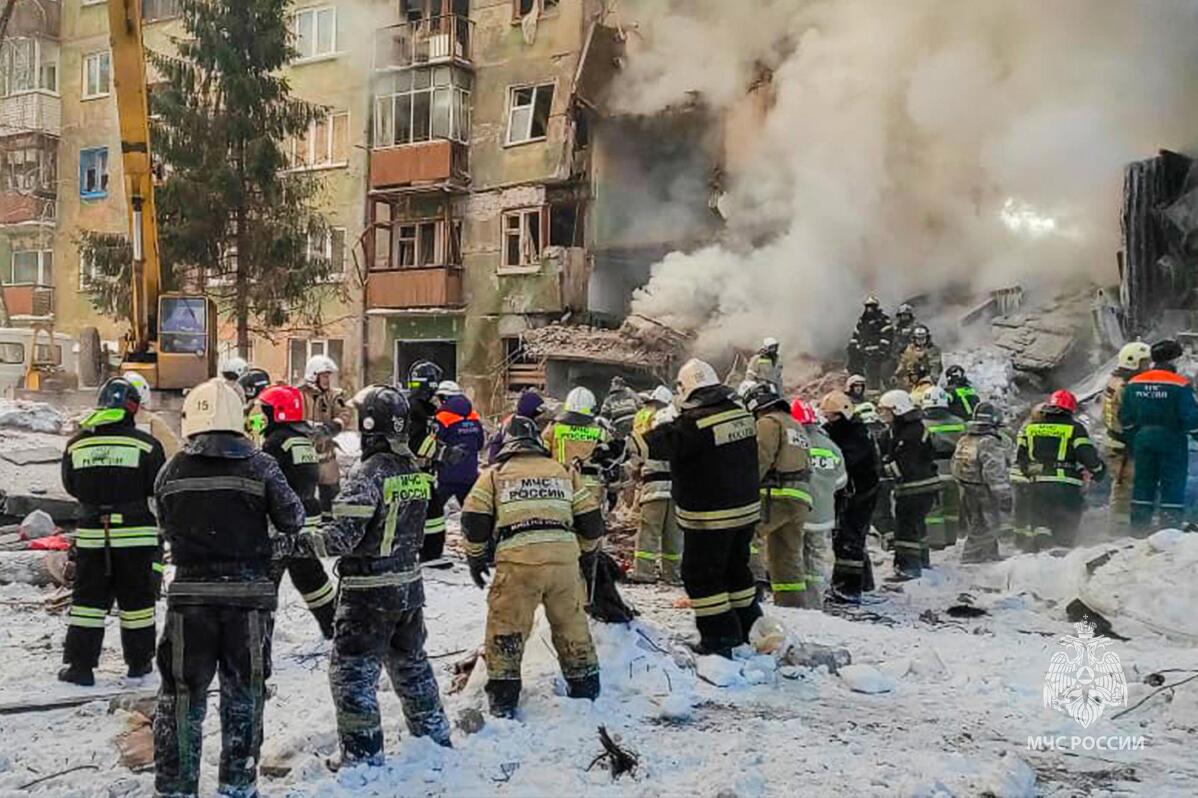 2 of 3

|
In this photo released by the Russian Emergency Ministry Press Service, Emergency service employees work at a site of a five-story residential building collapsed after a gas explosion in the Siberian city of Novosibirsk, Russia, Thursday, Feb. 9, 2023. Authorities say a gas explosion in an apartment building in the Siberian city of Novosibirsk has killed at least five people including a 2-year-old child. The explosion at 7:43 a.m. on Thursday caused two entrances of the five-story building to collapse, with 30 apartments destroyed by the ensuing fire. (Russian Emergency Ministry Press Service via AP)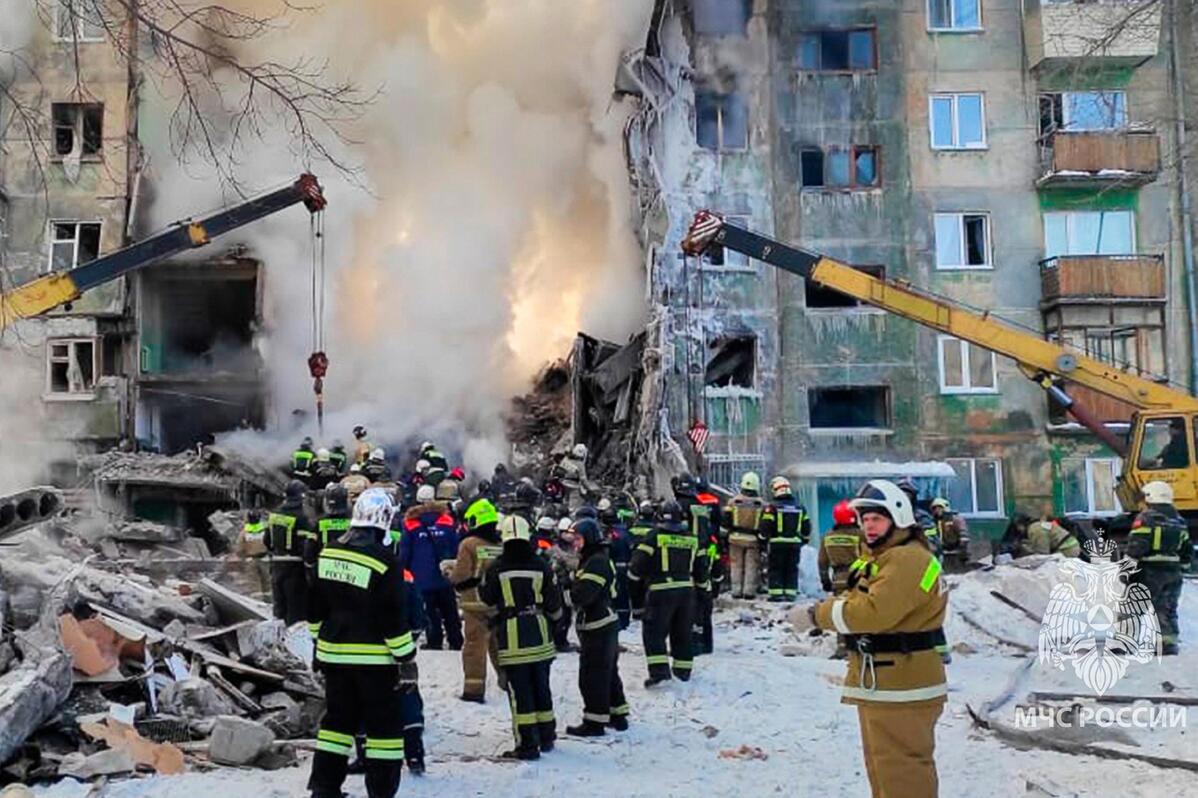 3 of 3

|
In this photo released by the Russian Emergency Ministry Press Service, Emergency service employees work at a site of a five-story residential building collapsed after a gas explosion in the Siberian city of Novosibirsk, Russia, Thursday, Feb. 9, 2023. Authorities say a gas explosion in an apartment building in the Siberian city of Novosibirsk has killed at least five people including a 2-year-old child. The explosion at 7:43 a.m. on Thursday caused two entrances of the five-story building to collapse, with 30 apartments destroyed by the ensuing fire. (Russian Emergency Ministry Press Service via AP)
12 dead, including 2-year-old, in Siberian apartment blast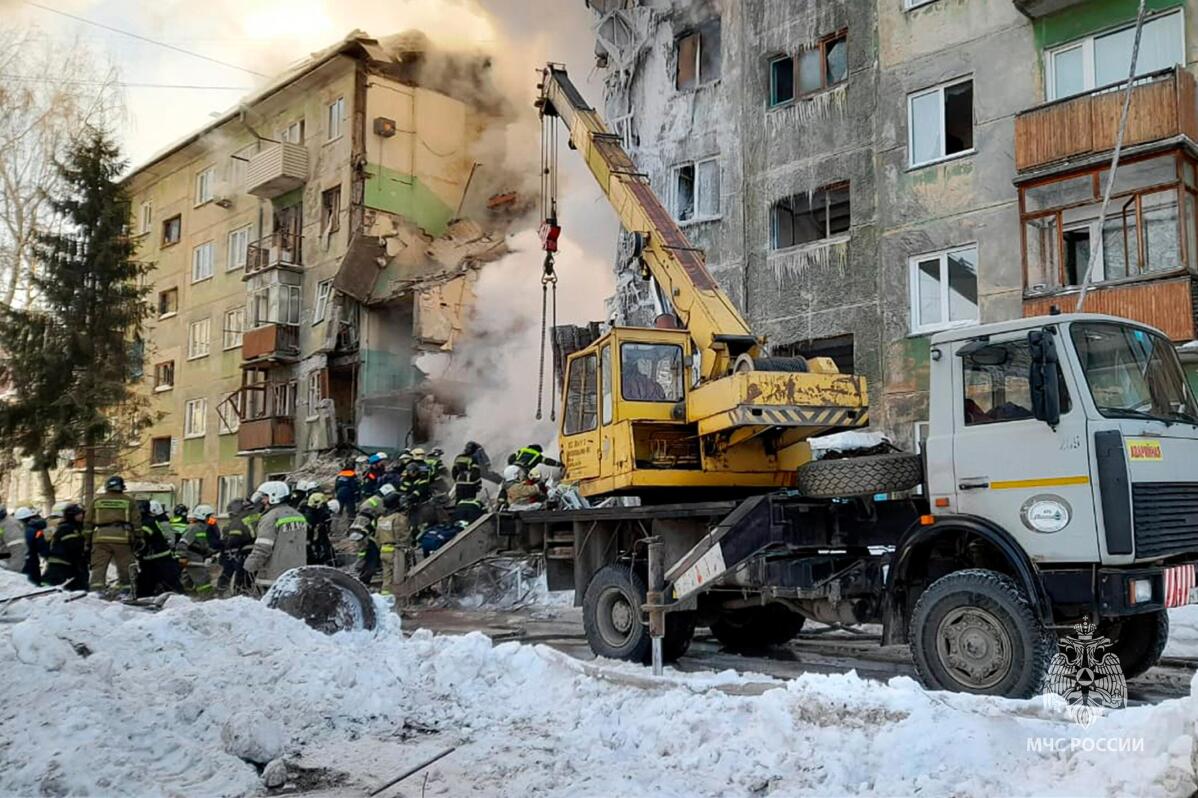 1 of 3

|
In this photo released by the Russian Emergency Ministry Press Service, Emergency service employees work at a site of a five-story residential building collapsed after the gas explosion in the Siberian city of Novosibirsk, Russia, Thursday, Feb. 9, 2023. Authorities say a gas explosion in an apartment building in the Siberian city of Novosibirsk has killed at least five people including a 2-year-old child. The explosion at 7:43 a.m. on Thursday caused two entrances of the five-story building to collapse, with 30 apartments destroyed by the ensuing fire. (Russian Emergency Ministry Press Service via AP)
1 of 3
In this photo released by the Russian Emergency Ministry Press Service, Emergency service employees work at a site of a five-story residential building collapsed after the gas explosion in the Siberian city of Novosibirsk, Russia, Thursday, Feb. 9, 2023. Authorities say a gas explosion in an apartment building in the Siberian city of Novosibirsk has killed at least five people including a 2-year-old child. The explosion at 7:43 a.m. on Thursday caused two entrances of the five-story building to collapse, with 30 apartments destroyed by the ensuing fire. (Russian Emergency Ministry Press Service via AP)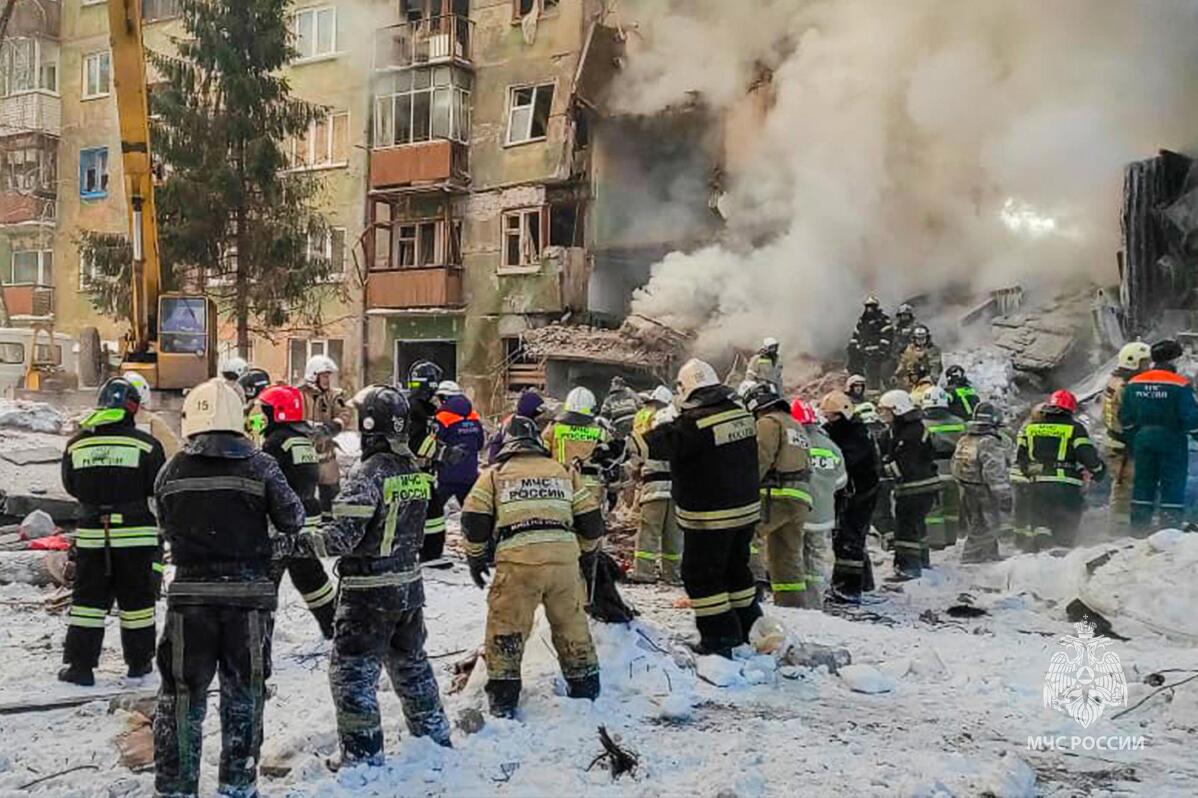 2 of 3

|
In this photo released by the Russian Emergency Ministry Press Service, Emergency service employees work at a site of a five-story residential building collapsed after a gas explosion in the Siberian city of Novosibirsk, Russia, Thursday, Feb. 9, 2023. Authorities say a gas explosion in an apartment building in the Siberian city of Novosibirsk has killed at least five people including a 2-year-old child. The explosion at 7:43 a.m. on Thursday caused two entrances of the five-story building to collapse, with 30 apartments destroyed by the ensuing fire. (Russian Emergency Ministry Press Service via AP)
2 of 3
In this photo released by the Russian Emergency Ministry Press Service, Emergency service employees work at a site of a five-story residential building collapsed after a gas explosion in the Siberian city of Novosibirsk, Russia, Thursday, Feb. 9, 2023. Authorities say a gas explosion in an apartment building in the Siberian city of Novosibirsk has killed at least five people including a 2-year-old child. The explosion at 7:43 a.m. on Thursday caused two entrances of the five-story building to collapse, with 30 apartments destroyed by the ensuing fire. (Russian Emergency Ministry Press Service via AP)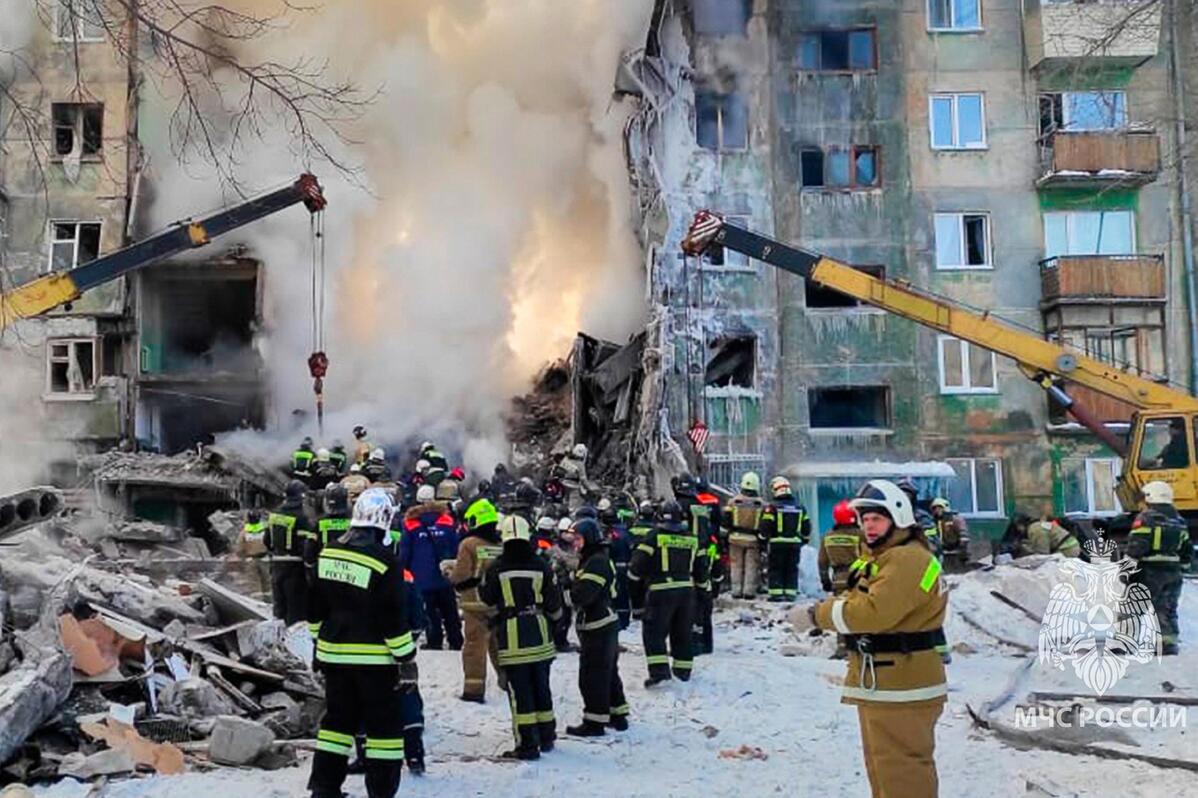 3 of 3

|
In this photo released by the Russian Emergency Ministry Press Service, Emergency service employees work at a site of a five-story residential building collapsed after a gas explosion in the Siberian city of Novosibirsk, Russia, Thursday, Feb. 9, 2023. Authorities say a gas explosion in an apartment building in the Siberian city of Novosibirsk has killed at least five people including a 2-year-old child. The explosion at 7:43 a.m. on Thursday caused two entrances of the five-story building to collapse, with 30 apartments destroyed by the ensuing fire. (Russian Emergency Ministry Press Service via AP)
3 of 3
In this photo released by the Russian Emergency Ministry Press Service, Emergency service employees work at a site of a five-story residential building collapsed after a gas explosion in the Siberian city of Novosibirsk, Russia, Thursday, Feb. 9, 2023. Authorities say a gas explosion in an apartment building in the Siberian city of Novosibirsk has killed at least five people including a 2-year-old child. The explosion at 7:43 a.m. on Thursday caused two entrances of the five-story building to collapse, with 30 apartments destroyed by the ensuing fire. (Russian Emergency Ministry Press Service via AP)
MOSCOW (AP) — Authorities say a gas explosion in an apartment building in the Siberian city of Novosibirsk has killed at least 12 people, including a 2-year-old child.
The Thursday morning explosion caused two entrances of the five-story building to collapse, with 30 apartments destroyed by the ensuing fire.
Russian news agencies cited the city's emergency services as saying 12 people were killed, nine others were hospitalized and the fate of three people believed to be in the building was unknown.
Novosibirsk is the biggest city in Siberia and Russia's third-largest by population, with about 1.6 million people.