Russia to hold UN meeting on Ukraine kids taken to Russia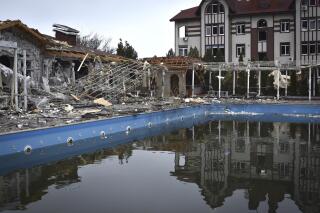 UNITED NATIONS (AP) — Russia plans to hold an informal meeting of the U.N. Security Council in early April on what it said is "the real situation" of Ukrainian children taken to Russia, an issue that has gained the spotlight following the International Criminal Court's arrest warrant for Russian President Vladimir Putin for war crimes related to their abduction.
Russia's U.N. Ambassador Vassily Nebenzia told a news conference Monday that Russia planned the council meeting long before Friday's announcement by the ICC. Russia holds the rotating presidency of the council in April.
The court said it was seeking Putin's arrest because he "is allegedly responsible for the war crime of unlawful deportation of (children) and that of unlawful transfer of (children) from occupied areas of Ukraine to the Russian Federation."
The announcement of the warrants for Putin and Maria Lvova-Belova, the commissioner for Children's Rights in the Office of the President of the Russian Federation, was welcomed by Ukraine as a first step toward accountability by Russia for crimes following its Feb. 14, 2022, invasion. It was dismissed by Moscow, which is not one of the 123 countries that are parties to the court, calling the action "legally void" and "outrageous."
The announcement followed a report Thursday by the U.N. Commission of Inquiry on Ukraine that said there was evidence of the illegal transfer of hundreds of Ukrainian children to Russia.
The commission said both parents and children faced many obstacles in establishing contact, with the burden falling primarily on the children, with young children likely unable to make any contact. It concluded that the forced deportations "violate international humanitarian law, and amount to a war crime."
The Ukrainian government claims 16,221 children have been taken to Russia since the war began.
ICC prosecutor Karim Khan was quoted by the Courthouse News Service as telling Russia during a conference of justice ministers from more than 30 countries in London on Monday: "Return the children, repatriate the children."
Russia's Nebenzia called the issue of the children "totally overblown" and said Moscow wants to explain at the Security Council meeting, around April 6, that they were taken to Russia "simply because we wanted to spare them of the danger that military activities may bring."
Nebenzia was asked whether Russia planned on returning the children. "When conditions are safe, of course. Why not?" the Russian envoy replied.