Russian conscripts tell of fears of being sent to Ukraine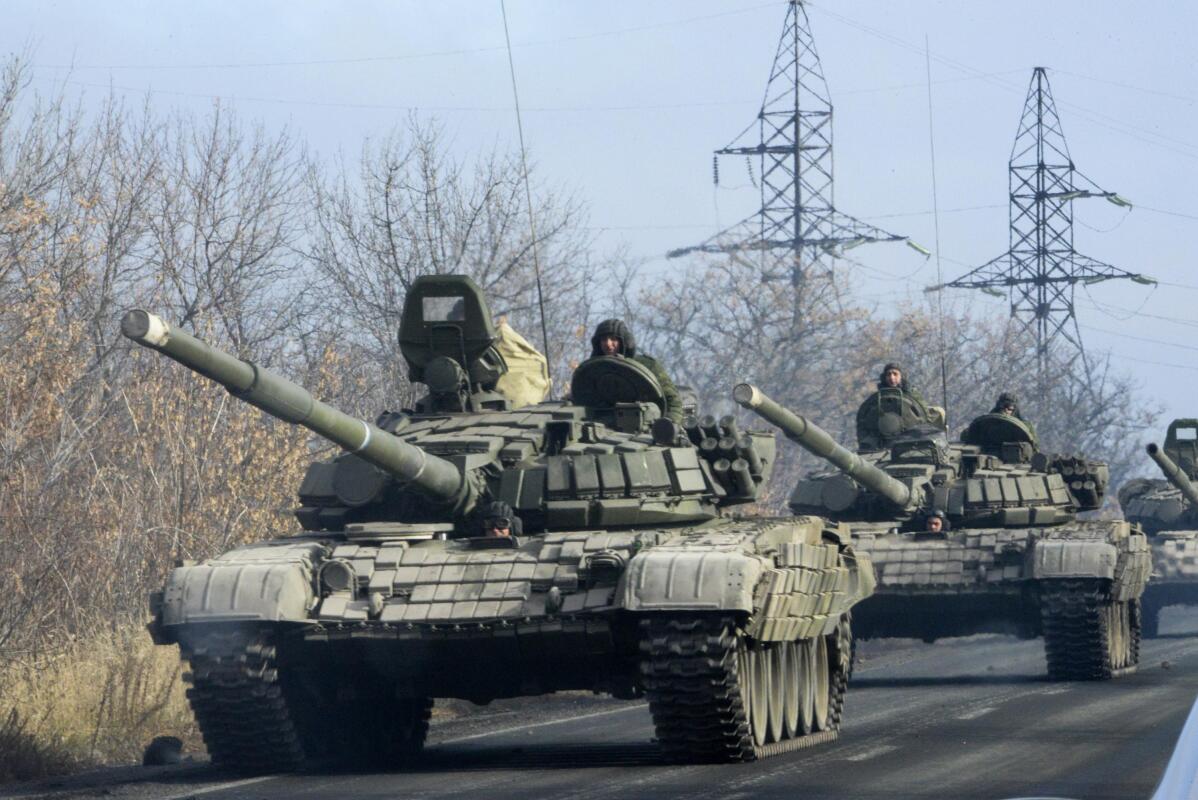 1 of 6

|
FILE In this file photo taken on Monday, Nov. 10, 2014, Pro-Russian rebel military vehicle convoy move towards Donetsk , Eastern Ukraine. Russia has denied it is sending arms and troops to support the separatists in Ukraine, but dozens of soldiers have been reported killed during drills in the Rostov region of southern Russia, but rights groups have actually attributed the deaths to the conflict over the border in Ukraine. (AP Photo/ Mstyslav Chernov, file)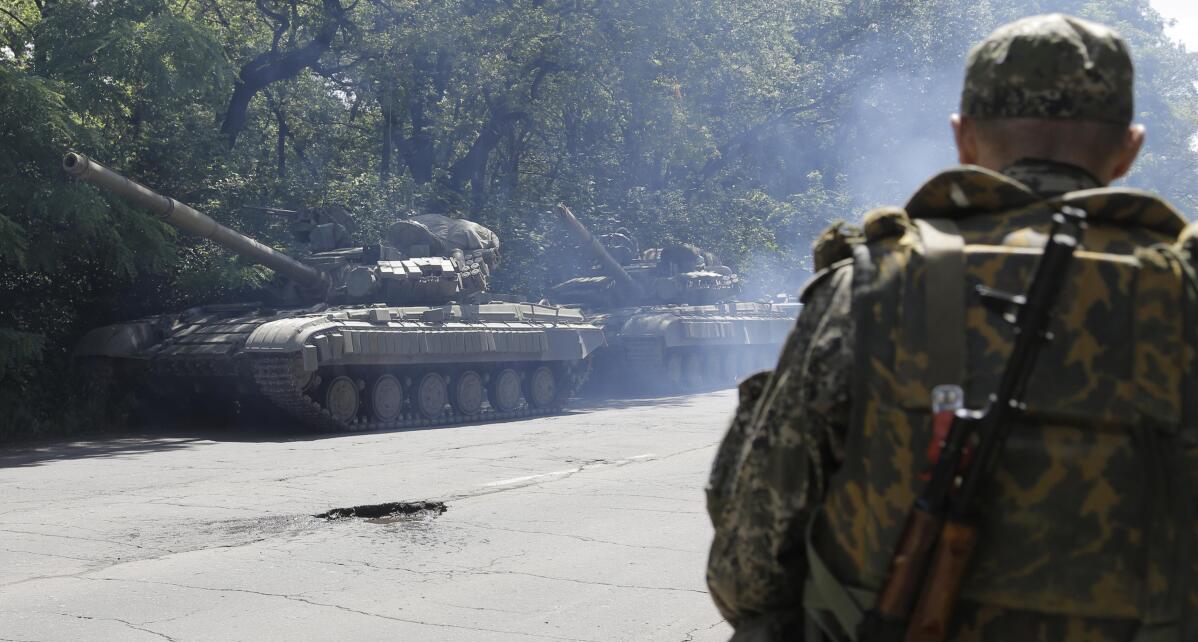 2 of 6

|
FILE- In this file photo taken on Friday, June 20, 2014, Pro-Russian troops prepare to travel in a tank on a road near the town of Yanakiyevo, Donetsk region, eastern Ukraine. Russia has denied it is sending arms and troops to support the separatists in Ukraine, but dozens of soldiers have been reported killed during drills in the Rostov region of southern Russia, but rights groups have actually attributed the deaths to the conflict over the border in Ukraine. (AP Photo/Dmitry Lovetsky, file)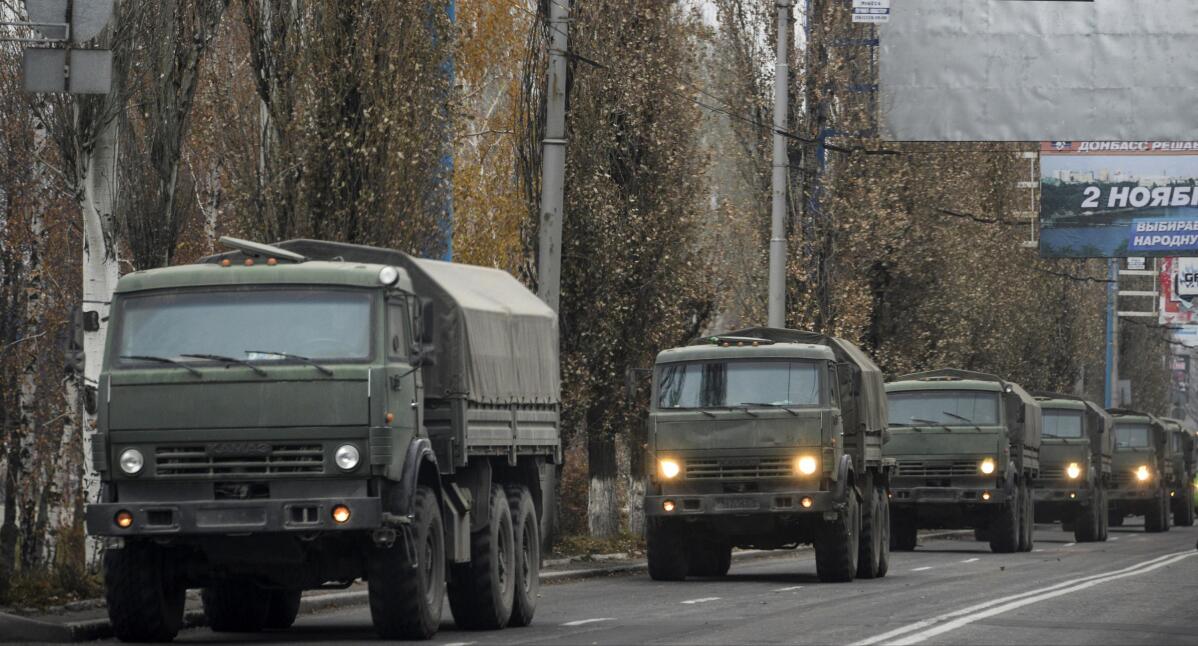 3 of 6

|
FILE- In this file photo dated Tuesday, Nov. 11, 2014, A convoy of unmarked military vehicles in Donetsk, eastern Ukraine. Russia has denied it is sending arms and troops to support the separatists in Ukraine, but dozens of soldiers have been reported killed during drills in the Rostov region of southern Russia, but rights groups have actually attributed the deaths to the conflict over the border in Ukraine. (AP Photo/Mstyslav Chernov, file)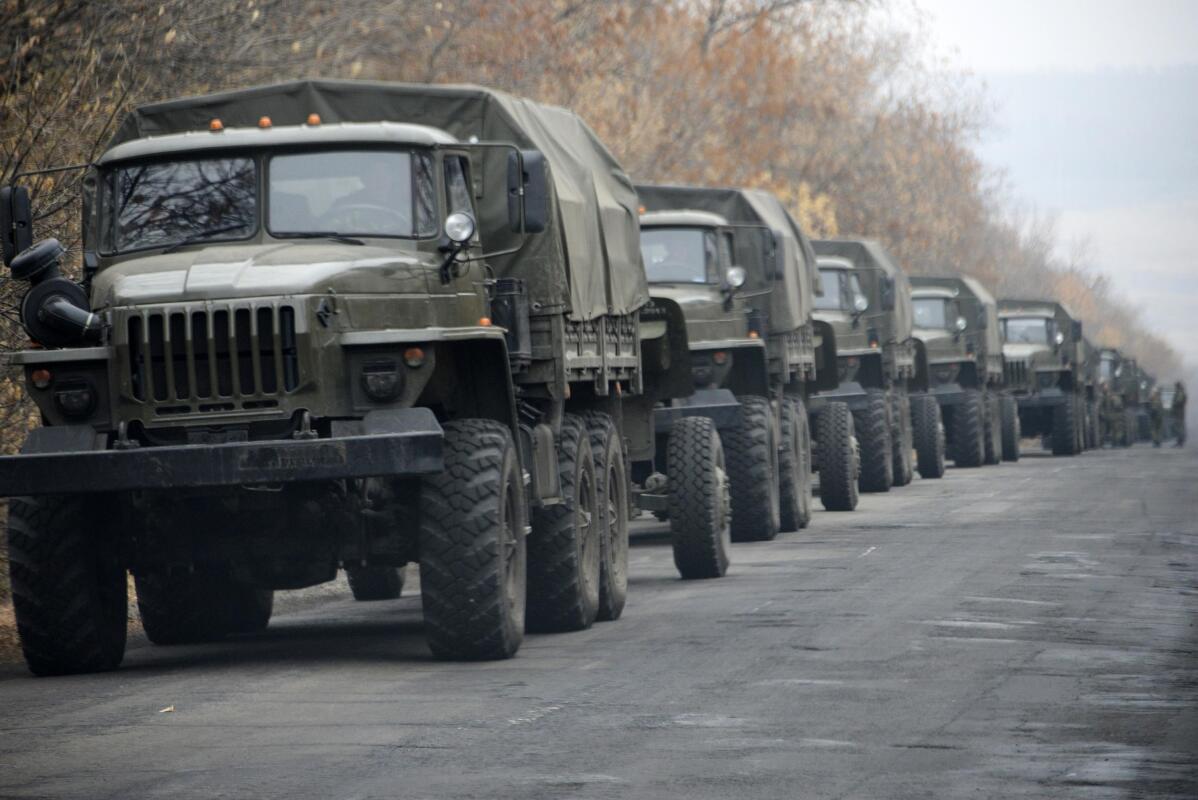 4 of 6

|
FILE- In this file photo taken Saturday, Nov. 8, 2014, Unmarked military vehicles parked on a road outside the separatist rebel-held eastern Ukrainian town of Snizhne, 80 kilometers (50 miles) from Donetsk, eastern Ukraine. Russia has denied it is sending arms and troops to support the separatists in Ukraine, but dozens of soldiers have been reported killed during drills in the Rostov region of southern Russia, but rights groups have actually attributed the deaths to the conflict over the border in Ukraine. (AP Photo/Mstyslav Chernov, file)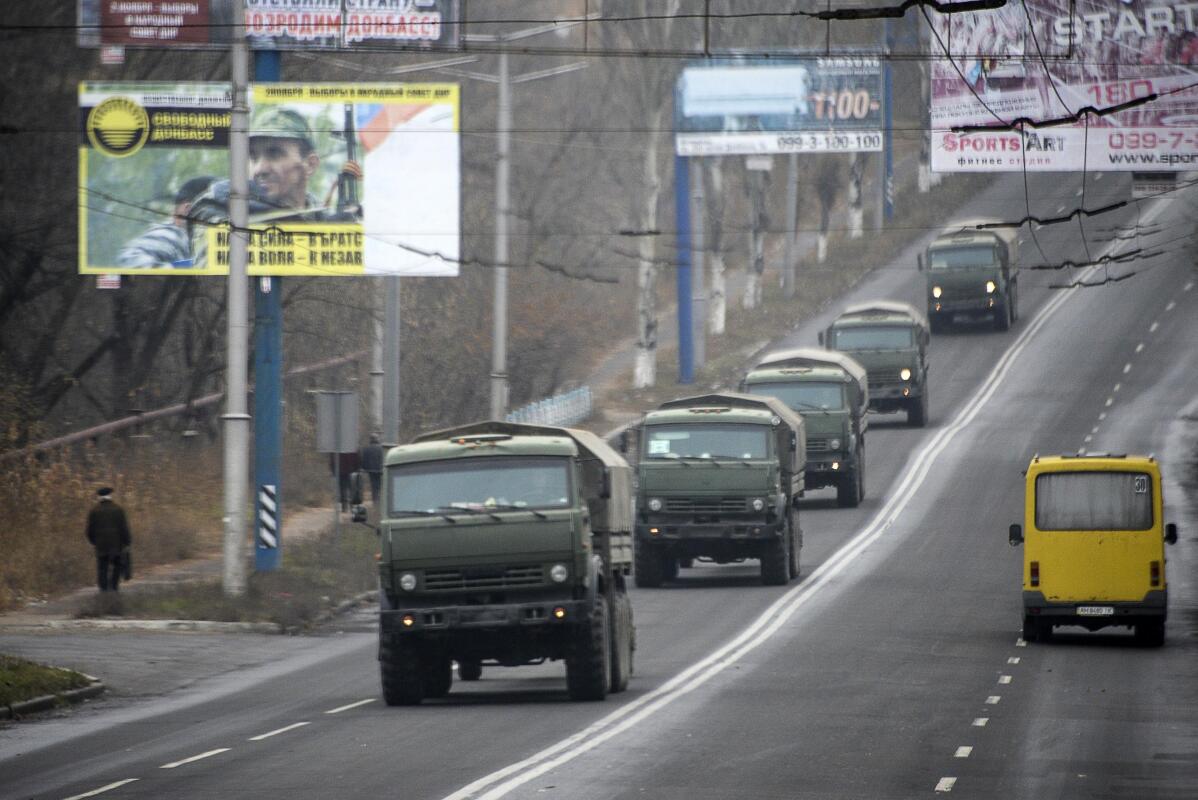 5 of 6

|
FILE- In this file photo dated Saturday, Nov. 8, 2014, Unmarked military vehicles travel along a road outside the separatist rebel-held town Makiivka, 25 km (16 miles) from Donetsk, eastern Ukraine. Russia has denied it is sending arms and troops to support the separatists in Ukraine, but dozens of soldiers have been reported killed during drills in the Rostov region of southern Russia, but rights groups have actually attributed the deaths to the conflict over the border in Ukraine. (AP Photo/Mstyslav Chernov, file)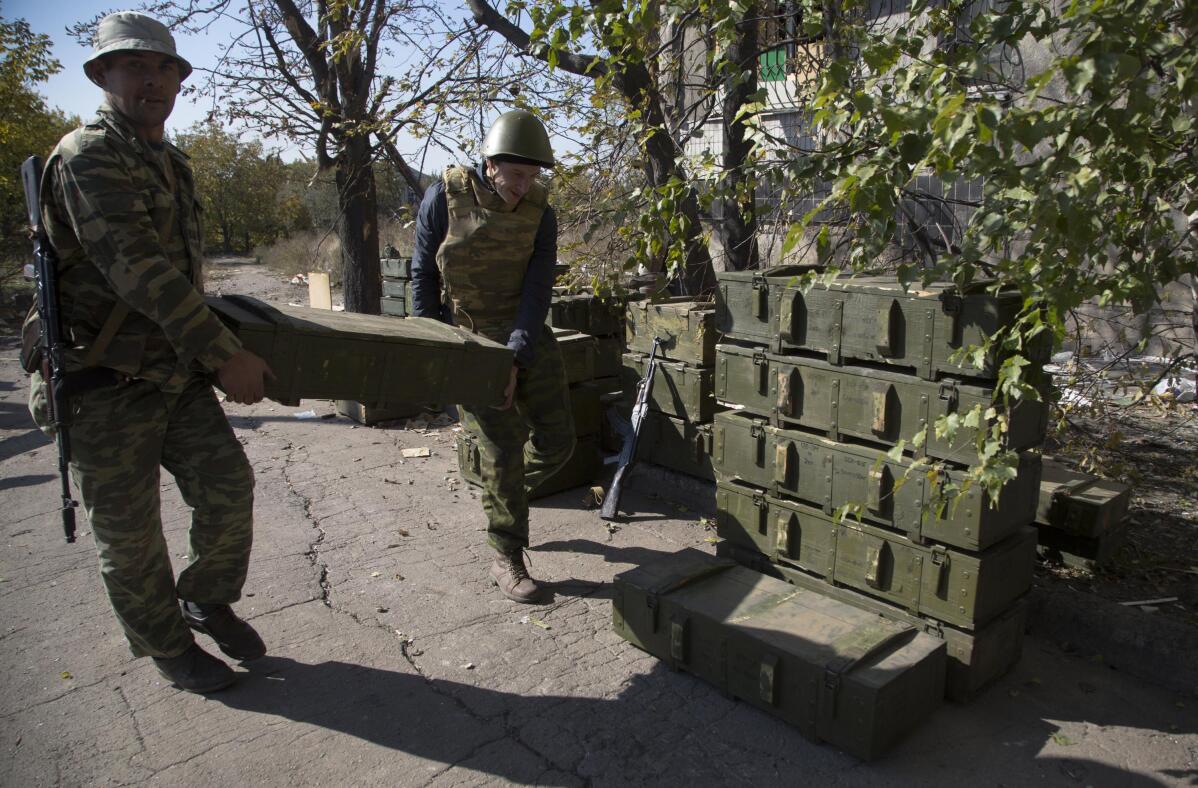 6 of 6

|
FILE - In this Thursday Oct. 9, 2014, file photo, Pro-Russian rebels carry boxes of munitions at their position near to the airport in the town of Donetsk, eastern Ukraine. Russia has denied it is sending arms and troops to support the separatists in Ukraine, but dozens of soldiers have been reported killed during drills in the Rostov region of southern Russia, but rights groups have actually attributed the deaths to the conflict over the border in Ukraine. (AP Photo/Dmitry Lovetsky, file)
Russian conscripts tell of fears of being sent to Ukraine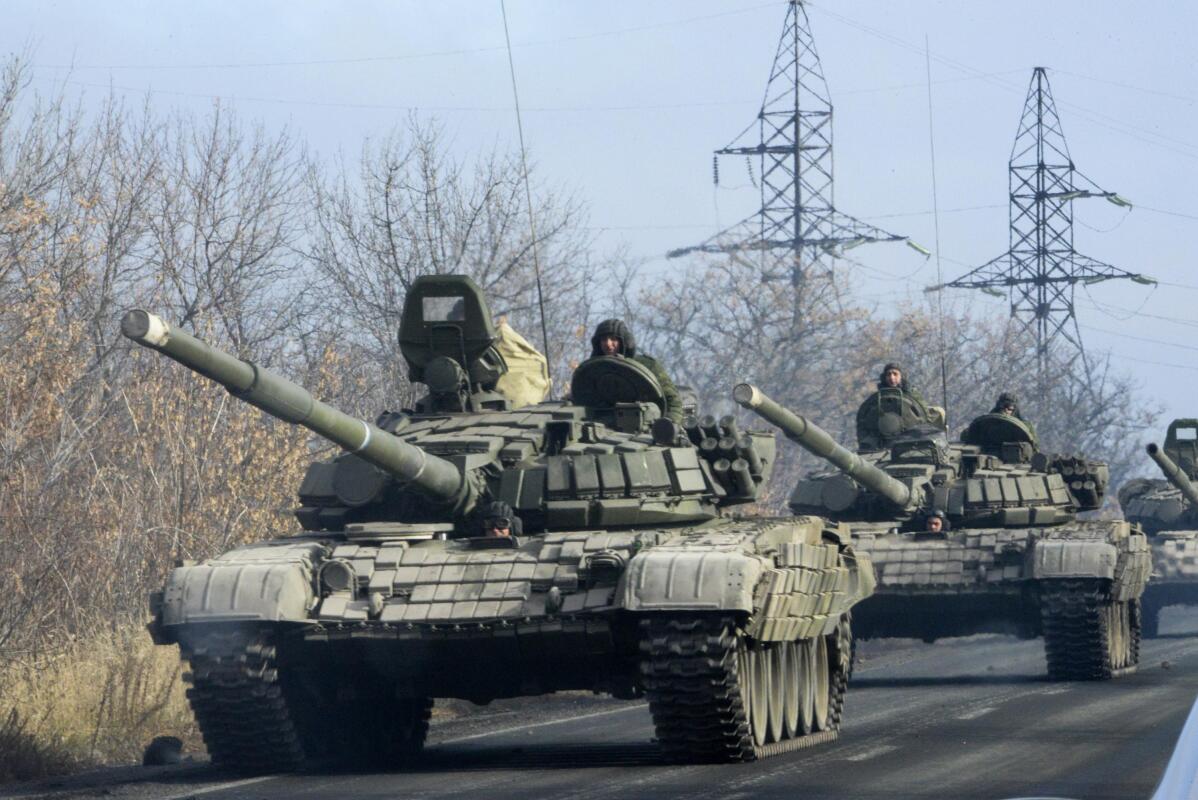 1 of 6

|
FILE In this file photo taken on Monday, Nov. 10, 2014, Pro-Russian rebel military vehicle convoy move towards Donetsk , Eastern Ukraine. Russia has denied it is sending arms and troops to support the separatists in Ukraine, but dozens of soldiers have been reported killed during drills in the Rostov region of southern Russia, but rights groups have actually attributed the deaths to the conflict over the border in Ukraine. (AP Photo/ Mstyslav Chernov, file)
1 of 6
FILE In this file photo taken on Monday, Nov. 10, 2014, Pro-Russian rebel military vehicle convoy move towards Donetsk , Eastern Ukraine. Russia has denied it is sending arms and troops to support the separatists in Ukraine, but dozens of soldiers have been reported killed during drills in the Rostov region of southern Russia, but rights groups have actually attributed the deaths to the conflict over the border in Ukraine. (AP Photo/ Mstyslav Chernov, file)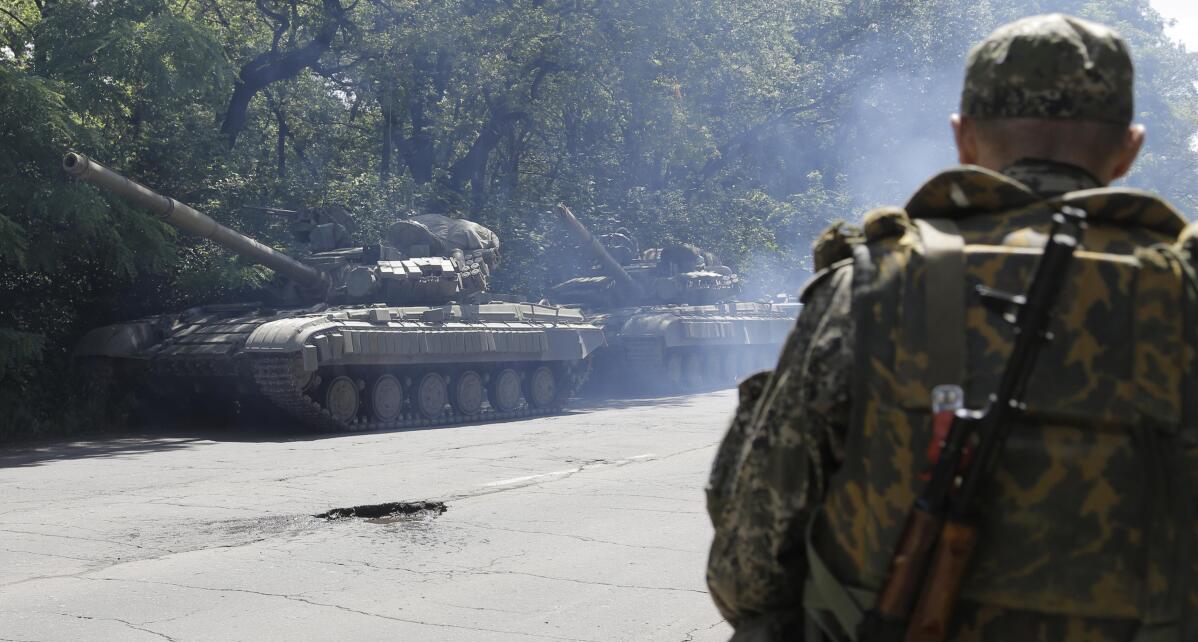 2 of 6

|
FILE- In this file photo taken on Friday, June 20, 2014, Pro-Russian troops prepare to travel in a tank on a road near the town of Yanakiyevo, Donetsk region, eastern Ukraine. Russia has denied it is sending arms and troops to support the separatists in Ukraine, but dozens of soldiers have been reported killed during drills in the Rostov region of southern Russia, but rights groups have actually attributed the deaths to the conflict over the border in Ukraine. (AP Photo/Dmitry Lovetsky, file)
2 of 6
FILE- In this file photo taken on Friday, June 20, 2014, Pro-Russian troops prepare to travel in a tank on a road near the town of Yanakiyevo, Donetsk region, eastern Ukraine. Russia has denied it is sending arms and troops to support the separatists in Ukraine, but dozens of soldiers have been reported killed during drills in the Rostov region of southern Russia, but rights groups have actually attributed the deaths to the conflict over the border in Ukraine. (AP Photo/Dmitry Lovetsky, file)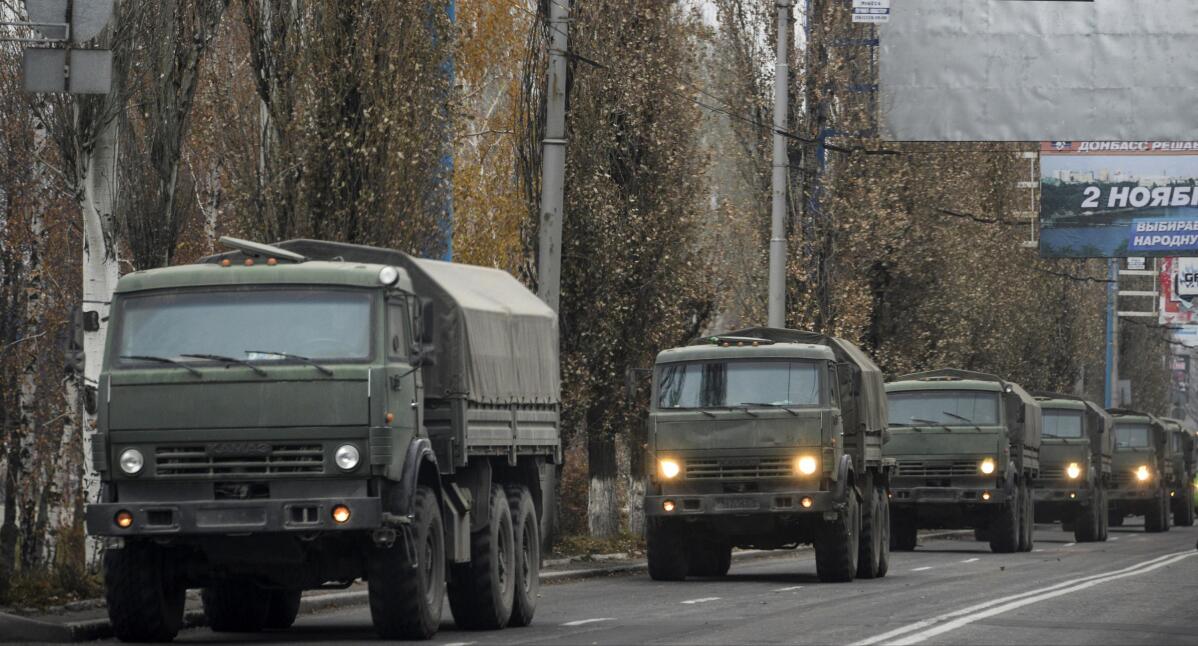 3 of 6

|
FILE- In this file photo dated Tuesday, Nov. 11, 2014, A convoy of unmarked military vehicles in Donetsk, eastern Ukraine. Russia has denied it is sending arms and troops to support the separatists in Ukraine, but dozens of soldiers have been reported killed during drills in the Rostov region of southern Russia, but rights groups have actually attributed the deaths to the conflict over the border in Ukraine. (AP Photo/Mstyslav Chernov, file)
3 of 6
FILE- In this file photo dated Tuesday, Nov. 11, 2014, A convoy of unmarked military vehicles in Donetsk, eastern Ukraine. Russia has denied it is sending arms and troops to support the separatists in Ukraine, but dozens of soldiers have been reported killed during drills in the Rostov region of southern Russia, but rights groups have actually attributed the deaths to the conflict over the border in Ukraine. (AP Photo/Mstyslav Chernov, file)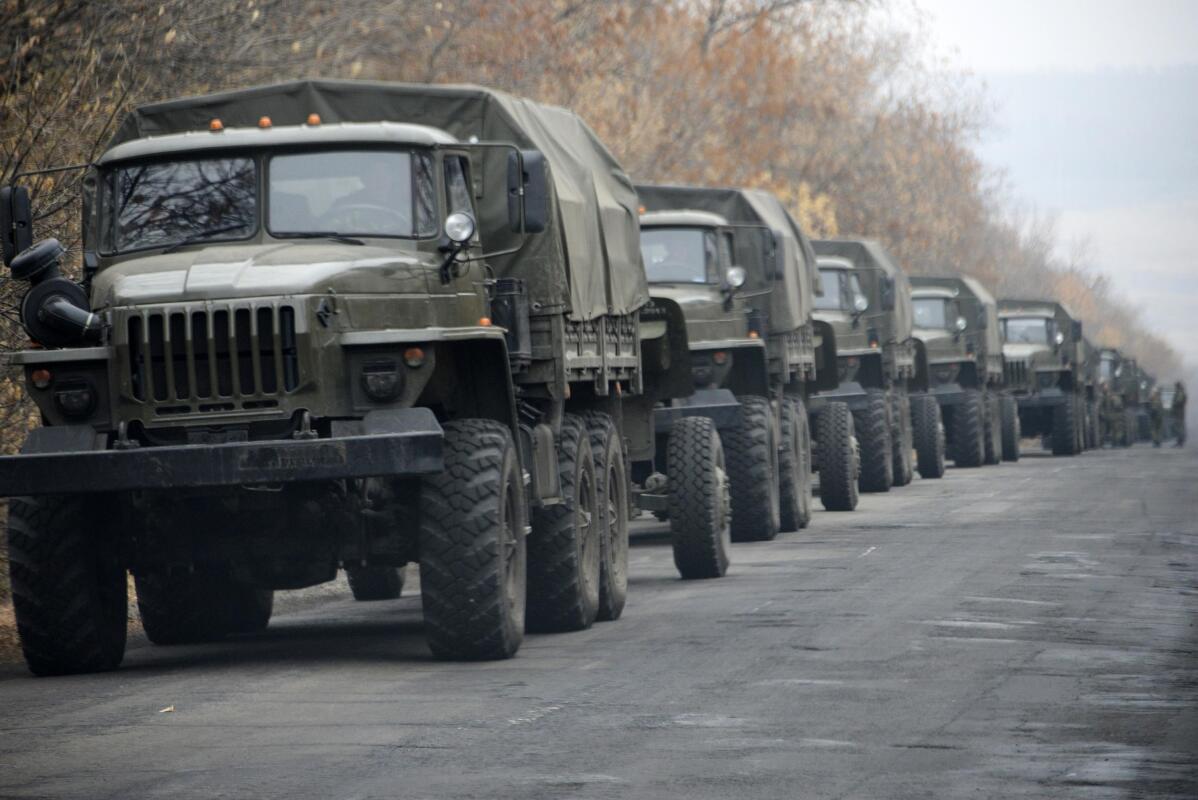 4 of 6

|
FILE- In this file photo taken Saturday, Nov. 8, 2014, Unmarked military vehicles parked on a road outside the separatist rebel-held eastern Ukrainian town of Snizhne, 80 kilometers (50 miles) from Donetsk, eastern Ukraine. Russia has denied it is sending arms and troops to support the separatists in Ukraine, but dozens of soldiers have been reported killed during drills in the Rostov region of southern Russia, but rights groups have actually attributed the deaths to the conflict over the border in Ukraine. (AP Photo/Mstyslav Chernov, file)
4 of 6
FILE- In this file photo taken Saturday, Nov. 8, 2014, Unmarked military vehicles parked on a road outside the separatist rebel-held eastern Ukrainian town of Snizhne, 80 kilometers (50 miles) from Donetsk, eastern Ukraine. Russia has denied it is sending arms and troops to support the separatists in Ukraine, but dozens of soldiers have been reported killed during drills in the Rostov region of southern Russia, but rights groups have actually attributed the deaths to the conflict over the border in Ukraine. (AP Photo/Mstyslav Chernov, file)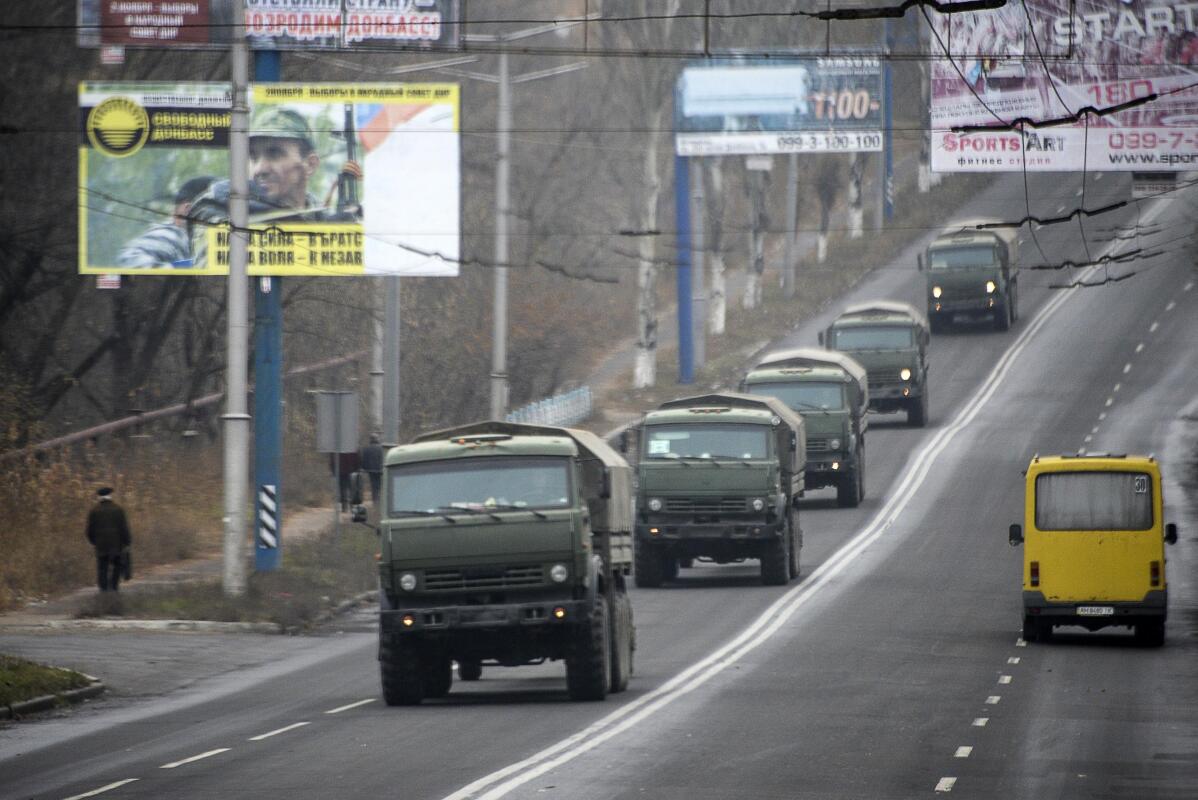 5 of 6

|
FILE- In this file photo dated Saturday, Nov. 8, 2014, Unmarked military vehicles travel along a road outside the separatist rebel-held town Makiivka, 25 km (16 miles) from Donetsk, eastern Ukraine. Russia has denied it is sending arms and troops to support the separatists in Ukraine, but dozens of soldiers have been reported killed during drills in the Rostov region of southern Russia, but rights groups have actually attributed the deaths to the conflict over the border in Ukraine. (AP Photo/Mstyslav Chernov, file)
5 of 6
FILE- In this file photo dated Saturday, Nov. 8, 2014, Unmarked military vehicles travel along a road outside the separatist rebel-held town Makiivka, 25 km (16 miles) from Donetsk, eastern Ukraine. Russia has denied it is sending arms and troops to support the separatists in Ukraine, but dozens of soldiers have been reported killed during drills in the Rostov region of southern Russia, but rights groups have actually attributed the deaths to the conflict over the border in Ukraine. (AP Photo/Mstyslav Chernov, file)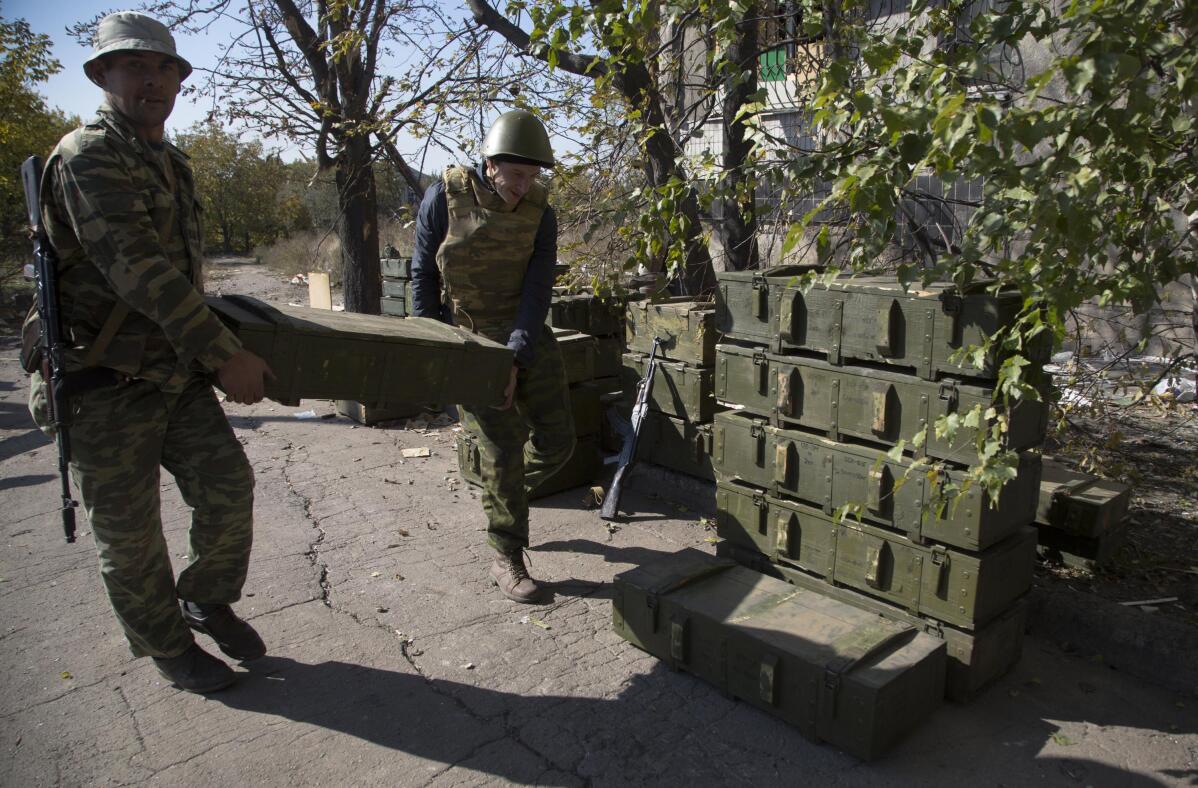 6 of 6

|
FILE - In this Thursday Oct. 9, 2014, file photo, Pro-Russian rebels carry boxes of munitions at their position near to the airport in the town of Donetsk, eastern Ukraine. Russia has denied it is sending arms and troops to support the separatists in Ukraine, but dozens of soldiers have been reported killed during drills in the Rostov region of southern Russia, but rights groups have actually attributed the deaths to the conflict over the border in Ukraine. (AP Photo/Dmitry Lovetsky, file)
6 of 6
FILE - In this Thursday Oct. 9, 2014, file photo, Pro-Russian rebels carry boxes of munitions at their position near to the airport in the town of Donetsk, eastern Ukraine. Russia has denied it is sending arms and troops to support the separatists in Ukraine, but dozens of soldiers have been reported killed during drills in the Rostov region of southern Russia, but rights groups have actually attributed the deaths to the conflict over the border in Ukraine. (AP Photo/Dmitry Lovetsky, file)
MOSCOW (AP) — Human rights groups have received dozens of complaints in the past month from Russian conscripts who say they have been strong-armed or duped into signing contracts with the military to become professional soldiers. The conscripts are then sent to participate in drills in the southern Rostov region bordering Ukraine.
Because only contract soldiers can legally be dispatched abroad, worries are spreading among families that inexperienced young conscripts could be sent to fight in eastern Ukraine alongside pro-Russian separatists. Many soldiers contend that's already happened.
One former soldier told The Associated Press that he was pressured into extending his service.
When the conscript, Alexander, was due to finish his year of mandatory military service in October, he said his commander told him he had no choice: He had to sign a contract and head to southern Russia for troop exercises. The 20-year-old knew that meant he might end up fighting in Ukraine. Other soldiers he talked to had been sent there.
His commanders "didn't talk about it, but other soldiers told us about it, primarily paratroopers who had been there," Alexander said in an interview with the AP, which is not using his surname for his safety.
The former private first class ended his military service this month. He fled Rostov on Dec. 31 and avoided being sent to Ukraine — although not without first being threatened with prison for desertion. He was able to quit legally only after reaching out to NGOs for help.
The Russian Defense Ministry did not respond to a written request for comment sent Feb. 9 or to follow-up phone calls.
While Russia has denied it is sending arms and troops to support the separatists in Ukraine, since the summer dozens of soldiers have been reported killed by explosions during drills in the Rostov region — deaths that rights groups actually attribute to the conflict over the border. Weapons appear to flow freely across the frontier, and one group of Russian paratroopers was even captured in August, 50 kilometers (30 miles) inside the war zone.
"We receive messages from all over in which (soldiers) say that they're being sent again to Rostov for military exercises," said Valentina Melnikova, head of the Committee of Soldiers' Mothers, a group with a three-decade history of working to protect soldiers' rights.
"Those who have been there (to the Rostov region) before know that in actual fact it means Ukraine."
So far, the Russian government has been able to keep a tight lid on information about any soldiers in eastern Ukraine through a shroud of official denials, harassment of independent reporters who cover the deaths, and carrot-and-stick pressure on the families of those killed. But rising concerns among families with young sons could pose a risk for President Vladimir Putin.
Russia's secrecy about the soldiers' death has an important precedent: During the Soviet intervention in Afghanistan in the 1980s, the government released little information about those killed in the conflict. When the true numbers of casualties became known, the intervention turned unpopular.
Adelya Kamelatdinova's 19-year-old son was serving as a recruit in the army in July when he sent her a text message saying he was being sent to military exercises in Rostov. Then in August, he disappeared for weeks — only to resurface in September and tell her had been stationed in the Ukrainian region of Luhansk, in a village about 80 kilometers (50 miles) from the Russian border.
When she went to the local recruitment office to complain with another mother whose son had been hospitalized with a concussion, nobody listened: "They told us that our sons were participating in exercises and there aren't any soldiers in Ukraine; that it was a fantasy we thought up."
Kamelatdinova, who asked that her son's name not be used for fear of retribution, said he had not signed a contract but that he had been forced to sign a statement in which he agreed to cross the Ukrainian border. The document did not even have a specific date on it listing the span of the assignment.
Melnikova, from the Committee of Soldiers' Mothers, believes the drive to recruit more professional soldiers could be a way to make Russia's involvement in the conflict look retroactively legal, were it ever to become public. Rebel leaders have also said that any Russian soldiers in eastern Ukraine are volunteers fighting during their vacation time — a privilege enjoyed by contract soldiers alone.
"Here they got some smart-aleck lawyers who said, 'OK, we'll observe at least this (law), we won't send conscripts,'" she said. "It's absurd and nonetheless illegal."