Tank plant in small Ohio city plays big role in Ukraine war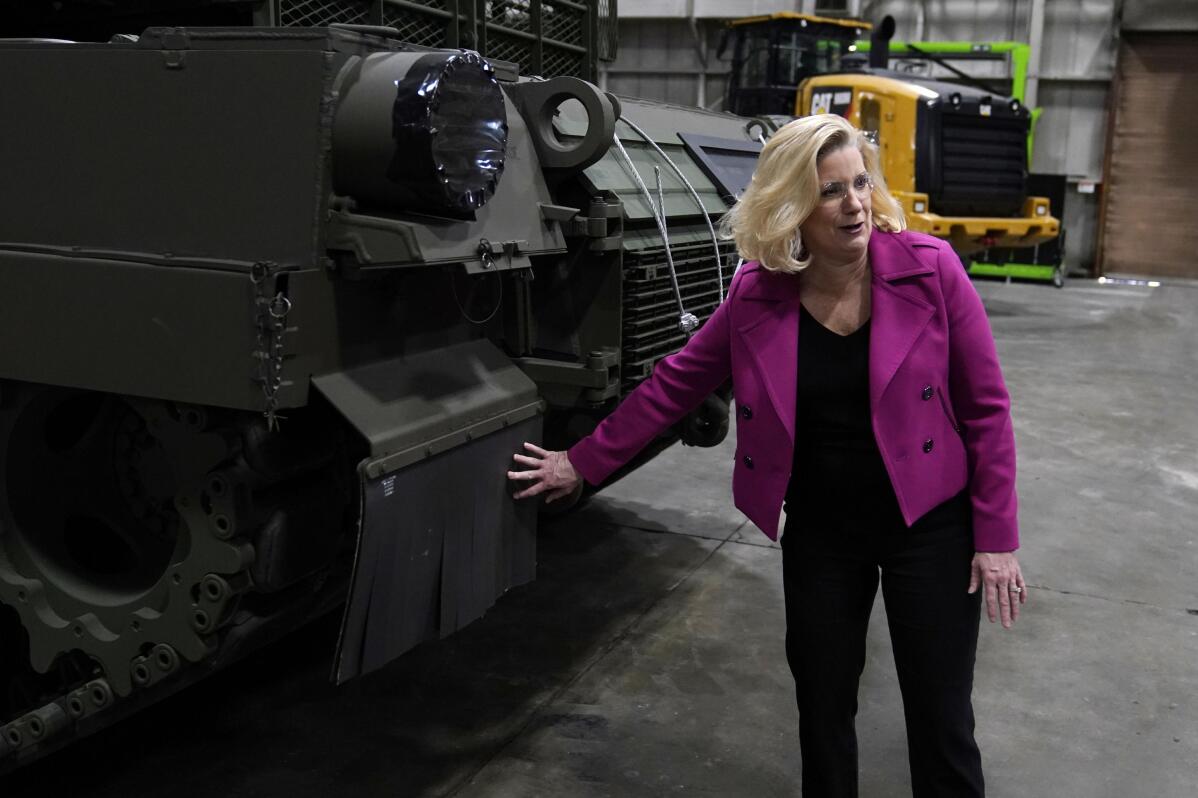 1 of 4

|
Secretary of the Army Christine Wormuth looks over the latest version of the M1A2 Abrams main battle tank as she tours the Joint Systems Manufacturing Center, Thursday, Feb. 16, 2023, in Lima, Ohio. (AP Photo/Carlos Osorio)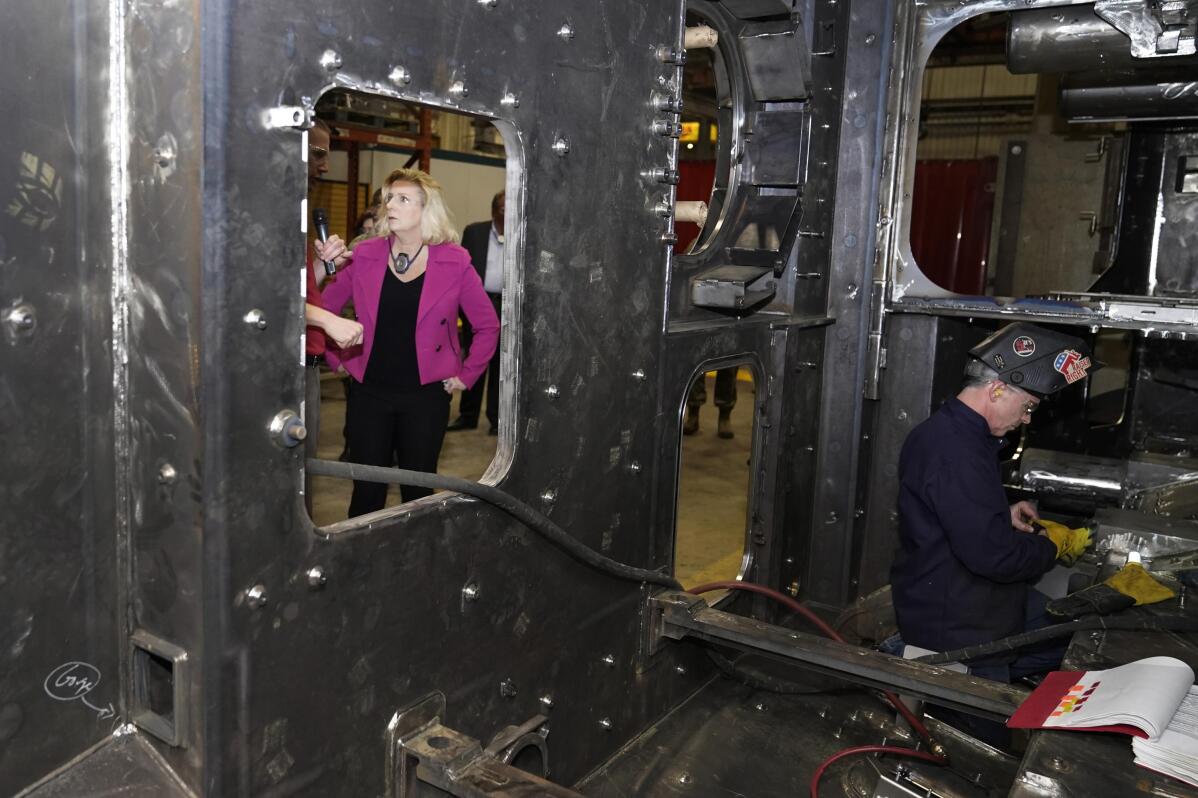 2 of 4

|
Secretary of the Army Christine Wormuth tours the Joint Systems Manufacturing Center, Thursday, Feb. 16, 2023, in Lima, Ohio. (AP Photo/Carlos Osorio)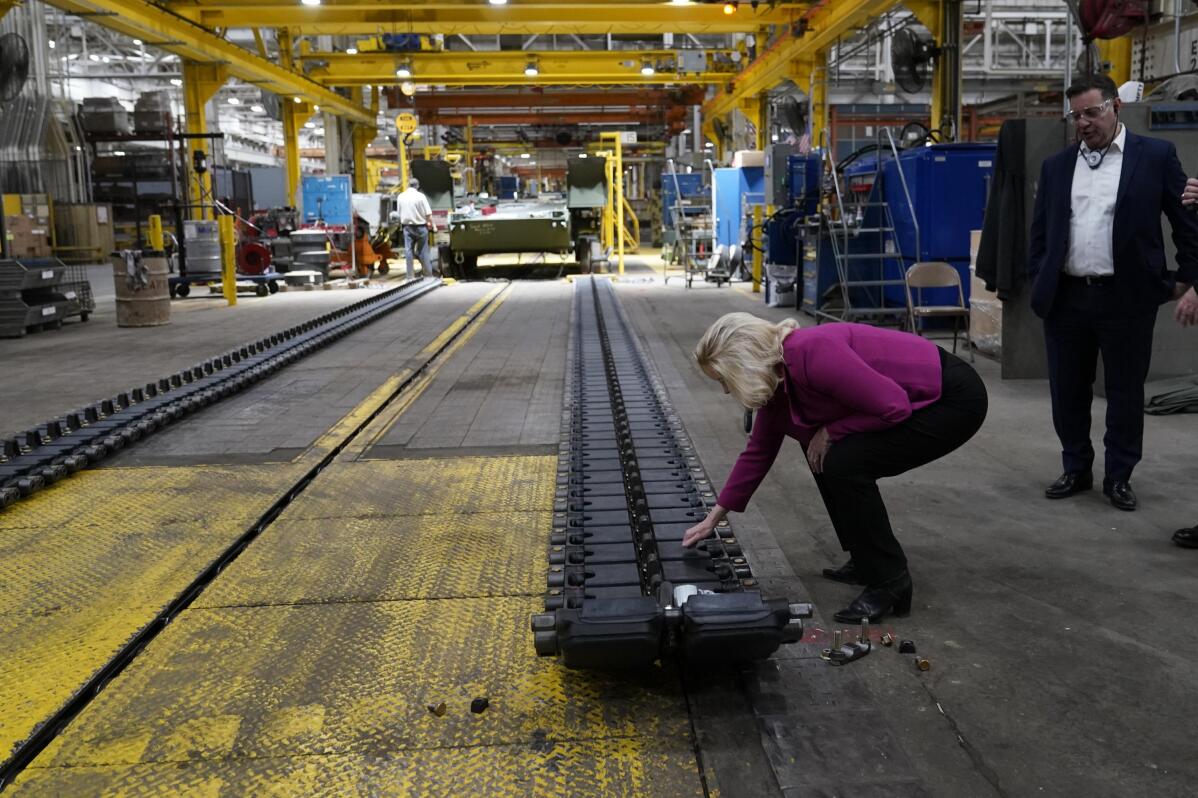 3 of 4

|
Secretary of the Army Christine Wormuth touches the tank treads of the M1A2 Abrams main battle tank during a tour of the Joint Systems Manufacturing Center, Thursday, Feb. 16, 2023, in Lima, Ohio. (AP Photo/Carlos Osorio)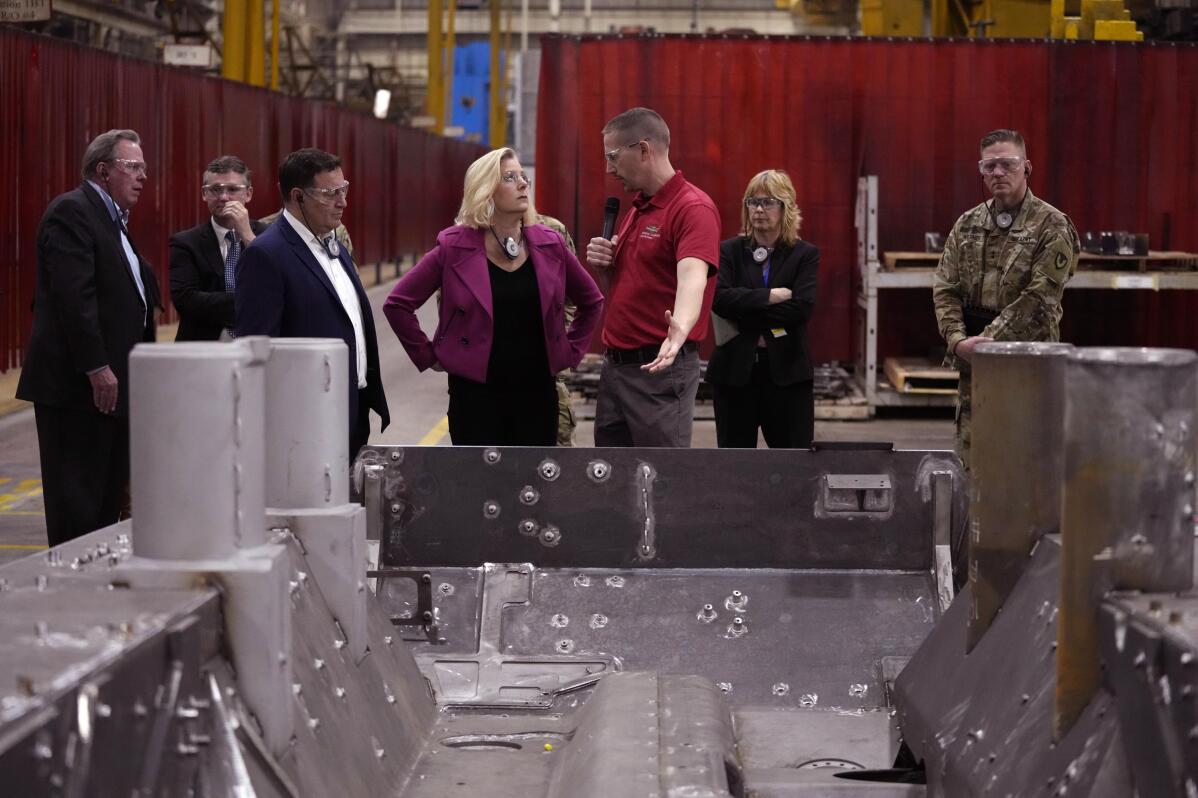 4 of 4

|
Secretary of the Army Christine Wormuth is shown the Stryker vehicle platform during a tour of the Joint Systems Manufacturing Center, Thursday, Feb. 16, 2023, in Lima, Ohio. (AP Photo/Carlos Osorio)
Tank plant in small Ohio city plays big role in Ukraine war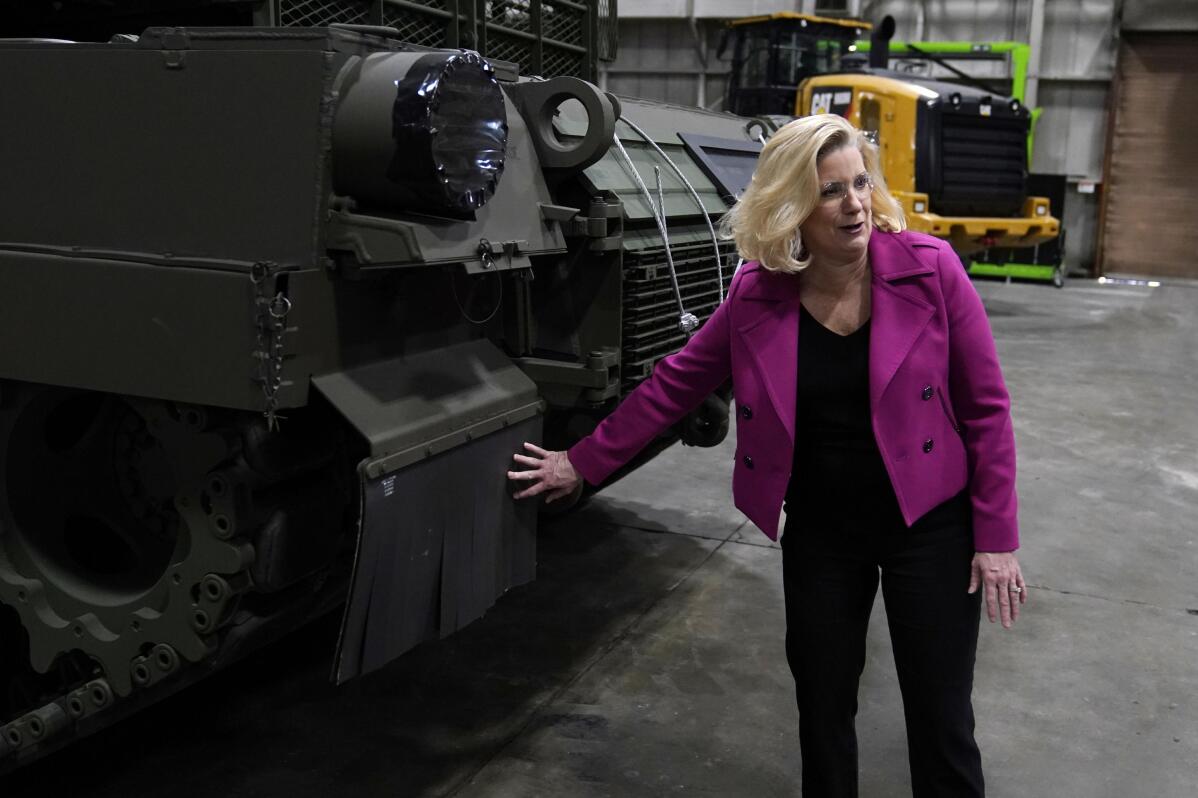 1 of 4

|
Secretary of the Army Christine Wormuth looks over the latest version of the M1A2 Abrams main battle tank as she tours the Joint Systems Manufacturing Center, Thursday, Feb. 16, 2023, in Lima, Ohio. (AP Photo/Carlos Osorio)
1 of 4
Secretary of the Army Christine Wormuth looks over the latest version of the M1A2 Abrams main battle tank as she tours the Joint Systems Manufacturing Center, Thursday, Feb. 16, 2023, in Lima, Ohio. (AP Photo/Carlos Osorio)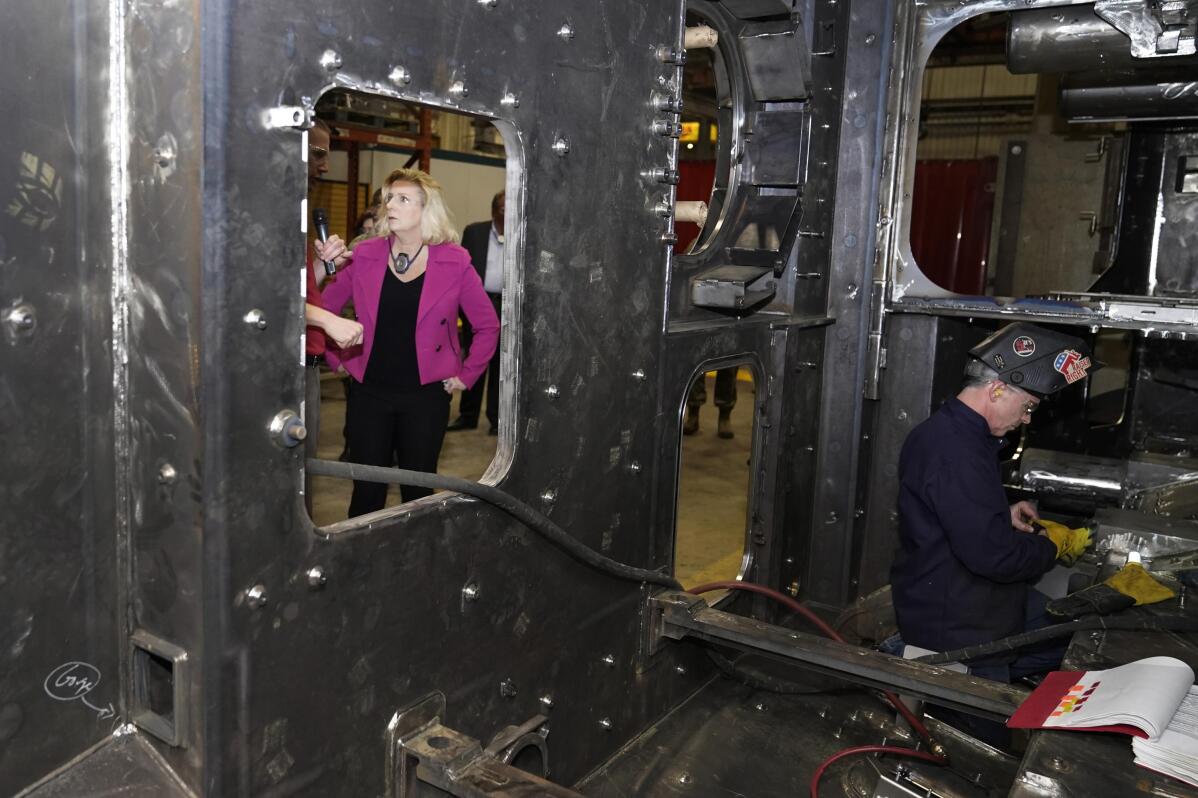 2 of 4

|
Secretary of the Army Christine Wormuth tours the Joint Systems Manufacturing Center, Thursday, Feb. 16, 2023, in Lima, Ohio. (AP Photo/Carlos Osorio)
2 of 4
Secretary of the Army Christine Wormuth tours the Joint Systems Manufacturing Center, Thursday, Feb. 16, 2023, in Lima, Ohio. (AP Photo/Carlos Osorio)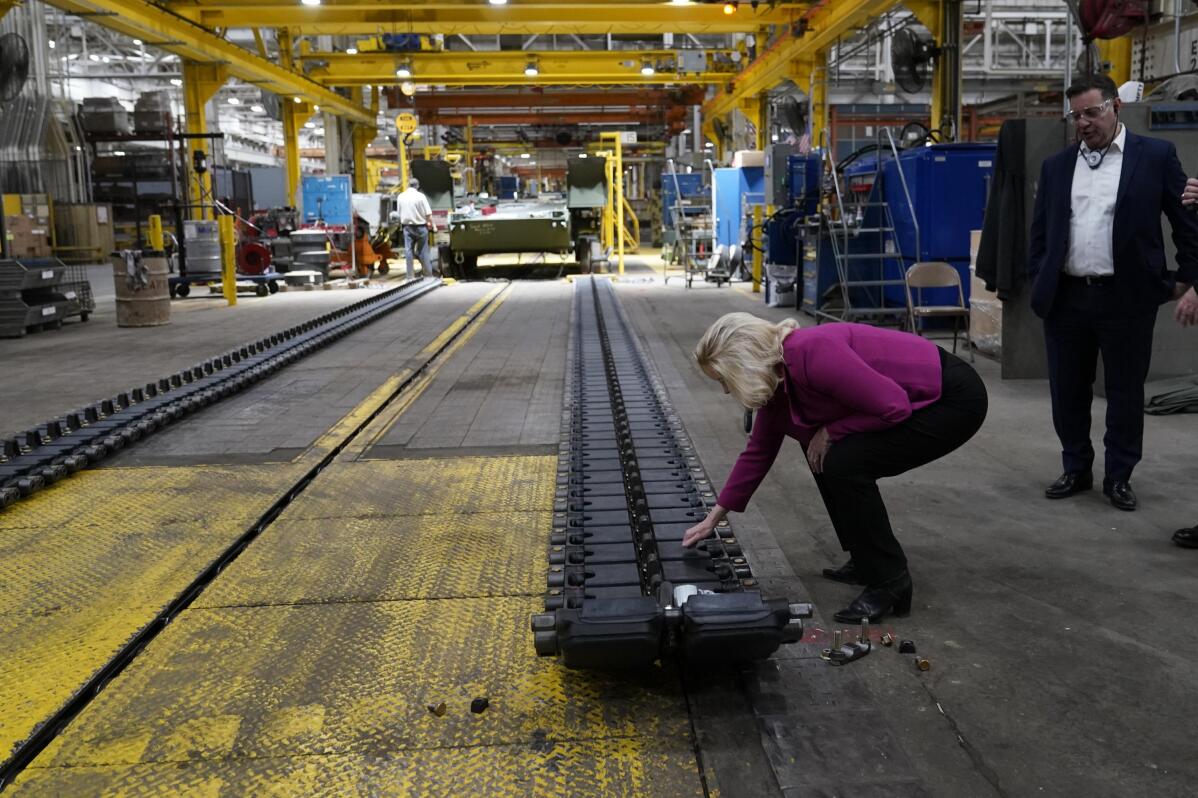 3 of 4

|
Secretary of the Army Christine Wormuth touches the tank treads of the M1A2 Abrams main battle tank during a tour of the Joint Systems Manufacturing Center, Thursday, Feb. 16, 2023, in Lima, Ohio. (AP Photo/Carlos Osorio)
3 of 4
Secretary of the Army Christine Wormuth touches the tank treads of the M1A2 Abrams main battle tank during a tour of the Joint Systems Manufacturing Center, Thursday, Feb. 16, 2023, in Lima, Ohio. (AP Photo/Carlos Osorio)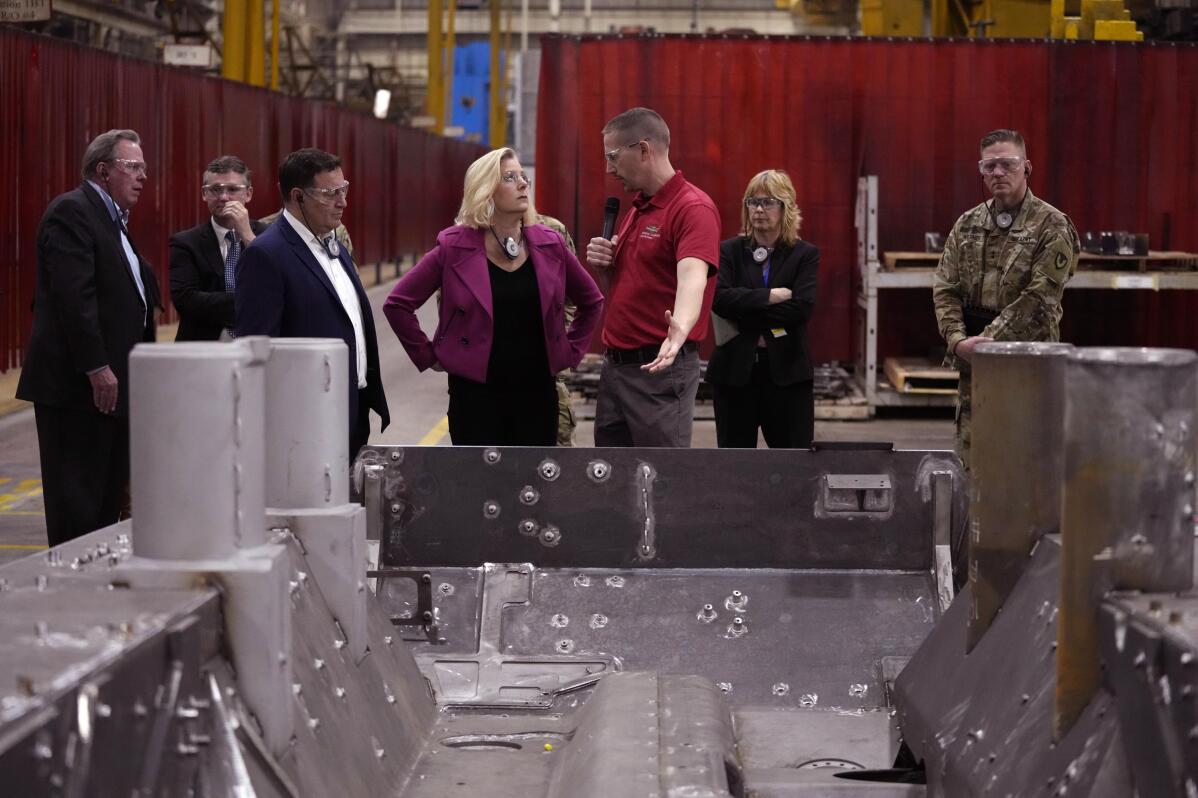 4 of 4

|
Secretary of the Army Christine Wormuth is shown the Stryker vehicle platform during a tour of the Joint Systems Manufacturing Center, Thursday, Feb. 16, 2023, in Lima, Ohio. (AP Photo/Carlos Osorio)
4 of 4
Secretary of the Army Christine Wormuth is shown the Stryker vehicle platform during a tour of the Joint Systems Manufacturing Center, Thursday, Feb. 16, 2023, in Lima, Ohio. (AP Photo/Carlos Osorio)
LIMA, Ohio (AP) — Thousands of miles from the front lines, a sprawling manufacturing plant in the small midwestern city of Lima, Ohio, is playing a critical role in the effort to arm Ukraine as it fends off the Russian invasion.
Owned by the Army and operated by General Dynamics, the plant is expected to refurbish Abrams tanks for the U.S. to send to Ukraine, and is already preparing to build an updated version of the vehicle for Poland, U.S. Army officials said Thursday as they toured the facility.
Army Secretary Christine Wormuth, who walked through the plant with a number of other Army leaders and senior officers, said it's highly likely the plant will provide the tanks for Ukraine.
"We're still looking at options for exactly what variant of tanks will be provided to the Ukrainians. I think there's still a little bit to be worked out, but certainly, the tanks being built here in Lima are central," she said.
An Associated Press reporter was allowed to accompany Wormuth on the tour, the first journalist to walk the production lines since the U.S. pledged Abrams tanks to Ukraine.
U.S. officials have declined to provide details about the Abrams that will eventually go to Ukraine, saying they have to decide whether to send refurbished older Army tanks, Marine tanks or some other version. But in most cases, the tanks would need upgrades at the Lima plant before being shipped to Ukraine's battlefront.
"Part of it is figuring out — among the different options — what's the best one that can allow us to get the Ukrainians tanks in as timely a fashion as we can," without disrupting foreign military sales, Wormuth said.
Officials said Thursday that production totals at the plant — which is formally called Joint Systems Manufacturing Center-Lima — vary, based on contract demands. And while the plant is currently building 15-20 armored vehicles per month — including tanks — it can easily boost that to 33 a month and could add another shift of workers and build even more if needed.
Wormuth said the timeline on sending Abrams to Ukraine depends on whether the U.S. takes tanks from existing American military training stocks or from Army units, which would be less desirable because it could affect their readiness to fight. And the development of tanks for Ukraine would also have to be squeezed in between the current contracts for foreign sales, which include 250 of the newest versions for Poland and about 75 for Australia.
In a dramatic reversal, the Biden administration announced in January that it will send 31 M1A2 Abrams tanks to Ukraine — after insisting for months that the 70-ton battle powerhouses were too complicated and too hard to maintain and repair. The decision was part of a broader political maneuver that opened the door for Germany to announce it would send its Leopard 2 tanks to Ukraine and allow Poland and other allies to do the same.
Ukrainian leaders have pressed for the Abrams, which first deployed to war in 1991 and has thick armor, a 120 mm main gun, armor-piercing capabilities and advanced targeting systems. It runs on thick tracked wheels and has a 1,500-horsepower turbine engine with a top speed of about 42 miles per hour (68 kilometers per hour).
As she walked the production lanes in the 25-acre building, Wormuth got to see the newest version of the Abrams as it transformed from an empty steel hull into a shiny, newly painted tank — a process that takes 18 to 24 months. The U.S. doesn't build new tanks from scratch. It has a fleet of about 2,500 Abrams, and takes older tanks, tears them down and and uses the empty hull as a starting point to build a new one. Some hulls have been refurbished multiple times.
Across the aisle from one empty hull, sparks flew as a worker welded pieces of the tank together. In another section, a worker showed where they will install a new auxiliary engine in the latest version, which will run on diesel when needed to save on the large amount of jet engine fuel the tank consumes. And, farther down the lane, workers had laid out the two rows of tracks the Abrams runs on, preparing to install them on one of the tank bodies. The tracks stretch out more than 60 feet (18 meters) and weigh two tons on each side.
Roughly 800 people work at the plant, which is spread across 369 acres in northwest Ohio. Its 1.6 million square feet of manufacturing space is the only place where the M1A2 Abrams is made. About 45% of the workers are focused on the tank, but the plant also churns out Stryker armored vehicles, tank support vehicles and some other equipment.
U.S. Sen. Sherrod Brown, D-Ohio, said in a statement that Wormuth's visit to his state and the plant underscored the administration's commitment to U.S. troops and to Ukraine. "I'll keep working with the Army to ensure that Ukrainians have the assistance they need to fight back against Russia," said Brown, who had a staff member join the plant tour with Wormuth.
As Wormuth wrapped up her visit with a look at some of the finished tanks in another building, a long line of the newest Abrams sat outside on nearby train tracks. And as she was preparing to leave, the train cars began to move, taking the tanks on to Fort Hood, Texas, where they'll get their radios and other equipment before going to their final destination with an Army unit.
Speaking to reporters afterward, Wormuth said the Army will invest about $558 million into improvements at the plant over the next 15 years. Some of those include expanded use of robotics.
"I think as the war in Ukraine has shown everyone here, there's a real need to level up our defense industrial base," she said. "The plant here in Lima is part of that."