Refugee-averse Japan welcomes Ukrainians after Russia war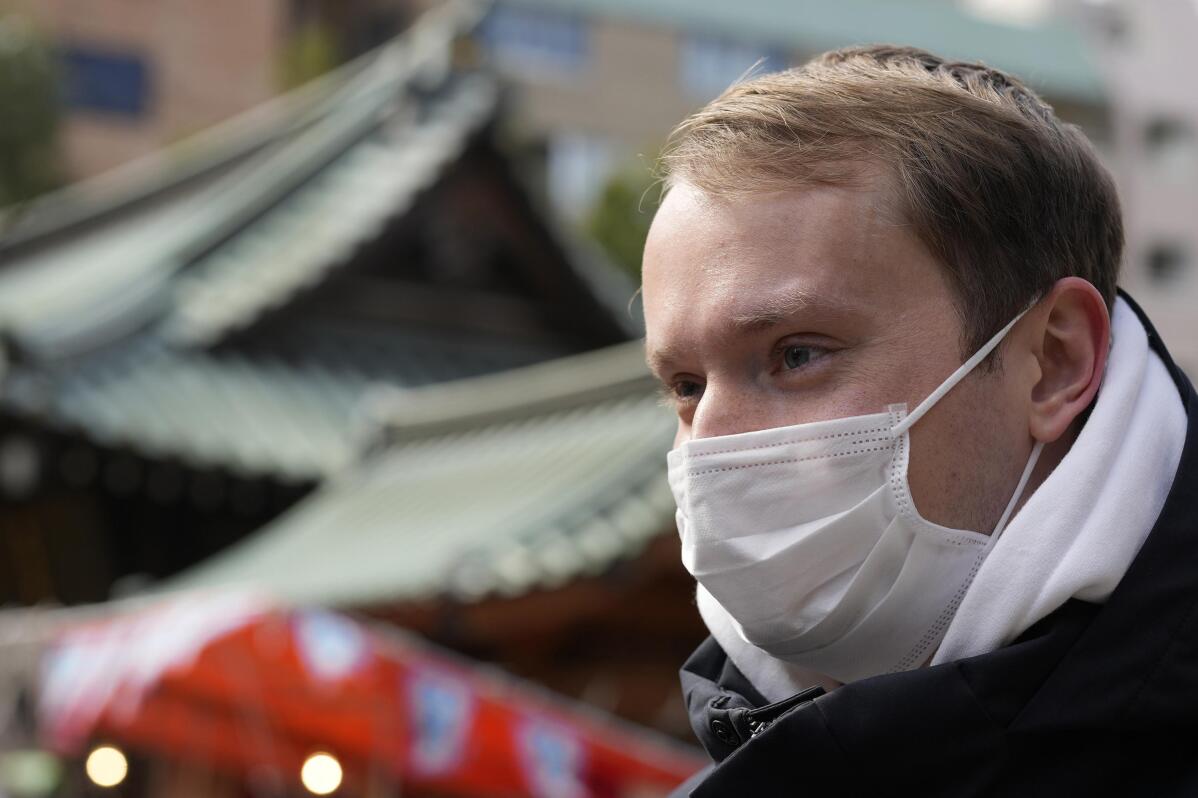 1 of 8

|
Ukrainian Dmytro Remez visits the Yushima Tenjin shrine on Feb. 15, 2023, in Tokyo, Japan. Remez, 24, a fledgling medical doctor studying at Juntendo University, is among the 2,291 Ukrainians who have moved to Japan since the war with Russia began a year ago. (AP Photo/Shuji Kajiyama)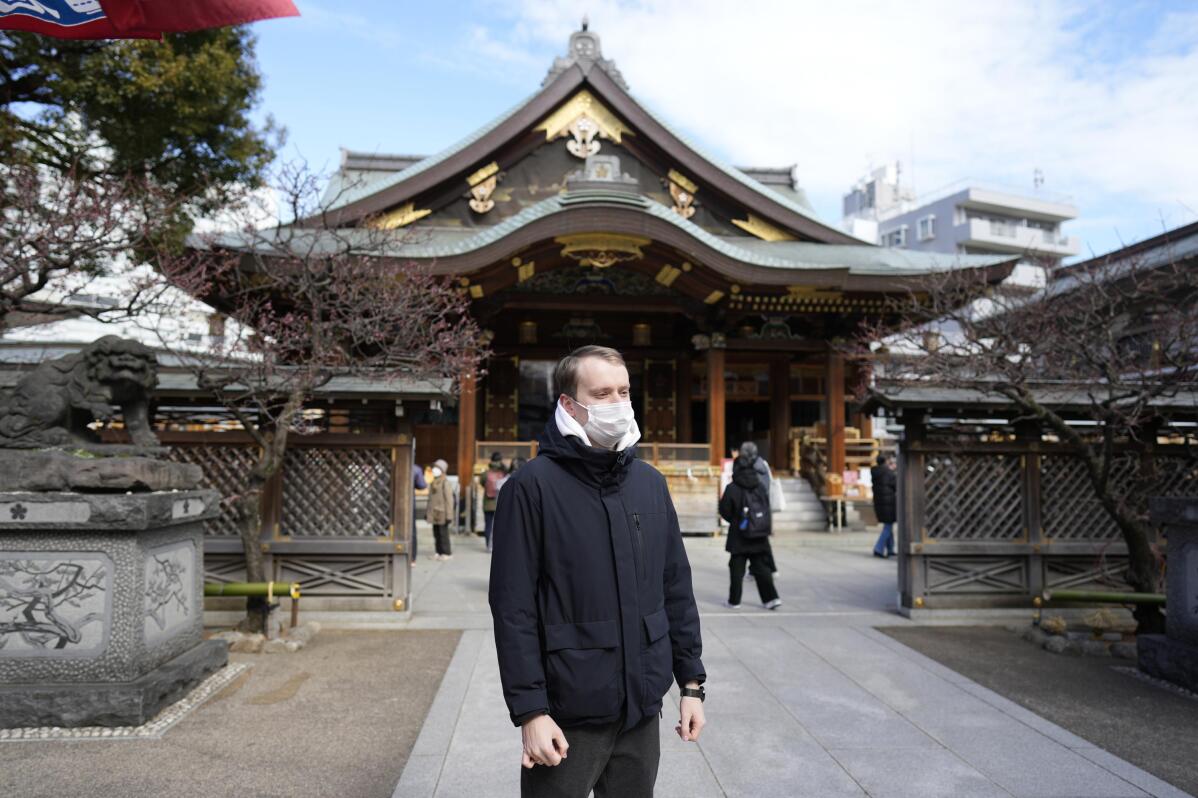 2 of 8

|
Ukrainian Dmytro Remez visits the Yushima Tenjin shrine on Feb. 15, 2023, in Tokyo, Japan. Remez, 24, a fledgling medical doctor studying at Juntendo University, is among the 2,291 Ukrainians who have moved to Japan since the war with Russia began a year ago. (AP Photo/Shuji Kajiyama)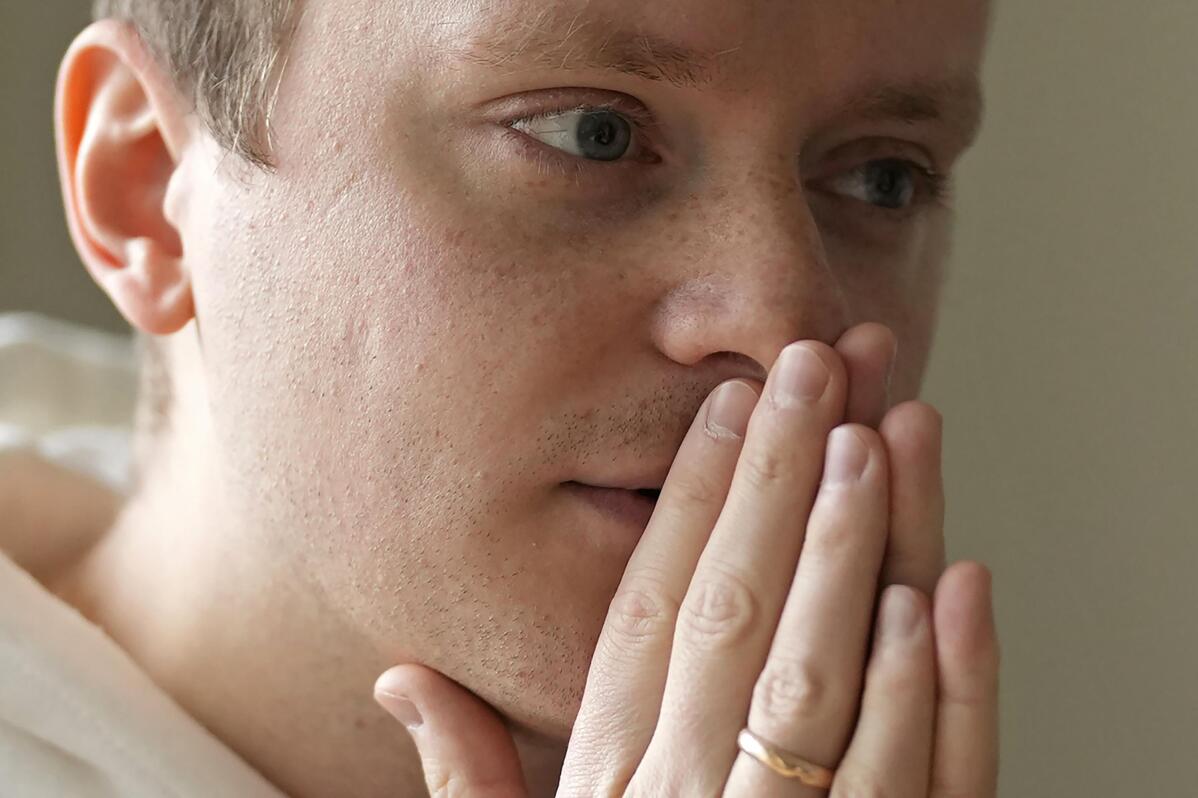 3 of 8

|
Ukrainian Dmytro Remez pauses during an interview with the Associated Press at his dormitory room in Tokyo, on Feb. 15, 2023. Remez, 24, a fledgling medical doctor studying at Juntendo University, is among the 2,291 Ukrainians who have moved to Japan since the war with Russia began a year ago. (AP Photo/Shuji Kajiyama)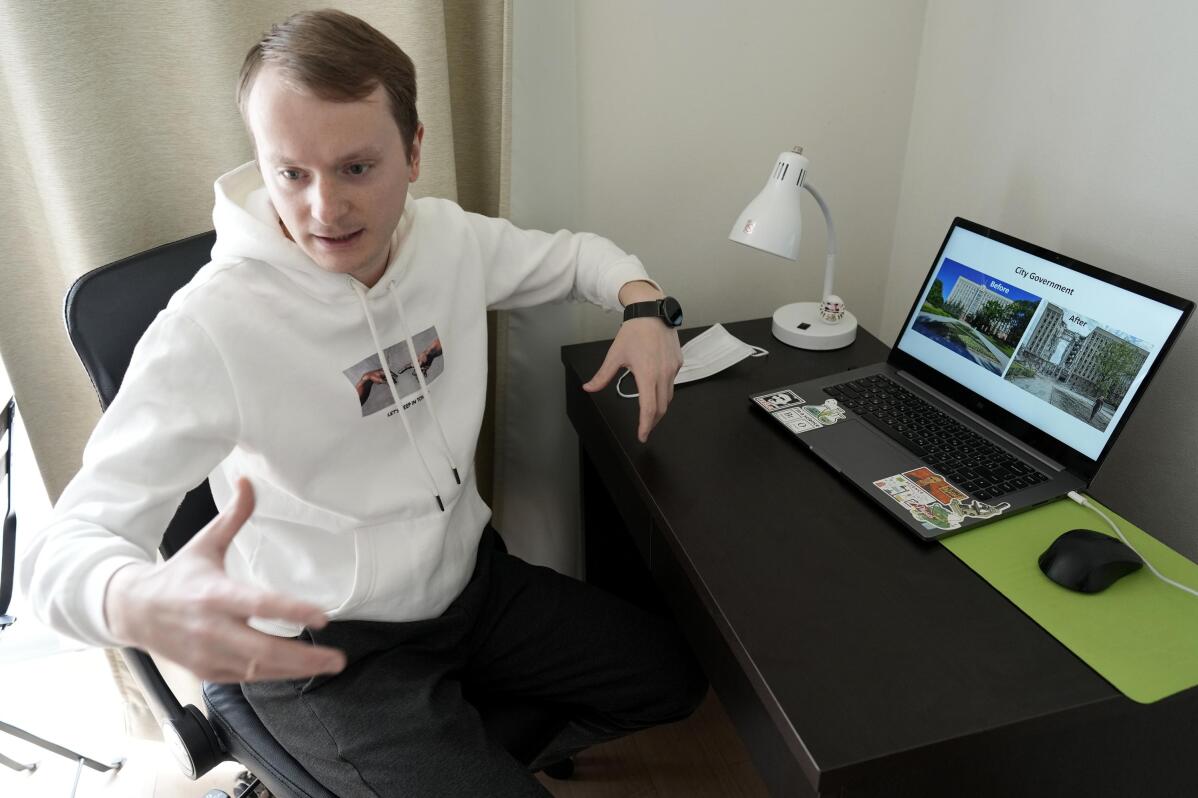 4 of 8

|
Ukrainian Dmytro Remez speaks during an interview with the Associated Press, at his dormitory room in Tokyo, on Feb. 15, 2023. Remez, 24, a fledgling medical doctor studying at Juntendo University, is among the 2,291 Ukrainians who have moved to Japan since the war with Russia began a year ago. (AP Photo/Shuji Kajiyama)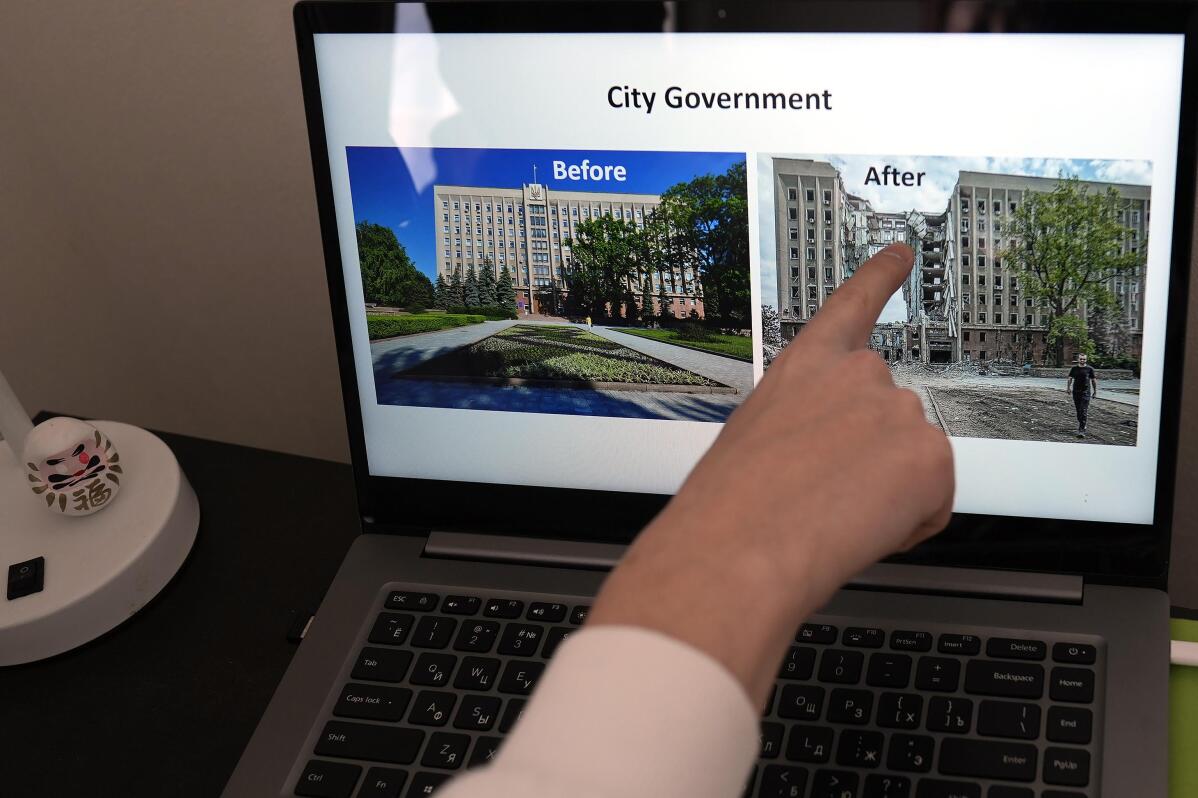 5 of 8

|
Ukrainian Dmytro Remez points at an image showing the damage of a city government building seen on PC screen, at his dormitory room during an interview with the Associated Press in Tokyo, on Feb. 15, 2023. Remez, 24, a fledgling medical doctor studying at Juntendo University, is among the 2,291 Ukrainians who have moved to Japan since the war with Russia began a year ago. (AP Photo/Shuji Kajiyama)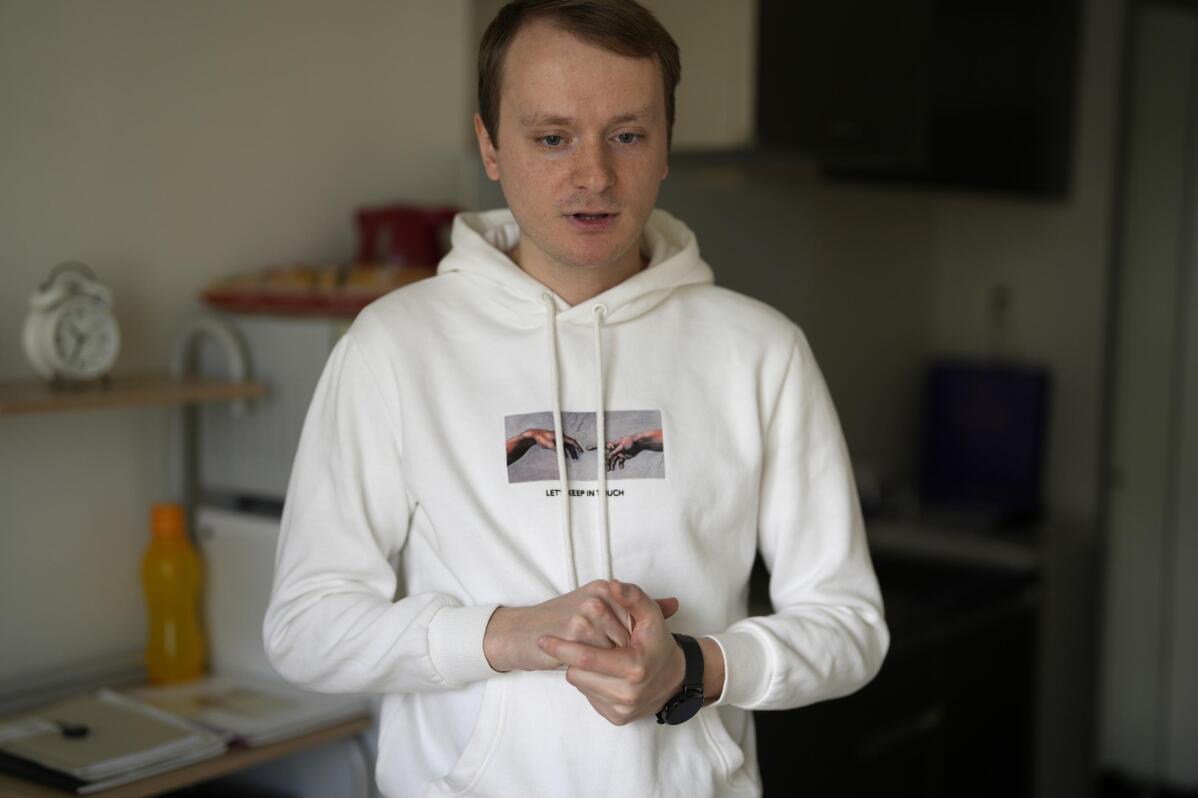 6 of 8

|
Ukrainian Dmytro Remez speaks during an interview with the Associated Press at his dormitory room in Tokyo, on Feb. 15, 2023. Remez, 24, a fledgling medical doctor studying at Juntendo University, is among the 2,291 Ukrainians who have moved to Japan since the war with Russia began a year ago. (AP Photo/Shuji Kajiyama)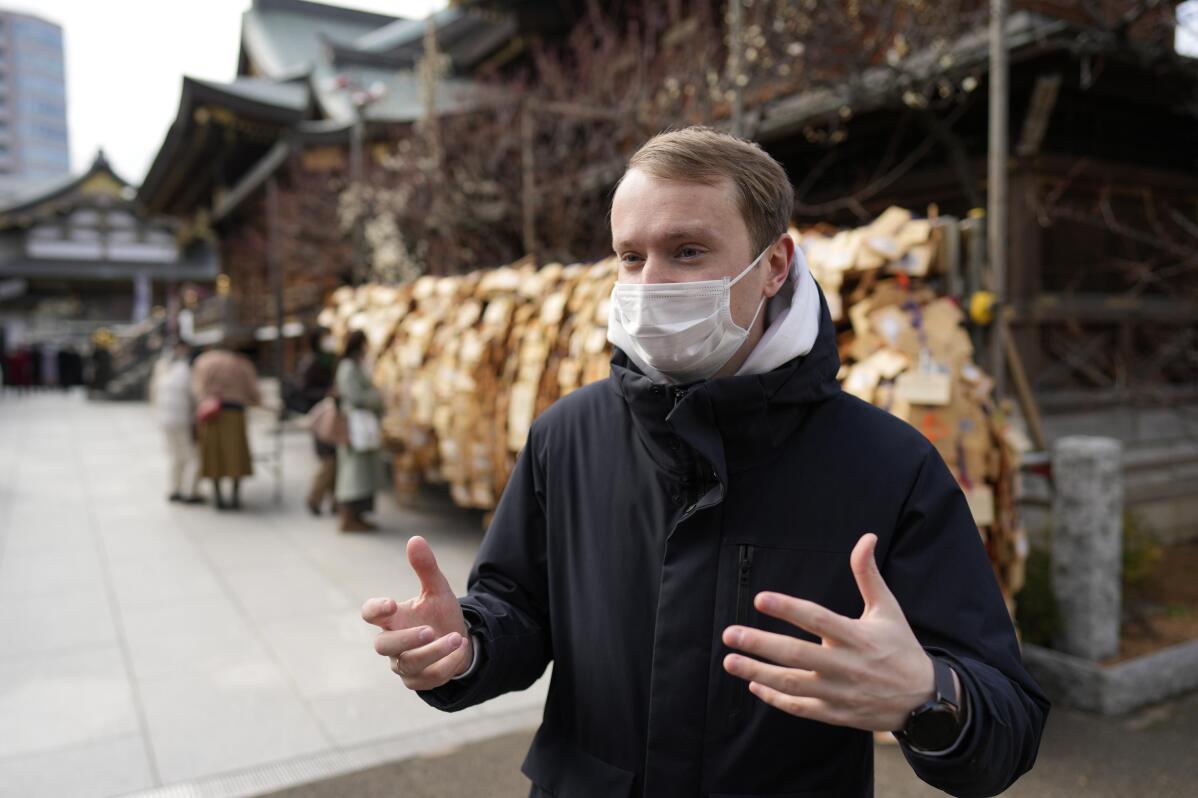 7 of 8

|
Ukrainian Dmytro Remez speaks to a reporter as he visits the Yushima Tenjin shrine on Feb. 15, 2023 in Tokyo, Japan. Remez, 24, a fledgling medical doctor studying at Juntendo University, is among the 2,291 Ukrainians who have moved to Japan since the war with Russia began a year ago. (AP Photo/Shuji Kajiyama)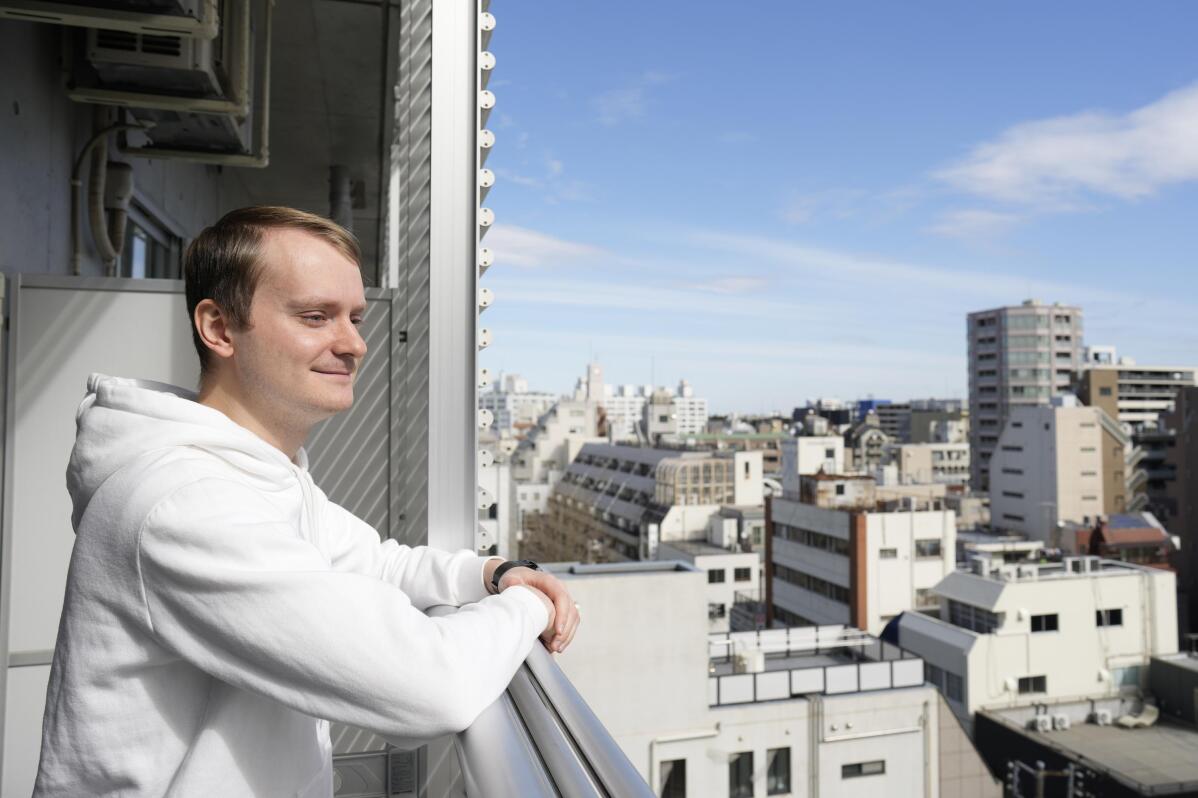 8 of 8

|
Ukrainian Dmytro Remez looks at the neighborhoods from the balcony of his dormitory room in Tokyo, on Feb. 15, 2023. Remez, 24, a fledgling medical doctor studying at Juntendo University, is among the 2,291 Ukrainians who have moved to Japan since the war with Russia began a year ago. (AP Photo/Shuji Kajiyama)
Refugee-averse Japan welcomes Ukrainians after Russia war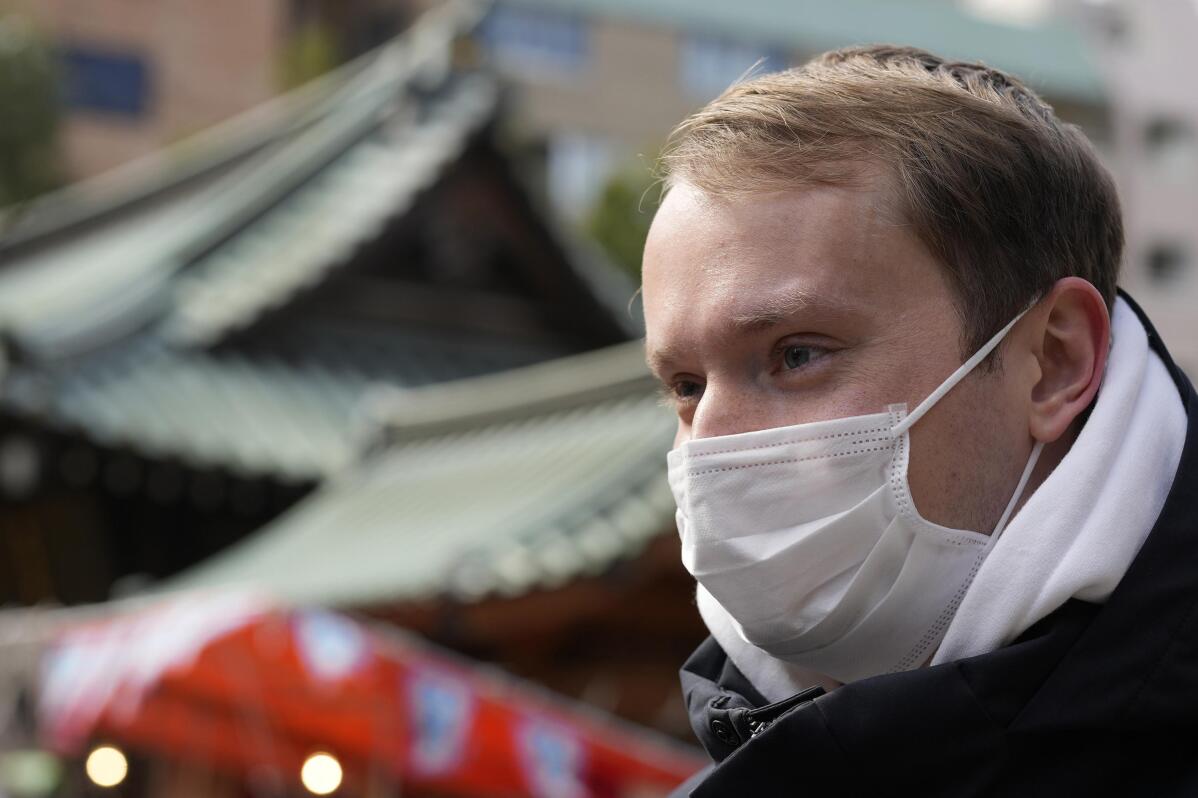 1 of 8

|
Ukrainian Dmytro Remez visits the Yushima Tenjin shrine on Feb. 15, 2023, in Tokyo, Japan. Remez, 24, a fledgling medical doctor studying at Juntendo University, is among the 2,291 Ukrainians who have moved to Japan since the war with Russia began a year ago. (AP Photo/Shuji Kajiyama)
1 of 8
Ukrainian Dmytro Remez visits the Yushima Tenjin shrine on Feb. 15, 2023, in Tokyo, Japan. Remez, 24, a fledgling medical doctor studying at Juntendo University, is among the 2,291 Ukrainians who have moved to Japan since the war with Russia began a year ago. (AP Photo/Shuji Kajiyama)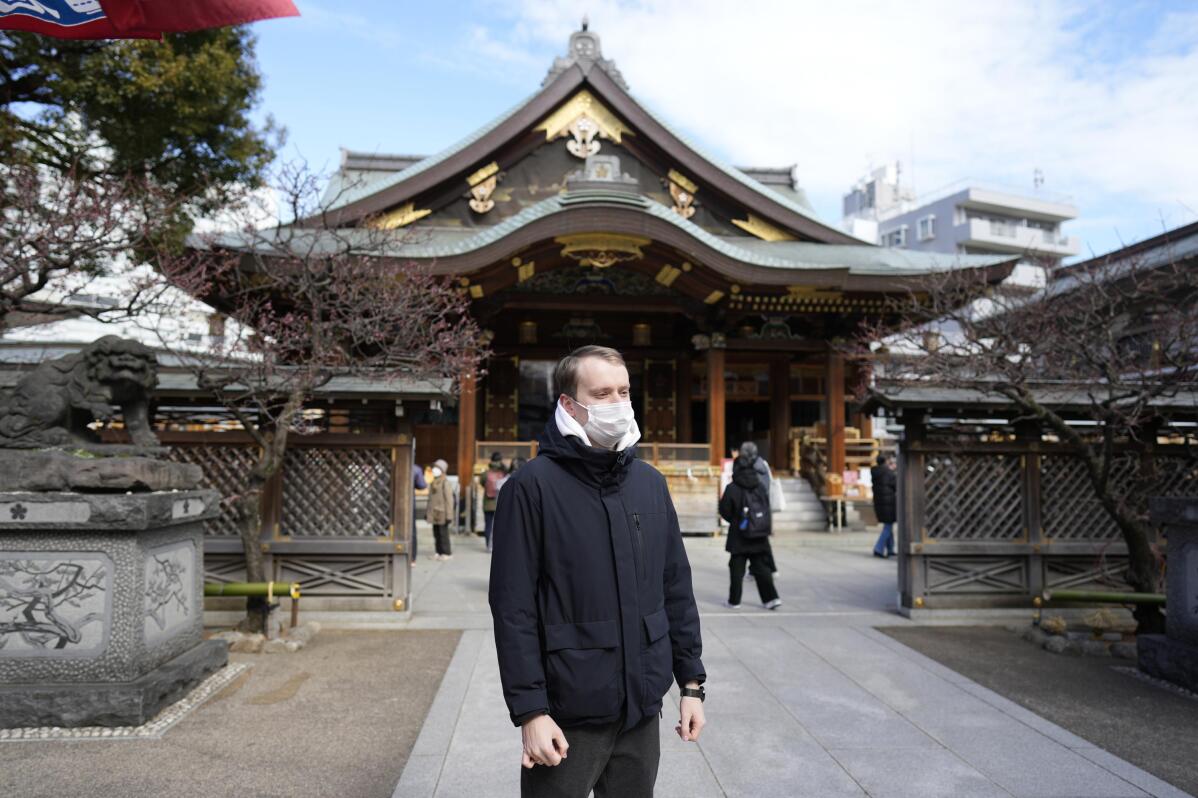 2 of 8

|
Ukrainian Dmytro Remez visits the Yushima Tenjin shrine on Feb. 15, 2023, in Tokyo, Japan. Remez, 24, a fledgling medical doctor studying at Juntendo University, is among the 2,291 Ukrainians who have moved to Japan since the war with Russia began a year ago. (AP Photo/Shuji Kajiyama)
2 of 8
Ukrainian Dmytro Remez visits the Yushima Tenjin shrine on Feb. 15, 2023, in Tokyo, Japan. Remez, 24, a fledgling medical doctor studying at Juntendo University, is among the 2,291 Ukrainians who have moved to Japan since the war with Russia began a year ago. (AP Photo/Shuji Kajiyama)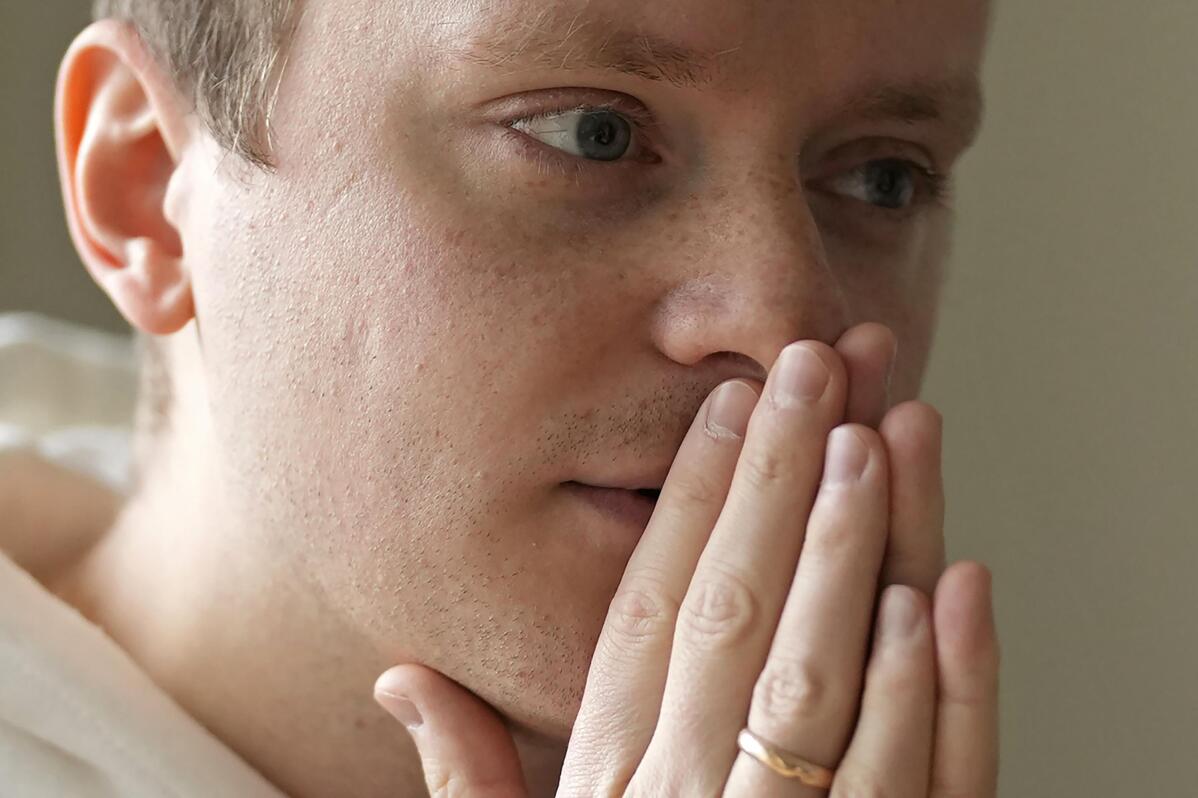 3 of 8

|
Ukrainian Dmytro Remez pauses during an interview with the Associated Press at his dormitory room in Tokyo, on Feb. 15, 2023. Remez, 24, a fledgling medical doctor studying at Juntendo University, is among the 2,291 Ukrainians who have moved to Japan since the war with Russia began a year ago. (AP Photo/Shuji Kajiyama)
3 of 8
Ukrainian Dmytro Remez pauses during an interview with the Associated Press at his dormitory room in Tokyo, on Feb. 15, 2023. Remez, 24, a fledgling medical doctor studying at Juntendo University, is among the 2,291 Ukrainians who have moved to Japan since the war with Russia began a year ago. (AP Photo/Shuji Kajiyama)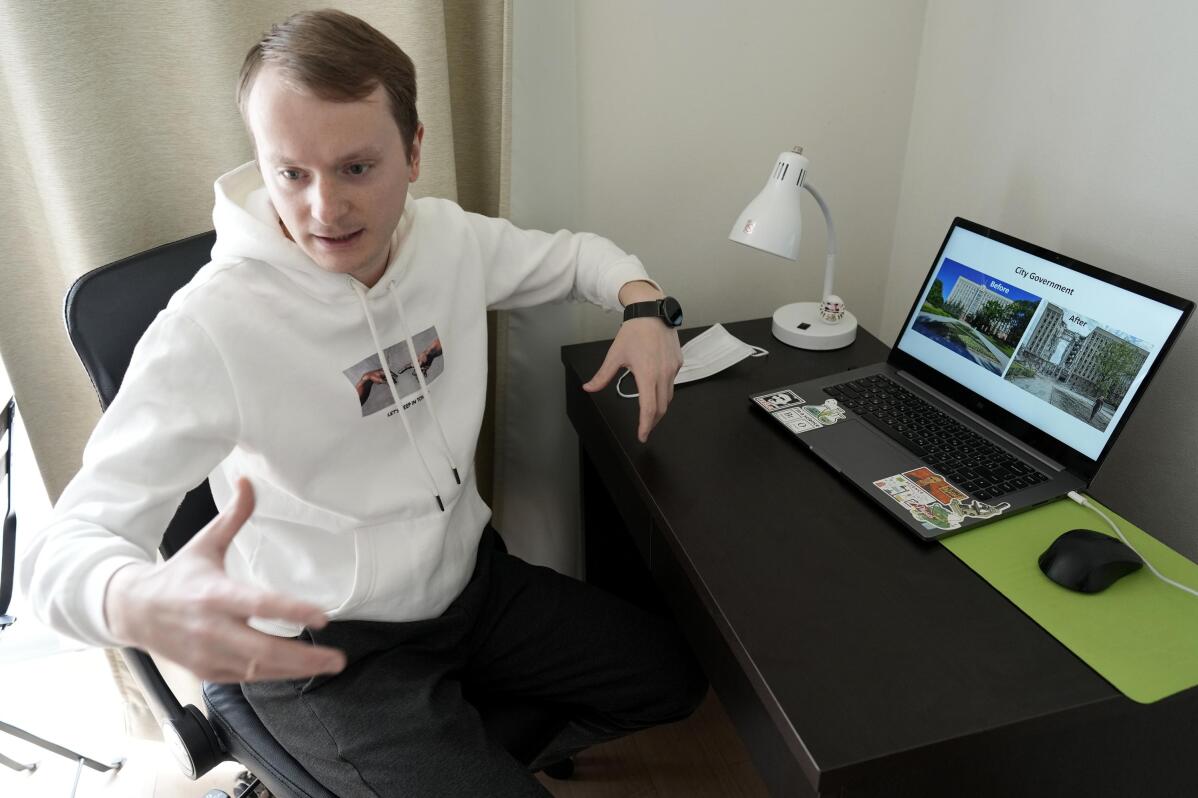 4 of 8

|
Ukrainian Dmytro Remez speaks during an interview with the Associated Press, at his dormitory room in Tokyo, on Feb. 15, 2023. Remez, 24, a fledgling medical doctor studying at Juntendo University, is among the 2,291 Ukrainians who have moved to Japan since the war with Russia began a year ago. (AP Photo/Shuji Kajiyama)
4 of 8
Ukrainian Dmytro Remez speaks during an interview with the Associated Press, at his dormitory room in Tokyo, on Feb. 15, 2023. Remez, 24, a fledgling medical doctor studying at Juntendo University, is among the 2,291 Ukrainians who have moved to Japan since the war with Russia began a year ago. (AP Photo/Shuji Kajiyama)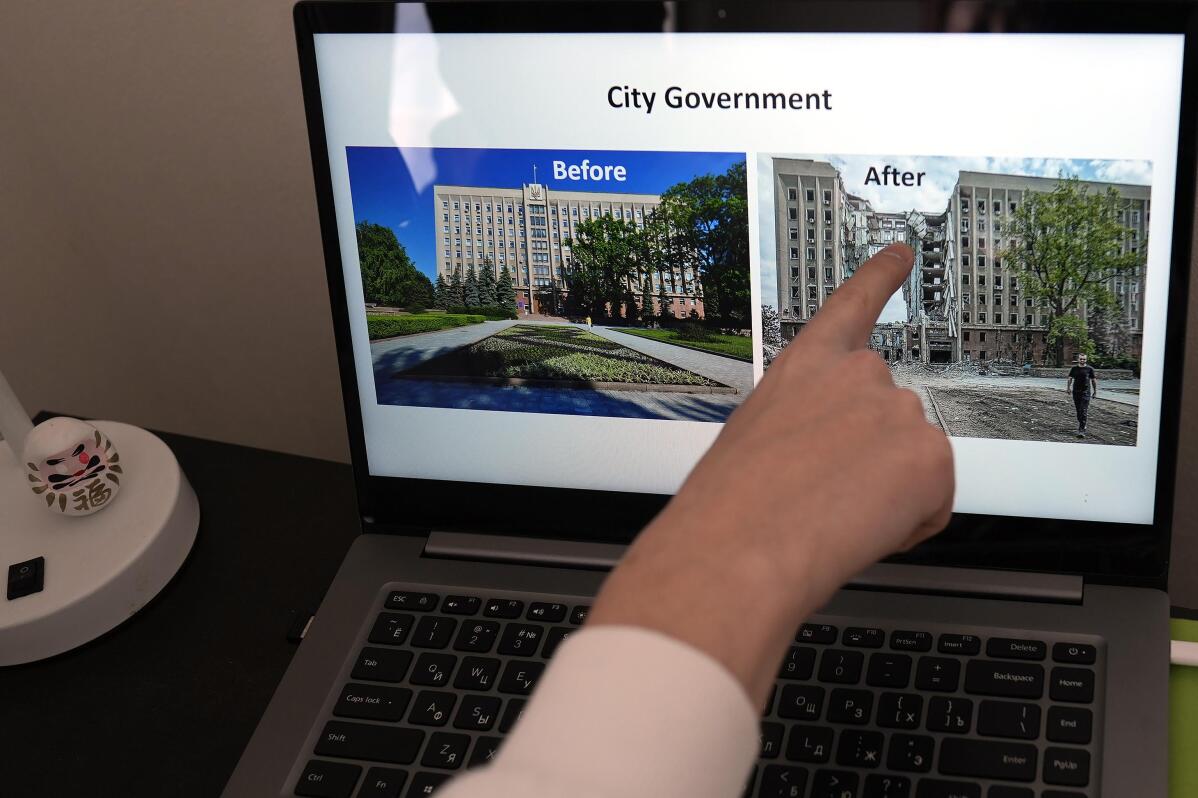 5 of 8

|
Ukrainian Dmytro Remez points at an image showing the damage of a city government building seen on PC screen, at his dormitory room during an interview with the Associated Press in Tokyo, on Feb. 15, 2023. Remez, 24, a fledgling medical doctor studying at Juntendo University, is among the 2,291 Ukrainians who have moved to Japan since the war with Russia began a year ago. (AP Photo/Shuji Kajiyama)
5 of 8
Ukrainian Dmytro Remez points at an image showing the damage of a city government building seen on PC screen, at his dormitory room during an interview with the Associated Press in Tokyo, on Feb. 15, 2023. Remez, 24, a fledgling medical doctor studying at Juntendo University, is among the 2,291 Ukrainians who have moved to Japan since the war with Russia began a year ago. (AP Photo/Shuji Kajiyama)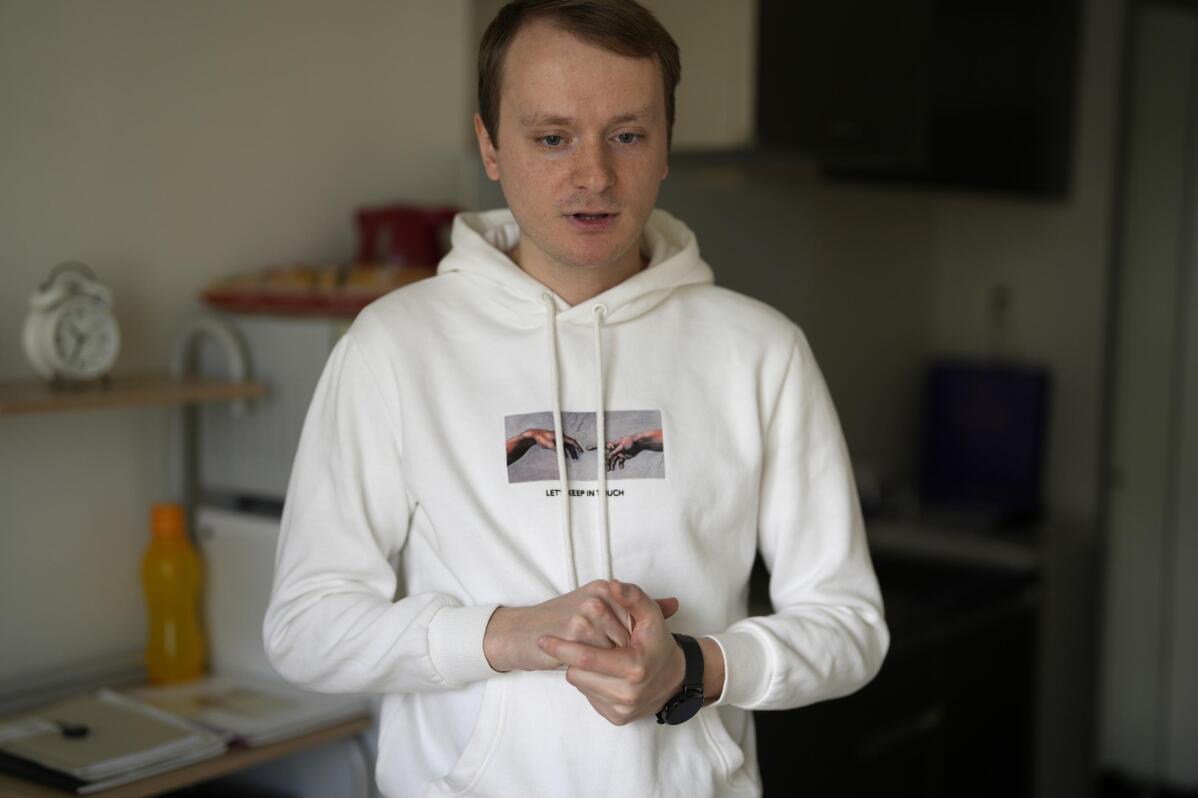 6 of 8

|
Ukrainian Dmytro Remez speaks during an interview with the Associated Press at his dormitory room in Tokyo, on Feb. 15, 2023. Remez, 24, a fledgling medical doctor studying at Juntendo University, is among the 2,291 Ukrainians who have moved to Japan since the war with Russia began a year ago. (AP Photo/Shuji Kajiyama)
6 of 8
Ukrainian Dmytro Remez speaks during an interview with the Associated Press at his dormitory room in Tokyo, on Feb. 15, 2023. Remez, 24, a fledgling medical doctor studying at Juntendo University, is among the 2,291 Ukrainians who have moved to Japan since the war with Russia began a year ago. (AP Photo/Shuji Kajiyama)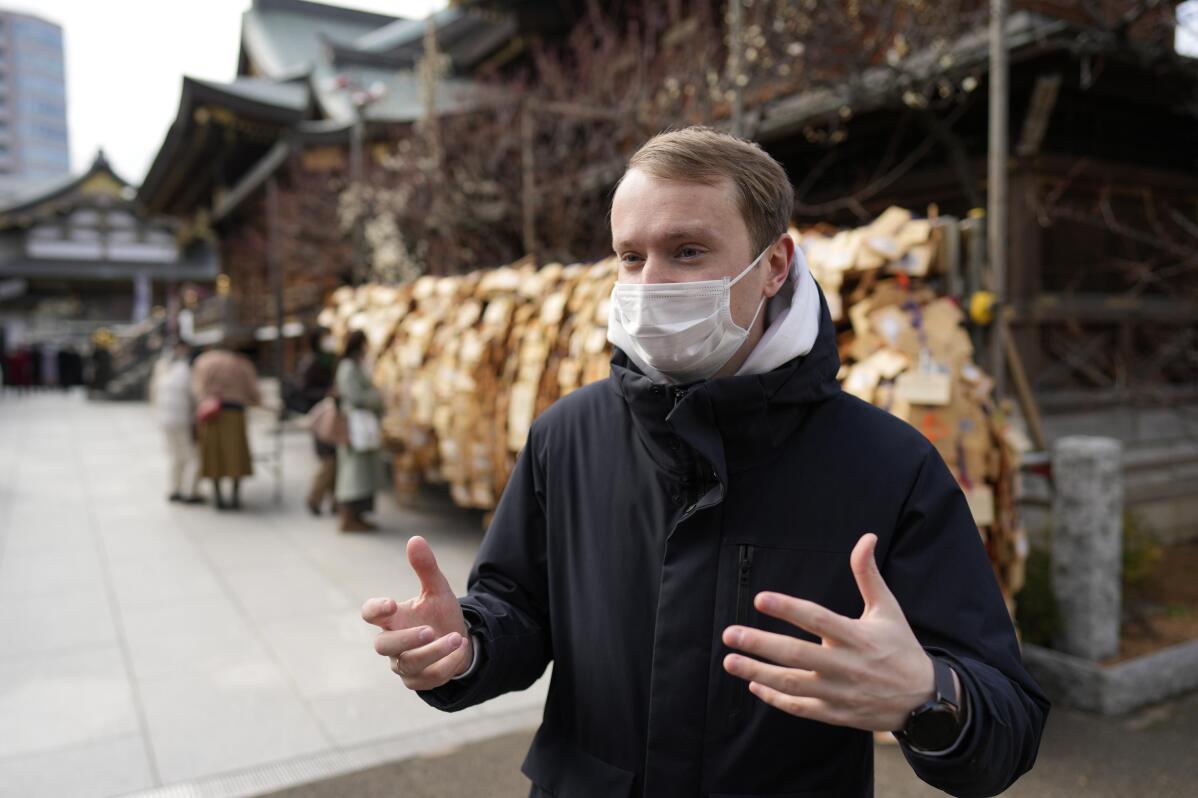 7 of 8

|
Ukrainian Dmytro Remez speaks to a reporter as he visits the Yushima Tenjin shrine on Feb. 15, 2023 in Tokyo, Japan. Remez, 24, a fledgling medical doctor studying at Juntendo University, is among the 2,291 Ukrainians who have moved to Japan since the war with Russia began a year ago. (AP Photo/Shuji Kajiyama)
7 of 8
Ukrainian Dmytro Remez speaks to a reporter as he visits the Yushima Tenjin shrine on Feb. 15, 2023 in Tokyo, Japan. Remez, 24, a fledgling medical doctor studying at Juntendo University, is among the 2,291 Ukrainians who have moved to Japan since the war with Russia began a year ago. (AP Photo/Shuji Kajiyama)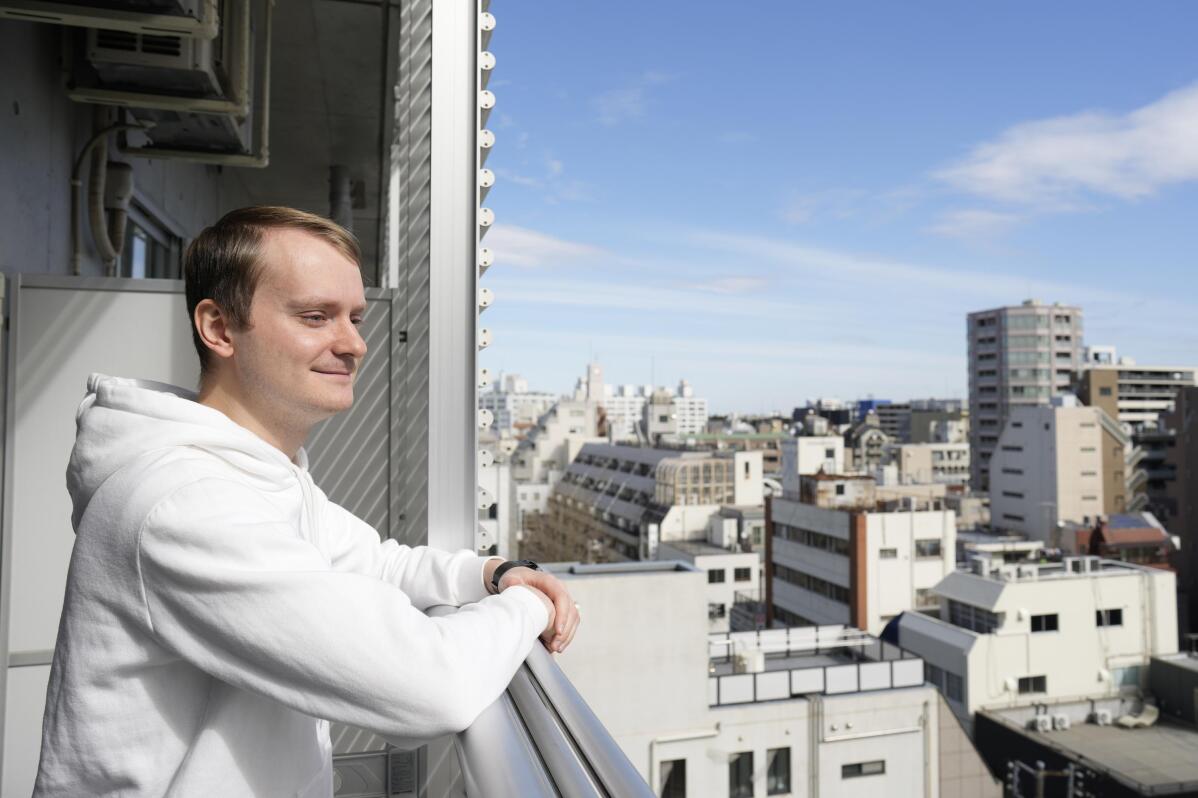 8 of 8

|
Ukrainian Dmytro Remez looks at the neighborhoods from the balcony of his dormitory room in Tokyo, on Feb. 15, 2023. Remez, 24, a fledgling medical doctor studying at Juntendo University, is among the 2,291 Ukrainians who have moved to Japan since the war with Russia began a year ago. (AP Photo/Shuji Kajiyama)
8 of 8
Ukrainian Dmytro Remez looks at the neighborhoods from the balcony of his dormitory room in Tokyo, on Feb. 15, 2023. Remez, 24, a fledgling medical doctor studying at Juntendo University, is among the 2,291 Ukrainians who have moved to Japan since the war with Russia began a year ago. (AP Photo/Shuji Kajiyama)
TOKYO (AP) — Dmytro Remez quietly shows on his laptop before and after photos of buildings, clicking to once elegant offices and hotels that turned into lopsided abandoned rubble.
One crumbling building was right in front of his home in Mykolaiv, southern Ukraine.
Remez, 24, a fledgling medical doctor studying at Juntendo University, is among the 2,291 Ukrainians who have moved to Japan since the war with Russia began a year ago.
"It's ridiculous. The main purpose is to destroy everything. If you look at the cities for which they are fighting, the cities are totally destroyed," he said, sitting in his tiny, but clean, modern dorm in Tokyo.
"No one will live in the cities in the future. So for what? Why? Why do you do this?"
His flight-to-safety story is a rare one in a nation that has a reputation for closing its doors to asylum seekers.
Japan accepted just 74 refugees, mostly from African nations in 2021, the latest year for which such data are available, according to the Justice Ministry. That's fewer than 1% of 2,413 applicants.
Technically, Ukrainians aren't even categorized as "refugees," but called "evacuees." The system for accepting Ukrainians works without Japan having to change its overall refugee policy. The Japanese government has repeatedly expressed its solidarity with the U.S. and other Western nations in supporting Ukraine in its war against Russia.
A significant portion of the money helping Ukrainians in Japan has come from Nippon Foundation, a nonprofit that directs motorboat racing revenue to philanthropy. Nippon Foundation initially committed 5 billion yen ($37 million) to help Ukrainians, including travel costs, housing and living expenses, and has since raised the amount to 8.58 billion yen ($64 million) over three years.
It's among the largest donations made in reaction to Russia's invasion of Ukraine a year ago, with other major gifts in cash and services coming from American technology companies like Microsoft as well as European foundations and companies with a charitable mission. Private donations tallied by the U.S. nonprofit Candid found that $1.2 billion was donated since the outbreak of the war. For comparison, the U.N. has received $3.4 billion in commitments or donations mostly from governments to fund its humanitarian response to the war.
Nippon Foundation, founded by politician and businessman Ryoichi Sasakawa in 1962, has now given aid to 1,921 Ukrainians in Japan. The group has been honored with various international awards.
The organization is now headed by Yohei Sasakawa, Ryoichi Sasakawa's son. Its charity work includes fighting leprosy, disaster relief, help for people with disabilities and various scholarships, under its motto "to achieve a society in which all people support one another."
Ayako Niijima, who oversees protection and assistance at the Japan Association for Refugees, says the way Japan grants refugee status is very narrow, and the procedure difficult, compared to the global standard.
Her organization helps refugees in Japan in partnership with the Office of the United Nations High Commissioner for Refugees, or UNHCR.
Niijima said that dozens of people hoping to live in Japan are now homeless. Those numbers are expected to grow, since entry restrictions for the coronavirus pandemic were lifted in October.
"There is definitely a big difference in treatment for Ukrainians," Niijima said, while noting she is supportive of all people who seek safety in Japan, including Ukrainians.
Remez doesn't appear overly interested in the inner workings of his aid package. He is just grateful for the support he's received, especially from the university and his professors, and all that he is learning, going every day to the university hospital.
The other day, he learned about the CT scan. Another day, he had fun taking part in a relay running race with nurses and doctors, the only Ukrainian on the team.
The full-tuition opportunity, complete with plane tickets, to continue his studies was the only such option he found online. It just happened to be Japan, he recalled with a smile.
And he considers himself lucky. The people are friendly. If he gets lost, people go out of their way to help him.
His wife, Oleksandra Horbulova, a violinist whom he dated for several years and married shortly before the war began, has also gotten into Japan, but through a different program unrelated to Juntendo.
They live apart for now but see each other on weekends. She does charity concerts and teaches music to children. They plan to have children, once they save enough money.
Remez has learned to love ramen noodles and sushi, although he still loves to cook. His borscht is delicious, he boasts. He is learning Japanese.
Being a doctor was always his dream because he wanted to help people. It's a challenge, like solving a crime, except what you are fighting is disease, he said.
He hopes to go into general practice in Japan. There are people to help here as well, and Japan is prone to natural disasters.
"You know, we are still trying to find new ways of killing each other. We have disasters that can kill thousands of people. Why are we killing each other? It's stupid," said Remez.
His father, a lawyer and government worker, still lives in Ukraine. He missed being killed by 15 minutes, when his workplace was bombed before he arrived. His father is really brave, Remez says. He lost his mother to kidney failure, shortly before the war began. He has no siblings.
Remez acknowledged he was never one of those overly fascinated by samurai, ninja or other things Japan, although he has watched Studio Ghibli animation films by Hayao Miyazaki.
These days, he is startled by how Japan and Ukraine have so much in common. Instead of individualism, driven by a desire to get ahead, he senses a peaceful community spirit in both nations.
When he visited a nearby shrine over New Year's, the celebration of life there reminded him of Easter in Ukrainian churches.
Being a doctor, Remez also thinks about how the historical connection among doctors lies deep between the nations in studying and treating the effects of radiation. Chernobyl happened in Ukraine; Hiroshima, Nagasaki and Fukushima in Japan, Remez said thoughtfully.
Ukrainian doctors helped in Fukushima after the 2011 tsunami, quake and nuclear disaster. Japanese doctors performed lifesaving cancer surgery on children after the 1986 Chernobyl catastrophe.
"We are the only two countries that suffered nuclear disaster," he said. "Japanese people have suffered. They really want to help."
___
Yuri Kageyama is on Twitter https://twitter.com/yurikageyama