Putin: West helped Ukraine mount acts of sabotage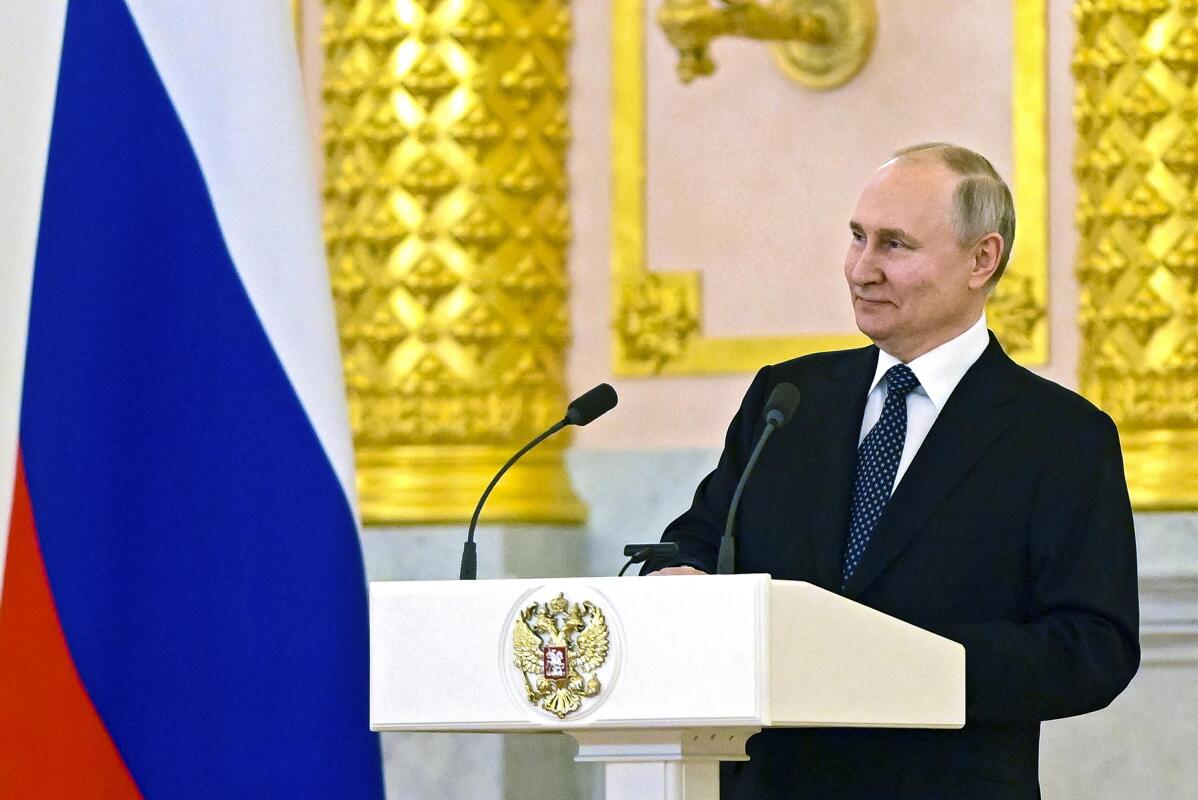 1 of 11

|
Russian President Vladimir Putin delivers a speech as he attends a ceremony to receive credentials from newly appointed foreign ambassadors to Russia, at the Kremlin, in Moscow, Russia, Wednesday, April 5, 2023. (Vladimir Astapkovich, Sputnik, Kremlin Pool Photo via AP)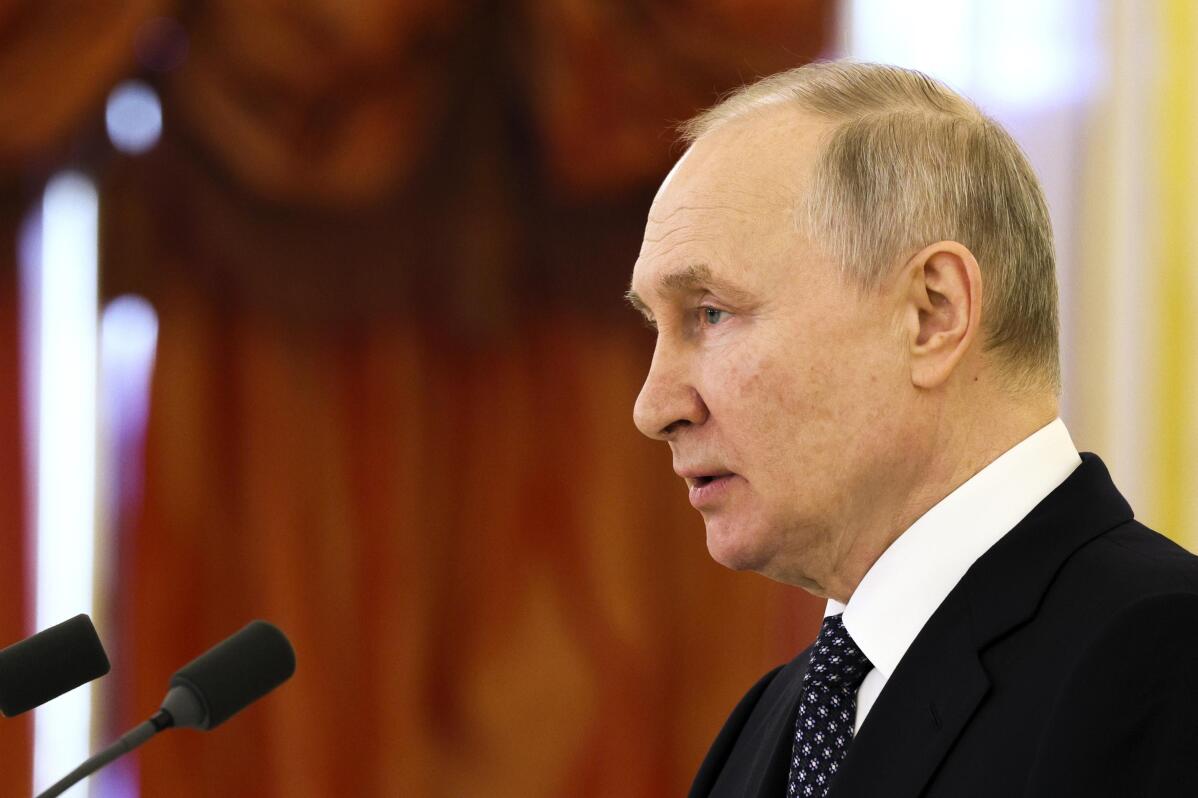 2 of 11

|
Russian President Vladimir Putin delivers a speech as he attends a ceremony to receive credentials from newly appointed foreign ambassadors to Russia, at the Kremlin, in Moscow, Russia, Wednesday, April 5, 2023. (Gavriil Grigorov/Sputnik, Kremlin Pool Photo via AP)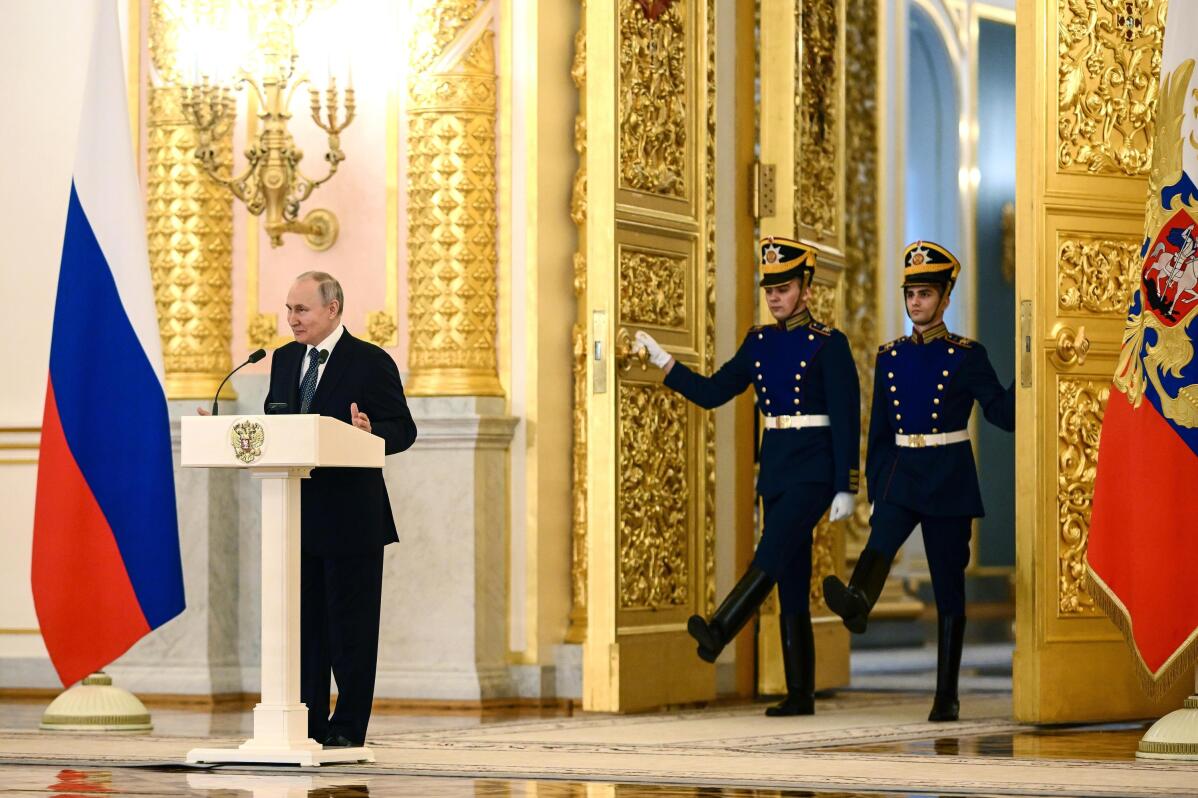 3 of 11

|
Russian President Vladimir Putin delivers a speech as he attends a ceremony to receive credentials from newly appointed foreign ambassadors to Russia, at the Kremlin, in Moscow, Russia, Wednesday, April 5, 2023. (Vladimir Astapkovich, Sputnik, Kremlin Pool Photo via AP)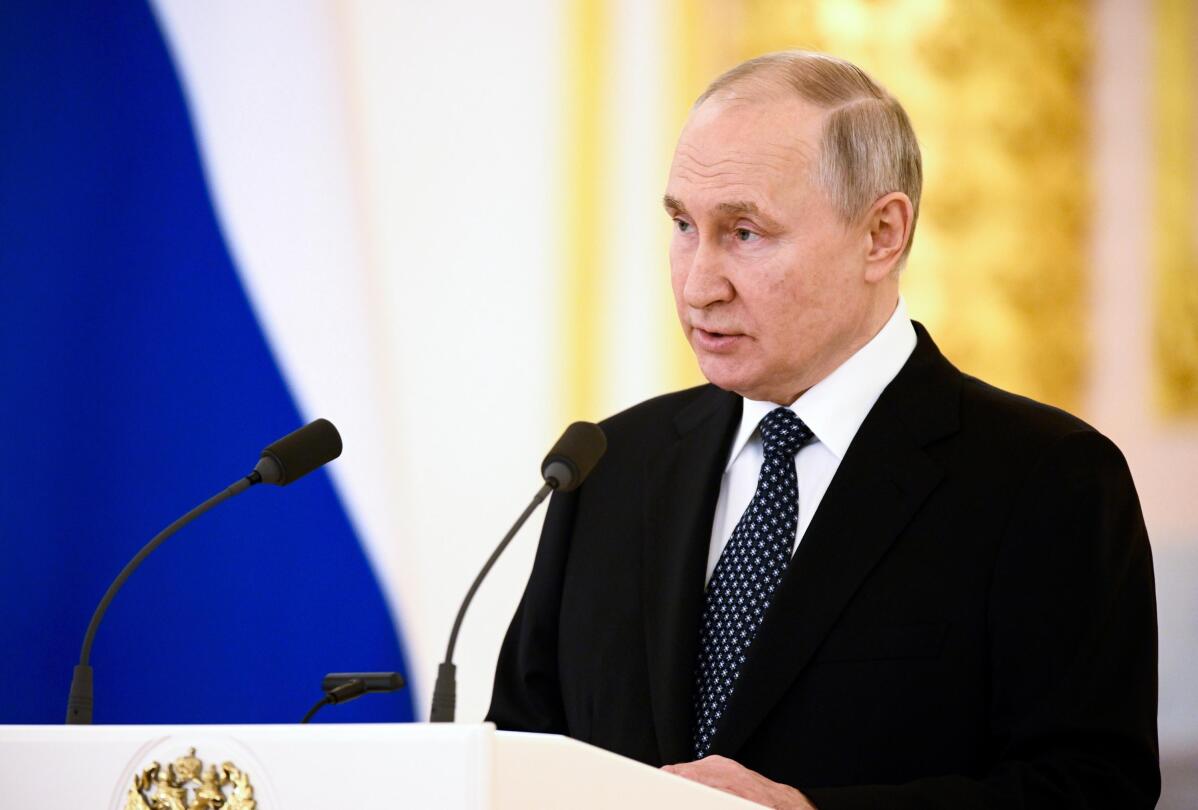 4 of 11

|
Russian President Vladimir Putin delivers a speech as he attends a ceremony to receive credentials from newly appointed foreign ambassadors to Russia, at the Kremlin, in Moscow, Russia, Wednesday, April 5, 2023. (Vladimir Astapkovich, Sputnik, Kremlin Pool Photo via AP)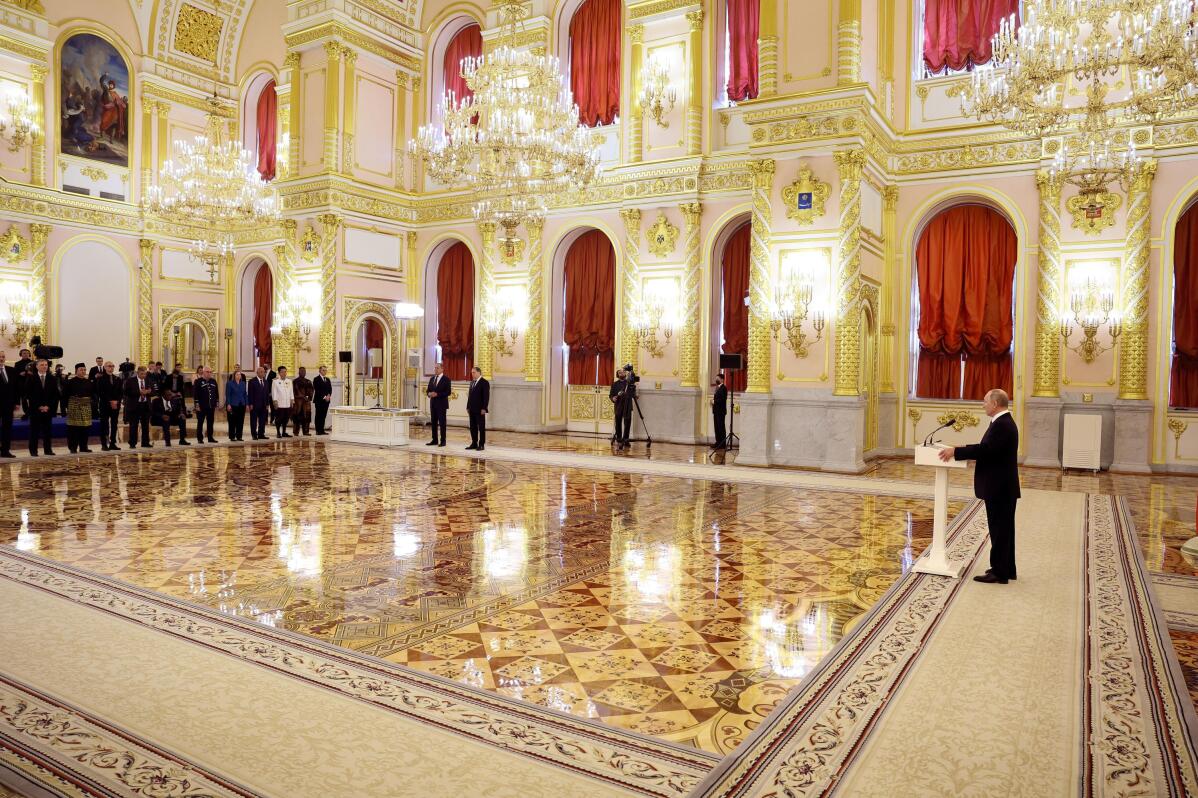 5 of 11

|
Russian President Vladimir Putin delivers a speech as he attends a ceremony to receive credentials from newly appointed foreign ambassadors to Russia, at the Kremlin, in Moscow, Russia, Wednesday, April 5, 2023. (Gavriil Grigorov/Sputnik, Kremlin Pool Photo via AP)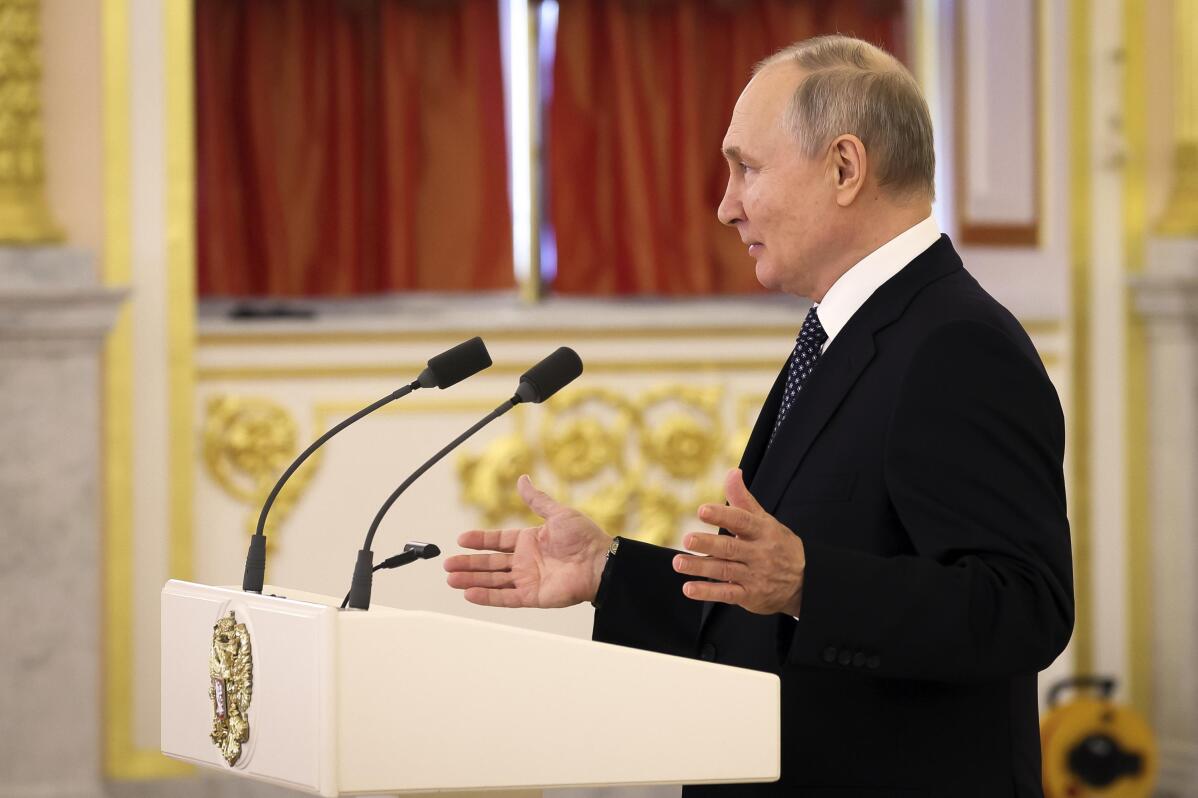 6 of 11

|
Russian President Vladimir Putin delivers a speech as he attends a ceremony to receive credentials from newly appointed foreign ambassadors to Russia, at the Kremlin, in Moscow, Russia, Wednesday, April 5, 2023. (Gavriil Grigorov, Sputnik, Kremlin Pool Photo via AP)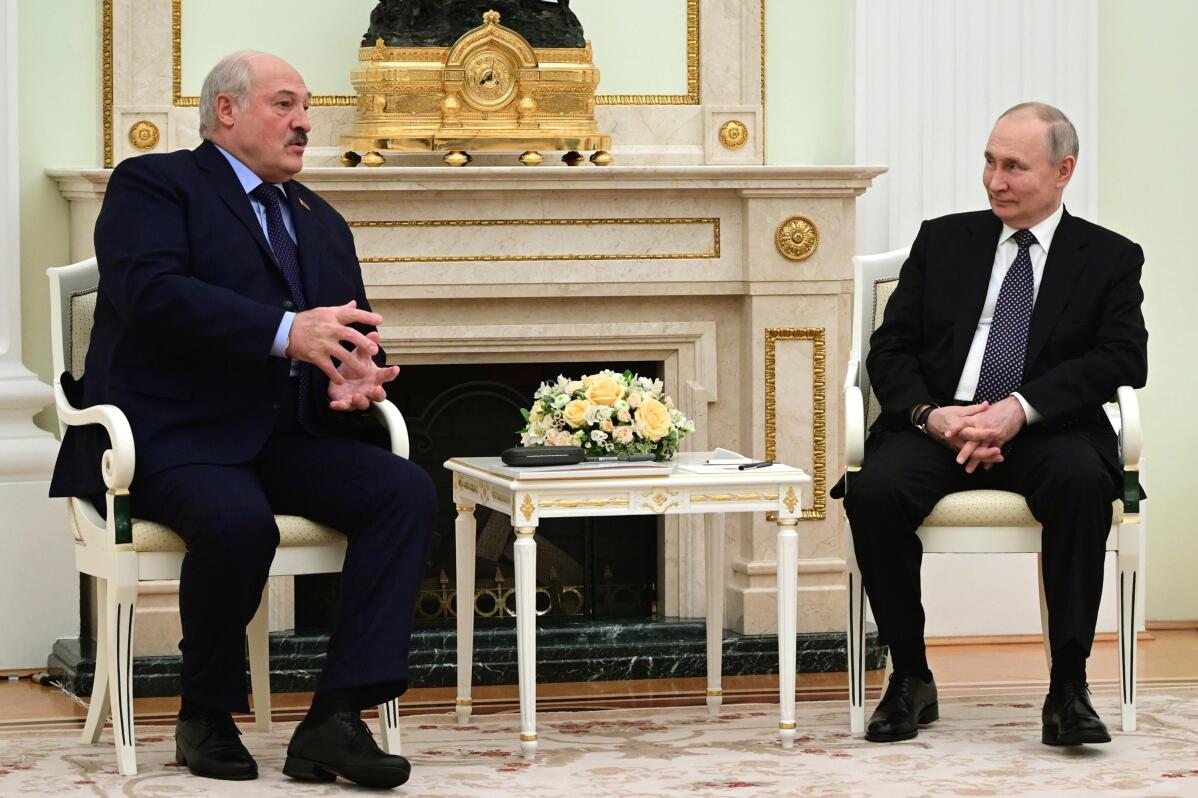 7 of 11

|
Belarusian President Alexander Lukashenko, left, gestures while speaking to Russian President Vladimir Putin during their talks at the Kremlin in Moscow, Russia, Wednesday, April 5, 2023. (Pavel Byrkin, Sputnik, Kremlin Pool Photo via AP)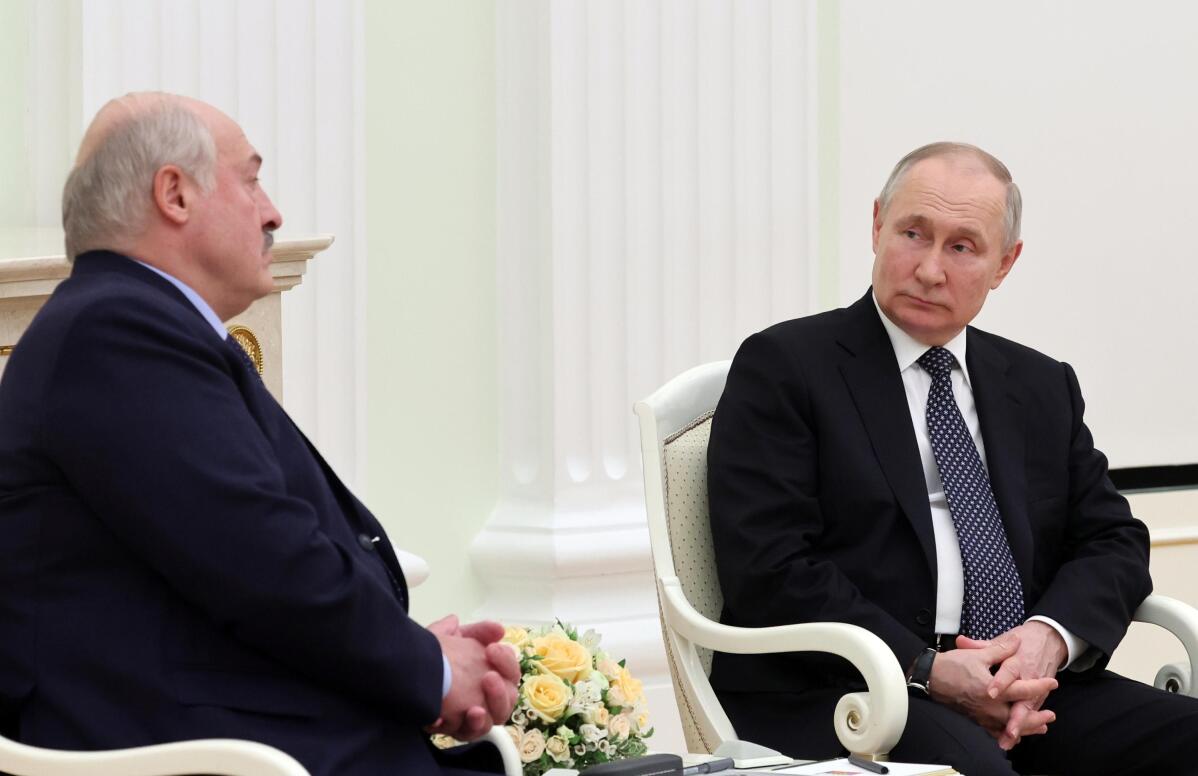 8 of 11

|
Russian President Vladimir Putin, right, listens to Belarusian President Alexander Lukashenko during their talks at the Kremlin in Moscow, Russia, Wednesday, April 5, 2023. (Mikhail Klimentyev, Sputnik, Kremlin Pool Photo via AP)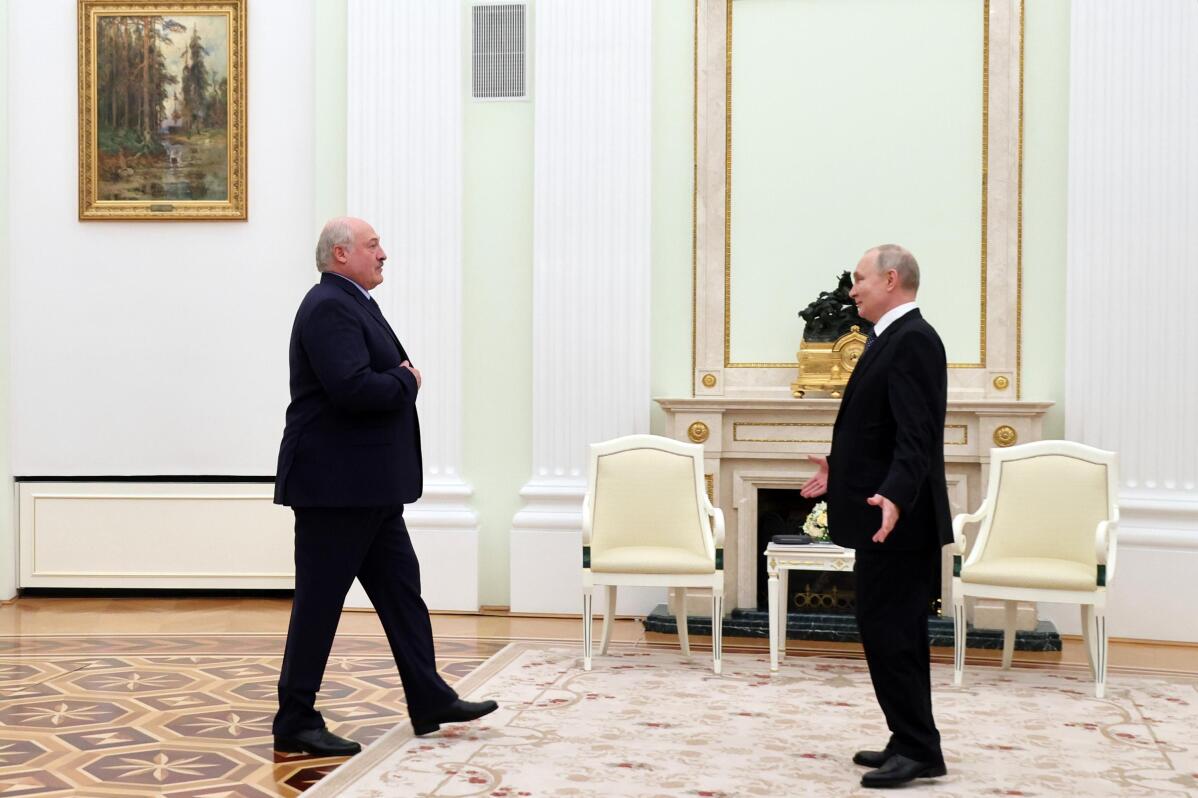 9 of 11

|
Belarusian President Alexander Lukashenko, left, arrives for talks with Russian President Vladimir Putin at the Kremlin in Moscow, Russia, Wednesday, April 5, 2023. (Mikhail Klimentyev, Sputnik, Kremlin Pool Photo via AP)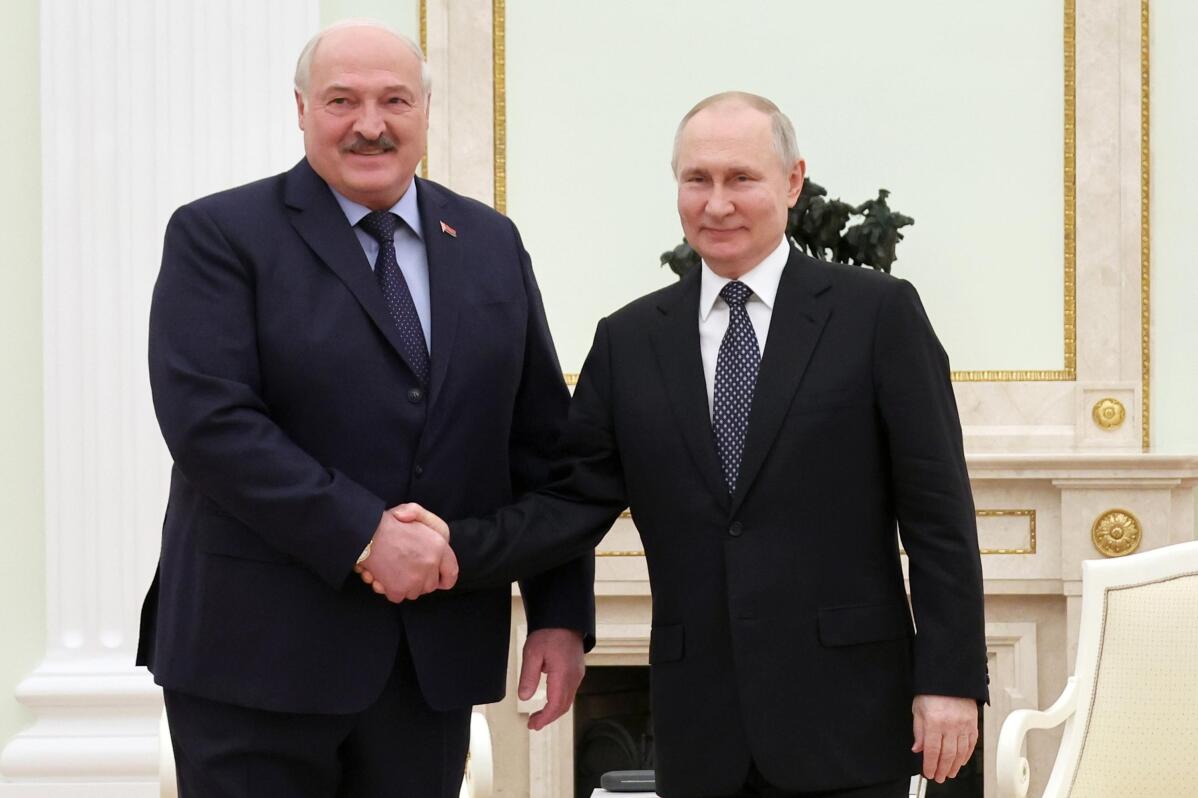 10 of 11

|
Russian President Vladimir Putin, right, and Belarusian President Alexander Lukashenko pose for a photo prior to their talks at the Kremlin in Moscow, Russia, Wednesday, April 5, 2023. (Mikhail Klimentyev, Sputnik, Kremlin Pool Photo via AP)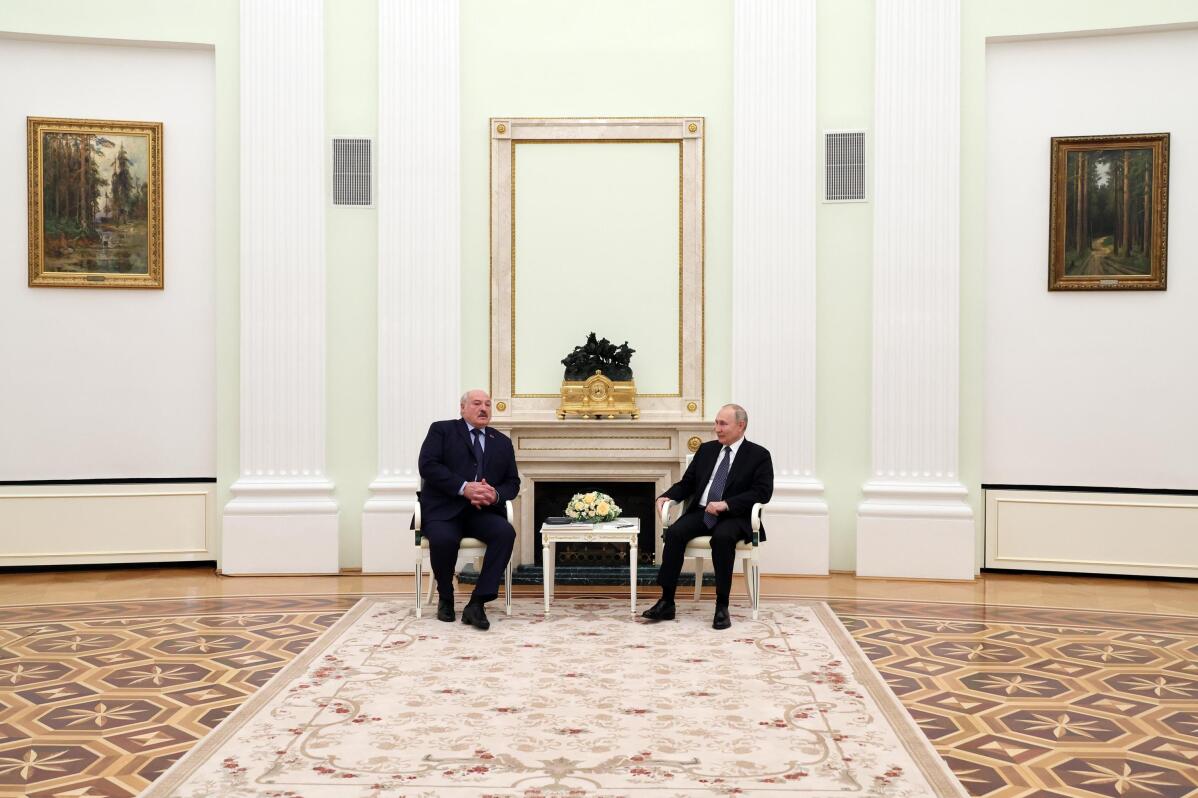 11 of 11

|
Russian President Vladimir Putin, right, and Belarusian President Alexander Lukashenko talk to each other during their meeting at the Kremlin in Moscow, Russia, Wednesday, April 5, 2023. (Mikhail Klimentyev, Sputnik, Kremlin Pool Photo via AP)
Putin: West helped Ukraine mount acts of sabotage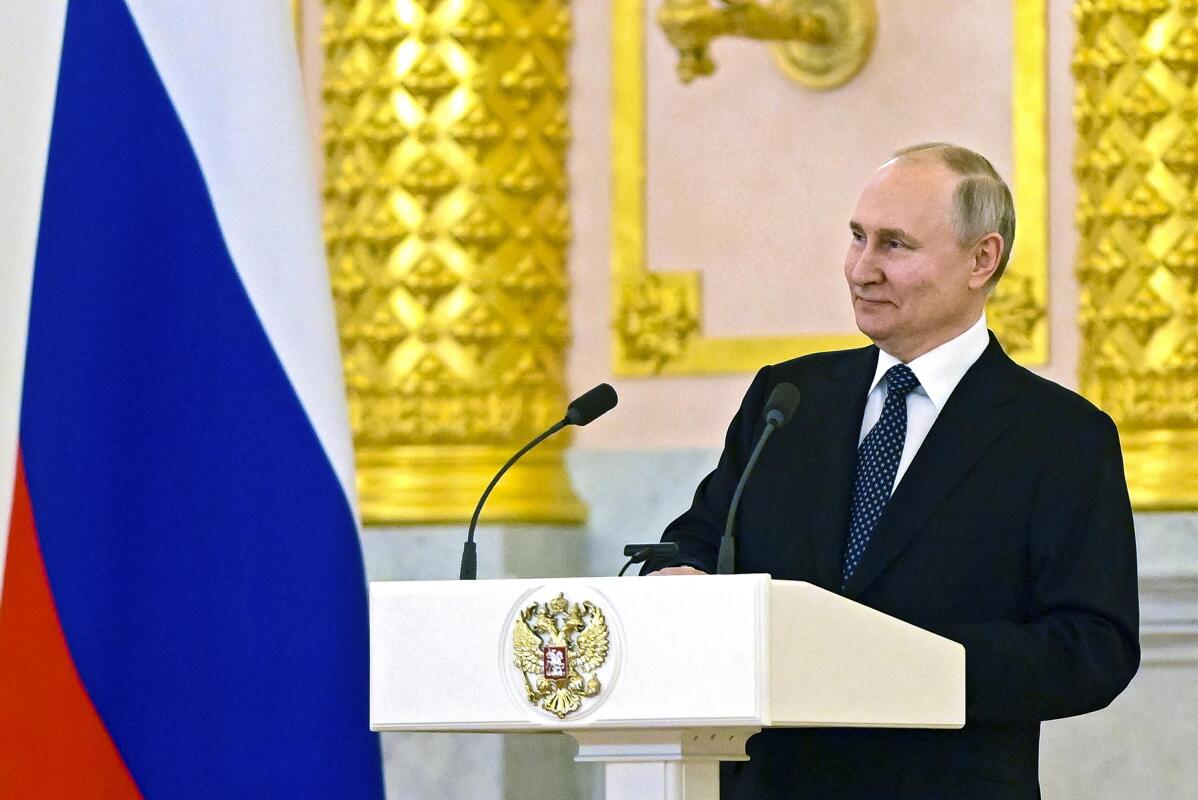 1 of 11

|
Russian President Vladimir Putin delivers a speech as he attends a ceremony to receive credentials from newly appointed foreign ambassadors to Russia, at the Kremlin, in Moscow, Russia, Wednesday, April 5, 2023. (Vladimir Astapkovich, Sputnik, Kremlin Pool Photo via AP)
1 of 11
Russian President Vladimir Putin delivers a speech as he attends a ceremony to receive credentials from newly appointed foreign ambassadors to Russia, at the Kremlin, in Moscow, Russia, Wednesday, April 5, 2023. (Vladimir Astapkovich, Sputnik, Kremlin Pool Photo via AP)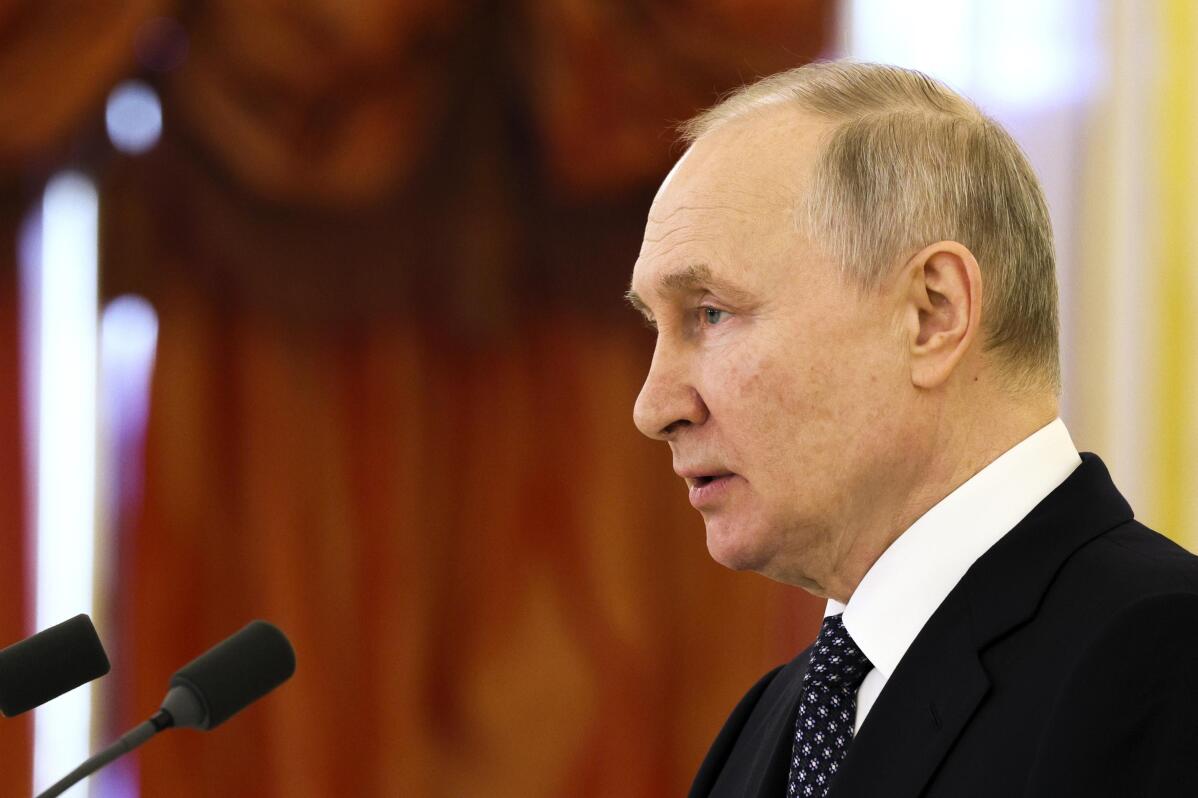 2 of 11

|
Russian President Vladimir Putin delivers a speech as he attends a ceremony to receive credentials from newly appointed foreign ambassadors to Russia, at the Kremlin, in Moscow, Russia, Wednesday, April 5, 2023. (Gavriil Grigorov/Sputnik, Kremlin Pool Photo via AP)
2 of 11
Russian President Vladimir Putin delivers a speech as he attends a ceremony to receive credentials from newly appointed foreign ambassadors to Russia, at the Kremlin, in Moscow, Russia, Wednesday, April 5, 2023. (Gavriil Grigorov/Sputnik, Kremlin Pool Photo via AP)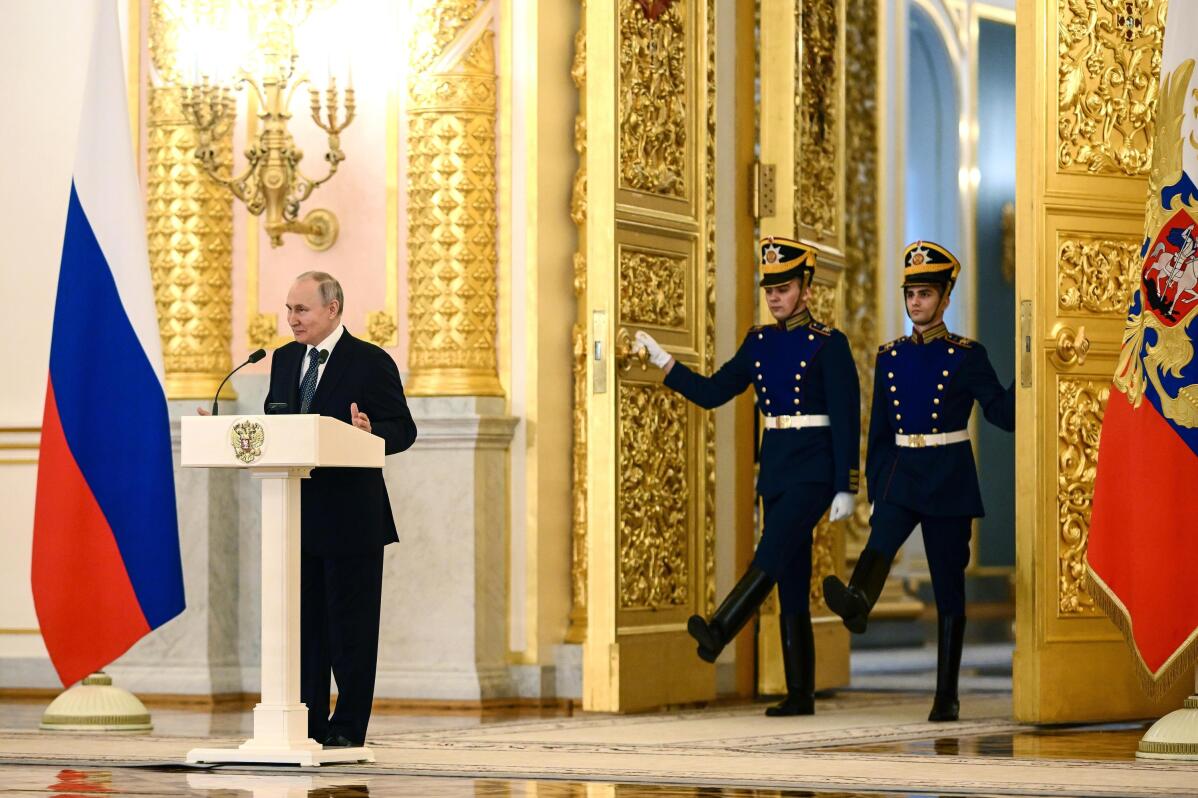 3 of 11

|
Russian President Vladimir Putin delivers a speech as he attends a ceremony to receive credentials from newly appointed foreign ambassadors to Russia, at the Kremlin, in Moscow, Russia, Wednesday, April 5, 2023. (Vladimir Astapkovich, Sputnik, Kremlin Pool Photo via AP)
3 of 11
Russian President Vladimir Putin delivers a speech as he attends a ceremony to receive credentials from newly appointed foreign ambassadors to Russia, at the Kremlin, in Moscow, Russia, Wednesday, April 5, 2023. (Vladimir Astapkovich, Sputnik, Kremlin Pool Photo via AP)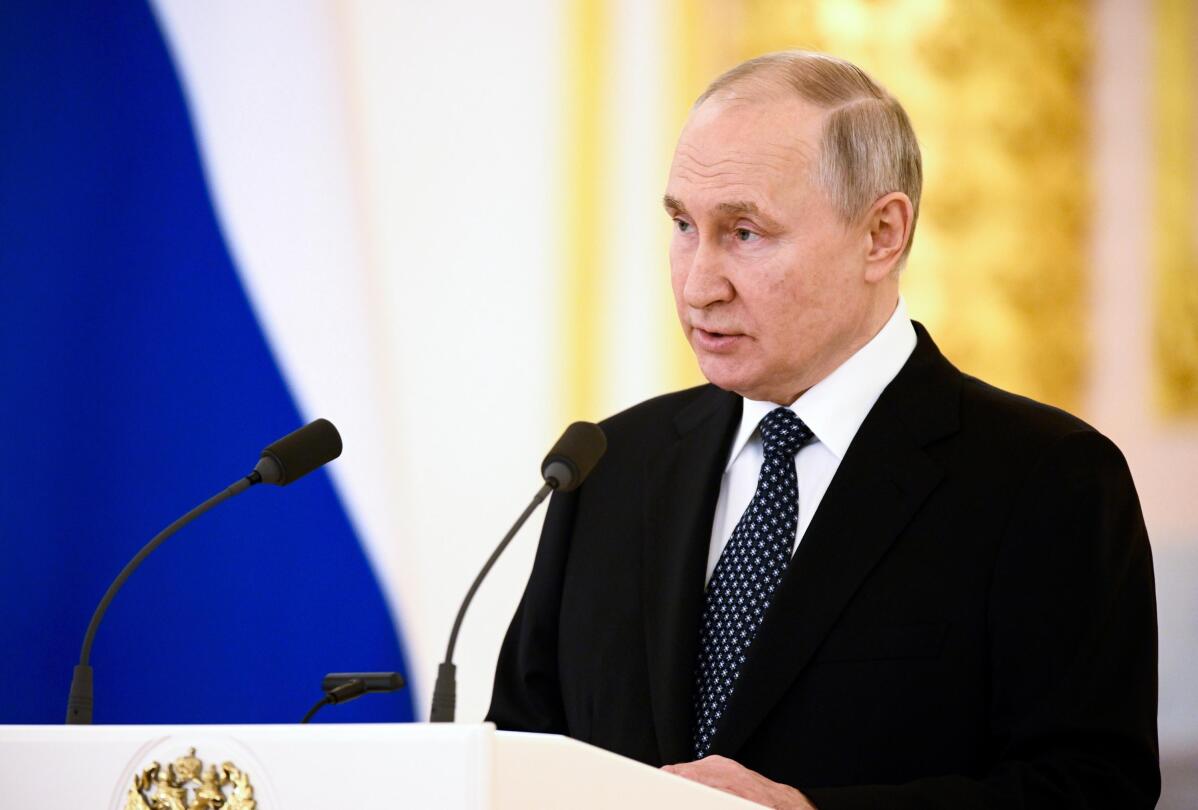 4 of 11

|
Russian President Vladimir Putin delivers a speech as he attends a ceremony to receive credentials from newly appointed foreign ambassadors to Russia, at the Kremlin, in Moscow, Russia, Wednesday, April 5, 2023. (Vladimir Astapkovich, Sputnik, Kremlin Pool Photo via AP)
4 of 11
Russian President Vladimir Putin delivers a speech as he attends a ceremony to receive credentials from newly appointed foreign ambassadors to Russia, at the Kremlin, in Moscow, Russia, Wednesday, April 5, 2023. (Vladimir Astapkovich, Sputnik, Kremlin Pool Photo via AP)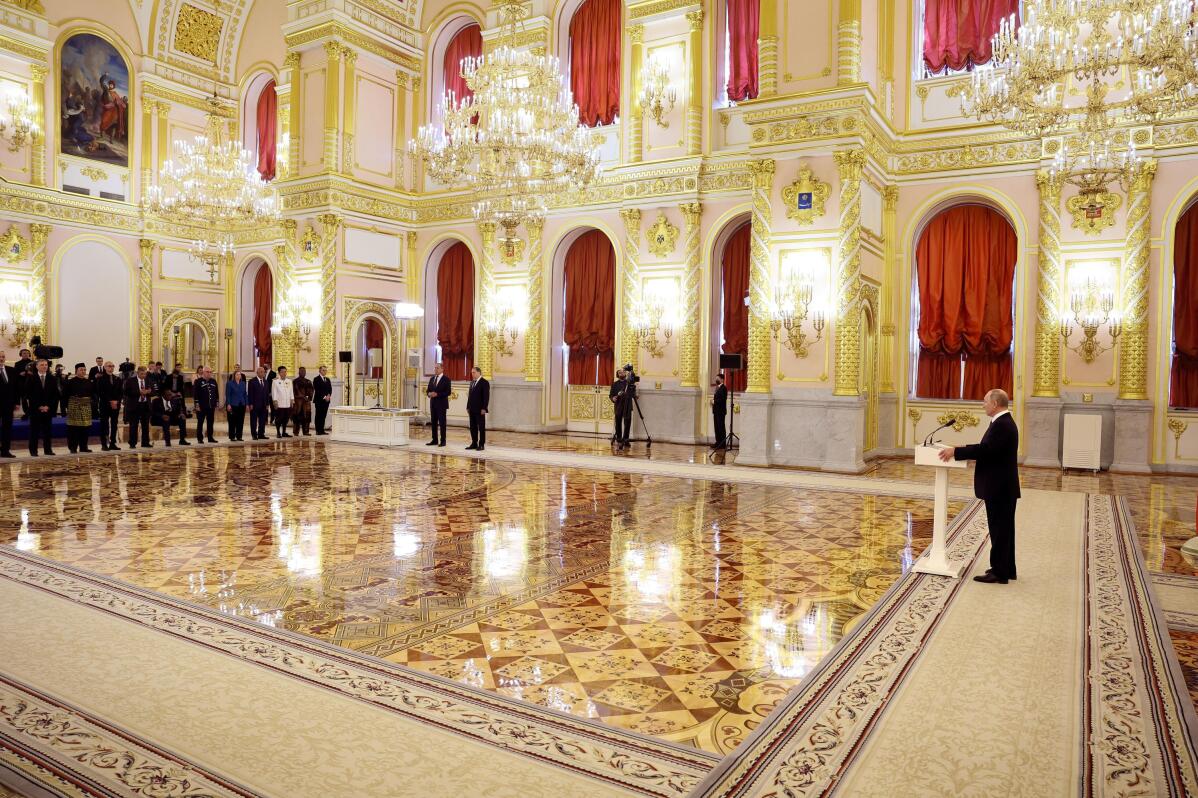 5 of 11

|
Russian President Vladimir Putin delivers a speech as he attends a ceremony to receive credentials from newly appointed foreign ambassadors to Russia, at the Kremlin, in Moscow, Russia, Wednesday, April 5, 2023. (Gavriil Grigorov/Sputnik, Kremlin Pool Photo via AP)
5 of 11
Russian President Vladimir Putin delivers a speech as he attends a ceremony to receive credentials from newly appointed foreign ambassadors to Russia, at the Kremlin, in Moscow, Russia, Wednesday, April 5, 2023. (Gavriil Grigorov/Sputnik, Kremlin Pool Photo via AP)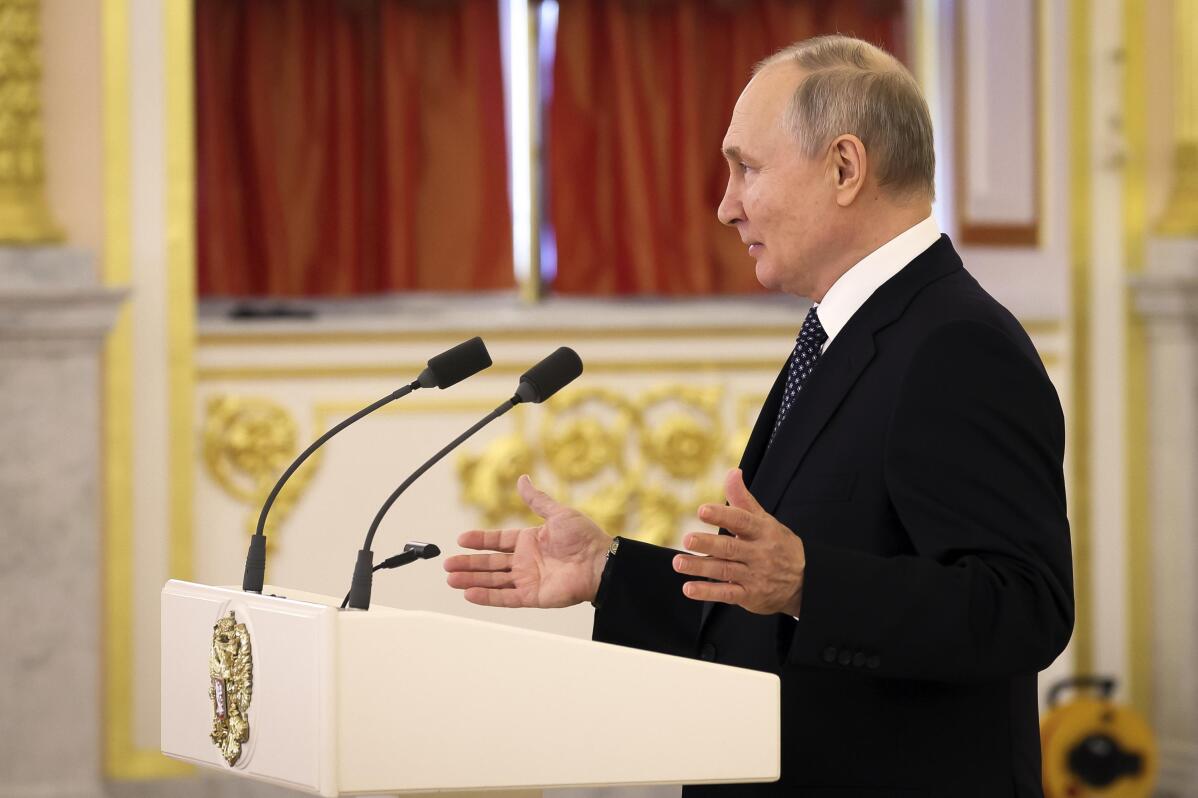 6 of 11

|
Russian President Vladimir Putin delivers a speech as he attends a ceremony to receive credentials from newly appointed foreign ambassadors to Russia, at the Kremlin, in Moscow, Russia, Wednesday, April 5, 2023. (Gavriil Grigorov, Sputnik, Kremlin Pool Photo via AP)
6 of 11
Russian President Vladimir Putin delivers a speech as he attends a ceremony to receive credentials from newly appointed foreign ambassadors to Russia, at the Kremlin, in Moscow, Russia, Wednesday, April 5, 2023. (Gavriil Grigorov, Sputnik, Kremlin Pool Photo via AP)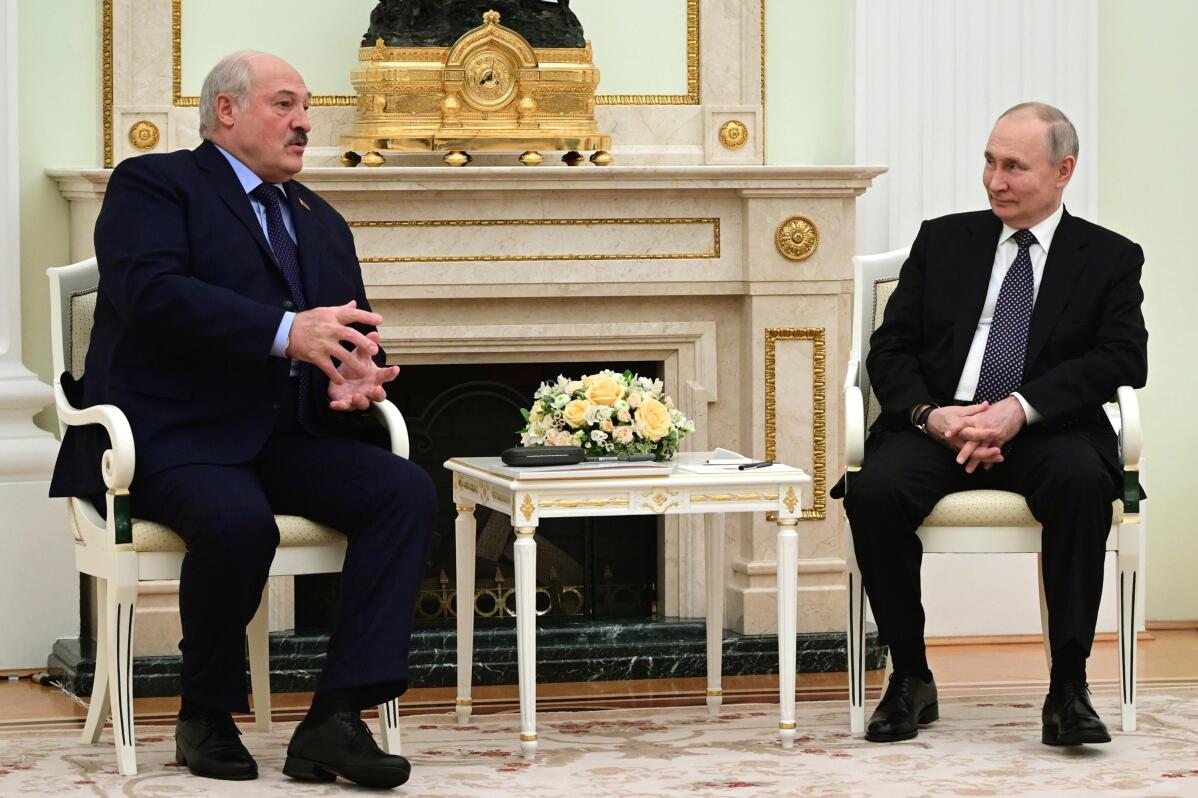 7 of 11

|
Belarusian President Alexander Lukashenko, left, gestures while speaking to Russian President Vladimir Putin during their talks at the Kremlin in Moscow, Russia, Wednesday, April 5, 2023. (Pavel Byrkin, Sputnik, Kremlin Pool Photo via AP)
7 of 11
Belarusian President Alexander Lukashenko, left, gestures while speaking to Russian President Vladimir Putin during their talks at the Kremlin in Moscow, Russia, Wednesday, April 5, 2023. (Pavel Byrkin, Sputnik, Kremlin Pool Photo via AP)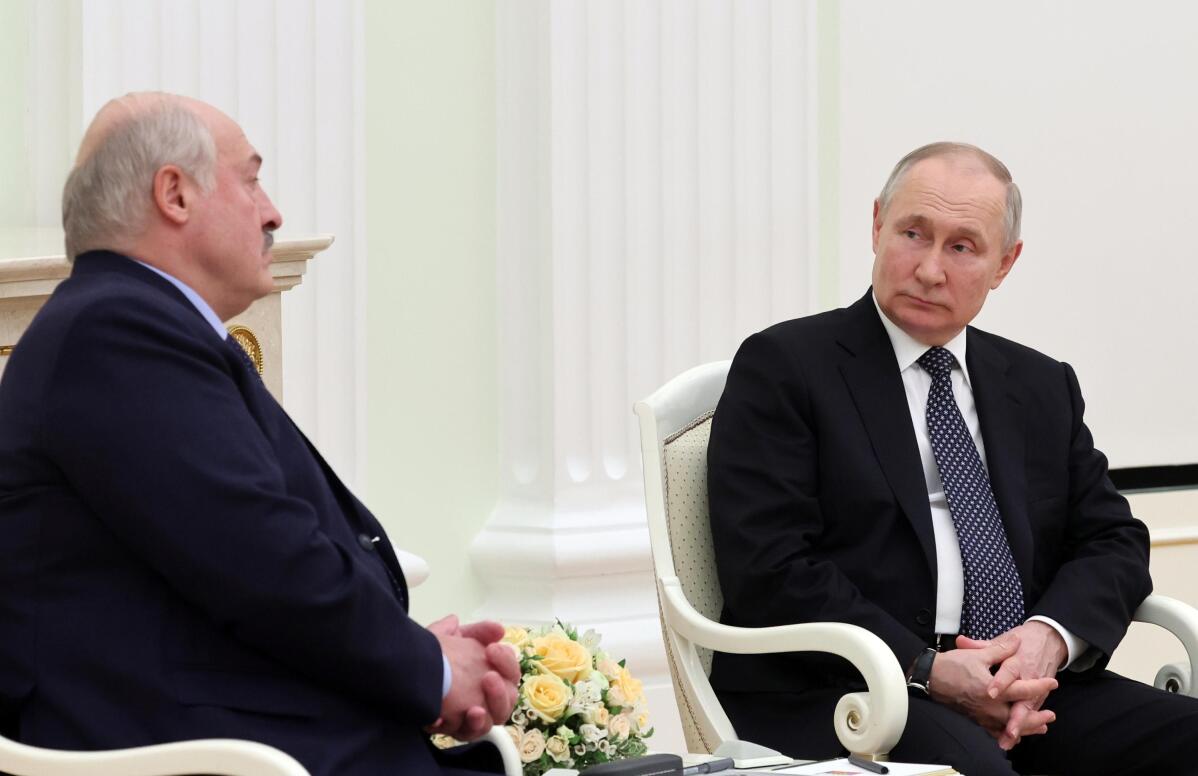 8 of 11

|
Russian President Vladimir Putin, right, listens to Belarusian President Alexander Lukashenko during their talks at the Kremlin in Moscow, Russia, Wednesday, April 5, 2023. (Mikhail Klimentyev, Sputnik, Kremlin Pool Photo via AP)
8 of 11
Russian President Vladimir Putin, right, listens to Belarusian President Alexander Lukashenko during their talks at the Kremlin in Moscow, Russia, Wednesday, April 5, 2023. (Mikhail Klimentyev, Sputnik, Kremlin Pool Photo via AP)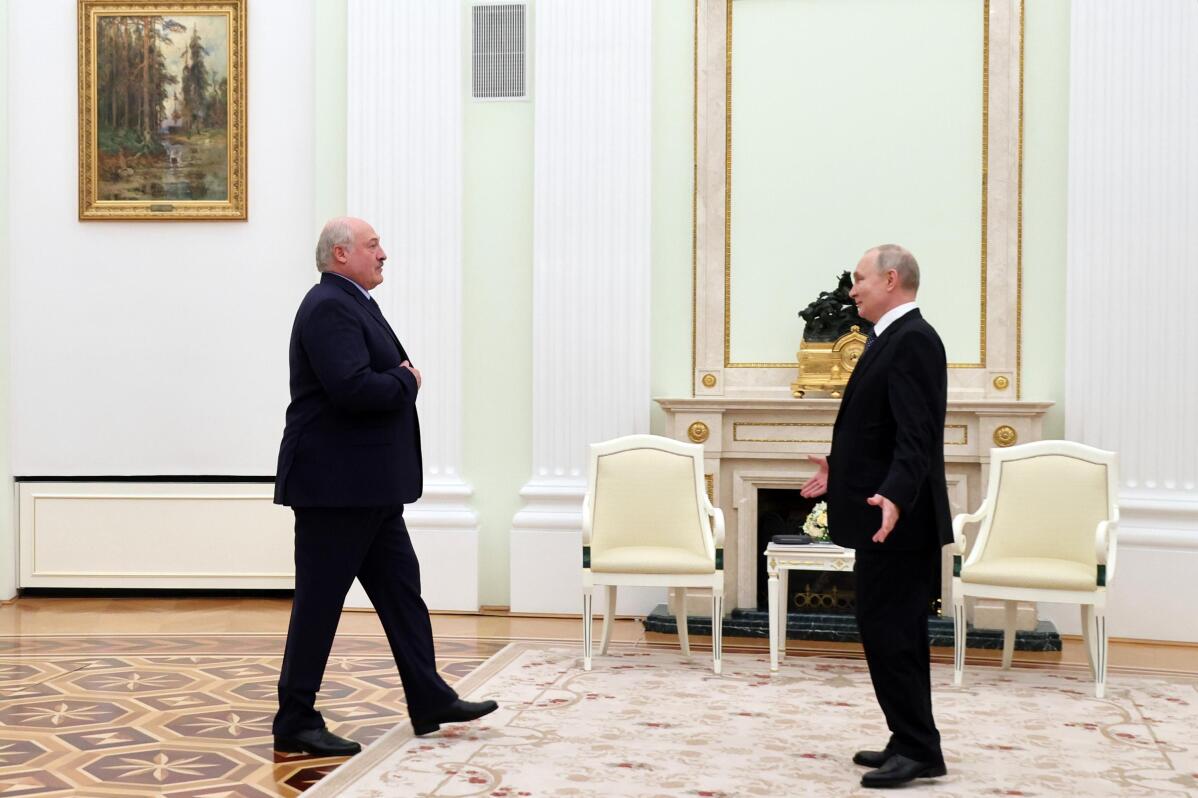 9 of 11

|
Belarusian President Alexander Lukashenko, left, arrives for talks with Russian President Vladimir Putin at the Kremlin in Moscow, Russia, Wednesday, April 5, 2023. (Mikhail Klimentyev, Sputnik, Kremlin Pool Photo via AP)
9 of 11
Belarusian President Alexander Lukashenko, left, arrives for talks with Russian President Vladimir Putin at the Kremlin in Moscow, Russia, Wednesday, April 5, 2023. (Mikhail Klimentyev, Sputnik, Kremlin Pool Photo via AP)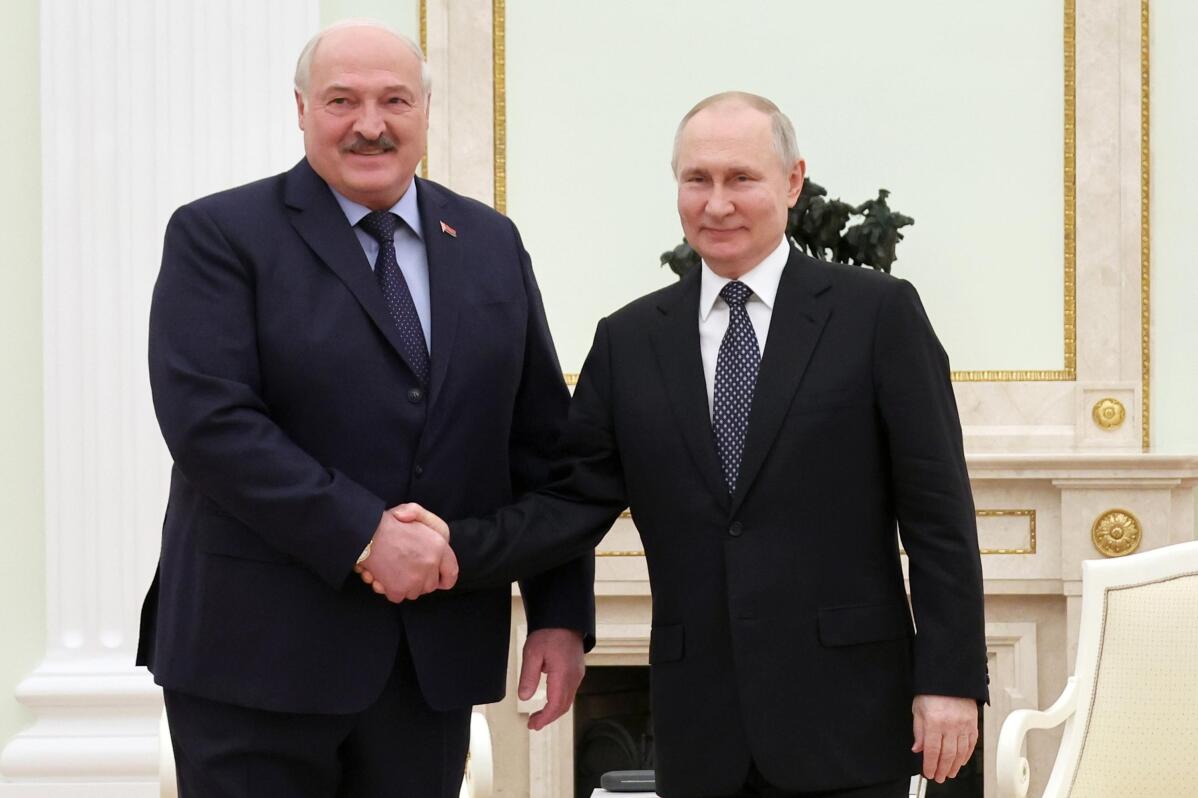 10 of 11

|
Russian President Vladimir Putin, right, and Belarusian President Alexander Lukashenko pose for a photo prior to their talks at the Kremlin in Moscow, Russia, Wednesday, April 5, 2023. (Mikhail Klimentyev, Sputnik, Kremlin Pool Photo via AP)
10 of 11
Russian President Vladimir Putin, right, and Belarusian President Alexander Lukashenko pose for a photo prior to their talks at the Kremlin in Moscow, Russia, Wednesday, April 5, 2023. (Mikhail Klimentyev, Sputnik, Kremlin Pool Photo via AP)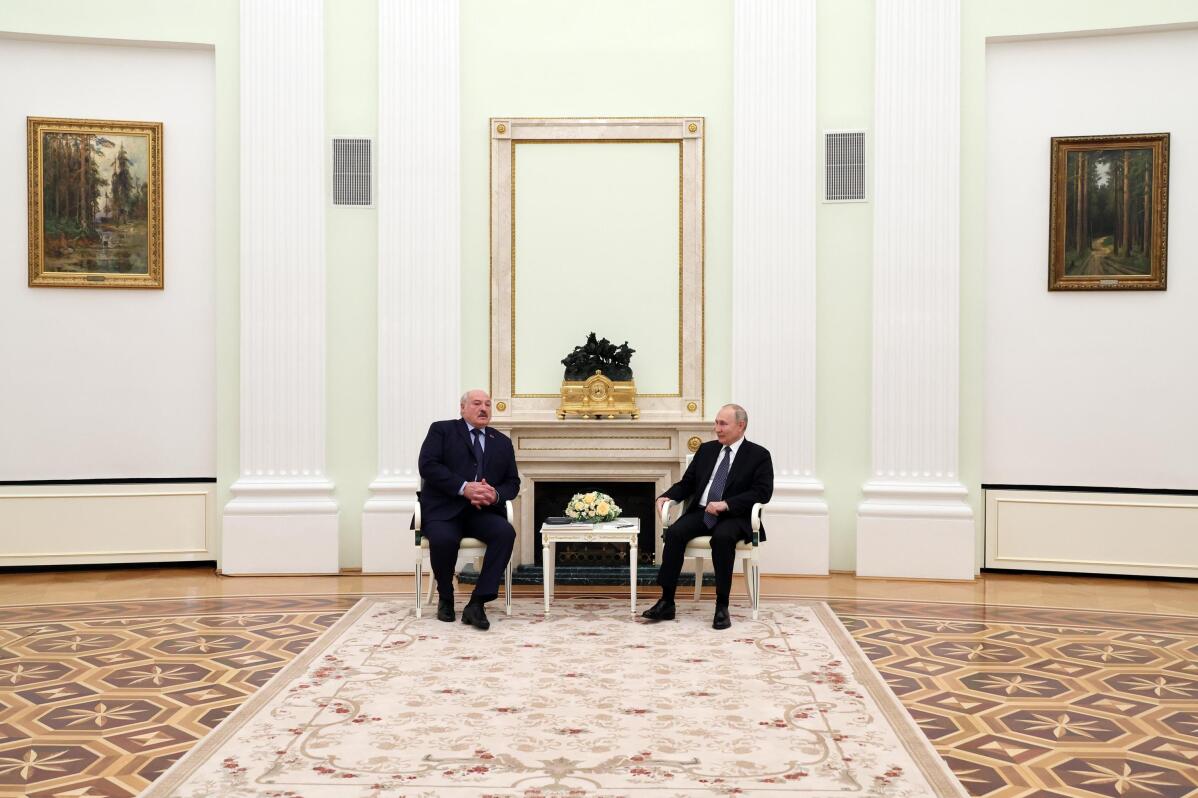 11 of 11

|
Russian President Vladimir Putin, right, and Belarusian President Alexander Lukashenko talk to each other during their meeting at the Kremlin in Moscow, Russia, Wednesday, April 5, 2023. (Mikhail Klimentyev, Sputnik, Kremlin Pool Photo via AP)
11 of 11
Russian President Vladimir Putin, right, and Belarusian President Alexander Lukashenko talk to each other during their meeting at the Kremlin in Moscow, Russia, Wednesday, April 5, 2023. (Mikhail Klimentyev, Sputnik, Kremlin Pool Photo via AP)
MOSCOW (AP) — Russian President Vladimir Putin charged Wednesday that Western intelligence agencies have helped Ukraine carry out acts of sabotage, as he urged his officials to mount a stronger response.
Putin spoke during a call with members of his Security Council that focused on efforts to shore up control of the four Ukrainian provinces that Russia claimed as part of its territory in September — a move that most of the world rejected as an illegal annexation.
"There are reasons to believe that the capabilities of third countries, Western special services, have been involved in preparation of acts of sabotage and terror attacks," Putin said, without elaborating and without providing any evidence.
He said the four provinces have experienced Ukrainian shelling and acts of sabotage aimed at scaring the local population, and that Russian authorities must act "harshly and effectively to ensure control over the situation."
Several Moscow-appointed officials in the newly incorporated provinces were killed and wounded in a slew of bombings and other attacks.
Putin urged officials to strengthen efforts to fully integrate the four provinces into Russia and to protect their residents from Ukrainian attacks.
"They must see and feel that all our great country stands behind them and we will do everything to protect them," Putin said in televised remarks at the meeting.
When Putin sent troops into Ukraine on Feb. 24, 2022, he charged that Russia's "special military operation" was intended to "demilitarize" Ukraine, block its potential accession to NATO and to protect the country's Russian speakers.
Ukraine and its allies have described the Russian leader's stated rationale as a cover for an unprovoked act of aggression.
After failing to capture Kyiv, Ukraine's capital, in the initial weeks of the fighting, Russia has focused its military efforts on gaining control of the Donbas, Ukraine's industrial heartland. The region includes two of the annexed provinces, Donetsk and Luhansk.
The Russian military captured Kherson province and part of Zaporizhzhia province in southern Ukrained early in the conflict but withdrew its troops from the city of Kherson and nearby areas on the western bank of the Dnieper River in November under the brunt of a Ukrainian counteroffensive.
Earlier Wednesday, Putin received credentials from foreign ambassadors, including the newly appointed U.S. ambassador, Lynne M. Tracy. Speaking at that Kremlin meeting, Putin charged that Washington's support for mass 2014 protests in Kyiv that ousted Ukraine's Moscow-friendly president lay at the roots of the current conflict.
"The relations between Russia and the United States, which directly impact global stability and security, are in a deep crisis," he said. "It's rooted in principally different approaches to shaping the modern world order."
Putin also hosted President Alexander Lukashenko of Belarus on Wednesday for talks on expanding ties between their countries.
"We have achieved a lot by working together in all areas," Putin said at the start of the meeting. "It refers to our cooperation on the international arena and to us working together on issues related to ensuring our countries' security."
Putin said last month that Russia planned to station tactical nuclear weapons in Belarus, its neighbor and ally. The announcement marked another attempt by the Russian leader to dangle the nuclear threat to discourage the West from supporting Ukraine.
Putin has said that construction of storage facilities for tactical nuclear weapons would be completed in Belarus by July 1. Russia also has helped modernize Belarusian warplanes to make them capable of carrying nuclear weapons and provided the country that borders Ukraine with Iskander short-range missiles that could carry a nuclear warhead, he said.
Belarus and Russia have an agreement envisioning close economic, political and military ties. Russia used Belarusian territory as a staging ground for invading Ukraine and has maintained a contingent of troops and weapons there.