Russia: Bill to allow electronic conscription notices passes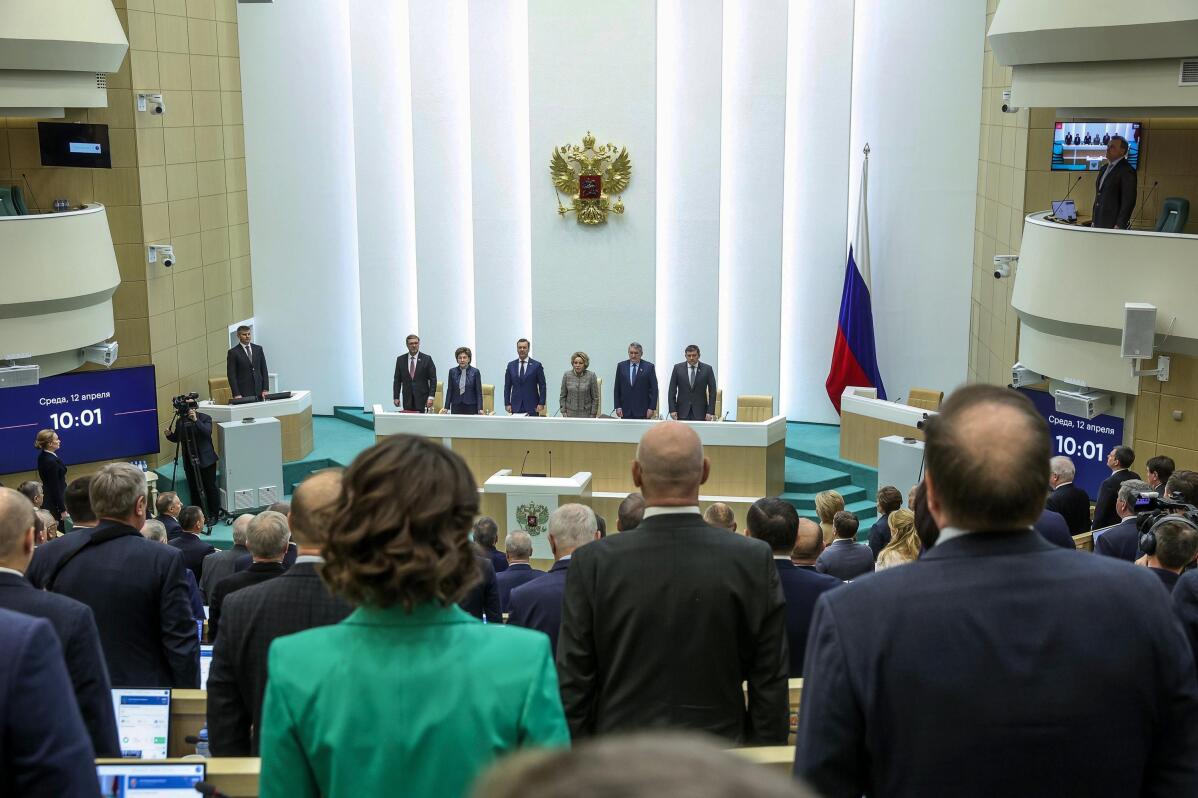 1 of 3

|
In this handout photo released by The Federal Assembly of The Russian Federation, members of the Federal Assembly of The Russian Federation listen to the national anthem as they attend a session in Moscow, Russia, Wednesday, April 12, 2023. The upper house of Russian parliament has swiftly approved a bill that would allow authorities to issue electronic summons to draftees and reservists amid the fighting in Ukraine. (The Federal Assembly of The Russian Federation via AP)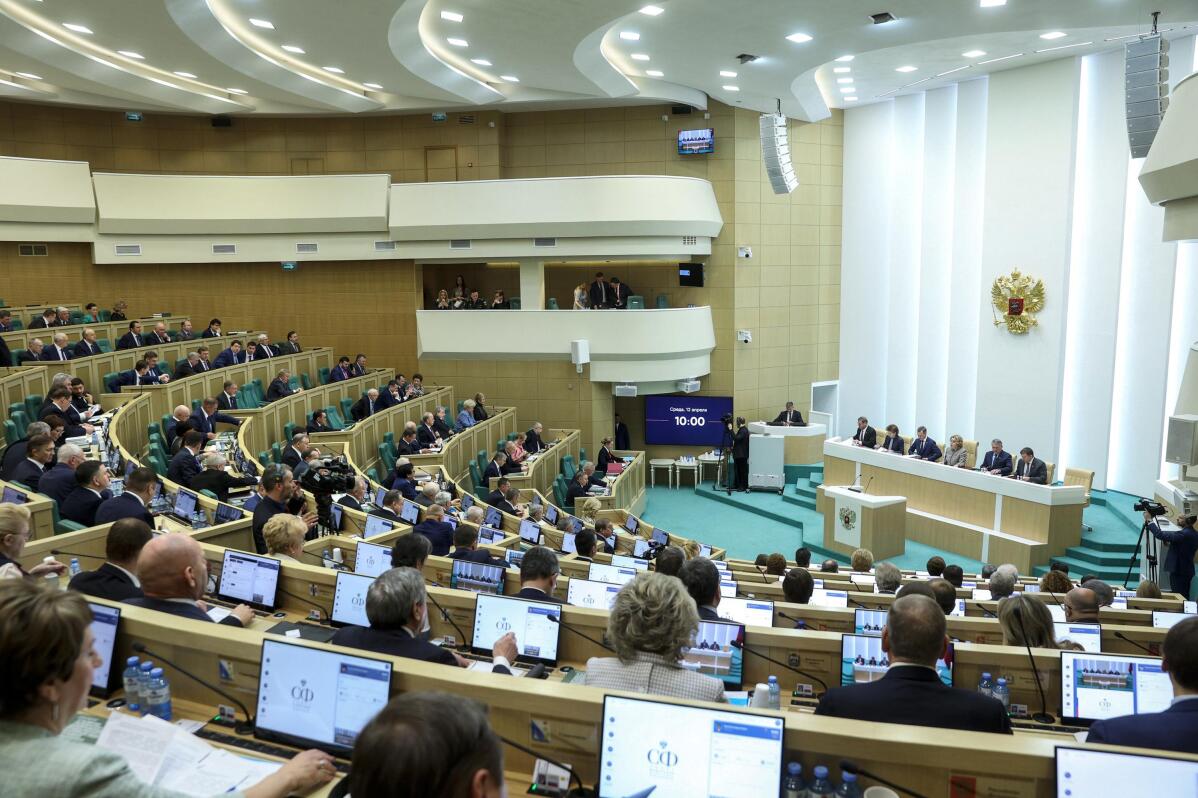 2 of 3

|
In this handout photo released by The Federal Assembly of The Russian Federation, members of the Federal Assembly of The Russian Federation attend a session in Moscow, Russia, Wednesday, April 12, 2023. The upper house of Russian parliament has swiftly approved a bill that would allow authorities to issue electronic summons to draftees and reservists amid the fighting in Ukraine. (The Federal Assembly of The Russian Federation via AP)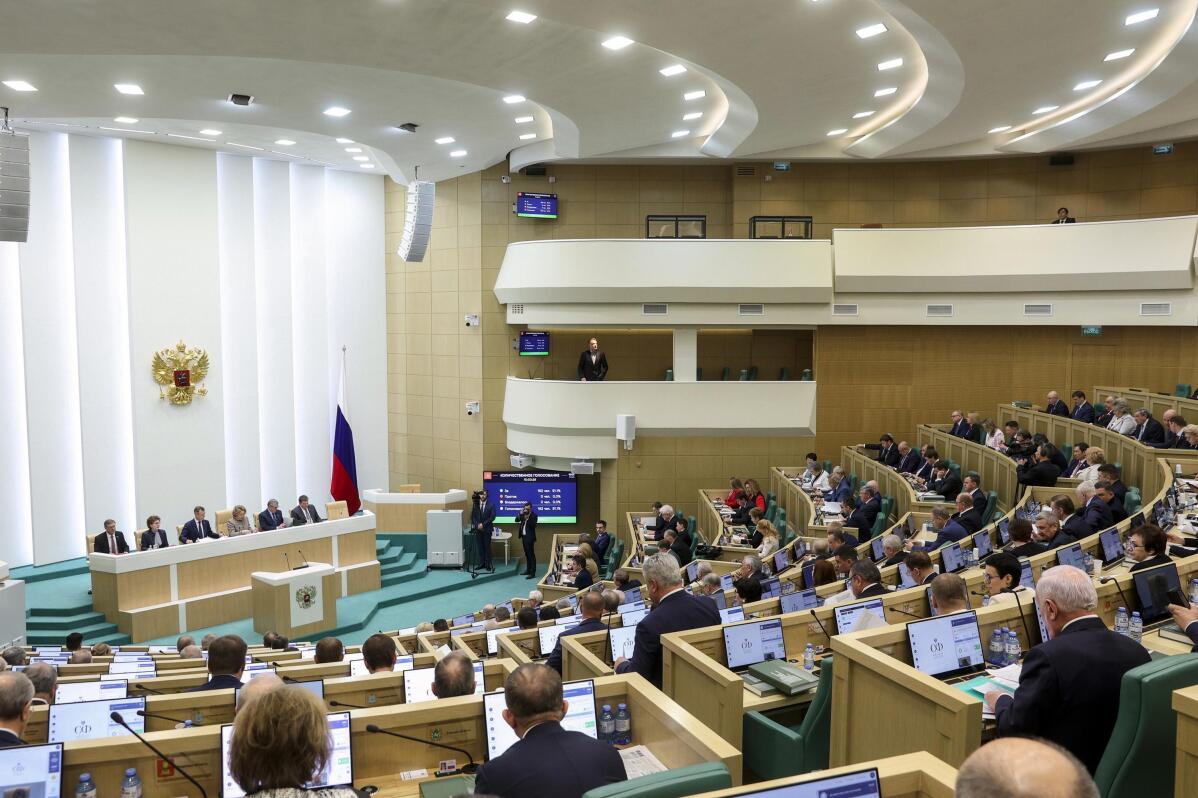 3 of 3

|
In this handout photo released by The Federal Assembly of The Russian Federation, members of the Federal Assembly of The Russian Federation attend a session in Moscow, Russia, Wednesday, April 12, 2023. The upper house of Russian parliament has swiftly approved a bill that would allow authorities to issue electronic summons to draftees and reservists amid the fighting in Ukraine. (The Federal Assembly of The Russian Federation via AP)
Russia: Bill to allow electronic conscription notices passes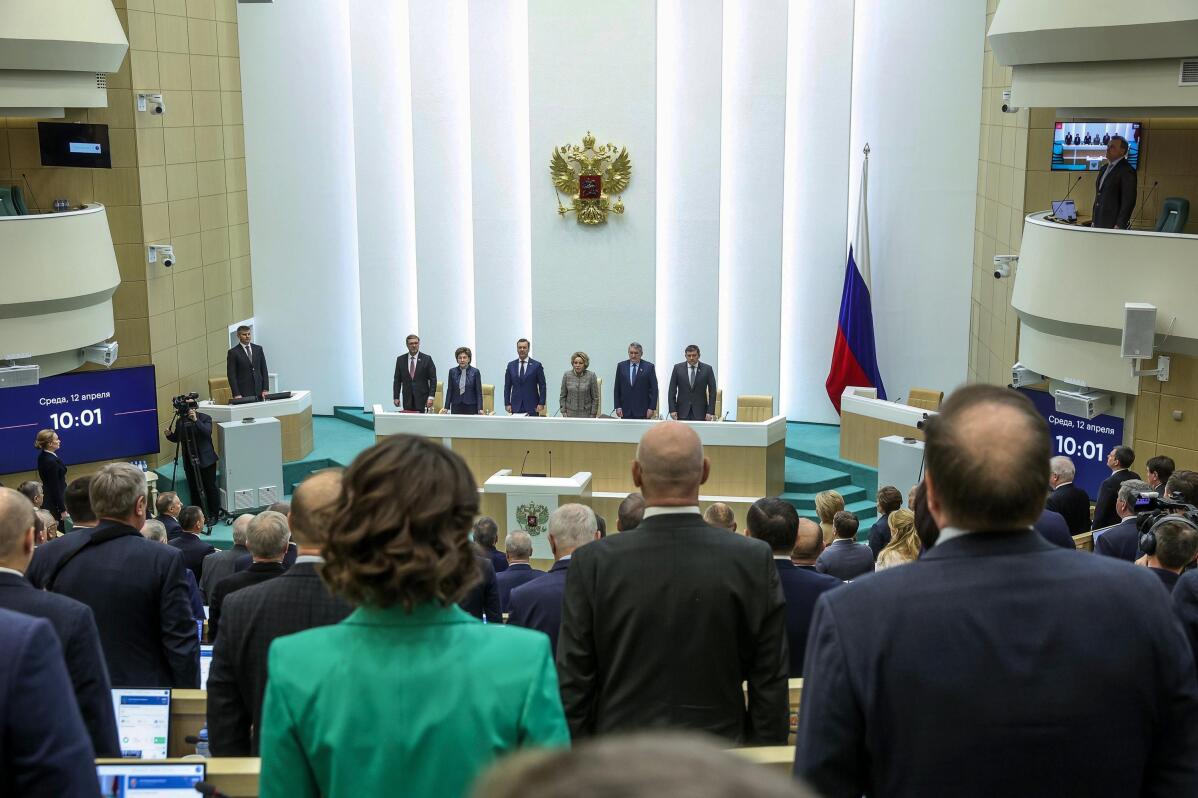 1 of 3

|
In this handout photo released by The Federal Assembly of The Russian Federation, members of the Federal Assembly of The Russian Federation listen to the national anthem as they attend a session in Moscow, Russia, Wednesday, April 12, 2023. The upper house of Russian parliament has swiftly approved a bill that would allow authorities to issue electronic summons to draftees and reservists amid the fighting in Ukraine. (The Federal Assembly of The Russian Federation via AP)
1 of 3
In this handout photo released by The Federal Assembly of The Russian Federation, members of the Federal Assembly of The Russian Federation listen to the national anthem as they attend a session in Moscow, Russia, Wednesday, April 12, 2023. The upper house of Russian parliament has swiftly approved a bill that would allow authorities to issue electronic summons to draftees and reservists amid the fighting in Ukraine. (The Federal Assembly of The Russian Federation via AP)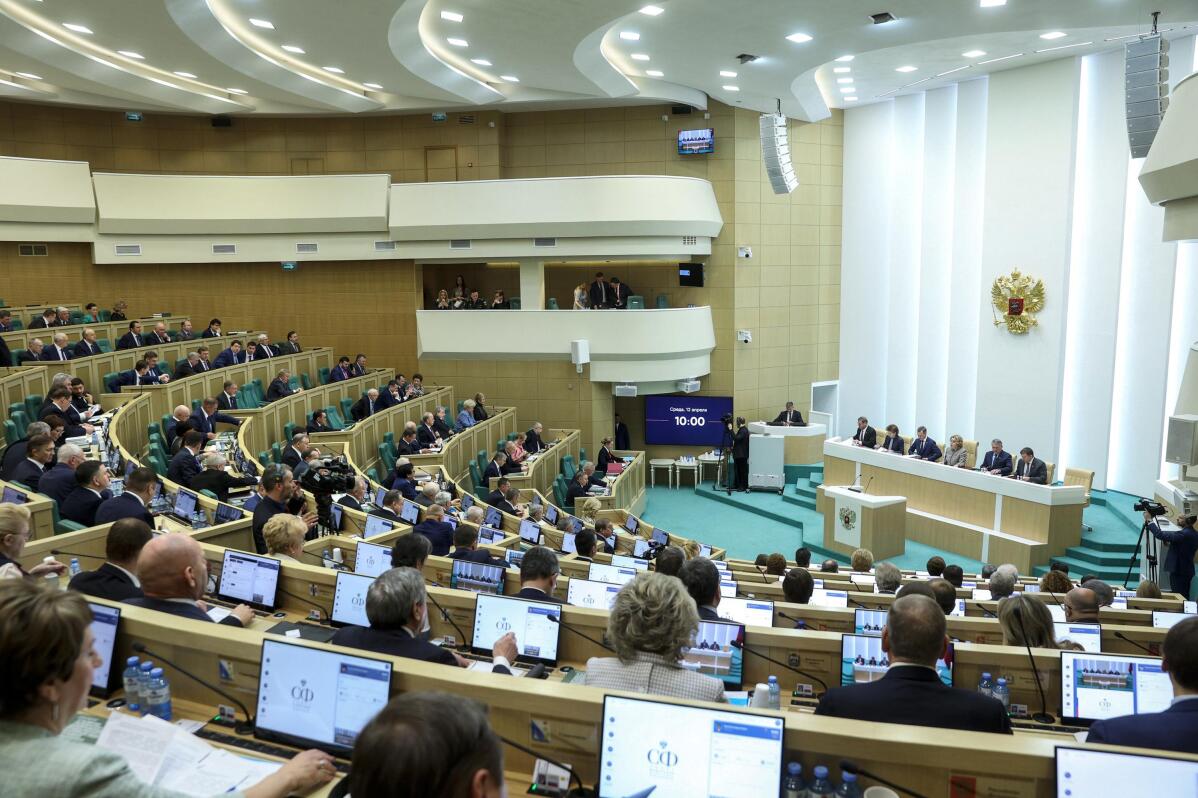 2 of 3

|
In this handout photo released by The Federal Assembly of The Russian Federation, members of the Federal Assembly of The Russian Federation attend a session in Moscow, Russia, Wednesday, April 12, 2023. The upper house of Russian parliament has swiftly approved a bill that would allow authorities to issue electronic summons to draftees and reservists amid the fighting in Ukraine. (The Federal Assembly of The Russian Federation via AP)
2 of 3
In this handout photo released by The Federal Assembly of The Russian Federation, members of the Federal Assembly of The Russian Federation attend a session in Moscow, Russia, Wednesday, April 12, 2023. The upper house of Russian parliament has swiftly approved a bill that would allow authorities to issue electronic summons to draftees and reservists amid the fighting in Ukraine. (The Federal Assembly of The Russian Federation via AP)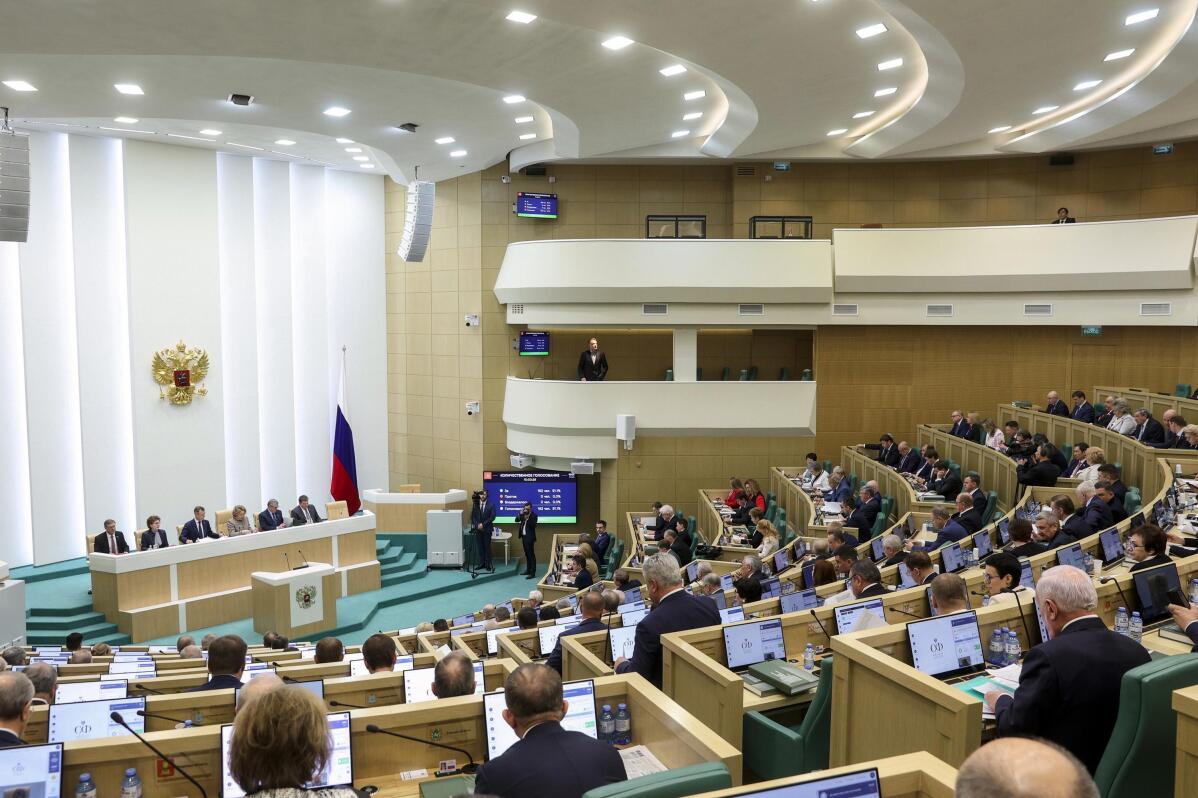 3 of 3

|
In this handout photo released by The Federal Assembly of The Russian Federation, members of the Federal Assembly of The Russian Federation attend a session in Moscow, Russia, Wednesday, April 12, 2023. The upper house of Russian parliament has swiftly approved a bill that would allow authorities to issue electronic summons to draftees and reservists amid the fighting in Ukraine. (The Federal Assembly of The Russian Federation via AP)
3 of 3
In this handout photo released by The Federal Assembly of The Russian Federation, members of the Federal Assembly of The Russian Federation attend a session in Moscow, Russia, Wednesday, April 12, 2023. The upper house of Russian parliament has swiftly approved a bill that would allow authorities to issue electronic summons to draftees and reservists amid the fighting in Ukraine. (The Federal Assembly of The Russian Federation via AP)
MOSCOW (AP) — The upper house of Russia's parliament on Wednesday swiftly approved a bill that would allow authorities to issue electronic summonses to draftees and reservists amid the fighting in Ukraine.
The Federation Council's vote was the last step needed before the bill goes to President Vladimir Putin, who is expected to quickly sign it into law.
Lawmakers in Russia's lower house, the State Duma, passed the measure on Tuesday. The legislation was put on fast track as the Russian military is preparing for an expected Ukrainian counteroffensive, which Ukraine and its Western allies say could start within weeks.
Russia's current military service rules require the in-person delivery of notices to conscripts and reservists who are called up for duty. In the past, many Russians avoided the draft in the past by staying away from their address of record. The proposed bill would close that loophole.
Under the new bill, the notices issued by local military conscription offices will continue to be sent by mail but they would be considered valid from the moment they are put on a state portal for electronic services.
Recipients who fail to show up would be prohibited from leaving Russia, have their drivers' licenses suspended and be barred from selling their apartments and other assets.
Kremlin critics and rights activists denounced the new legislation as a step toward a "digital prison camp" that gives unprecedented powers to the military conscription offices.
When the Federation Council considered the bill Wednesday, Lyudmila Narusova, the widow of Anatoly Sobchak, the former mayor of St. Petersburg who was Putin's mentor, was the only house member who spoke against the measure.
Narusova charged that the bill contradicts the country's constitution and various laws, and strongly objected to its hasty approval.
The swift passage of the bill fueled fears of the government initiating another wave of mobilization following the one that Putin ordered in the fall.
The authorities have said that another mobilization isn't planned. Kremlin spokesman Dmitry Peskov emphasized that the proposed bill was needed to streamline the outdated call-up system in view of the flaws that were revealed by last fall's partial mobilization.
Peskov said Wednesday that the quick passage of the bill was prompted by the "need to streamline the system of military records and draft."
"There was a lot of mess in military conscription offices," he said in a conference call with reporters. "The purpose of the bill is to clean up this mess and make the system modern, effective and convenient for citizens."
Putin announced a call-up of 300,000 reservists in September after a Ukrainian counteroffensive that pushed Russian forces out of broad areas in the east.
The mobilization order prompted an exodus of Russian men that was estimated to number in the hundreds of thousands.