Russian officials seek another opposition activist's arrest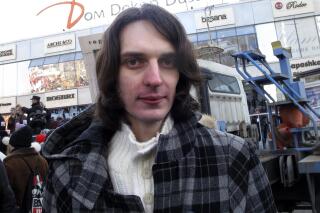 MOSCOW (AP) — A Russian court on Thursday issued an order to arrest an opposition activist on charges of disparaging the military, and auhorities declared other activists and bloggers "foreign agents" amid efforts to muzzle criticism of Russia's action in Ukraine.
Moscow's Basmanny District Court ordered the arrest of Maxim Katz, an opposition activist and blogger who has left Russia. He is accused of spreading false information about the Russian military, charges that carry a prison sentence of up to 10 years.
Days after Russian President Vladimir Putin sent troops into Ukraine last February, Russian lawmakers approved legislation outlawing the disparagement of the Russian military or the spread of "false information" about what the Kremlin calls "the special military operation" in Ukraine.
Courts across the country have increasingly handed out prison terms to critics of Moscow's actions in Ukraine.
They included a prominent opposition politician, Ilya Yashin, who was sentenced to 8½ years in prison on charges of discrediting the military, and another top opposition figure, Vladimir Kara-Murza, who has been jailed on the same charges and is now facing trial.
Katz was declared a "foreign agent" last year, a designation that brings additional government scrutiny and carries strong pejorative connotations. After he left the country, the authorities put him on a wanted list last fall.
The authorities have used the label to raise pressure on independent media and nongovernmental organizations.
On Thursday, the Justice Ministry further expanded the list of "foreign agents," adding leading human rights lawyer Pavel Chikov and popular blogger Ilya Varlamov, among others. Both have been critical of Russia's operation in Ukraine.