Airbnb 4Q profit and revenue rise on bookings, higher rates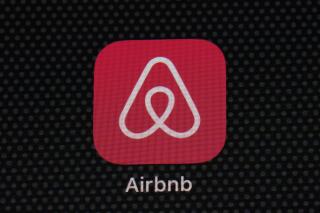 DALLAS (AP) — Airbnb said Tuesday it enjoyed a record 2022, including its first annual profit, and it continues to see strong demand for travel carry over into the new year despite economic uncertainty and high inflation.
The San Francisco-based company said it earned $319 million in the fourth quarter, up from $55 million a year earlier, and $1.89 billion for the full year.
Spurred by an increase in bookings, fourth-quarter revenue rose 24% from a year earlier.
The company predicted that first-quarter revenue will be between $1.75 billion and $1.82 billion, which would beat Wall Street expectations. It said more people are considering international trips and going back to cities, which many travelers avoided at the peak of the pandemic.
"We are already seeing some really strong demand in Q1. No matter what happens in the world, people want to travel" because they are stuck at home more often, CEO Brian Chesky said on a call with analysts. "The office is now Zoom, the mall is now Amazon, the theater is now Netflix."
Airbnb outperformed hotels when travel began to recover from pandemic-era lows, as some people seemed to prefer the relative isolation of staying in a house rather than a hotel. Chesky said Airbnb can keep that advantage if it provides value to consumers.
However, complaints about high cleaning fees and other charges pushed Airbnb to be more upfront about the total price when listings are displayed.
Chesky said the company began including all fees in advertised prices in December and the change hasn't affect bookings. He said, however, that it could lead to lower average daily rental rates in the short run.
To take advantage of the rising trend in travel, Airbnb has been expanding its listings by trying to lure more people to post their homes on the platform. The company said that excluding China, it added 900,000 listings last year, pushing its total to 6.6 million. However, that strategy has alienated hosts, who complain about fewer rentals.
Chief Financial Officer Dave Stephenson said the company tries to strike a balance.
"If we get too much supply too quickly, then hosts aren't happy because they're not getting enough bookings," he said. "If we don't get enough supply early enough, then guests are not happy because they don't get the kind of selection they want."
Airbnb's fourth-quarter profit worked out to 48 cents per share. That topped the mean forecast of 26 cents per share among analysts surveyed by FactSet. Revenue was $1.9 billion, beating Wall Street's forecast of $1.86 billion.
Average daily rates fell 1% but rose 5% after excluding currency effects. Cancellation rates remained above 2019 levels, but declined from last year, the company said.
Airbnb's shares rose about 9% in after-market trading. The stock has been surging: At Tuesday's closing price, the shares had gained 41% this year, compared with an 8% rise in the Standard & Poor's 500 index.