Families fear more delays in 2018 Texas school shooting case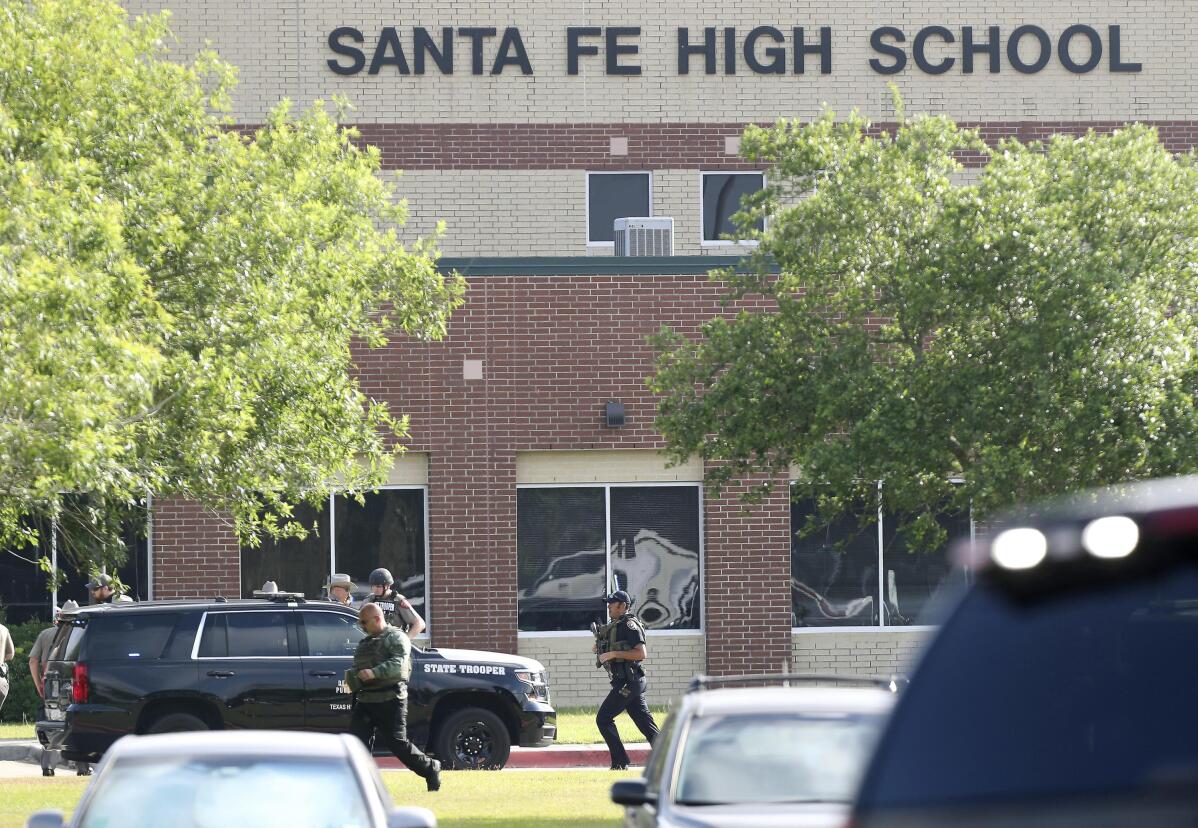 1 of 4

|
FILE - Law enforcement officers respond to Santa Fe High School after an active shooter was reported on campus on May 18, 2018, in Santa Fe, Texas. Family members of those killed and injured during a 2018 attack at the Texas high school expressed concern Thursday, April 20, 2023, that the case against the accused gunman — delayed for years over questions of his mental competency — could be further held up pending removal of the trial judge, facing allegations of bias and prior legal ties to the defendant. (Steve Gonzales/Houston Chronicle via AP, File)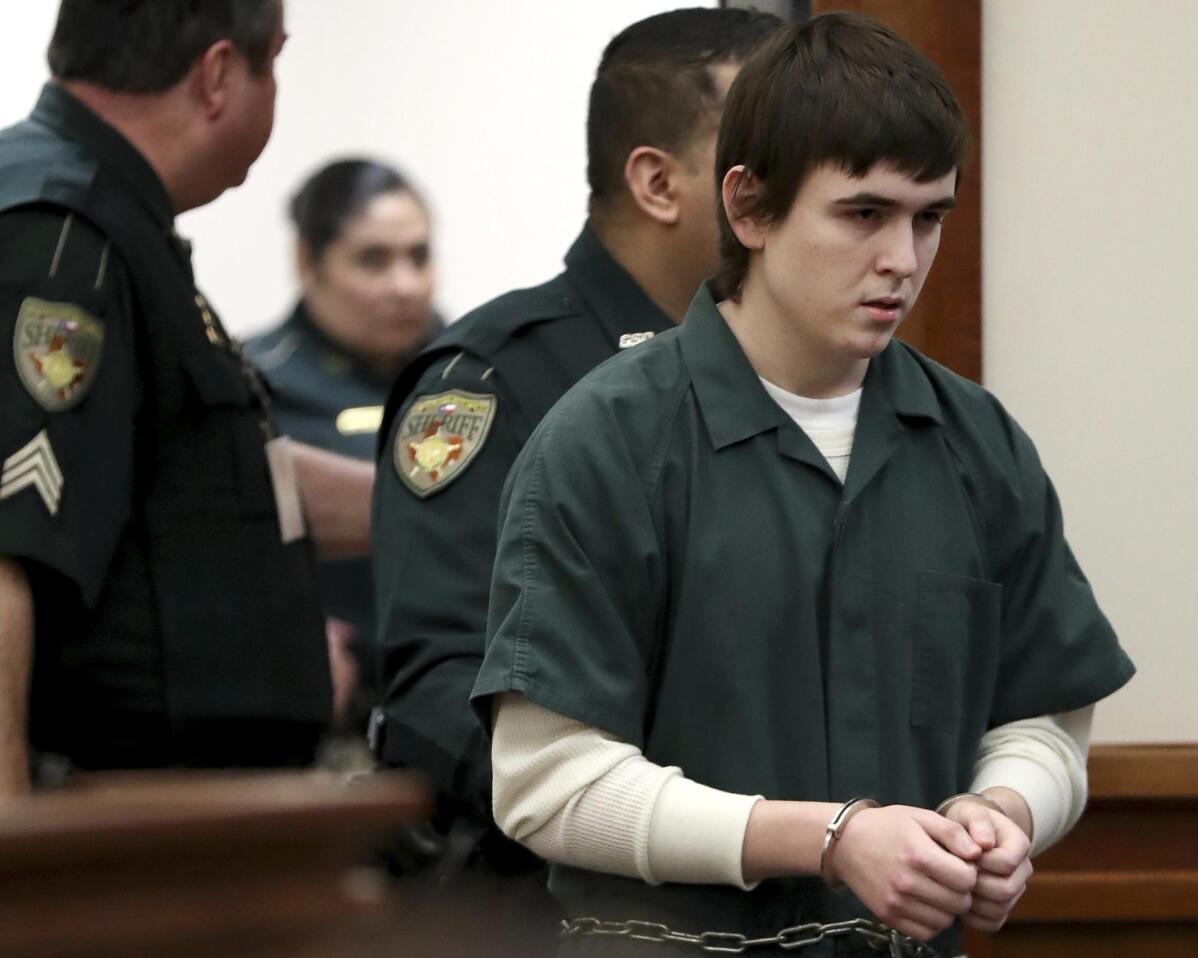 2 of 4

|
FILE - Dimitrios Pagourtzis is escorted by Galveston County Sheriff's Office deputies into the jury assembly room for a change of venue hearing at the Galveston County Courthouse on Feb. 25, 2019, in Galveston, Texas. Family members of those killed and injured during a 2018 attack at the Texas high school expressed concern Thursday, April 20, 2023, that the case against the accused gunman — delayed for years over questions of his mental competency — could be further held up pending removal of the trial judge, facing allegations of bias and prior legal ties to the defendant. (Jennifer Reynolds/The Galveston County Daily News via AP, Pool, File)
3 of 4

|
FILE - Santa Fe High School freshman Jai Gillard writes messages on each of the 10 crosses representing shooting victims in front the school in Santa Fe, Texas, on May 21, 2018. Family members of those killed and injured during a 2018 attack at the Texas high school expressed concern Thursday, April 20, 2023, that the case against the accused gunman — delayed for years over questions of his mental competency — could be further held up pending removal of the trial judge, facing allegations of bias and prior legal ties to the defendant. (Steve Gonzales/Houston Chronicle via AP, File)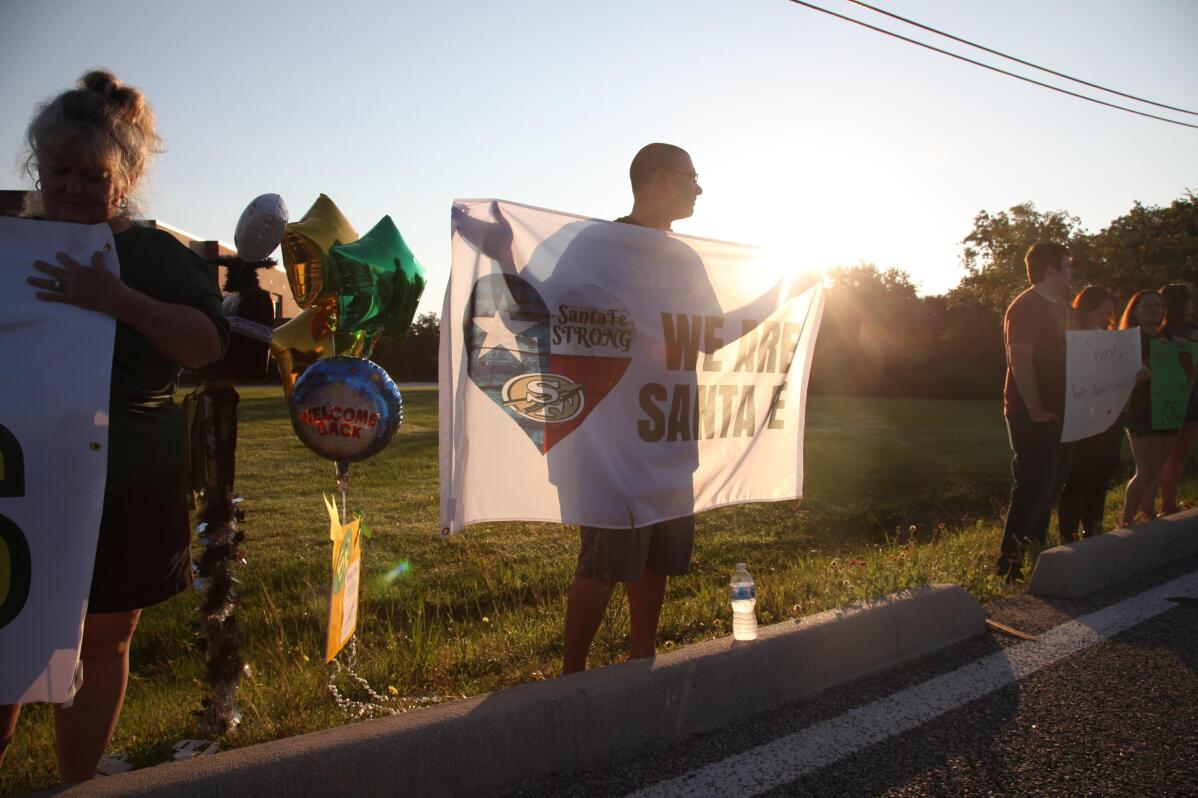 4 of 4

|
FILE - A man stands in front of Santa Fe High School, welcoming students back to class for the first time since a 17-year-old boy shot and killed ten people on campus, in Santa Fe, Texas, on May 29, 2018. Family members of those killed and injured during a 2018 attack at the Texas high school expressed concern Thursday, April 20, 2023, that the case against the accused gunman — delayed for years over questions of his mental competency — could be further held up pending removal of the trial judge, facing allegations of bias and prior legal ties to the defendant. (AP Photo/John L. Mone, File)
Families fear more delays in 2018 Texas school shooting case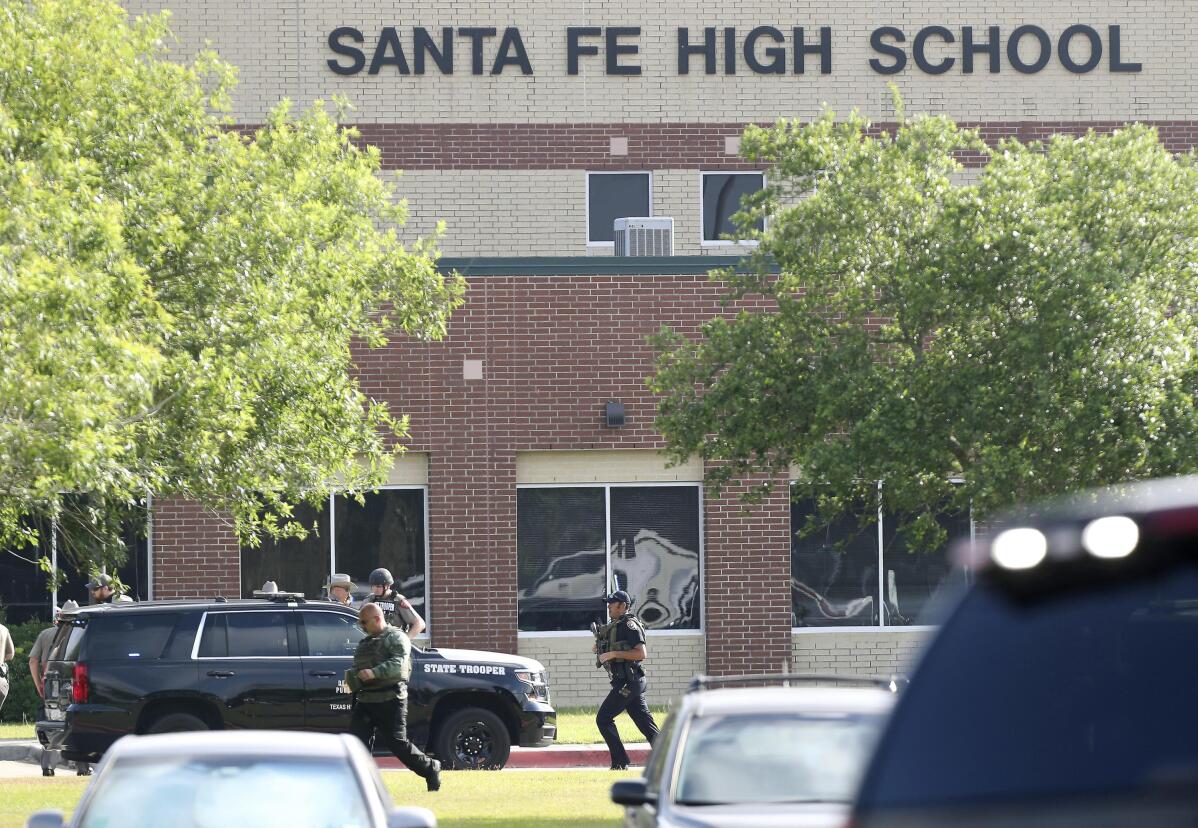 1 of 4

|
FILE - Law enforcement officers respond to Santa Fe High School after an active shooter was reported on campus on May 18, 2018, in Santa Fe, Texas. Family members of those killed and injured during a 2018 attack at the Texas high school expressed concern Thursday, April 20, 2023, that the case against the accused gunman — delayed for years over questions of his mental competency — could be further held up pending removal of the trial judge, facing allegations of bias and prior legal ties to the defendant. (Steve Gonzales/Houston Chronicle via AP, File)
1 of 4
FILE - Law enforcement officers respond to Santa Fe High School after an active shooter was reported on campus on May 18, 2018, in Santa Fe, Texas. Family members of those killed and injured during a 2018 attack at the Texas high school expressed concern Thursday, April 20, 2023, that the case against the accused gunman — delayed for years over questions of his mental competency — could be further held up pending removal of the trial judge, facing allegations of bias and prior legal ties to the defendant. (Steve Gonzales/Houston Chronicle via AP, File)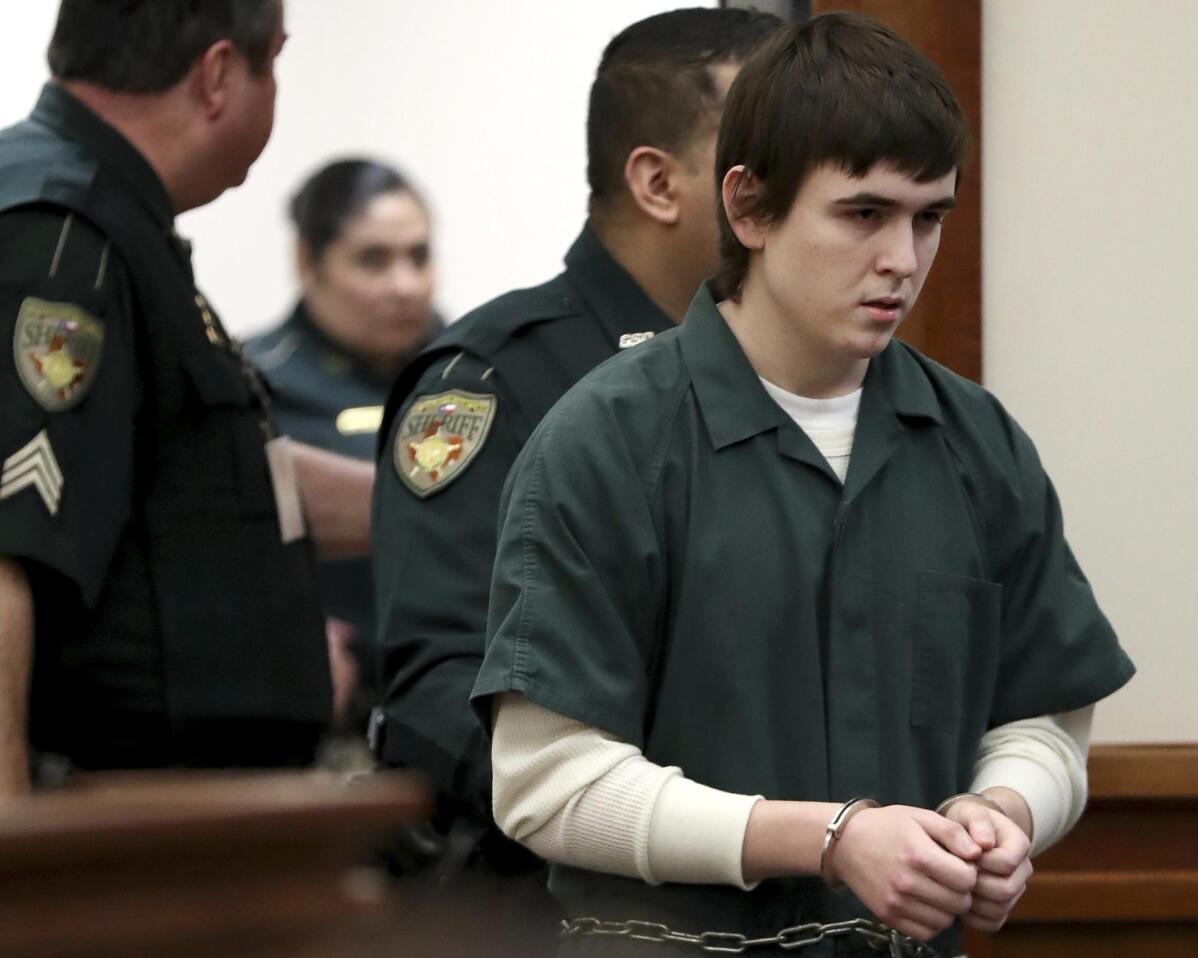 2 of 4

|
FILE - Dimitrios Pagourtzis is escorted by Galveston County Sheriff's Office deputies into the jury assembly room for a change of venue hearing at the Galveston County Courthouse on Feb. 25, 2019, in Galveston, Texas. Family members of those killed and injured during a 2018 attack at the Texas high school expressed concern Thursday, April 20, 2023, that the case against the accused gunman — delayed for years over questions of his mental competency — could be further held up pending removal of the trial judge, facing allegations of bias and prior legal ties to the defendant. (Jennifer Reynolds/The Galveston County Daily News via AP, Pool, File)
2 of 4
FILE - Dimitrios Pagourtzis is escorted by Galveston County Sheriff's Office deputies into the jury assembly room for a change of venue hearing at the Galveston County Courthouse on Feb. 25, 2019, in Galveston, Texas. Family members of those killed and injured during a 2018 attack at the Texas high school expressed concern Thursday, April 20, 2023, that the case against the accused gunman — delayed for years over questions of his mental competency — could be further held up pending removal of the trial judge, facing allegations of bias and prior legal ties to the defendant. (Jennifer Reynolds/The Galveston County Daily News via AP, Pool, File)
3 of 4

|
FILE - Santa Fe High School freshman Jai Gillard writes messages on each of the 10 crosses representing shooting victims in front the school in Santa Fe, Texas, on May 21, 2018. Family members of those killed and injured during a 2018 attack at the Texas high school expressed concern Thursday, April 20, 2023, that the case against the accused gunman — delayed for years over questions of his mental competency — could be further held up pending removal of the trial judge, facing allegations of bias and prior legal ties to the defendant. (Steve Gonzales/Houston Chronicle via AP, File)
3 of 4
FILE - Santa Fe High School freshman Jai Gillard writes messages on each of the 10 crosses representing shooting victims in front the school in Santa Fe, Texas, on May 21, 2018. Family members of those killed and injured during a 2018 attack at the Texas high school expressed concern Thursday, April 20, 2023, that the case against the accused gunman — delayed for years over questions of his mental competency — could be further held up pending removal of the trial judge, facing allegations of bias and prior legal ties to the defendant. (Steve Gonzales/Houston Chronicle via AP, File)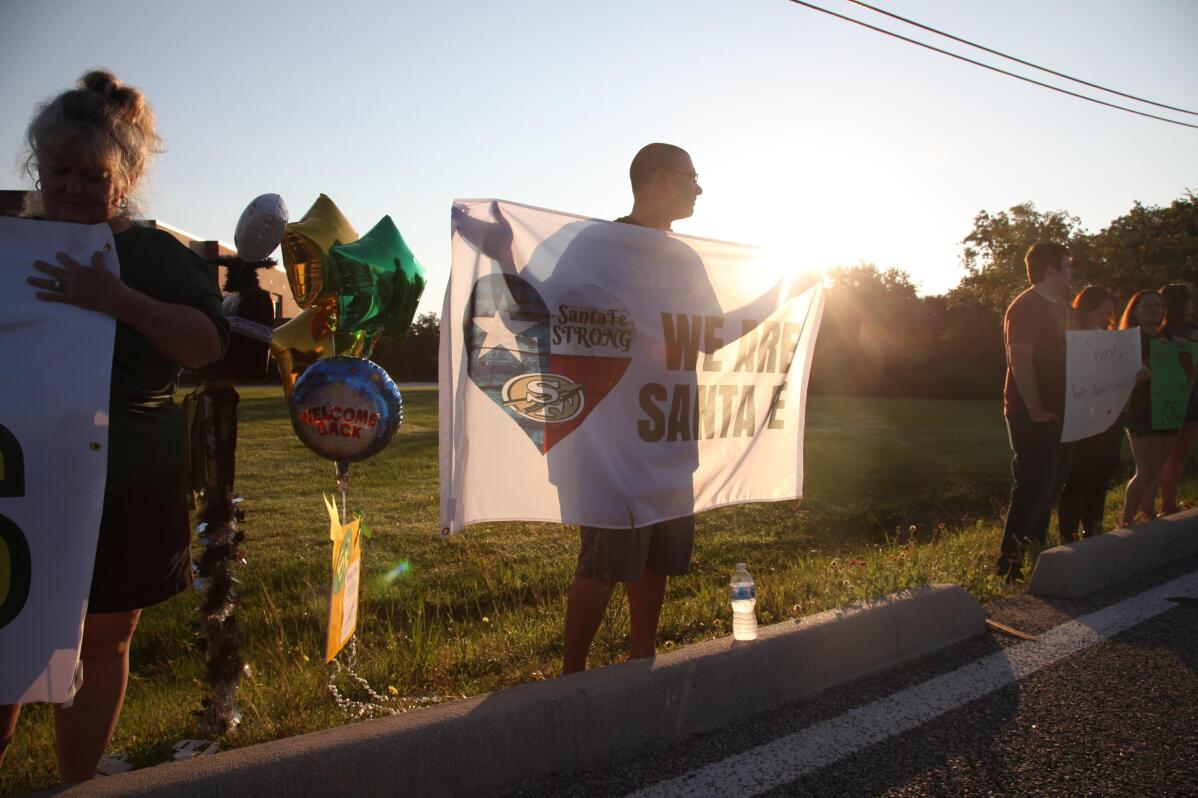 4 of 4

|
FILE - A man stands in front of Santa Fe High School, welcoming students back to class for the first time since a 17-year-old boy shot and killed ten people on campus, in Santa Fe, Texas, on May 29, 2018. Family members of those killed and injured during a 2018 attack at the Texas high school expressed concern Thursday, April 20, 2023, that the case against the accused gunman — delayed for years over questions of his mental competency — could be further held up pending removal of the trial judge, facing allegations of bias and prior legal ties to the defendant. (AP Photo/John L. Mone, File)
4 of 4
FILE - A man stands in front of Santa Fe High School, welcoming students back to class for the first time since a 17-year-old boy shot and killed ten people on campus, in Santa Fe, Texas, on May 29, 2018. Family members of those killed and injured during a 2018 attack at the Texas high school expressed concern Thursday, April 20, 2023, that the case against the accused gunman — delayed for years over questions of his mental competency — could be further held up pending removal of the trial judge, facing allegations of bias and prior legal ties to the defendant. (AP Photo/John L. Mone, File)
GALVESTON, Texas (AP) — Family members of those killed and wounded during a 2018 attack on a Texas high school in which 10 people were fatally shot expressed concern Thursday that the already delayed case against the accused gunman could be further held up pending the possible removal of the trial judge, facing allegations of bias and prior legal ties to the defendant.
"We don't even have any confidence we're ever going to trial at this point," said Scot Rice, whose wife Flo was one of another 13 people shot and wounded during the attack at Santa Fe High School on May 18, 2018.
Scot and Flo Rice, who was a substitute teacher, spoke after a court hearing over motions filed by lawyers for 22-year-old Dimitrios Pagourtzis, the accused shooter, who has been at a Texas state hospital since December 2019, when he was found mentally incompetent to stand trial.
Pagourtzis has been charged with capital murder in the shooting that left eight students and two teachers dead at the school some 35 miles (55 kilometers) southeast of Houston.
Attorneys representing Pagourtzis have accused Jeth Jones, the judge who has been handling the case since January, of bias and claim he is determined to find experts who will conclude their client is competent to stand trial.
"We are not here just because I don't like Judge Jones' rulings. We are here because his actions and rulings show a bias toward my client," said Nicholas Poehl, one of Pagourtzis' attorneys.
His lawyers are also asking that Jones be disqualified because they allege that Jared Robinson, his former partner in a law firm, briefly represented Pagourtzis when he was first arrested. They argue that under state law, Jones would be disqualified from the case because he had a legal connection to Pagourtzis by way of his law firm partner.
Prosecutors argued Thursday that Jones should not be removed from the case.
Galveston County District Attorney Jack Roady said Jones has not done anything wrong as his role as a judge includes being involved in the process to determine if Pagourtzis is competent to stand trial.
Roady also said the claims Jones should be disqualified because of prior legal ties to Pagourtzis have no merit. He said while Jones' former law partner did meet with Pagourtzis on the day of the shooting, he was never hired and declined to take on the case.
But Pagourtzis' attorney Robert Barfield testified during Thursday's hearing that Jones' law partner was briefly part of the accused shooter's legal team and gave him legal advice that would be considered confidential and would have established an attorney-client relationship.
Earlier this month, Jones declined to disqualify himself, referring the request to Susan Brown, who is the presiding judge over the six-county region that includes Galveston County, where the shooting took place.
During Thursday's hearing, Brown seemed to indicate Pagourtzis' attorneys would likely not prevail on their motion to recuse Jones over his actions regarding competency. But she asked for more information on whether the judge's former law partner did represent Pagourtzis.
Brown made no rulings but indicated she would likely hold another hearing next month.
Family members of those killed or wounded have expressed frustration the case has not gone to trial. They say part of their frustration comes from not having been given access to evidence in the case, including autopsy reports and surveillance footage, that could provide more information on their loved ones' final moments.
A bill has been filed in the current session of the state Legislature that would give crime victims' families access to such evidence without making it public before a trial.
Rosie Yanas Stone, whose 17-year-old son Chris, was killed in the shooting, said after Thursday's hearing she has been happy with Jones because he has sought answers on the issue of Pagourtzis' competency. She fears his removal would cause more delays in family members' efforts to get answers to what happened to their loved ones.
"Not knowing nothing is just horrible for us," she said. ___ Follow Juan A. Lozano on Twitter at https://twitter.com/juanlozano70.