Saudi Arabia, Syria to reopen embassies restoring relations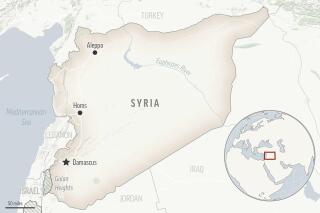 BEIRUT (AP) — Saudi Arabia and Syria will reopen diplomatic missions between the two countries now that relations have improved 11 years after the facilities were closed, the two nations foreign ministries said Tuesday.
The announcements came nearly a month after Syria and Saudi Arabia said they were moving toward reopening embassies and resuming airline flights. That had followed a visit by Syria's top diplomat to the kingdom, the first since Saudi Arabia cut off diplomatic relations with Syria in 2012 and a visit by Syria's foreign minister to Riyadh.
On Sunday, the 22-member Arab League agreed to reinstate Syria, ending a 12-year suspension and taking another step toward bringing Syrian President Bashar Assad, a long-time regional pariah, back into the fold.
Syria was widely shunned by Arab governments over the Assad government's brutal crackdown on protesters in a 2011 uprising that descended into civil war. The breakdown in relations culminated with Syria being ousted from the Arab League.
After the conflict started, Saudi Arabia backed the Syrian opposition.
The Saudi Foreign Ministry said in a statement Tuesday that the reopening of its embassy in Damascus aims "to strengthen security and stability in the region." It did not say when the embassy will reopen, adding that the move follows the Arab League's decision to reinstate Syria's membership.
Syria's Foreign Minister later said that Damascus will resume work at its mission in Saudi Arabia.
In recent years, as Assad consolidated control over most of the country, Syria's neighbors have begun to take steps toward rapprochement.
The overtures picked up pace since the massive Feb. 6 earthquake in Turkey and Syria, and the Chinese-brokered reestablishment of ties between Saudi Arabia and Iran, which had backed opposing sides in the Syrian conflict.
Saudi Arabia is hosting the next Arab League summit on May 19 and Syria is expected to attend.
Earlier on Tuesday, the United States and Britain voiced dissatisfaction with the weekend decision by the Arab League to re-instate Syria as a member.
U.S. Secretary of State Antony Blinken and British Foreign Secretary James Cleverly said they opposed the move. But they also allowed it was up to the Arab League to determine its membership.
Also on Tuesday, Syria's Foreign Minister Faisal Mekdad arrived in Moscow where he will attend a meeting on Wednesday that will include his counterparts from Iran, Turkey and Russia.
It will be the first time that Syria's foreign minister will meet his Turkish counterpart in more than a decade, as Turkey has been a main backer of opposition fighters trying to remove Assad from power.
Meetings between the defense ministers of Russia, Iran, Turkey and Saudi Arabia were held in Moscow in late April.
Syria's 12-year conflict has killed half a million people and displaced half the country's pre-war population of 23 million.