Australia: Truck driver charged after 7 children seriously injured in collision with school bus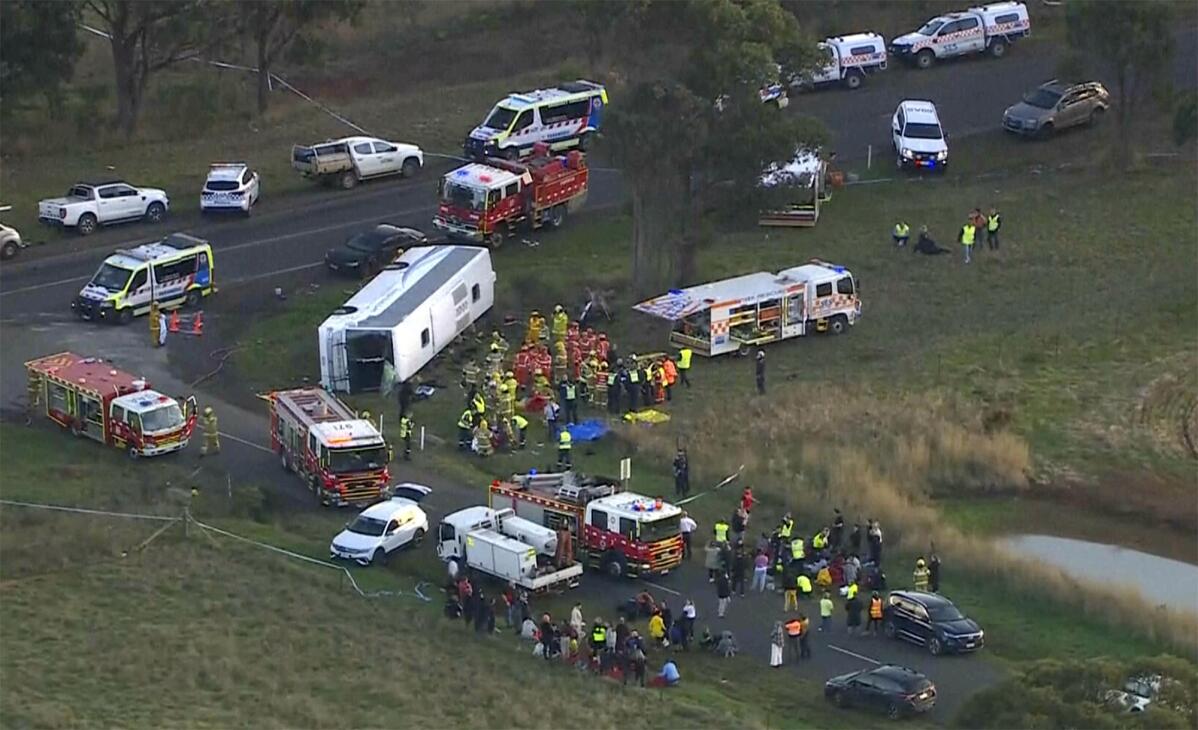 1 of 4

|
In this image made from video, rescue workers help children from a school bus that rolled onto its side on the outskirts of Melbourne, Australia, Tuesday, May 16, 2023. Seven children remain hospitalized Wednesday, May 17, with serious injuries after a truck struck a school bus Tuesday carrying as many as 45 students in southeastern Australia. (AuBC/CHANNEL 7/CHANNEL 9 via AP)
2 of 4

|
Investigators work at the scene of a bus crash near in Melbourne, Wednesday, May 17, 2023. Seven children remain hospitalized with serious injuries after a truck struck a school bus Tuesday carrying as many as 45 students on the outskirts of Melbourne in southeastern Australia. (Joel Carrett/AAP Image via AP)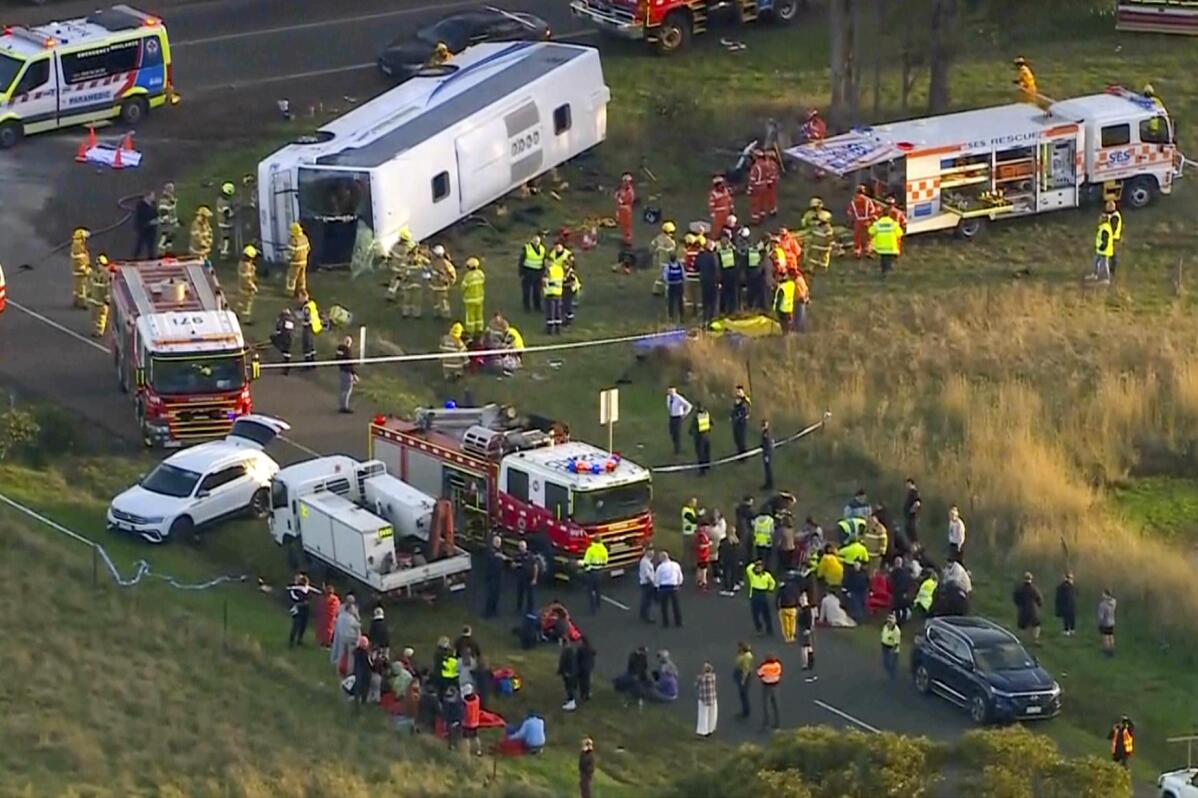 3 of 4

|
In this image made from video, rescue workers help children from a school bus that rolled onto its side on the outskirts of Melbourne, Australia, Tuesday, May 16, 2023. Seven children remain hospitalized Wednesday, May 17, with serious injuries after a truck struck a school bus Tuesday carrying as many as 45 students in southeastern Australia. (AuBC/CHANNEL 7/CHANNEL 9 via AP)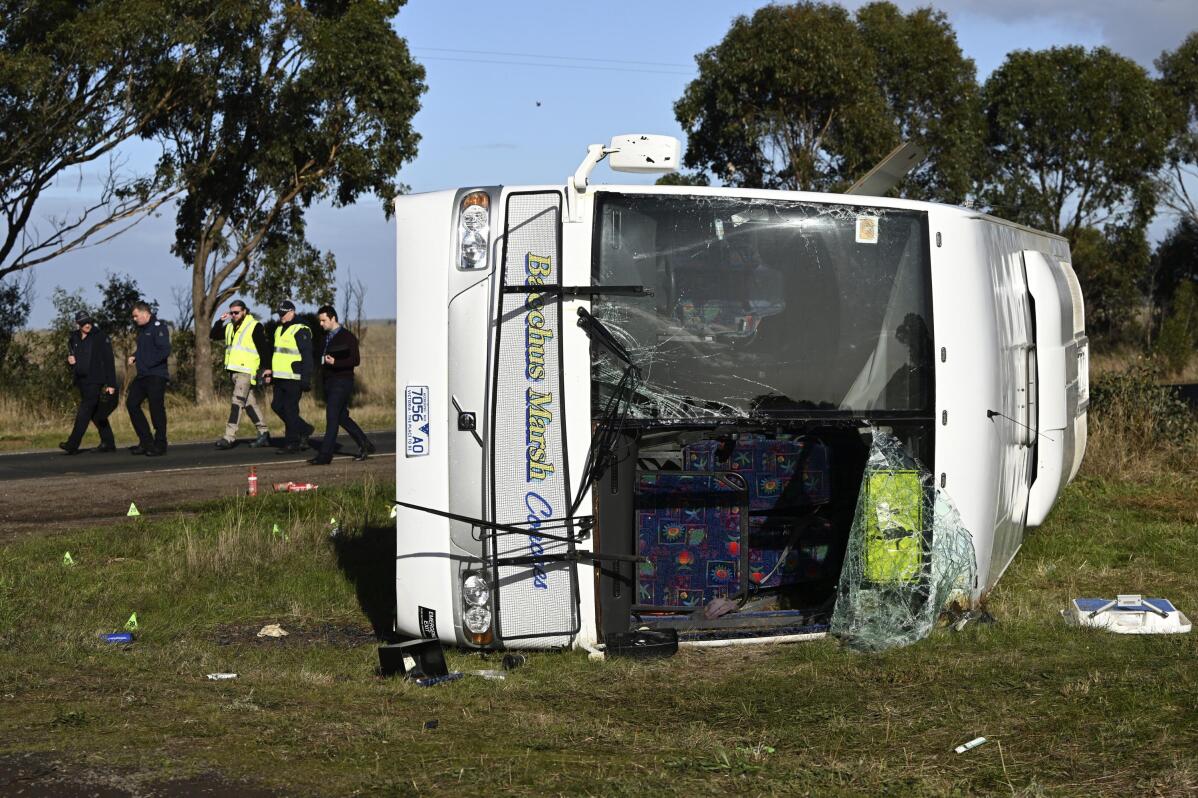 4 of 4

|
Investigators work at the scene of a bus crash near in Melbourne, Wednesday, May 17, 2023. Seven children remain hospitalized with serious injuries after a truck struck a school bus Tuesday carrying as many as 45 students on the outskirts of Melbourne in southeastern Australia. (Joel Carrett/AAP Image via AP)
Australia: Truck driver charged after 7 children seriously injured in collision with school bus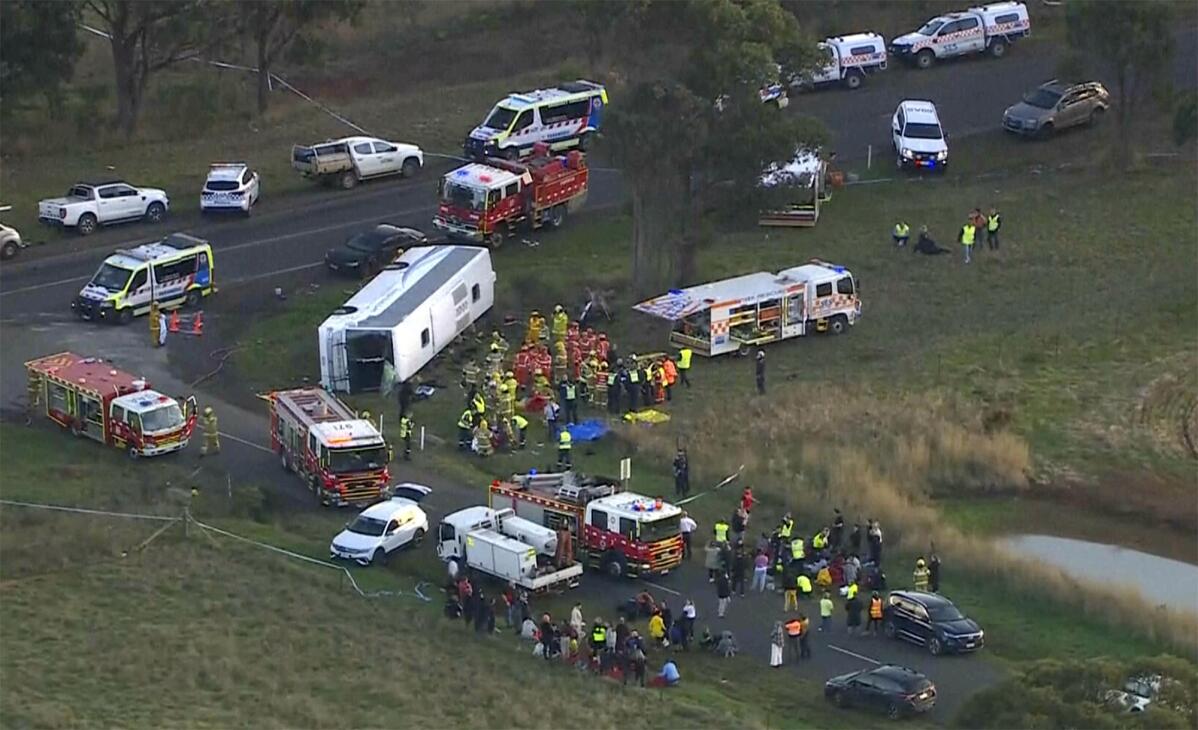 1 of 4

|
In this image made from video, rescue workers help children from a school bus that rolled onto its side on the outskirts of Melbourne, Australia, Tuesday, May 16, 2023. Seven children remain hospitalized Wednesday, May 17, with serious injuries after a truck struck a school bus Tuesday carrying as many as 45 students in southeastern Australia. (AuBC/CHANNEL 7/CHANNEL 9 via AP)
1 of 4
In this image made from video, rescue workers help children from a school bus that rolled onto its side on the outskirts of Melbourne, Australia, Tuesday, May 16, 2023. Seven children remain hospitalized Wednesday, May 17, with serious injuries after a truck struck a school bus Tuesday carrying as many as 45 students in southeastern Australia. (AuBC/CHANNEL 7/CHANNEL 9 via AP)
2 of 4

|
Investigators work at the scene of a bus crash near in Melbourne, Wednesday, May 17, 2023. Seven children remain hospitalized with serious injuries after a truck struck a school bus Tuesday carrying as many as 45 students on the outskirts of Melbourne in southeastern Australia. (Joel Carrett/AAP Image via AP)
2 of 4
Investigators work at the scene of a bus crash near in Melbourne, Wednesday, May 17, 2023. Seven children remain hospitalized with serious injuries after a truck struck a school bus Tuesday carrying as many as 45 students on the outskirts of Melbourne in southeastern Australia. (Joel Carrett/AAP Image via AP)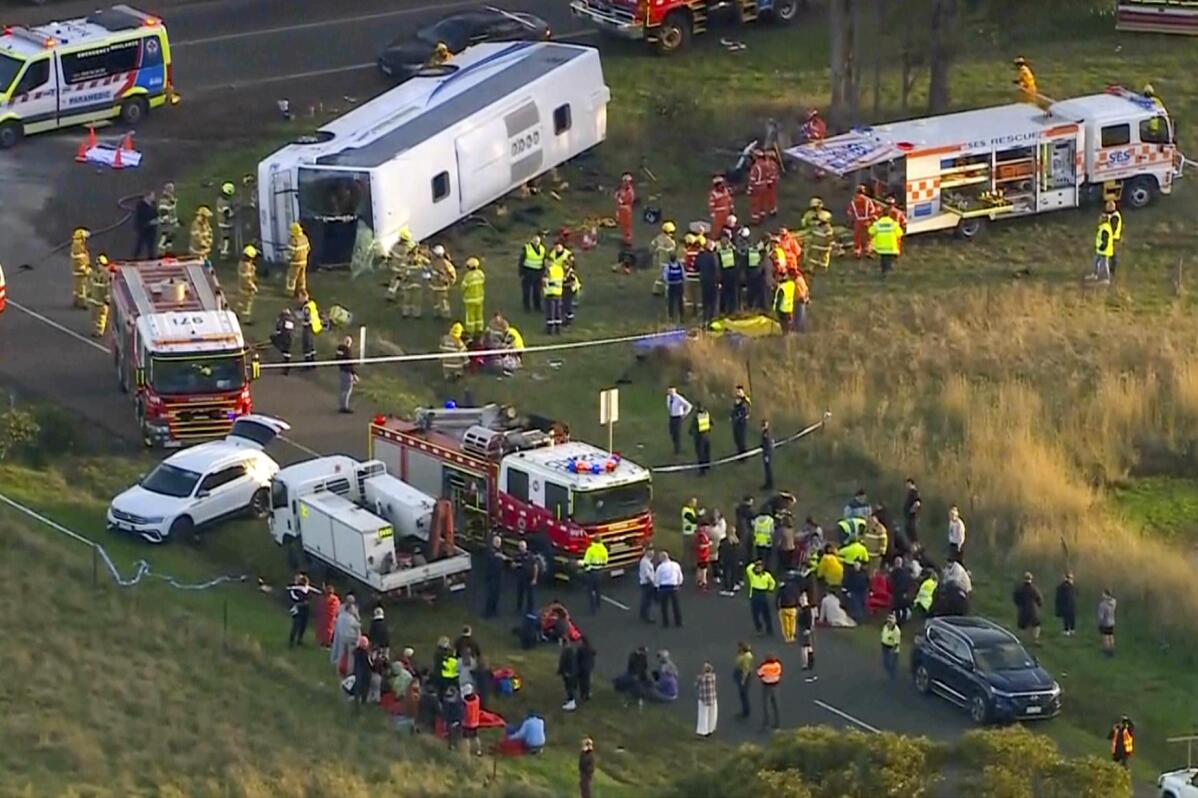 3 of 4

|
In this image made from video, rescue workers help children from a school bus that rolled onto its side on the outskirts of Melbourne, Australia, Tuesday, May 16, 2023. Seven children remain hospitalized Wednesday, May 17, with serious injuries after a truck struck a school bus Tuesday carrying as many as 45 students in southeastern Australia. (AuBC/CHANNEL 7/CHANNEL 9 via AP)
3 of 4
In this image made from video, rescue workers help children from a school bus that rolled onto its side on the outskirts of Melbourne, Australia, Tuesday, May 16, 2023. Seven children remain hospitalized Wednesday, May 17, with serious injuries after a truck struck a school bus Tuesday carrying as many as 45 students in southeastern Australia. (AuBC/CHANNEL 7/CHANNEL 9 via AP)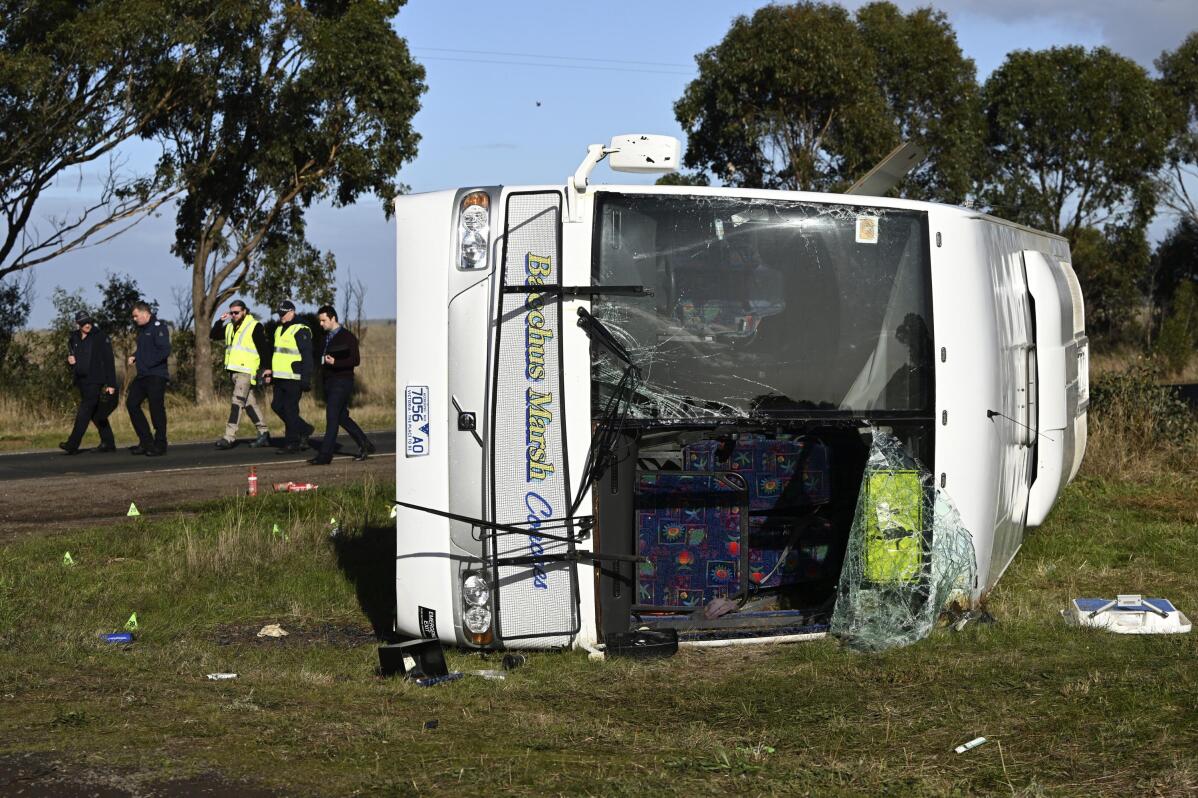 4 of 4

|
Investigators work at the scene of a bus crash near in Melbourne, Wednesday, May 17, 2023. Seven children remain hospitalized with serious injuries after a truck struck a school bus Tuesday carrying as many as 45 students on the outskirts of Melbourne in southeastern Australia. (Joel Carrett/AAP Image via AP)
4 of 4
Investigators work at the scene of a bus crash near in Melbourne, Wednesday, May 17, 2023. Seven children remain hospitalized with serious injuries after a truck struck a school bus Tuesday carrying as many as 45 students on the outskirts of Melbourne in southeastern Australia. (Joel Carrett/AAP Image via AP)
CANBERRA, Australia (AP) — A truck driver was charged Wednesday after seven children were hospitalized with serious injuries when he rear-ended a school bus on the outskirts of Melbourne in southeastern Australia, officials said.
The dump truck that Jamie Gleeson was driving hit the back of a school bus carrying 45 students and caused it to overturn Tuesday afternoon at an intersection in Eynesbury, a semi-rural community west of Melbourne, police said. Head injuries, arm amputations and suspected spinal injuries were reported by a hospital official.
Gleeson, 49, appeared in Melbourne Magistrates' Court on Wednesday and was charged with four counts of dangerous driving causing serious injury. The charges relate to two 9-year-old injured children and two 10-year-olds. Each charge carries a potential maximum sentence of five years in prison.
Gleeson appeared via videolink from a suburban police cell where he had been held overnight. He was not injured in the crash.
Magistrate Andrew McKenna released Gleeson on bail with conditions including that he does not drive heavy vehicles or leave Victoria state. He was not required to enter pleas.
He is next court appearance is Oct. 18.
Gleeson did not have drugs or alcohol in his system when he was driving and does not have a criminal history, the court heard.
Police Superintendent Michael Cruse said more charges were likely. He told reporters that driving speed would be considered in the investigation.
Cruse paid tribute to passersby and the injured 52-year-old bus driver who helped children from the bus.
"It's a really confronting scene. Some of the injuries are really very traumatic and that would be a difficult scene for a passerby to come across, and then to have acted the way they did is really admirable," Cruse said.
Exford Primary School Principal Lisa Campo drove the short distance from the children's campus to the crash site and was among those who rendered help.
"I didn't know what I was going to see. I honestly thought I'd be just there comforting some distressed kids who had been in been a minor collision," Campo told reporters. "I didn't ever expect to see that and hope I never see that again."
A total of 21 children where initially taken by ambulance from the scene for medical care and seven of them remained hospitalized Wednesday.
One of the children was in intensive care, Royal Children's Hospital Melbourne CEO Bernadette McDonald said, noting the children range in age from 5 to 11 years old.
"The children have suffered multiple and traumatic injuries including partial and complete amputations of arms, multiple crushing injuries, severe lacerations of the head and body, head injuries, glass shard injuries and three patients are … being monitored carefully in terms of spinal injuries," McDonald told reporters.
She also said the hospital was assisting some extremely traumatized families, adding, "We're working extremely hard to provide that trauma support and care that they will need, not just now but in the coming weeks and months as well."
McDonald said one child lost an entire arm but she did not elaborate on how many of the injured had partial amputations.
About six children were temporarily trapped in the wrecked bus, the Country Fire Authority said. Emergency crews entered the bus through a skylight in its roof, and the smashed-out windshield was used as the main emergency exit.
Paramedics assessed dazed victims who didn't appear to need hospitalization in the grass surrounding the crash site. The bus driver was taken to a hospital with minor injuries but was not admitted. The truck driver was not injured.
At the time of the crash, the children were returning to school after competing in an athletics event.
Police Detective Senior Sergeant Paul Lineham from the Major Collision Investigation Unit that charged the truck driver said the bus was fitted with seatbelts.
"We don't know how many of the children were restrained by seatbelts at the time of the collision," Lineham told Australian Broadcasting Corp. "The scene was quite horrific."
___
This story corrects that the truck driver was 49, not 52. The bus driver was 52.