Scotland's Sturgeon exits with pride, brickbats from critics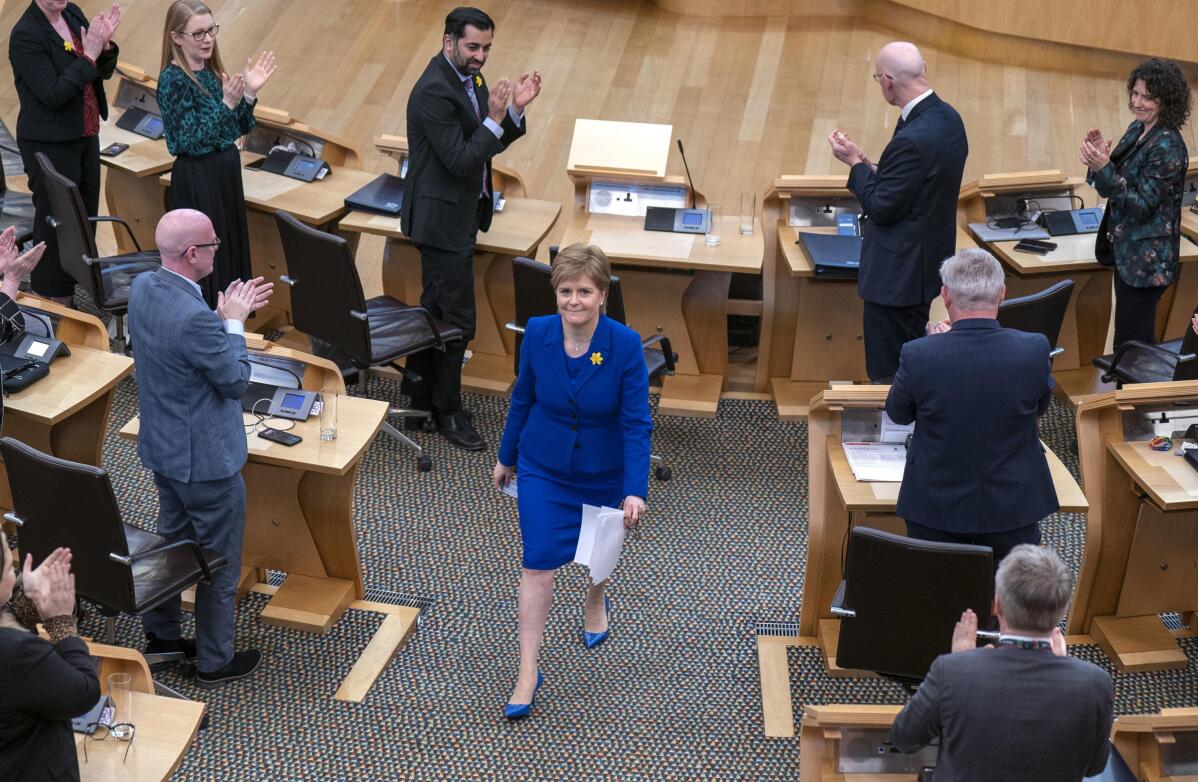 1 of 4

|
Outgoing Scottish First Minister Nicola Sturgeon leaves the main chamber after her last First Minister's Questions (FMQs) in the main chamber of the Scottish Parliament in Edinburgh, Thursday March 23, 2023. (Jane Barlow/PA via AP)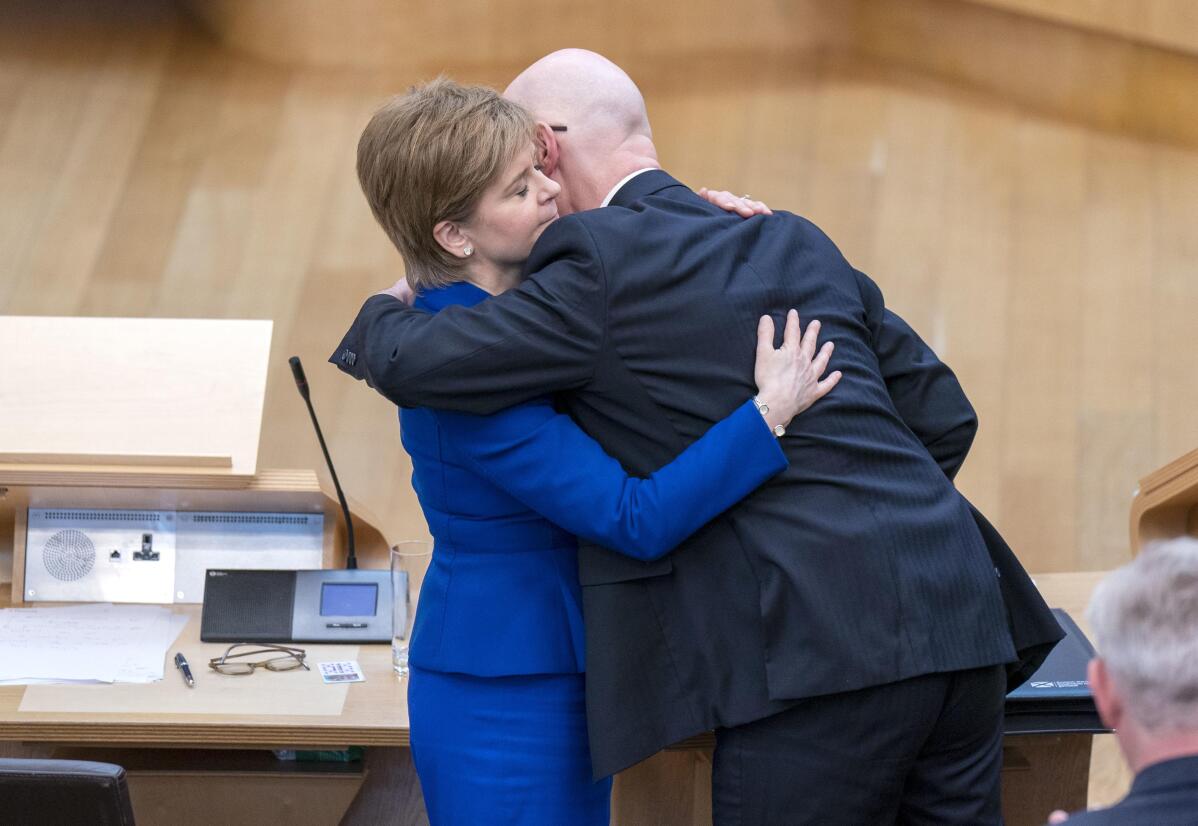 2 of 4

|
Outgoing Scottish First Minister Nicola Sturgeon and outgoing Deputy First Minister John Swinney hug before leaving the main chambe after her last First Minister's Questions (FMQs) in the main chamber of the Scottish Parliament in Edinburgh, Thursday March 23, 2023. (Jane Barlow/PA via AP)
3 of 4

|
Outgoing Scottish First Minister Nicola Sturgeon in the main chamber after her last First Minister's Questions (FMQs) in the main chamber of the Scottish Parliament in Edinburgh, Thursday March 23, 2023. (Jane Barlow/PA via AP)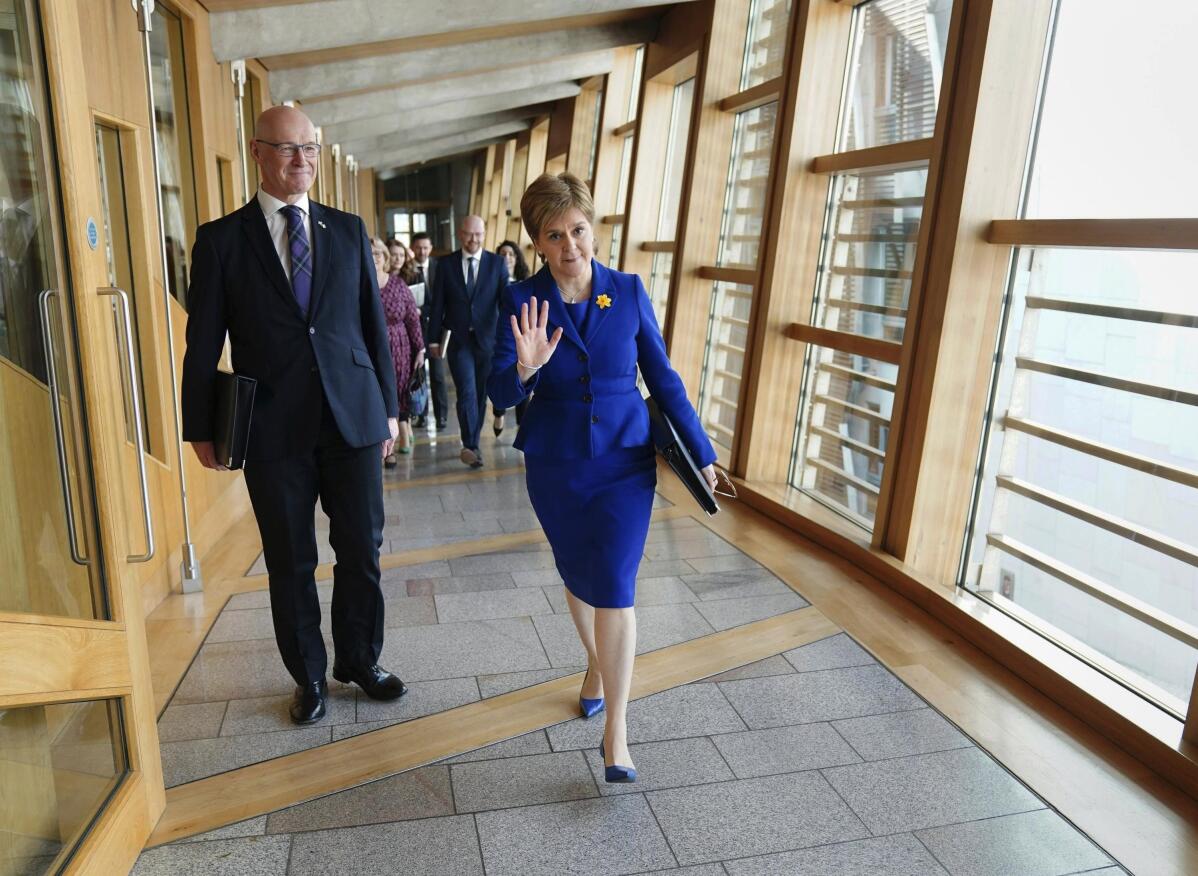 4 of 4

|
Deputy First Minister John Swinney, left and outgoing First Minister Nicola Sturgeon arrive for her last First Minster's Questions (FMQs) in the debating chamber of the Scottish Parliament in Edinburgh, Thursday March 23, 2023. ( Jane Barlow/PA via AP)
Scotland's Sturgeon exits with pride, brickbats from critics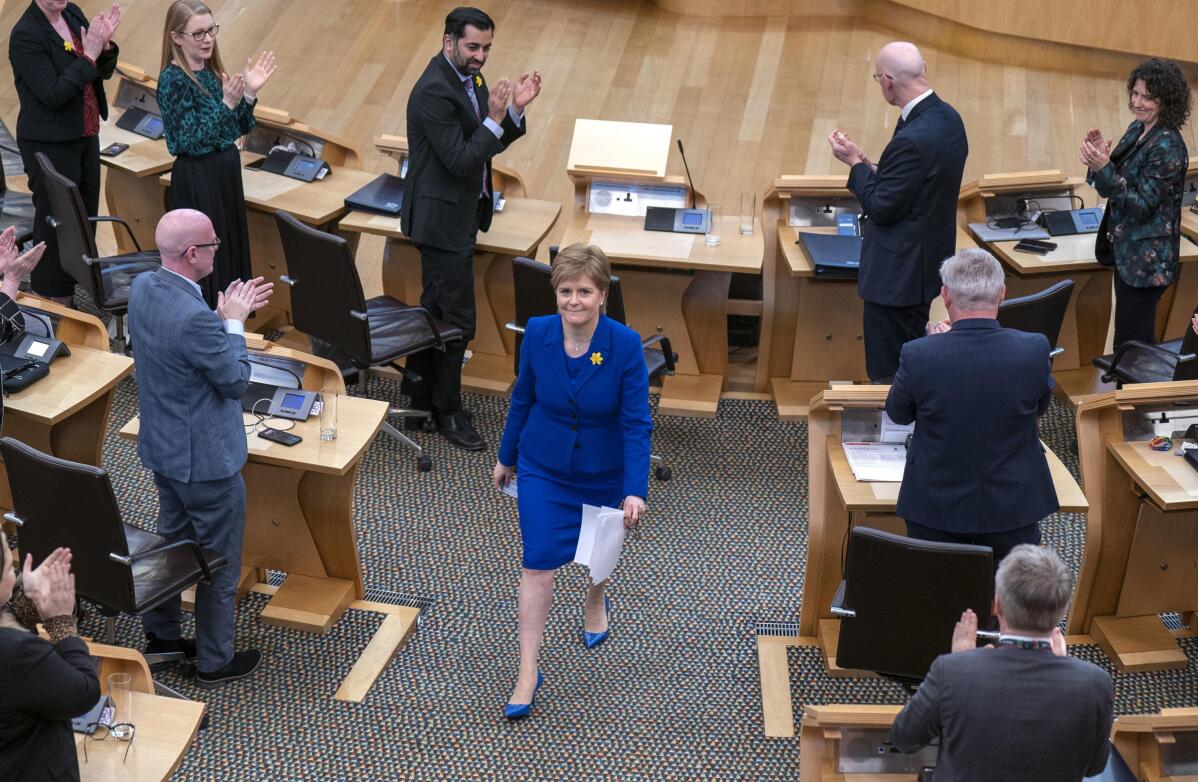 1 of 4

|
Outgoing Scottish First Minister Nicola Sturgeon leaves the main chamber after her last First Minister's Questions (FMQs) in the main chamber of the Scottish Parliament in Edinburgh, Thursday March 23, 2023. (Jane Barlow/PA via AP)
1 of 4
Outgoing Scottish First Minister Nicola Sturgeon leaves the main chamber after her last First Minister's Questions (FMQs) in the main chamber of the Scottish Parliament in Edinburgh, Thursday March 23, 2023. (Jane Barlow/PA via AP)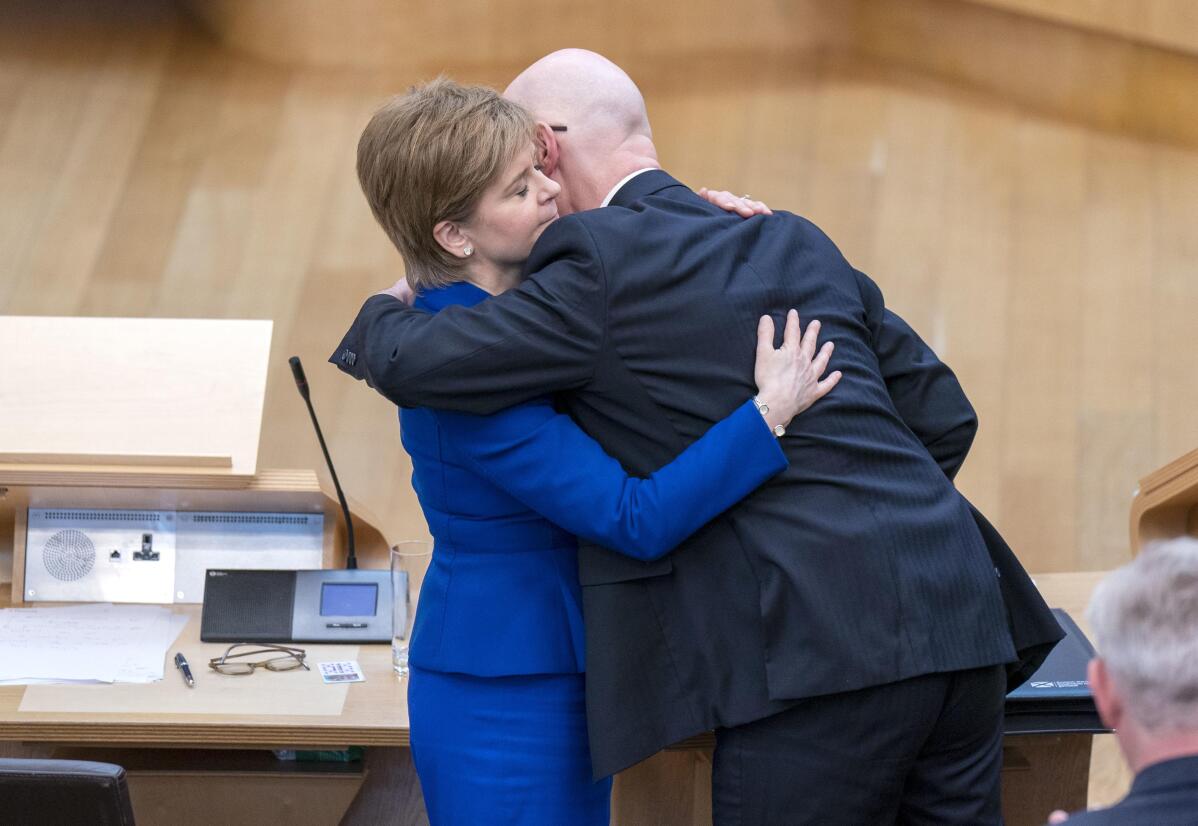 2 of 4

|
Outgoing Scottish First Minister Nicola Sturgeon and outgoing Deputy First Minister John Swinney hug before leaving the main chambe after her last First Minister's Questions (FMQs) in the main chamber of the Scottish Parliament in Edinburgh, Thursday March 23, 2023. (Jane Barlow/PA via AP)
2 of 4
Outgoing Scottish First Minister Nicola Sturgeon and outgoing Deputy First Minister John Swinney hug before leaving the main chambe after her last First Minister's Questions (FMQs) in the main chamber of the Scottish Parliament in Edinburgh, Thursday March 23, 2023. (Jane Barlow/PA via AP)
3 of 4

|
Outgoing Scottish First Minister Nicola Sturgeon in the main chamber after her last First Minister's Questions (FMQs) in the main chamber of the Scottish Parliament in Edinburgh, Thursday March 23, 2023. (Jane Barlow/PA via AP)
3 of 4
Outgoing Scottish First Minister Nicola Sturgeon in the main chamber after her last First Minister's Questions (FMQs) in the main chamber of the Scottish Parliament in Edinburgh, Thursday March 23, 2023. (Jane Barlow/PA via AP)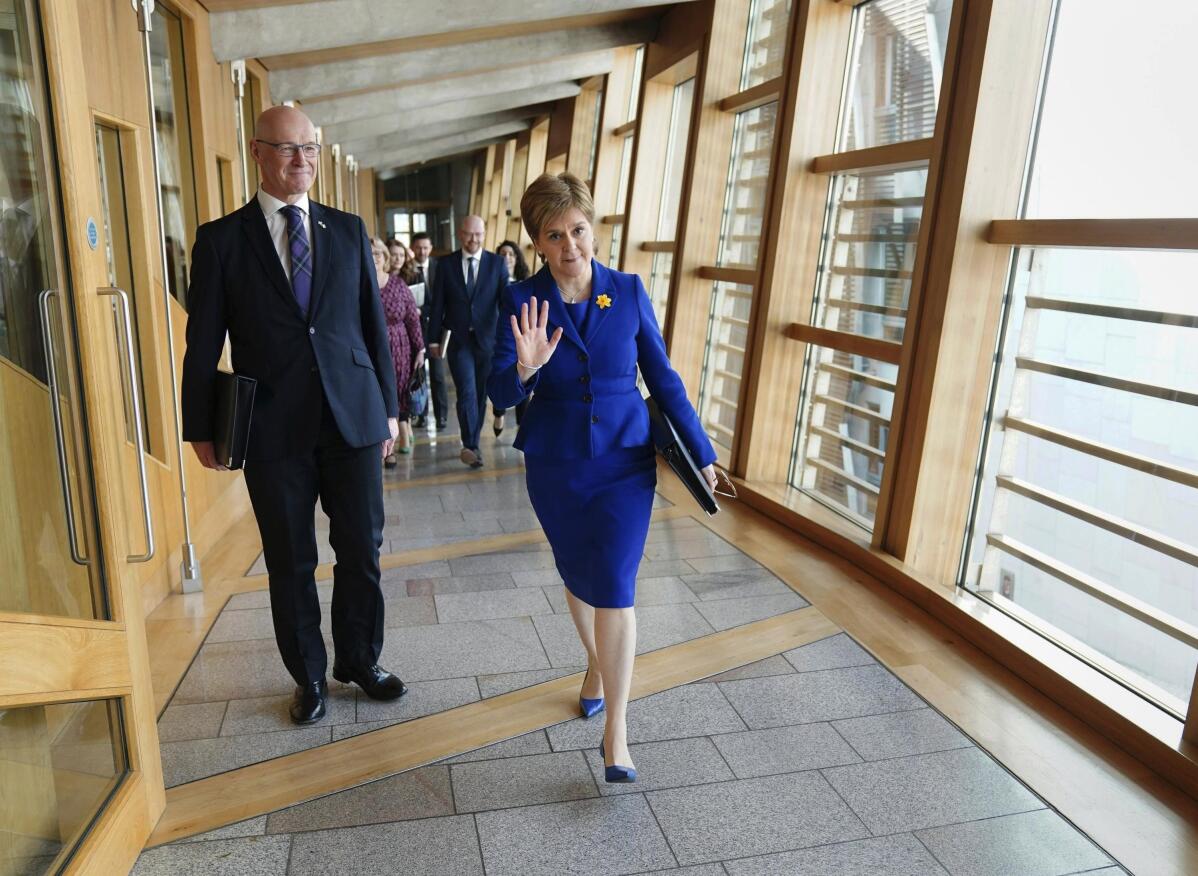 4 of 4

|
Deputy First Minister John Swinney, left and outgoing First Minister Nicola Sturgeon arrive for her last First Minster's Questions (FMQs) in the debating chamber of the Scottish Parliament in Edinburgh, Thursday March 23, 2023. ( Jane Barlow/PA via AP)
4 of 4
Deputy First Minister John Swinney, left and outgoing First Minister Nicola Sturgeon arrive for her last First Minster's Questions (FMQs) in the debating chamber of the Scottish Parliament in Edinburgh, Thursday March 23, 2023. ( Jane Barlow/PA via AP)
LONDON (AP) — Scottish First Minister Nicola Sturgeon addressed lawmakers for the last time as Scottish leader on Thursday, expressing pride in her government's achievements to lessen poverty and inequality – but frustrated in her quest to make Scotland an independent country.
Sturgeon faced strong criticism from opponents in her 286th and final First Minister's Questions session in the Scottish parliament. In scrappy exchanges, opposition leaders slammed her for Scotland's long health care waiting times, homelessness problem and high drug death toll.
Scottish Conservative leader Douglas Ross alleged that, obsessed with independence, "she divided our country and failed in every mission she set herself."
Sturgeon told Edinburgh lawmakers that she had "made my fair share of mistakes in the last eight years. And, of course, there are things I wish I had done better or differently."
"But overall and overwhelmingly, I am proud of what has been achieved," she said, highlighting work to lift children out of poverty.
Sturgeon, 52, announced her resignation last month after more than eight years as first minister in Scotland's semi-autonomous government and leader of the governing Scottish National Party. The winner of a party contest to replace her will be announced on Monday.
She leaves with her main goal, independence from the U.K. for the nation of 5.5 million people, unmet.
Scottish voters backed remaining in the U.K. in a 2014 referendum that was billed as a once-in-a-generation decision. The SNP wants a new vote, but the central government has refused to authorize one, and the U.K. Supreme Court has ruled that Scotland can't hold one without London's consent.
The party is divided on its next steps, but Sturgeon said she was confident her successor "will lead this country to becoming an independent nation."
She said her decision to quit was a personal one and it was "time for Nicola Sturgeon the politician to make a bit of space for Nicola Sturgeon the person."
Sturgeon's resignation has unleashed a battle for the direction of the SNP, which currently holds 64 of the 129 seats in the Scottish parliament and governs in coalition with the much smaller Greens.
Her husband, Peter Murrell, stepped down as party chief executive last week over a kerfuffle about the party's declining membership and amid claims by some that a clique around Sturgeon wields too much power in the SNP.
Some in the party think that the SNP under Sturgeon spent too much time focusing on divisive social issues rather that the economy and independence. Sturgeon's departure was hastened by a backlash over legislation she championed to make it easier for people in Scotland to legally change their gender.
In a farewell statement, Sturgeon said it had been an "utter privilege" to lead her country.
Three lawmakers are running to replace Sturgeon: Scottish Finance Secretary Kate Forbes, 32; Health Secretary Humza Yousaf, 37; and 49-year-old lawmaker Ash Regan. Sturgeon said that means Scotland will soon get its second female first minister or its first leader of color.
"Either way, that will send the very powerful message that this, the highest office in the land, is one that any young person in Scotland can aspire to," she said.