Big clubs in Germany's second division taking attention away from Bundesliga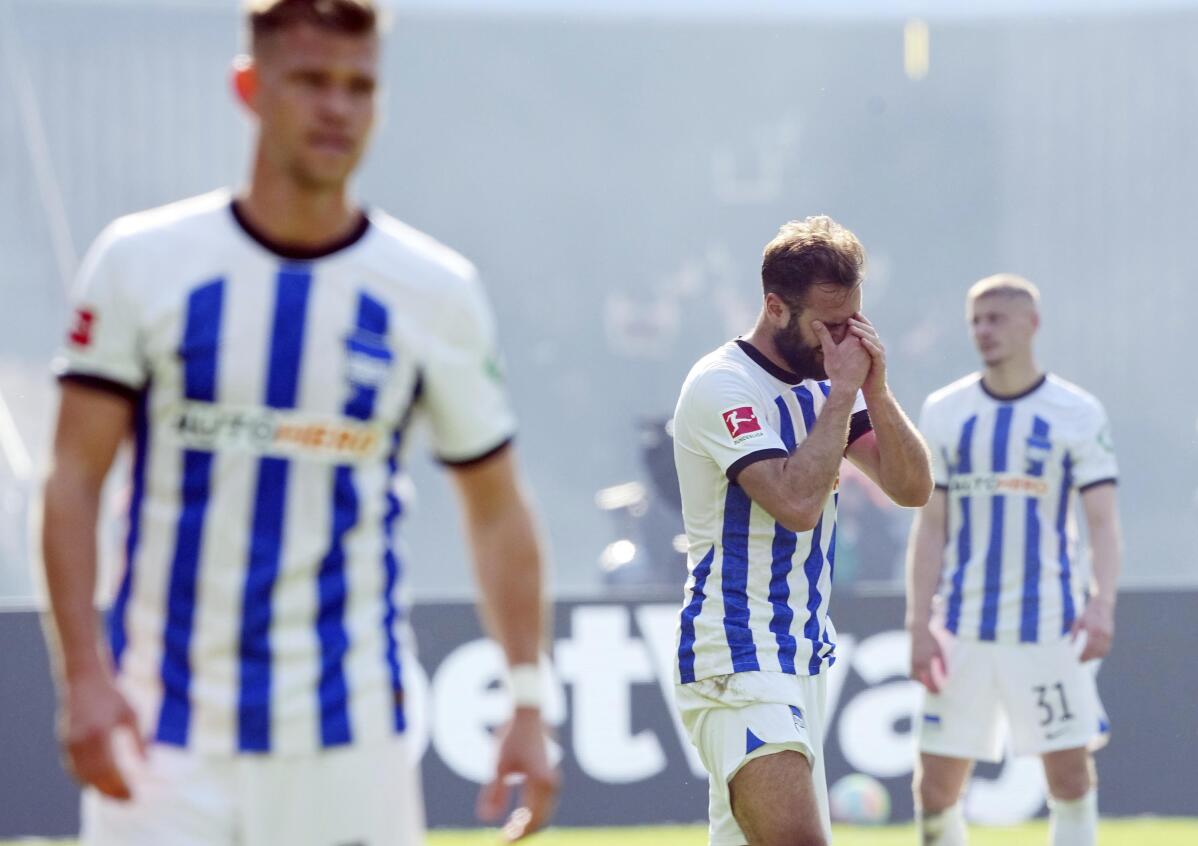 1 of 2

|
Hertha's goal scorer Lucas Tousart, center, and his teammates Florian Niederlechner, left, and Marton Dardai, right, react after the German Bundesliga soccer match between Hertha BSC Berlin and VfL Bochum in Berlin, Germany, Saturday, May 20, 2023. It had been expected but Hertha Berlin's relegation from the Bundesliga was a shock when it came. The "Old Lady" was winning deep into injury time against Bochum when Keven Schlotterbeck scored the goal that sent Hertha down to the second division on Saturday. (Soeren Stache/dpa via AP)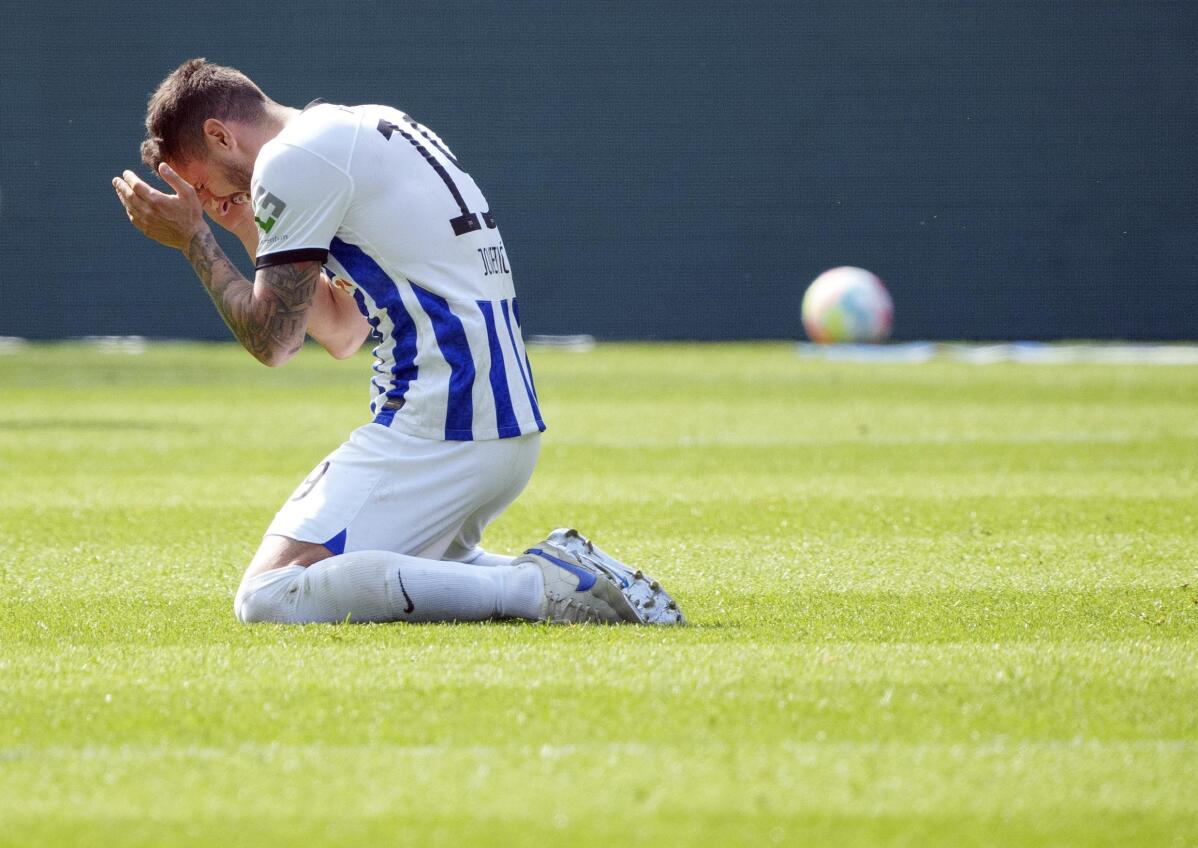 2 of 2

|
Hertha's Stevan Jovetic kneels on the pitch during the German Bundesliga soccer match between Hertha BSC Berlin and VfL Bochum in Berlin, Germany, Saturday, May 20, 2023. It had been expected but Hertha Berlin's relegation from the Bundesliga was a shock when it came. The "Old Lady" was winning deep into injury time against Bochum when Keven Schlotterbeck scored the goal that sent Hertha down to the second division on Saturday. (Soeren Stache/dpa via AP)
Big clubs in Germany's second division taking attention away from Bundesliga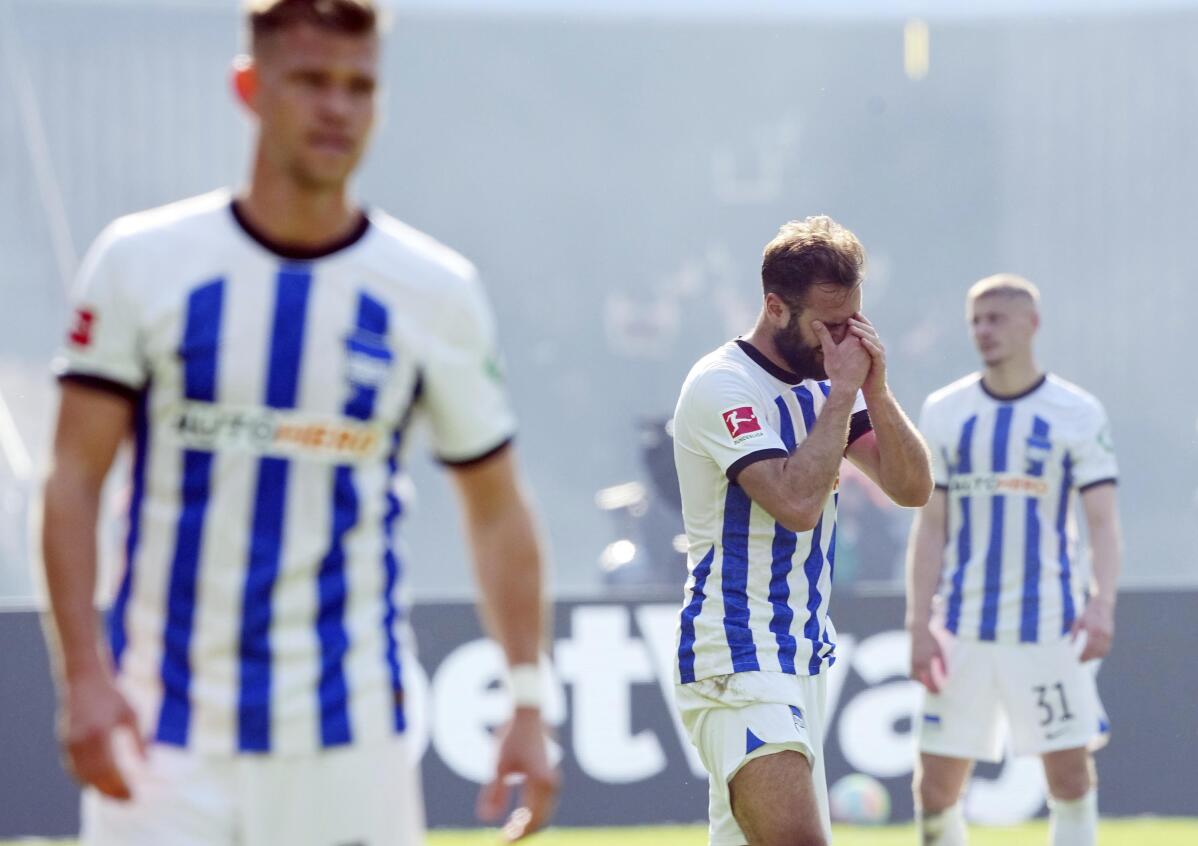 1 of 2

|
Hertha's goal scorer Lucas Tousart, center, and his teammates Florian Niederlechner, left, and Marton Dardai, right, react after the German Bundesliga soccer match between Hertha BSC Berlin and VfL Bochum in Berlin, Germany, Saturday, May 20, 2023. It had been expected but Hertha Berlin's relegation from the Bundesliga was a shock when it came. The "Old Lady" was winning deep into injury time against Bochum when Keven Schlotterbeck scored the goal that sent Hertha down to the second division on Saturday. (Soeren Stache/dpa via AP)
1 of 2
Hertha's goal scorer Lucas Tousart, center, and his teammates Florian Niederlechner, left, and Marton Dardai, right, react after the German Bundesliga soccer match between Hertha BSC Berlin and VfL Bochum in Berlin, Germany, Saturday, May 20, 2023. It had been expected but Hertha Berlin's relegation from the Bundesliga was a shock when it came. The "Old Lady" was winning deep into injury time against Bochum when Keven Schlotterbeck scored the goal that sent Hertha down to the second division on Saturday. (Soeren Stache/dpa via AP)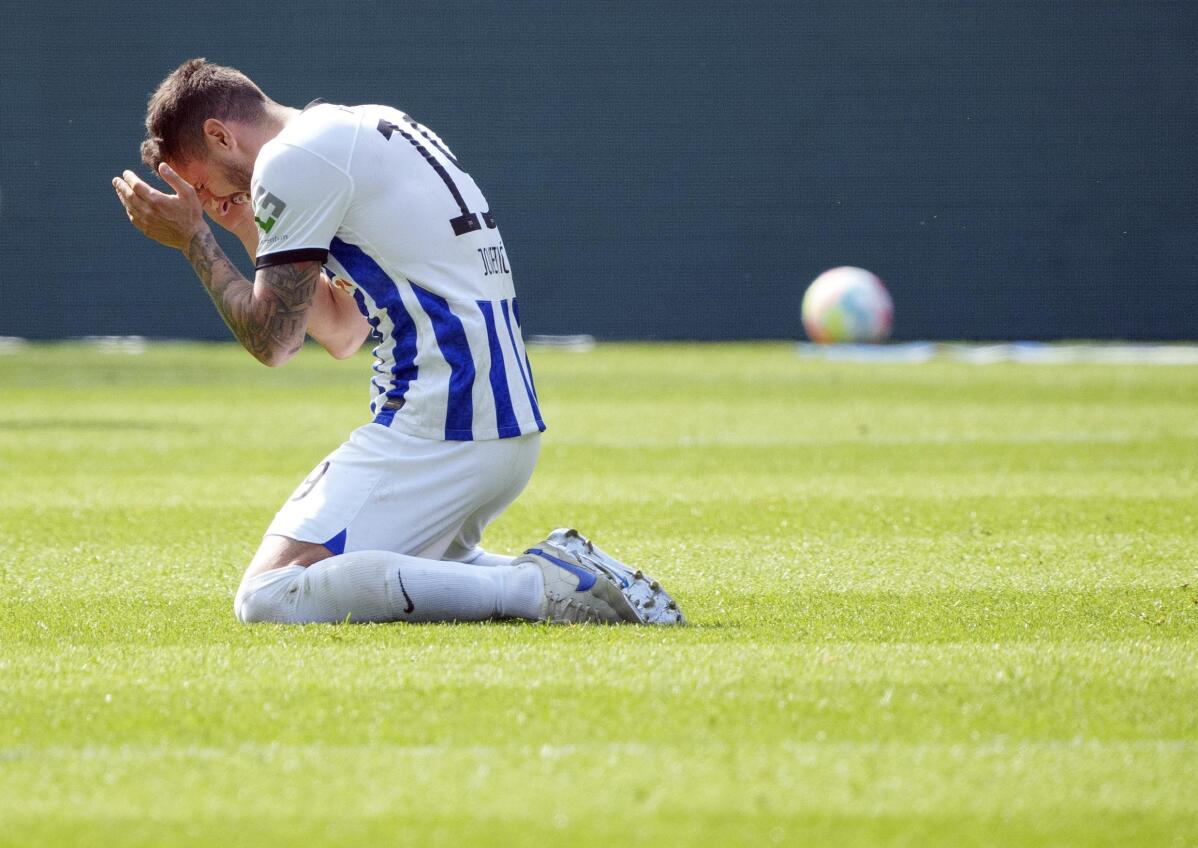 2 of 2

|
Hertha's Stevan Jovetic kneels on the pitch during the German Bundesliga soccer match between Hertha BSC Berlin and VfL Bochum in Berlin, Germany, Saturday, May 20, 2023. It had been expected but Hertha Berlin's relegation from the Bundesliga was a shock when it came. The "Old Lady" was winning deep into injury time against Bochum when Keven Schlotterbeck scored the goal that sent Hertha down to the second division on Saturday. (Soeren Stache/dpa via AP)
2 of 2
Hertha's Stevan Jovetic kneels on the pitch during the German Bundesliga soccer match between Hertha BSC Berlin and VfL Bochum in Berlin, Germany, Saturday, May 20, 2023. It had been expected but Hertha Berlin's relegation from the Bundesliga was a shock when it came. The "Old Lady" was winning deep into injury time against Bochum when Keven Schlotterbeck scored the goal that sent Hertha down to the second division on Saturday. (Soeren Stache/dpa via AP)
BERLIN (AP) — Germany's second division threatens to take attention away from the Bundesliga next season with several heavyweights competing at the lower level.
Hertha Berlin and Schalke were relegated from the top flight, joining the likes of Hamburger SV, Nuremberg, Kaiserslautern, Hannover and Fortuna Düsseldorf — all teams playing in stadiums with a capacity of at least 50,000.
Only five of 18 teams in the Bundesliga next season can boast such numbers. Promoted Heidenheim will play its first season in Germany's top flight at the 15,000-capacity Albstadion. Union Berlin plays at the 22,000-capacity Stadion An der Alten Försterei and may have to move for Champions League games after clinching a spot in Europe's top club competition.
When Hertha hosts Hamburg in its 75,000-capacity Olympiastadion, or Schalke hosts Kaiserslautern in front of 62,000 fans in Gelsenkirchen, the games will draw more attention than many first-division matches.
Here's a closer look at some of the clubs that will be competing in the second division next season:
HAMBURG (57,000 capacity)
Hamburg missed out on promotion after losing the playoff for the second successive season. Its fans were celebrating on the final day when they thought their team had finally returned to the Bundesliga after beating Sandhausen SV, but Heidenheim scored two goals in injury time to clinch promotion at Hamburg's expense. Hamburg, a six-time German champion, was known as "der Dino" because it was the only remaining team to have played every season in the Bundesliga since the league's formation in 1963. It's been trying to get back since it was relegated in 2019.
KAISERSLAUTERN (49,000)
Four-time German champion Kaiserslautern sensationally won the Bundesliga as a promoted team in 1998, when Otto Rehhagel was coach. It had been an ever-present in the top division since its formation in 1963 until its first demotion in 1996. Rehhagel led the "Red Devils" to promotion as second division champion the following season and the memorable Bundesliga triumph the year after that. Kaiserslautern was relegated again in 2006, promoted in 2010, relegated in 2012, and demoted to the third division in 2009. Kaiserslautern returned to the second division last season.
NUREMBERG (50,000)
Nuremberg, another founding member of the Bundesliga, is a nine-time German champion and was Bayern Munich's biggest local rival despite its relegation troubles. Nuremberg has been demoted nine times from the top division – a record. It won its first Bundesliga title in 1968 and was relegated for the first time the following season. Nuremberg narrowly avoided demotion to the third division in 2020 by scoring in injury time to win its playoff against Ingolstadt on away goals. Last season it only secured second division survival on the final day.
FORTUNA DÜSSELDORF (55,000)
Düsseldorf came up with a novel way to fill its stadium last April when it announced its "Fortuna for all" scheme to give free tickets to fans for some games starting next season. After a fourth-place finish last season, the club hopes the extra support can help propel it back to the Bundesliga, from which it was demoted in 2020 after two seasons. The club won its solitary German championship title with a win over Schalke in 1933.
SCHALKE (62,000)
Seven-time German champion Schalke was relegated again last month after just one season back in the Bundesliga. It was relegated in 2021 after 30 years in the top division, then bounced back as second division champion. However, the financial implications of that initial drop, the end of its sponsorship with Russian state-owned energy giant Gazprom, and the coronavirus pandemic all took their toll. Former chairman Clemens Tönnies, who had cultivated the Gazprom link, resigned from Schalke in 2020 after a coronavirus outbreak at one of his meat processing plants. He was previously under fire for making racist comments. Forced to cut costs, Schalke is still adapting to a smaller budget despite huge support in Gelsenkirchen. It will be bidding to bounce back to the Bundesliga at the first attempt again.
HERTHA BERLIN (75,000)
Hertha's troubles arguably started in 2019 when investor Lars Windhorst started backing the club with hopes of becoming one of Europe's best. Years of turmoil on and off the field followed with relegation always a worry until it was finally confirmed last season. Hertha's financial predicament is even worse than Schalke's. The Charlottenburg-based club still faces an anxious wait to see its place in the second division is approved after submitting documents to the German soccer league on Wednesday that the club hopes show its financial viability. Hertha, one of the founding members of the German Soccer Federation in 1900, won two German championships in 1930 and 1931.
THE REPLACEMENTS
Taking the former heavyweights' places in the Bundesliga are teams like promoted Heidenheim and Darmstadt, while former East German club Union Berlin was only promoted for the first time in 2019.
Leipzig was founded by an energy drinks manufacturer in 2009 before enjoying rapid success with regular Champions League qualification and back-to-back German Cup titles. Hoffenheim was similarly bankrolled to success by billionaire software engineer Dietmar Hopp.
Augsburg has been playing in the Bundesliga since its first promotion in 2011. Bochum enjoyed a long spell in the Bundesliga in the 1970s and 80s, but has spent more time in the second division since then. It was promoted back to the Bundesliga as second division champion in 2021.
Freiburg is another club that is arguably overachieving in the top division.
None of these teams has ever won a German championship.
___
More AP soccer: https://apnews.com/hub/soccer and https://twitter.com/AP_Sports