Sergio Busquets to leave Barcelona at end of season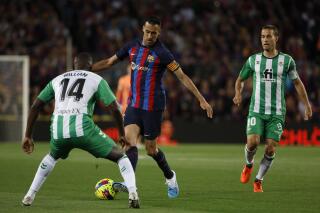 MADRID (AP) — Sergio Busquets is ending his "unforgettable journey" of nearly two decades with Barcelona, he said Wednesday.
Busquets, whose contract ends this season, announced his decision with a video released on social media.
"It hasn't been an easy decision but the time has come," the 34-year-old Busquets said. "It has been an honor, a dream and a reason for pride to have been able to wear this badge."
Busquets arrived at Barcelona in 2005 and made it to a "B" team coached by Pep Guardiola after two seasons with the under-19s. He helped the "B" team gain promotion and eventually made his first-team debut in 2008.
He has played 718 matches for Barcelona, putting him third all-time behind Xavi and record-holder Lionel Messi. Busquets has won 31 titles with the Catalan club, including three Champions Leagues and eight Spanish leagues.
He is about to finish his career with another league title as Barcelona holds a 13-point advantage at the top with five games remaining.
One of the best defensive midfielders Barcelona has had, Busquets has scored 18 goals and had 40 assists. He has been team captain for the last two seasons, and was among the veterans who chose to accept a cut in their salaries during the club's recent financial struggles.
Busquets is the player with the most appearances in "clasicos" between Barcelona and Real Madrid, on 48.
He said: "It has been an unforgettable journey. Since I was a child coming to the matches or watching them on TV, I always dreamed of playing with this shirt and at this stadium, and reality has exceeded all my dreams. I wouldn't have believed you if you had told me when I arrived as a youth player that I would play 15 seasons at the best club in the world, the club of my life."
Busquets did not say where he plans to play next season. Barcelona's last match will be at Celta Vigo in the Spanish league on June 4.
___
Tales Azzoni on Twitter: http://twitter.com/tazzoni
___
More AP soccer: https://apnews.com/hub/Soccer and https://twitter.com/AP_Sports