Toffoli's 2-goal effort leads Flames in 5-3 win over Sharks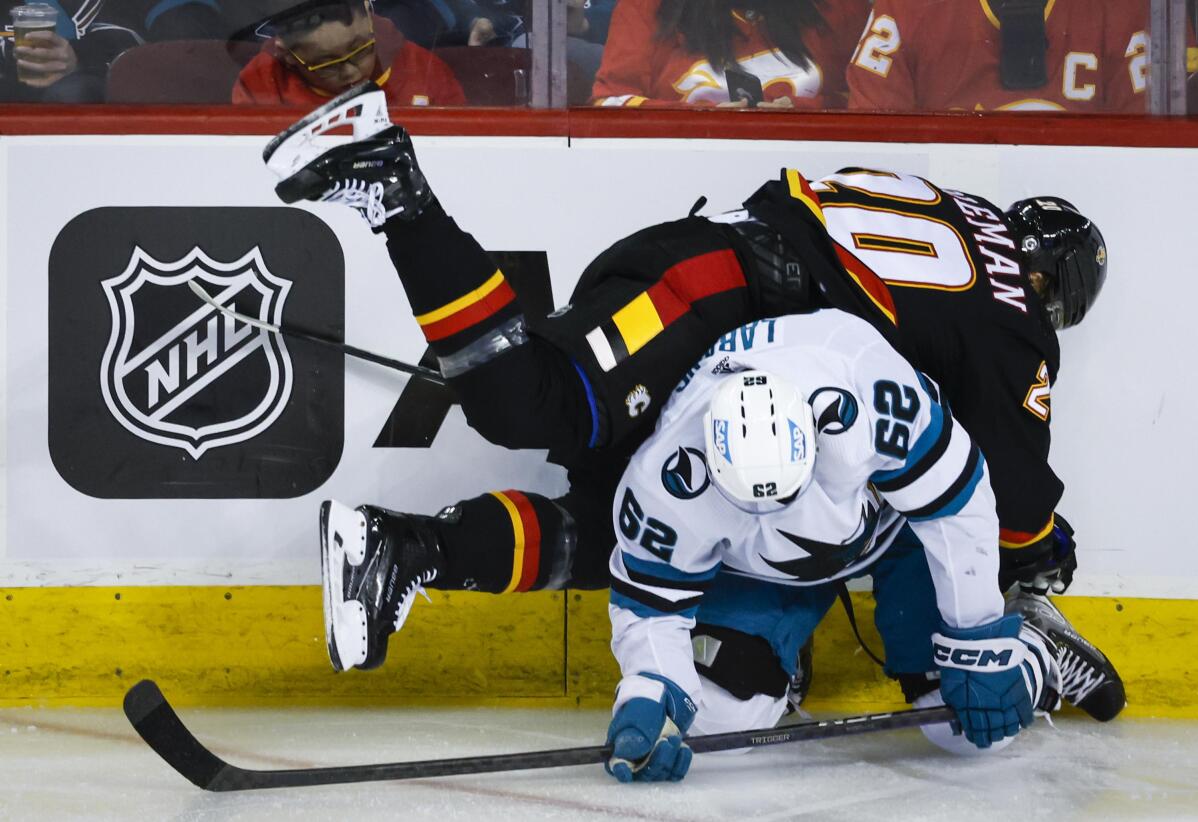 1 of 8

|
San Jose Sharks forward Kevin Labanc (62) checks Calgary Flames forward Blake Coleman during the second period of an NHL hockey game in Calgary, Alberta, Saturday, March 25, 2023.(Jeff McIntosh/The Canadian Press via AP)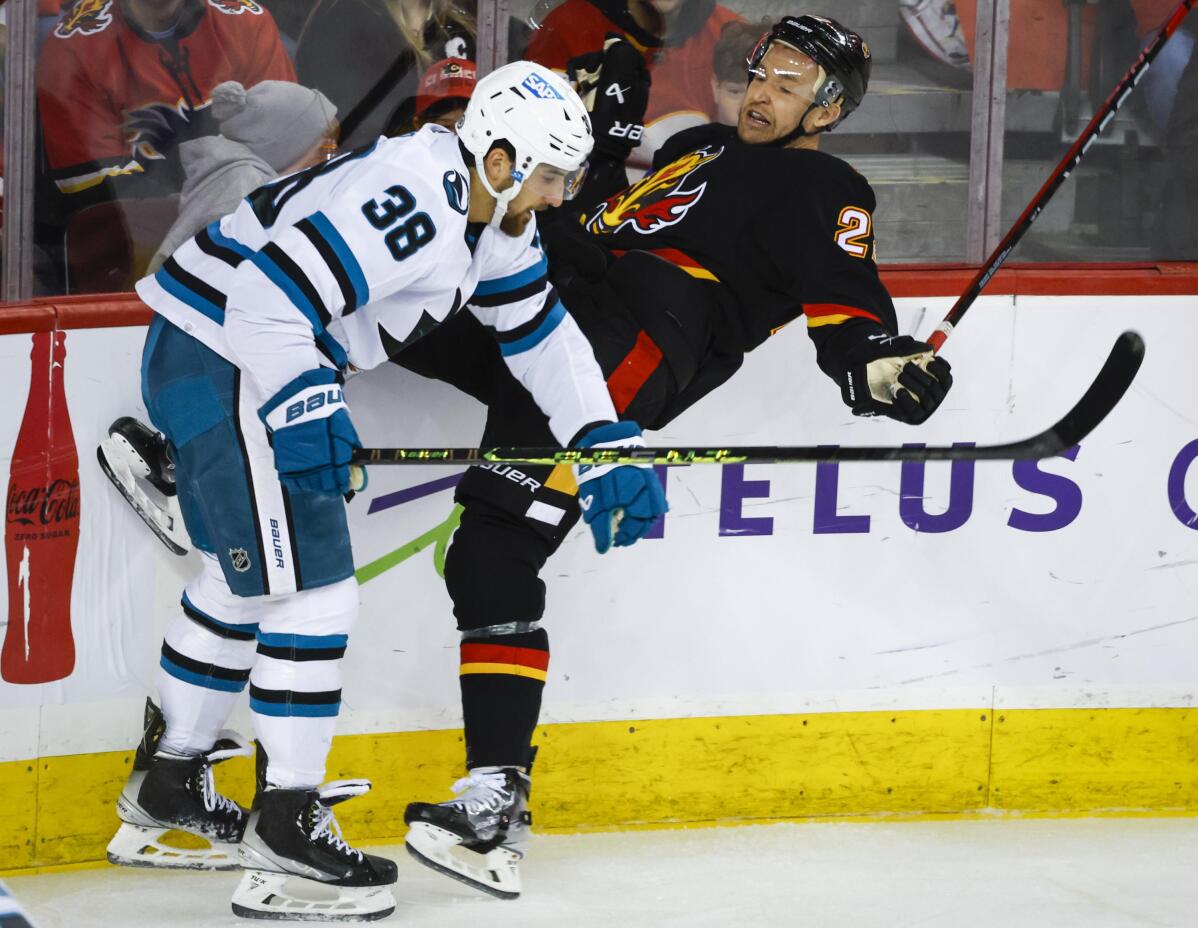 2 of 8

|
San Jose Sharks defenseman Mario Ferraro, left, checks Calgary Flames forward Trevor Lewis during the first period of an NHL hockey game in Calgary, Alberta, Saturday, March 25, 2023.(Jeff McIntosh/The Canadian Press via AP)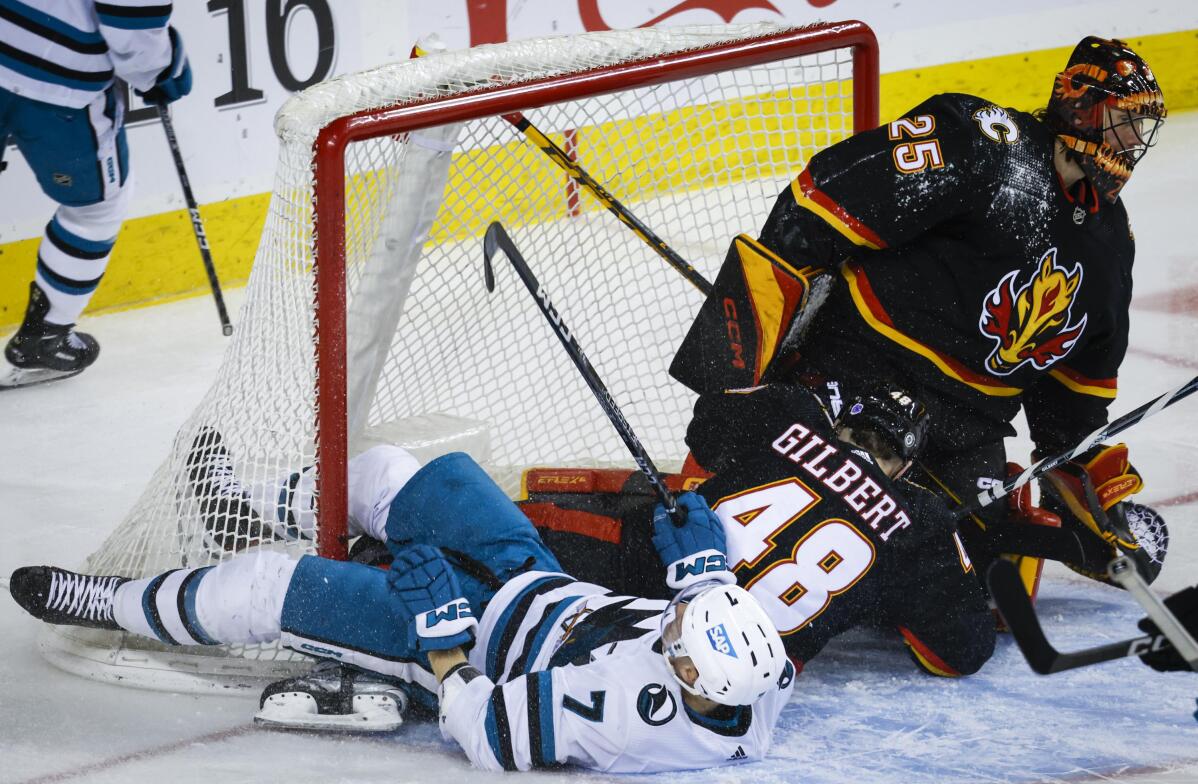 3 of 8

|
San Jose Sharks forward Nico Sturm, left, crashes into the net with Calgary Flames defenceman Dennis Gilbert, center, after scoring on goalie Jacob Markstrom during the second period of an NHL hockey game in Calgary, Alberta, Saturday, March 25, 2023.(Jeff McIntosh/The Canadian Press via AP)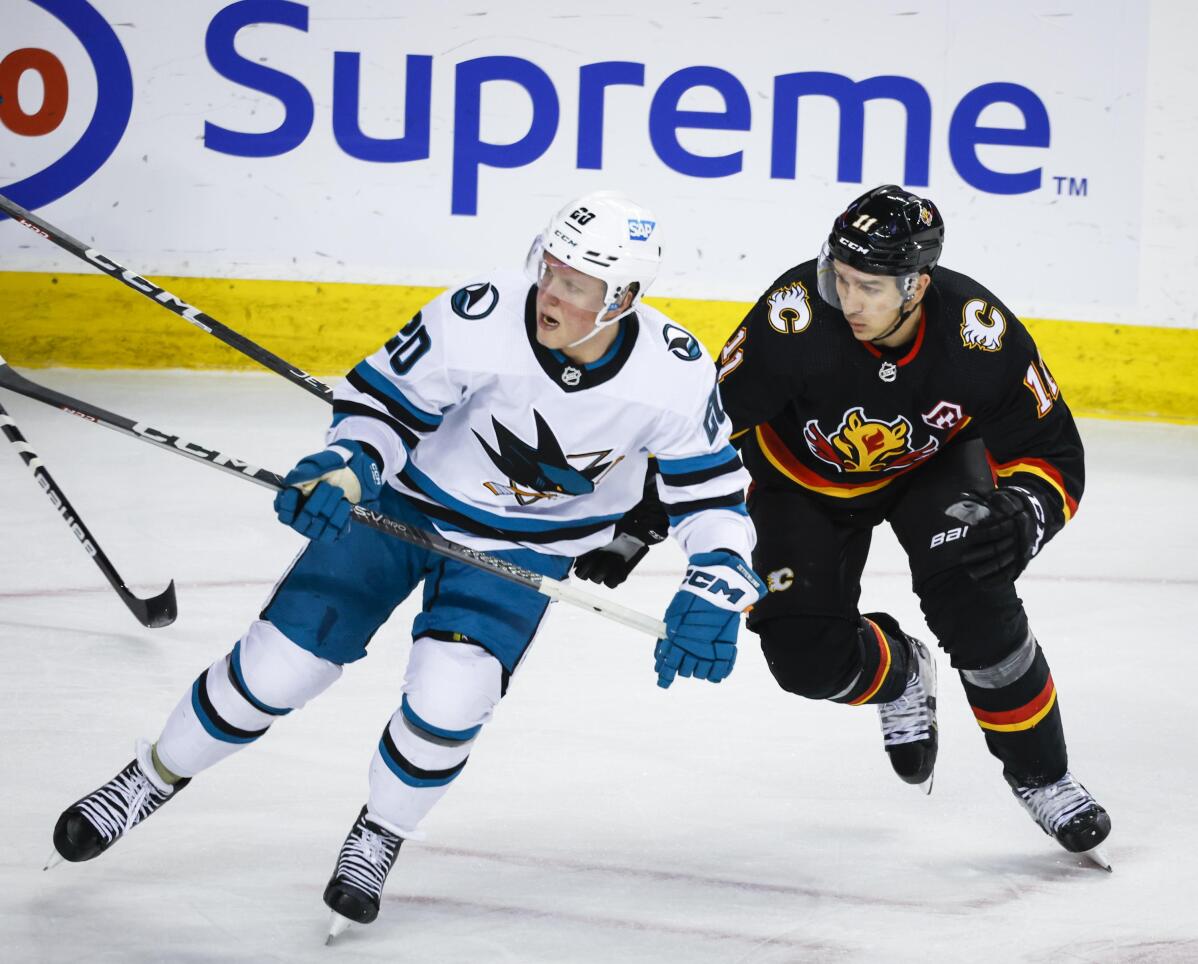 4 of 8

|
San Jose Sharks forward Fabian Zetterlund, left, and Calgary Flames forward Mikael Backlund chase the puck during the first period of an NHL hockey game in Calgary, Alberta, Saturday, March 25, 2023.(Jeff McIntosh/The Canadian Press via AP)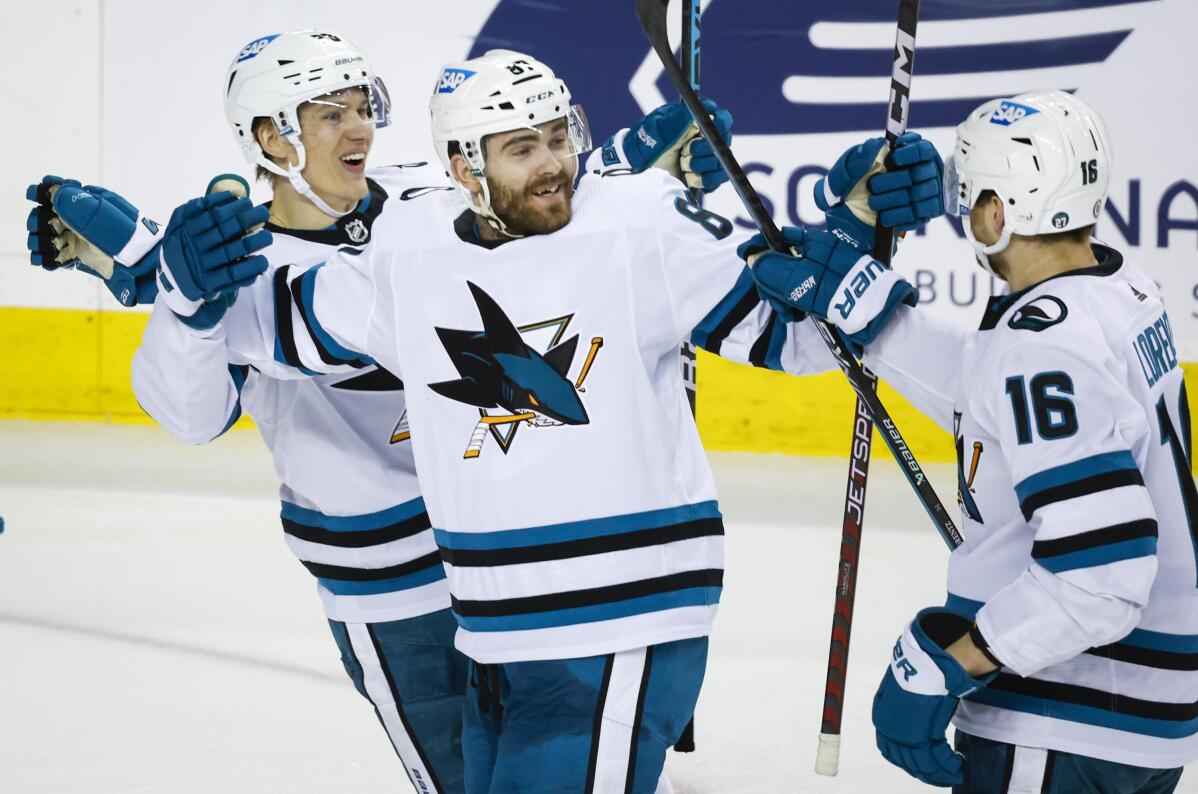 5 of 8

|
San Jose Sharks forward Martin Kaut, center, celebrates his goal with teammates during the second period of an NHL hockey game against the Calgary Flames in Calgary, Alberta, Saturday, March 25, 2023.(Jeff McIntosh/The Canadian Press via AP)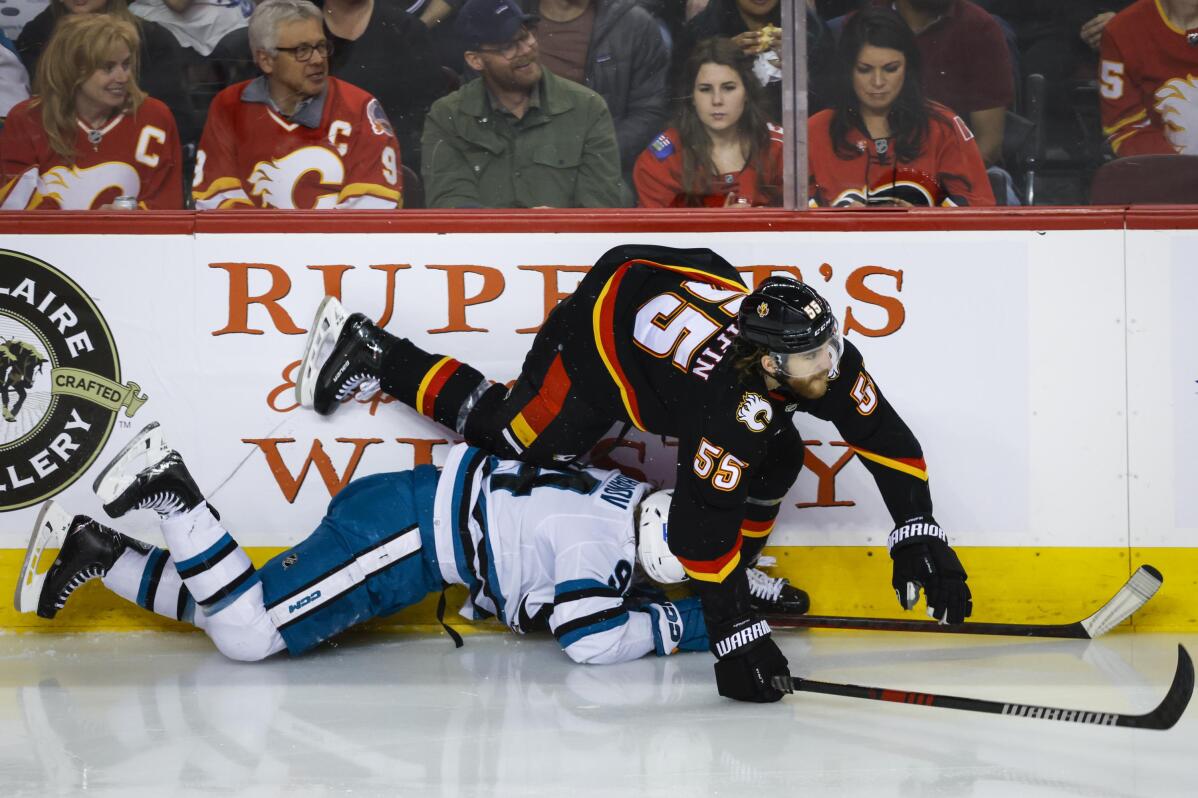 6 of 8

|
San Jose Sharks forward Alexander Barabanov, left, is checked by Calgary Flames defenseman Noah Hanifin during the second period of an NHL hockey game in Calgary, Alberta, Saturday, March 25, 2023.(Jeff McIntosh/The Canadian Press via AP)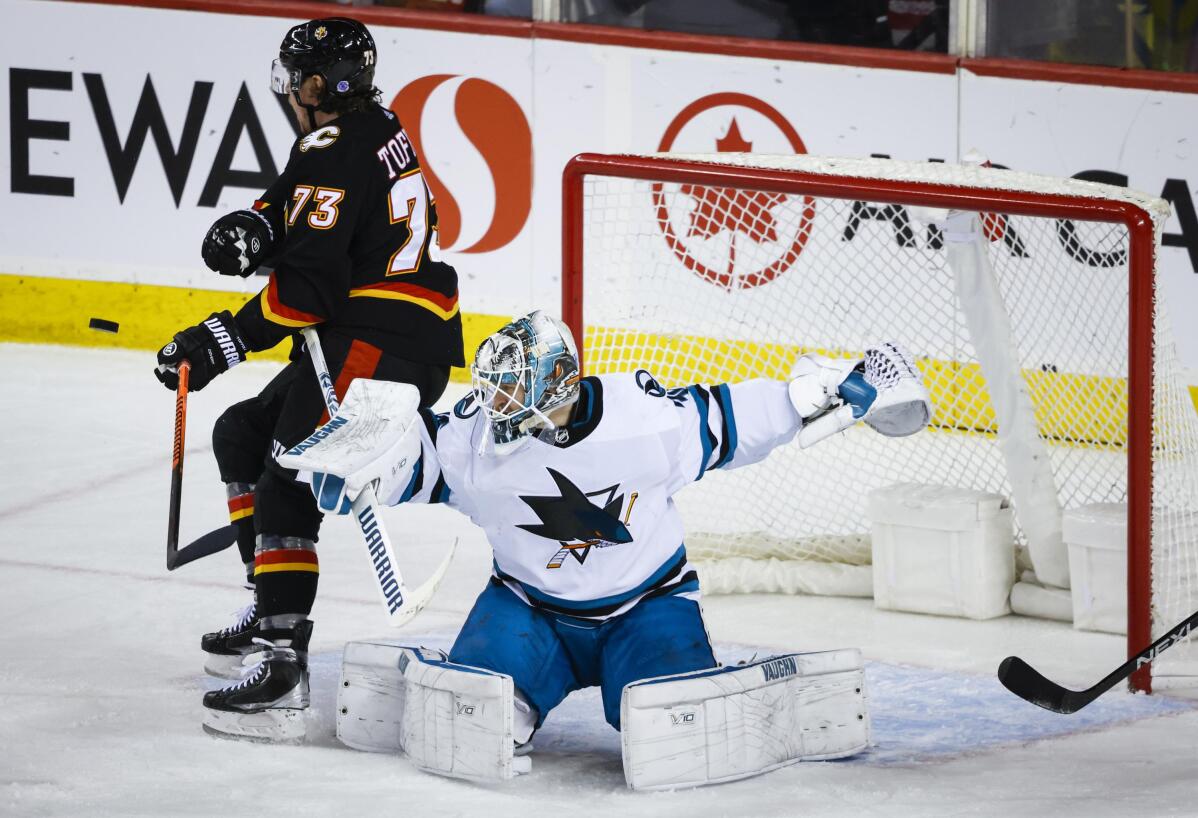 7 of 8

|
San Jose Sharks goalie Kaapo Kahkonen, right, shoves Calgary Flames forward Tyler Toffoli away from the net as he tries to deflect a shot during the second period of an NHL hockey game in Calgary, Alberta, Saturday, March 25, 2023.(Jeff McIntosh/The Canadian Press via AP)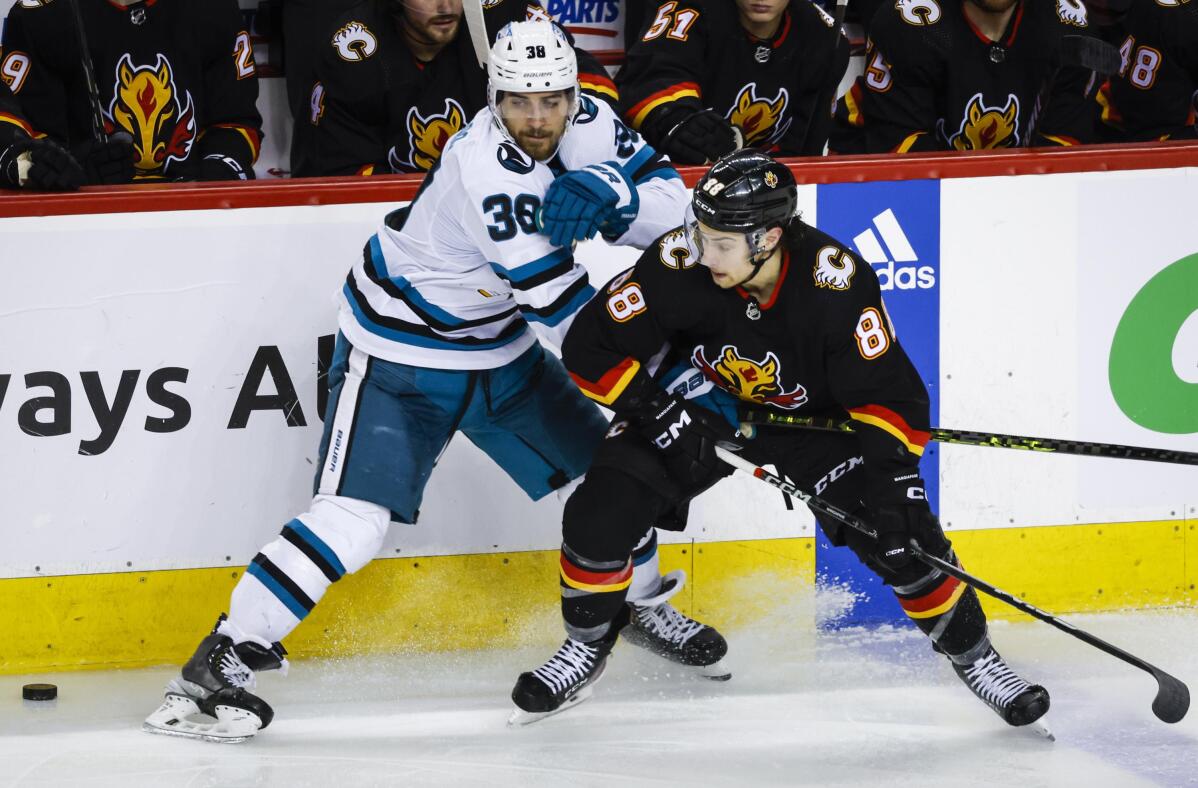 8 of 8

|
San Jose Sharks defenseman Mario Ferraro, left, checks Calgary Flames forward Andrew Mangiapane during the third period of an NHL hockey game in Calgary, Alberta, Saturday, March 25, 2023.(Jeff McIntosh/The Canadian Press via AP)
Toffoli's 2-goal effort leads Flames in 5-3 win over Sharks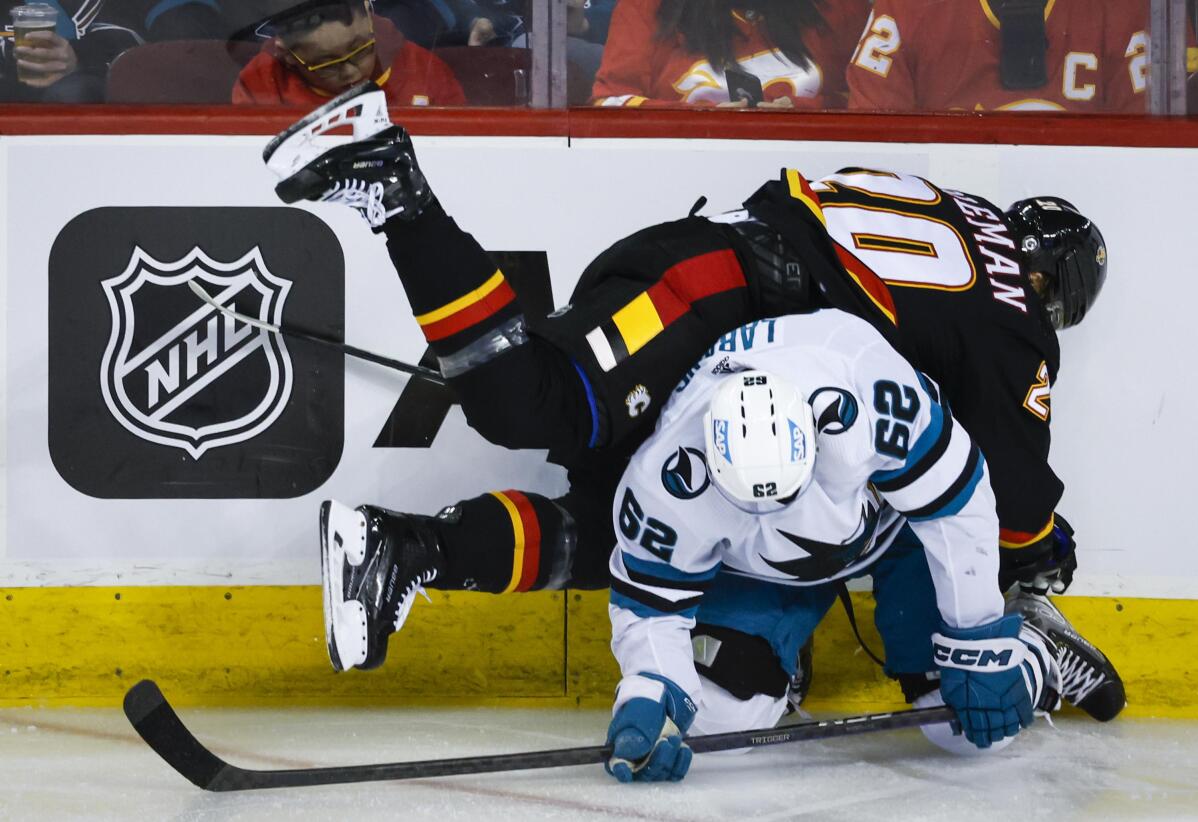 1 of 8

|
San Jose Sharks forward Kevin Labanc (62) checks Calgary Flames forward Blake Coleman during the second period of an NHL hockey game in Calgary, Alberta, Saturday, March 25, 2023.(Jeff McIntosh/The Canadian Press via AP)
1 of 8
San Jose Sharks forward Kevin Labanc (62) checks Calgary Flames forward Blake Coleman during the second period of an NHL hockey game in Calgary, Alberta, Saturday, March 25, 2023.(Jeff McIntosh/The Canadian Press via AP)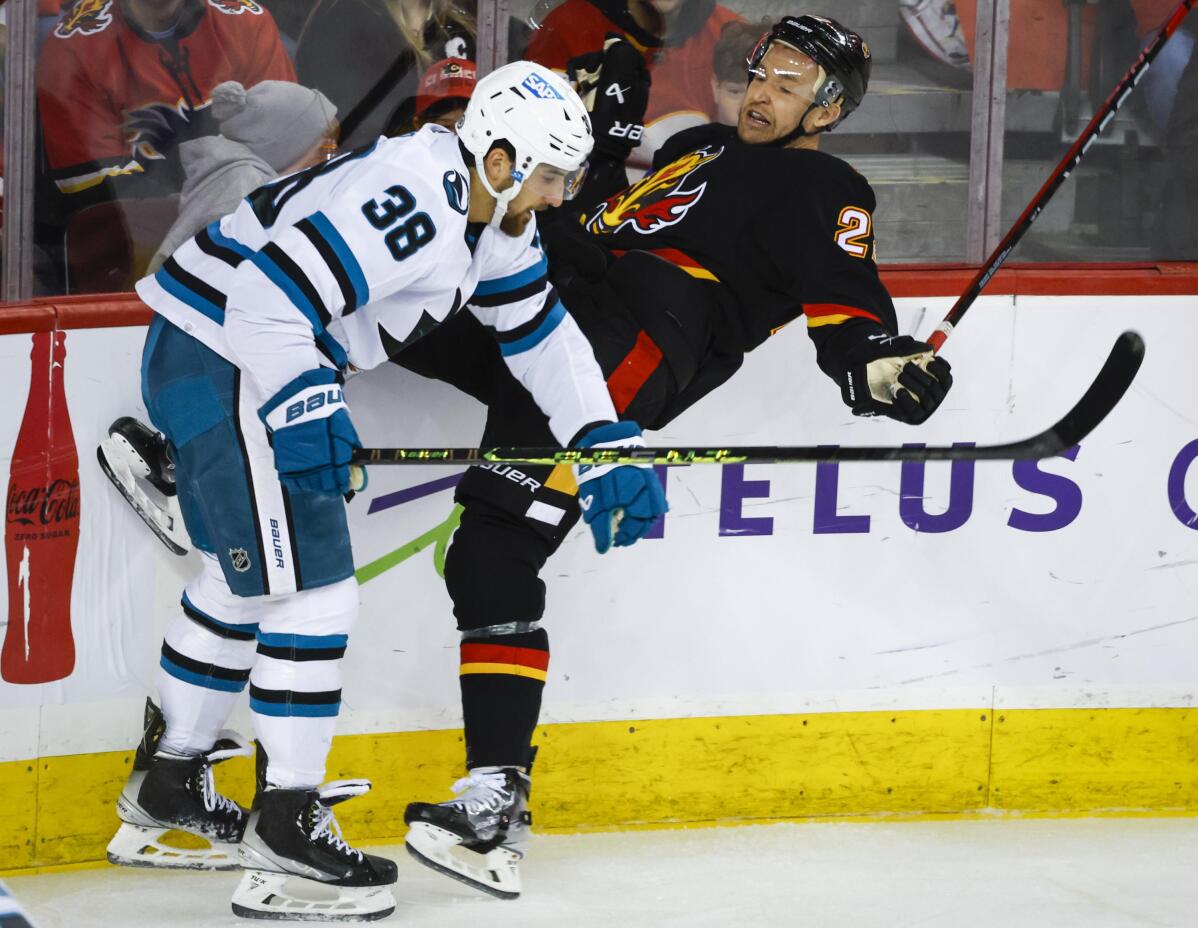 2 of 8

|
San Jose Sharks defenseman Mario Ferraro, left, checks Calgary Flames forward Trevor Lewis during the first period of an NHL hockey game in Calgary, Alberta, Saturday, March 25, 2023.(Jeff McIntosh/The Canadian Press via AP)
2 of 8
San Jose Sharks defenseman Mario Ferraro, left, checks Calgary Flames forward Trevor Lewis during the first period of an NHL hockey game in Calgary, Alberta, Saturday, March 25, 2023.(Jeff McIntosh/The Canadian Press via AP)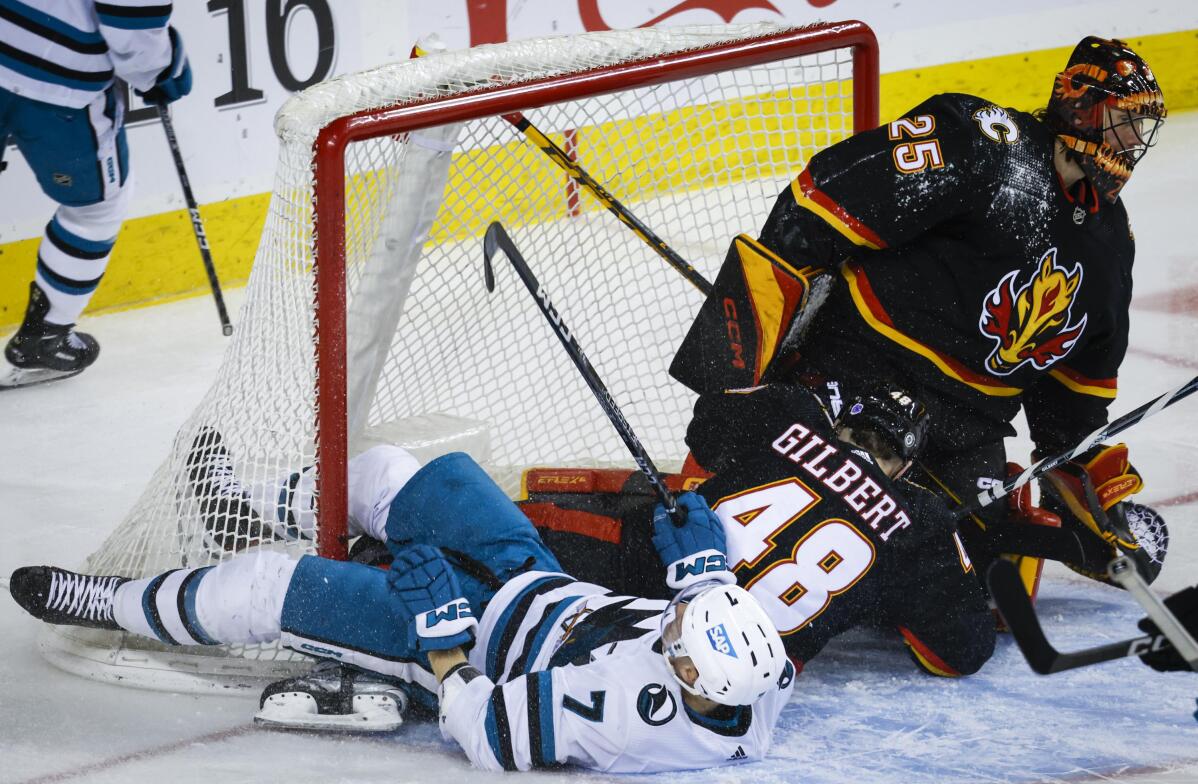 3 of 8

|
San Jose Sharks forward Nico Sturm, left, crashes into the net with Calgary Flames defenceman Dennis Gilbert, center, after scoring on goalie Jacob Markstrom during the second period of an NHL hockey game in Calgary, Alberta, Saturday, March 25, 2023.(Jeff McIntosh/The Canadian Press via AP)
3 of 8
San Jose Sharks forward Nico Sturm, left, crashes into the net with Calgary Flames defenceman Dennis Gilbert, center, after scoring on goalie Jacob Markstrom during the second period of an NHL hockey game in Calgary, Alberta, Saturday, March 25, 2023.(Jeff McIntosh/The Canadian Press via AP)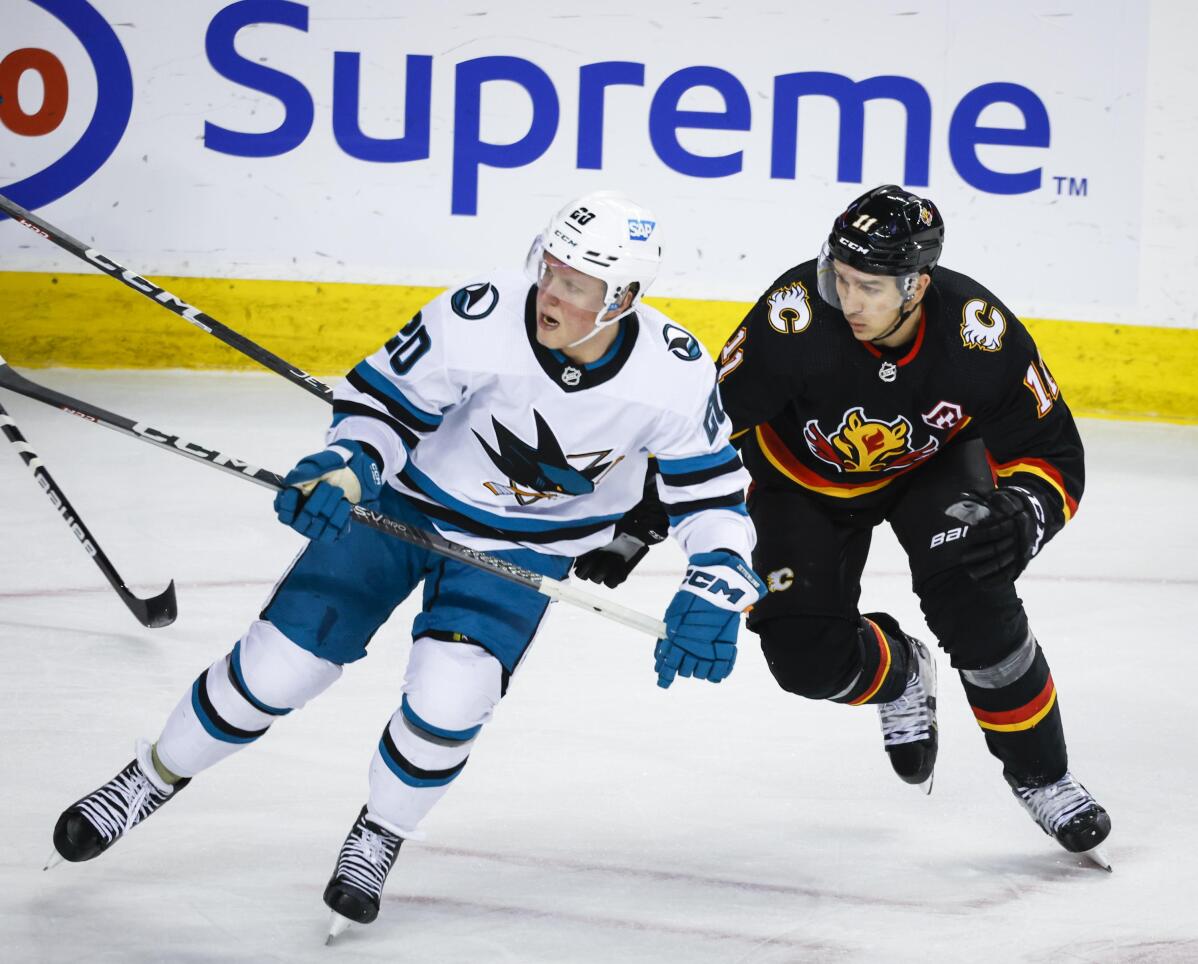 4 of 8

|
San Jose Sharks forward Fabian Zetterlund, left, and Calgary Flames forward Mikael Backlund chase the puck during the first period of an NHL hockey game in Calgary, Alberta, Saturday, March 25, 2023.(Jeff McIntosh/The Canadian Press via AP)
4 of 8
San Jose Sharks forward Fabian Zetterlund, left, and Calgary Flames forward Mikael Backlund chase the puck during the first period of an NHL hockey game in Calgary, Alberta, Saturday, March 25, 2023.(Jeff McIntosh/The Canadian Press via AP)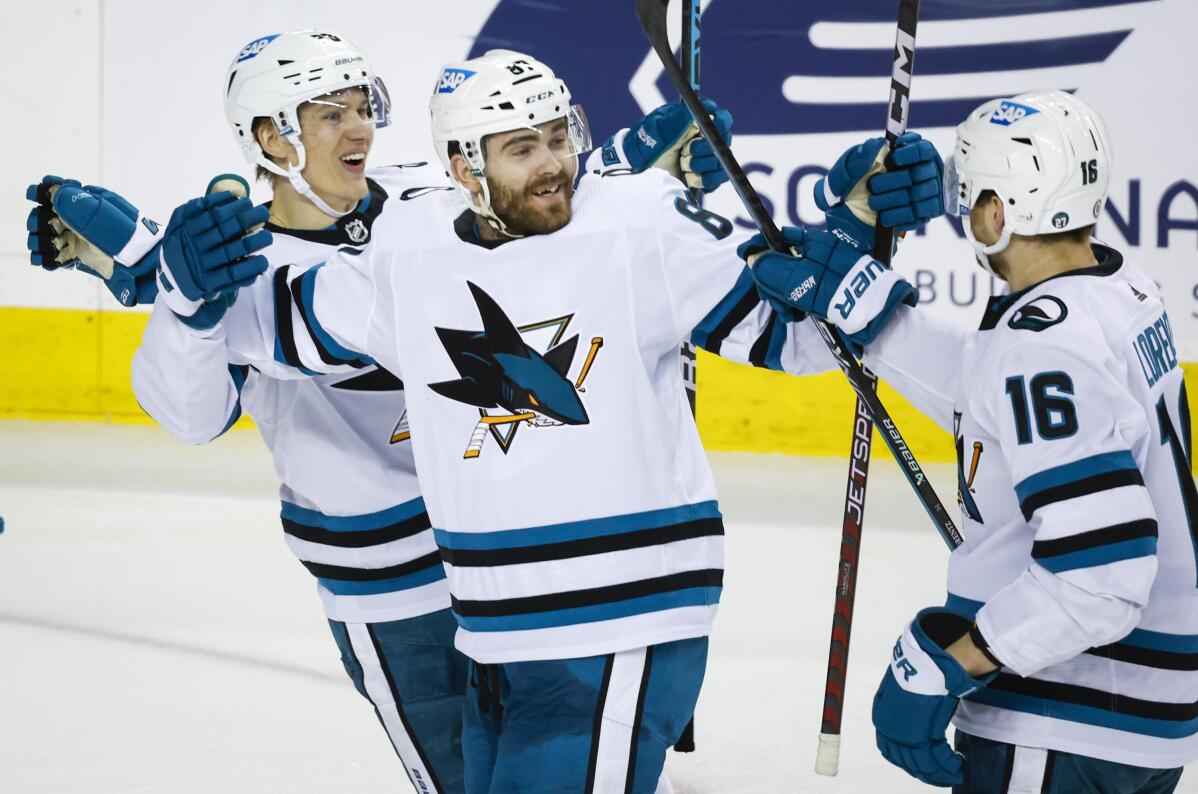 5 of 8

|
San Jose Sharks forward Martin Kaut, center, celebrates his goal with teammates during the second period of an NHL hockey game against the Calgary Flames in Calgary, Alberta, Saturday, March 25, 2023.(Jeff McIntosh/The Canadian Press via AP)
5 of 8
San Jose Sharks forward Martin Kaut, center, celebrates his goal with teammates during the second period of an NHL hockey game against the Calgary Flames in Calgary, Alberta, Saturday, March 25, 2023.(Jeff McIntosh/The Canadian Press via AP)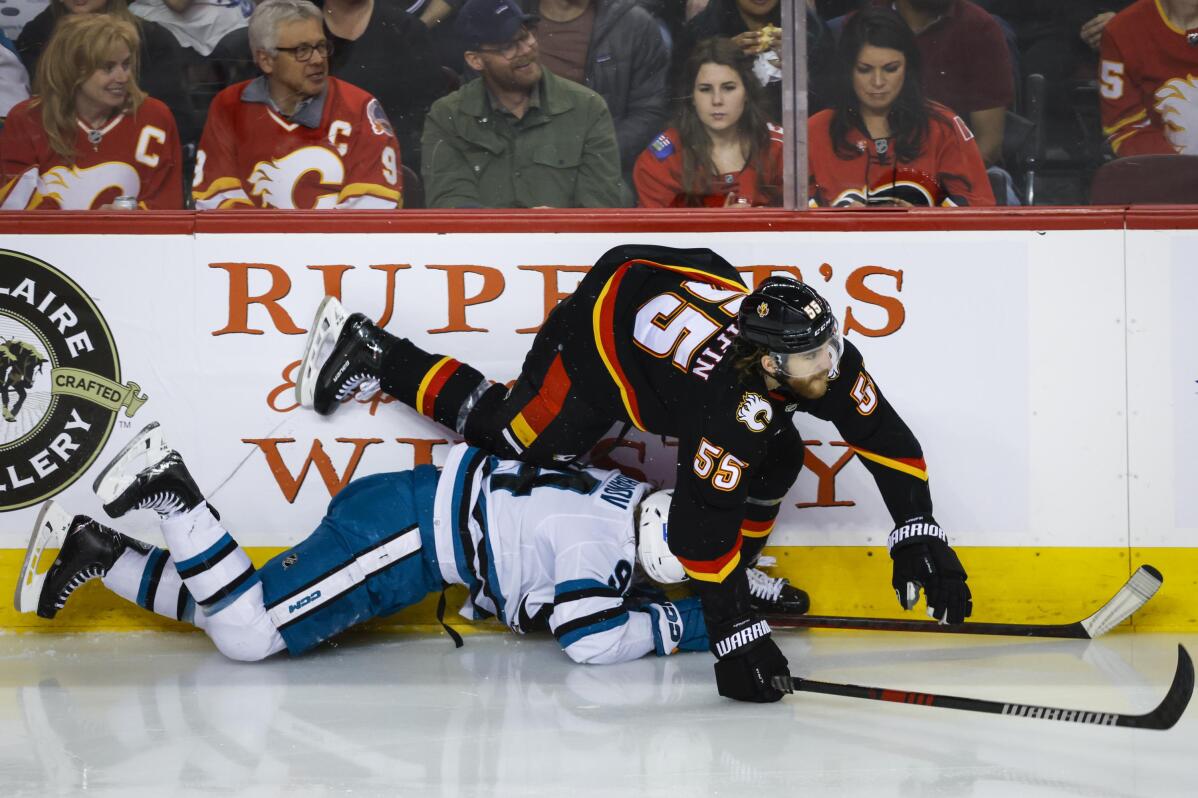 6 of 8

|
San Jose Sharks forward Alexander Barabanov, left, is checked by Calgary Flames defenseman Noah Hanifin during the second period of an NHL hockey game in Calgary, Alberta, Saturday, March 25, 2023.(Jeff McIntosh/The Canadian Press via AP)
6 of 8
San Jose Sharks forward Alexander Barabanov, left, is checked by Calgary Flames defenseman Noah Hanifin during the second period of an NHL hockey game in Calgary, Alberta, Saturday, March 25, 2023.(Jeff McIntosh/The Canadian Press via AP)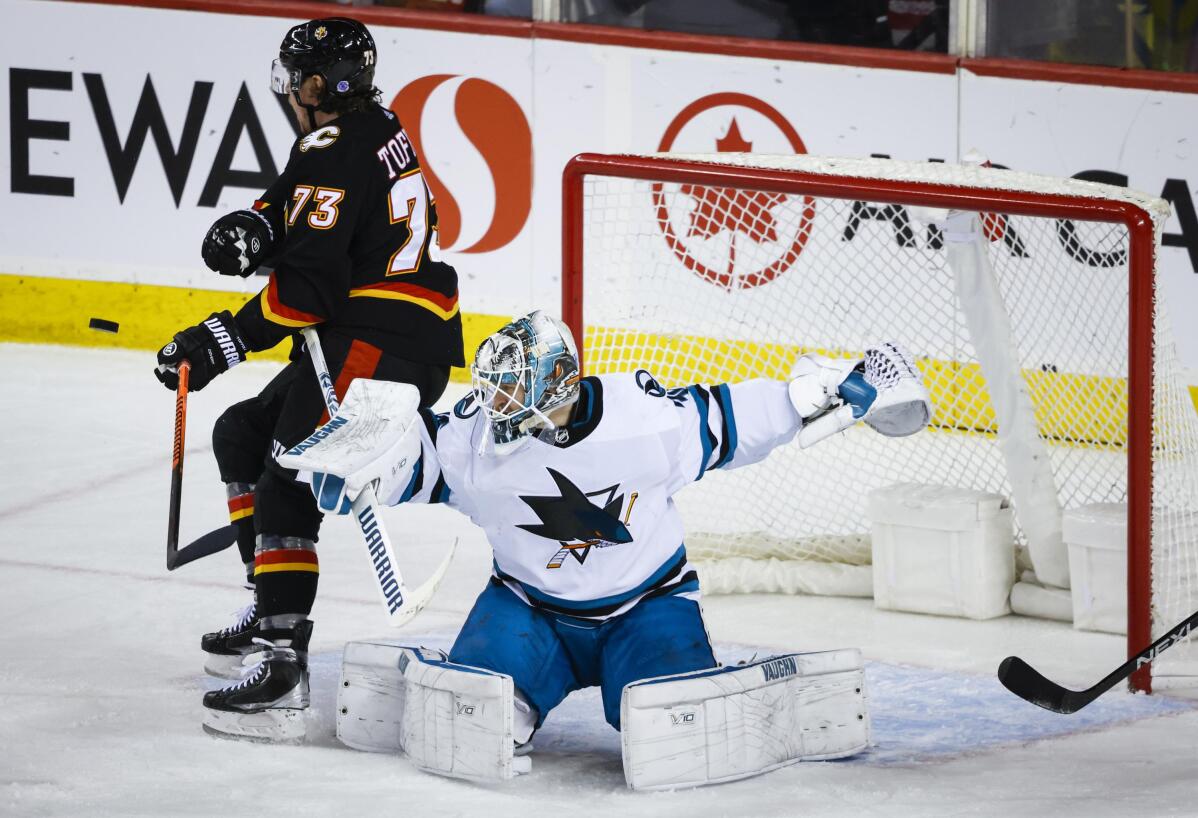 7 of 8

|
San Jose Sharks goalie Kaapo Kahkonen, right, shoves Calgary Flames forward Tyler Toffoli away from the net as he tries to deflect a shot during the second period of an NHL hockey game in Calgary, Alberta, Saturday, March 25, 2023.(Jeff McIntosh/The Canadian Press via AP)
7 of 8
San Jose Sharks goalie Kaapo Kahkonen, right, shoves Calgary Flames forward Tyler Toffoli away from the net as he tries to deflect a shot during the second period of an NHL hockey game in Calgary, Alberta, Saturday, March 25, 2023.(Jeff McIntosh/The Canadian Press via AP)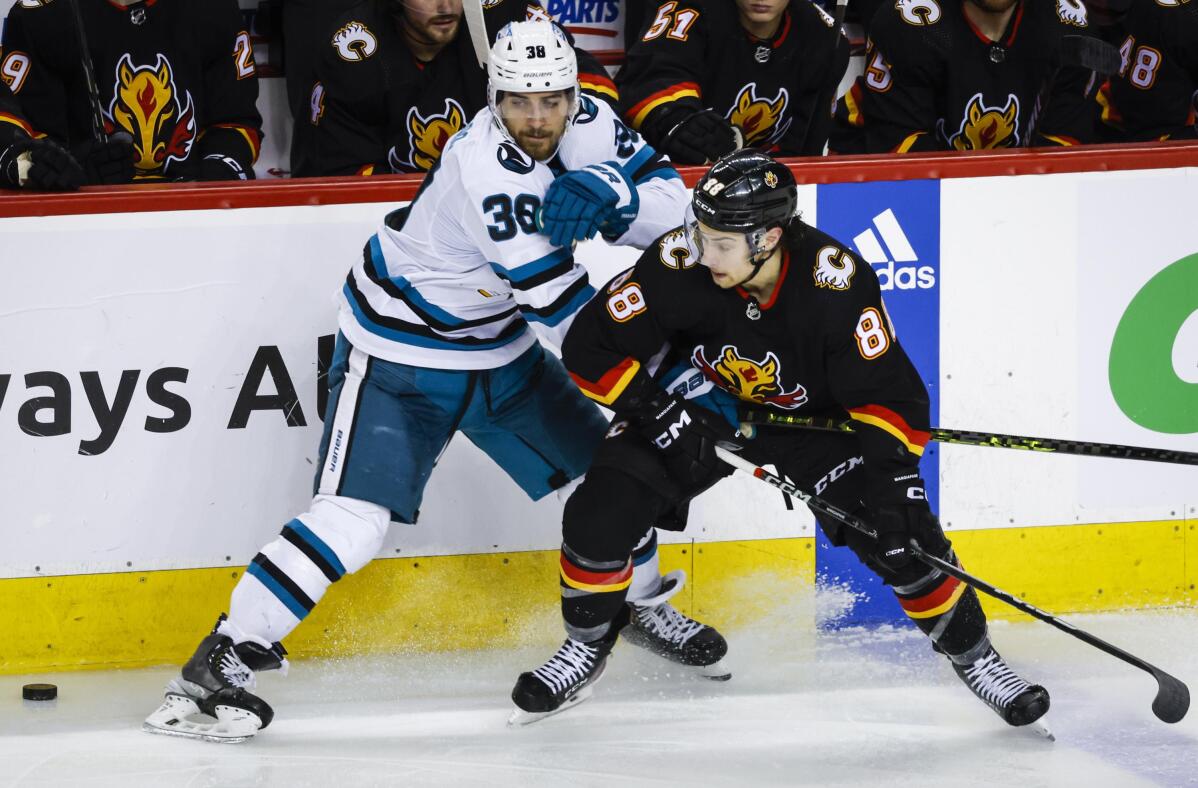 8 of 8

|
San Jose Sharks defenseman Mario Ferraro, left, checks Calgary Flames forward Andrew Mangiapane during the third period of an NHL hockey game in Calgary, Alberta, Saturday, March 25, 2023.(Jeff McIntosh/The Canadian Press via AP)
8 of 8
San Jose Sharks defenseman Mario Ferraro, left, checks Calgary Flames forward Andrew Mangiapane during the third period of an NHL hockey game in Calgary, Alberta, Saturday, March 25, 2023.(Jeff McIntosh/The Canadian Press via AP)
CALGARY, Alberta (AP) — Led offensively by two guys with Stanley Cup rings, the Calgary Flames kept their faint playoff hopes alive on Saturday.
Tyler Toffoli scored two goals and Nazem Kadri notched the game-winner as the Flames won 5-3 over the San Jose Sharks to climb two points closer to a playoff berth.
"They're a desperate team, they have some skill. And obviously with (Erik) Karlsson on the back end, he can take over games, and I thought we did a good job sticking together and finding a way to win," said Toffoli, whose 31 goals equals a career high.
Combined with Winnipeg's 4-1 loss to Los Angeles, the Flames moved to within four points of the Jets, who occupy the final wild-card spot in the Western Conference. Both teams have eight games remaining including one head-to-head.
"We can't really worry about what other people are thinking," Toffoli said. "We just have to win every game we can, and every game we win keeps us in it and gives us a chance."
Toffoli played for Flame coach Darryl Sutter in 2014 when he was the coach of the Stanley Cup-winning Los Angeles Kings.
"He's a winner," said Sutter. "Can't teach it, thankful to have him."
Kadri won his Stanley Cup last season with Colorado.
"Ideally you want to find yourself to not be in this position this late in the season," Kadri said. "But it's hard to win in months like these leading up to the playoffs and we've given ourselves a chance so that's really all that matters."
MacKenzie Weegar and Walker Duehr added the others for Calgary, which won for just the second time in its last nine games at the Saddledome (2-5-2). Jacob Markstrom made 28 saves.
Logan Couture, Nico Sturm and Martin Kaut replied for San Jose, which had its winless skid extended to nine games (0-6-3). Kaapo Kahkonen had 25 stops.
"Losing sucks," said Couture. "Tonight was one of our better efforts. We're realistic in here. We know where we're at. We lost a bunch of guys at the deadline. We moved out six or seven of our full-time players. I liked our compete. We fought to the end. We can be proud of that."
Karlsson's two assists helped him reach 68 on the year to surpass his previous career-high of 66 in 2015-16 and break the Sharks record for helpers by a defenseman. Brent Burns previously held it with 67 in 2018-19.
"We just want to come every day and work hard and make the most out of a bad situation," said Karlsson. "Today everybody showed up and we tried to play the way we need to to be competitive and I think we were for the most part of 60 minutes."
Tied at 3, Kadri scored the go-ahead goal 5:45 into the third period. He banged in a rebound from the side of the net after Kahkonen stopped Milan Lucic and Duehr. It was Kadri's second goal in as many games after a 16-game goal drought.
Toffoli put the game away scoring his team-leading 31st of the season into an empty-net with 1:10 remaining.
MILESTONE FOR BACKLUND
Mikael Backlund played in his 900th career game Saturday. A first-round pick by the Flames in 2007, the 34-year-old center is third on the franchise's all-time games played list behind Jarome Iginla (1,219) and Mark Giordano (949).
BLUELINE SHUFFLE
The Sharks made two changes on the blue line welcoming back Matt Benning (undisclosed) and Jacob MacDonald (upper body) from injuries that had sidelined them for one and nine games, respectively.
UP NEXT
Sharks: Host Winnipeg Jets on Tuesday.
Flames: Host Los Angeles Kings on Tuesday in finale of a three-game homestand.
___
AP NHL: https://apnews.com/hub/nhl and https://twitter.com/AP_Sports