Andrew Brown Jr. funeral set for Monday with Sharpton eulogy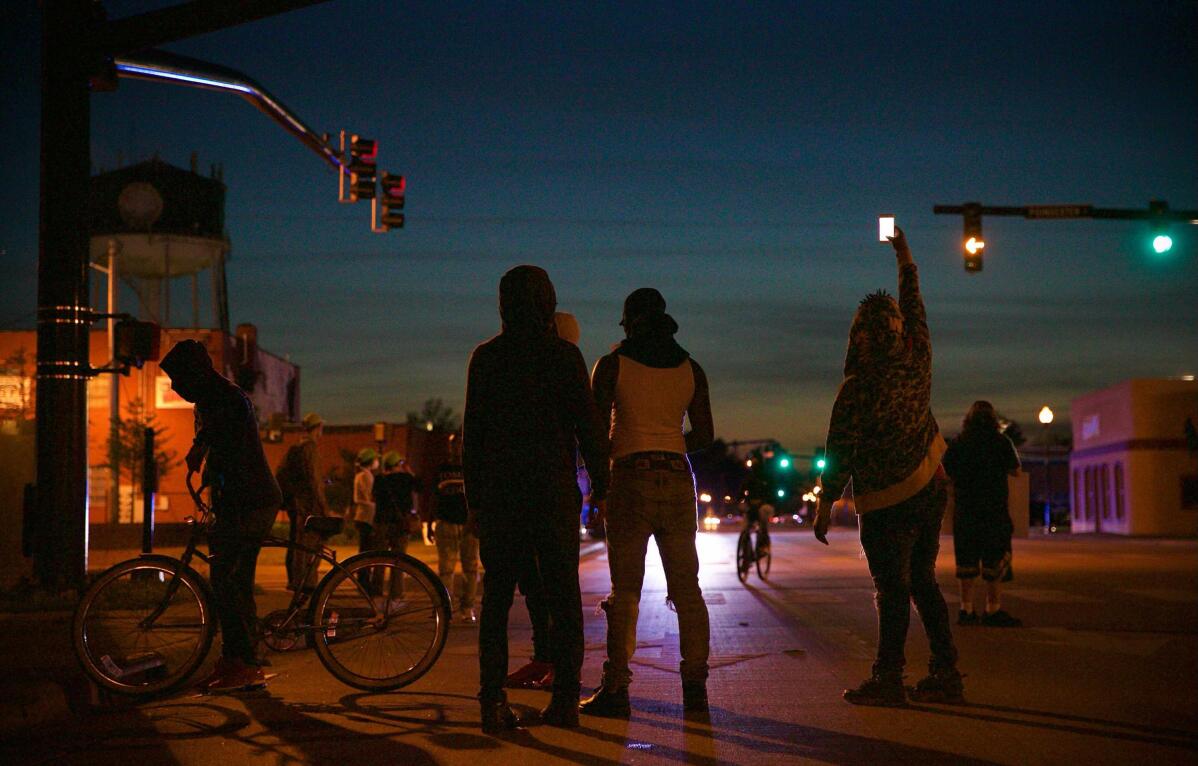 1 of 7

|
Protesters gather on Elizabeth Street near the Pasquotank River Bridge in Elizabeth City, N.C., on Tuesday, April 27, 2021 following the 8p.m. curfew. The FBI has launched a civil rights probe into the death of Andrew Brown Jr., a Black man killed by deputies in Elizabeth City. (Kristen Zeis/The Virginian-Pilot via AP)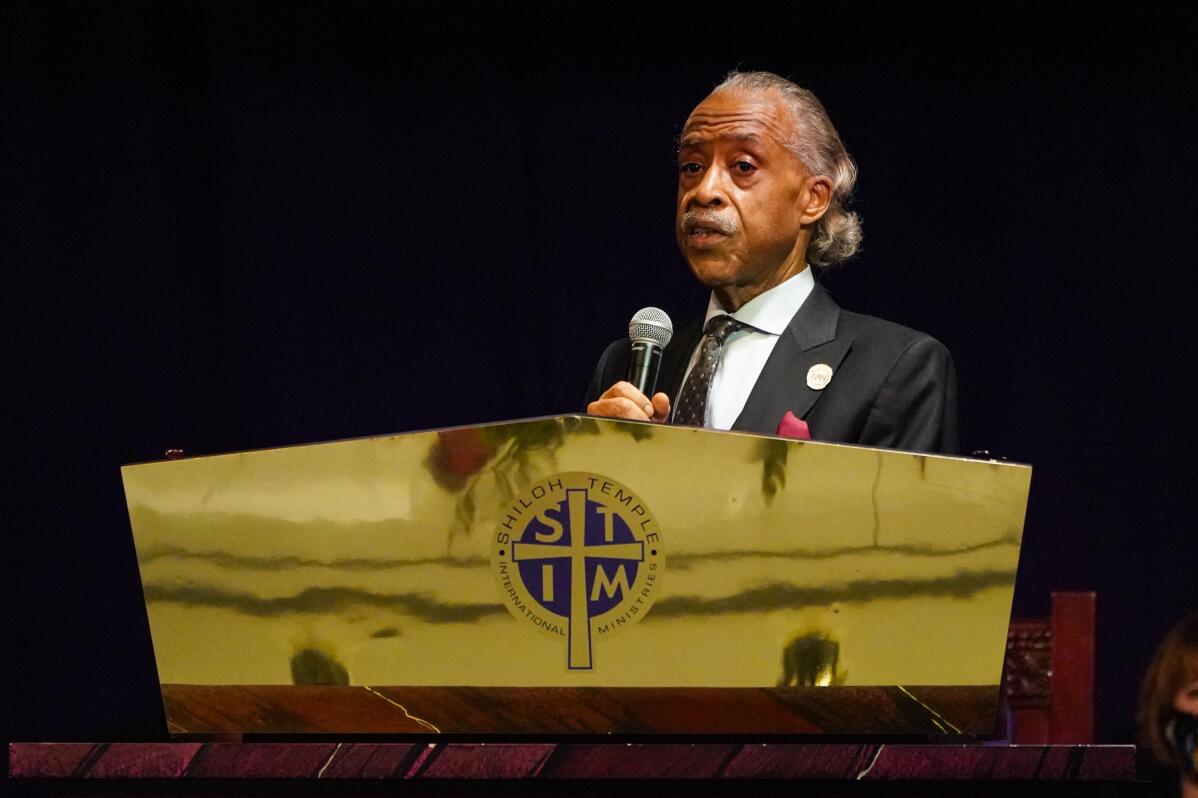 2 of 7

|
Rev. Al Sharpton eulogies Daunte Wright during funeral services at Shiloh Temple International Ministries in Minneapolis, Thursday, April 22, 2021. Wright, 20, was fatally shot by a Brooklyn Center, Minn., police officer during a traffic stop. (AP Photo/Julio Cortez, Pool)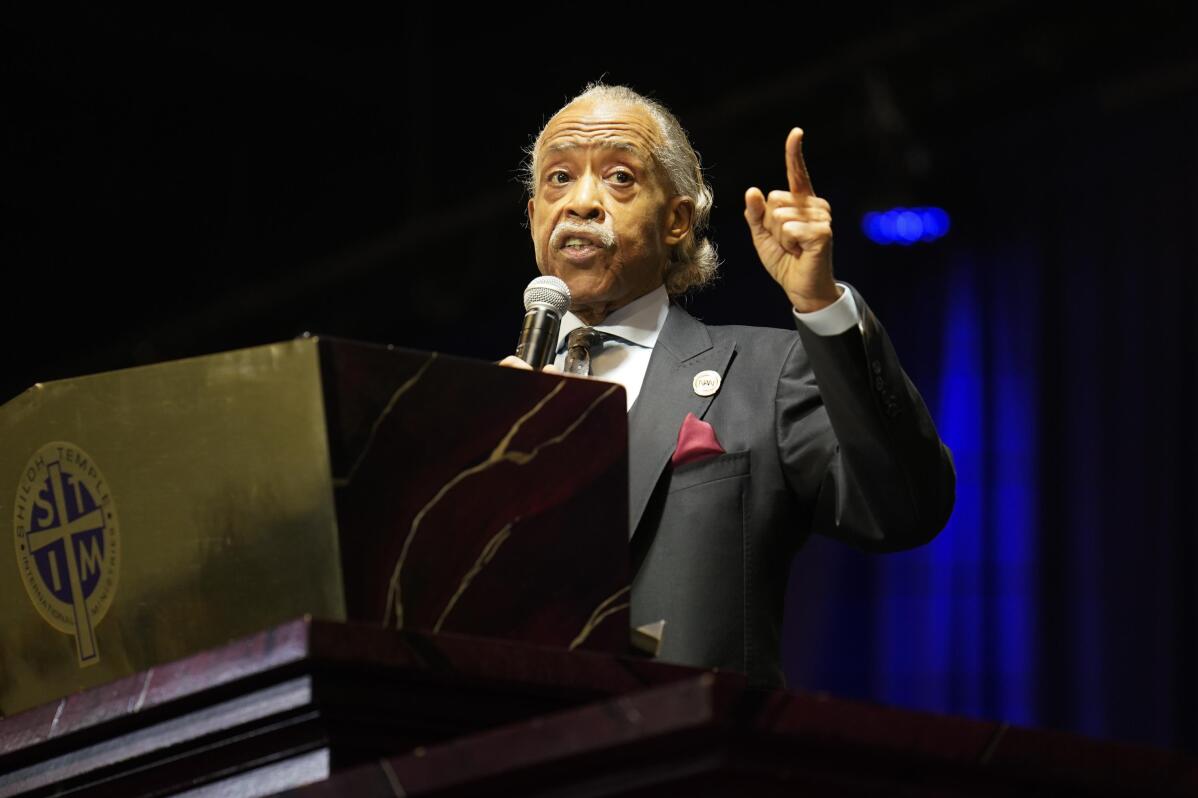 3 of 7

|
Rev. Al Sharpton eulogies Daunte Wright during funeral services at Shiloh Temple International Ministries in Minneapolis, Thursday, April 22, 2021. Wright, 20, was fatally shot by a Brooklyn Center, Minn., police officer during a traffic stop. (AP Photo/John Minchillo, Pool)
4 of 7

|
Protesters block the U.S. Highway 158 bridge over Pasqoutank River in Elizabeth City, N.C., Tuesday evening, April 27, 2021, in advance of an 8 p.m. curfew ordered by the city. Protests continued Tuesday following the shooting death of Andrew Brown Jr. last week by Pasquotank County sheriff's deputies. Brown was shot in the back of the head and had his hands on his car steering wheel when they opened fire, attorneys for his family said Monday after relatives viewed body camera footage. (Travis Long/The News & Observer via AP)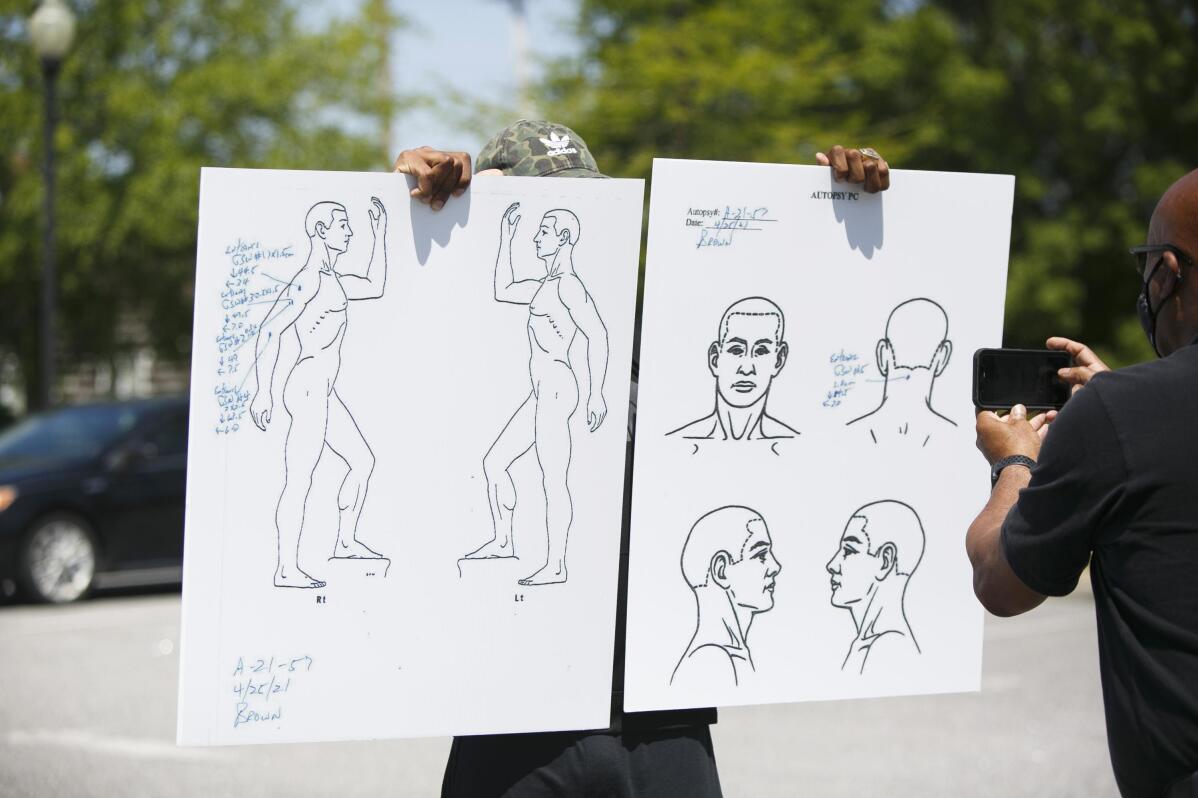 5 of 7

|
Autopsy results of gunshot locations on the body of Andrew Brown Jr. in a fatal shooting are shown following a press conference held to release the results of an independent autopsy in front of the Pasquotank County Sheriff's office in Elizabeth City, N.C., Tuesday, April 27, 2021. The FBI launched a civil rights probe Tuesday into the death of Brown, a Black man killed by deputies in North Carolina, as his family released an independent autopsy showing he was shot five times, including in the back of the head. (Kristen Zeis/The Virginian-Pilot via AP)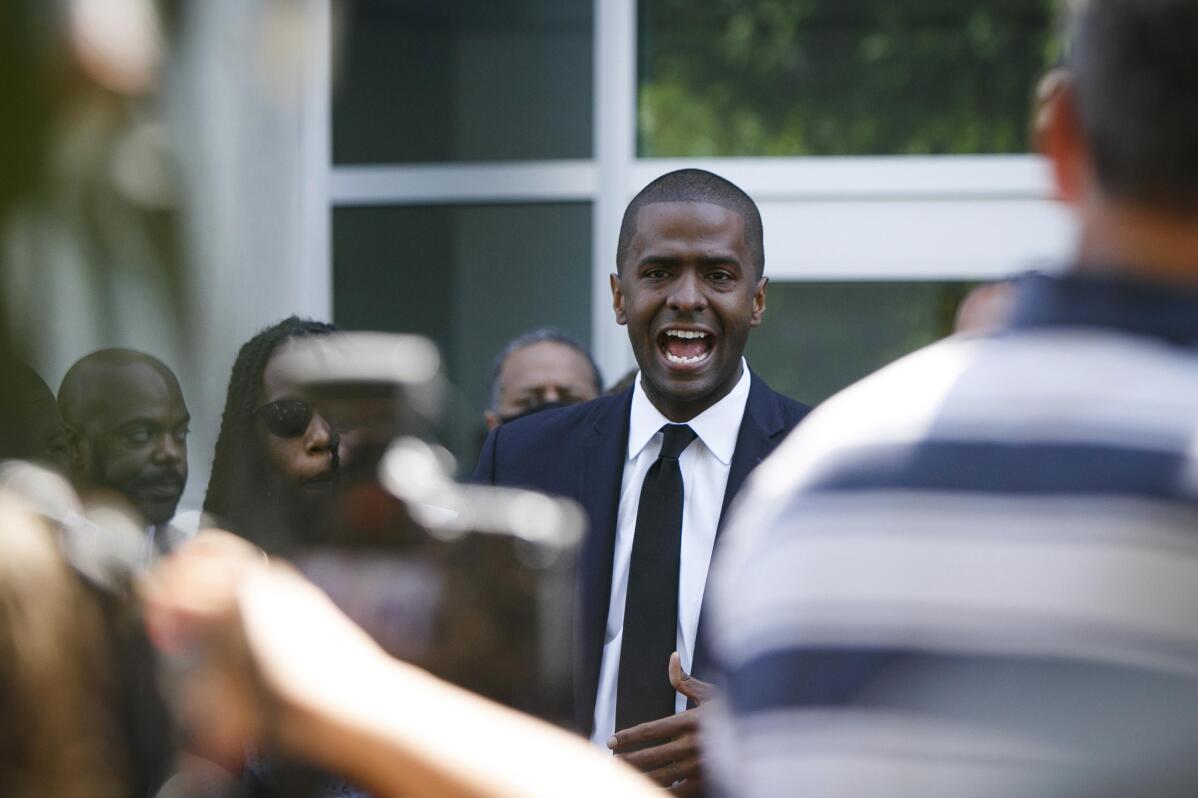 6 of 7

|
Attorney Bakari Sellers addresses the media in front of the Pasquotank County Sheriff's Office at a press conference regarding the shooting of Andrew Brown Jr. in Elizabeth City, N.C., Tuesday, April 27, 2021. The FBI has launched a civil rights probe into the death of Brown, a Black man killed by deputies in North Carolina. The announcement on Tuesday came hours after Brown's family released an independent autopsy showing he was shot five times, including in the back of the head. (Kristen Zeis/The Virginian-Pilot via AP)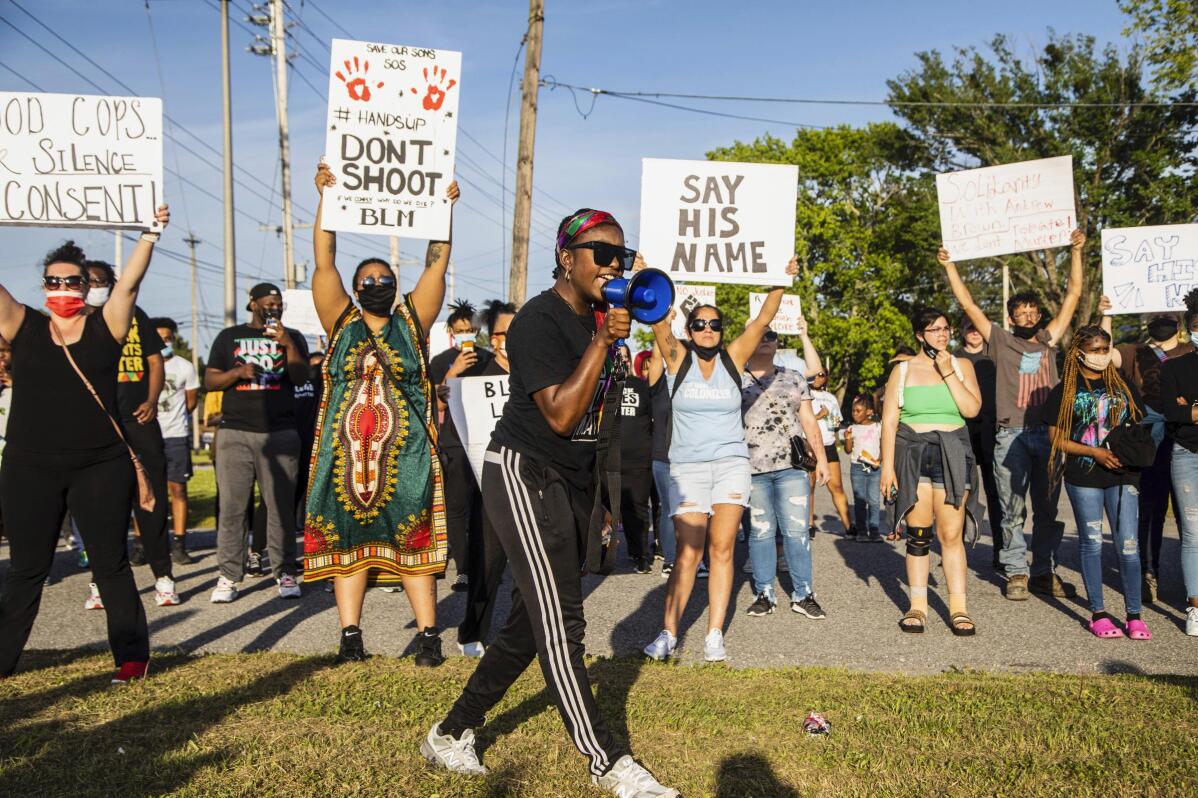 7 of 7

|
Demonstrators protesting the police shooting death of Andrew Brown Jr. block U.S. Highway 17 in Elizabeth City, N.C., Tuesday, April 27, 2021. Elizabeth City is under an 8 p.m. curfew. Brown, a Black man killed by deputies in North Carolina was shot in the back of the head and had his hands on his car steering wheel when they opened fire, attorneys for his family said Monday after relatives viewed body camera footage. (Travis Long/The News & Observer via AP)
Andrew Brown Jr. funeral set for Monday with Sharpton eulogy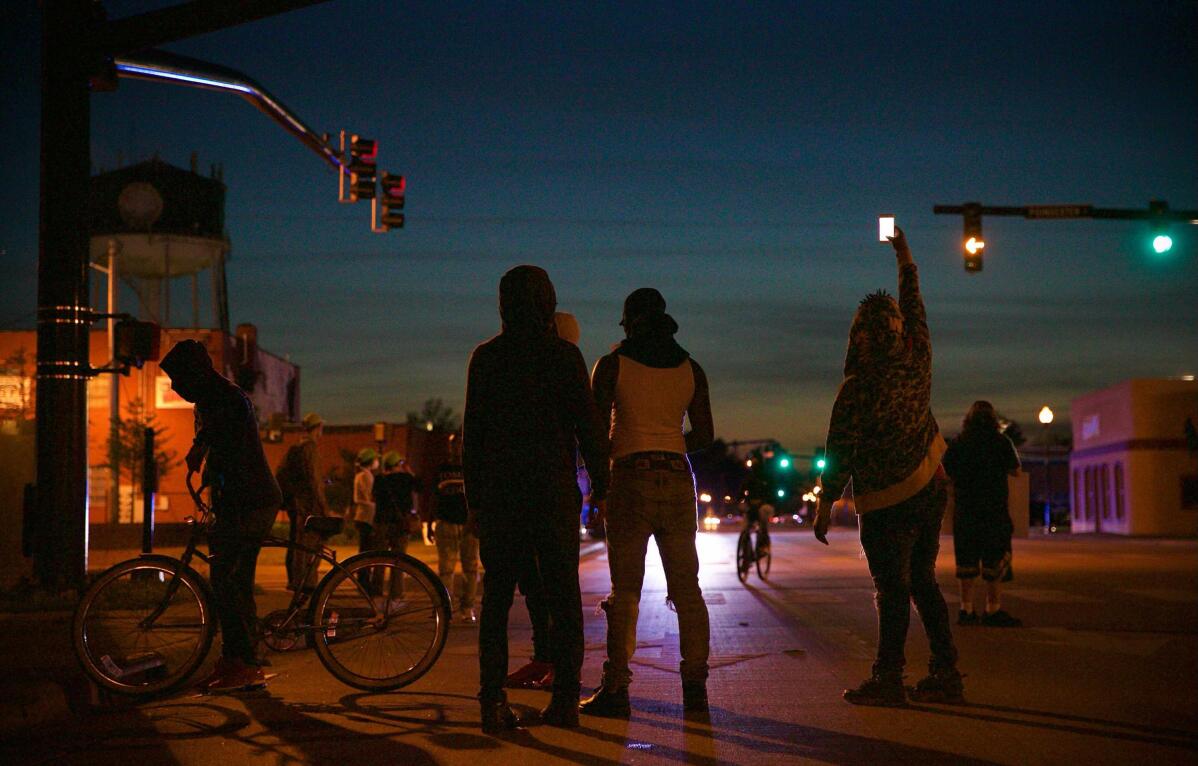 1 of 7

|
Protesters gather on Elizabeth Street near the Pasquotank River Bridge in Elizabeth City, N.C., on Tuesday, April 27, 2021 following the 8p.m. curfew. The FBI has launched a civil rights probe into the death of Andrew Brown Jr., a Black man killed by deputies in Elizabeth City. (Kristen Zeis/The Virginian-Pilot via AP)
1 of 7
Protesters gather on Elizabeth Street near the Pasquotank River Bridge in Elizabeth City, N.C., on Tuesday, April 27, 2021 following the 8p.m. curfew. The FBI has launched a civil rights probe into the death of Andrew Brown Jr., a Black man killed by deputies in Elizabeth City. (Kristen Zeis/The Virginian-Pilot via AP)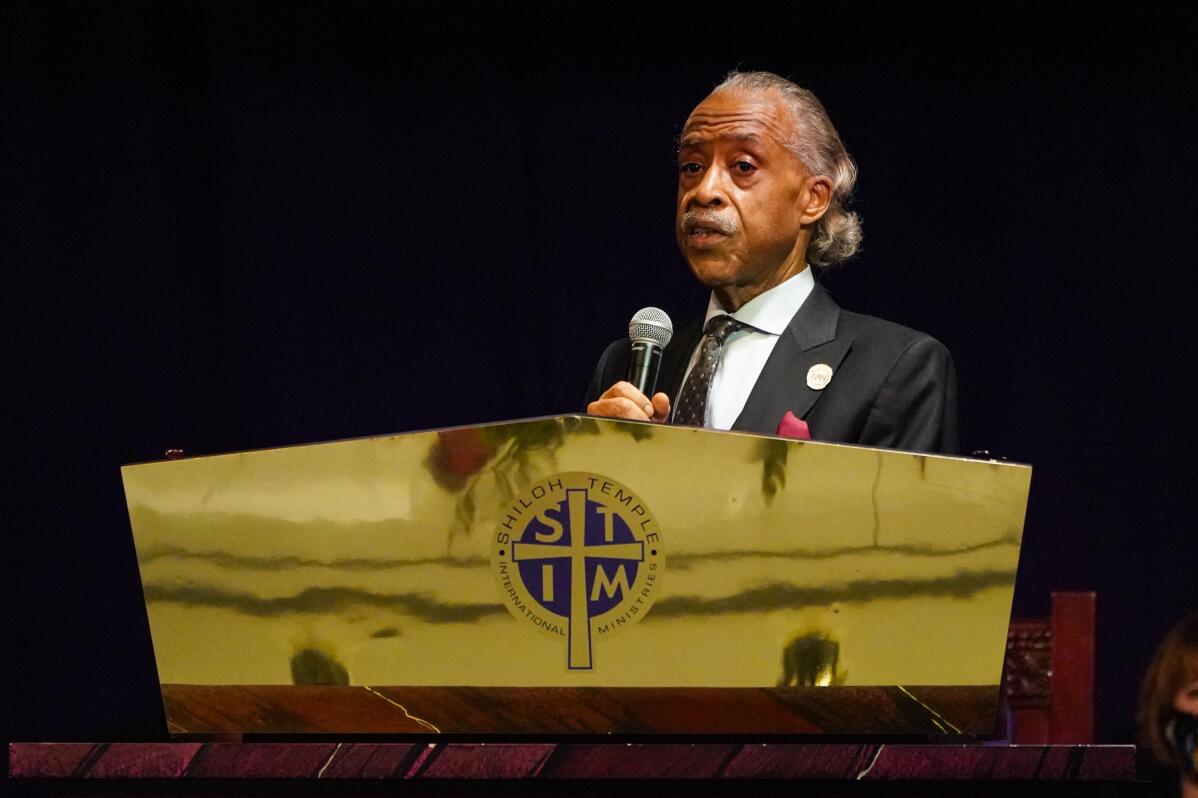 2 of 7

|
Rev. Al Sharpton eulogies Daunte Wright during funeral services at Shiloh Temple International Ministries in Minneapolis, Thursday, April 22, 2021. Wright, 20, was fatally shot by a Brooklyn Center, Minn., police officer during a traffic stop. (AP Photo/Julio Cortez, Pool)
2 of 7
Rev. Al Sharpton eulogies Daunte Wright during funeral services at Shiloh Temple International Ministries in Minneapolis, Thursday, April 22, 2021. Wright, 20, was fatally shot by a Brooklyn Center, Minn., police officer during a traffic stop. (AP Photo/Julio Cortez, Pool)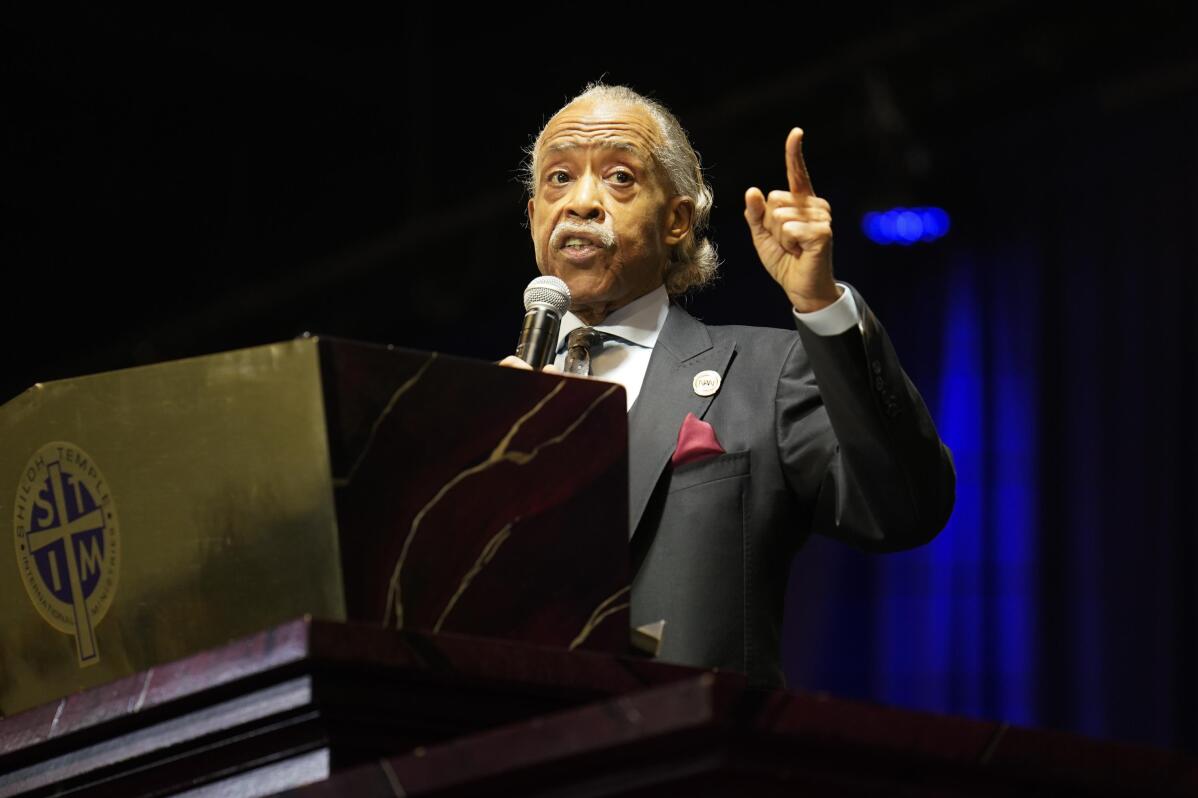 3 of 7

|
Rev. Al Sharpton eulogies Daunte Wright during funeral services at Shiloh Temple International Ministries in Minneapolis, Thursday, April 22, 2021. Wright, 20, was fatally shot by a Brooklyn Center, Minn., police officer during a traffic stop. (AP Photo/John Minchillo, Pool)
3 of 7
Rev. Al Sharpton eulogies Daunte Wright during funeral services at Shiloh Temple International Ministries in Minneapolis, Thursday, April 22, 2021. Wright, 20, was fatally shot by a Brooklyn Center, Minn., police officer during a traffic stop. (AP Photo/John Minchillo, Pool)
4 of 7

|
Protesters block the U.S. Highway 158 bridge over Pasqoutank River in Elizabeth City, N.C., Tuesday evening, April 27, 2021, in advance of an 8 p.m. curfew ordered by the city. Protests continued Tuesday following the shooting death of Andrew Brown Jr. last week by Pasquotank County sheriff's deputies. Brown was shot in the back of the head and had his hands on his car steering wheel when they opened fire, attorneys for his family said Monday after relatives viewed body camera footage. (Travis Long/The News & Observer via AP)
4 of 7
Protesters block the U.S. Highway 158 bridge over Pasqoutank River in Elizabeth City, N.C., Tuesday evening, April 27, 2021, in advance of an 8 p.m. curfew ordered by the city. Protests continued Tuesday following the shooting death of Andrew Brown Jr. last week by Pasquotank County sheriff's deputies. Brown was shot in the back of the head and had his hands on his car steering wheel when they opened fire, attorneys for his family said Monday after relatives viewed body camera footage. (Travis Long/The News & Observer via AP)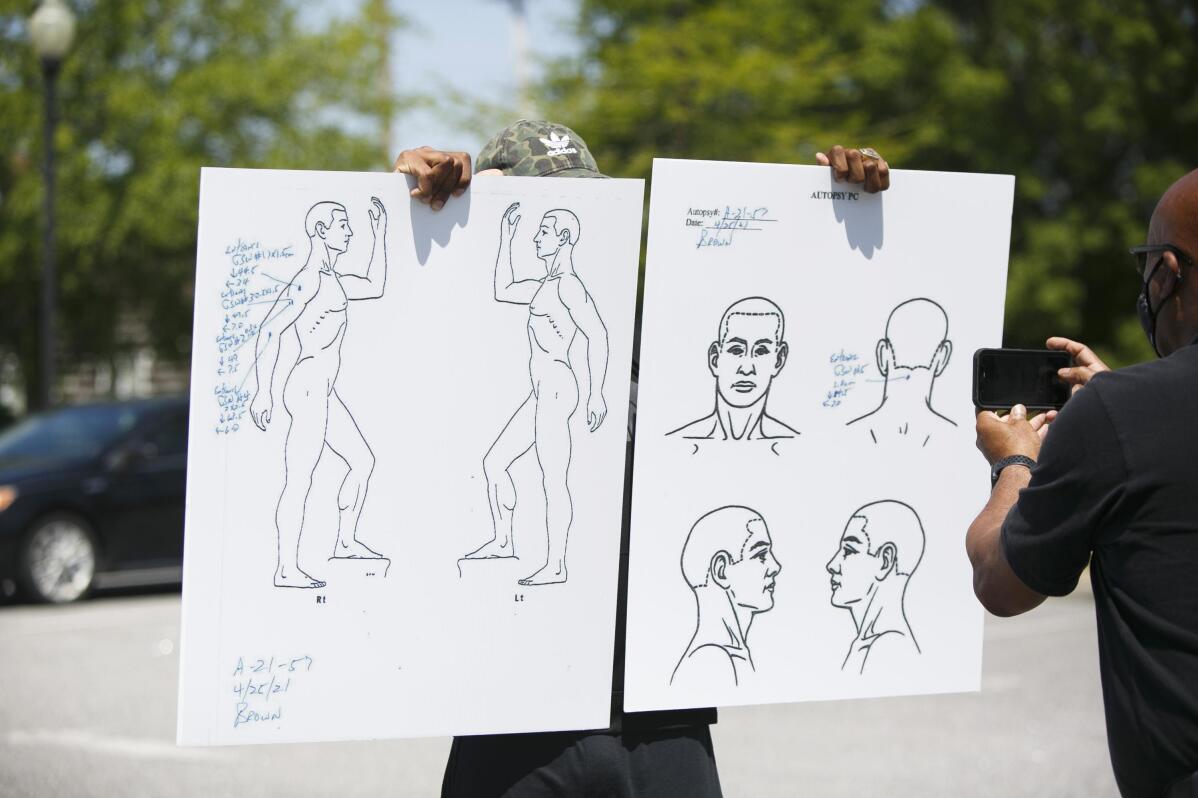 5 of 7

|
Autopsy results of gunshot locations on the body of Andrew Brown Jr. in a fatal shooting are shown following a press conference held to release the results of an independent autopsy in front of the Pasquotank County Sheriff's office in Elizabeth City, N.C., Tuesday, April 27, 2021. The FBI launched a civil rights probe Tuesday into the death of Brown, a Black man killed by deputies in North Carolina, as his family released an independent autopsy showing he was shot five times, including in the back of the head. (Kristen Zeis/The Virginian-Pilot via AP)
5 of 7
Autopsy results of gunshot locations on the body of Andrew Brown Jr. in a fatal shooting are shown following a press conference held to release the results of an independent autopsy in front of the Pasquotank County Sheriff's office in Elizabeth City, N.C., Tuesday, April 27, 2021. The FBI launched a civil rights probe Tuesday into the death of Brown, a Black man killed by deputies in North Carolina, as his family released an independent autopsy showing he was shot five times, including in the back of the head. (Kristen Zeis/The Virginian-Pilot via AP)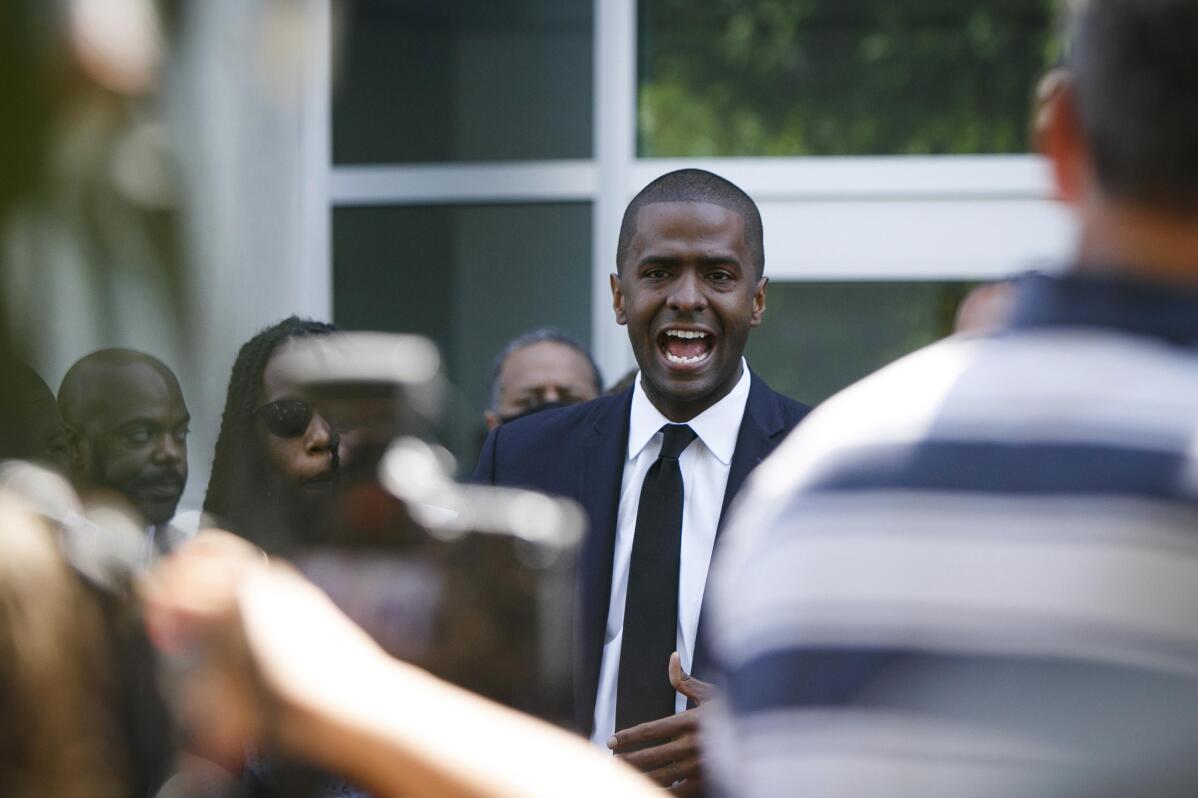 6 of 7

|
Attorney Bakari Sellers addresses the media in front of the Pasquotank County Sheriff's Office at a press conference regarding the shooting of Andrew Brown Jr. in Elizabeth City, N.C., Tuesday, April 27, 2021. The FBI has launched a civil rights probe into the death of Brown, a Black man killed by deputies in North Carolina. The announcement on Tuesday came hours after Brown's family released an independent autopsy showing he was shot five times, including in the back of the head. (Kristen Zeis/The Virginian-Pilot via AP)
6 of 7
Attorney Bakari Sellers addresses the media in front of the Pasquotank County Sheriff's Office at a press conference regarding the shooting of Andrew Brown Jr. in Elizabeth City, N.C., Tuesday, April 27, 2021. The FBI has launched a civil rights probe into the death of Brown, a Black man killed by deputies in North Carolina. The announcement on Tuesday came hours after Brown's family released an independent autopsy showing he was shot five times, including in the back of the head. (Kristen Zeis/The Virginian-Pilot via AP)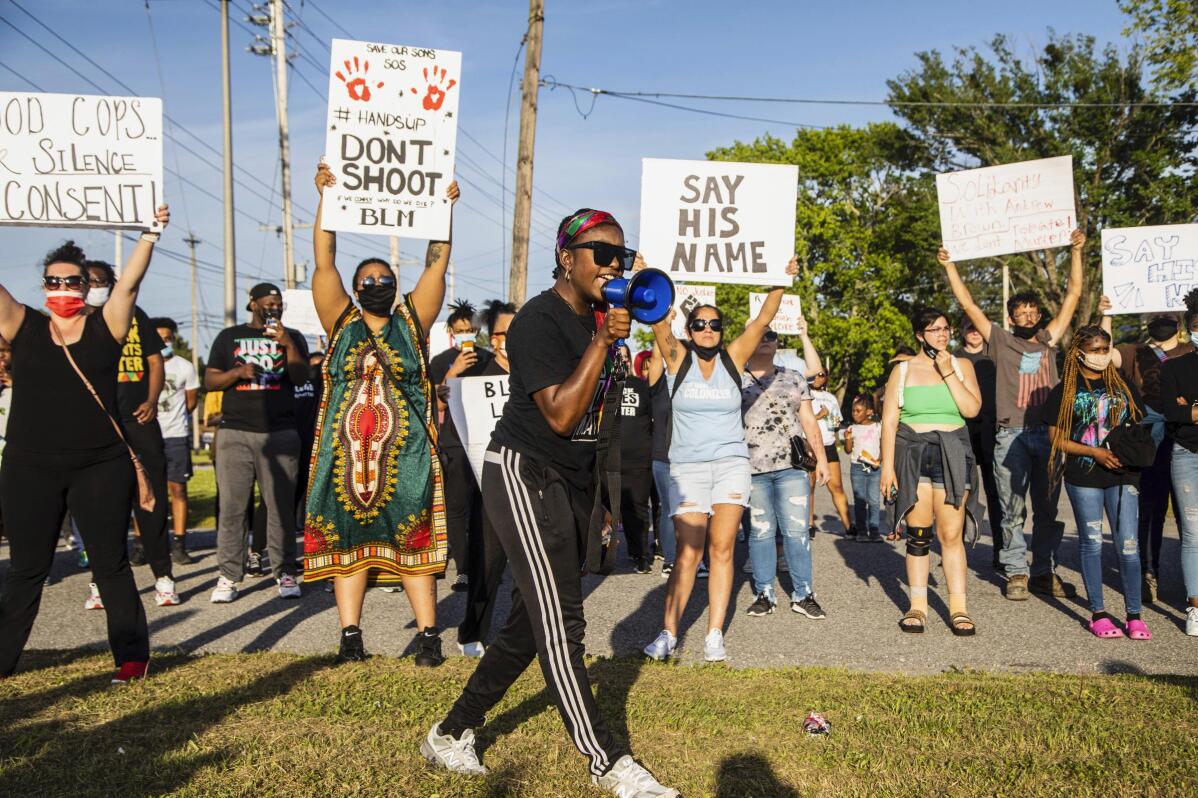 7 of 7

|
Demonstrators protesting the police shooting death of Andrew Brown Jr. block U.S. Highway 17 in Elizabeth City, N.C., Tuesday, April 27, 2021. Elizabeth City is under an 8 p.m. curfew. Brown, a Black man killed by deputies in North Carolina was shot in the back of the head and had his hands on his car steering wheel when they opened fire, attorneys for his family said Monday after relatives viewed body camera footage. (Travis Long/The News & Observer via AP)
7 of 7
Demonstrators protesting the police shooting death of Andrew Brown Jr. block U.S. Highway 17 in Elizabeth City, N.C., Tuesday, April 27, 2021. Elizabeth City is under an 8 p.m. curfew. Brown, a Black man killed by deputies in North Carolina was shot in the back of the head and had his hands on his car steering wheel when they opened fire, attorneys for his family said Monday after relatives viewed body camera footage. (Travis Long/The News & Observer via AP)
A funeral will be held next Monday for Andrew Brown Jr., a Black man shot and killed by North Carolina deputies, with the Rev. Al Sharpton delivering the eulogy.
Lawyers for Brown's family said that the funeral will take place at noon on Monday in Elizabeth City. Other details of the arrangements were still being settled. Brown was shot and killed last week by Pasquotank County deputies serving drug-related search and arrest warrants.
Brown's family asked Sharpton to deliver the eulogy because they felt the civil rights leader would properly honor his legacy, said Lee Ferebee, the uncle of Brown's son Khalil Ferebee.
"We had a really good conversation about giving Andrew the kind of sendoff that we felt like he was worthy of," Ferebee said in a phone interview. "So, Rev. Sharpton, we reached out to him, and we confirmed that he's going to be performing the eulogy for us."
The civil rights leader delivered the eulogy last week for Daunte Wright, who was shot and killed by a police officer in Minnesota.
Sharpton told The Associated Press in a phone interview that he agreed to the family's request and spoke to Khalil Ferebee by phone Monday night. He said he's also working with local clergy and North Carolina civil rights leaders including the Rev. William Barber II, the leader of the Poor People's Campaign to draw attention to racial injustice.
"The family ought to know that the value of his life is being saluted around the world," Sharpton said.
Sharpton said that he wants to both celebrate Brown's life and help call attention to larger problems with policing that need to be addressed.
"I would want to get across that this is a human being. And for us, it's part of a continual abuse of police power," he said.