Shiffrin tops season-record $1M in ski World Cup prize money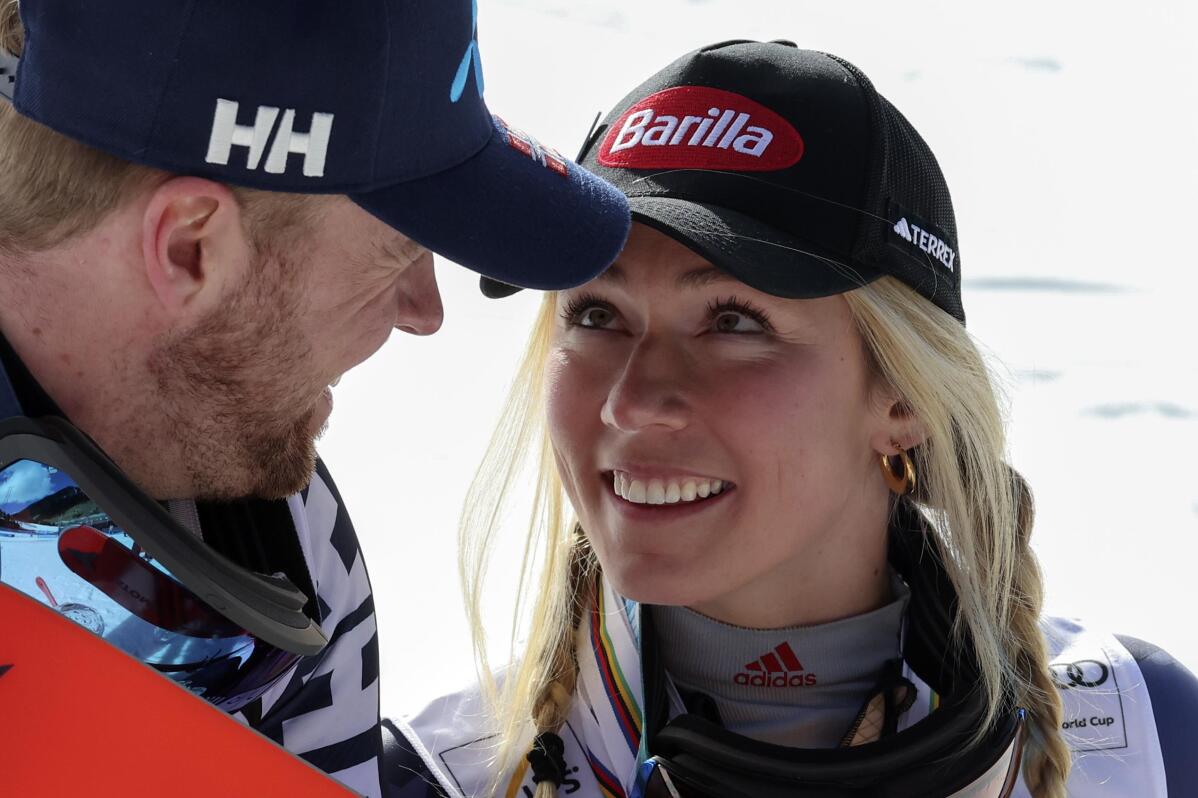 1 of 5

|
United States' Mikaela Shiffrin, right, and boyfriend Norway's Aleksander Aamodt Kilde look at each other on the last day of the alpine ski, World Cup season, in Soldeu, Andorra, Sunday, March 19, 2023. (AP Photo/Alessandro Trovati)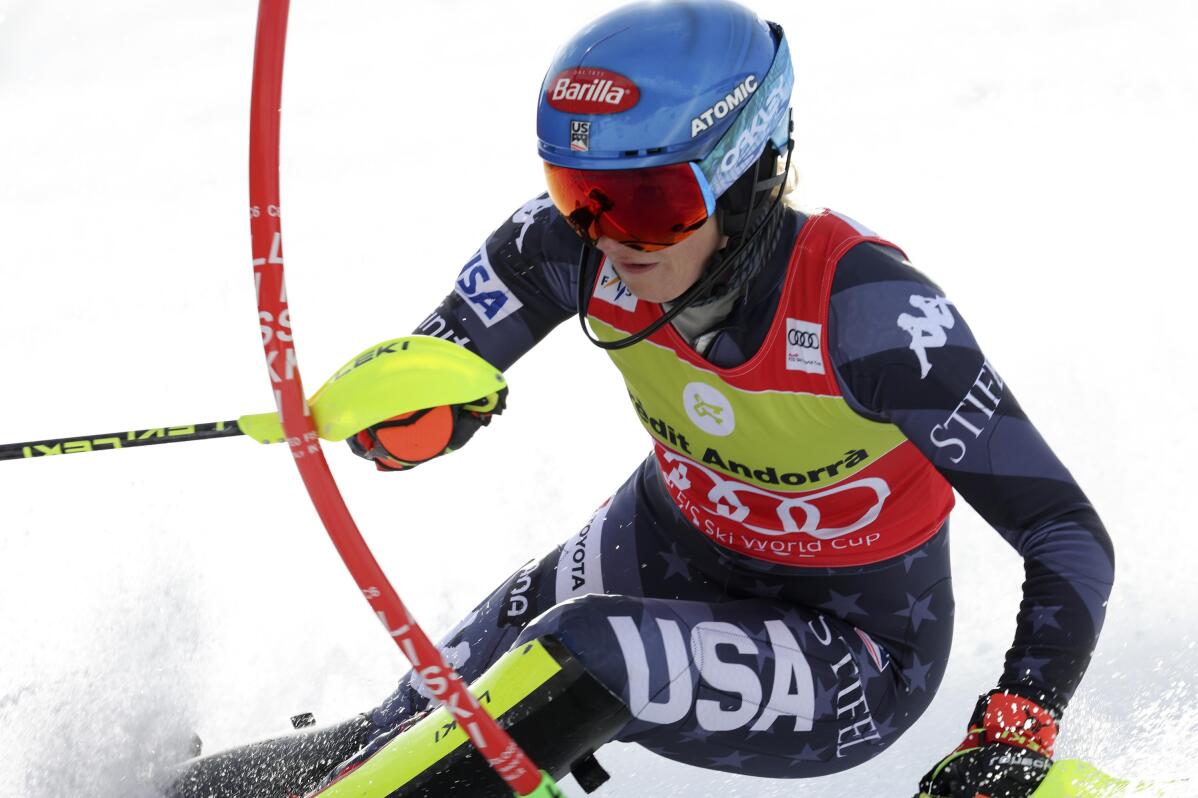 2 of 5

|
United States' Mikaela Shiffrin competes in a women's World Cup slalom race, in Soldeu, Andorra, Saturday, March 18, 2023. (AP Photo/Alessandro Trovati)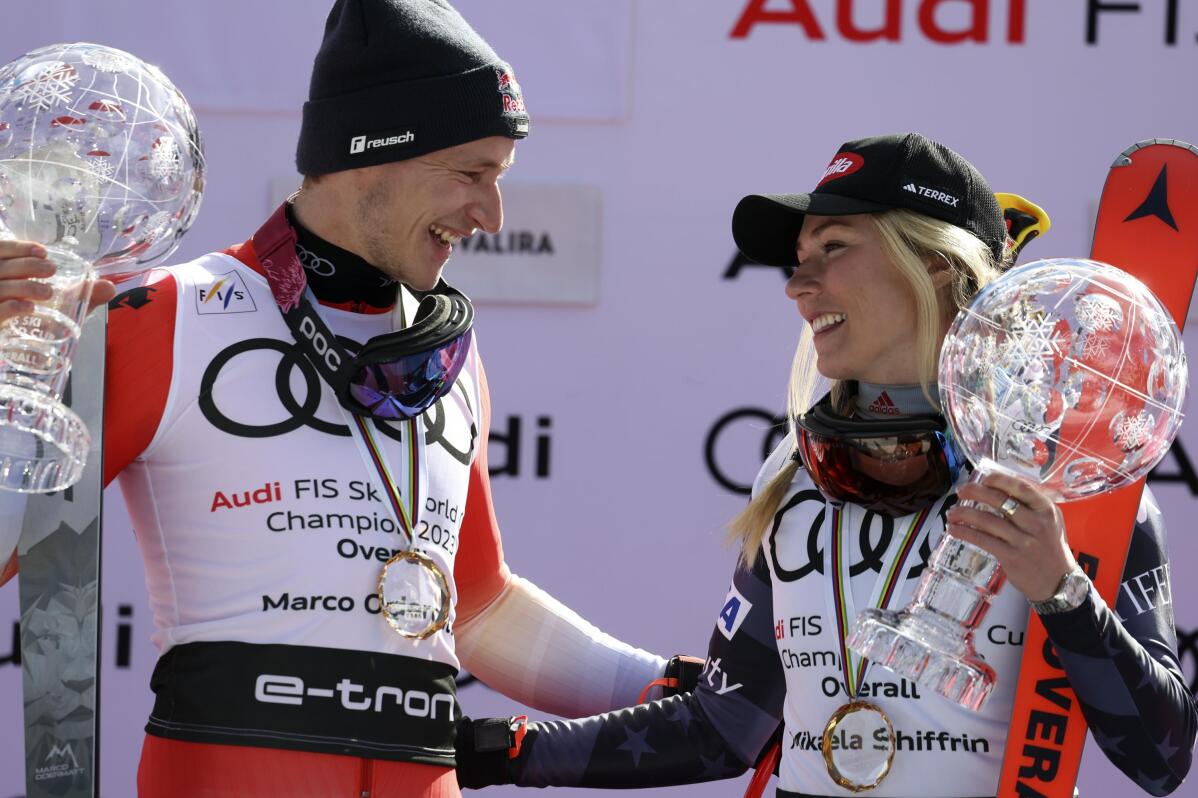 3 of 5

|
Switzerland's Marco Odermatt, left, and United States' Mikaela Shiffrin celebrate on the podium with their alpine ski, World Cup overall leader's trophies, in Soldeu, Andorra, Sunday, March 19, 2023. (AP Photo/Alessandro Trovati)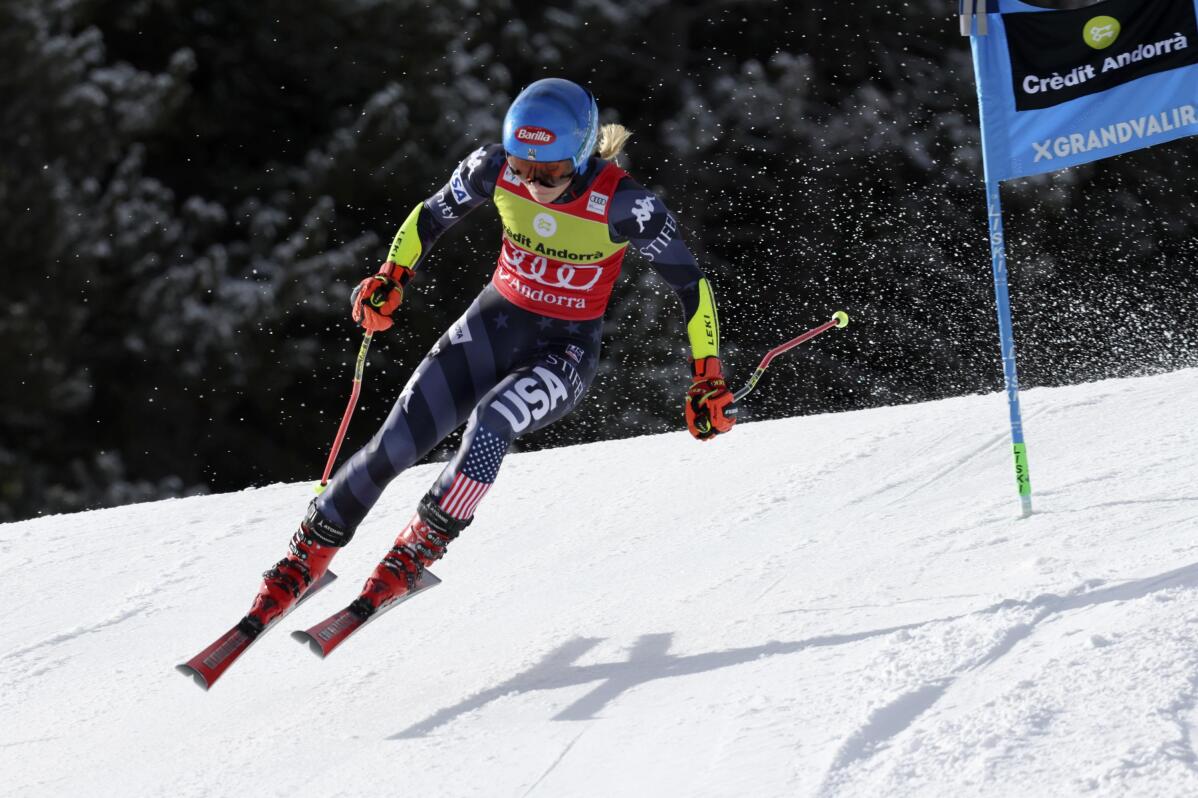 4 of 5

|
United States' Mikaela Shiffrin competes in an alpine ski, women's World Cup giant slalom race, in Soldeu, Andorra, Sunday, March 19, 2023. (AP Photo/Alessandro Trovati)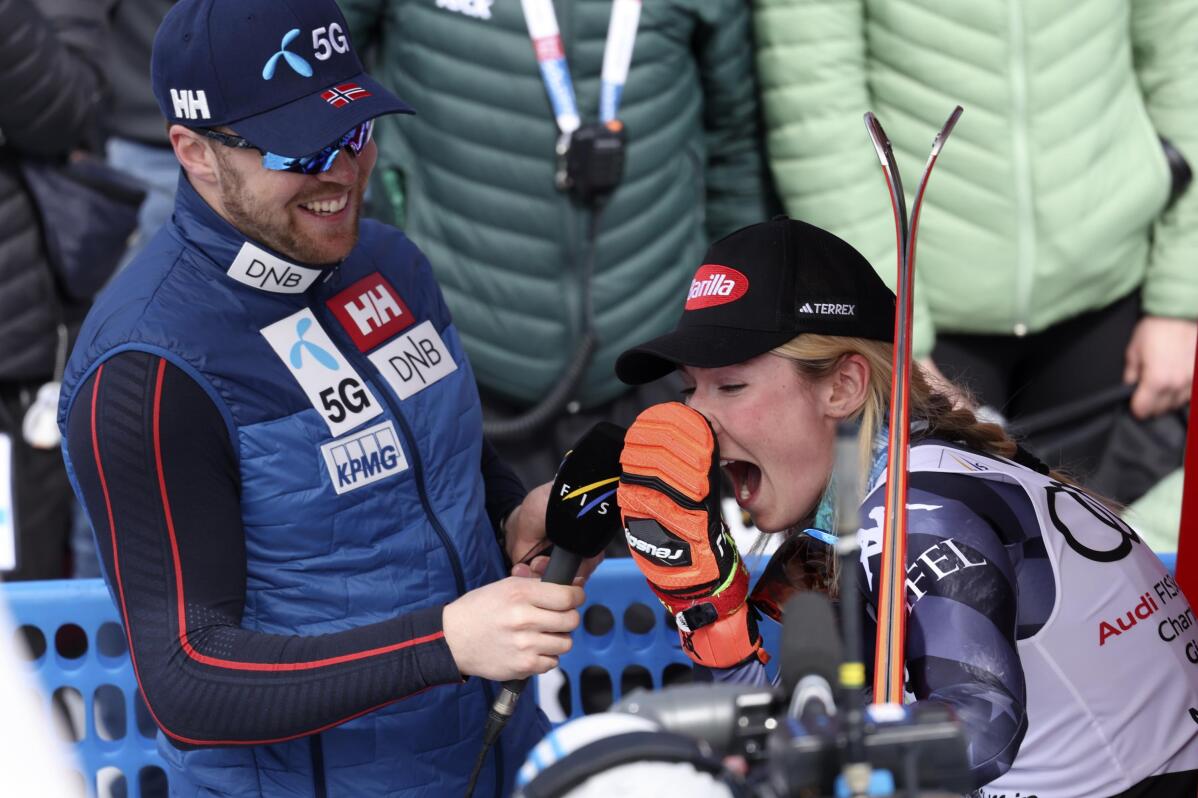 5 of 5

|
Norway's Aleksander Aamodt Kilde, left, interviews United States' Mikaela Shiffrin after she won an alpine ski, women's World Cup giant slalom race, in Soldeu, Andorra, Sunday, March 19, 2023. (AP Photo/Alessandro Trovati)
Shiffrin tops season-record $1M in ski World Cup prize money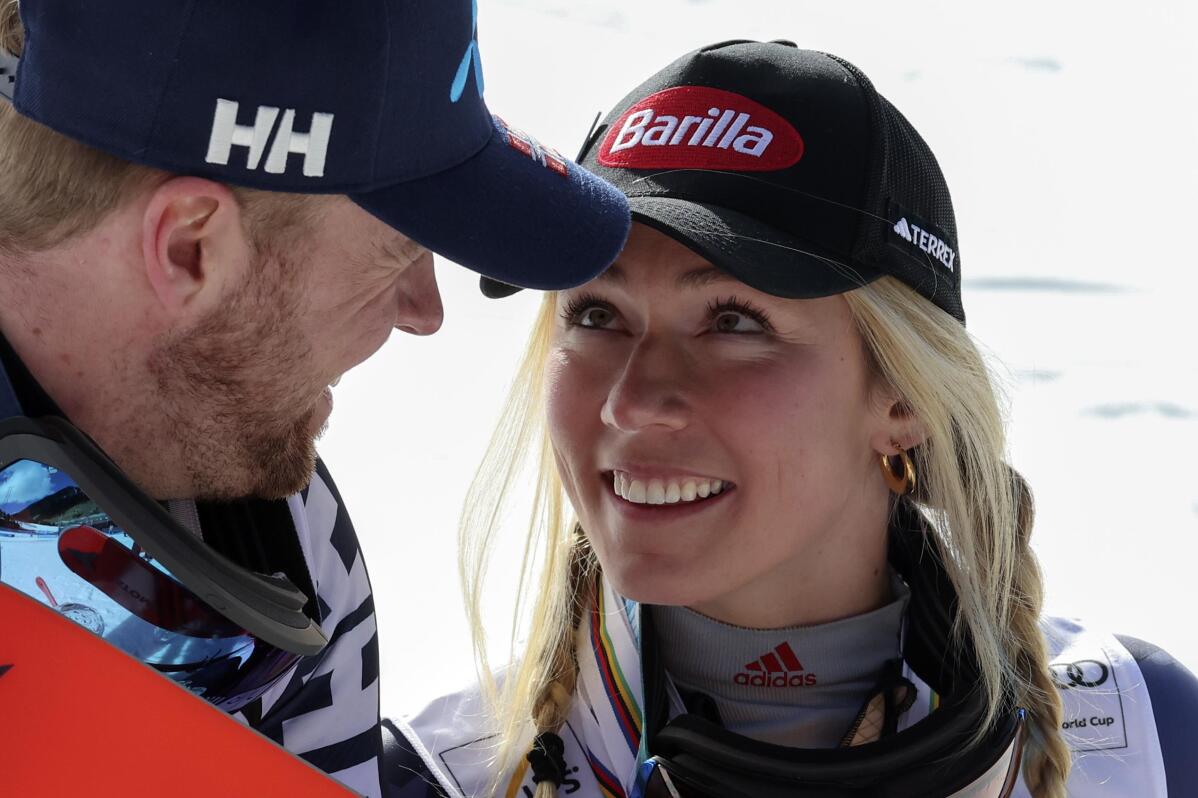 1 of 5

|
United States' Mikaela Shiffrin, right, and boyfriend Norway's Aleksander Aamodt Kilde look at each other on the last day of the alpine ski, World Cup season, in Soldeu, Andorra, Sunday, March 19, 2023. (AP Photo/Alessandro Trovati)
1 of 5
United States' Mikaela Shiffrin, right, and boyfriend Norway's Aleksander Aamodt Kilde look at each other on the last day of the alpine ski, World Cup season, in Soldeu, Andorra, Sunday, March 19, 2023. (AP Photo/Alessandro Trovati)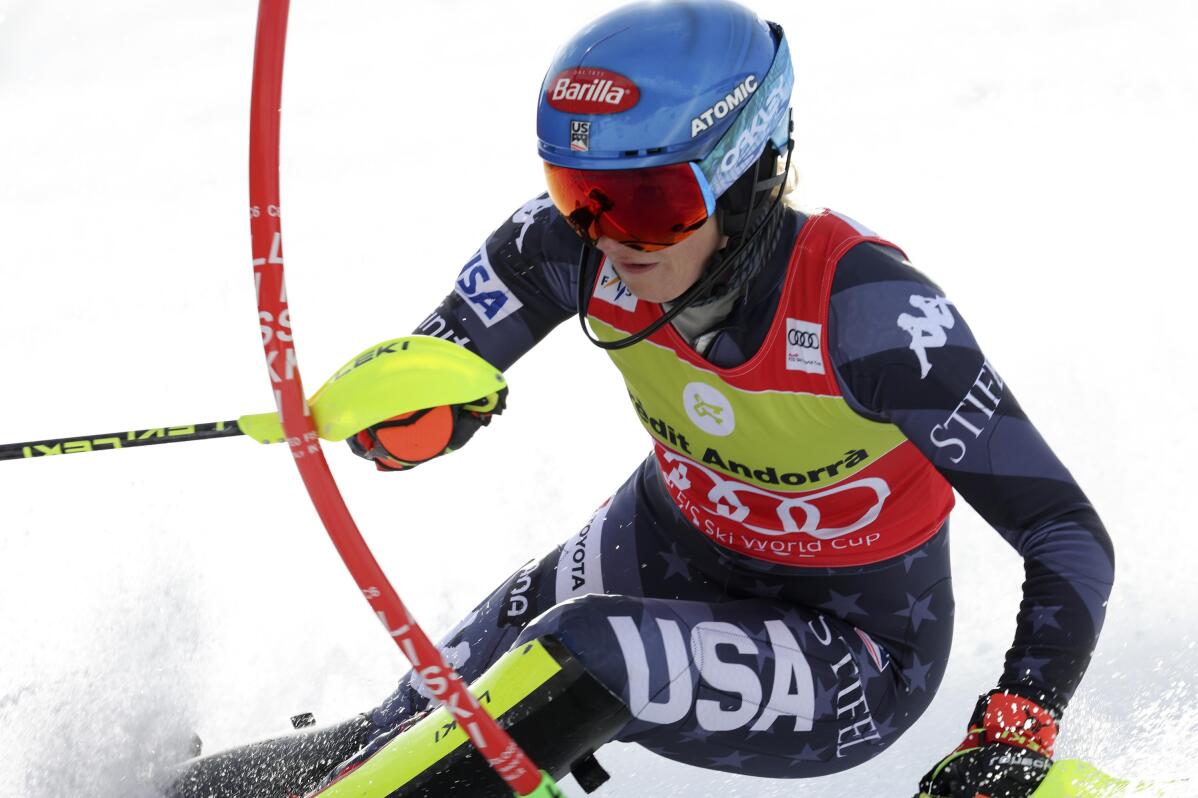 2 of 5

|
United States' Mikaela Shiffrin competes in a women's World Cup slalom race, in Soldeu, Andorra, Saturday, March 18, 2023. (AP Photo/Alessandro Trovati)
2 of 5
United States' Mikaela Shiffrin competes in a women's World Cup slalom race, in Soldeu, Andorra, Saturday, March 18, 2023. (AP Photo/Alessandro Trovati)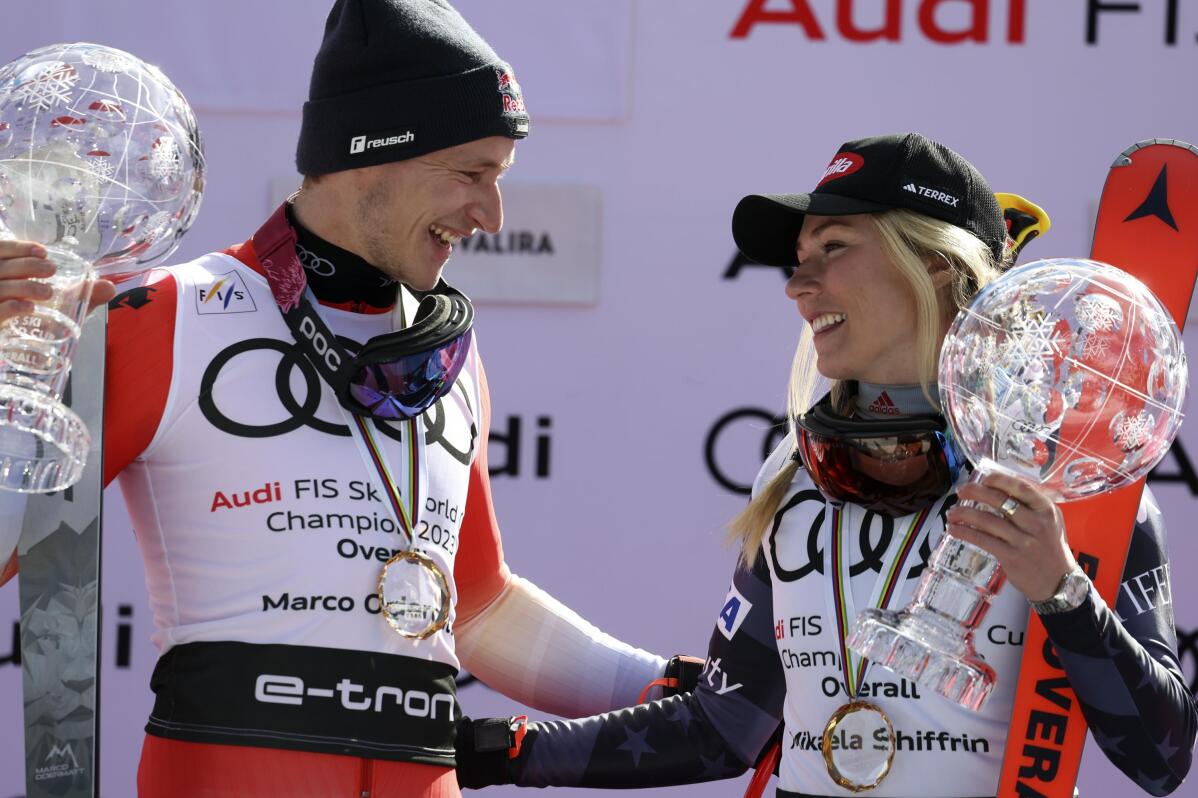 3 of 5

|
Switzerland's Marco Odermatt, left, and United States' Mikaela Shiffrin celebrate on the podium with their alpine ski, World Cup overall leader's trophies, in Soldeu, Andorra, Sunday, March 19, 2023. (AP Photo/Alessandro Trovati)
3 of 5
Switzerland's Marco Odermatt, left, and United States' Mikaela Shiffrin celebrate on the podium with their alpine ski, World Cup overall leader's trophies, in Soldeu, Andorra, Sunday, March 19, 2023. (AP Photo/Alessandro Trovati)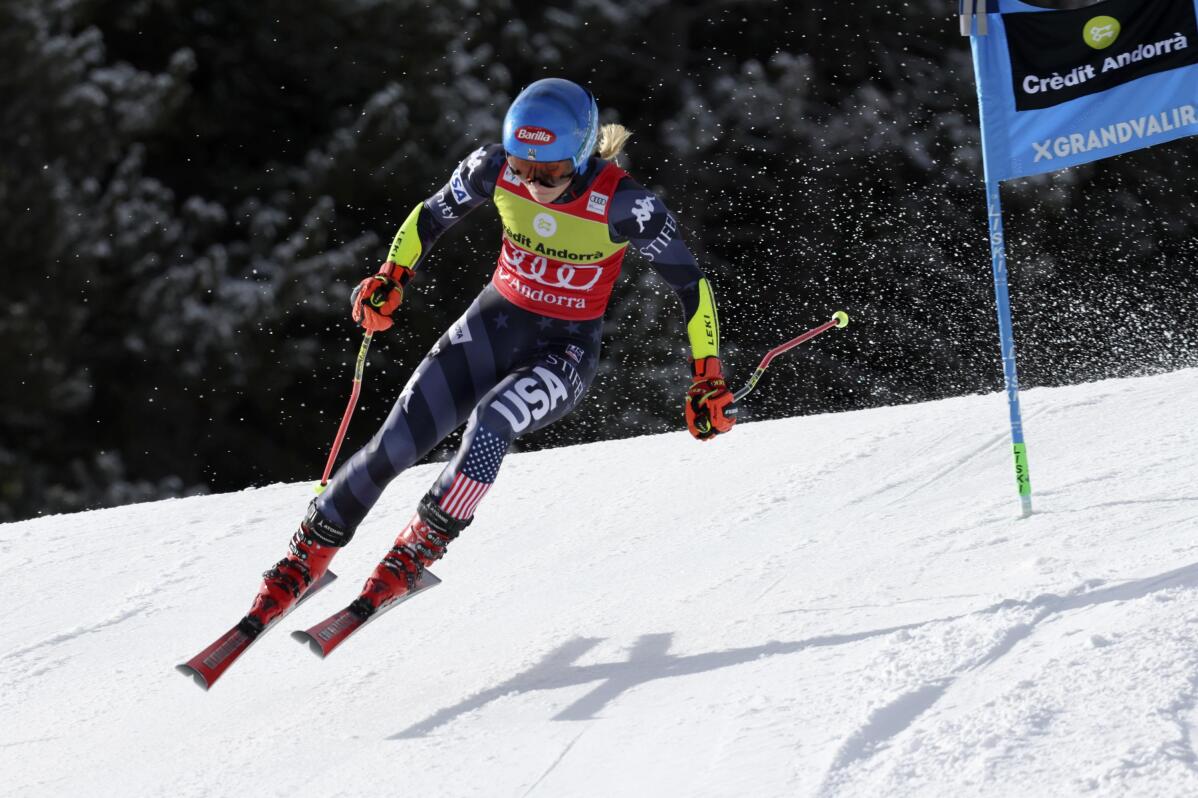 4 of 5

|
United States' Mikaela Shiffrin competes in an alpine ski, women's World Cup giant slalom race, in Soldeu, Andorra, Sunday, March 19, 2023. (AP Photo/Alessandro Trovati)
4 of 5
United States' Mikaela Shiffrin competes in an alpine ski, women's World Cup giant slalom race, in Soldeu, Andorra, Sunday, March 19, 2023. (AP Photo/Alessandro Trovati)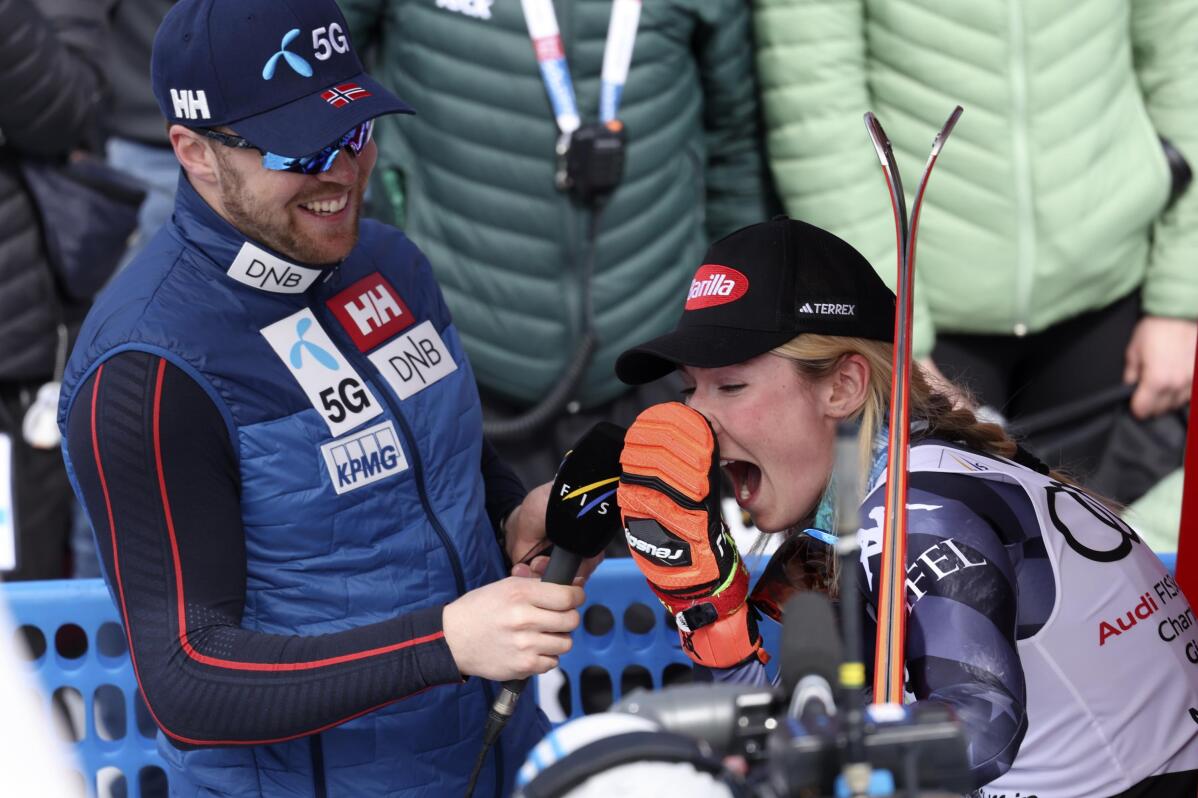 5 of 5

|
Norway's Aleksander Aamodt Kilde, left, interviews United States' Mikaela Shiffrin after she won an alpine ski, women's World Cup giant slalom race, in Soldeu, Andorra, Sunday, March 19, 2023. (AP Photo/Alessandro Trovati)
5 of 5
Norway's Aleksander Aamodt Kilde, left, interviews United States' Mikaela Shiffrin after she won an alpine ski, women's World Cup giant slalom race, in Soldeu, Andorra, Sunday, March 19, 2023. (AP Photo/Alessandro Trovati)
OBERHOFEN, Switzerland (AP) — Mikaela Shiffrin earned another piece of World Cup history — the first Alpine skier with $1 million to top the season-ending race prize money list confirmed Monday.
Shiffrin's win in a giant slalom Sunday was her 13th World Cup victory since October and lifted her total prize money total race organizers to 964,200 Swiss francs ($1.04 million).
That set the all-time Alpine World Cup record and moved her earnings above Marco Odermatt, whose giant slalom win Saturday in his last race of the season set a men's record with 941,200 Swiss francs ($1,017,000).
Shiffrin's previous best prize total was 886,000 Swiss francs ($958,000) in the 2018-19 season, when she also won the women's overall World Cup title. She won her fifth title this season.
Her historic World Cup season ends with the 28-year-old American extending her all-time career wins total to 88 and setting a new women's career mark of 21 giant slalom wins.
Her prize money total was almost three times more than the next highest earning woman, Sofia Goggia, whose 338,000 Swiss francs ($365,000) was boosted by five wins in downhill.
After Odermatt, the next best men's earner with 623,000 Swiss francs ($673,000) was Aleksander Aamodt Kilde, Shiffrin's partner.
Kilde's eight World Cup race wins included the most lucrative race of the season, a downhill at Kitzbuehel, Austria. It pays 100,000 euros ($107,000) to the winner.
Odermatt's total topped the previous men's record of 670,000 Swiss francs ($724,000) set by Marcel Hirscher in his overall title-winning season of 2017-18.
___ More AP skiing: https://apnews.com/hub/alpine-skiing and https://twitter.com/AP_Sports