Swiss soccer player agents file challenge to FIFA rules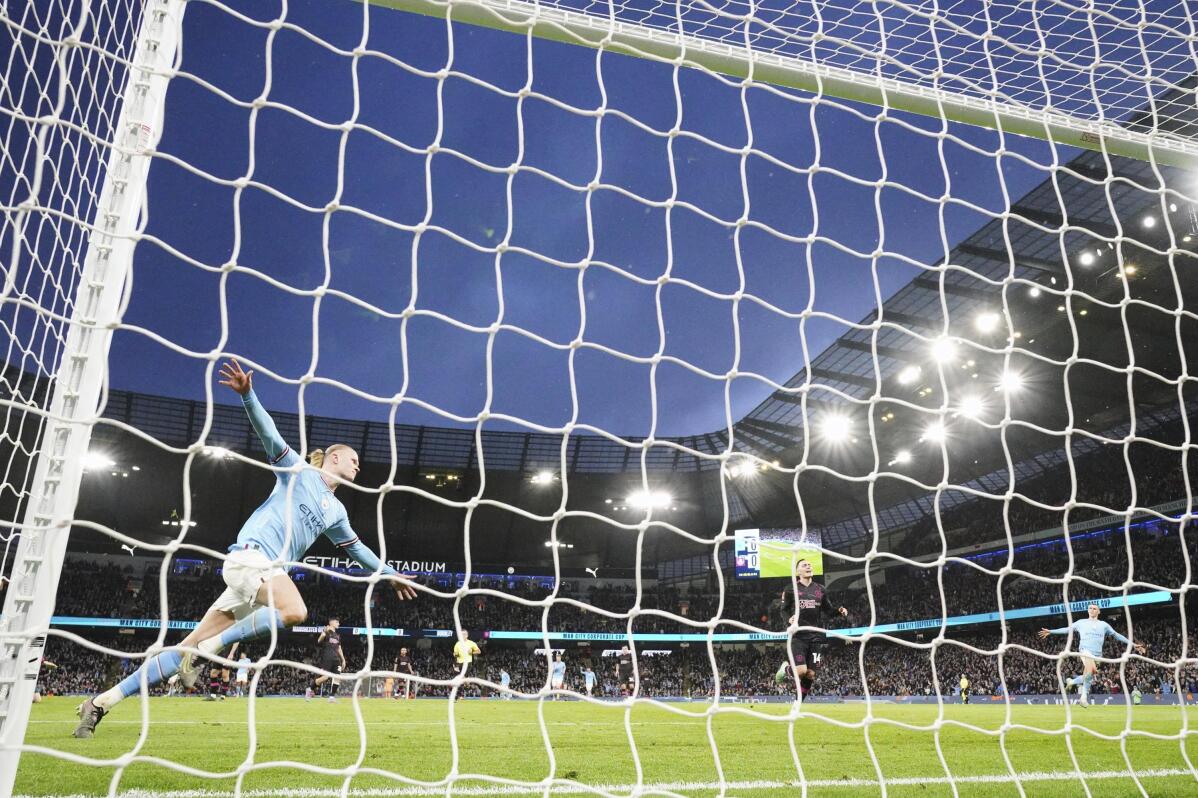 1 of 2

|
Manchester City's Erling Haaland celebrates after scoring his side's opening goal during the English FA Cup quarter final soccer match between Manchester City and Burnley at the Etihad stadium in Manchester, England, Saturday, March 18, 2023. (AP Photo/Jon Super)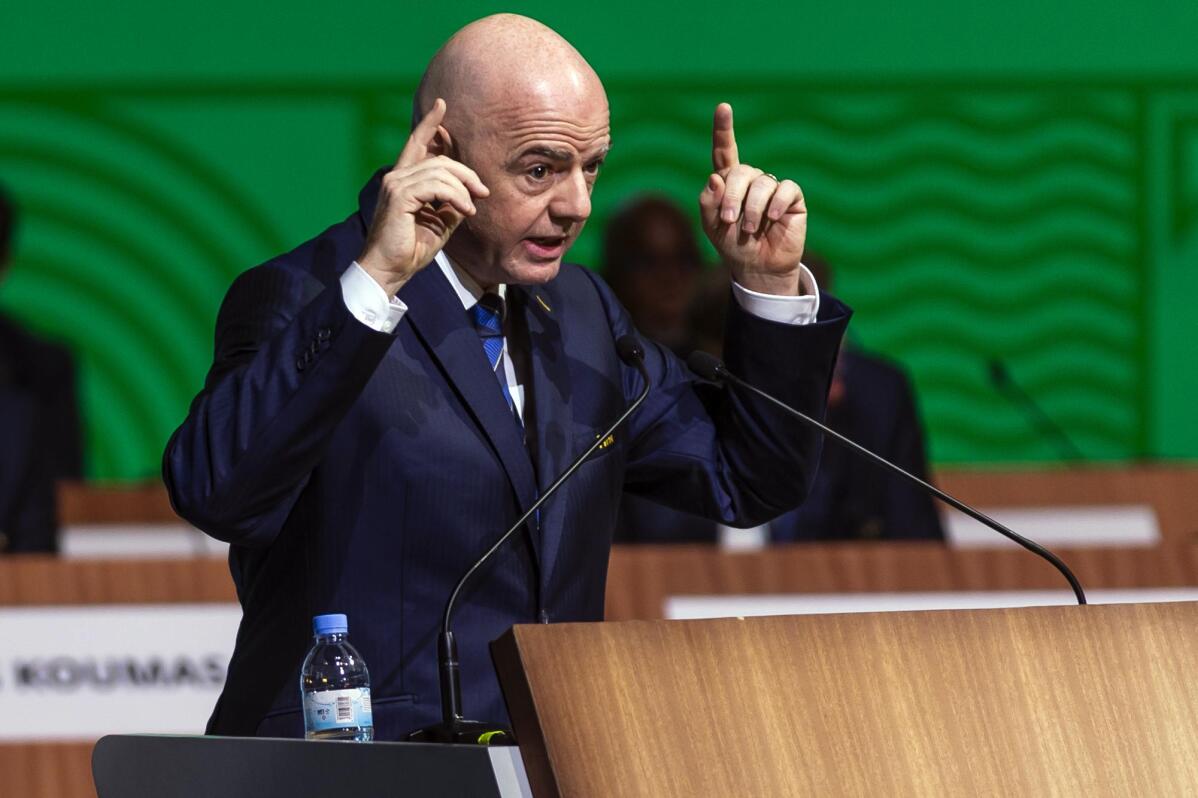 2 of 2

|
FIFA president Gianni Infantino speaks at the 73rd FIFA Congress, held in Kigali, Rwanda Thursday, March 16, 2023. Infantino was re-elected by acclaim to another four-year term on Thursday after suggesting the financial results under his leadership would keep an industry CEO in the job for life. (AP Photo)
Swiss soccer player agents file challenge to FIFA rules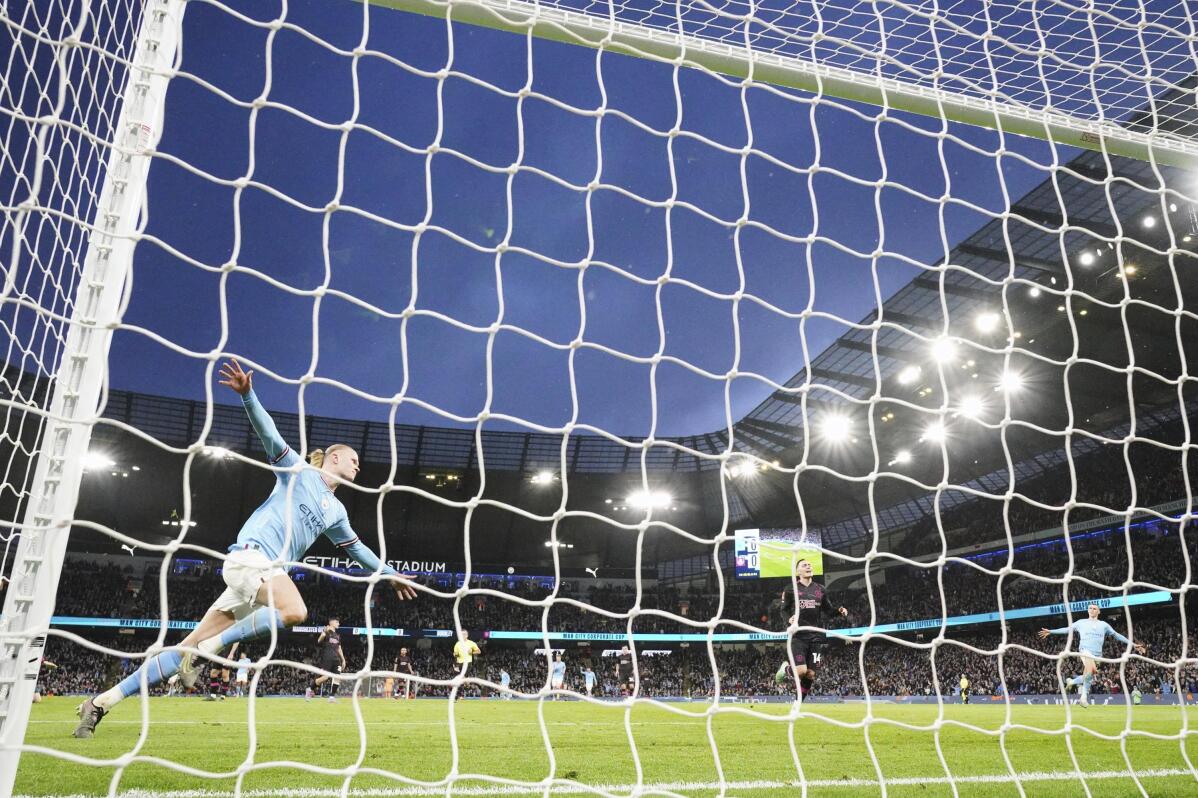 1 of 2

|
Manchester City's Erling Haaland celebrates after scoring his side's opening goal during the English FA Cup quarter final soccer match between Manchester City and Burnley at the Etihad stadium in Manchester, England, Saturday, March 18, 2023. (AP Photo/Jon Super)
1 of 2
Manchester City's Erling Haaland celebrates after scoring his side's opening goal during the English FA Cup quarter final soccer match between Manchester City and Burnley at the Etihad stadium in Manchester, England, Saturday, March 18, 2023. (AP Photo/Jon Super)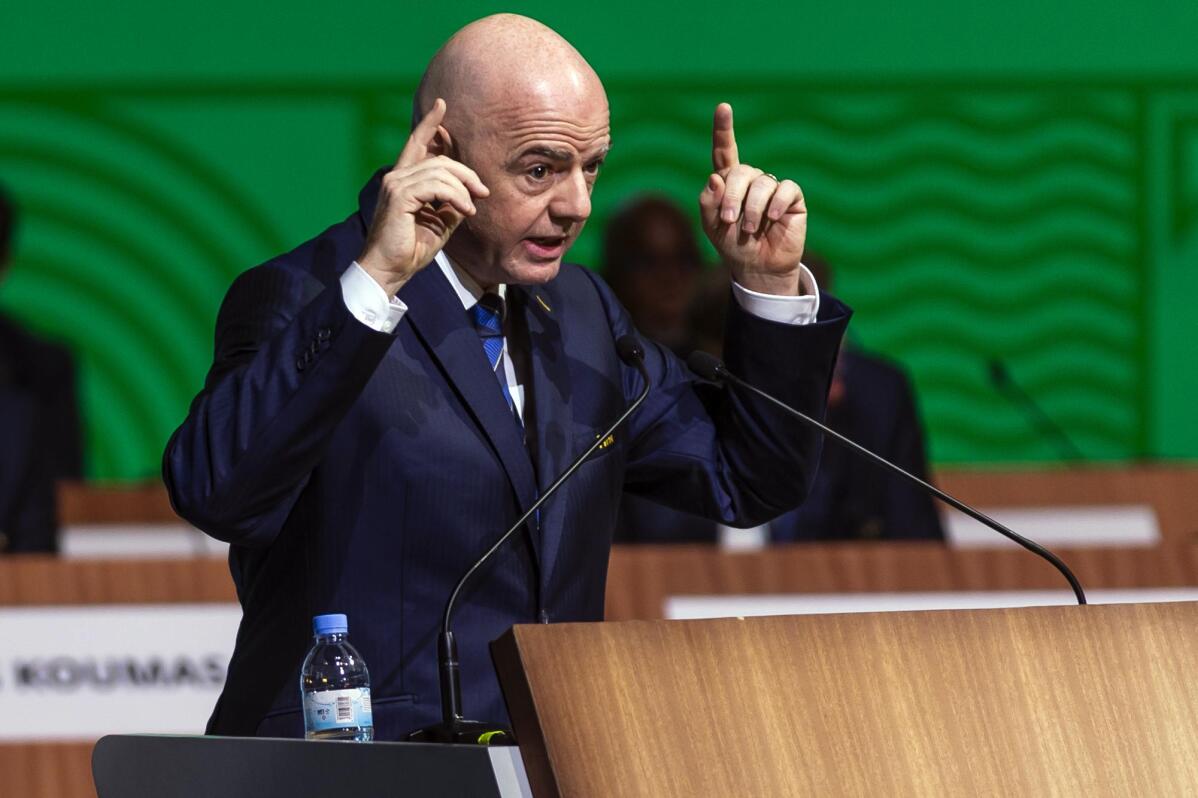 2 of 2

|
FIFA president Gianni Infantino speaks at the 73rd FIFA Congress, held in Kigali, Rwanda Thursday, March 16, 2023. Infantino was re-elected by acclaim to another four-year term on Thursday after suggesting the financial results under his leadership would keep an industry CEO in the job for life. (AP Photo)
2 of 2
FIFA president Gianni Infantino speaks at the 73rd FIFA Congress, held in Kigali, Rwanda Thursday, March 16, 2023. Infantino was re-elected by acclaim to another four-year term on Thursday after suggesting the financial results under his leadership would keep an industry CEO in the job for life. (AP Photo)
GENEVA (AP) — FIFA is facing another legal challenge to its new rules regulating player agents, this time in its home country Switzerland.
A group of Swiss agents has asked the federal competition commission to intervene with the FIFA Football Agent Regulations, which are being phased in this year and will cap the fees earned from player salaries and transfers.
FIFA worked for years to regulate an industry it argues takes too much money out of soccer, with agents earning $622 million from international transfer deals in 2022.
While elite agencies have earned tens of millions of dollars from transfers for players like Erling Haaland and Paul Pogba, the Swiss group challenging FIFA typically works at the other end of the global market.
"The average players they are representing are playing in second or third leagues in Switzerland with a relatively small market value," a lawyer for the Swiss agents, Fabio Babey, told The Associated Press in a recent interview.
The FIFA rules, which are set to take full effect in October, cap agent earnings at a maximum 10% of transfer fees when acting for the selling club.
Agents would also be limited to taking 3% of a player's salary when those earnings are more than $200,000 per year, or 5% when the player earns up to $200,000. Those limits would be 6% and 10%, respectively, when the agent acted for both the player and the club signing them.
FIFA wants to prohibit player agents representing both the buying and selling clubs in a transfer.
Fees would also be paid through FIFA's Paris-based financial clearing house which aims to bring more transparency — and potential risks to confidentiality, agents argue — to a global transfer market that historically has had murky edges.
"It's an unlawful agreement, it's an abuse of dominance," said Babey, suggesting some of the about 60 agents operating in Switzerland would be forced out of business by the cap on fees.
The Swiss competition commission acknowledged receiving the filed complaint and said it would decide on its next steps "in the coming weeks." It can open an investigation, try to work with FIFA on amending the rules or reject the complaint.
FIFA declined comment Tuesday on the pending Swiss matter, or other legal challenges to the agent rules.
A German agency is pursuing a case against the national soccer federation there, and the Zurich-based Professional Football Agents Association has said it will challenge FIFA at the Court of Arbitration for Sport in Lausanne, Switzerland. Other national cases are expected.
FIFA's chief legal officer, Emilio García, has previously said that "those (agents) who are behaving properly shouldn't be afraid" of the regulations.
FIFA has said more than 4,000 people have applied since January for an agent's license, which costs $600 and requires applicants to take an exam in April or September.
A pass mark of 75% is required for the one-hour, 20-question test that can be taken in English, French or Spanish, FIFA's head of agents, Luis Villas Boas, said at the soccer body's annual legal conference this month.
The FIFA rules make it mandatory from October for clubs and players to use licensed agents.
In the Swiss case, Babey said, the federal commission has been asked for "a super-provisional measure" to pause the obligation to register for the FIFA exam.
___
More AP soccer: https://apnews.com/hub/soccer and https://twitter.com/AP_Sports