Sampdoria and Genoa draw Serie A derby match 1-1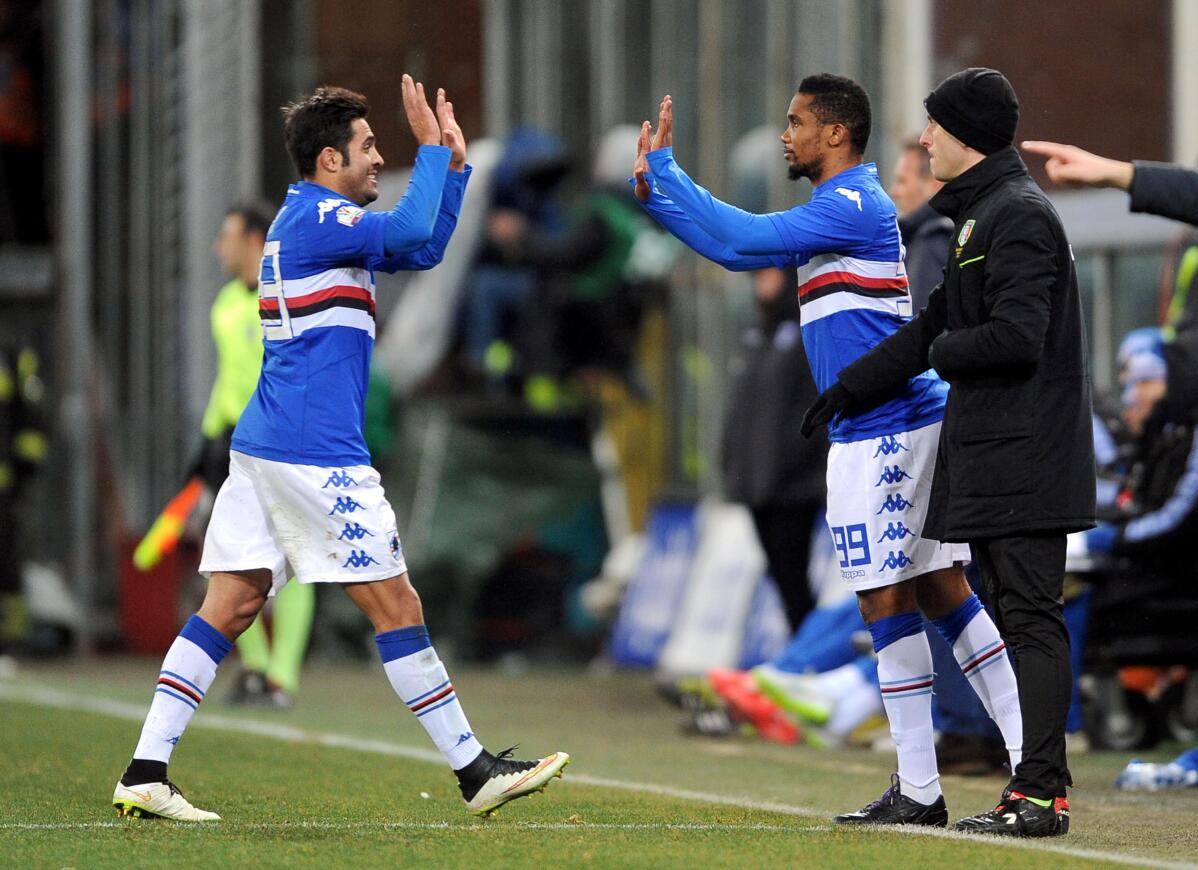 1 of 9

|
Samuel Eto'o enters the pitch while Citadin Martins Eder leaves during a Serie A soccer match between Sampdoria and Genoa, at the Luigi Ferraris stadium in Genoa, Italy, Tuesday, Feb 24, 2015. (AP Photo/Carlo Baroncini)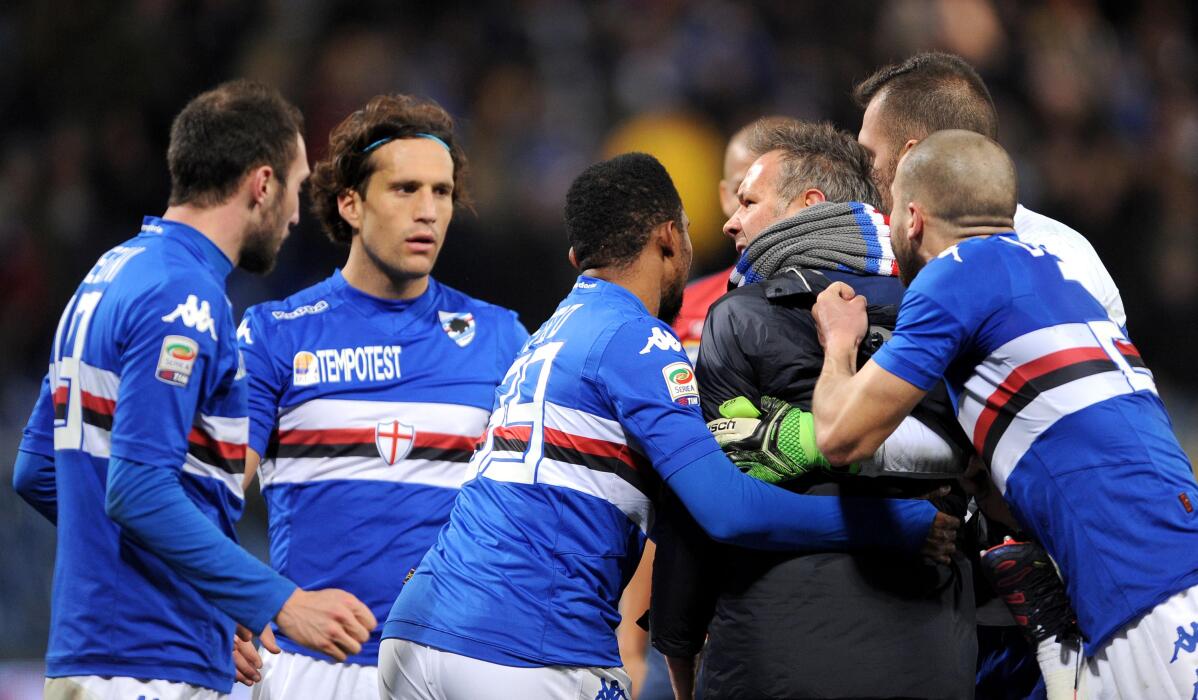 2 of 9

|
Sampdoria's trainer Sinisa Mihajlovic argues with his player Vasco Regini while Samuel Eto'o and Lorenzo De Silvestri try to calm him down after a Serie A soccer match between Sampdoria and Genoa, at the Luigi Ferraris stadium in Genoa, Italy, Tuesday, Feb 24, 2015. (AP Photo/Carlo Baroncini)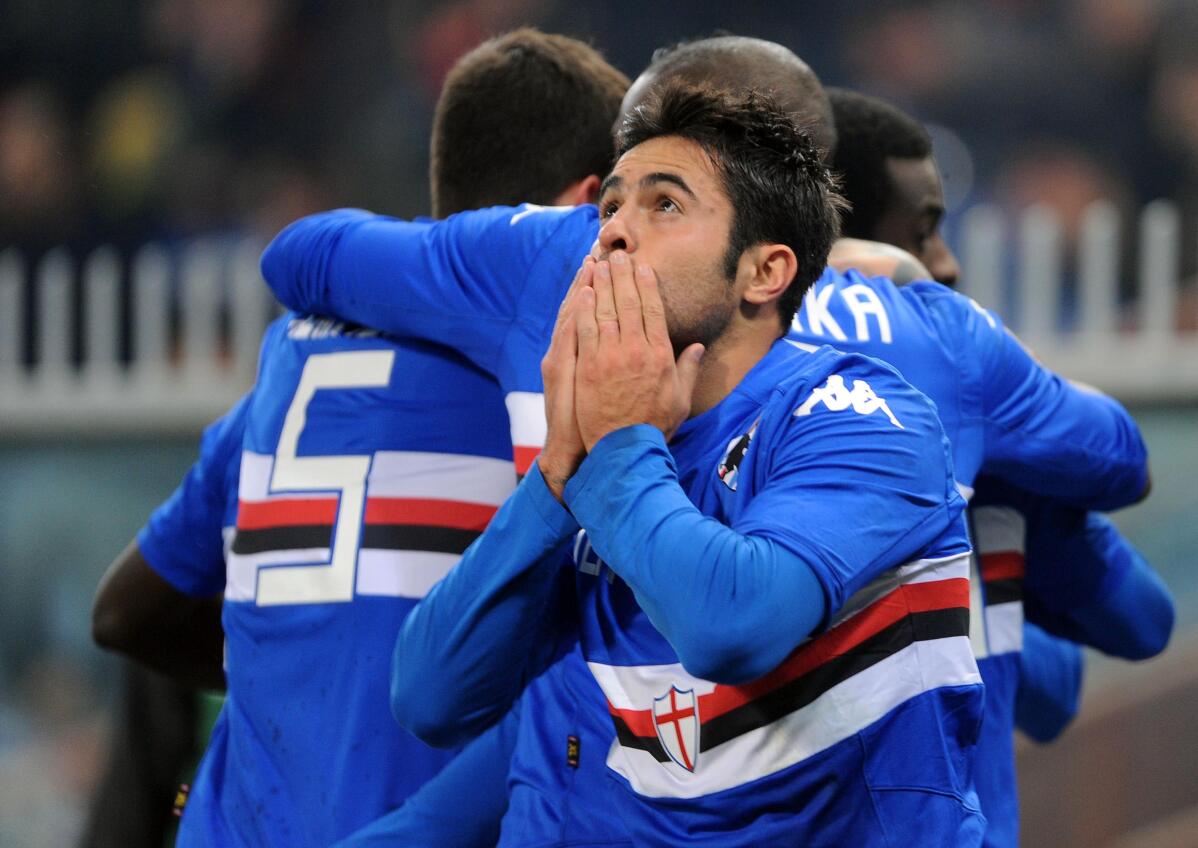 3 of 9

|
Sampdoria's Citadin Martins Eder celebrates after scoring during a Serie A soccer match between Sampdoria and Genoa, at the Luigi Ferraris stadium in Genoa, Italy, Tuesday, Feb 24, 2015. (AP Photo/Carlo Baroncini)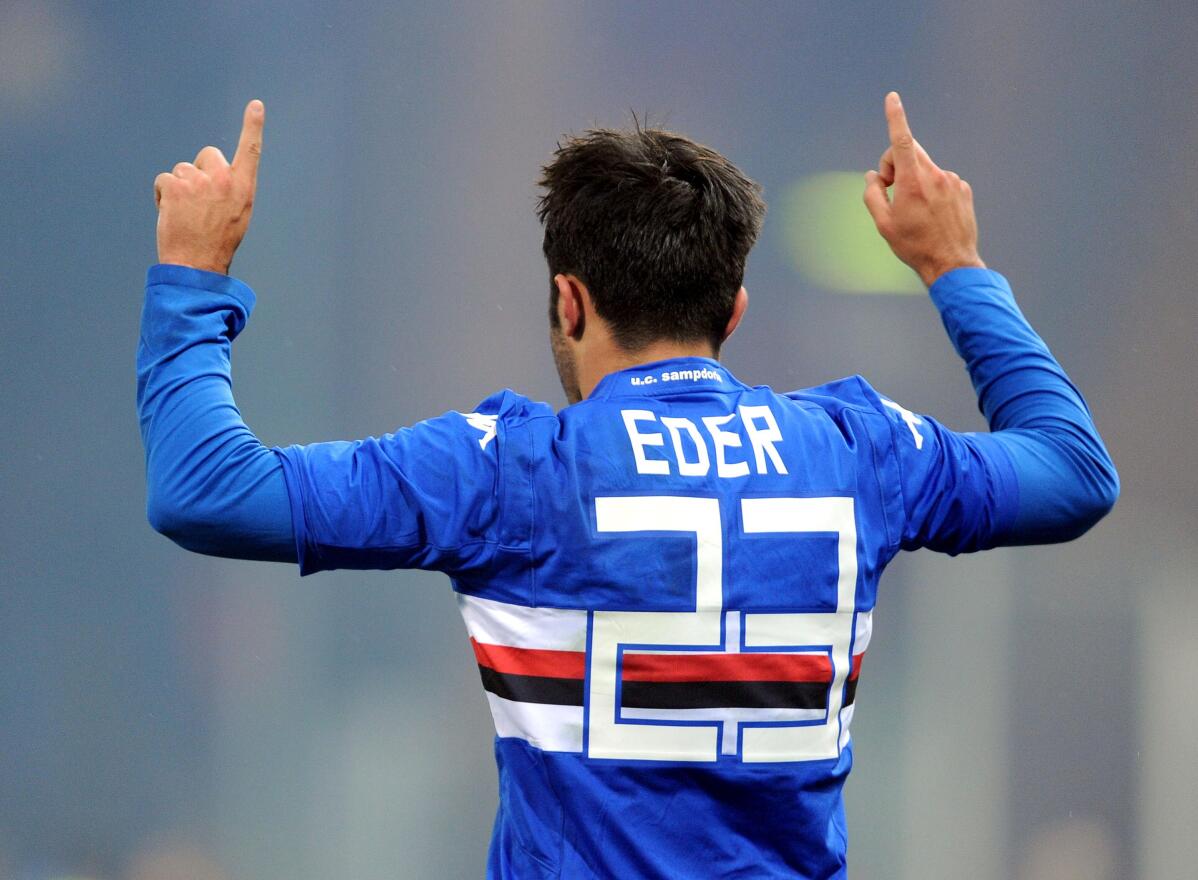 4 of 9

|
Sampdoria's Citadin Martins Eder celebrates after scoring during a Serie A soccer match between Sampdoria and Genoa, at the Luigi Ferraris stadium in Genoa, Italy, Tuesday, Feb 24, 2015. (AP Photo/Carlo Baroncini)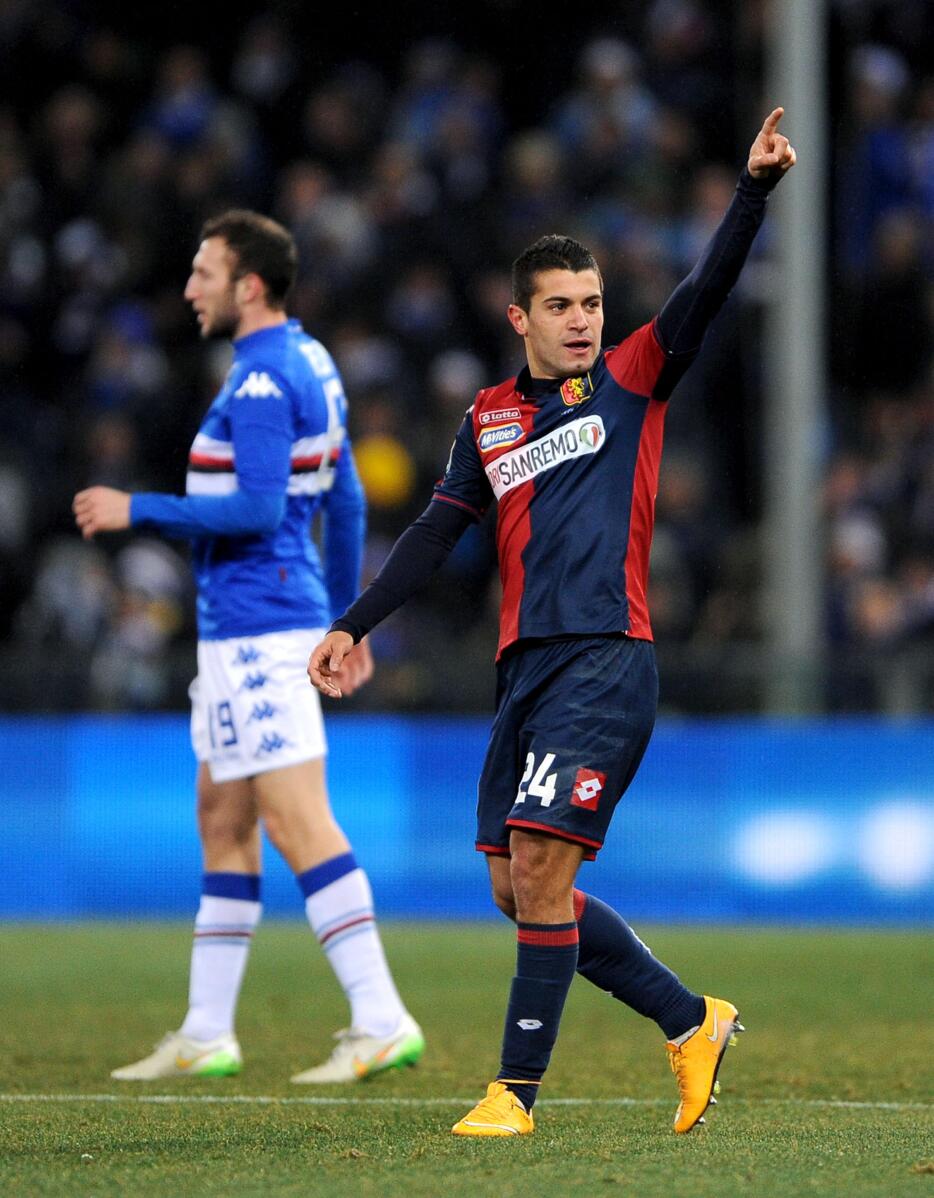 5 of 9

|
Genoa's Iago Falque celebrates after scoring during a Serie A soccer match between Sampdoria and Genoa, at the Luigi Ferraris stadium in Genoa, Italy, Tuesday, Feb 24, 2015. (AP Photo/Carlo Baroncini)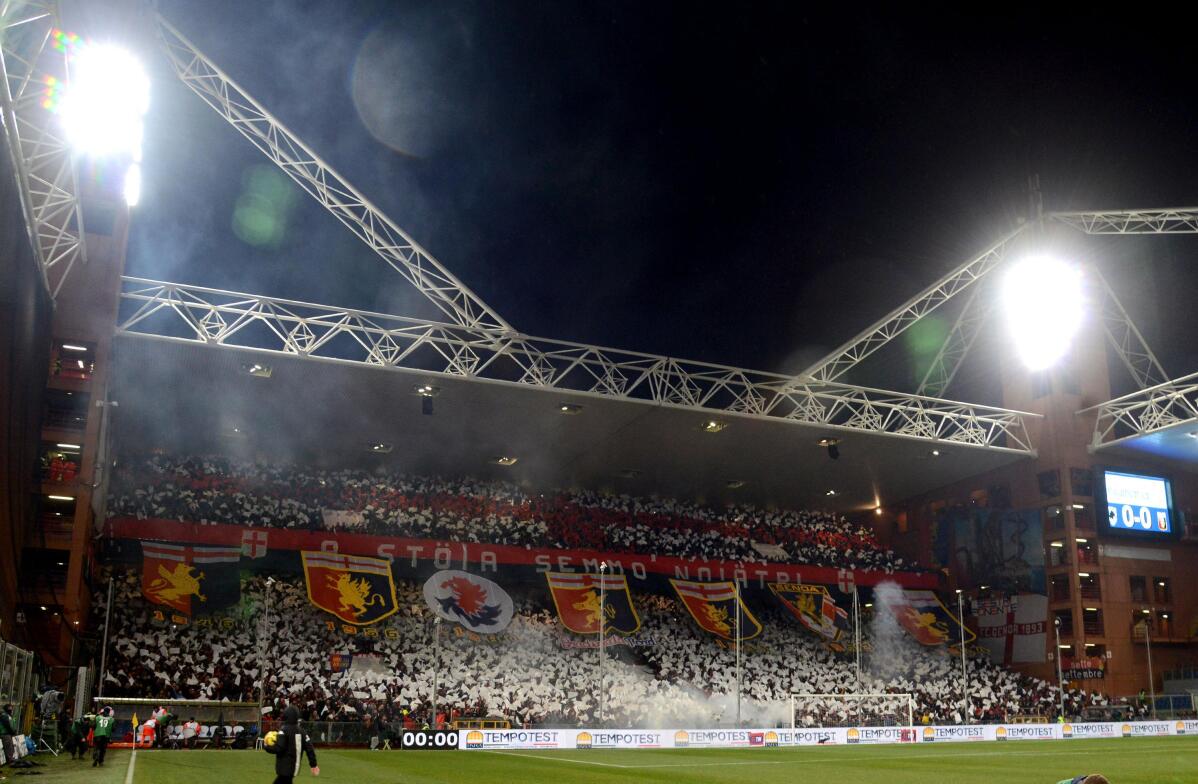 6 of 9

|
Genoa's fans during a Serie A soccer match between Sampdoria and Genoa, at the Luigi Ferraris stadium in Genoa, Italy, Tuesday, Feb 24, 2015. (AP Photo / Carlo Baroncini)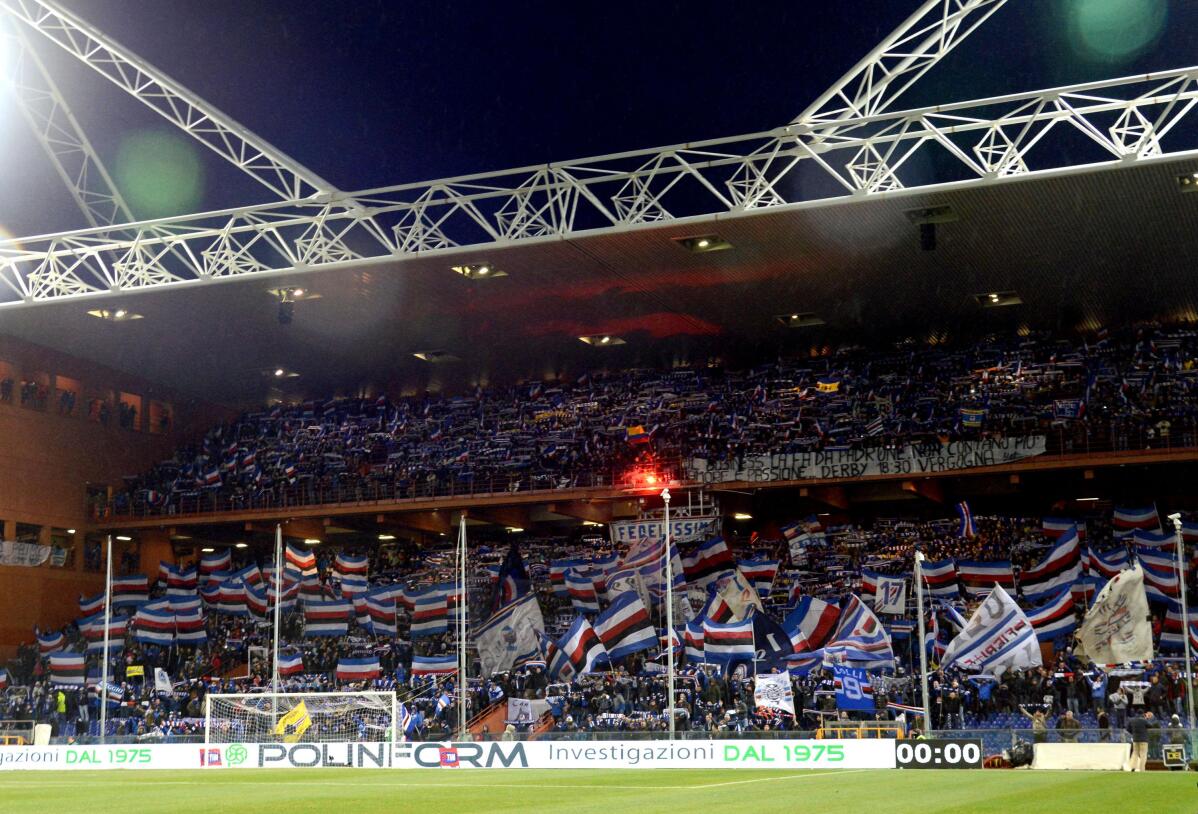 7 of 9

|
Sampdoria's fans during a Serie A soccer match between Sampdoria and Genoa , at the Luigi Ferraris stadium in Genoa, Italy, Tuesday, Feb 24, 2015. (AP Photo / Carlo Baroncini)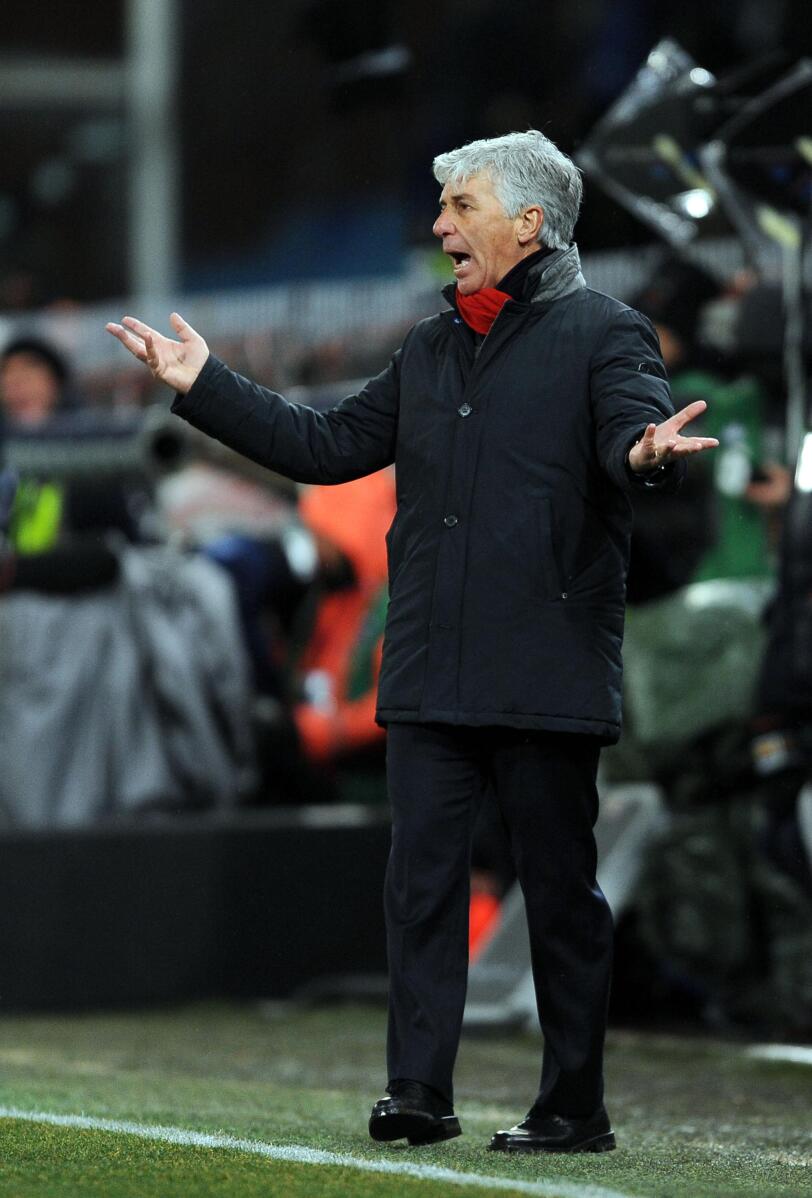 8 of 9

|
Genoa's coach Gian Piero Gasperini gestures during a Serie A soccer match between Sampdoria and Genoa, at the Luigi Ferraris stadium in Genoa, Italy, Tuesday, Feb 24, 2015. (AP Photo/Carlo Baroncini)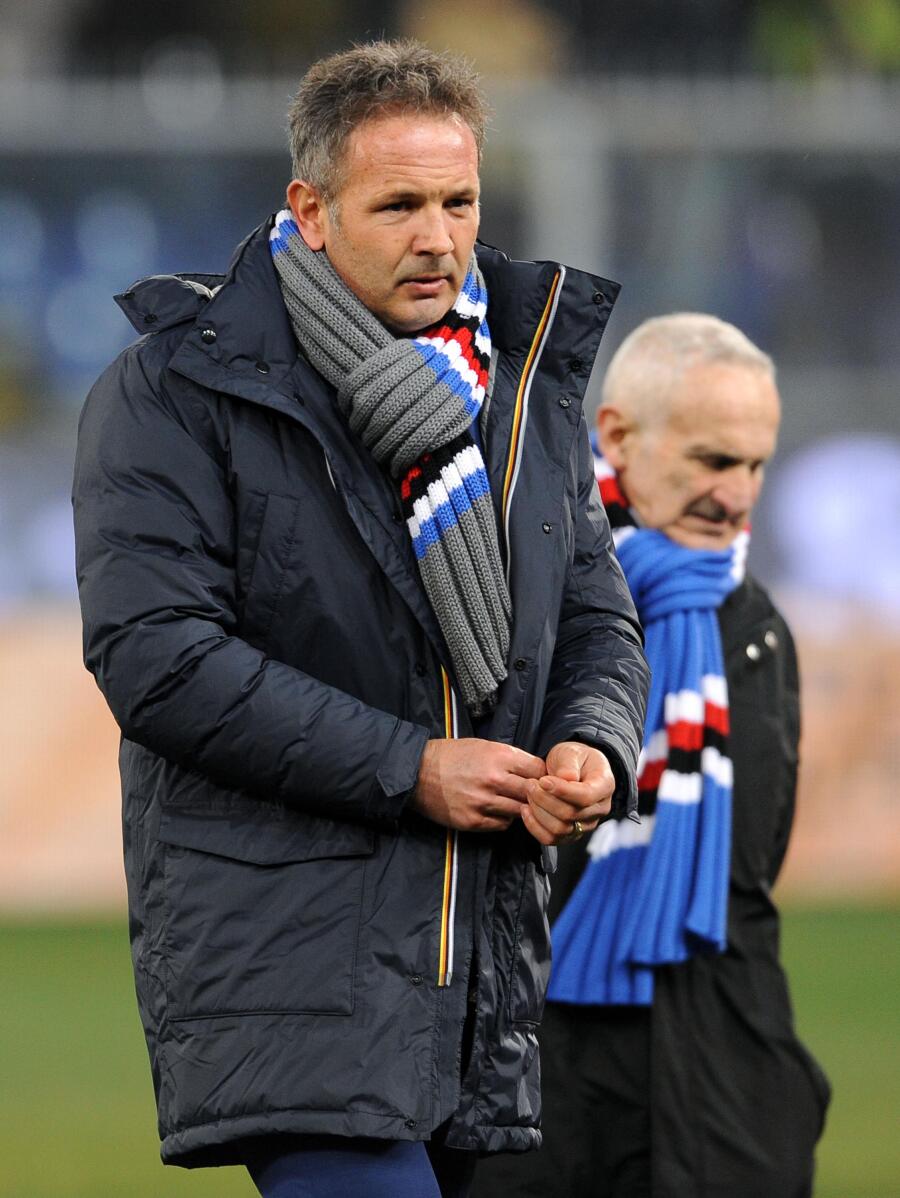 9 of 9

|
Sampdoria's coach Sinisa Mihajlovic prior to a Serie A soccer match between Sampdoria and Genoa, at the Luigi Ferraris stadium in Genoa, Italy, Tuesday, Feb 24, 2015. (AP Photo/Carlo Baroncini)
Sampdoria and Genoa draw Serie A derby match 1-1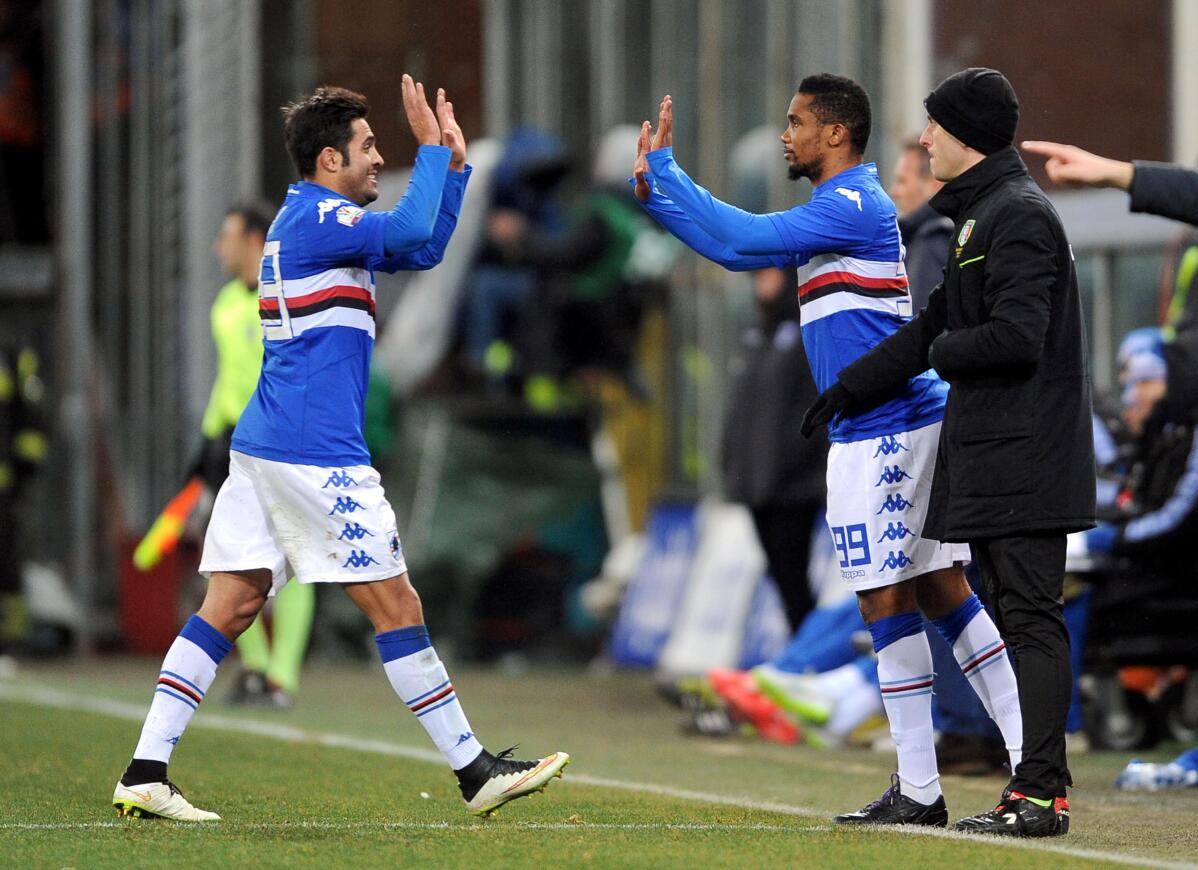 1 of 9

|
Samuel Eto'o enters the pitch while Citadin Martins Eder leaves during a Serie A soccer match between Sampdoria and Genoa, at the Luigi Ferraris stadium in Genoa, Italy, Tuesday, Feb 24, 2015. (AP Photo/Carlo Baroncini)
1 of 9
Samuel Eto'o enters the pitch while Citadin Martins Eder leaves during a Serie A soccer match between Sampdoria and Genoa, at the Luigi Ferraris stadium in Genoa, Italy, Tuesday, Feb 24, 2015. (AP Photo/Carlo Baroncini)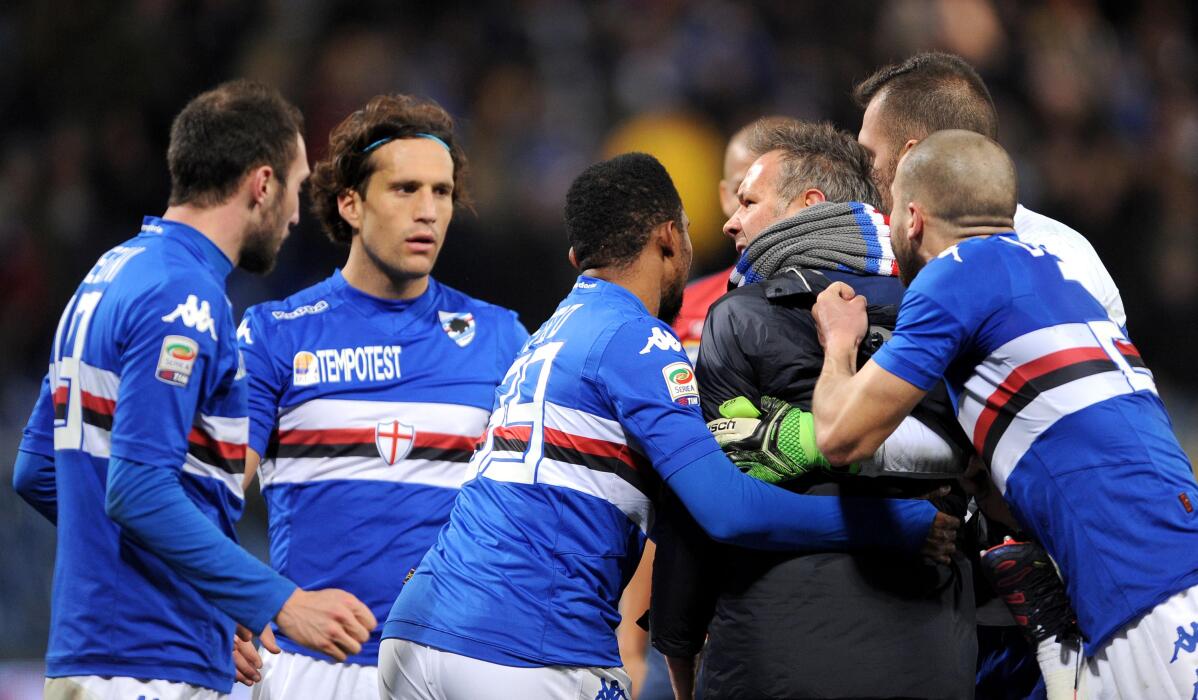 2 of 9

|
Sampdoria's trainer Sinisa Mihajlovic argues with his player Vasco Regini while Samuel Eto'o and Lorenzo De Silvestri try to calm him down after a Serie A soccer match between Sampdoria and Genoa, at the Luigi Ferraris stadium in Genoa, Italy, Tuesday, Feb 24, 2015. (AP Photo/Carlo Baroncini)
2 of 9
Sampdoria's trainer Sinisa Mihajlovic argues with his player Vasco Regini while Samuel Eto'o and Lorenzo De Silvestri try to calm him down after a Serie A soccer match between Sampdoria and Genoa, at the Luigi Ferraris stadium in Genoa, Italy, Tuesday, Feb 24, 2015. (AP Photo/Carlo Baroncini)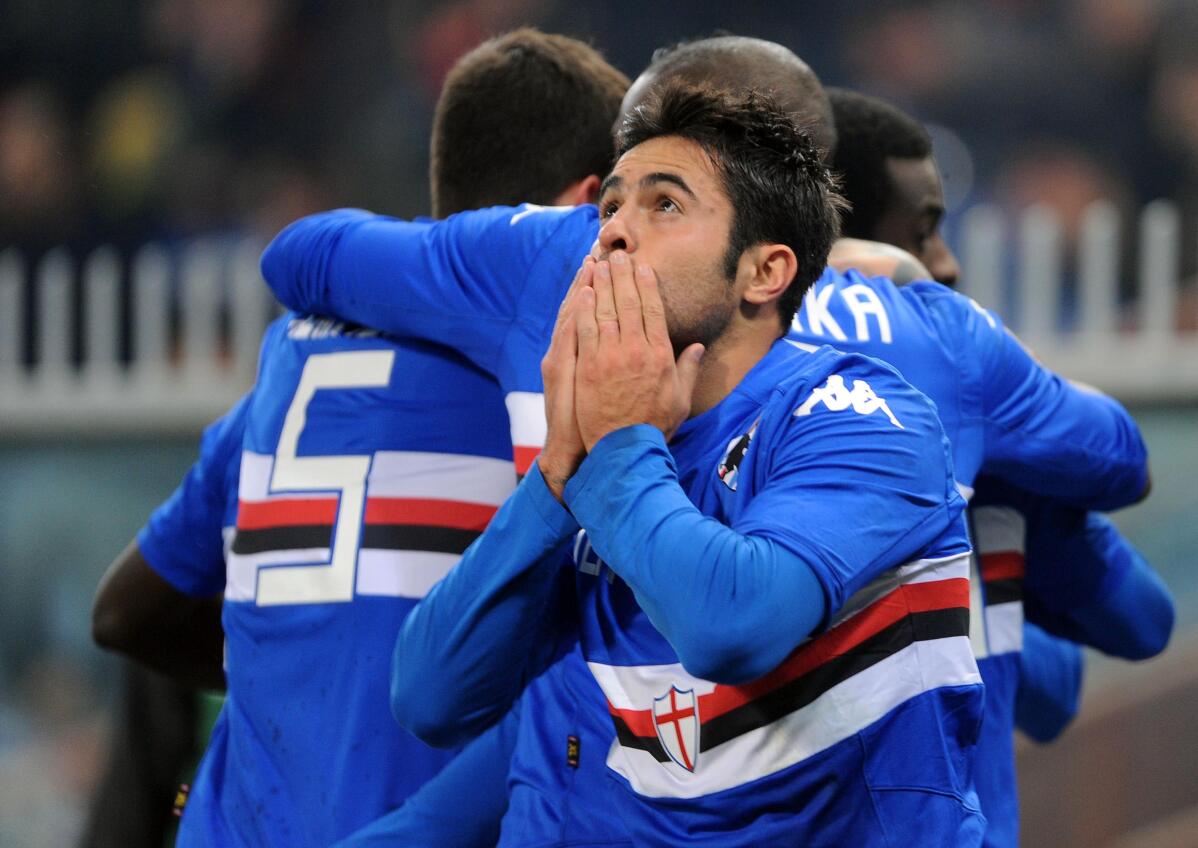 3 of 9

|
Sampdoria's Citadin Martins Eder celebrates after scoring during a Serie A soccer match between Sampdoria and Genoa, at the Luigi Ferraris stadium in Genoa, Italy, Tuesday, Feb 24, 2015. (AP Photo/Carlo Baroncini)
3 of 9
Sampdoria's Citadin Martins Eder celebrates after scoring during a Serie A soccer match between Sampdoria and Genoa, at the Luigi Ferraris stadium in Genoa, Italy, Tuesday, Feb 24, 2015. (AP Photo/Carlo Baroncini)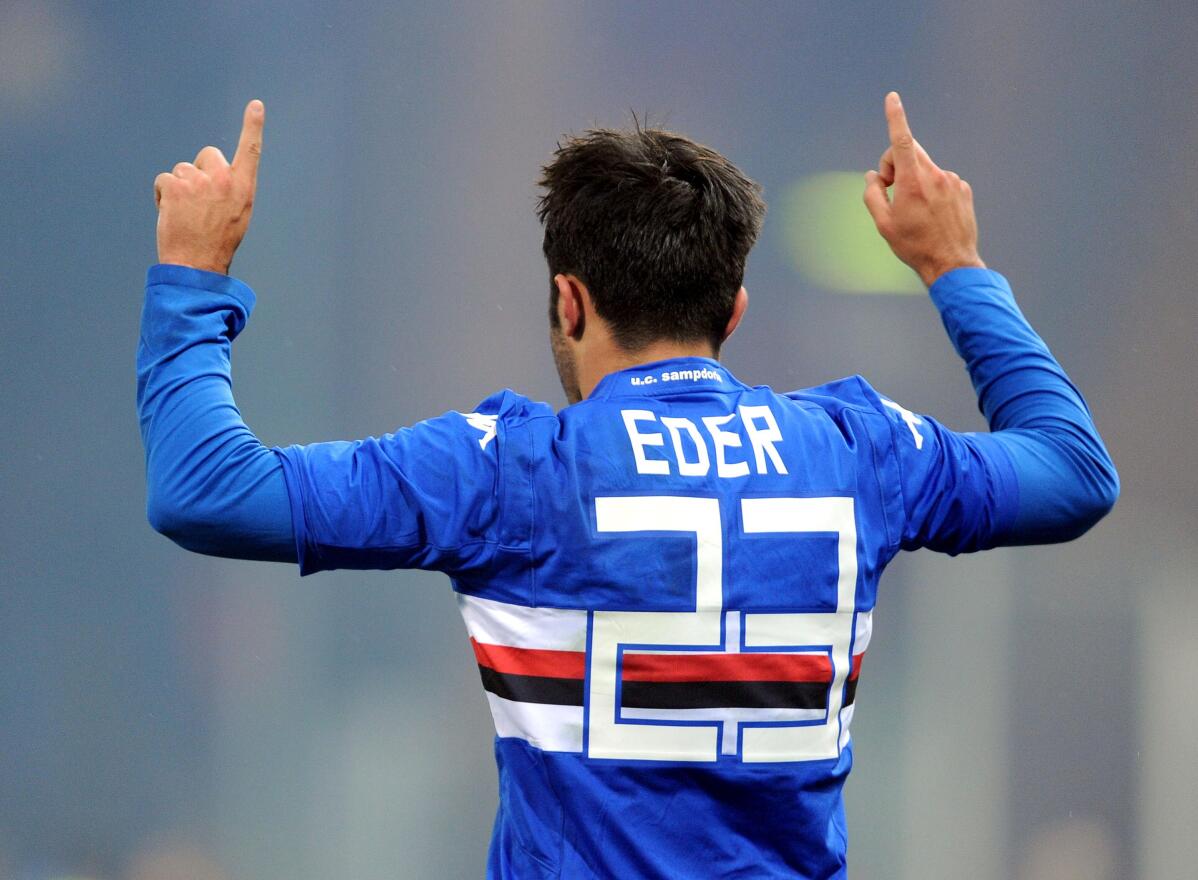 4 of 9

|
Sampdoria's Citadin Martins Eder celebrates after scoring during a Serie A soccer match between Sampdoria and Genoa, at the Luigi Ferraris stadium in Genoa, Italy, Tuesday, Feb 24, 2015. (AP Photo/Carlo Baroncini)
4 of 9
Sampdoria's Citadin Martins Eder celebrates after scoring during a Serie A soccer match between Sampdoria and Genoa, at the Luigi Ferraris stadium in Genoa, Italy, Tuesday, Feb 24, 2015. (AP Photo/Carlo Baroncini)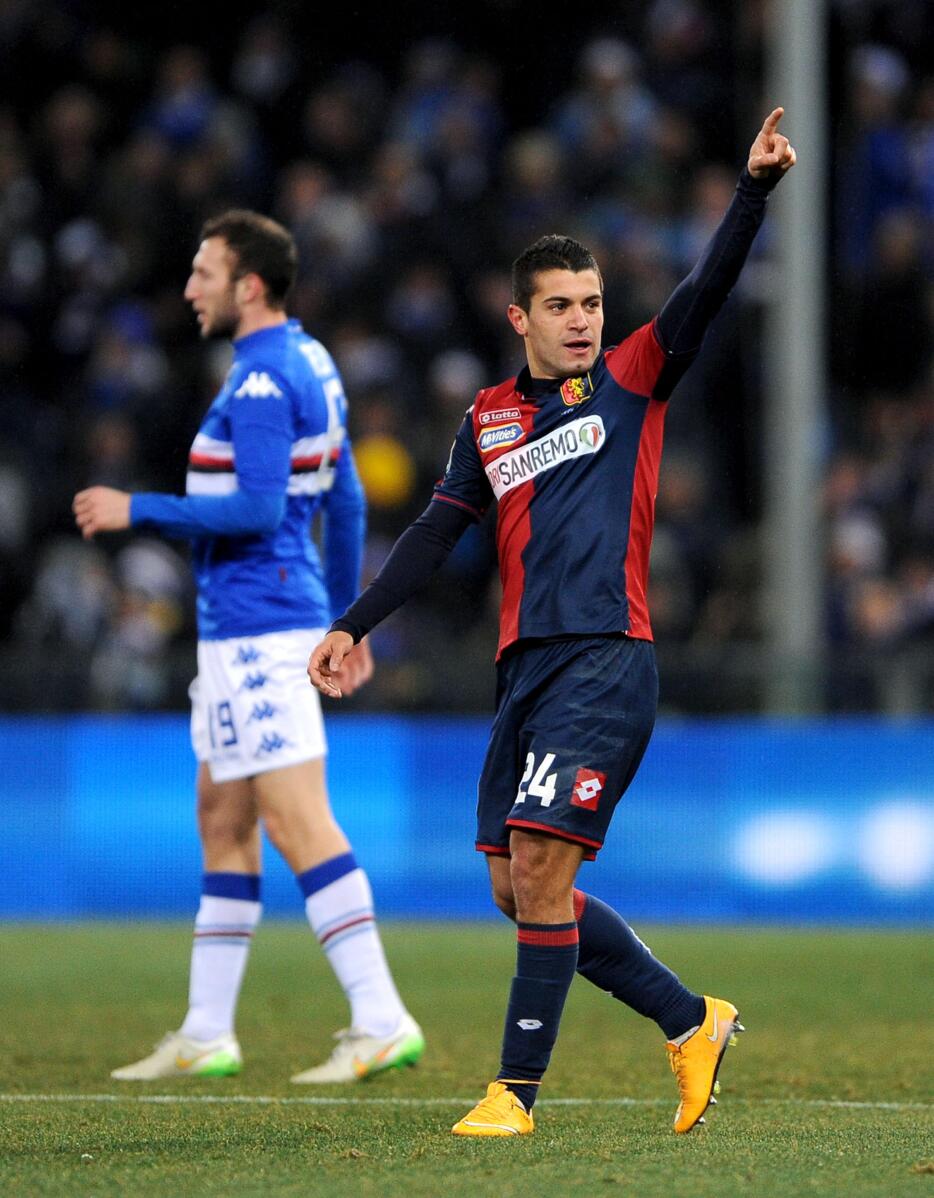 5 of 9

|
Genoa's Iago Falque celebrates after scoring during a Serie A soccer match between Sampdoria and Genoa, at the Luigi Ferraris stadium in Genoa, Italy, Tuesday, Feb 24, 2015. (AP Photo/Carlo Baroncini)
5 of 9
Genoa's Iago Falque celebrates after scoring during a Serie A soccer match between Sampdoria and Genoa, at the Luigi Ferraris stadium in Genoa, Italy, Tuesday, Feb 24, 2015. (AP Photo/Carlo Baroncini)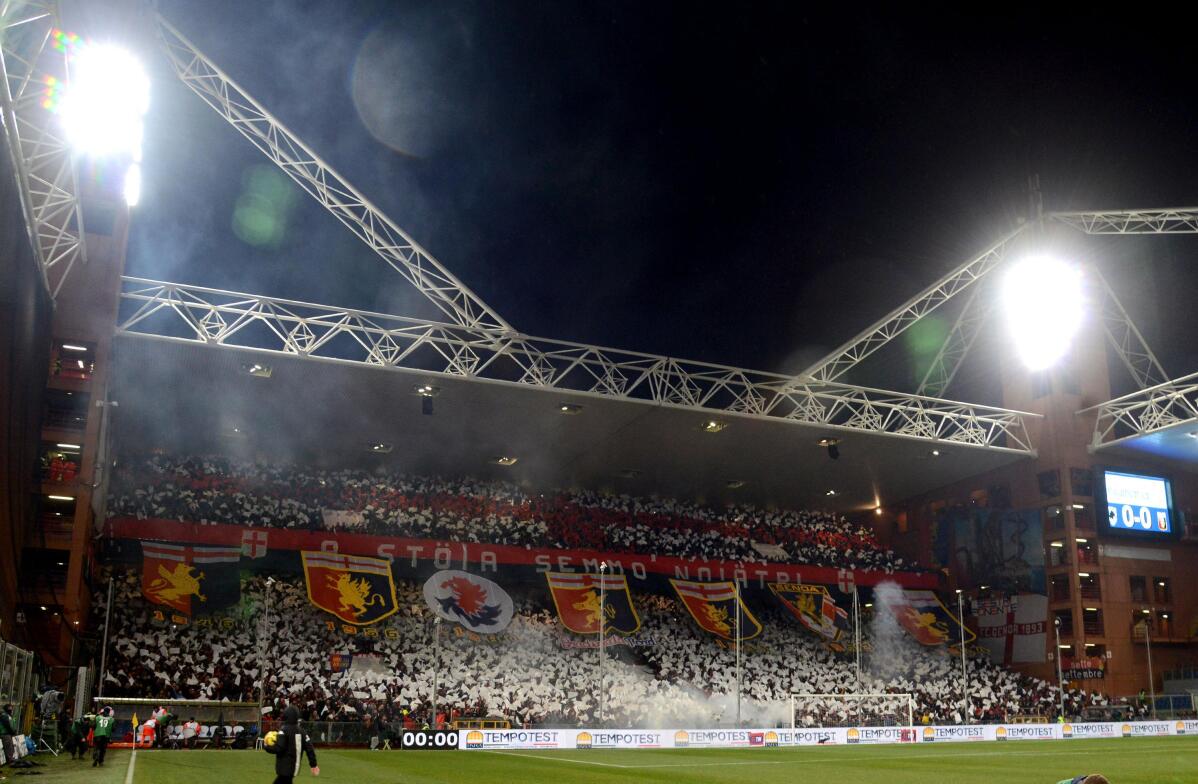 6 of 9

|
Genoa's fans during a Serie A soccer match between Sampdoria and Genoa, at the Luigi Ferraris stadium in Genoa, Italy, Tuesday, Feb 24, 2015. (AP Photo / Carlo Baroncini)
6 of 9
Genoa's fans during a Serie A soccer match between Sampdoria and Genoa, at the Luigi Ferraris stadium in Genoa, Italy, Tuesday, Feb 24, 2015. (AP Photo / Carlo Baroncini)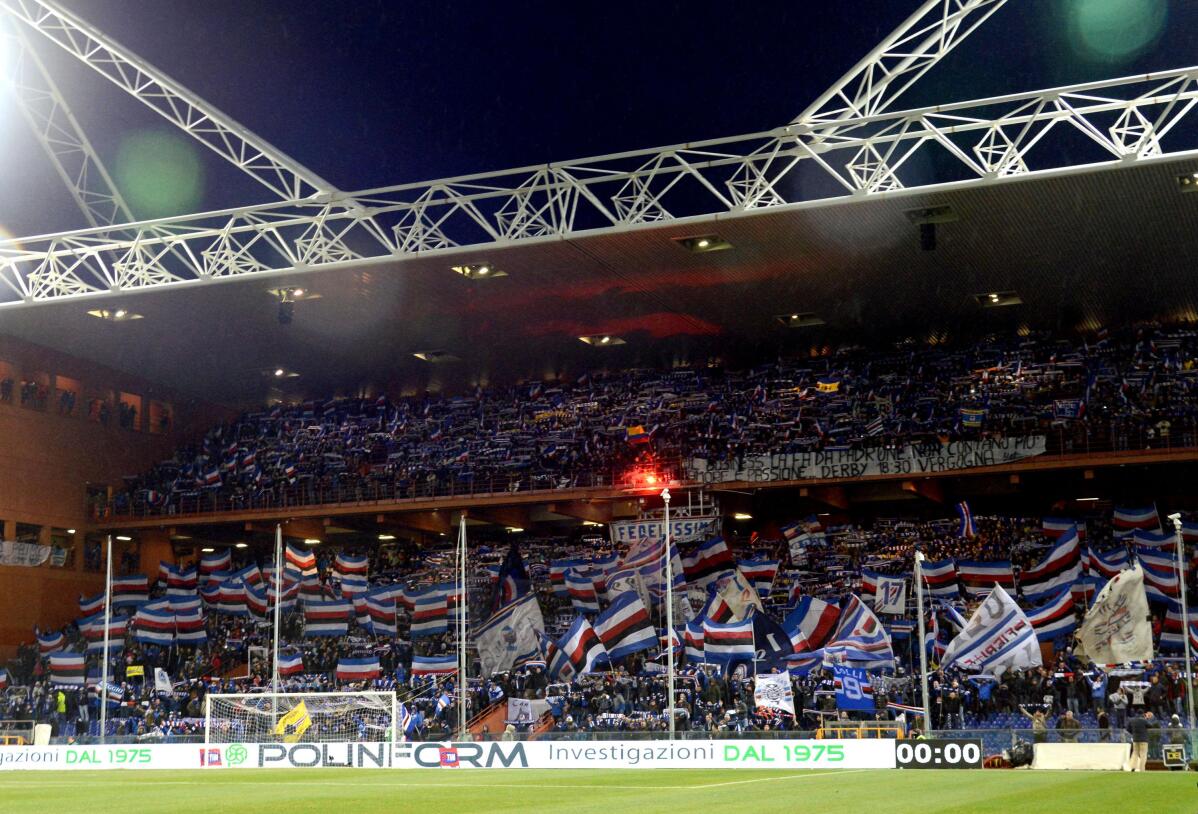 7 of 9

|
Sampdoria's fans during a Serie A soccer match between Sampdoria and Genoa , at the Luigi Ferraris stadium in Genoa, Italy, Tuesday, Feb 24, 2015. (AP Photo / Carlo Baroncini)
7 of 9
Sampdoria's fans during a Serie A soccer match between Sampdoria and Genoa , at the Luigi Ferraris stadium in Genoa, Italy, Tuesday, Feb 24, 2015. (AP Photo / Carlo Baroncini)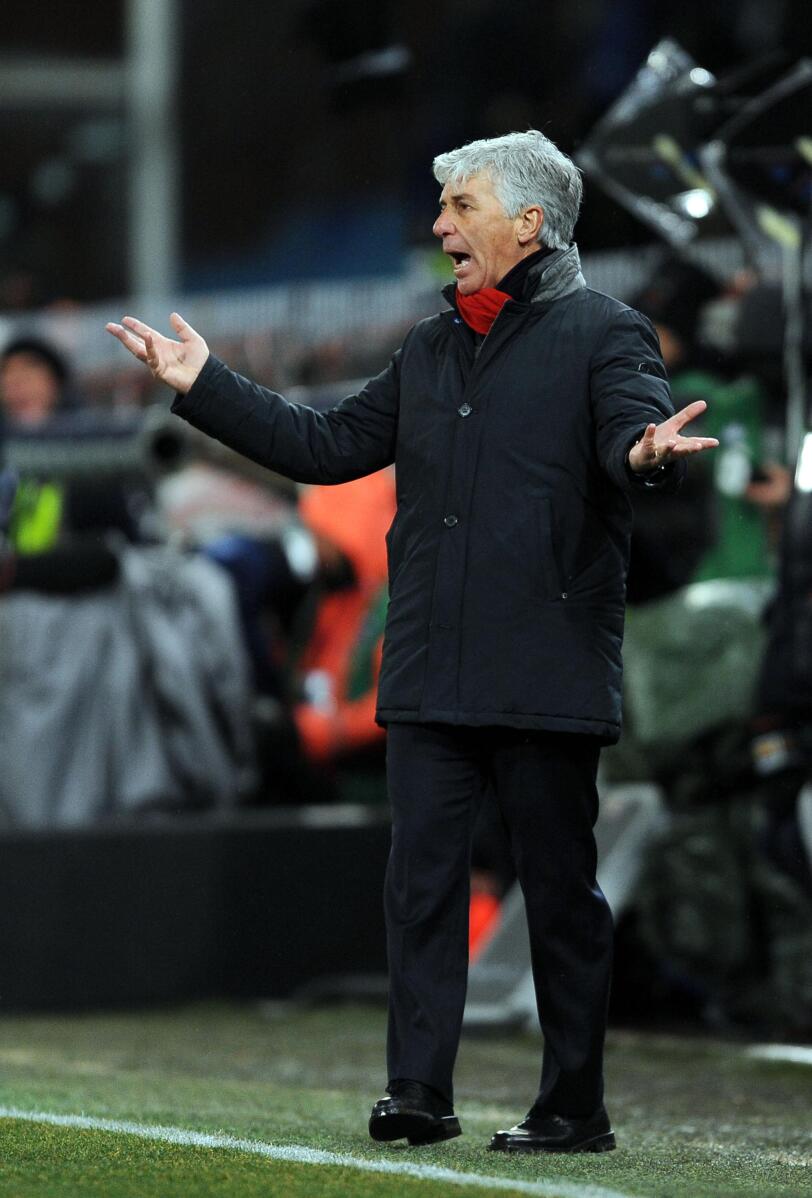 8 of 9

|
Genoa's coach Gian Piero Gasperini gestures during a Serie A soccer match between Sampdoria and Genoa, at the Luigi Ferraris stadium in Genoa, Italy, Tuesday, Feb 24, 2015. (AP Photo/Carlo Baroncini)
8 of 9
Genoa's coach Gian Piero Gasperini gestures during a Serie A soccer match between Sampdoria and Genoa, at the Luigi Ferraris stadium in Genoa, Italy, Tuesday, Feb 24, 2015. (AP Photo/Carlo Baroncini)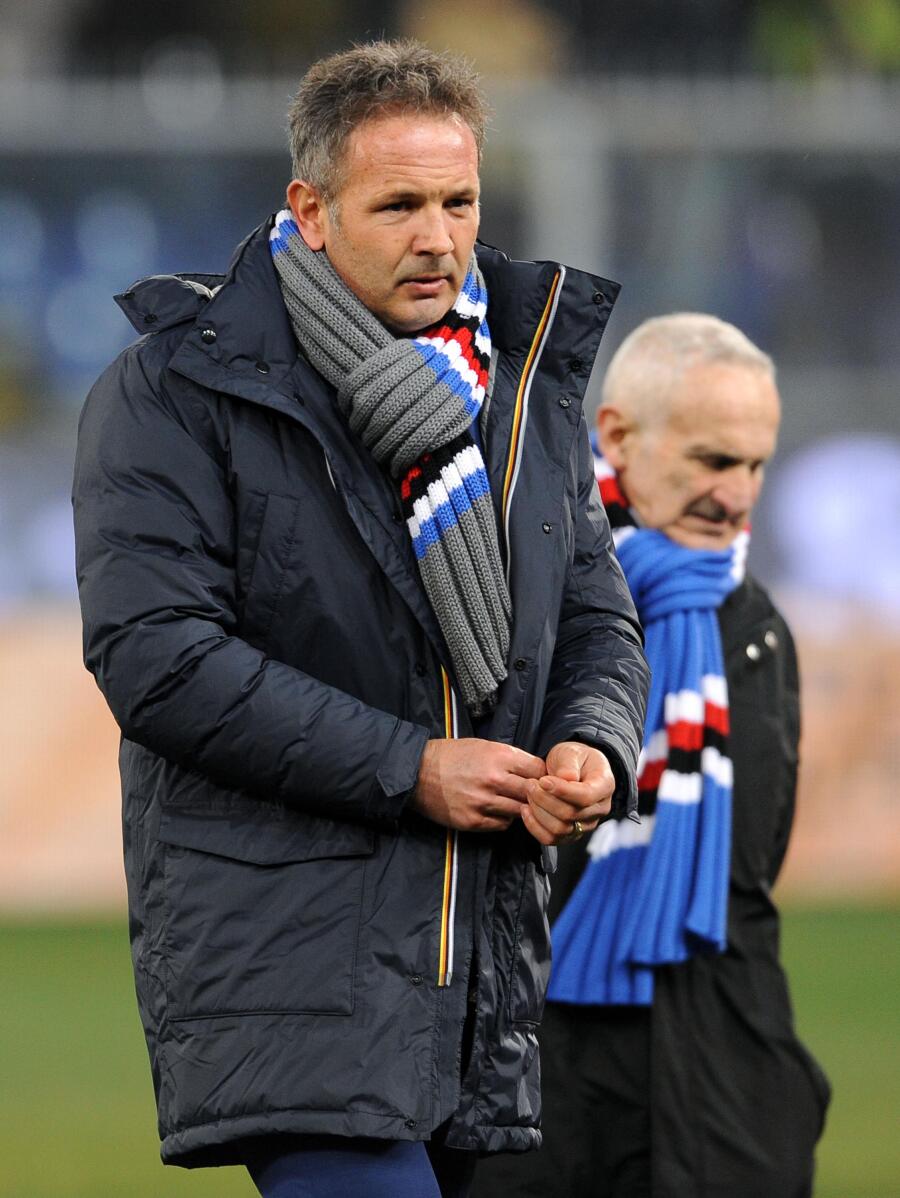 9 of 9

|
Sampdoria's coach Sinisa Mihajlovic prior to a Serie A soccer match between Sampdoria and Genoa, at the Luigi Ferraris stadium in Genoa, Italy, Tuesday, Feb 24, 2015. (AP Photo/Carlo Baroncini)
9 of 9
Sampdoria's coach Sinisa Mihajlovic prior to a Serie A soccer match between Sampdoria and Genoa, at the Luigi Ferraris stadium in Genoa, Italy, Tuesday, Feb 24, 2015. (AP Photo/Carlo Baroncini)
GENOA, Italy (AP) — Sampdoria drew 1-1 at home to Genoa in a Serie A derby on Tuesday that left the two sides level on points in the fight for a European place.
Originally scheduled for Saturday, the game was postponed due to a waterlogged pitch.
Genoa could have won it right at the end when Juraj Kucka headed Diego Perotti's free kick onto the crossbar and Emiliano Viviano kept out Andrea Bertolacci's follow-up with a stunning save. Kucka then blazed over from close range.
Genoa took the lead in the 17th minute when M'Baye Niang gathered on the right and crossed for Iago Falque to tap in at the far post.
However, Eder pounced on a mistake by Facundo Roncaglia to level two minutes later.
The clubs are three points behind fifth-place Fiorentina.